The BenQ Mobiuz EX3210U is a 4K UltraHD HDR display built for PC and next-gen console gaming. This is a large 32-inch UHD monitor with a high refresh rate and a IPS panel for blur-free performance. The monitor is designed for gamers with a high refresh rate of 144Hz, 300 nits of peak brightness, 100% SRGB and 98% DCI-P3 coverage and 1ms MPRT response time and true sound audio by treVolo.
BenQ's MOBIUZ monitors also include proprietary display tech like Black eQualizer to brighten dark corners and shadows and Light Tuner with optimization settings. The monitor also features Quantum Dot Technology to display wider and more saturated range of colors. The EX3210U also comes with built-in 2.1CH speakers, a 5W subwoofer, AI noise-cancelling microphone and a DSP for selectable audio modes.
Specifications
Size
32 inches
Features
AMD FreeSync Premium
Light Tuner
Black eQualizer
Color Vibrance
Connectivity
1x HDMI (v2.1)
1x DisplayPort (v1.4)
1x USB Type B
4x USB A 3.0
1x 3.5mm audio jack
Resolution
3840×2160
Panel Type
IPS
HDR
HDR10 DisplayHDR 600
Backlight Technology
LED backlight
Brightness
300 nits
Native Contrast
1000:1
Max Refresh Rate
144Hz
Response Time
1ms (MPRT)
Display Colors
1.07 billion colors
Color Gamut
98% DCI-P3
Built-in Speaker
2.1 Channel (2Wx2 + 5W woofer)
Ergonomics
Tilt, Swivel, Height Adjust
Read the full specifications here.
Packaging
The monitor comes in a MOBIUS branded black carboard packaging. It features a large shot of the monitor on the front with all the branding and specifications on either sides and back. The overall packaging is sturdy and goes well with the overall aesthetic of the monitor itself.
Inside the packaging, all the components are well protected by foam. It contains designated pockets that safely packs all the parts and accessories. Packaged between the foam is the monitor itself.
The packaging includes:
The BenQ MOBIUZ EX3210U
The Stand
IO Cover
HDMI cable, DP cable, USB-C to USB-A cables
Remote Control
Power Cable
User guide
Design & Connectivity
The BenQ EX3210U is entirely made of hard plastic and has a premium finish. The build quality is great and the stand feels durable and study to support the weight of this massive 32-inch display and provide smooth movement.
The monitor comes in a matte white color while the base has a silver metallic finish with red accents on the front. Overall, it has a minimalist look and the choice of colors along with the angular cut base makes it look modern.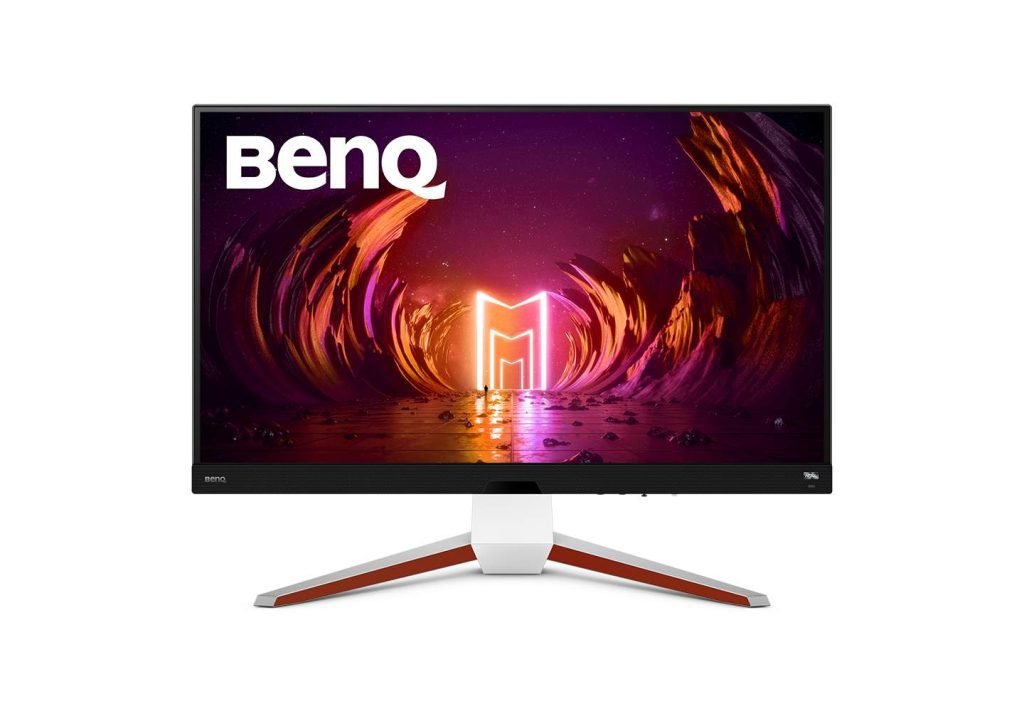 For wall or other types of mounting, the display is also compatible with the VESA mount.
The EX3210U has narrow 3-sided bezels so it looks even bigger when you are facing it. All the ports are located at the back and all the cables can be hidden using the included plastic I/O cover. Once the monitor is attached to the base, it can tilt from 5˚ – 15˚ and swivel 15˚ each side. The height can be adjusted via a slide system up to 100 mm. There is no pivot function.
In terms of connectivity, there are 1x DisplayPort 1.4, 2x HDMI 2.1, 4x USB Type A 3.0 and 1x USB Type B ports. There is a 3.5 mm jack connection for headphones. All of these ports are located on the rear I/O panel, which makes them hard to access. Sadly, the monitor does not have any USB-C or DP out connectivity.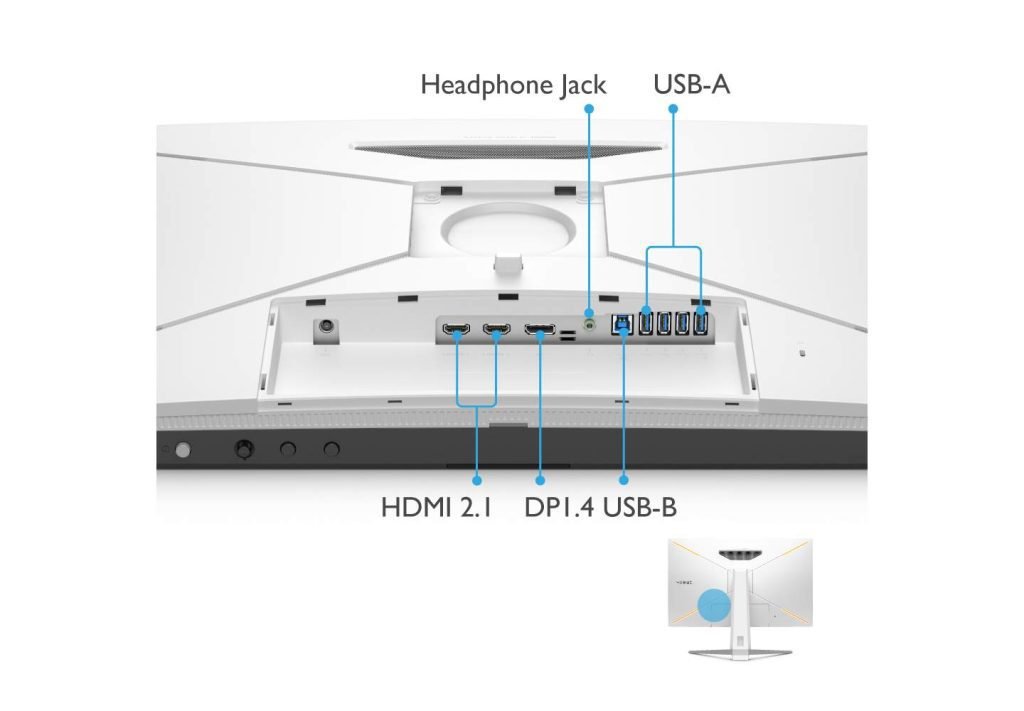 External measurements for this monitor are –726.7 mm x 269.9 mm X 587.4 mm (WxDxH), with a weight of around 9.5 kg.
The monitor also features a LED backlight system at the back using four LEDs in the shape of 'X'. It can be adjusted using 9 different colors and 5 different effects something similar to RGB motherboards, but can only be controlled via the OSD.
OSD & Features
The OSD menu is controlled via an analog button and a 5-way joystick. The other buttons include a power button and another one to quickly switch between the video inputs and a dedicated button to switch between different HDRi profiles. These buttons are located under the screen on the right and are easy to reach.
The initial OSD menu allows you to quickly adjust the settings and a detailed main menu can be opened by selecting the last item "Menu". The layout is initially confusing and can take some time getting used to.
The monitor can also automatically adjust the screen brightness via a sensor located on the lower frame and is activated via the OSD menu. Brightness Intelligence detects the light around you and adjusts brightness and color temperature for longer, more comfortable viewing. The EX3210U also includes different blue light filters. Overall, the OSD menu offers plenty of configuration options, and the 5-way joystick is convenient to navigate with.
The BenQ MOBIUZ EX3210U supports AMD FreeSync with a variable refresh rate up to 144FPS, eliminating screen tearing and stuttering when used with a compatible graphics card. While the monitor is not officially certified as G-SYNC Compatible, FreeSync works without issues with compatible NVIDIA cards as long as you use the DisplayPort slot.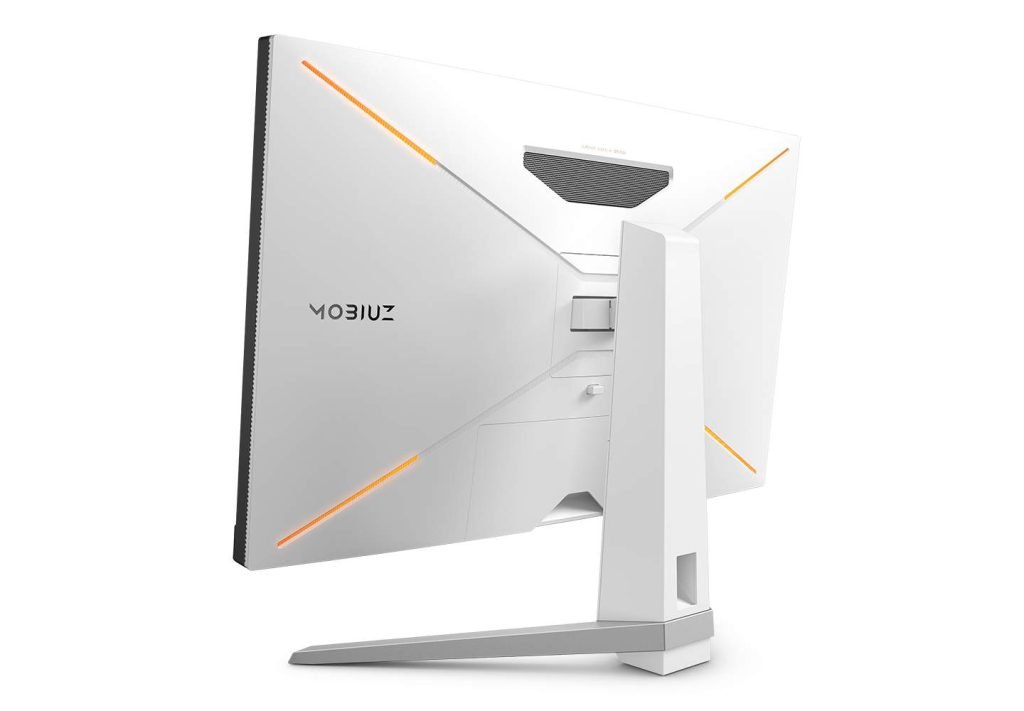 Display
The EX3210U comes with a contrast ratio of 1000:1, 300 nits brightness, and horizontal and vertical viewing angles of 180 degrees. The display sports a reaction time of 1ms (MPRT) and a high refresh rate of 144Hz.
With HDRi, 1,000:1 contrast ratio and 98% DCI-P3 gamut, color reproduction and image quality is great for gaming, watching videos and general use. The brightness is good enough for most conditions at 300 cd/m2 output and a 600 cd/m2 peak in HDRi mode. The UHD resolution with 144Hz refresh rate lets you enjoy fast-paced gaming.
Similar to the EX3210R, The BenQ Mobiuz EX3210U is a HDRi monitor, the HDR image is constantly analysed and tweaked to deliver the best results. However, it does not offer true HDR performance. HDR on this monitor is software-emulated and it adds a virtual HDR visual effect to your content.
Finally, there are some BenQ-exclusive features present here too, and that makes a worthwhile addition to the EX3210U. They come in the form of the flicker-free technology, low blue light settings, and the Brightness Intelligence Plus (B.I.+). The latter is geared to automatically adapting and augmenting the on-screen picture, brightness and color warmth, depending on what is being displayed but also based on your real-life surroundings.
HDRi
With the EX3210U, BenQ is using what it calls HDRi technology. Essentially, HDRi is the extended range of colors and contrast HDR offers, mixed with some intelligence BenQ has built into the display to adjust the image based on your ambient lighting. According to BenQ, this results in less eye strain and, ultimately, a clearer picture that tones down overexposed areas of the screen and helps you pick out more detail in shadows. While HDR improves the contrast and dynamic range of a scene, HDRi seeks to further enhance HDR images. It has both hardware and software components.
A sensor on the monitor's bottom bezel measures ambient light, letting the EX3210U adjust its screen brightness in response to changing conditions. In addition, HDRi generally brightens dark regions without overexposing bright areas, resulting in a more balanced image. It also automatically tweaks color balance and saturation, depending on the displayed content.
There are also several different emulated HDR modes for things like cinema and games, giving you a fair amount of control over how it looks. The emulated HDR certainly didn't work flawlessly with every bit of content. However, it definitely made a lot of standard definition content much more vivid and engaging to watch. I even found myself leaving it on while working and enjoying the way it adapted to my normal workday.
Audio
The monitor has a 2W x2 + 5W woofer system, designed by the treVolo audio, which are located in the lower frame. Different sound profiles can be selected in the OSD menu. The sound quality is good enough for small-medium sized rooms and works great for gaming.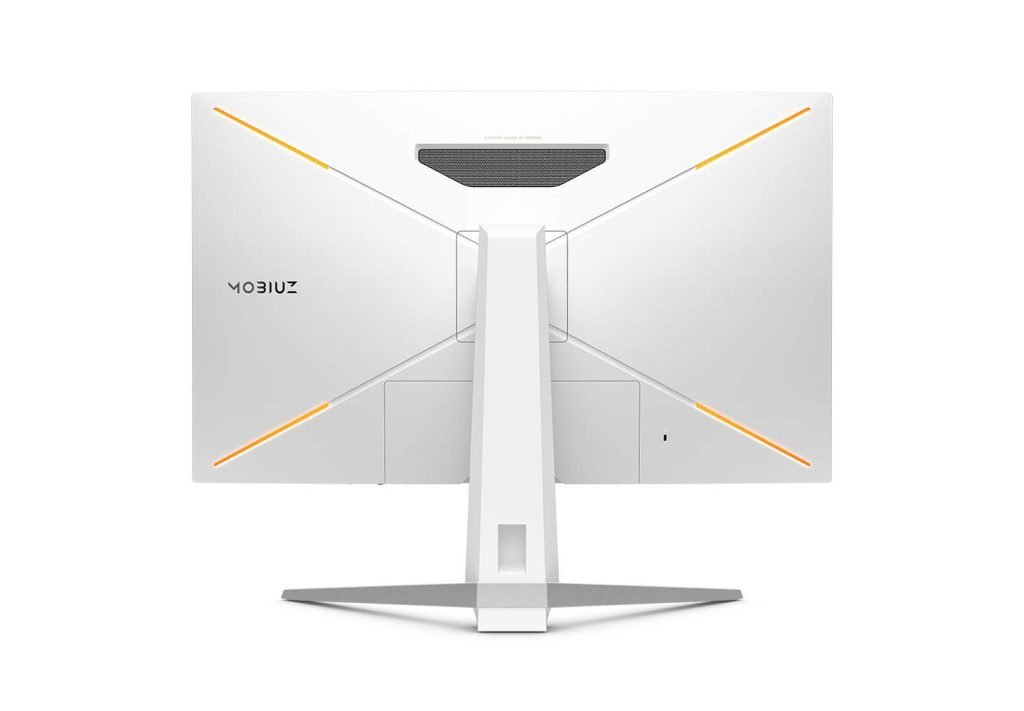 A first-of-its-kind AI noise-cancelling microphone is also built into the monitor allowing the hands-free communications.
BenQ Mobiuz EX3210U Review Verdict
The EX3210U is a UHD 4K gaming monitor offering high refresh rate of 144Hz and 1ms response time, making it perfect for next-gaming on the big screen as well as entertainment and causal use. This is made better with the built-in HDRi, Motion Blur Reduction and Eye Care features. Additionally, the futuristic design, cable management, speakers and built-in microphone should satisfy gamers and help keep your desk clear.