The Corsair MP600 Pro XT is an upgraded version of the MP600. It provides extreme storage performance, using Gen4 PCIe technology to achieve unbelievably fast sequential read and write speeds and is aimed at gamers, enthusiasts and high-power users. It comes in a M.2 2280 form factor with Gen 4×4 NVMe PCIe interface, based on 3D NAND TLC chips and a Phison E18 controller.
There are three different versions available in different storage capacities of 1TB, 2TB and 4TB and comes with a hefty heat sink and weighs 9.7 grams. There is also a MP600 Pro XT Hydro version with support for liquid-cooling.
Our review model is the 1TB version. Corsair claims sequential read speeds that can reach upto 7,100 Mbps and sequential write speeds of 5,800 Mbps on this model. The SSD is rated for an MTTF (Meant time to failure) of 1,700,000 hours, with operating temperatures of 0 to 70 degrees Celsius and is backed by a 5-year warranty.
A big thank you to Corsair for sending us this review unit.
Highlights
PCIe Gen 4×4 NVMe performance
Heat spreader
High capacities of up to 4TB
Liquid cooling option
Specifications
| | |
| --- | --- |
| Capacity | 1TB, 2TB, 4TB |
| Form Factor | M.2 2280 |
| Operating Temperature | 0°C ~ 70°C |
| Controller | Phison E18 |
| Interface | PCIe 4.0 NVMe |
| Sequential read/write | Up to 7,100MB/s read Up to 5,800MB/s write |
| Random 4K read | Up to 900K IOPS read Up to 1.2M IOPS write |
| Endurance | 700TBW |
| MBTF | 1,600,000 Hours |
| Encryption | AES 256-bit Encryption |
| Weight | 66g |
| Dimensions | 80mm x 23mm x 19mm |
| Warranty | 5 years |
Unboxing
The packaging comes in a newly designed stylish yellow-black packaging with photos and specifications on the sides. The box is durable and the MP600 Pro XT is well protected inside a foam container to keep the drive safe during shipping. Inside the box, we find the SSD and the QuickStart guide.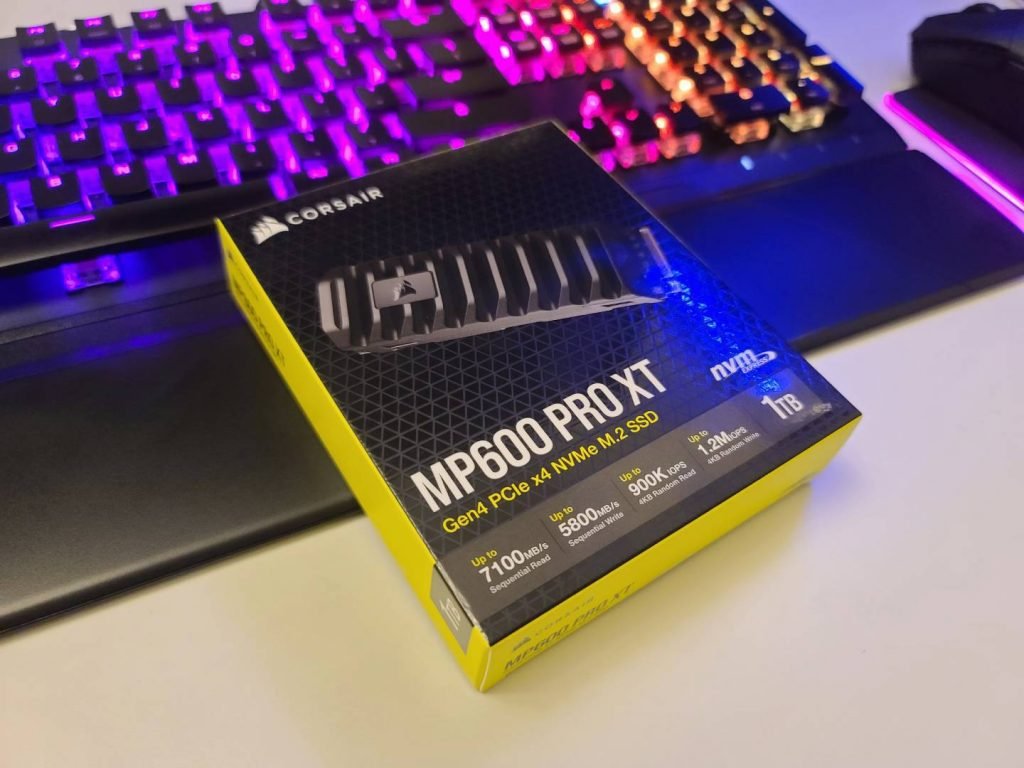 The SSD comes in the M.2 2280 form factor, 80mm x 23mm x 19mm in size and weighs about 66 grams. As the heatsink is quite hefty, the MP600 Pro XT is only compatible with gaming PC's.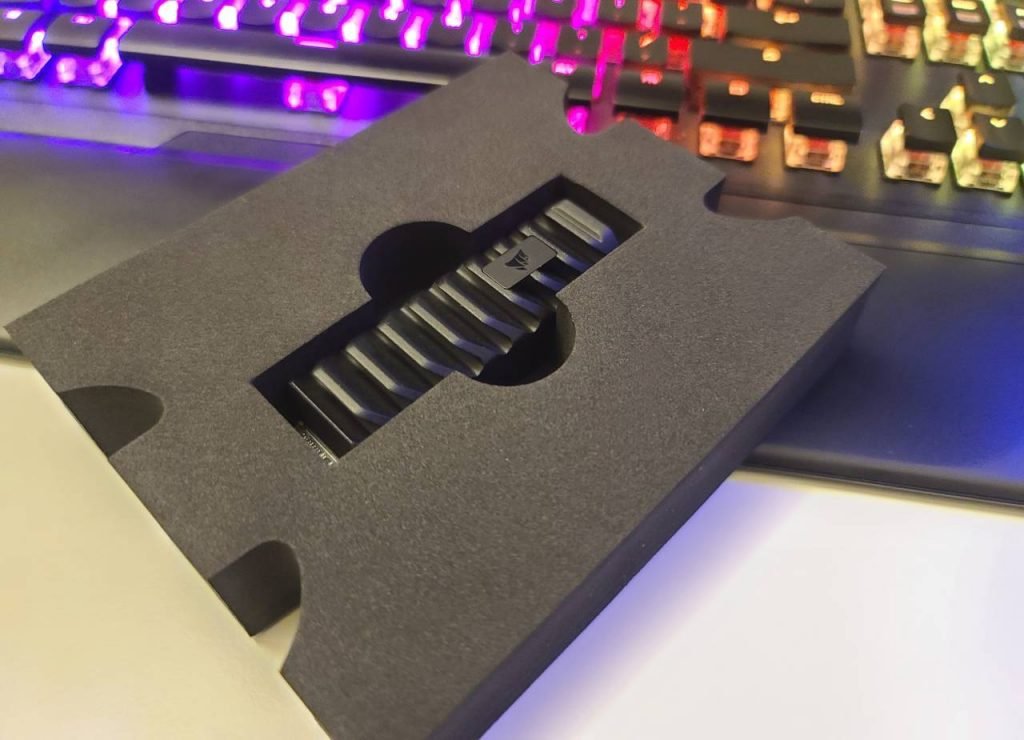 The Corsair MP600 Pro XT comes in the M.2 format and connects over a PCI-Express 4 x4 interface. This format is approximately twice as faster than PCIe 3.0 and is capable of both high speed read and transfer rates, as well as faster access times.
Performance
Our review unit is the 1TB version. The NVMe SSD comes in a 2280 format, consisting of 176-layer NAND Micron 3D TLC memory, a Phison PS5018-D controller, and 1GB of DRAM memory for every 1TB of storage serving as a cache.
For the performance tests we have used the following hardware. On paper, performance should be 7,100MB/s in sequential reading and 5,800MB MB/s in writing, along with 1,200,000 IOPS.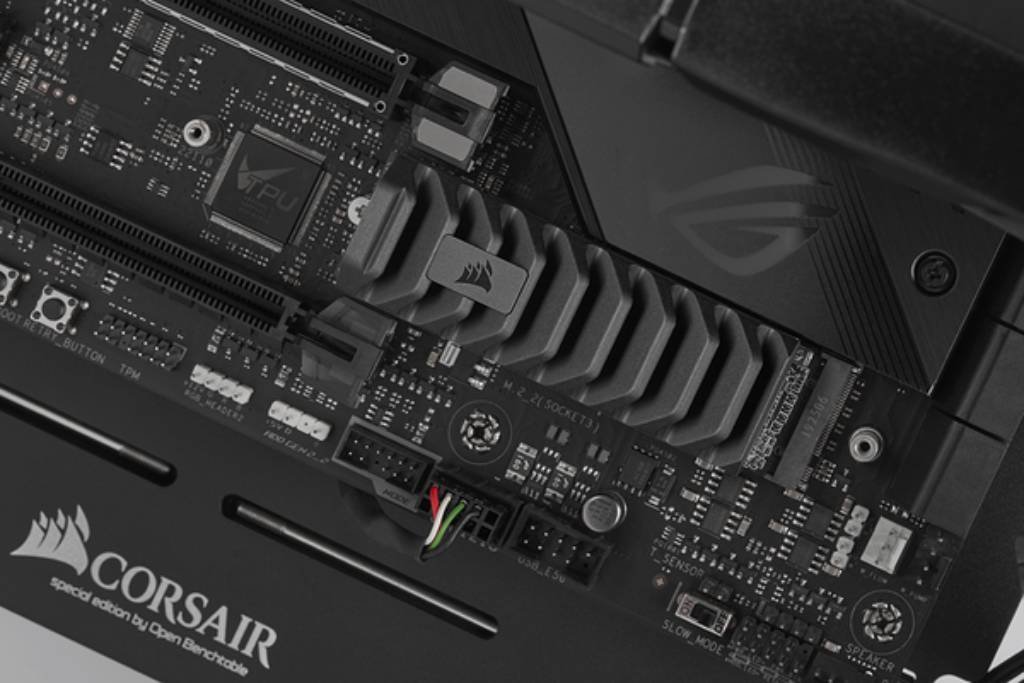 The Corsair MP600 Pro XT is also backward compatible with PCIe Gen 3 but will only operate at Gen 3 speeds.
After formatting the drive, we are left with 931GB of free space. During tests, the Corsair MP600 Pro XT performed extremely well. Transferring and reading files, booting the system and loading games is amazingly quick with this SSD.
In our Final Fantasy XIV Shadowbringers test, a benchmark that simulates game load time, the Corsair MP600 Pro XT came out with an impressive load time of 10 seconds.
When copying files during everyday use, the speeds are in the range of 1,200-1,800 MB/s, depending on the size of files. In CrystalDiskMark, the MP600 Pro XT scored 7,254 MB/s and 6,831 MB/s in sequential reading and writing. In ATTO Disk we see rates above 6.9GB/s in reading and 6.4GB/s in writing.
Software
The Corsair SSD Toolbox can help with secure erase, monitoring temperature, drive health, status, disk usage, total read and writes and also updating the firmware as and when they are released. The utility also allows optimizing the drive.
Conclusion
The MP600 Pro XT is a an excellent product from Corsair. It is one of the fastest PCIe Gen 4.0 NVMe M.2 SSD drives we've tested and is optimized to improve gaming, streaming and capturing experiences with ease and give your system an overall boost in responsiveness. Temperatures were always under 60-65C, thanks to the hefty heatsink.
The new MP600 Pro XT is currently available in 1TB, 2TB and 4TB capacities and is backed by a limited five-year warranty.