Introduction
Here is our review of the Crucial Ballistix Sport LT 3000 MHz DDR4 DRAM. This model is the entry level mainstream memory from Micron. It is not designed for overclockability and next-level performance like their Ballistix Tactical and Ballistix Elite DDR4 series, but it is otherwise made to be affordable. In addition to this memory module kit's accessibility, it is also ideal for users who wish to color-match their build since it is available in white, gray and red heatspreader options.

The kit that we've received is the 3000MHZ one in the Ballistix Sport LT series. The RAM is optimized for Intel 300 series motherboards and is AMD Ryzen ready.
Packaging:
The RAM comes in a partially transparent hard plastic rectangular case, a simple blister style pack with a plastic tray interior. This combination provides a level of protection which is very good at protect against blunt force damage while in transit while at the same time being very user-friendly Each pair of 8GB modules are in their own cradle inside. The name and brand are displayed on the top of the packaging so that the product is clearly identified. The rest of the transparent packaging shows us what the RAM looks like.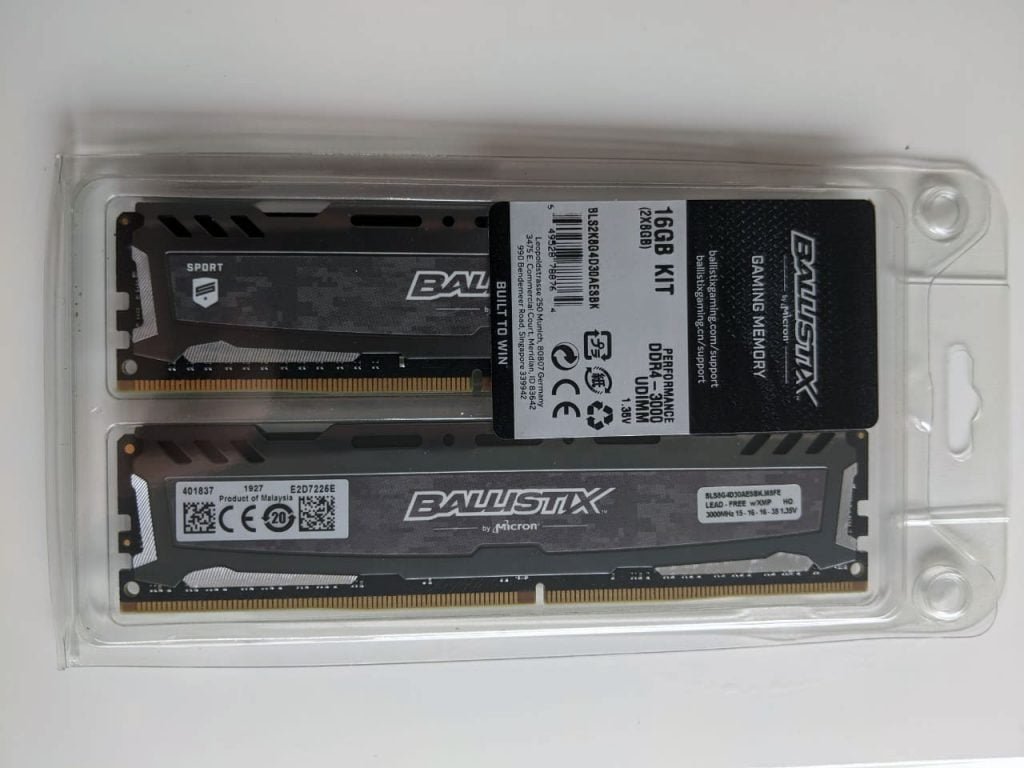 The packaging also comes with an installation guide for those who may be new to installing RAM. The two 8GB RAM sticks are placed snug in their own plastic compartment.
Specifications:
Each RAM module sports an aluminum heatspreader that is better looking than most other mainstream memory offerings. It uses a digital camo pattern on its body and stands 32.7mm tall and is 133.7mm long.
| | |
| --- | --- |
| Model: | BLS8G4D30AESBK |
| Series: | Ballistix LT |
| Capacity: | 16GB Kit (2 x 8GB) |
| Color: | Gunmetal Grey |
| Memory Type: | DDR4 |
| Memory Speed: | 3000MHz |
| Memory Configuration: | Dual Channel |
| DRAM Memory Timings: | 15-16-16-35 |
| Form Factor: | UDIMM |
| Voltage: | 1.35V |
Features:
Designed for anyone who wants to get more performance than a standard RAM specification, Ballistix® DDR4 memory adds a little more get up and go to your gaming system. It will definitely provide your processor with the resources to make your computer faster and more responsive.
With a stealth digital camo design and integrated heat spreader, Ballistix Sport LT is designed to be sleek and too fit in small form factor PC due to the radiators low profile.
Gaming Benchmarks:
Our test bench used for this review was:
Motherboard : Gigabyte Z390 Aorus Xtreme
Processer : Intel Core i9-9900K
Memory : 2 x 8GB Crucial Ballistix Sport LT 3000 MHz DDR4
SSD : Samsung 860 QVO 1TB Solid State Drive
Graphics Card : NVIDIA GeForce RTX 2080 Ti
PSU: Corsair 850W PSU
| Title | FHD (1920×1080) |
| --- | --- |
| Hitman | 138.0 |
| Total War: Warhammer | 119.0 |
| Shadow of the Tomb Raider | 191.0 |
| Far Cry 5 | 176.0 |
| F1 2015 | 131.0 |
| Metro Last Light | 166.0 |
Final thoughts:
The Ballistix LT 16GB RAM is all you need for your gaming needs, and the average market price is competitive compared to its rivals. If you are looking for RAM that will cater to most gaming use, with good quality, and a decent price, then I highly recommend this product. I currently use the 16GB Ballistix kit in my custom build and have been very pleased with it so far.
As far as mainstream DRAM modules go, the Crucial Ballistix Sport LT is an attractive and affordable option. It's closest rivals would be the HyperX Fury which is similarly priced and the Corsair Vengeance LP which is a bit more pricier for the same speed. They also all offer multi-color options, although the white Ballistix Sport LT is the only one that comes in a white PCB. For those who are looking to just build without much hassle, the Crucial Ballistix Sport LT will do nicely.
The Crucial Ballistix Sport LT memory modules performed above their expected limitations; they look great, and at this price point, it is one of the best affordable performance RAMs.