Kingston FURY Beast DDR5 RGB offers speeds up to 6,000 MT/s and capacities of up to 64GB along with dynamic RGB lighting effects. DDR5 memory has been around for a few months but they are only compatible with only latest Intel processors.
Introduction
The all-new Kingston FURY Beast DDR5 RGB RAM offers cutting-edge performance and dynamic RGB lighting effects that utilize Kingston FURY's patented Infrared Sync Technology to provide smooth, synchronized lighting effects.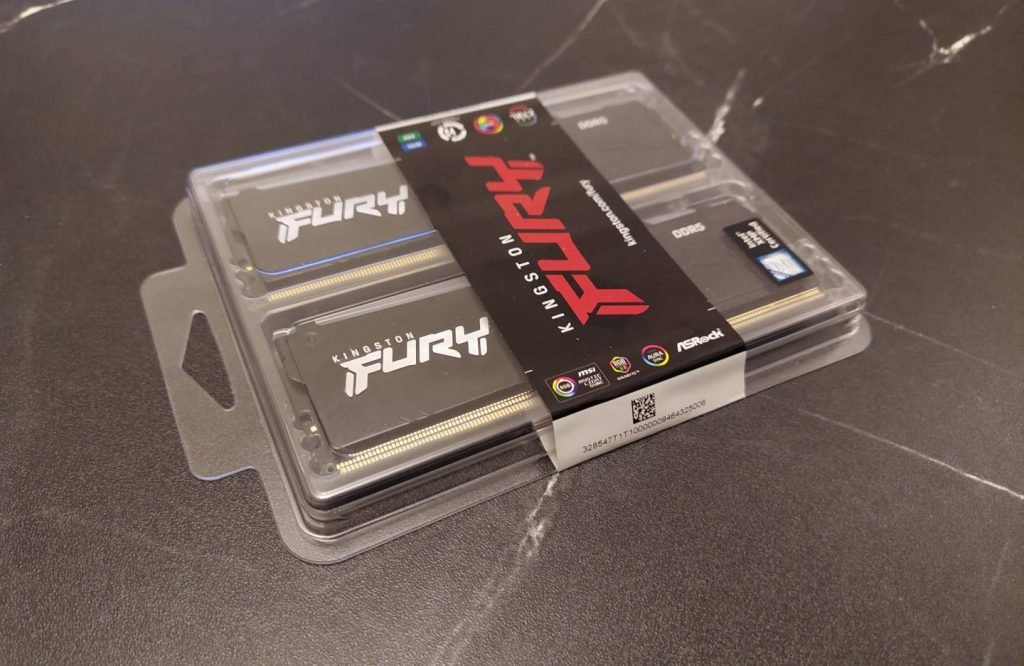 The FURY Beast DDR5 offers speeds up to 6,000 MT/s paired with quick CL40 latencies and is compatible 12th-gen Intel-based CPUs. It's available in single module capacities of 8GB to 32GB and kits of 16, 32 and 64GB.
Additionally, Kingston FURY Beast DDR5 RGB features Plug N Play automatic overclocking at 4800MT/s. It utilizes Intel XMP 3.0, a new overclock spec with advanced pre-optimized timings, speed and voltage for overclocking performance and customizable profiles. It is also backed by lifetime warranty.
DDR5 Explained
DDR5 is the latest generation of memory modules on consumer PCs, built to work with Intel's 12th-gen processors and Z690-chipset motherboards.
Compared to its predecessor DDR4 SDRAM, DDR5 is built on a new architecture and brings key improvements in terms of memory bandwidth, capacity, and power consumption compared with the last generation DDR4.
In this case, Kingston Fury Beast can operate on three frequency thresholds, based on XMP 3.0 profiles: 4,800 MT/s at 1.1V, 5,600 MT/s at 1.25V and 6,000 MT/s at 1.35V.
Features
Enhanced RGB lighting with new heat spreader design
Patented Kingston FURY Infrared Sync Technology
Intel XMP 3.0-Ready and Certified
Qualified by the world's leading motherboard manufacturers
Improved stability for overclocking
Plug N Play at 4800MT/s
The RAM supports motherboard manufacturers such as ASUS, GIGABYTE, MSI, and ASROCK. There is also a dedicated software 'Kingston FURY CTRL' that allows you customize the lighting effects of Kingston FURY RGB products. In addition to a library of preset patterns and effects, users can personalize the colors and speeds of the lighting schemes to match their own unique gaming aesthetic. Kingston FURY CTRL also supports legacy HyperX RGB-enabled memory products.
Packaging
The RAM comes in an all-new Fury branded box. Inside is a plastic blister pack with which protects the RAM kit in the plastic tray interior. Each pair of 16GB modules are in their own cradle inside. The packaging provides a level of protection against blunt force damage while in transit.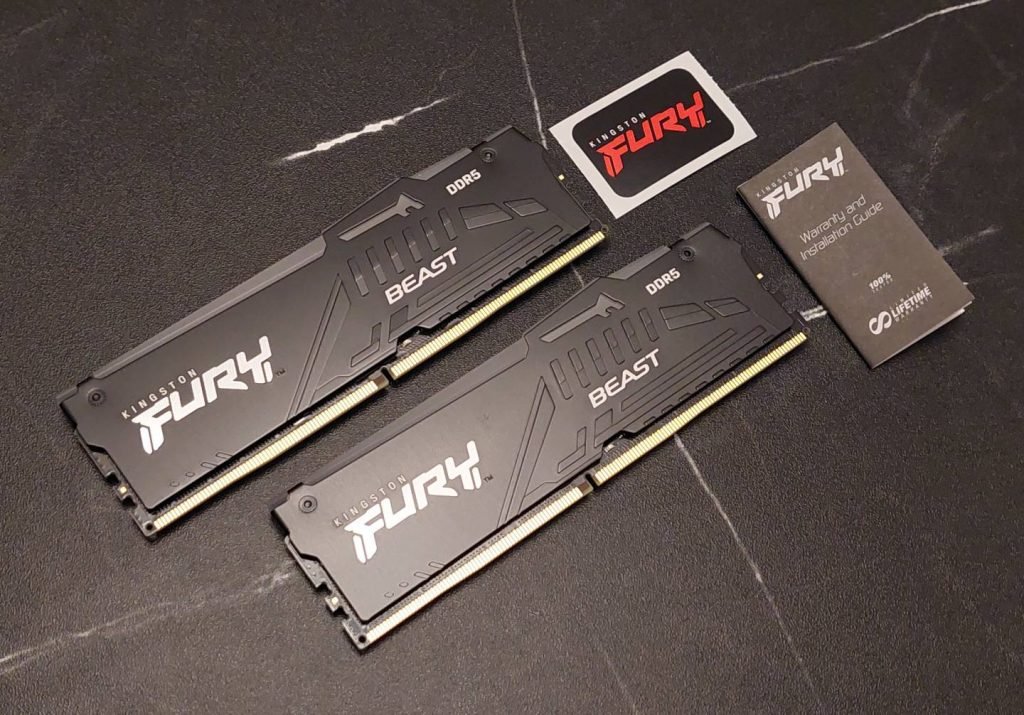 In terms of design, the FURY Beast has a black PCB and a stylish aluminum heat spreader with a RGB module at the top with the FURY logo. On the front is the FURY Beast branding and specifications labels are at the back.
Specifications
| | |
| --- | --- |
| Capacities | Singles: 8GB, 16GB, 32GB Kits of 2: 16GB, 32GB, 64GB |
| Frequencies | 4800MT/s, 5200MT/s, 5600MT/s, 6000MT/s |
| Latencies | CL38, CL40 |
| Voltage | 1.1V, 1.25V, 1.35V |
| Operating Temperature | 0°C to 85 °C |
| Dimensions | 133.35 mm x 42.23 mm x 7.11 mm |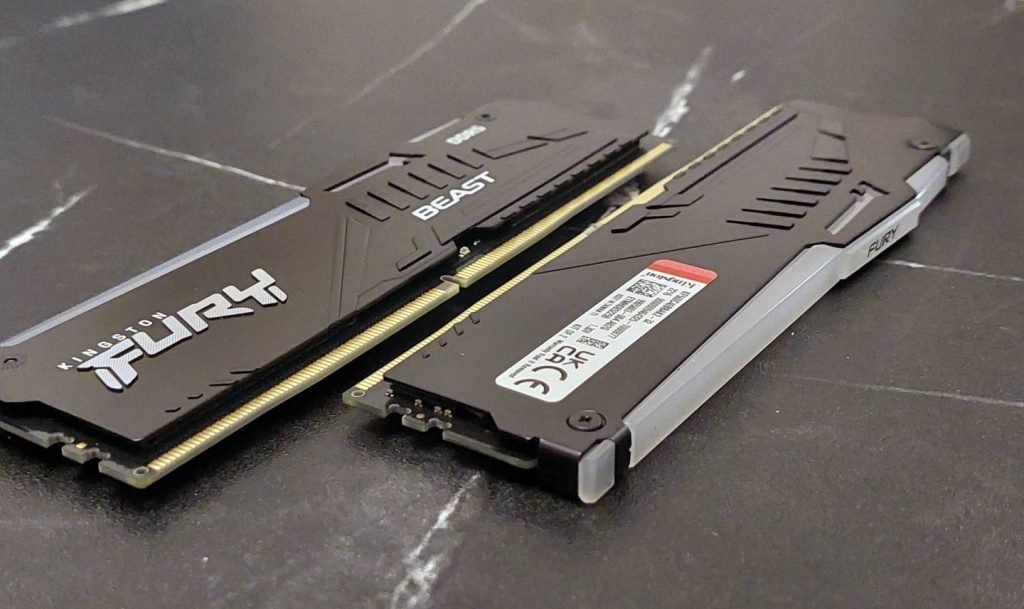 Benchmarks
Our test bench used for this review was:
Intel Core i9-12900K
Gigabyte Z690 AORUS MASTER
2TB Kingston Fury Renegade SSD
2x 16GB Kingston Fury Beast DDR5 RGB
NVIDIA RTX 3060 GPU
| | |
| --- | --- |
| AIDA64 Read | 76,764 MB/s |
| AIDA64 Write | 73,438 MB/s |
| AIDA64 Copy | 70,566 MB/s |
| AIDA64 Latency | 88.4 ns |
FURY Beast DDR5 RGB Conclusion
The FURY Beast DDR5 RGB RAM offers next-gen performance and comes in different capacities, frequencies and latencies to best suit your gaming setup. If you are looking for an incredibly fast DDR5 memory kit with RGB, the Kingston Fury Beast RGB is one of the few available choices.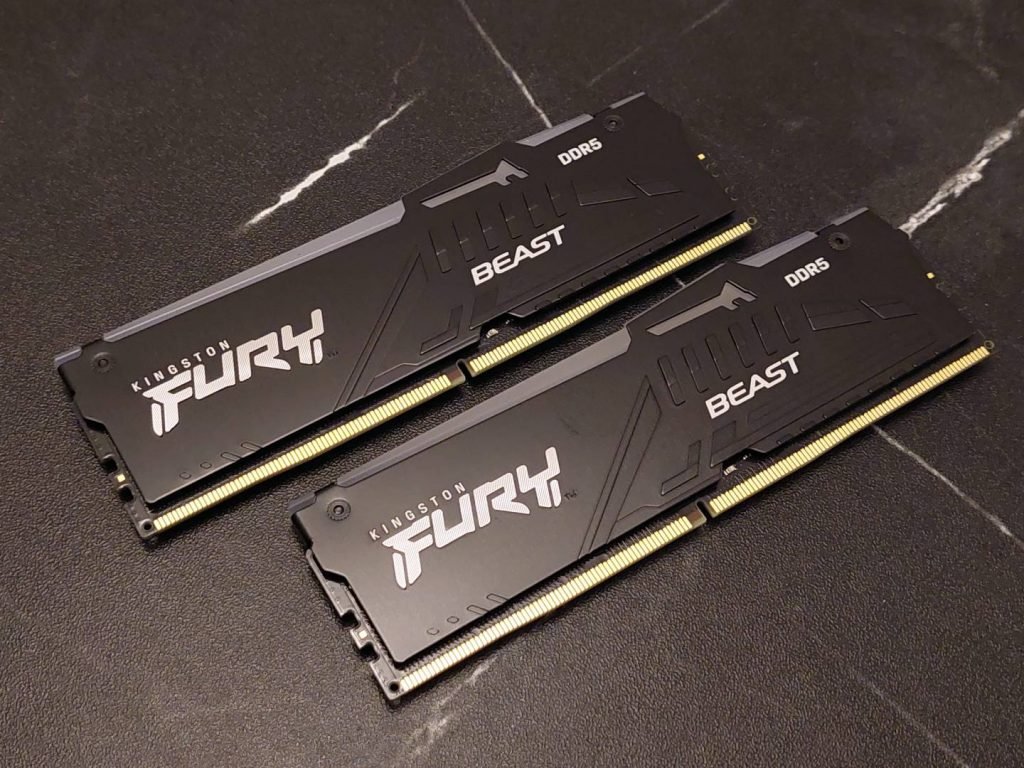 However, the RAM has limited compatibility and works only with the latest Intel CPUs and select motherboards.