The HS65 Surround is Corsair's latest addition to its series of premium gaming headsets. The headset delivers all-day comfort and sound with memory foam leatherette ear pads, lightweight aluminum-reinforced construction, and Dolby Audio 7.1 surround sound on PC and Mac. The Corsair HS65 Surround Headset is also compatible with PlayStation, Xbox, and Switch and mobile devices.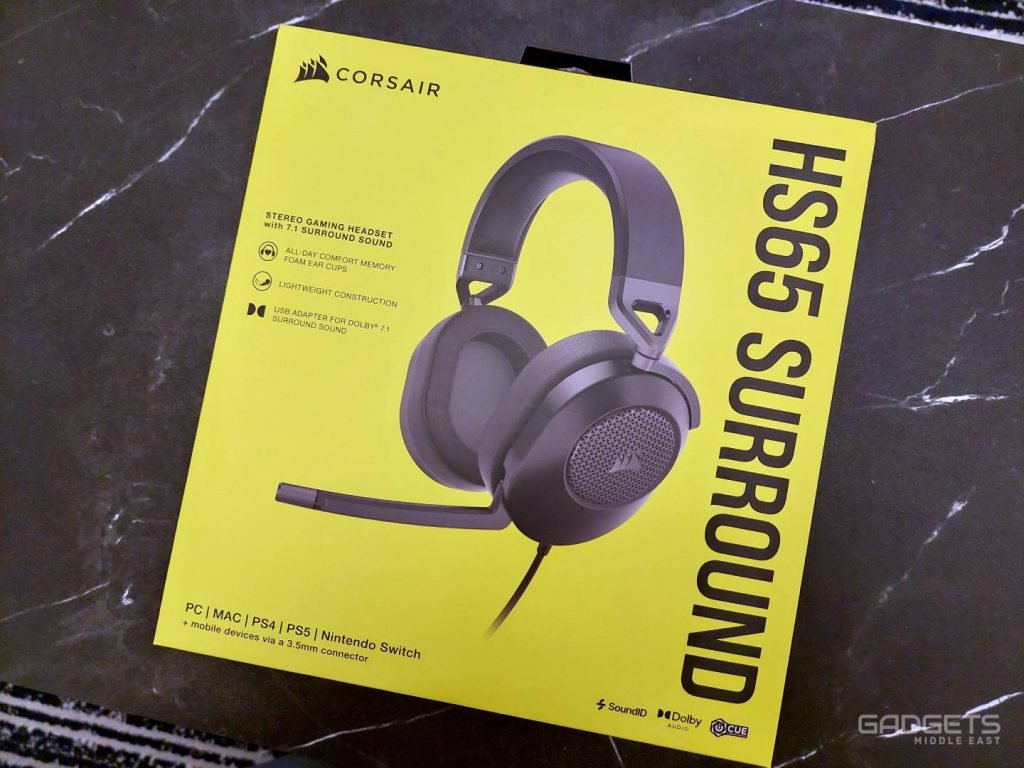 The headset features SoundID from Sonarworks. Integrated into CORSAIR iCUE software, SoundID easily customizes the audio profile of the gaming headset to fit your unique hearing preferences.
Specifications
| | |
| --- | --- |
| Connectivity: | Wired |
| Drivers: | 50mm |
| Drivers Material: | Neodymium magnets |
| Headphone Sensitivity: | 111dB (+/-3dB) |
| Surround Sound: | Yes |
| Frequency Response: | 20Hz – 20 kHz |
| Impedance: | 32 Ohms @ 1 kHz |
| Weight: | 282g |
| Microphone Type: | Unidirectional noise cancelling |
| Microphone Frequency Response: | 100Hz to 10kHz |
| Microphone Sensitivity: | -40 dB (± 3 dB) |
Packaging
The packaging comes in a newly designed stylish yellow-black packaging with photos and specifications on the sides. The box is durable and the headset is well protected. Inside the box, we find the Corsair HS65 Surround Headset, USB 7.1 surround dongle and the product information guide. You have to download the Corsair iCUE software manually.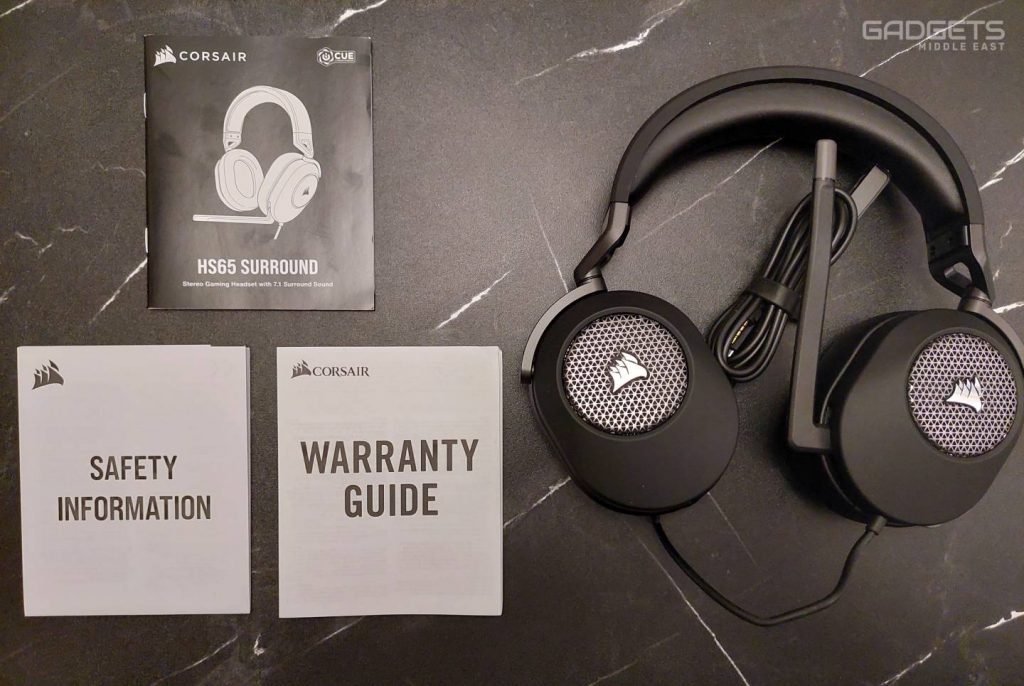 The headsets and accessories are well protected so that it does not move during transport. The packaging includes the below:
HS65 Surround Headset
USB 7.1 surround dongle
Setup guide and warranty
Design & Build
The Corsair HS65 Surround headset features a beautiful black design and grey highlights. It has a padded headband which can be easily adjusted to different head sizes and offers a very comfortable fit for hours.
The headband earcup frame is made of lightweight aluminum, which gives the it a premium feel. Located on the left earcup is the volume roller. The microphone is also on the left side of the headset and has a flat design. However, the microphone is fixed and cannot be detached. It features flip-to-mute function to mute the mic and is within easy reach.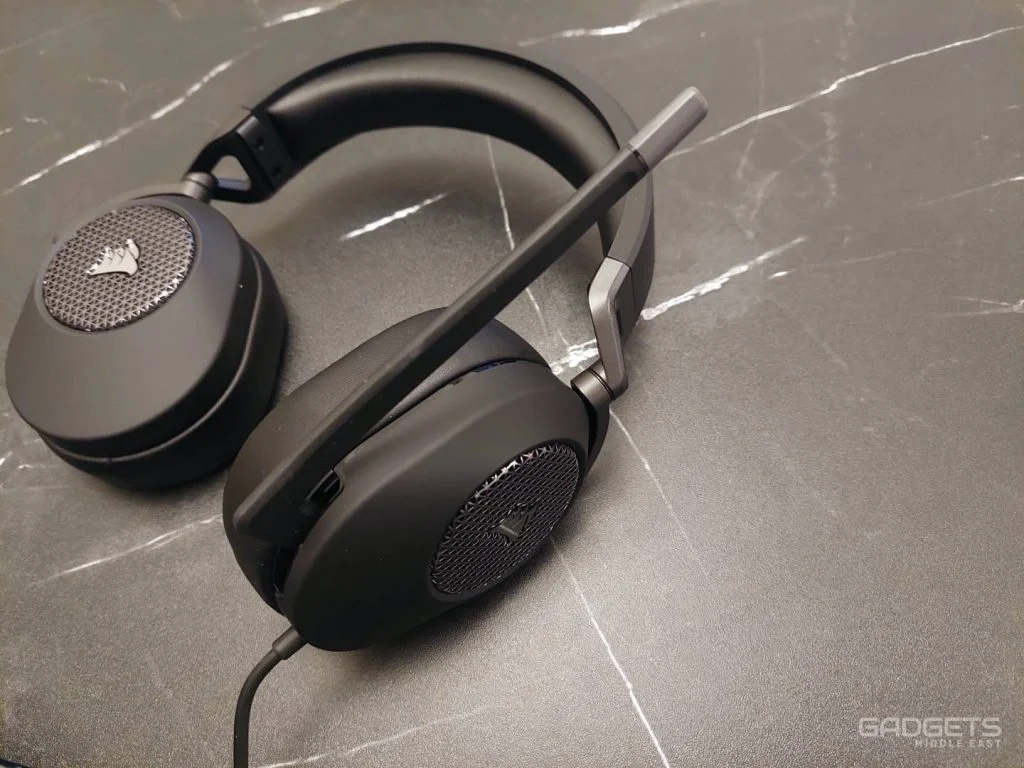 The plush leatherette-wrapped memory foam ear pads are pretty comfortable and durable unlike synthetic leather, which wears and peels over time. It also allows for better airflow to and from your ears. In terms of build quality, the HS65 Surround is a sturdy headset, it feels solid and is comfortable at the same time. The choice of materials makes headset feel premium.
The included USB 7.1 surround dongle has a sleek finish and features an LED indicator that lights up when plugged in.
Performance & Audio Quality
Dolby Audio 7.1 surround sound and SoundID can only be activated on a PC or Mac by using the included USB dongle and CORSAIR iCUE software. Alternatively, you can use the 3.5mm jack to easily plug into PC, console, or mobile devices to quickly get into the action.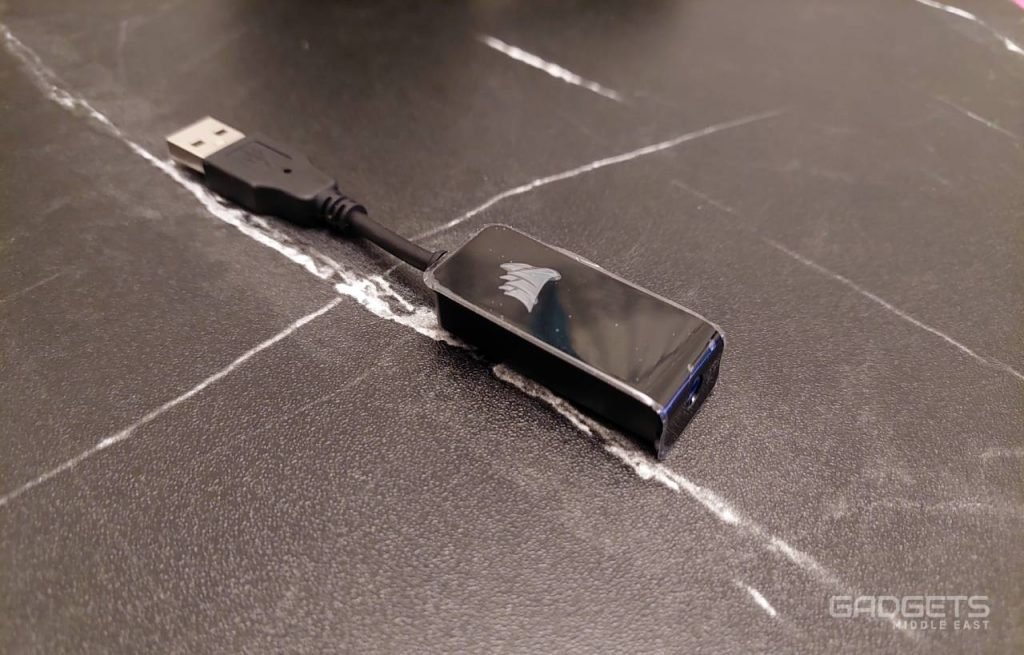 In terms of audio quality, custom-tuned 50mm neodymium drivers (same as the HS80 Wireless) are responsible for the audio conversion, which according to Corsair, covers a frequency range from 20Hz to 20kHz. The headphones have an impedance of 32 ohms and a sensitivity of 111 decibels.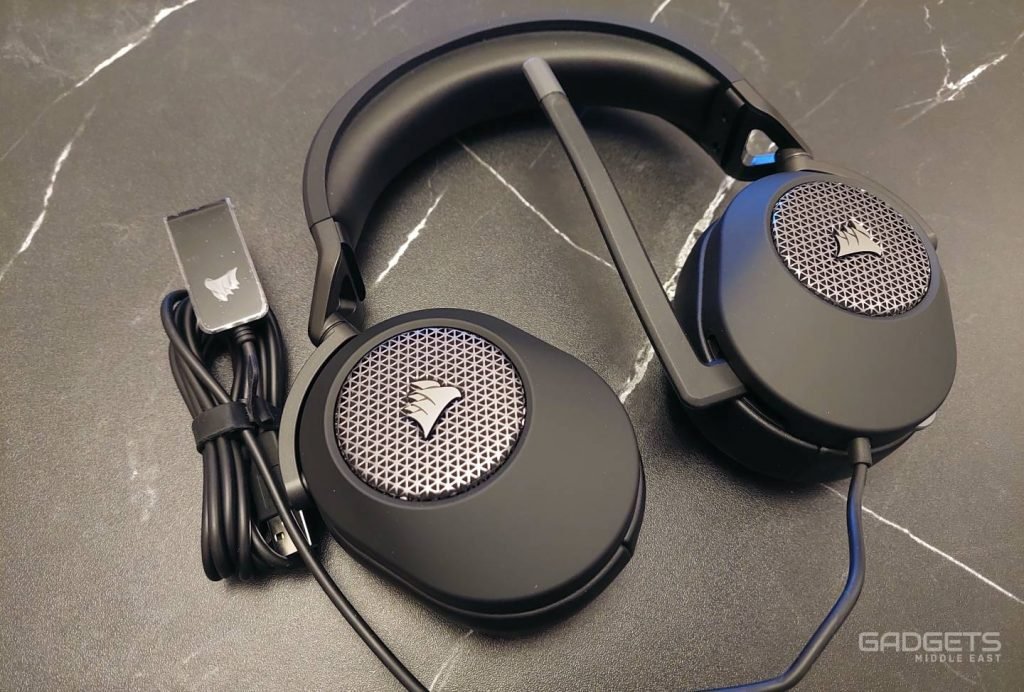 The bass response is deep and punchy, highs and mids are crisp and distinct. The sound in general is satisfying and without distortion even on high volume. High frequencies are heard clearly, which is also true for mids. For games and music, the difference is clearly noticeable. Voice dialogues are crisp and we were able distinguish sounds coming in from different directions with perfect accuracy.
Microphone
The available microphone is an omnidirectional one and has a frequency response from 100Hz to 10kHz. The microphone is also Discord Certified for voice clarity, recording quality is clean without much external noise.
Software & Features
The audio equalizer settings, SoundID personalized audio, Dolby Audio 7.1 surround sound can be adjusted via the iCUE software which can be downloaded from Corsair's website. You can also sync all your iCUE supported peripherals using the same software. However, once Dolby Access is enabled, you will no longer be able to adjust equalizer settings from the iCUE software but can be done so from Dolby Access.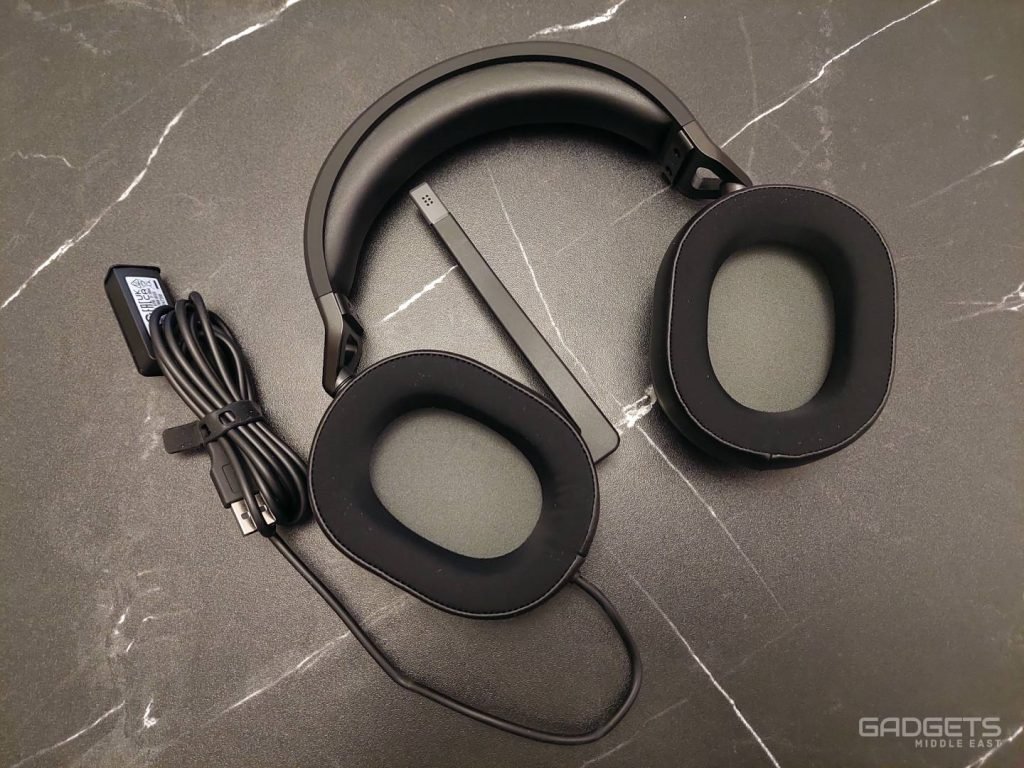 Verdict
The Corsair HS65 Surround offers solid audio performance on a budget, especially if you are looking for a cross-platform headset without RGB. Complete with Dolby Audio 7.1 surround, Discord certification and solid software support the HS65 Surround is a great addition to any set-up.
The build quality feels solid and premium. In terms of comfort, the lightweight headband and soft fabric ear cushions also offer a comfortable fit even for long periods of use.