Razer's new Kaira and Kaira Pro are wireless gaming headsets made for the Xbox One and Xbox Series S/X and uses the Xbox Wireless format for seamless, low-latency connectivity. Our review model is the standard Razer Kaira which is almost identical to the Pro version except for the Bluetooth 5.0 connectivity and Chroma RGB lighting. This means that the standard Razer Kaira works only with Xbox (and PC but you need to purchase an Xbox Wireless Adapter separately).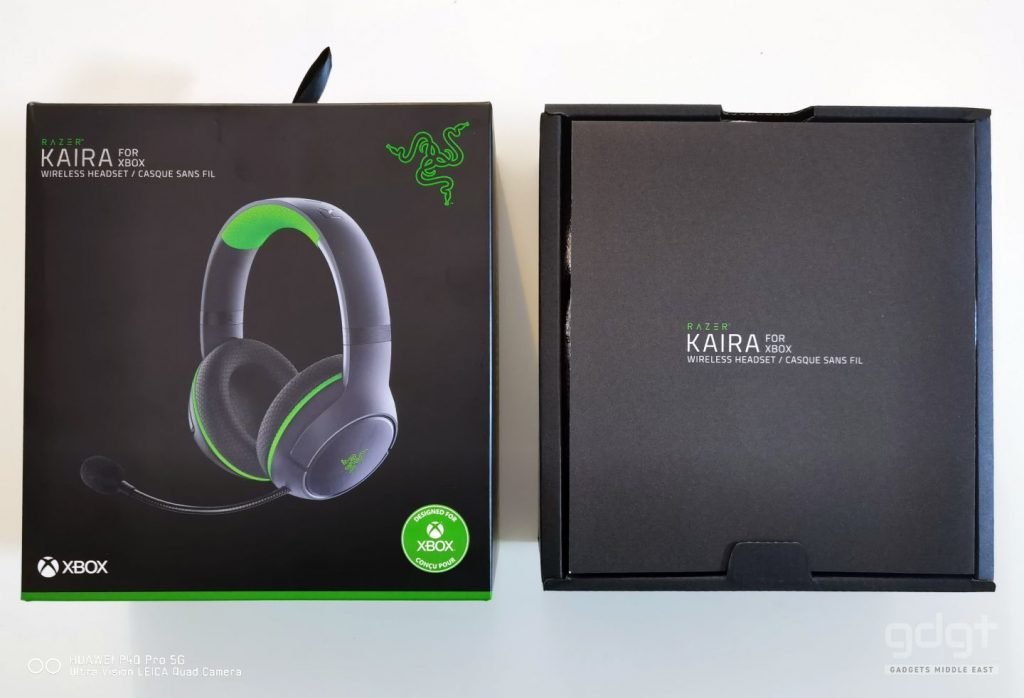 The headphones share the same TriForce Titanium 50mm drivers used on the BlackShark V2, promising brighter, clearer sound without sacrificing bass and Razer estimates around 15 hours of listening time. The Razer Kaira features a well-padded headband and a soft, breathable ear cushions for comfort during long gaming sessions.
Aside from the lack of Bluetooth and RGB lighting, the differences largely come down to the microphones. The Kaira Pro has a detachable microphone and a separate hidden microphone for use on the go, while the standard Kaira has a non-removable boom microphone.
Specifications
| | |
| --- | --- |
| Connectivity: | Xbox Wireless |
| Drivers: | Razer TriForce Titanium 50mm Drivers |
| Drivers Material: | Razer TriForce Titanium |
| Frequency Response: | 20Hz – 20kHz |
| Impedance: | 32 Ohm |
| Sensitivity: | 108 dB |
| Wireless Type: | 2.4GHz Lossless |
| Wireless Range: | 10 m / 30 ft |
| Wireless Battery Life: | Up to 15 hours |
| Weight: | 293g |
| Microphone Type: | Non-detachable |
| Microphone Frequency Response: | 100 – 10,000 Hz |
| Microphone Sensitivity: | 54 ± 3 dB |
| Pick-up Pattern: | Unidirectional |
Packaging
The Razer Kaira comes in a Razer branded cardboard packaging, in a mix of black and green colors to match the Xbox theme. On the front is a photo of the headset while on the sides and back are the detailed specifications of the product.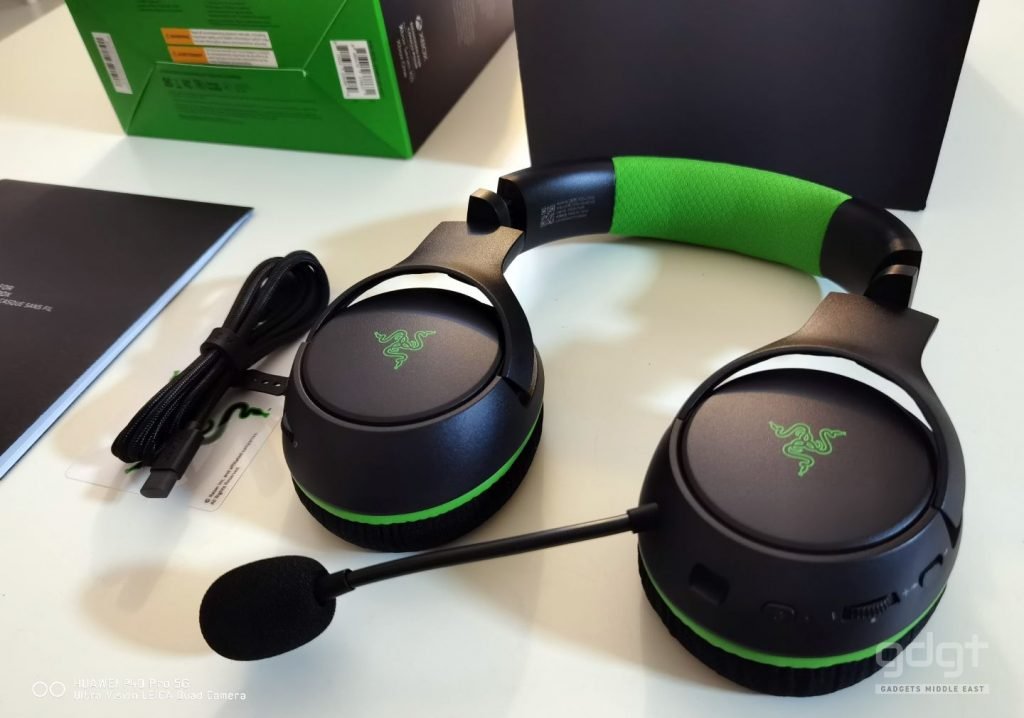 The packaging includes:
The Razer Kaira
USB-A to USB-C charging cable
Quick start manual
Razer stickers
There are no dongles included. If you are looking to use this headset on a Windows PC, you will need to purchase an Xbox Wireless Adapter separately.
Design & Build
The Razer Kaira is an over-ear headset and comes in a mix of green and black colors and match the Xbox Series X theme perfectly. The headband padding and the ear cup borders are green. On both sides of the earcups is the Razer logo. The rest of the headset is entirely black.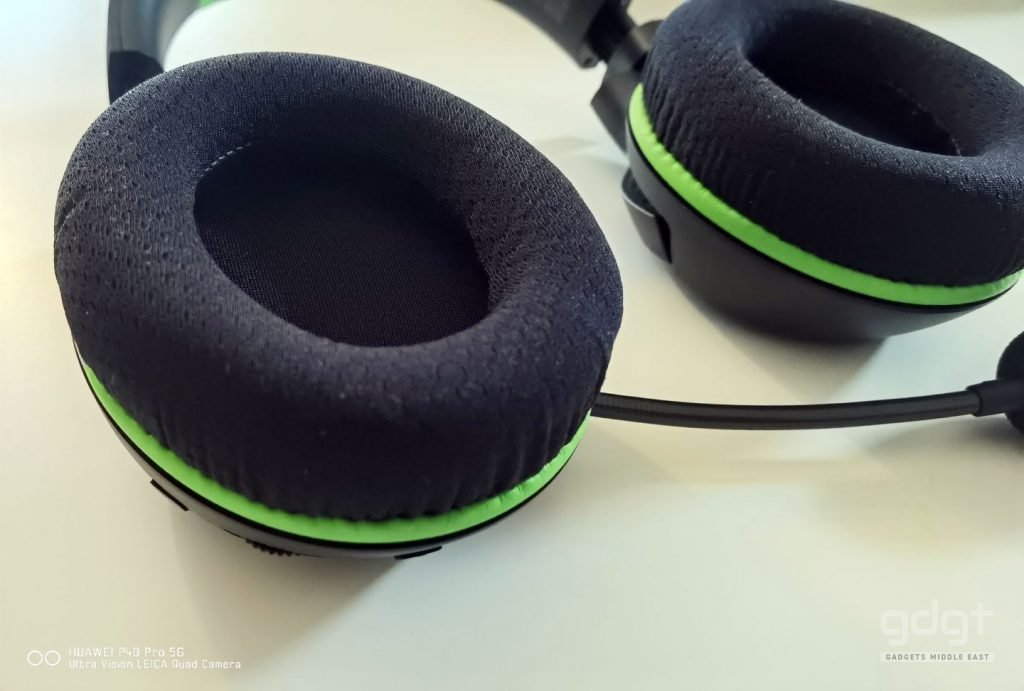 The headset has a weight of 293 grams and has an adjustable headband. The headset frame is entirely made of matte-textured plastic, with a padded foam that covers the top part of the headset for extra comfort.
The headset offers a good tilt range and they rotate to fit most head shapes. The earcups are circular in shape and completely wraps the ear. They are covered with Razer's FlowKnit memory foam ear cushions to offer comfort and minimize sweat and heat build-up generated by skin contact during long gaming sessions.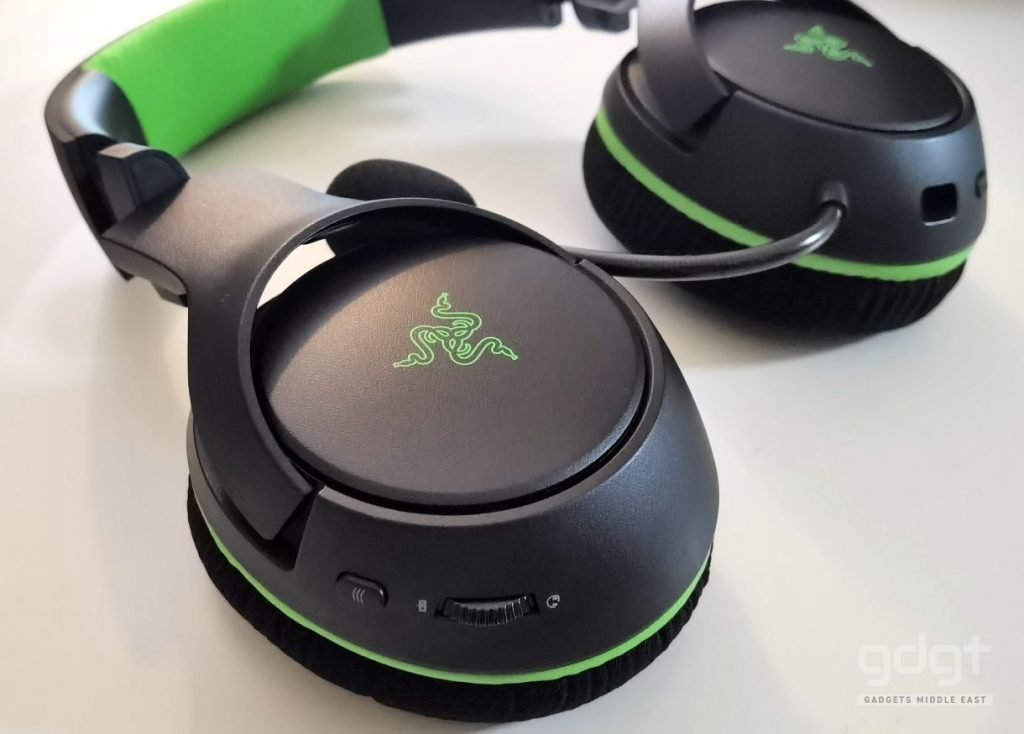 On the left ear cup are microphone mute switch, volume wheel, status indicator LED, power button, charging port and the bendable Razer HyperClear Cardioid Mic.
And on the right side are the EQ / Xbox Pairing button and Game / Chat balance wheel.
Overall, the build quality is great and headset sits very comfortably on the head while offering right amount of clamping force to feel secure.
Performance & Audio Quality
The Razer Kaira requires a firmware update before it can be used for the first time by connecting to a PC, an update slip is included in the package with a link to the installation file.
The Kaira is designed for Xbox gameplay and uses a dongle-less design that syncs directly with your Xbox console just like a controller. Which means that once paired with a console, you can use the headset to turn on the console.
Razer uses its own "Razer Triforce 50mm" drivers for this headset with a frequency response of 20Hz – 20KHz and an impedance of 32 ohms. These drivers use titanium-coated diaphragms and acts as though there are three, for added clarity and can tune highs, mids and lows separately producing brighter, clearer sound with richer trebles and more powerful bass to deliver an immersive audio experience. On Xbox and PC the headset is compatible with Windows Sonic Surround Sound.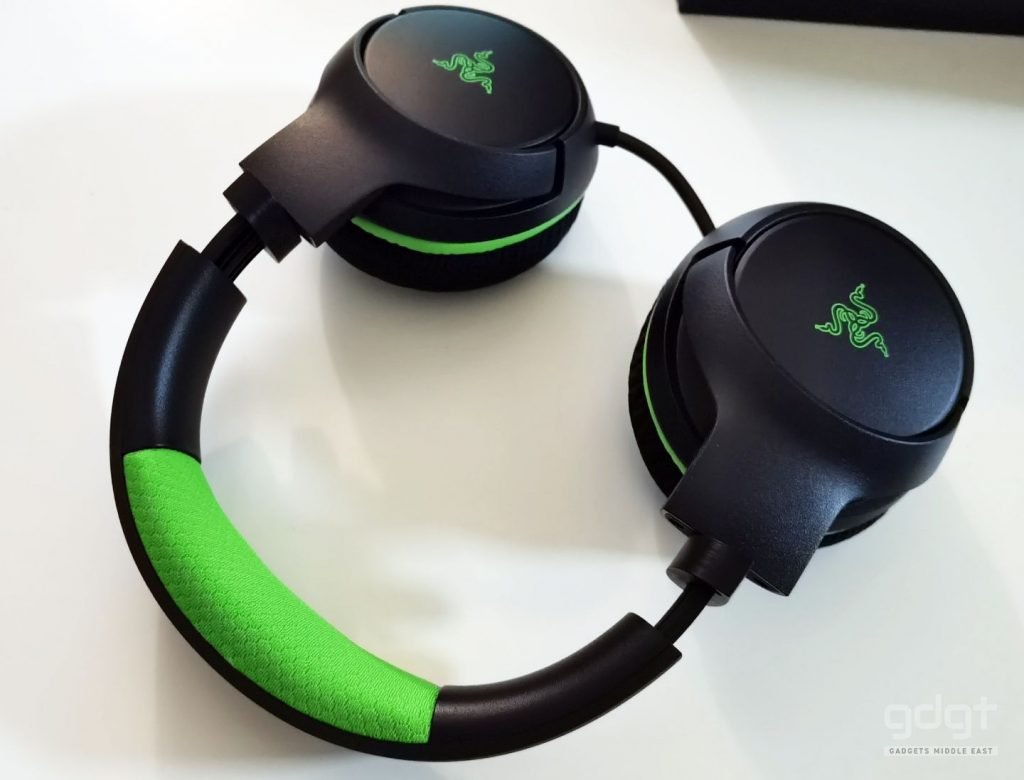 The sound quality from the 50mm drivers is impressive, the mids and highs are both clean and detailed although the bass is sometimes quite a bit louder than midrange and treble notes. The use of Windows Sonic virtual surround sound is effective, there was directionality in all games that we played although not too distinct. You can also cycle between 4 equalizer settings via the equalizer preset button on the right earcup to switch between a default mode, FPS mode, Bass mode and a custom profile mode to enhance game audio and amplify low frequency sounds. Unfortunately, the headset doesn't offer noise cancelling.
With regards to the microphone, the Kaira features Razer's HyperClear Cardioid microphone for clear voice chat as well as improved voice isolation. In our testing we found it to be very clear and there was no tininess although it picked up some faint background noises every now and then.
In terms of battery life, the Kaira Wireless can last up to 15 hours on a single charge according to Razer. In our testing we found the headset to last about 20 hours with the volume set to medium.
Software & Features
For customizations there is a dedicated "Razer Headset Setup for Xbox" companion app on the Xbox and Windows PC. This app can be used to create sound profiles, adjust the equalizer and microphone settings.
Verdict
The Razer Kaira Wireless is a good wireless gaming headset, but is limited by its connectivity. It works very well with Xbox consoles but if you are looking for a versatile headset, this is not the one for you. The headset doesn't have Bluetooth or a 3.5mm jack, so mobile and wired connections are out and makes the Razer Kaira pretty much locked to a single platform.
With that said, The Razer Kaira has a lot of strengths – it's comfortable, sounds good, offers a good mic and a decent battery life. It is also one of the cheapest wireless gaming headsets currently available for the Xbox Series X/S at AED 409.