Huawei today announced the start of new Device Upgrade Premium service benefiting its midrange and entry level smartphone users in the UAE, which aims provide consumers with a more reasonable service solutions and improve post-sale service satisfaction.
The new introduced service allows easy turn of old or broken smartphones such as HUAWEI Y9 Prime 2019, HUAWEI nova 3i, HUAWEI Y9 2019 for 15% discount from the market price toward the next smartphone upgrade (HUAWEI nova 8i, HUAWEI Y9A). No matter the condition, the consumers can benefit from this service and turn it into something good for themselves and for the planet, as Huawei will take care of eco-friendly recycle of the old/broken devices.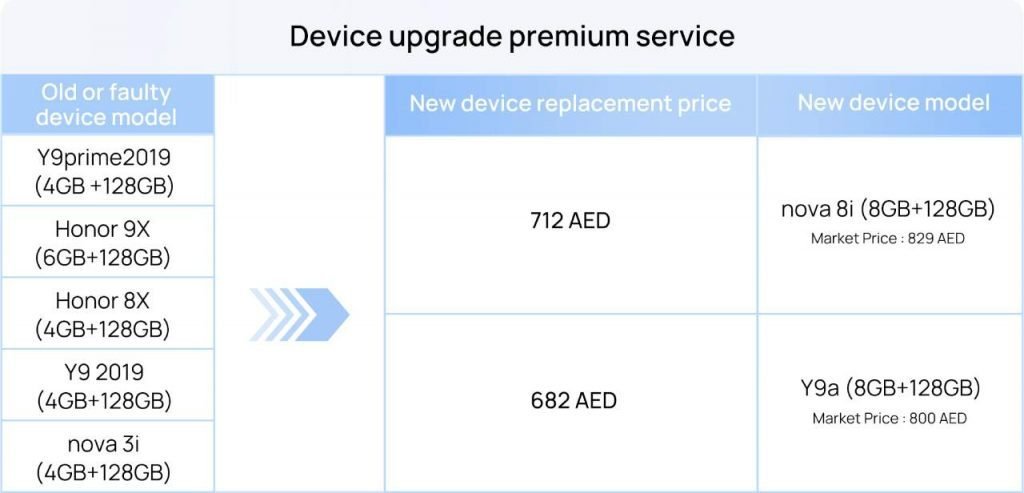 For more details about Huawei Device Upgrade Premium service please visit Huawei's support page. This service is only applicable from September 5 2022 till December 31 2022.
Participation Conditions
No matter your phone is old non-faulty or completely damaged, you can upgrade the device if:
The old device is a genunie one regardless of which country you bought it from.
All the parts in the old device must be the original HUAWEI parts, any device with part changed or replaced in any unauthorized HUAWEI Customer Service Center will be rejected.
The old device cannot lack of any spare parts, such as cameras and screens (excluding accessory chargers).
The device cannot be an assembly device or a knockoff device.
HUAWEI will provide 12-month warranty for the new device and 6-month warranty for packaged accessories.
Refund is not supported for new devices. However, they can be replaced within the first 14 days only causing by manufacturing issues.