Huawei today launched new smartwatches with combination of innovative designs and functionality – the HUAWEI WATCH Buds and HUAWEI WATCH GT Cyber in the UAE. At the Mobile World Congress (MWC 2023) recently held in Barcelona, Huawei wearables, attracted the attention of global media outlets and guests, and won 16 authoritative media awards. These awards reflect the global recognition of Huawei's expertise in wearables and the company's edge in the international market.
Where earbuds and watch come into one. The HUAWEI WATCH Buds solves the problem of forgetting or losing TWS earbuds during daily use, and introduces a convenient and lightweight smart experience. It is another in-depth exploration of the possibilities that Huawei smart wearables brings, delivering a new era of smart experience to users.
As the industry's first 2-in-1 watch-earbuds high-end smartwatch with a magnetic pop-up cover and earbuds design, the HUAWEI WATCH Buds is designed with a highly integrated overall architecture, blurring the boundaries between TWS earbuds and smartwatches. It combines the features and functions of both smart devices, merging the TWS earbuds and smartwatches into a nifty wearable. The HUAWEI WATCH Buds is compatible with Huawei devices as well as other Android and iOS devices.
Earbuds and watch come into one: Elegant watch design with highly integrated architecture
Today, smart watches and TWS earbuds are increasingly becoming must-have products for consumers on the go. However, both smartwatches and earbuds are often considered as two separate devices. Embodying the spirit of innovation, Huawei created the industry's first smartwatch with a magnetic pop-up cover design, which hosts a pair of TWS earbuds within it.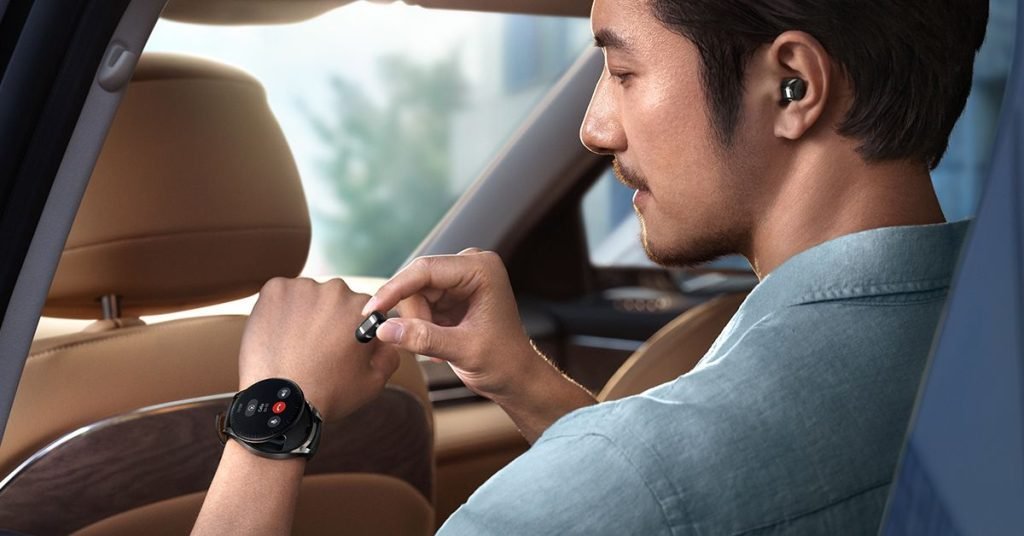 The HUAWEI WATCH Buds adopts a highly cohesive structural design, using custom miniaturised precision components and advanced manufacturing processes bring a new and convenient experience. The dazzling diamond-facet button with 710 Clous de Paris pattern present a unique metallic lustre with delicate texture. It comes a Full-grain leather strap made from top-layer calfskin, softly-milled with exquisite textures and subtle lustre adding an elegant and stylish touch.
As a first-of-its kind smartwatch designed with earbuds, the HUAWEI WATCH Buds' innovative pop-up design allows the watch cover to instantly pop up like a pocket watch with a simple push, and the two earbuds will be found attached to the other side of the dial. This simple yet elegant idea combines technology and products together starting a new journey. To ensure an excellent product experience, Huawei WATCH Buds uses an ultra-miniature precision rotating shaft, which is designed to open and close smoothly with concave and convex wheels, and has undergone 100,000 times of opening and closing, a 5kg stress test and other harsh tests, making it robust and durable.
AI Noise Cancellation Calling & High-Quality Sound
Other than listening to music, taking calls are another essential part of owning earbuds. HUAWEI WATCH Buds are small yet mighty – built with dual microphones with audio pickup and a bone conduction sensor. The two microphones can pick up both vocals and ambient sound while the bone conduction sensor accurately identifies sounds through reverberations in the user's bones and absorbs their voice, distinguishing it clearly from ambient noises. This is then processed by a deep neural network call (DNN) noise reduction algorithm that effectively cancels noise and enhances vocals to deliver clear calls.
In terms of sound quality, The HUAWEI WATCH Buds earbuds are equipped with quad-magnetic full-Range Planar Diaphragm drove, enabling the small unit to deliver powerful, full-frequency and high-resolution audio, allowing users to listen to rich sound details. In addition, HUAWEI WATCH Buds earbuds also support Triple Adaptive EQ. The sound is optimised in real time according to the differences in ear canal structure, wearing status and volume level, customising the sound to achieve the best full-frequency listening experience for the users.
Moreover, the HUAWEI WATCH Buds also supports ANC to reduce ambient noise and provide an immersive experience be it for listening to music or taking calls.
Full-featured smartwatch: All-day Health Management
As a new smartwatch with its own earbuds, in addition to having full-featured TWS headphones, the HUAWEI WATCH Buds remains excellent in terms of functionality and experience as a watch. The smartwatch supports continuous heart rate, SpO2, and sleep monitoring. With the powers of Huawei's self-designed TruSleepTM technology, the smartwatch can keep track of your sleep health and habits and also record snoring.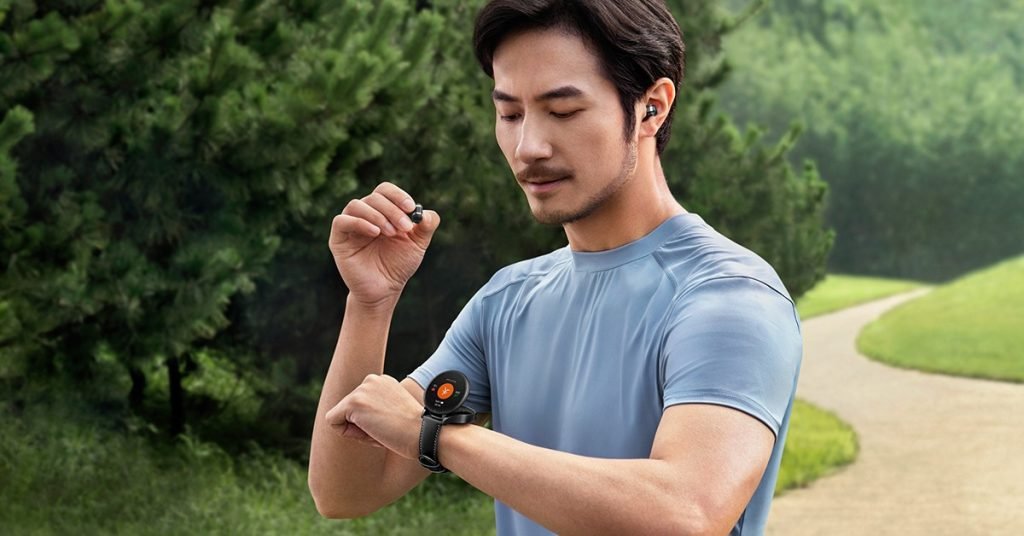 Comfortable to wear, easy to control
The earbuds come in a lightweight octagonal cylindrical design with dimensions of 21.8×10.3×10.3mm. The weight of each earbud is roughly 4g. It is easy to wear and can be seamlessly placed back into the watch. With its cylindrical design, the earbuds provide a comfortable audio experience. At the same time, the earbuds adopt an in-ear design without any ear handles. Compared with traditional earbuds, the gravity centre of the HUAWEI WATCH Buds earbuds is closer to the ear canal making it more stable and will not be accidentally knocked off, making it the perfect fit for daily use, and exercising.
In addition to Adaptive Identification Technology, HUAWEI WATCH Buds' headphones also support new Wide-Area Auricle Touch Controls. Wide-area auricle touch controls, covering the earbuds, auricle, and area in front of ears, allow users to access multiple functions by just tapping their ears, enabling wider range and more accurate touch recognition. Double tap to answer or reject a call, or play or pause a song. Triple tap to enable or disable noise cancellation. It also supports customisation, enabling users to program what they need in just a tap away.
When wearing the earbuds, HUAWEI WATCH Buds activates the Adaptive Identification Technology equipped in both left and right earbuds to measure the acceleration angular velocity based on the users' motion through the IMU (Inertial Measurement Unit) sensor, allowing HUAWEI WATCH Buds to recognise the orientation of the earbuds worn during normal conditions. If worn in the wrong orientation, the earbuds will intelligently auto-correct the left and right audio channels, getting rid of the rigid design where left and right earbuds have to be worn and stored in a certain way. In addition, for each user's different ear canal structure, HUAWEI WATCH Buds earbuds are also equipped with Ear Canal Adaptive technology.
Professional exercise modes
The HUAWEI WATCH Buds inherits the sports and fitness technology present in Huawei's long-running line of AI-powered wearables. It comes with 80 Sports Modes, among which are 10 professional sports modes: outdoor running, indoor running, outdoor walking, indoor walking, outdoor cycling, indoor cycling, rope skipping, elliptical machine, rowing machines, free training. Moreover, the HUAWEI WATCH Buds allows users to manually add over 70 sports (excluding water sports).
The HUAWEI WATCH Buds are also integrated with Huawei's self-developed HUAWEI TruSportTM science-based sports system, providing users with professional sports evaluations and advice. Users can also enjoy other features such as one-click sharing of fitness records, running performance index, smart running coach, sports mode voice assistant, customisable sports accessories, customisable personal activity plans and more.
Users can download the HUAWEI Health App, which is compatible with different operating systems, such iOS, Android etc. and pair it with the smartwatch for health monitoring. The HUAWEI Health App also supports other professional fitness courses such as yoga, fitness, and strength training, so you can even enjoy the HUAWEI WATCH Buds when hitting the gym or winding down while listening to meditative music.
Bluetooth Calling
As a smart wearable device, the HUAWEI WATCH Buds has a wealth of application scenarios. Users can slip on an earbud to answer a call, without having to fiddle around on screen, synchronise text messages from their connected smartphones, as well as quickly reply with text messages and emojis for ease of use and convenience. The HUAWEI WATCH Buds has also expanded its usage boundaries, enabling access to a wide array of apps via Watch AppGallery.
Price and Availability in the UAE:
The new innovative design smart wearables will be available on March 10th at Huawei experience stores, Huawei e-shop and across select retailers in the UAE. The HUAWEI WATCH Buds in Black Leather Strap at a price of AED 1799 comes with free one year HUAWEI Loss Care for WATCH Buds worth of AED 279. The HUAWEI WATCH GT Cyber in Space Grey Case and Golden Black Case at a price of AED 899 comes with free gift worth of AED 159 – HUAWEI WATCH GT Cyber Case Midnight Black.