The Lenovo Smart Paper is an Android-powered E-Ink tablet boasting a striking 10.3″ E-Ink antiglare, matte display. This versatile device seamlessly adapts to tasks spanning from to-do lists and intricate drawings to capturing musical notations.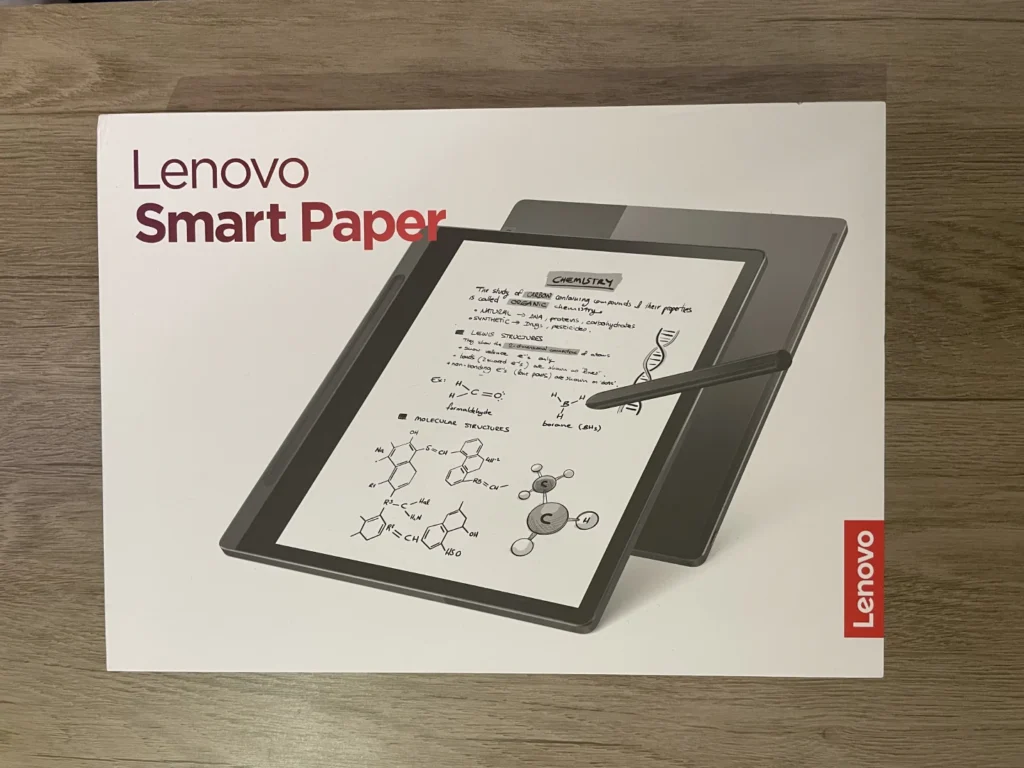 With a responsive stylus, your on-screen writings are effortlessly translated into digital text for convenient future reference. The Smart Paper also features real-time note editing, for swift editing and flexible repositioning of content across the canvas.
Highlights
Note-taking, reading, & sketching
10.3″ E-Ink screen, dual-colour auto-adjustable front light
Ultralong-lasting battery
Includes stylus pen
Convert handwriting to text instantly, also sync & share docs
Optional cloud storage, translation, & voice-transcription subscription
Packaging & Design
The packaging comes in a Lenovo branded box, which contains the following:
Lenovo Smart Paper
Lenovo Smart Paper Pen
Lenovo Smart Paper Folio Case
10W Power Adapter
USB-C Charging Cable (1.5m)
Quick Start Guide & Safety
Warranty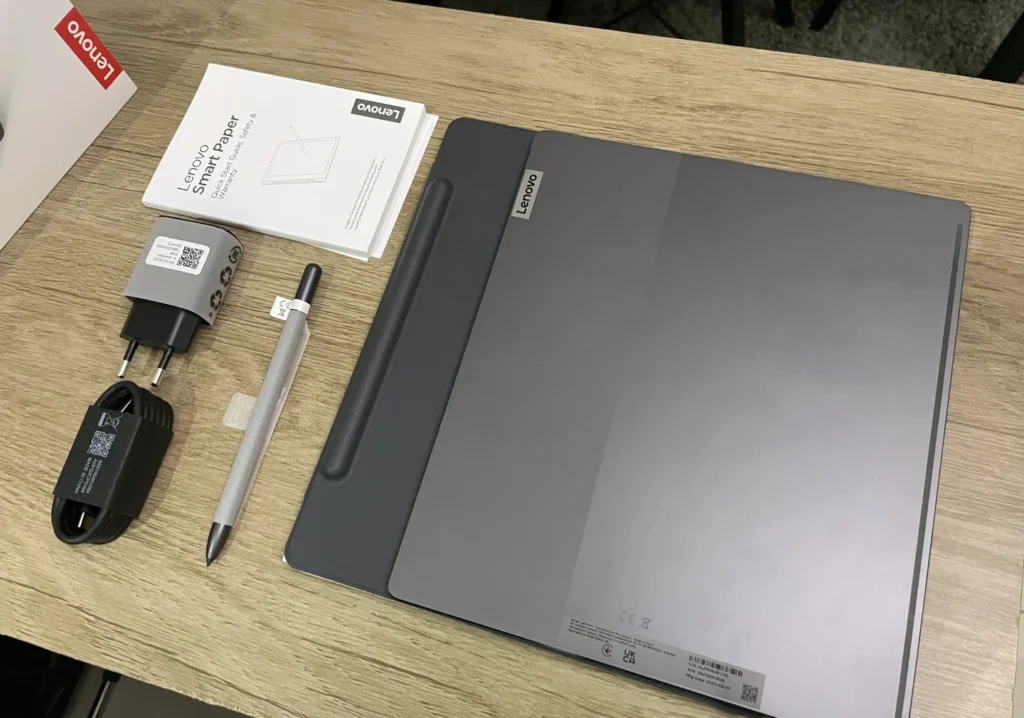 The Lenovo Smart Paper has a sleek and minimal design, combining lightweight construction with intuitive features. On its left side is a magnetic slot for the Lenovo Smart Paper Pen attachment. The device maintains its simplicity with a single power button on the top edge. The ergonomically rounded corners ensure a comfortable grip, while the texture transitions gracefully from brushed metallic to a finely machined edge.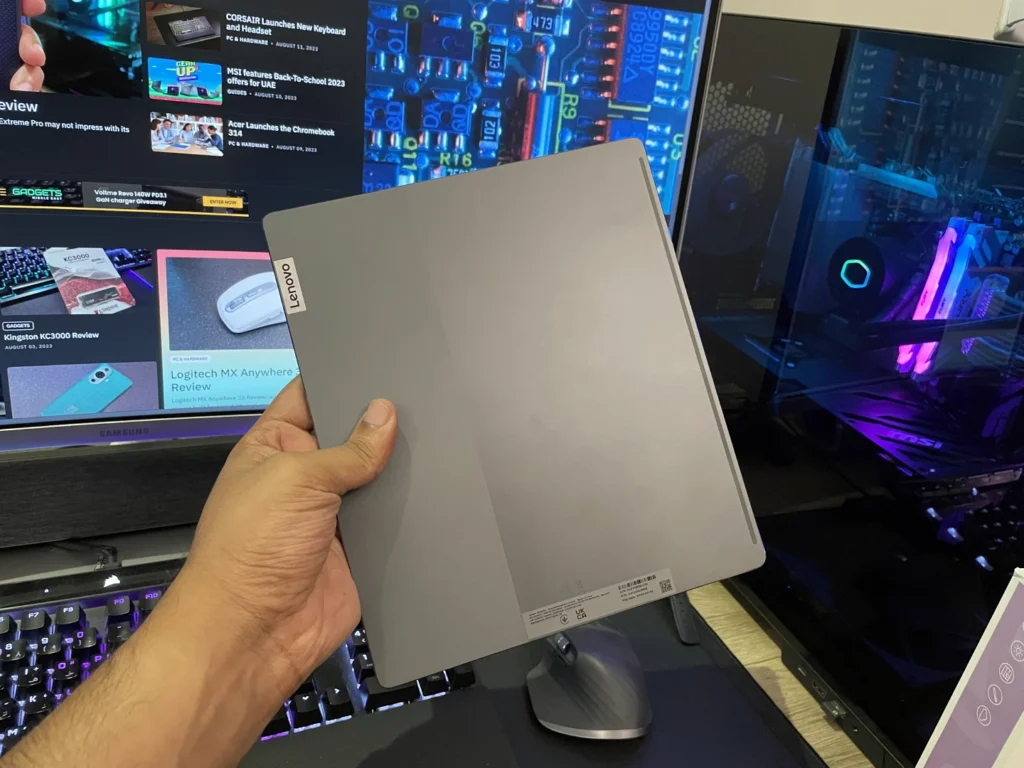 The package includes a pressure-sensitive stylus pen and a protective folio case, for on-the-go note-taking, reading, and sketching with a comfortable grip point for seamless use. The Lenovo Smart Paper Pen showcases an array of nine pen types, from pen and pencil to highlighter, marker, and paintbrush. With an impressive 25ms latency, 4,096 levels of pressure sensitivity, and tilt detection, it works well for precise drawing, shading, sketching, and illustration.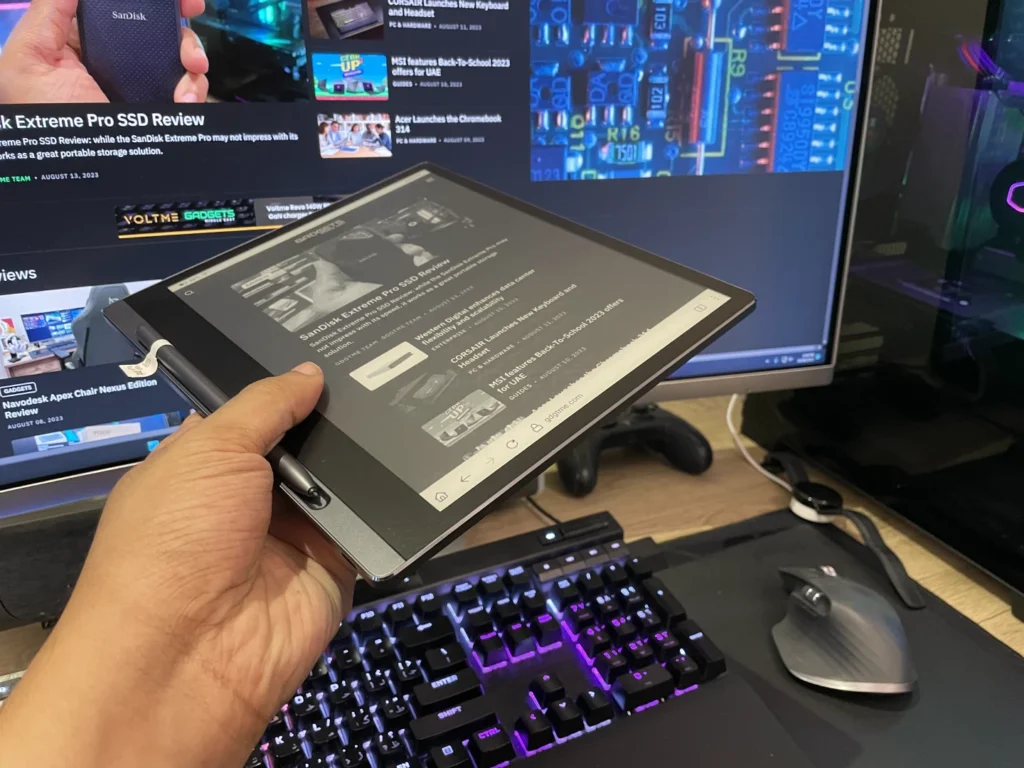 Display
Featuring a dual-color front light on its 10.3″ matte antiglare E-Ink screen, the Lenovo Smart Paper boasts an E-Ink display that's captivating even in dimly lit environments.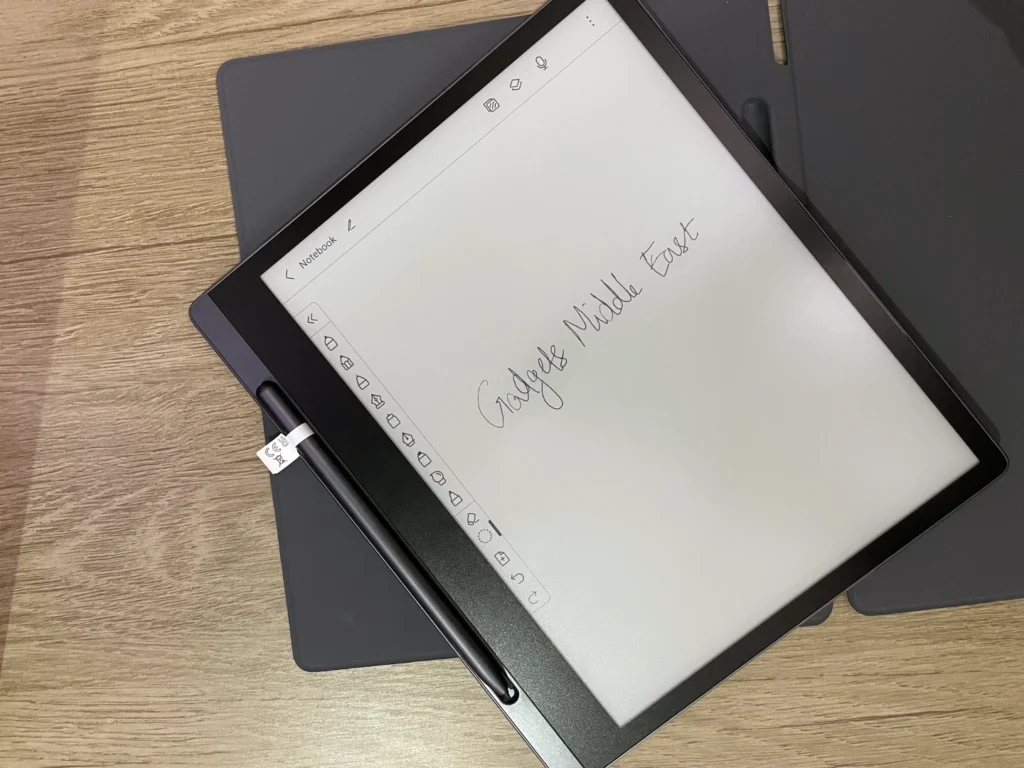 The monochrome e-ink panel, similar to its competitors from Remarkable, Amazon, and Huawei. E-Ink proves ideal for devices of this nature, being gentle on the eyes and notably energy-efficient compared to conventional LCD or OLED panels. Delivering crisp visuals with 227 pixels-per-inch resolution, Lenovo enhances the experience with a 26-level automatic brightness adjustment for usability in varying lighting conditions.
The low-energy technology ensures the screen remains seemingly active. Upon opening the included case, the screen allows displaying images, a clock, or your calendar while in standby mode without impacting battery life.
Performance & Usage
Navigating the UI proved smooth thanks to the Rockchip 1.8GHz processor, supported by 4GB RAM and ample 64GB storage – perfect for the files typically utilized on this device, like PDFs for annotations and Microsoft Office documents.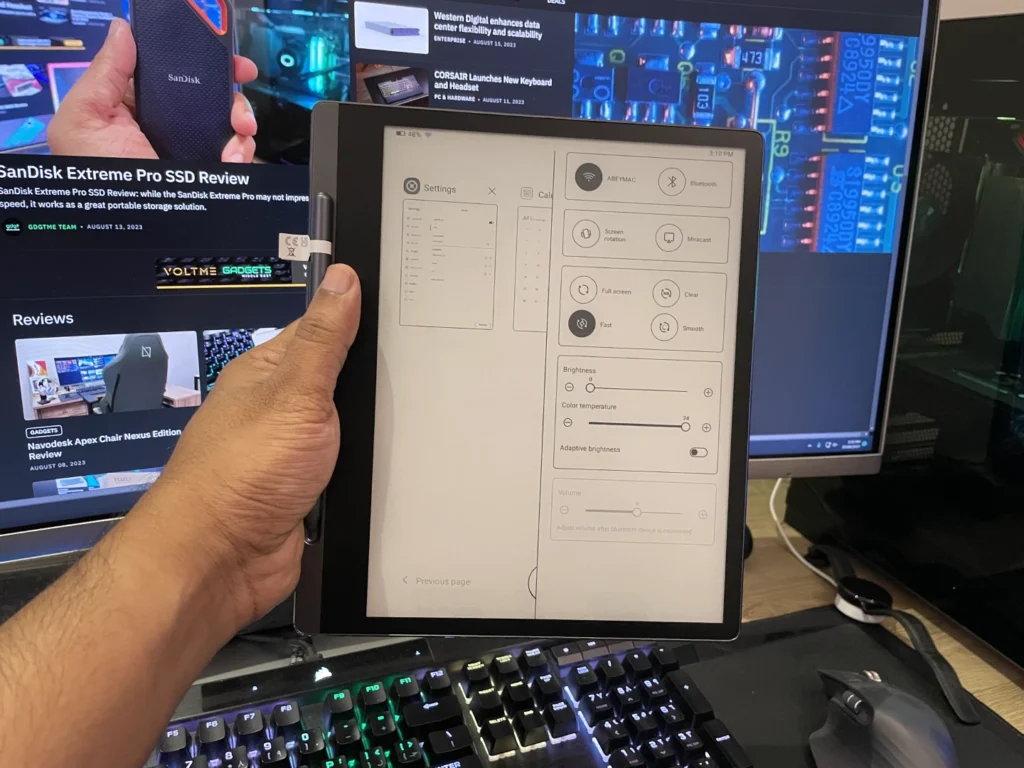 Customizable screen refresh presets, accessible from the pull-down settings, cater to various tasks, be it reading or writing. The high-definition display renders text sharply, while its built-in front light offers both automatic adjustments and manual screen color temperature tweaks. The E-Ink technology guarantees clear visibility even in bright outdoor conditions, and the anti-glare coating enhances the reading experience, making garden reading sessions a true pleasure.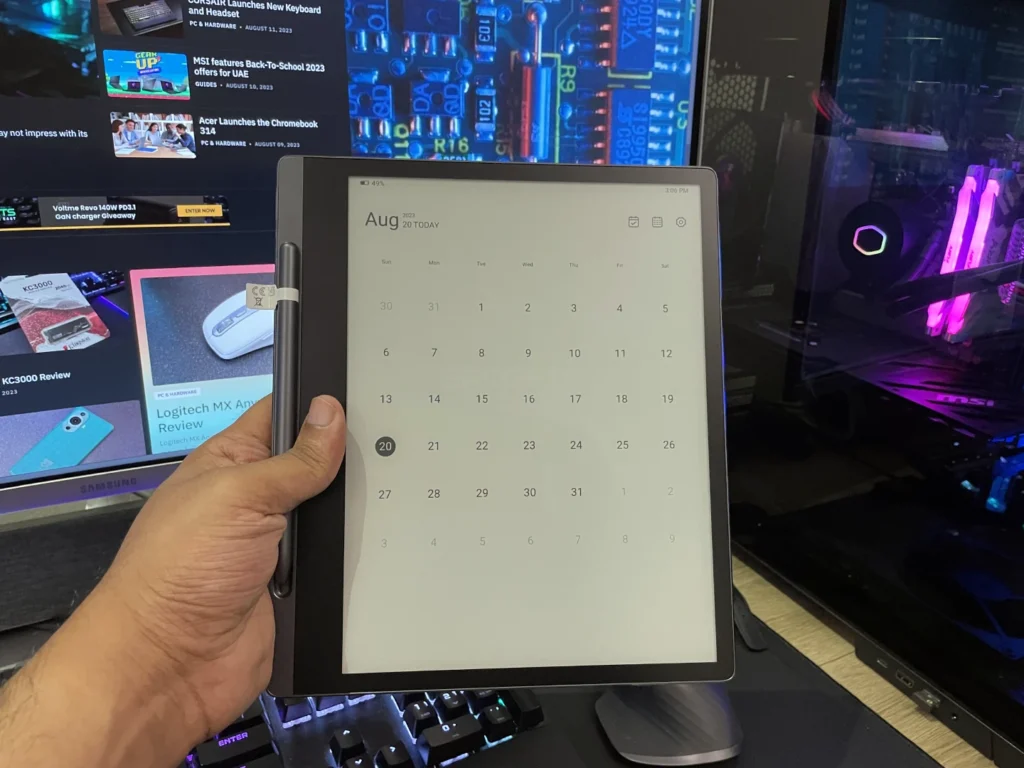 The precision and pressure sensitivity of the pen make it well-suited for handwritten notes in classrooms or meetings. The built-in app features a versatile selection of pen and brush options, making it adaptable for doodling, design work, and sketching without necessitating third-party tools.
Through the Lenovo Smart Paper App, your notes and files can be stored locally or synced to the cloud with password protection. This cloud-storage service, available with a Lenovo Smart Paper subscription, facilitates cross-device access and file transfer, seamlessly integrating your phone and laptop into the workflow.
For note-taking, the Lenovo Smart Paper also offers the convenience of audio recording. The built-in Microsoft Engine facilitates the conversion of recordings into digital text. Moreover, handwritten notes can be translated into various languages, digital documents can be signed and shared instantly, and all of this can be conveniently accessed via the Lenovo Smart Paper App on your phone or laptop.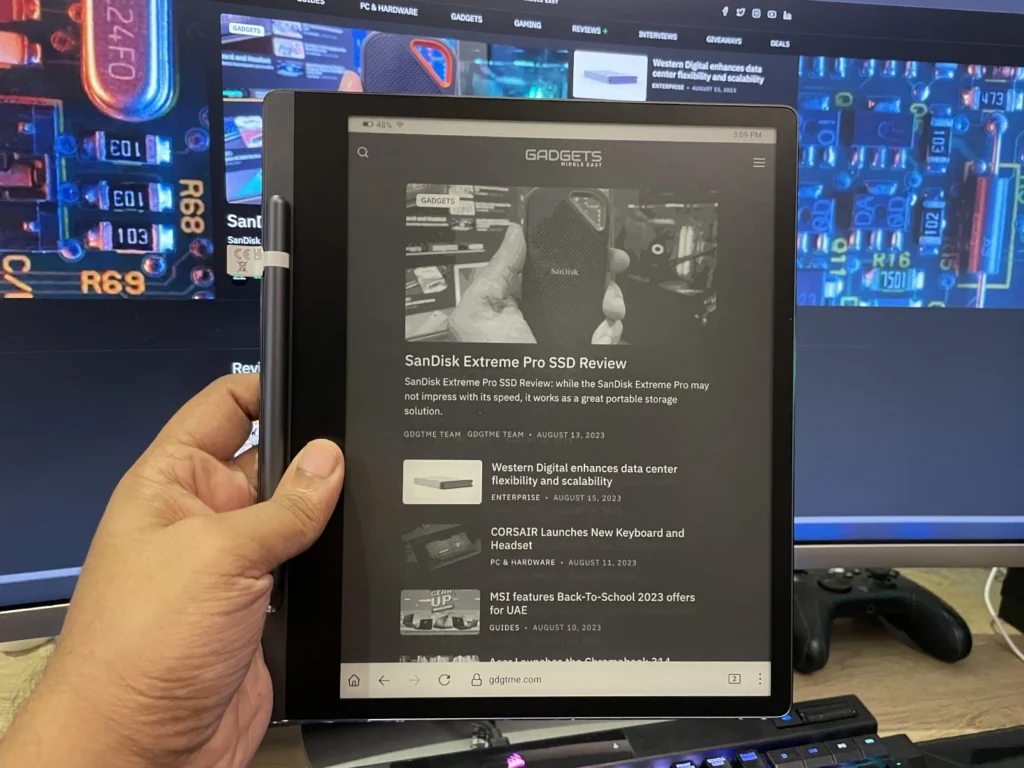 OS
Unlike a proprietary operating system, the Lenovo Smart Paper operates on Android, although without the inclusion of the Play Store. Nonetheless, you have the option to sideload applications through the built-in Firefox web browser using third-party sources such as APKPure.
Battery
The Lenovo Smart Paper features a 3550mAh battery will last for weeks. Standby time is stellar. When using the included 10W USB-C adapter, the device charges 13% in 15 minutes from a dead battery, and to 33% after 30 minutes of charge time.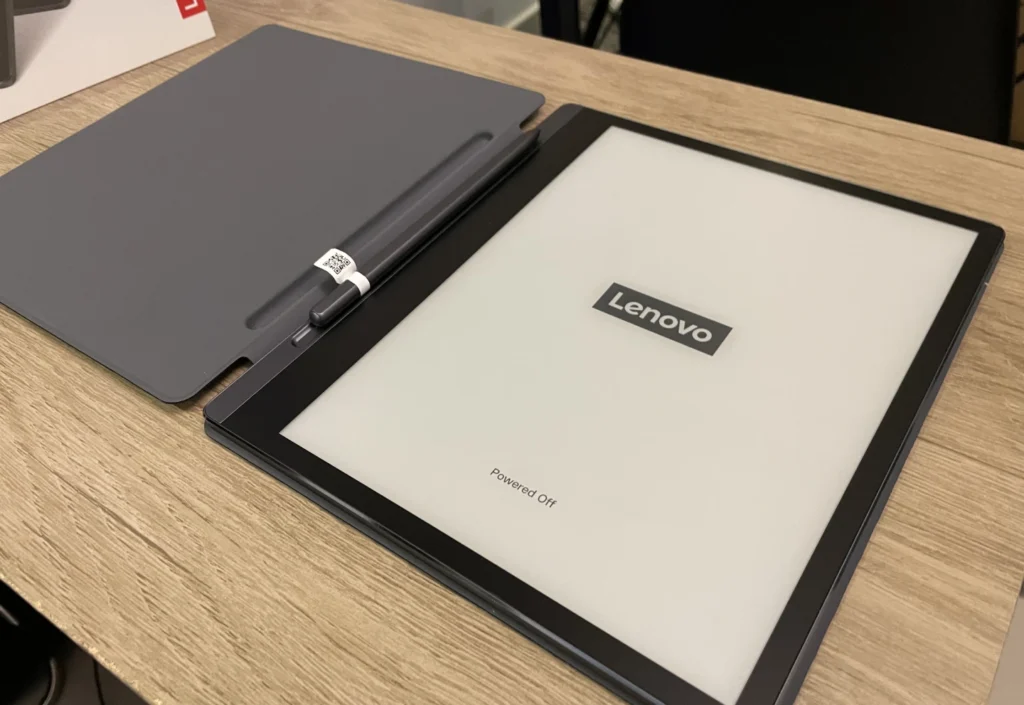 Verdict
For those seeking a feature-rich premium E-Ink tablet, the Lenovo Smart Paper stands out as a versatile option. Its seamless writing and drawing experience, coupled with a sharp display, bundled pen, and appealing design, make it an attractive choice. Despite sideloading apps, the tablet's remarkable battery life and quick charging are noteworthy. It's important to note, however, that the device comes with a higher price tag, and competing full-fledged Android tablets exist within the same price range.