The Yoga Smart Tab is Lenovo's latest entertainment table in an unusual form. It features a FHD 10.1″ display, 2 x 2W JBL speakers with Dolby ATMOS, built-in kickstand, Google Assistant, Smart Hub capabilities, and more.
The Lenovo Yoga Smart Tab is interesting in terms of specifications and has an attractive price. If gaming is not your primary objective, but watching movies or shows with some really loud speakers, then this could be your tablet.
Specifications
CPU:
Qualcomm Snapdragon 439​
Octa-core, 4x A53 at 2.0GHz + 4x A53 at 1.45GHz​
GPU:
Adreno 505
RAM:
4 GB RAM
Display:
10.1″ FHD (1920×1200), IPS LCD, 73.6% screen-to-body ratio
Storage:
64GB GB (expandable via micro SD up to 256GB)
Camera:
Main Camera
8 megapixel, auto focus
1080p@30fps video

Front Camera
5 megapixel
1080p@30fps video
Speakers
2 x 2W JBL speakers, reinforced with Dolby Atmos
OS:
Android Pie
Connectivity:
WiFi 802.11 a/b/g/n/ac, 2.4GHz & 5GHz dual band
Bluetooth 4.2
USB 2.0 Type-C reversible connector
SIM:
None
Battery:
Li-Po 7000 mAh (non-removable)
40W fast charging (USB-C)
Dimensions:
242 mm x 166 mm x 24 mm
Weight:
580g
Protection:
No IP rating
The model we have received for this review is the Lenovo Yoga Smart Tab Yoga YT-X705F
Packaging
Starting with packaging, The Yoga Smart Tab comes in a sleek box with the tablet with all the goodies packed quite tightly. The tablet comes with your standard guides and set ups, along with a USB-C wall charging adaptor.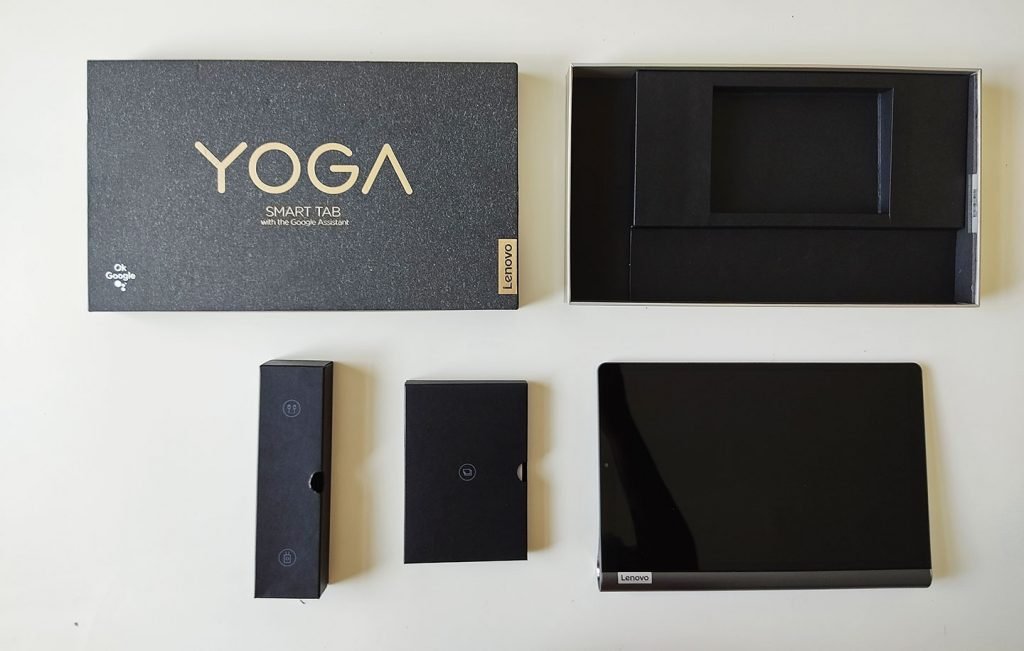 Design & Build
The Yoga Tab does not really conform to the standard tablet aesthetic you see nowadays. After spending some time with the tablet, the thought-out design becomes very obvious. Lenovo has designed this tablet for long Netflix and chill sessions, movie marathons, YouTube binges and more.
The ergonomic kick-stand that pops out the back with a push of a button, in which gives the user a few stand up points to lay that tablet. Once the tablet stand is set up you can see what Lenovo was thinking. The rather strange sloping bulb look at the bottom side of the tablet, depending how it is being held, is made to house two massive speakers (in tablet terms).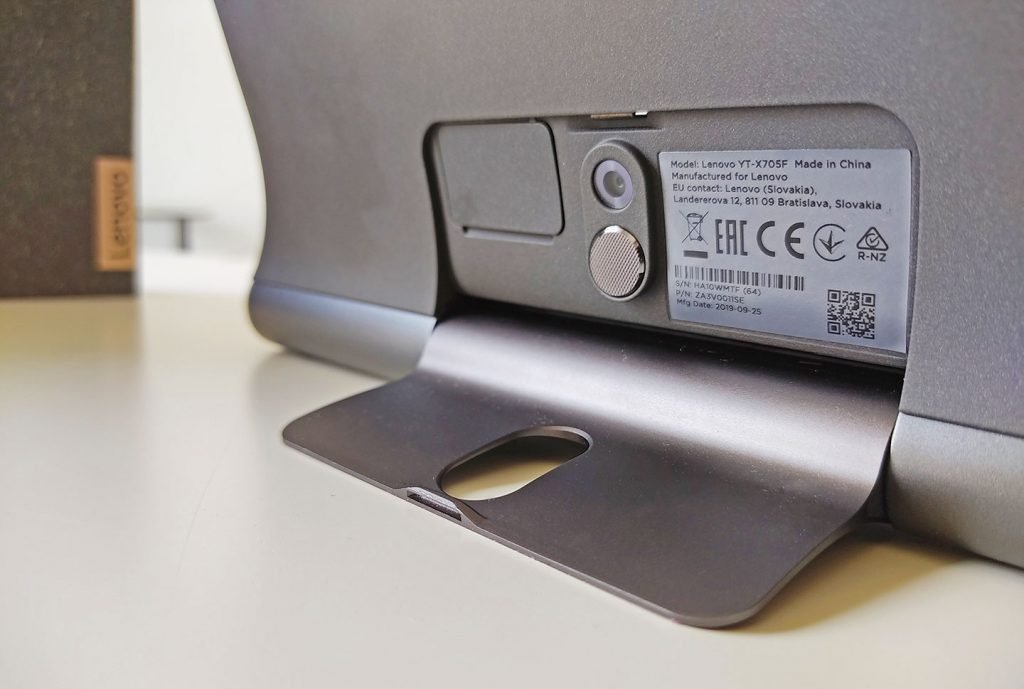 At 10.1 inches, the display is not small but not large either, which adds to the ergonomic layout that Lenovo is focusing on. This version weighs at 580 grams, which is just over half a kilo. You do feel that premium heft to the tablet, without feeling too heavy.
The aluminium back cover feels good, soft to the touch due to the acrylic layer and adds a premium feel to the tablet. The kickstand has a slightly different metal grey color with a cut out in the middle for the rear camera.
Ports
The Yoga Smart Tab comes with one USB-C 2.0 charging port, along with a 3.5-mm headphone jack. There is a micro SD slot that supports up to 256 GB. Keep notes that the microSD slot is behind the kickstand.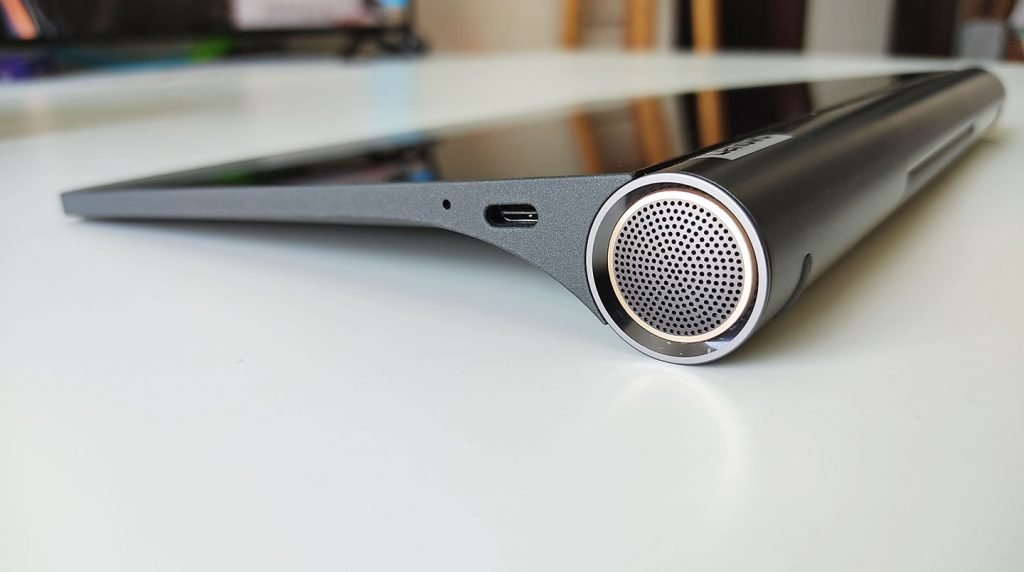 Display
The Yoga Tab has a 10.1-inch screen with a 16:10 ratio. Screen resolution is 1920 x 1200 with a pixel rating of 224 PPI.
In other words, the combination makes a good portable home cinema, alongside the loud speakers. The screen brightness is bright enough to see in direct sunlight, but it could have been better because at times it does seem dim.
OS
The device comes with Android Pie. The skin looks similar to the stock Android version. I do like the Lenovo entertainment and smart assistant which gets me to my preferred applications faster.
Google ambient mode is a nice addition to the Yoga tab as it transforms the tablet into a smart display. If you like to use Google assistant then this tab might be right for you.
There is also JBL application available on the home screen where you can switch between sound profiles. By default, the device will adjust the sound settings based on the content you're watching or listening to.
Performance
The processor is a Qualcomm Snapdragon 439​ with a Adreno 505 GPU. It is a decent enough to handle almost all applications. 4GB DDR3 RAM comes as a standard, which can handle day-to-day use.
We find 64GB of storage to be a bit less considering this is a tablet made for entertainment and media. If you plan to use it for storing a lot of documents and files, you may find yourself looking for a microSD after some time.
Speakers, Battery and Camera
At the bottom of the Smart Tab are 2×2 Watt JBL speakers which are really loud. You can watch a film with a group of friends in the room and the sound can travel just fine. Maximum volume can reach up to 185 decibels, so the JBL set up is no slouch. There are three microphones installed into the tablet in order to pick up sound from a 360 degree angle, which works well.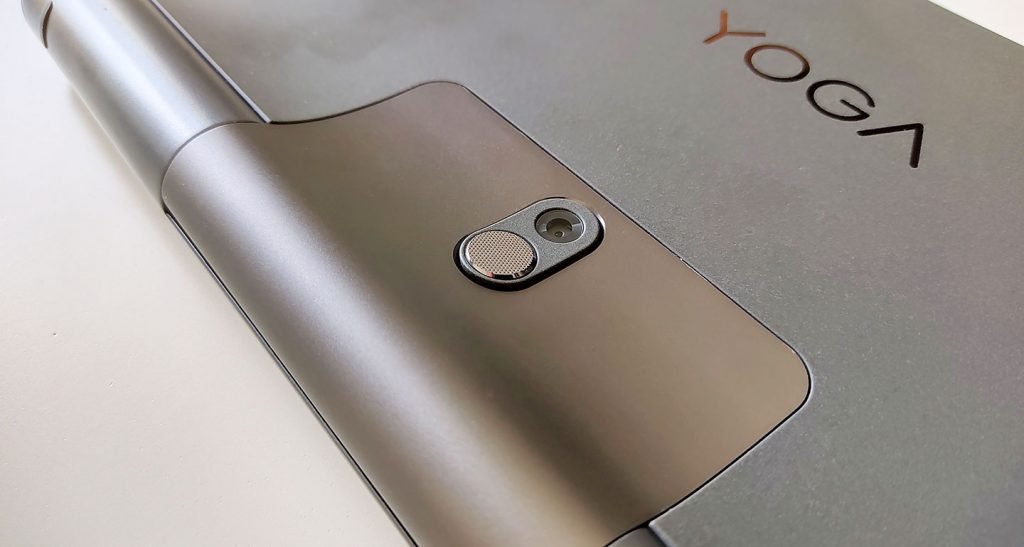 The battery is 7,000 mAh and can power up to 10 hours of movie watching. I put it to the test and clocked in around eight and a half hours, but there are other variables that come into play. With normal use I found myself charging the tablet every other day.
At the back of the tablet is a 5MP camera and at the front a 8MP camera. The rear camera is be good enough for taking quick photos and scanning documents, but I wouldn't recommend for anything detailed. The front camera is perfect for selfies and video conferencing and provides a clear picture.
Both cameras are good in normal to bright light, but in a darker environments there is a loss in clarity. Face recognition works pretty well when unlocking the tablet, so the camera does a good job at that.
Summary
If you are looking for a handy entertainment tablet with good speakers and to watch movies on, the Yoga Smart Tab is a good choice. It is perfect for streaming videos and movies or browsing the internet with all the added assistance and quick access features.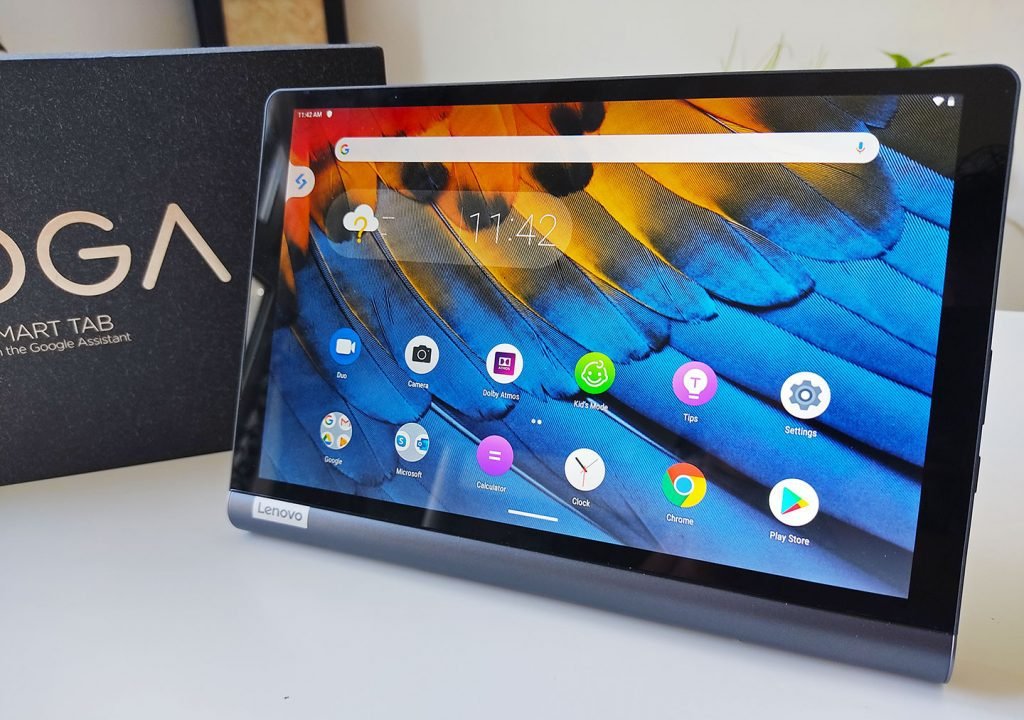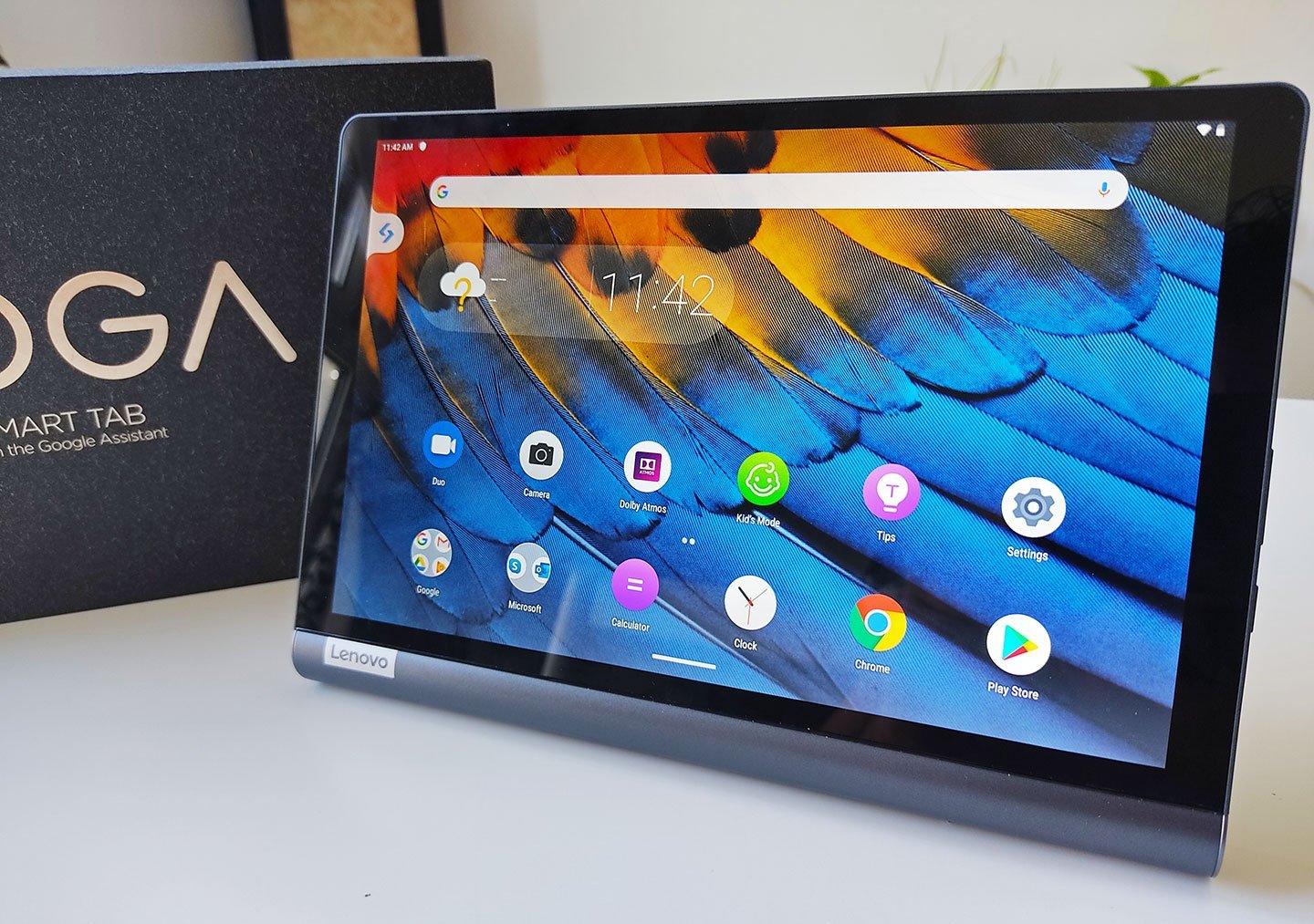 I sure did enjoy using the tablet for entertainment reasons (mainly Netflix and YouTube). For gaming I would suggest a more powerful tablet, as the Yoga Tab is designed more for a more casual use with a premium aspect to it.