The SOUNDPEATS Air4 Wireless Earbuds, powered by Snapdragon Sound technology, bring an exciting audio experience. They excel in delivering lossless music, achieving industry-leading low latency, and ensuring more robust connections. These earbuds offer studio master quality audio at 24-bit, 96kHz high resolution, all streamed effortlessly from your phone via the aptX Lossless codec.
Traditionally, Bluetooth audio compromises some original audio content due to compression. However, with the aptX Lossless codec, you can now enjoy up to 24-bit/96kHz lossless audio over Bluetooth, preserving the full richness of your music.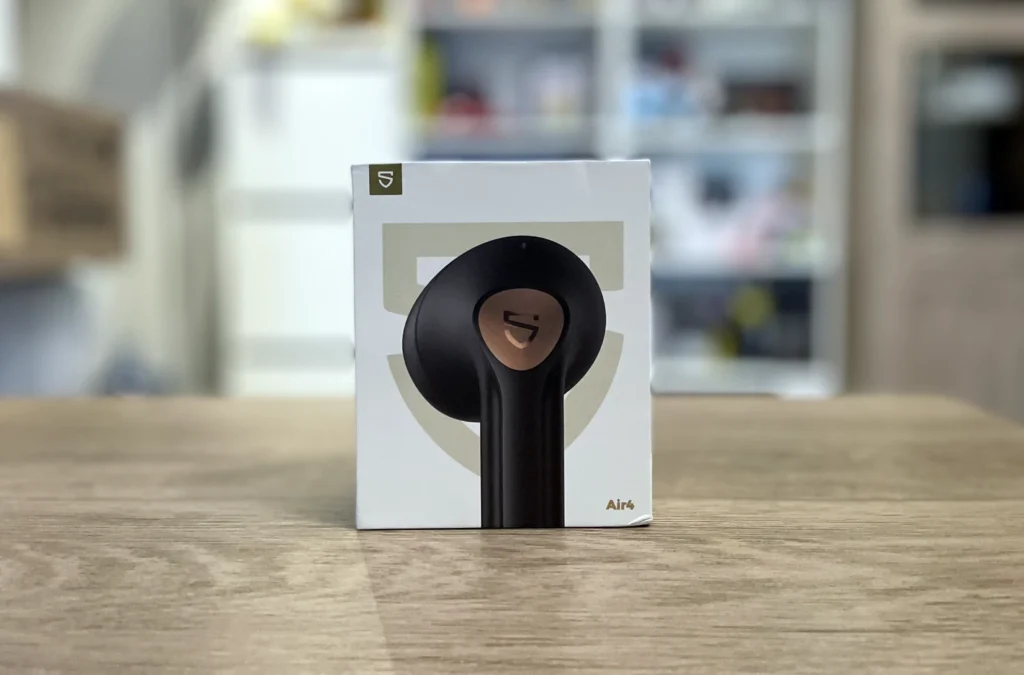 What sets the SOUNDPEATS Air4 apart is its support for aptX Adaptive, which dynamically adjusts the bitrate based on your content, optimizing audio quality and reducing latency, especially in gaming or video scenarios. This guarantees that your favorite music always sounds its best. These earbuds are also proudly Hi-Res Audio certified.
Additionally, the earbuds feature Adaptive ANC with noise reduction capabilities of up to 45dB. The 6-mic system, coupled with the CVC noise-cancellation algorithm, ensures crystal-clear communication even in noisy environments, facilitating smooth conversations.
Functionality-wise, these half-in-ear wireless earbuds boast an IPX4 waterproof rating, providing protection against sweat and light rain. This feature ensures you can enjoy your music during workouts or outdoor activities without worrying about moisture damage.
Connectivity is seamless with the SOUNDPEATS Air4, thanks to its Bluetooth 5.3 technology. You can simultaneously connect to two devices like smartphones, tablets, and smartwatches without the hassle of reconnection. Additionally, it offers a low latency mode of just 88ms for gaming and video calls. With a long-lasting battery life of up to 26 hours with the charging case, these earbuds guarantee uninterrupted listening even during extended daily use.
Highlights
Snapdragon Sound with aptX Lossless
13mm Dynamic Driver for Immersive Sound
Adaptive ANC Tech& Triple Mics Noise-Cancellation
88ms Low Latency Game Mode
Total 26 Hrs Playtime& App Control
BT5.3 for Stable Multipoint Connection
Specifications
Color Options:
Silver Blue, Silver Frost, Ceramic White
Dimensions:
Per earbud
Weight: 4g

Charging case
Weight: 8 g
Driver:
13mm Dynamic Driver
Core Specs:
Bluetooth: V5.3 Profiles: A2DP/AVRCP/HFP/HSP Chipset: QCC3071 Supported Bluetooth Codec: aptX Lossless/AAC/SBC
Battery:
Battery Capacity: 35*2 mAh(Earbuds) 330mAh (Case) Charging Time: <1.5H (Earbuds)<2H(Case) Charging Port: Type-C Total Playtime: 26 hours
Read full specifications here.
Packaging, Design & Build
The SOUNDPEATS Air4 comes in a minimal white box, the contents are revealed upon opening, which includes the earbuds, charging case, a USB-C charging cable, and user manuals. However, it's worth mentioning that there is no power adapter or protective cover for the case, which may be a slight inconvenience for users who want to safeguard the case from scratches.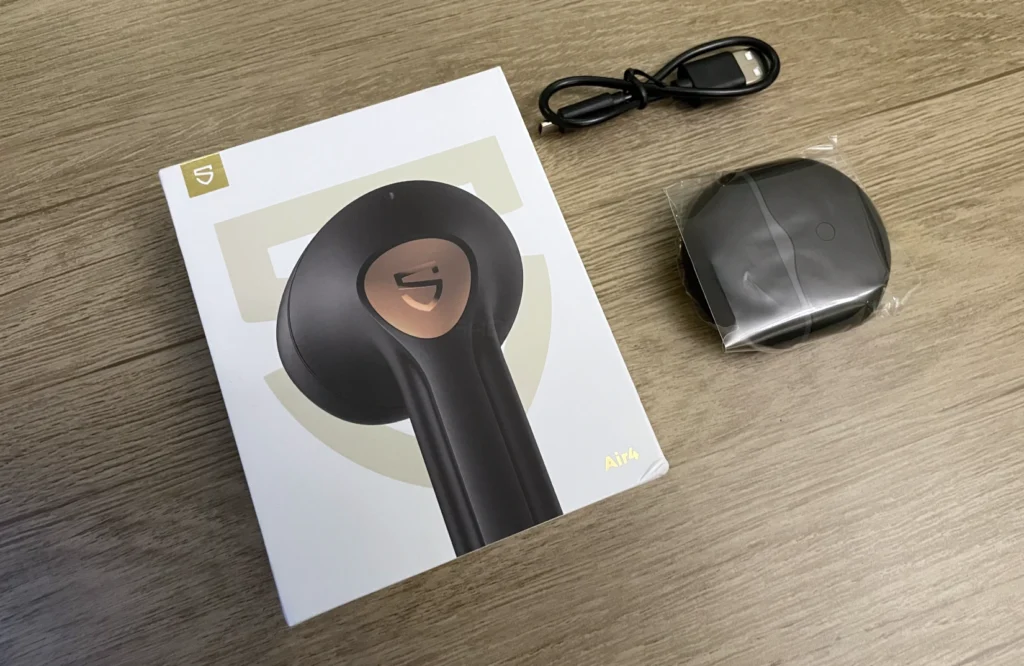 The package comprises:
SOUNDPEATS Air4 aptX Lossless Wireless Earbuds
Type-C Charging Cable
Charging Case
User Manual
The charging case itself is a model of sleek and minimalist design, featuring a rectangular shape with smoothly curved edges, all finished in an appealing matte black.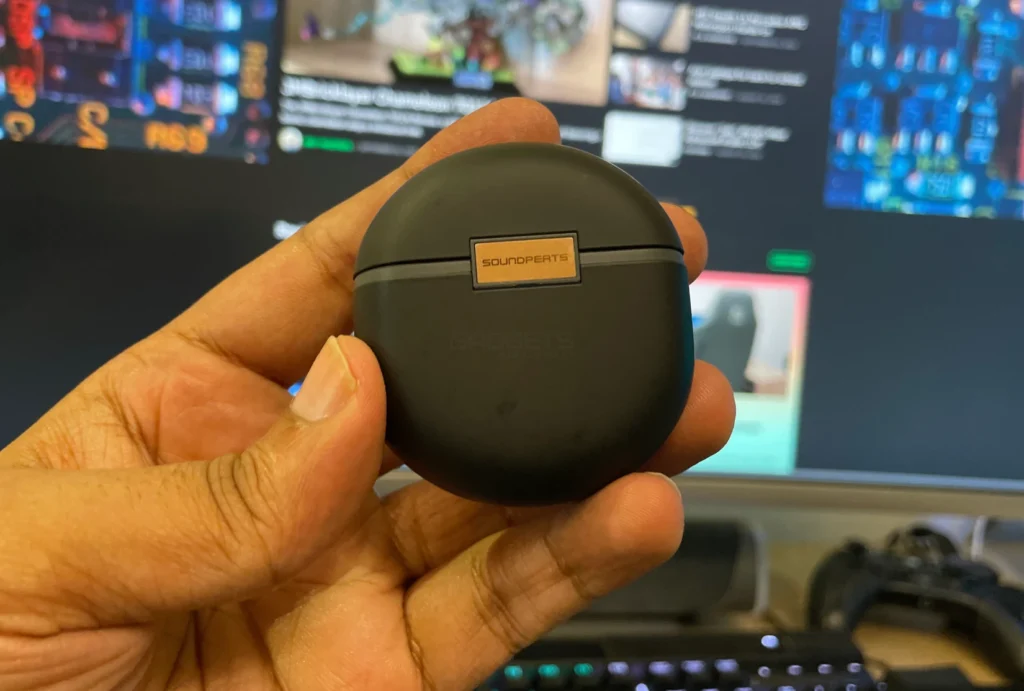 At the bottom, you'll find a USB-C charging port, while the front features an LED indicator for pairing and battery status. The case also includes a convenient pairing button for seamless connectivity.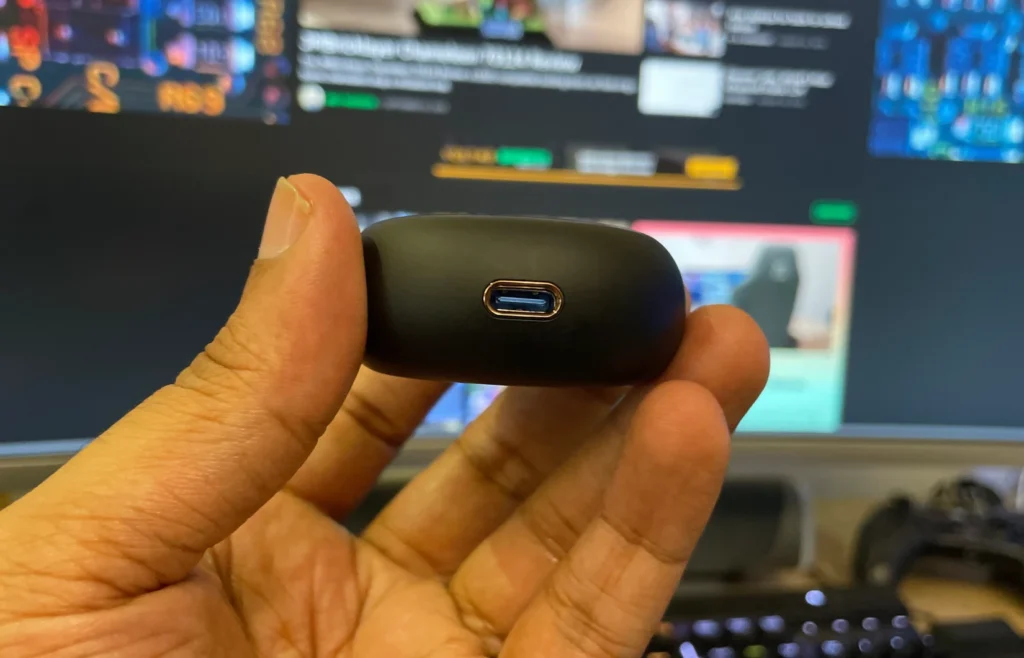 Inside the case, the earphones are securely held in place magnetically. Removing the earbuds is a breeze. The earbuds themselves showcase a well-thought-out matte-finish texture. Their compact and lightweight elliptical design with a stem not only looks pleasing but also ensures comfort during extended wear. Whether you're biking or running, these earbuds stay securely in place, and their feather-light nature means you may even forget you're wearing them after a while.
One notable feature is the support for gesture controls. Users can effortlessly control playback, adjust volume, handle calls, and switch between noise cancellation modes using various gestures such as swiping, tapping, and long presses.
Regarding durability, the SOUNDPEATS Air4 earbuds boast an IPX4 rating. This means they can withstand exposure to rain and water splashes without issues, although they cannot be submerged. This waterproof feature makes them ideal for use during workouts or outdoor activities where protection against moisture is essential.
Performance & Audio Quality
The SOUNDPEATS Air4 earbuds offer a handy multipoint connection feature, allowing you to simultaneously connect them to two devices, such as two phones or a phone and a laptop. While they may take a moment to pair after removal from the case, once connected, the transition between devices is seamless.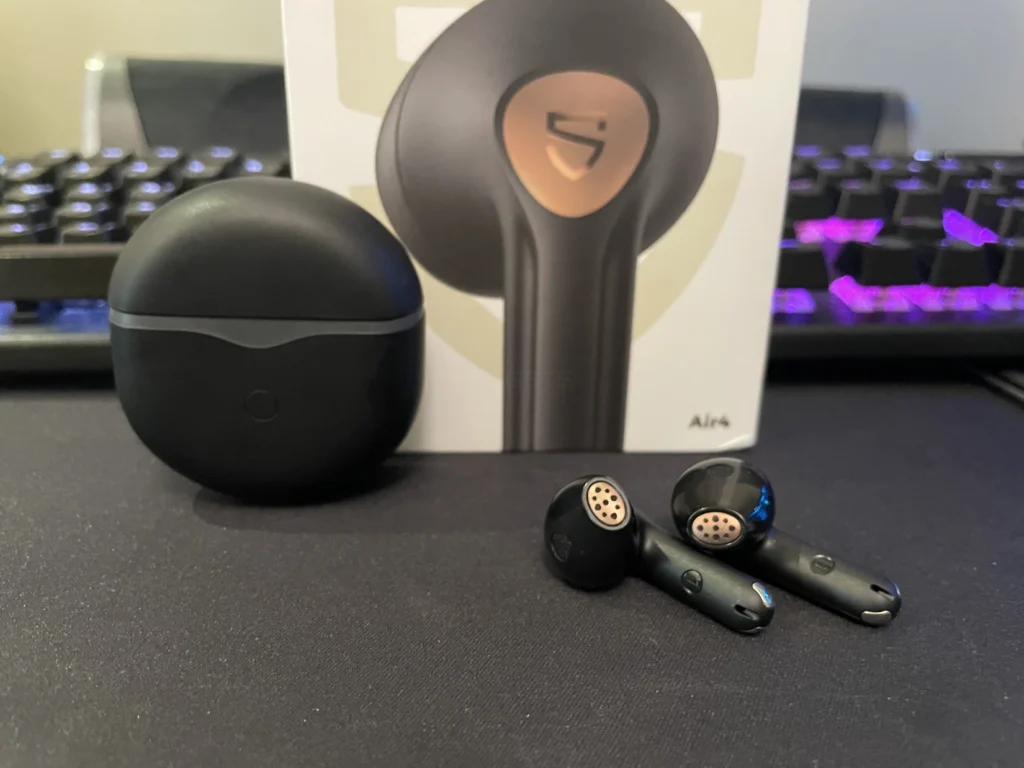 In terms of performance and audio quality, the SOUNDPEATS Air4 earbuds truly shine. Optimized by Snapdragon Sound technology, they promise an exceptional listening experience, although it requires having a newer phone featuring Snapdragon 8 Gen 1 phone chip. The 13mm dynamic driver produces lossless audio reproduction and a remarkable frequency response range of up to 24-bit/96kHz.
By default, these earbuds offer a well-balanced audio profile suitable for both multimedia playback and calls. However, they sound much better after some audio equalization.
With ANC active, the SOUNDPEATS Air4 earbuds deliver clear and well-defined highs, allowing vocals and instruments to shine with crispness and clarity. The bass, enhanced by ANC, becomes powerful and impactful, providing satisfying rumbles. While the mids may not be as pronounced as the bass, they maintain a respectable balance, ensuring a pleasant listening experience. The gaming mode effectively reduces sound delay, creating a wide and layered soundstage that immerses you in the gaming experience.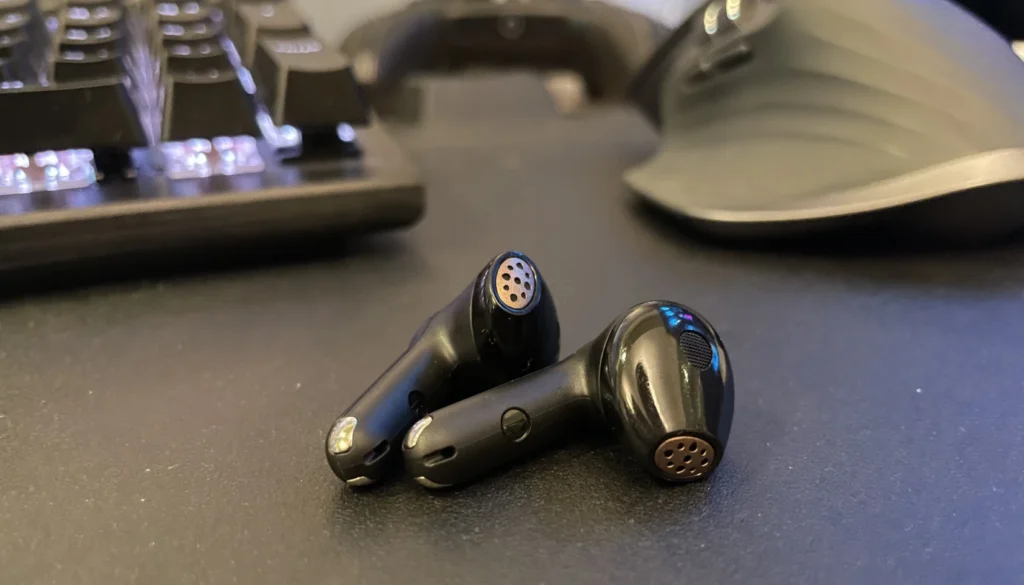 The earbuds offer adaptive ANC modes, which perform well in indoor settings. However, in noisy environments, the noise cancellation may not be as effective as desired. It's worth noting that enabling ANC is essential for a more dynamic sound, although it may pick up wind noise when used outdoors.
The built-in microphone delivers decent call quality, but if you're in motion during calls, your voice may lack some detail, requiring clear speech for optimal clarity.
Navigating the various features and controls of the SOUNDPEATS Air4 may be slightly confusing at first, but works well after a few tries. This convenience ensures you can effortlessly manage playback, adjust volume, handle calls, and switch between noise cancellation modes, enhancing your overall user experience.
SoundPeats app
Designed for both iOS and Android, this companion app provides customization options and features. With its minimal interface, you can easily upgrade firmware or adjust the audio parameters, such as equalizer settings, to create a customized sound profile that resonates with your musical tastes.
Keeping track of the battery life of each earbud is effortless with the app. The app provides clear and accurate information on the power status of each individual earbud, ensuring that you are always aware of their remaining battery life. This feature enables you to plan your listening sessions accordingly and avoid unexpected interruptions due to low battery levels.
Connectivity and battery
The SOUNDPEATS Air4 earbuds utilize Bluetooth 5.3 technology for seamless pairing with other devices. Pairing is achieved by performing a long-press of the pairing button located on the front of the charging case. With Bluetooth 5.3, the connectivity between the earbuds and connected devices is stable, eliminating any noticeable delays.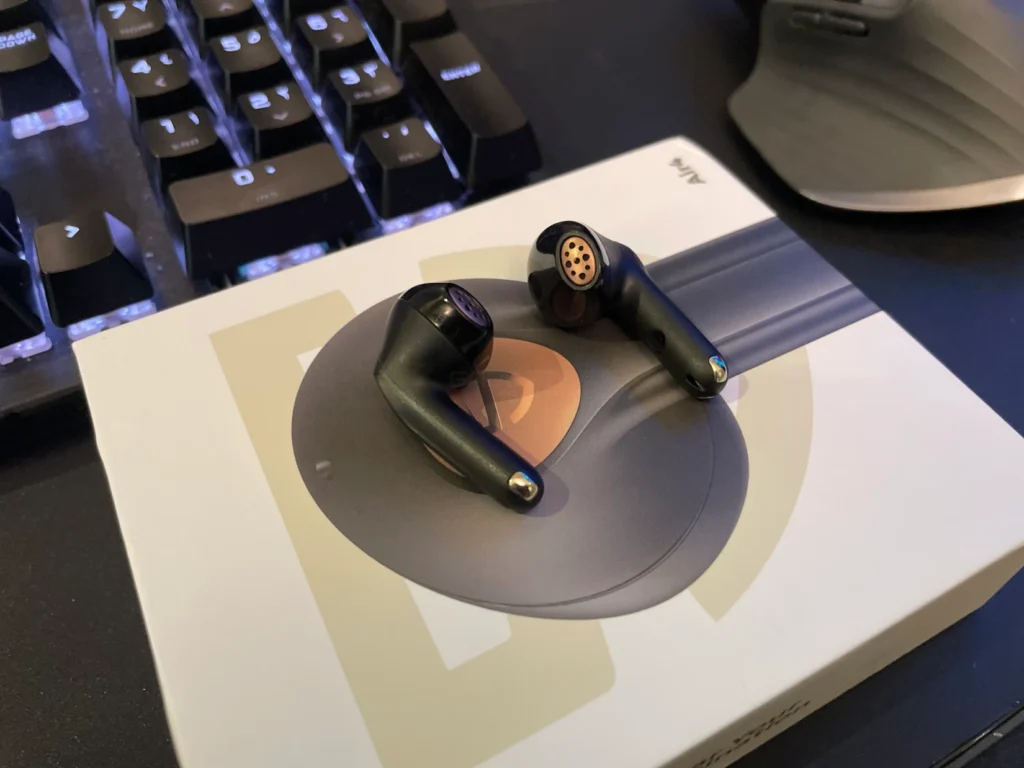 When it comes to battery performance, the SOUNDPEATS Air4 earbuds offer a satisfactory experience. The earphones themselves have a 35mAh capacity each, while the charging case boasts a 330mAh capacity. Depending on usage, the earbuds can last approximately 4 hours with noise cancellation enabled, and around 6 hours with noise cancellation disabled. However, it's important to note that battery life may vary based on factors such as volume levels and usage patterns. Fortunately, the charging case comes to the rescue, providing an additional 2 to 3 charges, effectively extending the total battery life.
To recharge, simply place them back into the charging. The charging case itself can be fully charged in approximately 2 hours, allowing you to get back to enjoying your music in no time.
SOUNDPEATS Air4 Review Verdict
The SOUNDPEATS Air4 wireless earbuds are a solid choice for under $80. They sound premium, handle indoor noise well, and carry an IPX4 water resistance rating – perfect for everyday use. Their lightweight design ensures a comfy, secure fit all day long. The touch controls, while a tad tricky, give you easy access to music and calls without reaching for your device.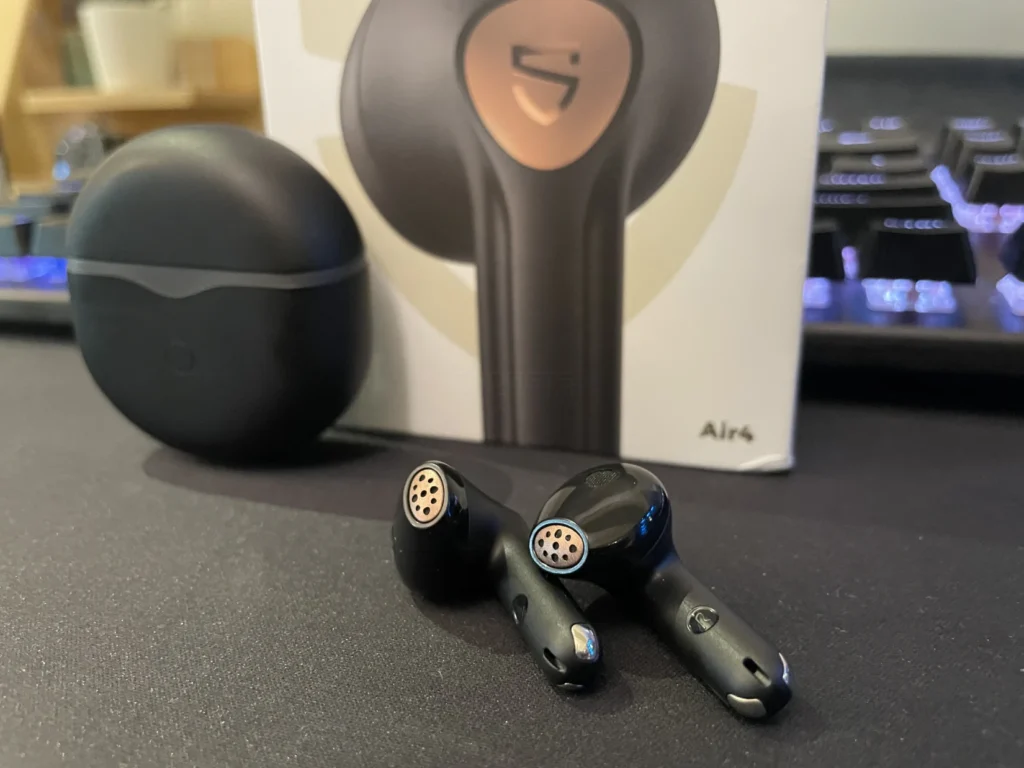 However, a downside is the absence of fast-charging support, so expect longer recharging times. Plus, you won't find a power adapter, spare earbuds, or a case cover in the package. The charging case hinge feels a bit flimsy. Another missing feature is in-ear detection, which automatically pauses music when you take the earbuds out. Many rivals have this handy feature.
Nonetheless, the SOUNDPEATS Air4 offers a solid deal for its price. Despite minor quirks, they deliver great overall performance and value.
---
The SOUNDPEATS Air4 is available for purchase via Amazon.com for $43.20 (regular price $79.99). For a limited time, you can enjoy a discount if you check out with the coupon code SPAIR4PR. Note that the validity period for the discount is August 22th-30th.