The SoundPeats RunFree Headphones feature an open-ear design that emphasizes comfortable, all-day listening. Utilizing air conduction technology, these headphones offer an remarkable experience for their price point.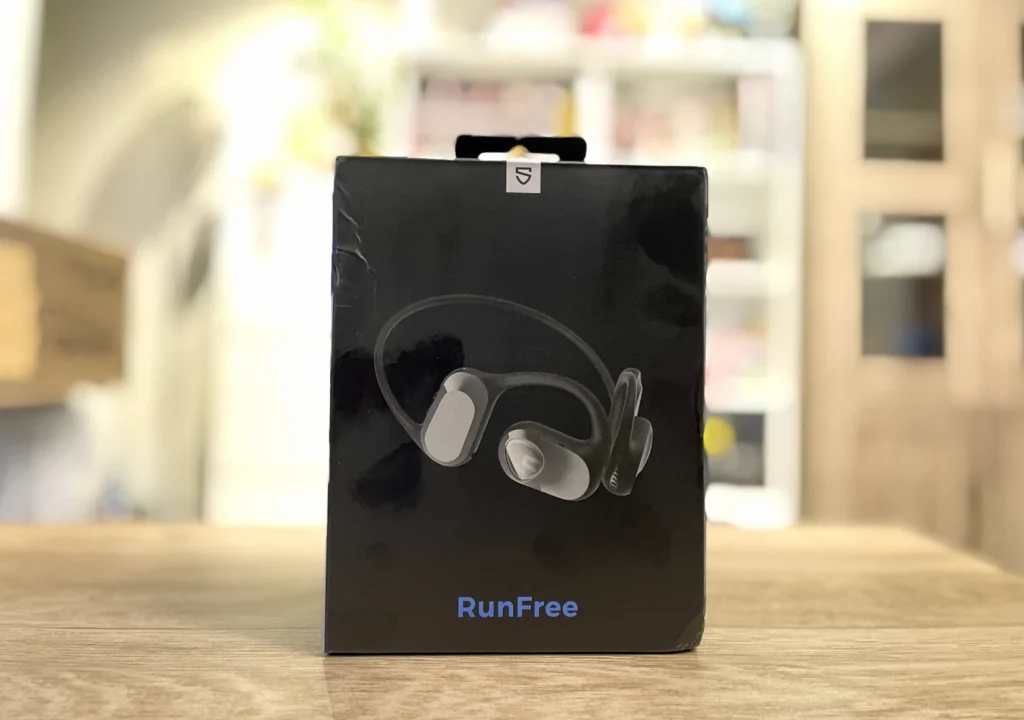 The integration of Bluetooth 5.3 ensures a stable wireless connection with support for multi-connectivity and good call quality. To add to this, the 16.2mm dynamic drivers create a captivating soundstage.
Highlights
Open-ear Design & Air Conduction Tech
Patented Enhanced Bass Algorithm
16.2mm Dynamic Driver
Liquid Silicone Material
14 Hours Playtime & Type-C Charging
BT 5.3 Stable Multiple Connection
App Control & Standardized Touch Control
Specifications
Earphone
Type: Open-ear
Color: Black
Audio quality
Driver: φ16.2mm dynamic driver
Frequency response range: 20Hz – 20kHz
Audio codec: AAC/SBC
Noise cancellation
Dual-mic ENC call noise reduction
Bluetooth
Bluetooth 5.3
Effective Bluetooth range: 10m
Battery Life
Battery capacity: 120mAh
Music play time (AAC, default setting, 50% volume)*: 14h
Charging
Cable charge time: 1h
Charging port: Magnetic Type-C charging
View full specifications here.
Packaging
The SoundPeats RunFree Headphones comes packed in a minimal black box. The packaging includes the earphones, a proprietary charging cable and manuals.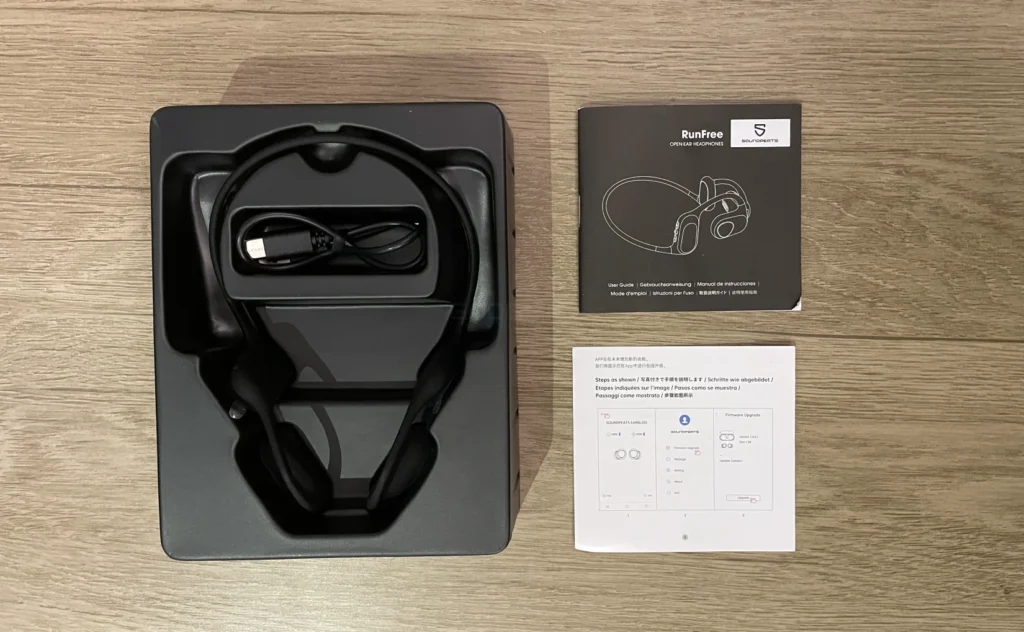 Design
The SoundPeats RunFree Headphones showcase a sleek black color and an elegant, minimalist open-ear design. Specifically tailored for sports and outdoor activities, these headphones feature a soft silicone finish that offers a gentle feel against the skin. Secured in place by a nickel-titanium alloy neckband, they ensure stability during physical activities.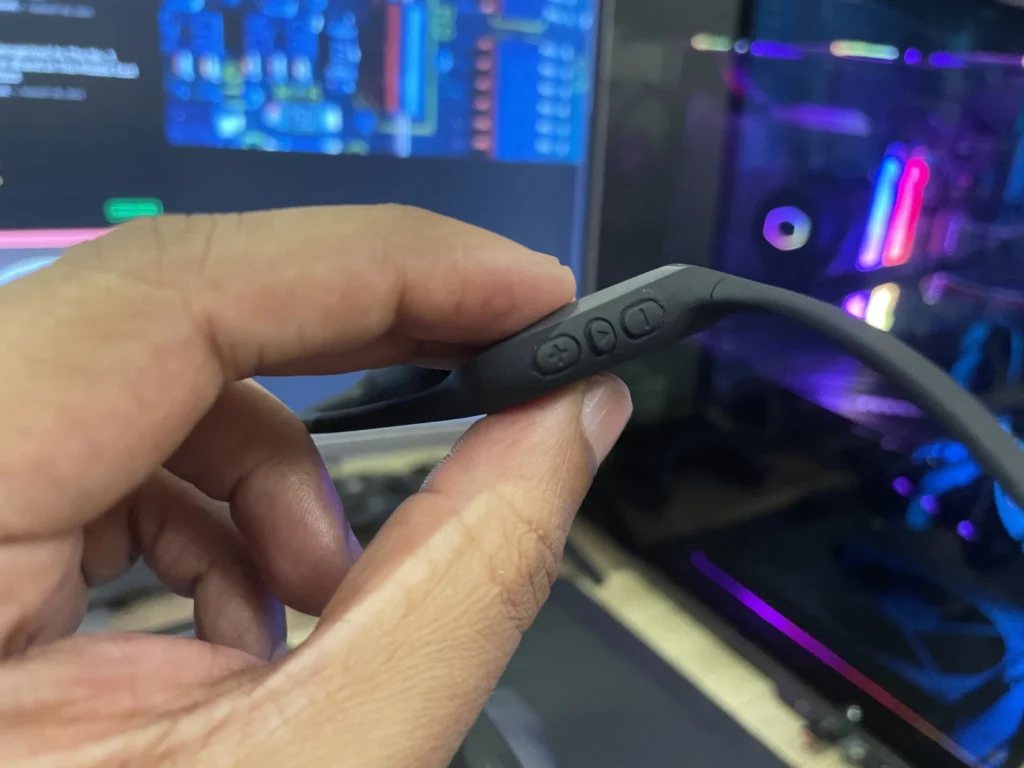 The headphones are equipped with physical buttons for easy control, allowing you to adjust volume, change tracks, or answer calls with a simple press. However, their close proximity can make it a bit challenging to distinguish between functions quickly.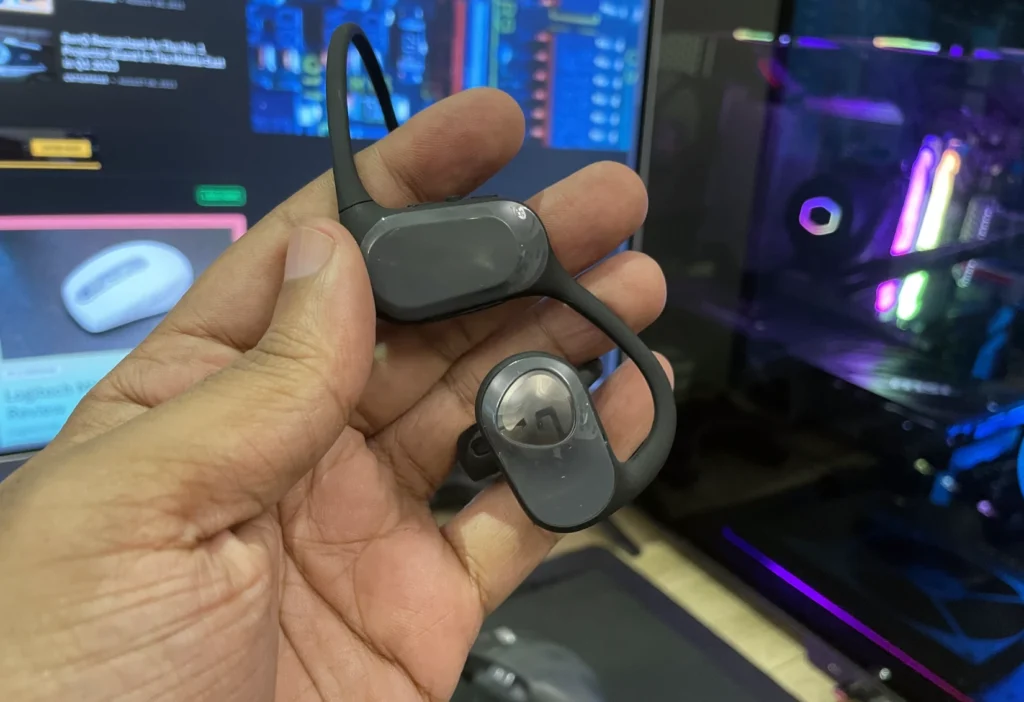 For comfort during extended use, the headphones adopt an asymmetrical design that securely fits the ear. The control buttons seamlessly blend with the overall headphone aesthetic. While they might initially feel slightly snug, a short adjustment period helps find the most comfortable position. Once properly adjusted, these headphones offer excellent comfort, owing to their lightweight construction and flexibility.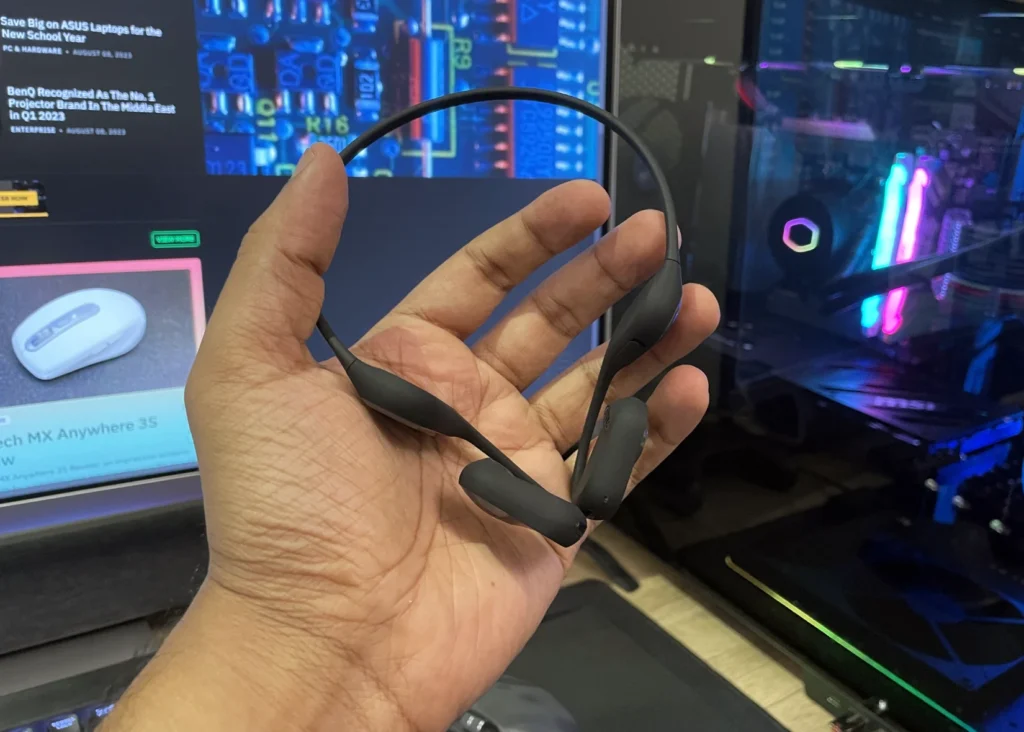 Furthermore, the SoundPeats RunFree Headphones are IPX4 certified, ensuring worry-free usage in environments where sweat or water exposure is a concern. For convenient charging, they feature a USB Type-C port that can be connected to a charger or laptop.
Features & Audio Quality
Pairing the SoundPeats RunFree Headphones via Bluetooth is a straightforward process. For the initial pairing, simply turn them on, and when pairing with another device, turn them off and back on while holding the power button for at least 3 seconds. A confirming beep sound lets you know when pairing is successful.
These headphones stand out thanks to their air conduction technology, providing an open-ear listening experience. They also feature dual-mic active noise cancellation, effectively reducing ambient noise, and support the connection of multiple devices. This technology is similar to bone conduction earbuds, but instead of transmitting sound through vibrations along the cheekbone to your ears, Soundpeats employs a 16.2mm driver setup to deliver sound directly into your ear without physical obstruction. Additionally, there's a game mode for lag-free gaming audio.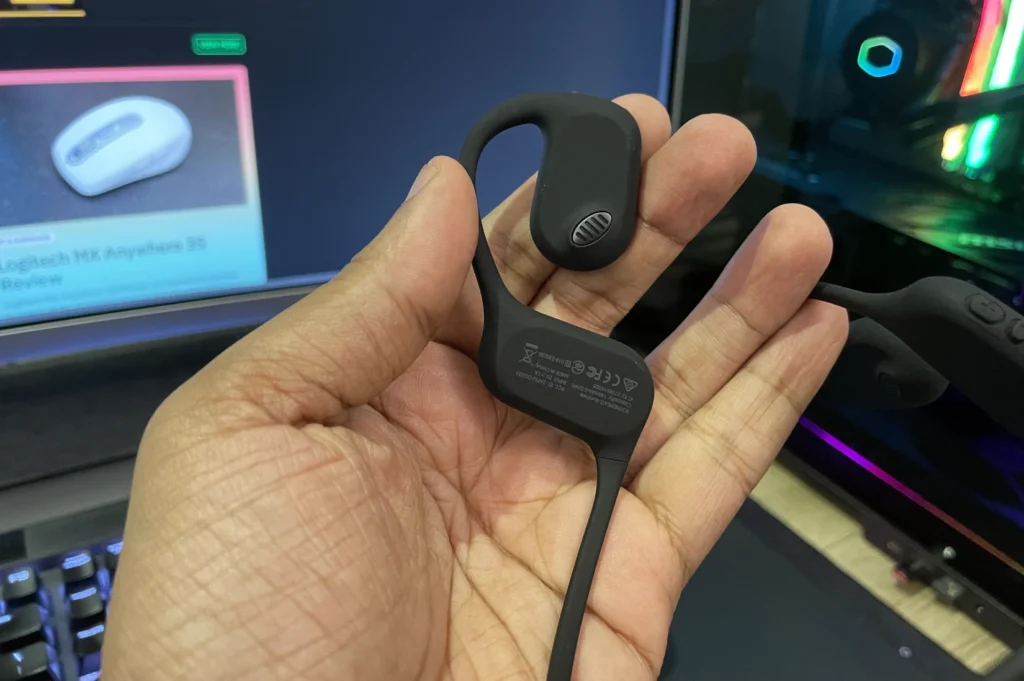 In terms of audio performance, the SoundPeats RunFree Headphones excel in handling music, calls, and podcasts. However, they may fall short in delivering deep bass and can become somewhat sharp at maximum volume. Nevertheless, you have the flexibility to create your own EQ profile via the Soundpeats app, allowing you to find a balanced sound that suits your preferences.
The built-in microphone performs adequately for calls, but due to the open-ear design, these headphones provide minimal sound leakage protection, and noise cancellation is not a strong suit. Where the SoundPeats RunFree Headphones truly shine is in their comfort, thanks to the use of soft silicone materials.
SoundPeats app
Designed for both iOS and Android, this companion app provides customization options and features. With its minimal interface, you can easily upgrade firmware or adjust the audio parameters, such as equalizer settings, to create a customized sound profile that resonates with your musical tastes.
Keeping track of the battery life of each earbud is effortless with the app. The app provides clear and accurate information on the power status, ensuring that you are always aware of their remaining battery life. This feature enables you to plan accordingly and avoid unexpected interruptions due to low battery levels.
Connectivity & Battery
The SoundPeats RunFree Headphones uses a USB Type-C port for charging. On paper, the headphones can provide up to 14 hours of playback at 50% volume. In our test, we were able to achieve about 10-12 hours of usage.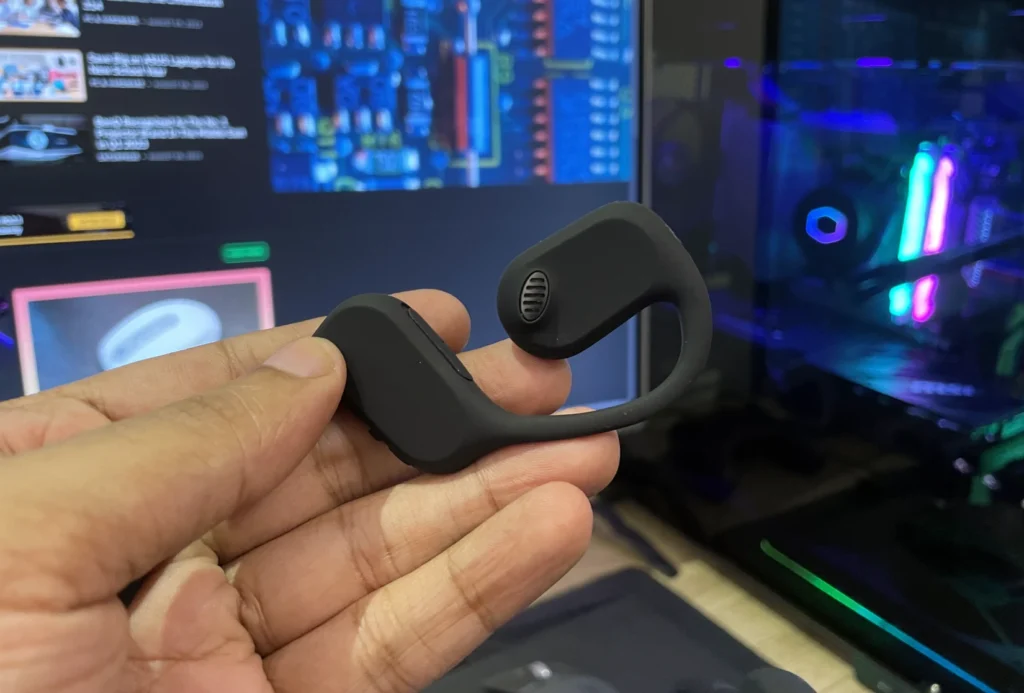 For quick top-ups, a 10-minute charge delivers 2 hours of use. And the headphones can be recharged back to full battery life in 1.5 hours.
SoundPeats RunFree Headphones Review Verdict
The SoundPeats RunFree Headphones excel in outdoor sports activities like running and cycling, thanks to their open-ear design. Their lightweight design contributes to a comfortable and hassle-free wearing experience.
In terms of audio performance, these headphones deliver a satisfying listening experience, complemented by their long-lasting battery life. If you're in search of an affordable neckband wireless earbud tailored for outdoor and sports use, the SoundPeats RunFree Headphones make for a compelling recommendation. Their blend of situational awareness, above-average battery life, and enjoyable sound quality makes them a noteworthy choice for active individuals on a budget.
---
The SoundPeats RunFree Headphones is available for purchase via Amazon.com for $34.99 (regular price $49.99). For a limited time, you can enjoy a discount if you check out with the coupon code SPRUNFPR. Note that the validity period for the discount is Sep 12th-30th.