Assetto Corsa Competizione Reviewed on PS4
Assetto Corsa Competizione, a game that has been out on PC for a year now, finally ventures onto consoles. This very niche-focused game provides an authentic experience to hardcore fans of a very specific class of European racing, and doesn't really have much in store for casual gamers or those uninterested in this very specific style of racing.
Admittedly, in comparison to its predecessor, this realistic sim racer may seem disappointing in terms of scale as there are very few tracks and cars to choose from; however, it's not a downgrade but far from it.
Gameplay
Since the game has a very limited selection of cars, this is actually one of its greatest strengths because developer Kunos nails the feel and handling of each and every one of them.
One of the things you'll notice right away during your first race is that this game isn't meant to be played on a regular controller, but if you were looking into this game, chances are that you already have a wheel in the first place. This, as well as the lack of a proper tutorial results in Competezione being utterly unwelcoming to newcomers.
The AI is the absolutely best and most challenging that I've come across in the recent times. They always keep you on the edge of your seat by remaining competitive and racing clean. Once you finally get the hang of it, fleeting past each car provides you with a satisfying rush of adrenalin and dopamine at the same time.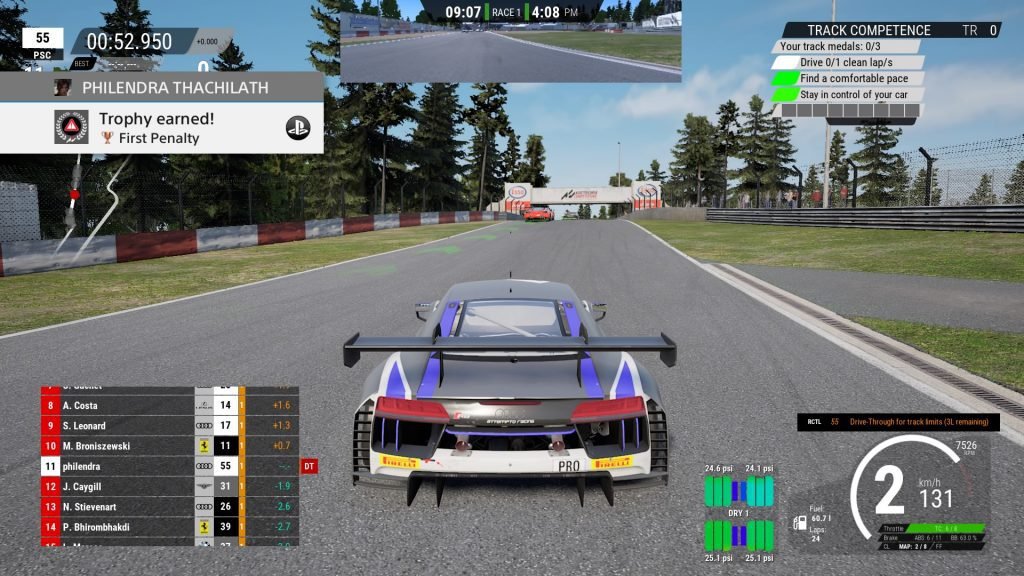 The lack of game modes was thoroughly disappointing. Technically there are only two game modes; Single Player, a mode where you can create custom races and Championship mode. Career mode is just a masked version of Championship mode where you race for the first position as yourself instead of a real-life racer, hence not bringing much to the table. Since the game has only recently made the shift to consoles, Multiplayer mode isn't at a state to be evaluated at this point.
The driving feels great and authentic and it is harsh and unforgiving, as it should be, although I wish that it also paved a way for non-veteran fans to get introduced to this genre and the series, as the game assumes that you already know all the basics of a typical sim racer and would not be your ideal choice if you're trying to get started with this hyper-realistic genre.
Visuals
All things considered, the game is only a year old and it is already starting to show its age. The cars itself have a decent amount of detail but the environments are nowhere near the standards set by other racers. The draw distances are short and the game is ridden with staggered frame rates. The game only reaches up to 30FPS at its best and this instability breaks the pacey flow that in my opinion, is a deal-breaker for racing games.
Where the game does a commendable job is the dynamic weather effects. The flawless transitions between the day and night, as well as the rain effects, not only look gorgeous but also quite realistically simulate an accurate representation of the obstacles a driver faces while driving under such weather conditions.
The menus were extremely frustrating with a very inconvenient font size that makes it hard to navigate through them; it was as if the developers immediately assumed that everyone will be playing using a monitor without any regard to the people that play in their living rooms a good distance away from their TVs.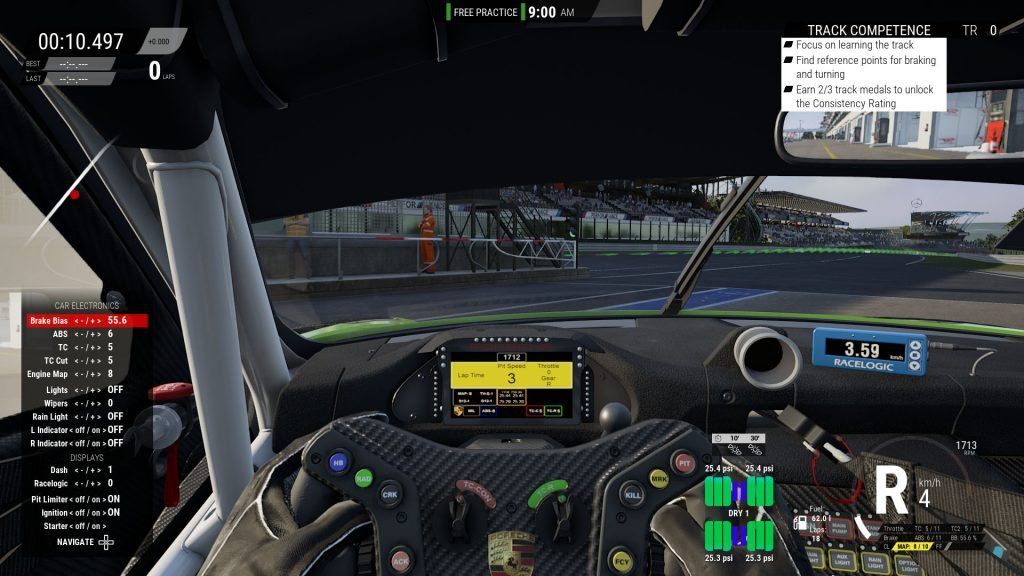 There were also these really weird bugs that I think would be easier shown than said: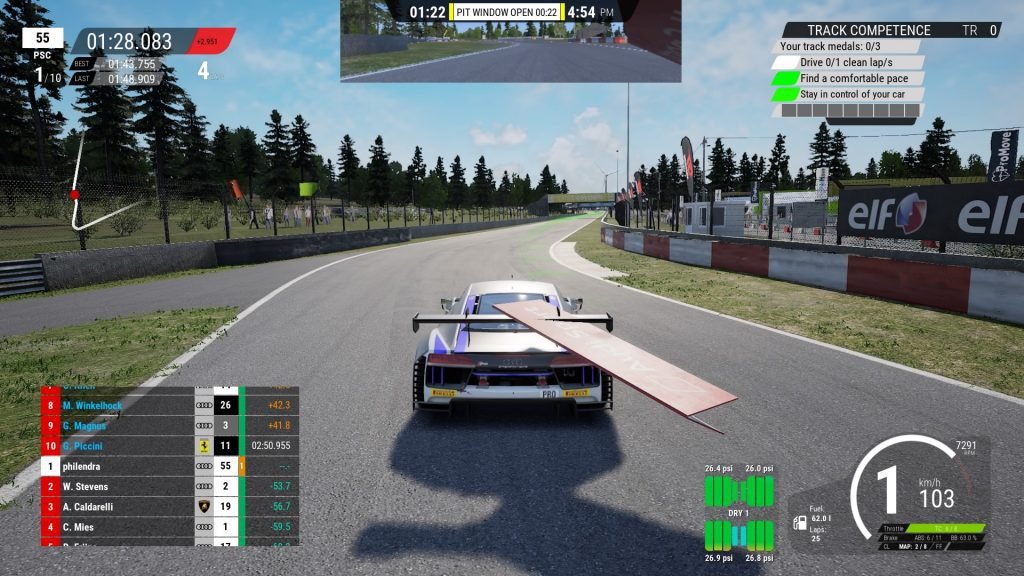 Audio & Music
Perhaps the biggest highlight of this game is its sound design. Kunos has done an excellent job to provide us such a genuinely immersive experience that the inconsistent visuals do not do justice to it.
Whether it's the mechanical roar of the car engines, the sound of the tires as they squeal against the track while drifting into tight corners or the enthusiastic announcers in the background, they've done an A+ job throughout. Playing this game in your surround sound setup is a must; for audiophiles and racing enthusiasts alike, Competizione is Nirvana.
My only complaint is that the experience doesn't line up well with the dated visuals, otherwise the level of audio fidelity in this game is far superior and unmatched by any other sim racer available in the market today.
Verdict
Competezione feels like it's in early-access and the unforgiving nature of this game may be a turn-off for most gamers. However, if you are one of the people who fall under the niche category that this game is aiming for, you might want to wait out a while until Kunos rolls out the promised updates that this game so desperately needs.
Although there is an enjoyable professional and disciplined experience to be had here, the shortcomings make it difficult for it to be recommended to anyone right now; especially since there are far better racers like Project Cars 2 for instance, for a much better well-rounded simulation experience.