Dirt 5 Reviewed on PS4
In a generation where we witnessed more realistic sim-racers taking the center-stage and veteran arcade racing franchises like Need for Speed rebuilding themselves, we finally get a decent arcade racer that's fun, concrete and a stepping stone for the long overdue revival of the arcade racing scene. The DIRT series has been struggling through an identity crisis throughout the past few years, and it's with extreme delight that we confirm today that those days are long behind them.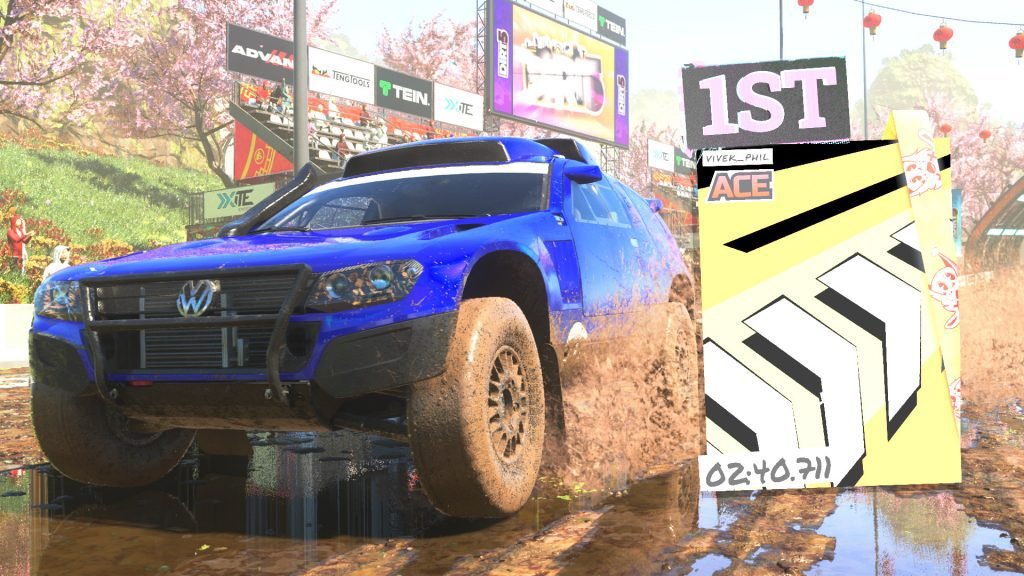 Codemasters has ultimately managed to effectively differentiate their brutally true-to-life, 'Dark-Souls-on-gravel' DIRT Rally series from the mainline DIRT games. Breaking out from the weird middle ground the previous installment was stuck in, DIRT 5 spins its wheels back to its roots, providing us with the good ol' times by doing what it does best: pure arcade fun.
All Around the World
The career mode is what we'd recommend to start with, since it'll help you figure out the lay of the land and get a glimpse into what all the game has to offer. There are over seventy routes set across ten locations all over the world, ranging from the South American favelas in Rio De Janeiro to the lush bamboo forests in China. There's a good deal of variety that'll suit everyone's tastes alas, not all the tracks were created equally.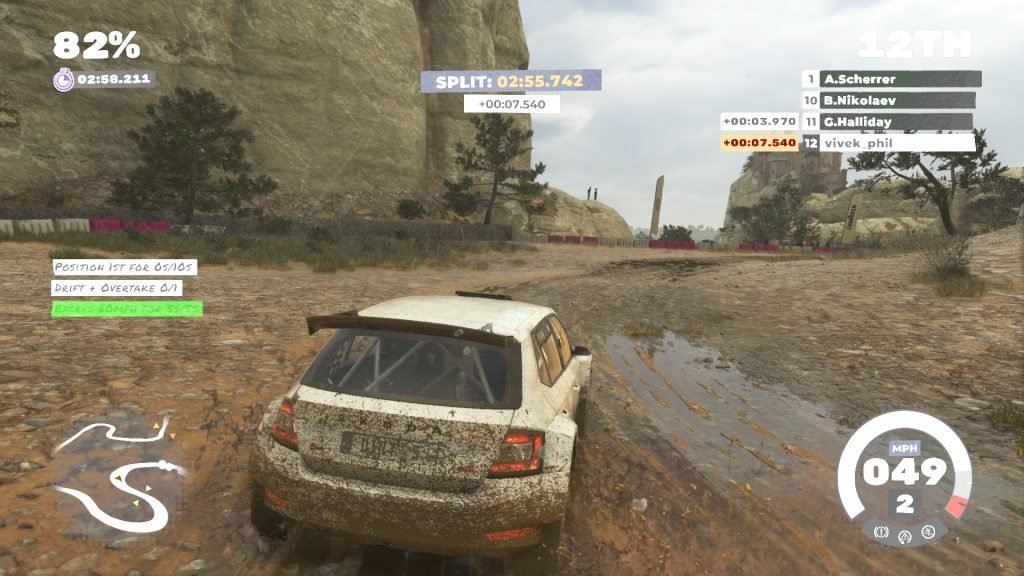 Some of the tracks manage to look great, while others look bland and mostly the same. This could be due to the nature of gravel and mud in general, but largely the environments don't tend to be very well detailed. In contrast, the vehicles models look great and the game has an impressive selection of over sixty cars spread across thirteen different classes. They aren't restrictive in terms of attributes like reputation systems, and instead are unlockable using the in-game currency.
Earning in-game currency manages to remain fair, without rendering the game a cakewalk at the same time. You earn obviously by winning races, as well as, by completing certain objectives during each race. These aren't all that complex, and add replayability to races once you've beaten them. You earn different rewards based on which sponsor you choose to sign with, which can include currency as well as cosmetic items. While the sponsorship isn't as robust as what you'd find in an F1 game, it helps provide more depth to the overall experience.
Sticking the Landing
The developers give you the option to choose between fidelity or performance favouring modes, even on the PlayStation Slim. Personally, I preferred the fidelity mode since the graphics are not particularly impressive for a game in 2020 in the first place. Even so, we hardly came across any performance issues during our time testing it. Stutters were present during the transitions and the start of the races, but the gameplay was pretty smooth after the initial few seconds.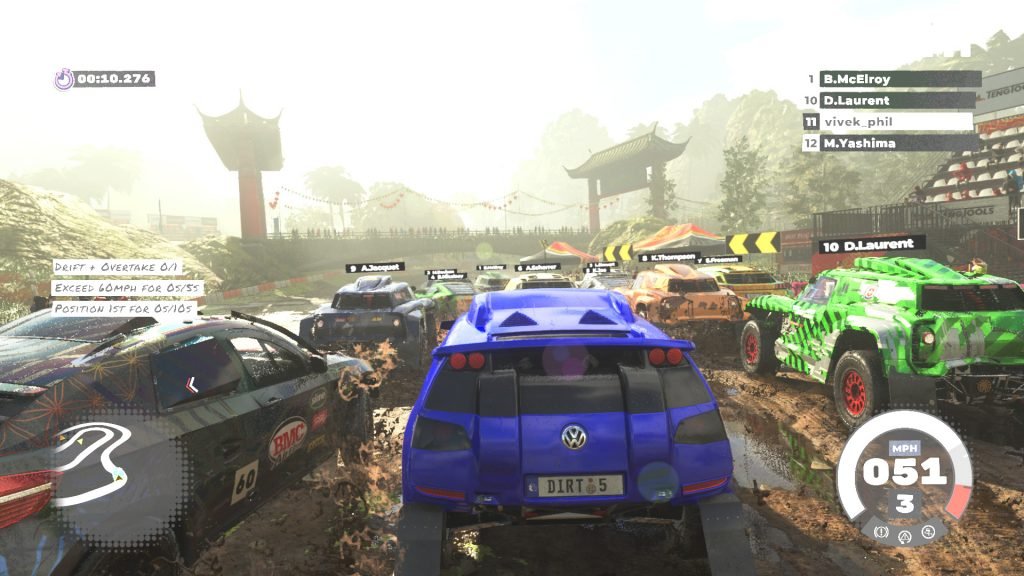 The handling of the vehicles showed good variation in comparison to the real deal without getting too overwhelming. The physics were superb as well, they've really managed to strike the balance between realism and casual fun. What impressed us the most were the dynamic day/night cycle and the weather effects. Taking a page from Driveclub's book, they provided actual challenge and pushed us to alter our technique in real time to meet the needs of the hour. Racing on the same track during different laps can be completely different as a result of this. This made conquering already-visited tracks feel fresh, and there was never a dull moment thanks to its unpredictable nature.
The career mode was a surprising blast too. We loved the refreshing banter between real-life talents James Pumphrey and Nolan Skyes from Donut Media, and the show stealing performances of Troy Baker as your mentor AJ, and Nolan North as your rival, Bruno Durand. All this action played out as audio clips while you navigated the menus to your next race, and this resulted in an abysmal form of storytelling. We'd love to see the action unfold in the form of cutscenes and, dynamic commentary of the moment-to-moment gameplay in future installments.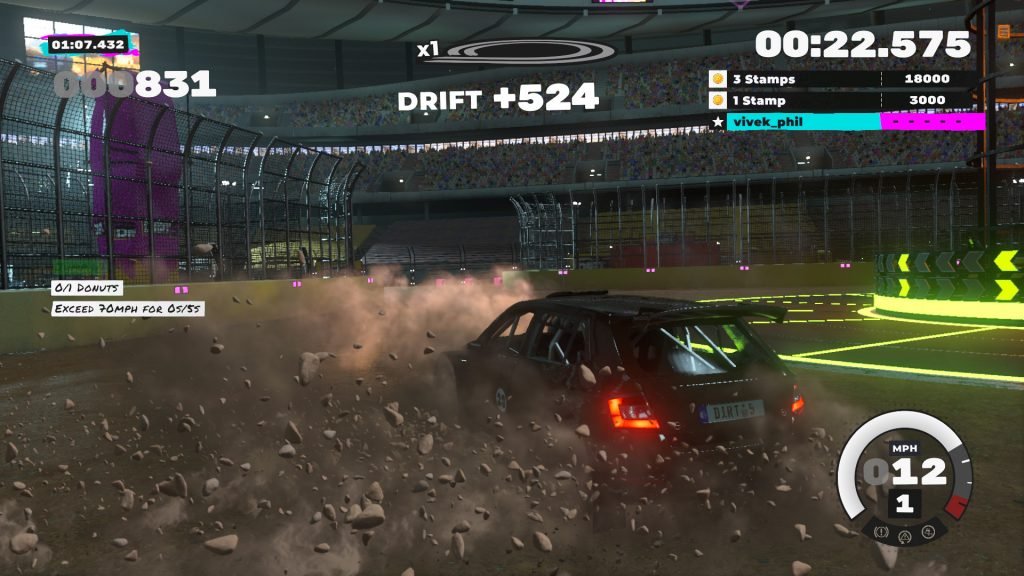 The game also features a track creation mode called Playgrounds that's akin to Trackmania. If you aren't satisfied with the selection of tracks available in-game, you can unleash your creativity and create some truly unique ones and share them with other players. Some players have already re-created some iconic tracks from other popular racing games.
When it comes to car customization, the options are pretty slim. It isn't as multifaceted as last year's Need for Speed: Heat, and intentionally devoid of any under-the-hood tinkering options to please gearheads. This is strictly meant to be a casual experience still; the basic livery editor felt a little too simplistic for our taste.
Let's Get This Party Started
If you were previously turned-off by off-road racers due to the doom-and-gloom of it, the biggest shift in focus is the overall vibe of it all. With bright colours and eye-catching visuals, the game maintains a "fiesta" ambience throughout start to finish. The upbeat nature of it all means that you'll be smiling and having a good time whether you finish first or twelfth. The crowds, sights and scenes set such a positive tone that works greatly in the game's favour.
To our pleasant surprise, our ears were greeted to the most fabulous video game soundtrack of this generation! Like seriously, when was the last time you were singing along to New Found Glory while swiftly drifting past your opponents like a badass? Exactly. As a fan of alternative rock music, this was my favourite aspect of the game (whoever compiled this list of tracks at Codemasters seriously deserves a raise!)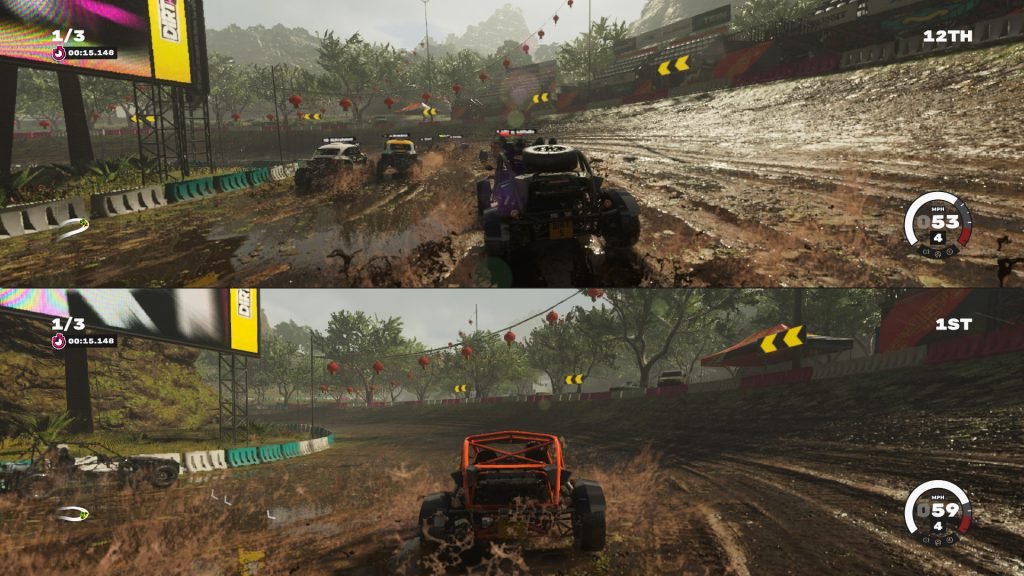 What ultimately broke up the party was the split-screen co-op, which was simply broken. As local multi-player gets seemingly scarce today, the only expectation we hold is for it to work, and you're golden. Unfortunately, this mode didn't play out well during our testing. The second player would always crash randomly during the race, and neither changing controllers or tracks and vehicle classes, or restarting the game itself seemed to fix this issue. We hope this oddball issue gets fixed in future upgrades, but are baffled that it made into the final build unnoticed.
Drifting Further
Some essential parts of the experience are missing during launch such as private lobbies and extended wheel support. We can expect them to be included in the near future in the forms of updates. What we should give up hope on however, is the cross-play function. While players on PlayStation 4 can race against those on PlayStation 5, and Xbox One players with those on Series X; they cannot compete against gamers in other platforms and that's a bummer for those who want to become the best of the best.
Verdict
DIRT 5 returns to the franchises' roots in grand fashion and gives us one of the best arcade racers of the generation. The driving is sophisticated and fun enough, without turning away casual players. With a fun career mode, tons of unconventional racing and a banging soundtrack, the game has a lot of fun on offer. The free next-gen upgrade makes it an even better bang for your buck.
For more on racing games, check out our review of Ride 4. For more reviews and everything else related to gadgets and gaming, do considering signing up for our newsletter.