ASUS Republic of Gamers (ROG) today announced the return of the Zephyrus G14 gaming notebook that brings unprecedented power to an ultraslim 14-inch form factor.
The latest Zephyrus G14 packs powerful processors in a compact chassis portable enough to go anywhere at a price that brings gaming to an even wider audience.
Small size with big impact: Compact and portable at only 19.9mm thin and 1.7kg
AniMe Matrix LED personalization: An optional, precision-cut LED on the lid lets users show custom graphics, animations and other effects.
Immersive gaming visuals: The first gaming notebook of this size to feature RTX graphics that produce high frame rates for popular games
High resolution Panel: WQHD resolution panels allows users to optimize for gaming or content creation.
Nonstop speed: Latest AMD Ryzen 4000 Series Mobile Processor featuring world's first x86 8-core and 16-thread with advanced power efficiency.
Despite a chassis under 20mm thin, the Zephyrus G14 has carefully customized cooling that brings out the best of its new AMD Ryzen 4000 Series Mobile Processors built on the groundbreaking Zen 2 architecture combined with industry leading 7nm process technology and up to an NVIDIA GeForce RTX 2060 GPU. Users get a high resolution display, with PANTONE Validated colors and adaptive sync technology.
Specifications
Processor
AMD Ryzen 9 4900HS
GPU
NVIDIA® GeForce RTX™ 2060 6GB GDDR6 VRAM
Operating system
Windows 10 Home
Display
14-inch WQHD (2560×1440) IPS-level panel, 60Hz, 100% sRGB, PANTONE® Validated, adaptive sync
Audio
2x 2.5W speakers with Smart AMP technology 2x 0.7W tweeter, Array Microphone With Dolby Atmos technology
Keyboard
Backlit Chiclet Keyboard, N-key support, 1.7mm travel distance, 4 Hot keys, Golden Curve, Power key with Fingerprint
Cameras
External Camera (1080p @ 60 FPS), optional
Memory & storage
DDR4 3200MHz SDRAM 16GB
M.2 NVMe PCIE 3.0 up to 1TB SSD
Wireless
Intel® Wi-Fi 6 (802.11ax)
Bluetooth 5.0
Connectivity
1 x USB3.2 Gen2 Type-C with DisplayPort 1.4 and Power Delivery
1 x USB3.2 Gen2 Type-C 2x USB3.2 Gen
1 Type-A
1x HDMI 2.0b
1x 3.5mm headphone and microphone combo jack
1x Kensington Lock
Battery
180W Power Adaptor Plug Type :ø6.0 (mm)
Output: 20V DC, 9A, 180W
Input: 100~240V AC, 50/60Hz universal
Colors
Eclipse Grey
Size
32.4 (W) x 22.2 (D) x 1.99 (H) cm
Weight
1.7 kg
ASUS launches Zephyrus G14
More than 10 hours of battery life and the ability to charge from compatible Type-C power packs makes the G14 extra portable and is available in a new Eclipse Gray color. The new AniMe Matrix display deepens personalization, enabling users to show custom graphics, animations, and other effects across over a thousand mini LEDs embedded on the lid.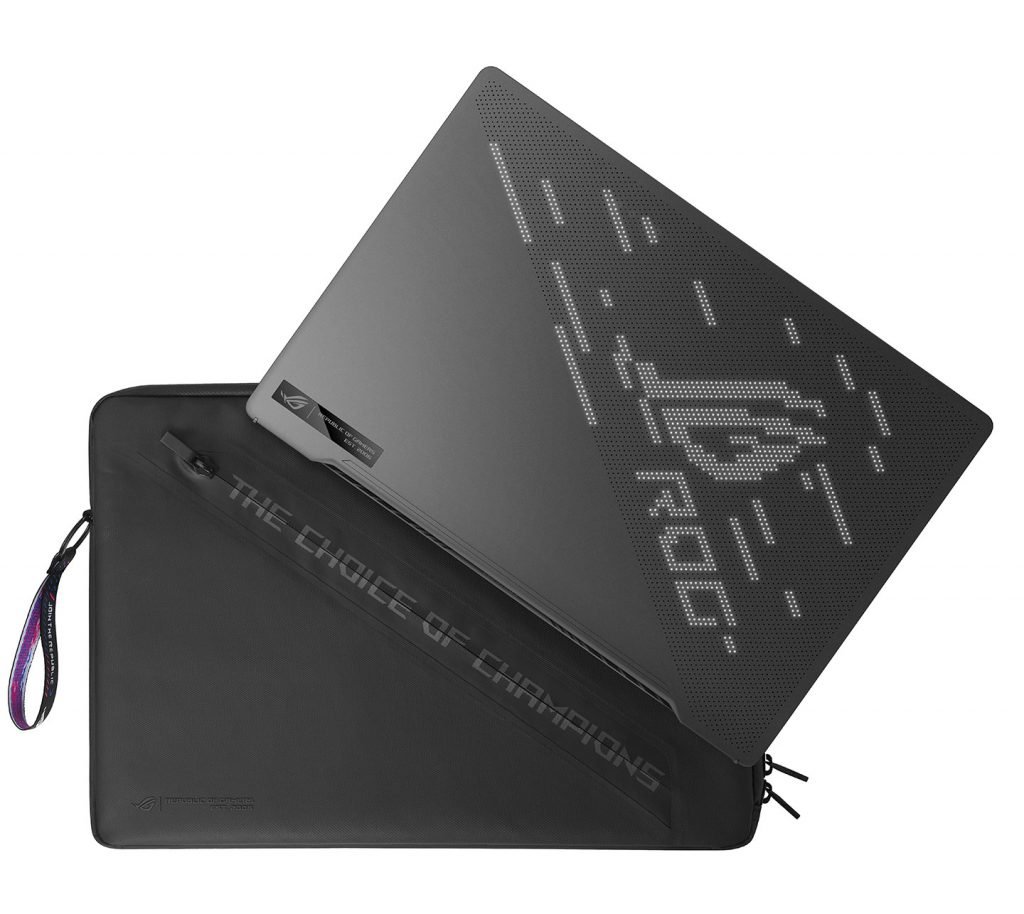 Small size with big impact
Packed into a much smaller footprint than 15-inch alternatives, the G14 easily slips into conventional laptop bags and backpacks. The system is only 19.9mm thin and weighs just 1.7kg.
To keep the notebook light and strong, honeycomb reinforcements beneath the palm rest add strength with minimal extra material. The Magnesium-aluminum alloy deck is precisely machined and fingerprint resistant for a professional polish. High strength and low weight make aluminum ideal for the lid, whose distinctive dot matrix design is produced by a CNC milling process that puts 6,536 precise perforations in the exterior panel.
Innovative LED personalization
The ROG splash across the lid comes to life with the AniMe Matrix display. This display uses 1,215 mini LEDs to give gamers a new medium to express their individuality. Each LED emits a white glow with 256 levels of brightness control.
Users can import animated GIFs and other graphics, build custom animations frame by frame, and type text messages with different fonts. Visualizations react to music and other audio, creating a unique platform for DJs and other artists. Additional features that will be added at the end of Q1 include system functions that show new email notifications, as well as the date, time and battery level.
Immersive gaming visuals
The Zephyrus G14 comes with a GeForce RTX 2060 augmented by ROG Boost up to 1298MHz at 65W. The discrete GPU is based on the latest NVIDIA Turing architecture, which combines dedicated cores for programmable shading, real-time ray tracing and artificial intelligence. This combination enables improved lighting, shadows and other in-game effects, and it also offers a diverse array of compute resources for accelerating demanding workloads like content creation, 3D modeling and deep learning.
Incredible visuals in high resolution
The G14 offers a WQHD resolution of 2560×1440. Adaptive sync technology adds another level of smoothness by coordinating frame delivery between the GPU and display. Adaptive sync technology synchronizes the refresh rate of the display with the frame rate of the GPU to eliminate visual tearing that can ruin immersion, and also minimize stuttering and input lag.
The display is factory calibrated and PANTONE Validated to ensure creators view accurate colors. The IPS-type panels have wide viewing angles and cover 100% of the sRGB range. They're framed by exceptionally thin bezels, creating an expansive 85% screen-to-body ratio.
Performance
The Zephyrus G14 generates less heat, enabling an unprecedented level of performance for such a compact chassis. The chips retain up to 8 cores and 16 threads to blast through demanding workloads, but are tuned to make thermals more manageable. There's still ample power for demanding applications like video editing and 3D rendering, and for heavy multitasking like mixing gaming with streaming, recording and chats.
With 16 GB of fast DDR4-3200 RAM across dual channels, there's headroom for bigger projects too. Ultra-fast storage is supplied by an NVMe SSD with 1TB of capacity, meaning minimal load times for a good library of games and apps.
Airflow & Cooling
Ultraslim chassis leave little room for airflow, and a smaller footprint makes the G14 even harder to keep cool. The thermal engineers at ROG developed an exclusive feature that dynamically adjusts the power available to the CPU based on the GPU temperatures. It can make changes every second to react to spikes in GPU utilization, ensuring optimal gaming performance for the conditions.
This is the first ROG laptop to feature an ErgoLift hinge that tilts the keyboard at a more comfortable angle. The bottom of the display lifts the back of the machine when the lid is opened, giving the vents in the base more room to breathe. The design hides part of the lower bezel, too, but in doing so it can impede airflow out the rear exhaust ports. To compensate, vents have been cut into the bezel and the distance to rear heatsinks has been widened. Since that larger gap increases the depth of the chassis and makes the hinge more susceptible to downward pressure, a stiffer spring is used for added strength.
Charging
ROG created the first gaming laptop capable of being powered by DC or USB-C input, and the technology is a perfect fit for the mobile Zephyrus G14. With support for USB Power Delivery, it can handle lighter work powered by up to a 65W Type-C adapter that's much smaller than the 180W unit required to power the discrete GPU.
If the battery runs low, Type-C charging allows users to extend their life on the go and work longer anywhere. While the Zephyrus G14 is plugged in for a full recharge, USB power flows in the opposite direction as well, offering fast-charging support capable of supplying up to 3A to compatible smartphones and other devices.
Connectivity
The Type-C port with USB Power Delivery is also capable of driving an external monitor via DisplayPort 1.4. The HDMI 2.0b port makes it easy to game or watch movies on 4K monitors and TVs. There's plenty of connectivity for external devices through a secondary Type-C port focused on USB functionality, plus two Type-A ports for additional gear. No dongles needed.
The ASUS Zephyrus G14 amps up wireless networking with Intel Wi-Fi 6 (Gig+) connectivity, also known as 802.11ax. When paired with a compatible router, Wi-Fi 6 (Gig+) boosts peak interface bandwidth up to 2.4 Gbps, and improves efficiency for crowded spaces. It also reduces latency, meaning less lag for sensitive activities like online gaming, and expands upstream capacity, which provides more bandwidth for live-streaming.
Keyboard enhancements go beyond ErgoLift as well. The G14 is the first ROG laptop to integrate fingerprint login into the power button. A single press wakes the machine and briefly caches a user's fingerprint, saving it to authenticate when Windows is ready to log in. On machines with multiple users, the OS automatically detects the right account.
Dolby Atmos Immersive Audio
A leap forward from surround sound, Dolby Atmos brings moving audio that flows above and around users with crisper voice and greater depth to a wide range of audio experiences, and it can even provide a competitive advantage for gamers. In the Zephyrus G14, Dolby Atmos enhances spatial immersion by delivering a breakthrough audio experience with sound that moves all around users in three-dimensional space whether listening via headphones or built-in speakers.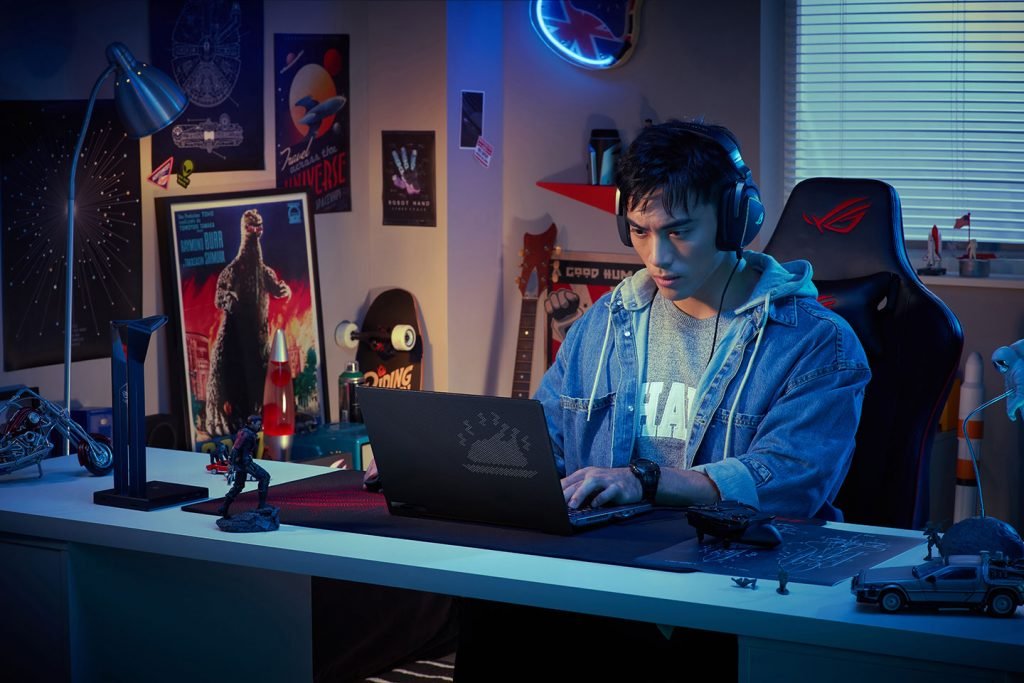 Dolby Atmos also creates breathtaking realism with optimized sound for greater detail and maximized loudness without distortion from the G14's integrated speakers. Two tweeters positioned above the keyboard fire high-frequency sounds directly toward the user, while two woofers beneath them offer deep bass amplified by the ErgoLift design. This quad-speaker setup delivers perfectly balanced audio across the spectrum. With these technologies, users can pump up the volume on movies, music and games without losing clarity or detail
Availability
ASUS ROG Zephyrus G14 will be available from July 15th in the UAE from Amazon, Emax, Noon, Sharaf DG & Virgin Megastores across the UAE, and is priced at AED 7,499.