The latest from ASUS ROG series of gaming laptops is the Zephyrus Duo 15. It is the first laptop in the ROG series with dual screens, just like Zenbook Duo that we reviewed earlier, and presents itself as a laptop for enthusiast gamers and content creators.
The ROG Zephyrus Duo 15 offers up to a 10th gen Intel Core i9, RTX 2080 Super Max Q with 8GB GDDR6 VRAM, 48 GB of DDR4 3200MHz RAM and up to 2 TB of NVMe PCIe SSD storage capacity which also supports RAID 0 configurations.
In terms of connectivity, the ROG Zephyrus Duo 15 offers Thunderbolt 3, USB 3.2 Gen. 1 Type A, USB 3.2 Gen. 2 Type A, as well as Wi-Fi 6 and Bluetooth 5.0.
The Zephyrus Duo 15 has a 15.6-inch main display, available in two configurations: 4K IPS 60 Hz with a 100% Adobe RGB color gamut, Pantone Validated, and supports G-Sync; and a Full HD IPS with a 100% sRGB color gamut, Pantone Validated, also supports G-Sync but with a refresh rate of 300 Hz. Both panels have no touch functionality.
Apart from the main screen, the Zephyrus Duo 15 also offers a second screen. Known as the ROG Screenpad Plus, introduced last year with the ASUS ZenBook Duo and the ASUS ZenBook Pro Duo, this is a 14-inch IPS panel with a UHD resolution of 3840 x 1100 pixels, a 60 Hz refresh rate and comes with touch functionality.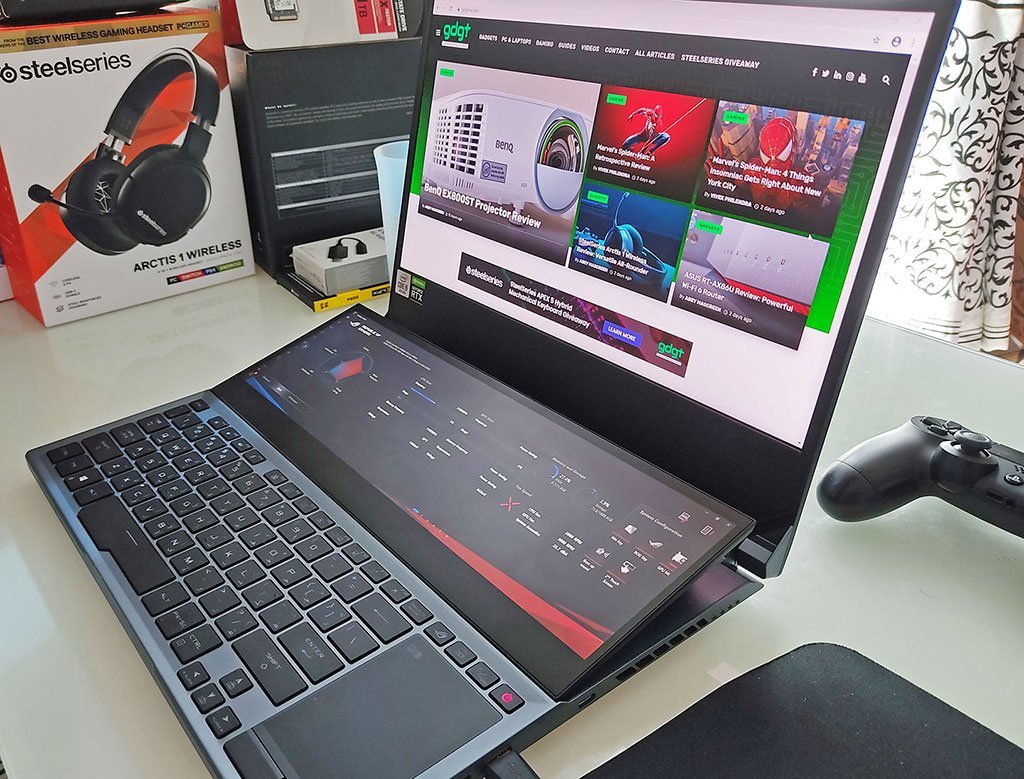 Compared to the ASUS ZenBook Duo, the Screenpad Plus raises at an angle of 13° when the notebook is opened which makes the display more visible and also improves cooling.
Regardless of the display you choose, there is enough power under the hood for serious performance. It's a powerhouse that competes with high-end desktop alternatives while still offering the portability and convenience of a compact laptop.
While it is primarily aimed at enthusiast gamers and content creators, The Asus ROG Zephyrus Duo is not a notebook for everyone. Definitely not for anyone looking for an ultraportable laptop with high-end performance, but for those who need a professional and portable workstation.
The model we tested is the top-end model, the Asus ROG Zephyrus 15 Duo GX550LXS offering an Intel Core i9-10980HK processor, 32 GB of 3200 MHz DDR4 memory, 2 TB of total SSD storage and dual graphics with a dedicated Nvidia RTX 2080 Super Max-Q GPU and Intel UHD Graphics.
SPECIFICATIONS
CPU
Intel 10th Gen Comet Lake i9-10980HK
RAM
DDR4 3200MHz SDRAM on board 16G, 1 x SODIMM slot , up to 32GB
GPU
NVIDIA GeForce RTX 2080- Super Max Q
Storage
2 x M.2 NVMe PCIE 3.0 x 4 up to 2TB SSD with RAID 0 support
Display
15.6-inch, Non-Glare, UHD (3840 x 2160), IPS, 100% Adobe, Pantone Validated, G-SYNCTM with 14.1-inch (3840 x 1100) touchscreen
Ports
1 x USB3.2 Gen2 Type C, DisplayPortTM 1.4, ThunderboltTM3, Power Delivery 3.0
2 x USB3.2 Gen1 Type A (right)
1 x USB3.2 Gen2 Type A (Bottom)
1 x HDMI (HDMI 2.0b support) 2 x Audio jack: Mic-in & Headphone;Mic-in
1 x RJ45
Connectivity
Intel Wi-Fi 6 with Gig+ performance (802.11ax)
Bluetooth 5.0
Camera
Addon Cam ROG GC21
Audio
2 x 4W speakers with Smart AMP technology
ESS, High-res certified
Array Microphone
Battery
240W Power Adaptor
Support Type-C PD 3.0 up to 65W
Dimensions
36.0cm x 26.8cm x 2.0cm (WxDxH)
Weight: 2.4 kg
The model we've received for this review is the ASUS ROG Zephyrus Duo 15 GX550LXS
PACKAGING, DESIGN & BUILD QUALITY
The whole package comes in a large, ASUS ROG branded, black cardboard box. Inside are two smaller premium boxes, one with the battery and accessories and one with the laptop itself. The packaging also includes a backpack, mouse and webcam.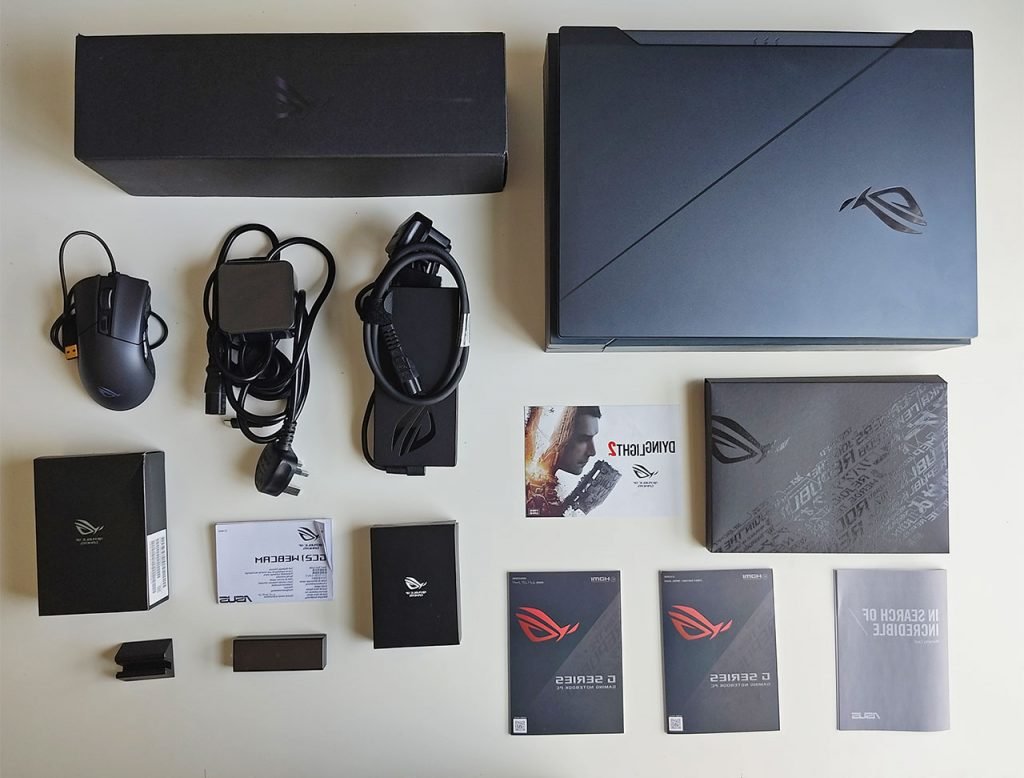 Inside the packing we find:
ROG Zephyrus 15
ROG GC21 Eye Webcam
ROG Asus ROG Gladius II Mouse
ROG Backpack
Charging Adaptor
Wrist-rest
Manuals and a code to Dying Light
With dimensions of 36 x 26.8 x 2.1 cm and a weight of 2.4 kg, the ROG Zephyrus Duo 15 is far from light. But for a 15.6-inch laptop with the most powerful components we've seen so far, it is not bulky either. Asus manages to keep the weight down by opting for a magnesium aluminide frame, rather than aluminum or plastic. It looks and feels good in the blue-gray hue, the only color choice.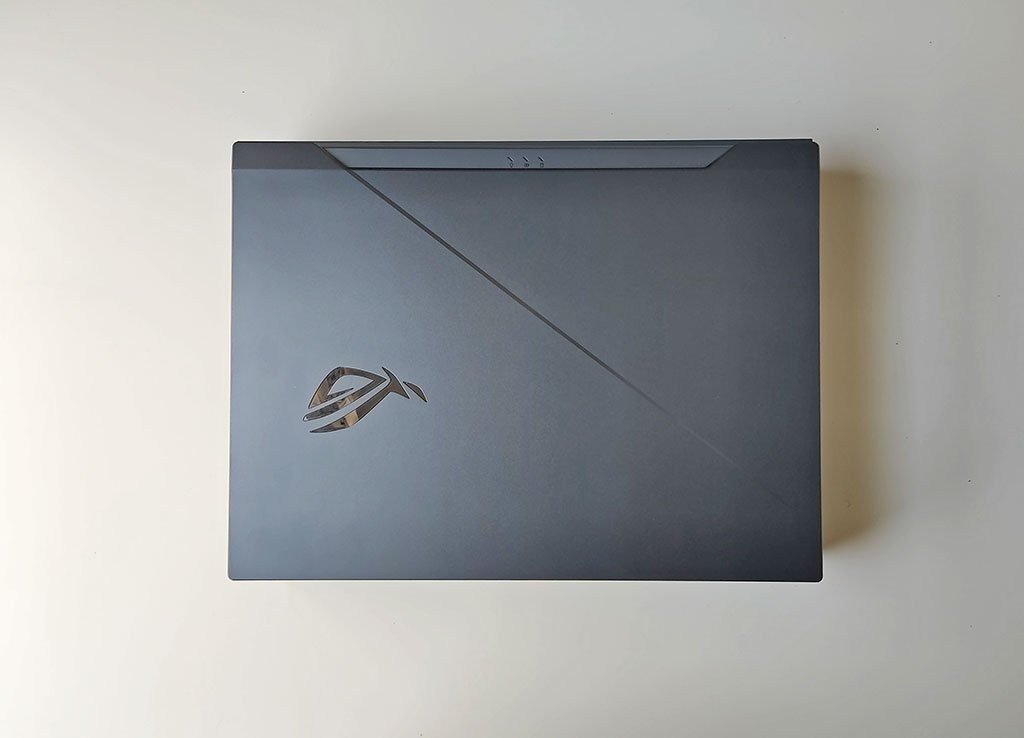 The laptop has a solid and durable frame with a minimalist design, a glossy diagonal stripe and a glossy ROG logo. Unlike other ASUS gaming series, the Zephyrus series comes in a less flashy design, with a big emphasis on portability. The side and rear grilles complement the simple and minimalist design very well.
The Duo 15 also ditches the ErgoLift hinge, found in the Zenbook Duo. When you open the lid of the laptop, the ScreenPad Plus display slowly rises to an angle of 13 degrees above the body. According to ASUS, this angle is optimal for viewing content and more comfortable for interacting with the display. This mechanism is different from one used in the ZenBook Duo and ZenBook Pro Duo where it relies on the ErgoLift Hinge mechanism to lift the screen and main body of the laptop as a whole.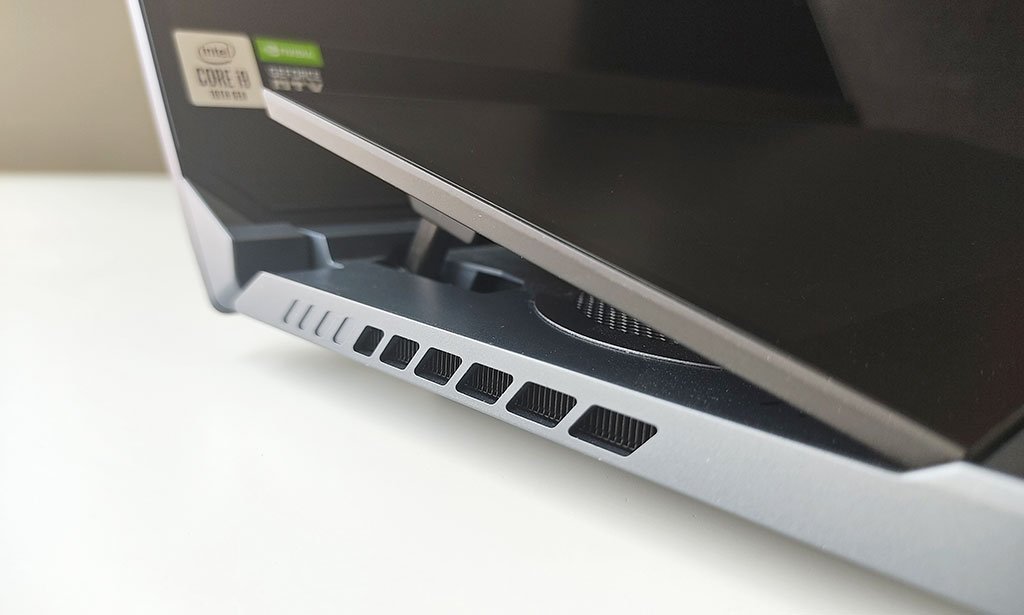 Below the ScreenPad Plus are two large air intakes for the cooling system. The Duo 15 draws in cool air from above and uses ASUS' active aerodynamic system to keep things cool while running quietly. It also allows a better sound since the speakers are also located in this area.
The Zephyrus Duo 15 uses a similar design to the ZenBook Duo; a keyboard at the bottom, a touchpad located to the right of it and an area above the keyboard for the Screenpad Plus. As with almost every dual-screen laptop, the addition of the second screen above the keyboard means that the keys and trackpad are pushed further down, so there is no area under them to rest your wrists.
The thin bezels around the display are nice, however, there is no integrated webcam here. Although the laptop comes with the ROG GC21 Eye Webcam, which records 1080p video at 60 fps, it is uncomfortable having to take out the webcam every time the screen is closed. Considering everything else Asus managed to pack into this laptop, the webcam is a notable omission.
Moving on to the main screen, we find a 4K IPS panel at 60Hz with very thin plastic bezels, despite the fact that most of the notebook is made of metal.
At the bottom are extensive cooling vents along with the built-in 4W each speakers and fairly tall legs on each corner.
PORTS
There are ports on all three sides of the ROG Zephyrus Duo 15.
The left side has the connector for the power brick, as well as separate 3.5mm headphone and microphone jacks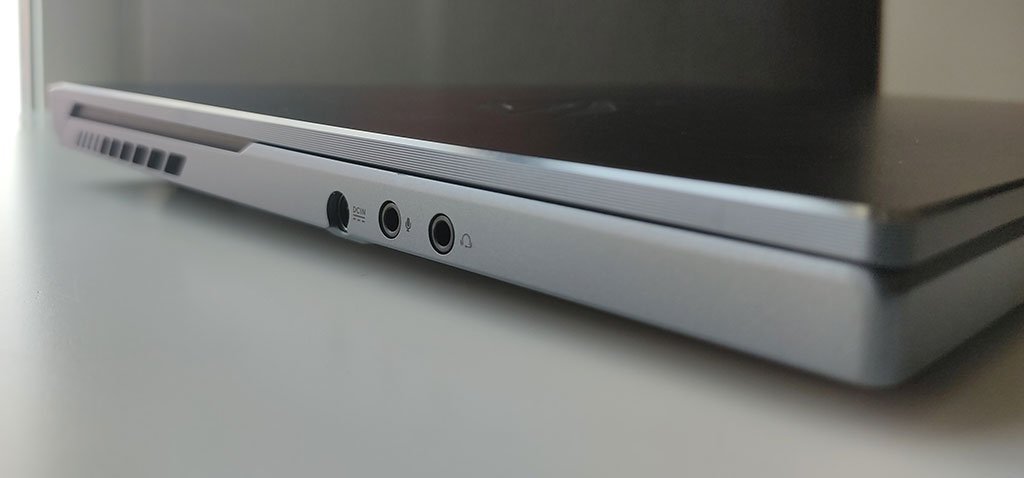 At the back are the RJ45 Gigabit Ethernet network port, an HDMI 2.0b port (supports 4K video at 60 Hz) and a USB 3.2 Gen 2 Type A port.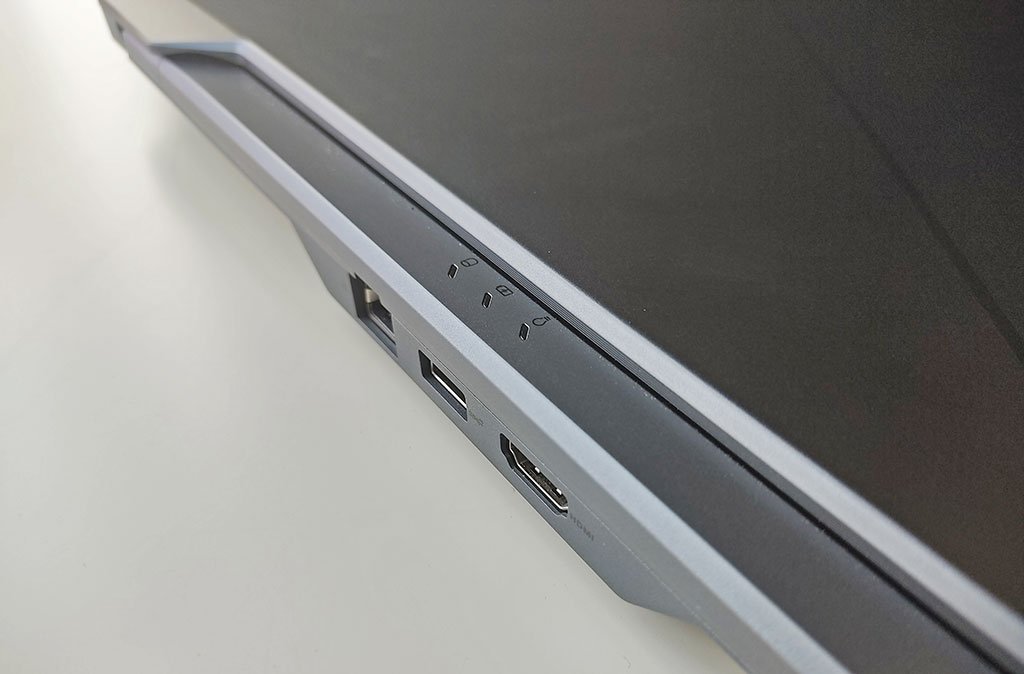 And on the right is the USB-C 3.2 Gen. 2 port with DisplayPort 1.4 and Thunderbolt 3 (which can also be used for charging if you have your own USB-C charger), along with a pair of USB 3.2 Gen 1 Type A ports.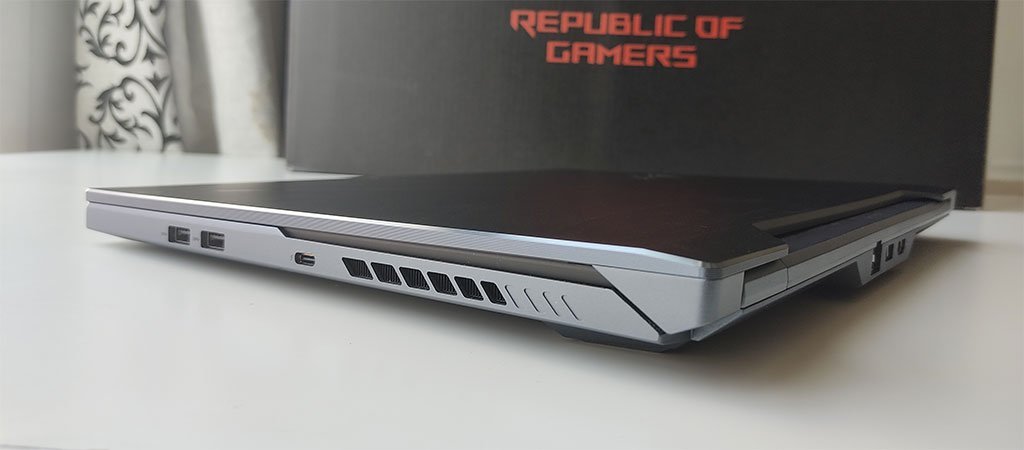 Unfortunately, a card reader is not included. If you are a content creator, it might be inconvenient to not have a card reader included.
Wireless connectivity is powered by an Intel AX201 chip, which provides Wi-Fi 6 (WLAN 802.11 ax) with 2 × 2 multi-antennas and Bluetooth 5 wireless interfaces.
DISPLAY
The Zephyrus Duo 15 has a 15.6-inch main display, available in two configurations: a Full HD screen with IPS panel with 100% sRGB accuracy, refresh rate of 300 Hz and response time of 3 ms, which is better for gaming enthusiasts, and a UHD screen with IPS panel with 100% AdobeRGB color accuracy and 60 Hz refresh rate, which is better for content creators.
Our test unit has the UHD 4K display. The screens are calibrated as accurately as possible right out of the box. The panel has excellent readability, a high brightness of 400 nits which is good for productivity tasks as well as gaming.
Screenpad
The secondary display is called ROG ScreenPad Plus. It has an aspect ratio of 21: 9, half the resolution of the UHD panel (3840 x 1100 pixels), uses an IPS panel with an sRGB coverage of almost 100% and is touch-sensitive. However, you will notice the problems with brightness, readability and color accuracy caused by the narrow angle.
The ScreenPad Plus can be used like any other display. Windows recognizes it as a separate display and apps can be dragged here to automatically launch on the ScreenPad instead of the main screen. You can tap to swap apps between the upper and lower screen. Also, there is a floating menu that appears when you move a program or window that allows you to instantly add it to the ScreenPad screen, maximize it on both screens, or pin it to the ScreenPad launcher.
In collaboration with AAA game developers, ASUS has integrated gaming features with ROG ScreenPad Plus. Games like Dying Light 2 can now display chat, inventory, and side quest views on ROG ScreenPad Plus. With this integration, gamers will stay focused on the gameplay on the main screen while viewing chat and inventory status on the second screen.
In addition, ASUS has also partnered with Overwolf developers to integrate their apps with ScreenPad Plus. Together with Overwolf you can also download apps for games such as League of Legends, Fortnite or CS: GO in order to put real-time data and other information on the second display.
In many applications, the toolbars can be pushed onto the ScreenPad Plus in order to have more space for the main window on the main display, which is simply very practical. The ScreenPad Plus also supports the ASUS Pen for notes and sketches.
Alternatively, this area of ​​the screen can be used for anything you can think of: notes, discord, video calls, WhatsApp, social media and more.
KEYBOARD & TRACKPAD
The back-lit chiclet keyboard has per-key RGB lighting. It offers a comfortable typing experience, consistency, low noise and good size except for the arrow and function keys which are too small.
The travel and weight of the keys are very pleasant for both typing and gaming. The function keys allow simple things like adjusting power mode, screen brightness, keyboard lighting, volume setting, etc. There is also a ROG button for opening the Armory Crate app and a dedicated button to turn off the secondary Screenpad Plus screen.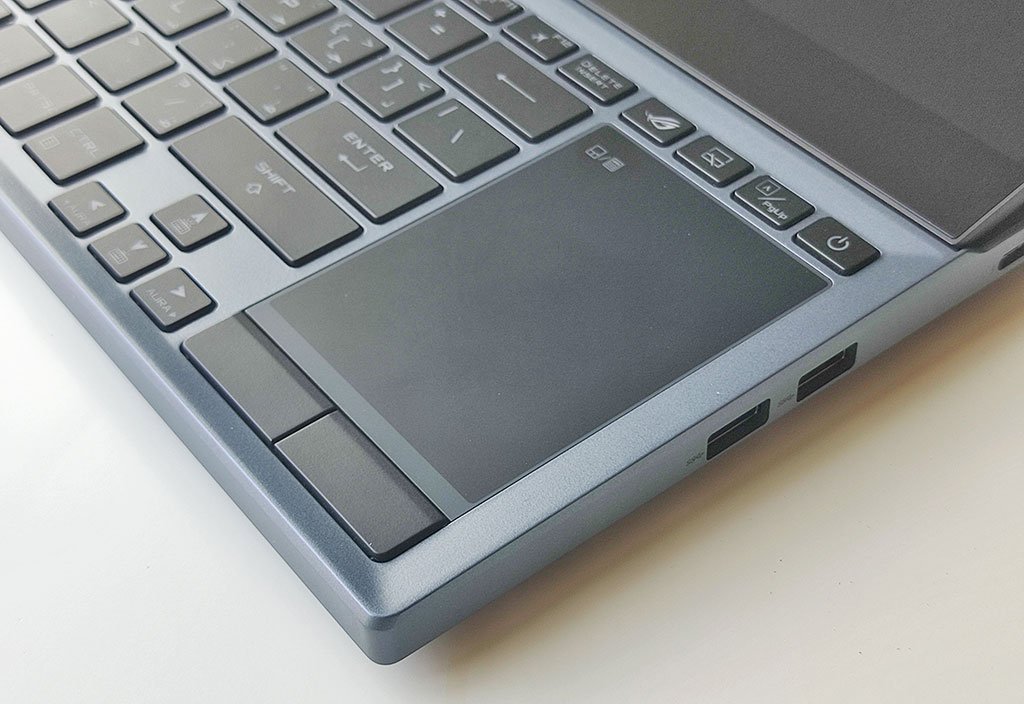 The keyboard can be configured in different RGB modes or each key individually. However, the lighting is not entirely uniform. For example, on the number keys and some symbols are not evenly illuminated and the F1 – F12 function keys are not at all illuminated.
On the right of the keyboard is a 2.3 x 2.9-inch touchpad. With the push of a button, it also turns into a touch-sensitive numpad. As with previous Duo laptops, it's generally accurate and gets the job done, but it's narrow and is placed in a very odd position. That being said, since this is a gaming laptop, you're going to be using the included Asus ROG Gladius II mouse most of the time.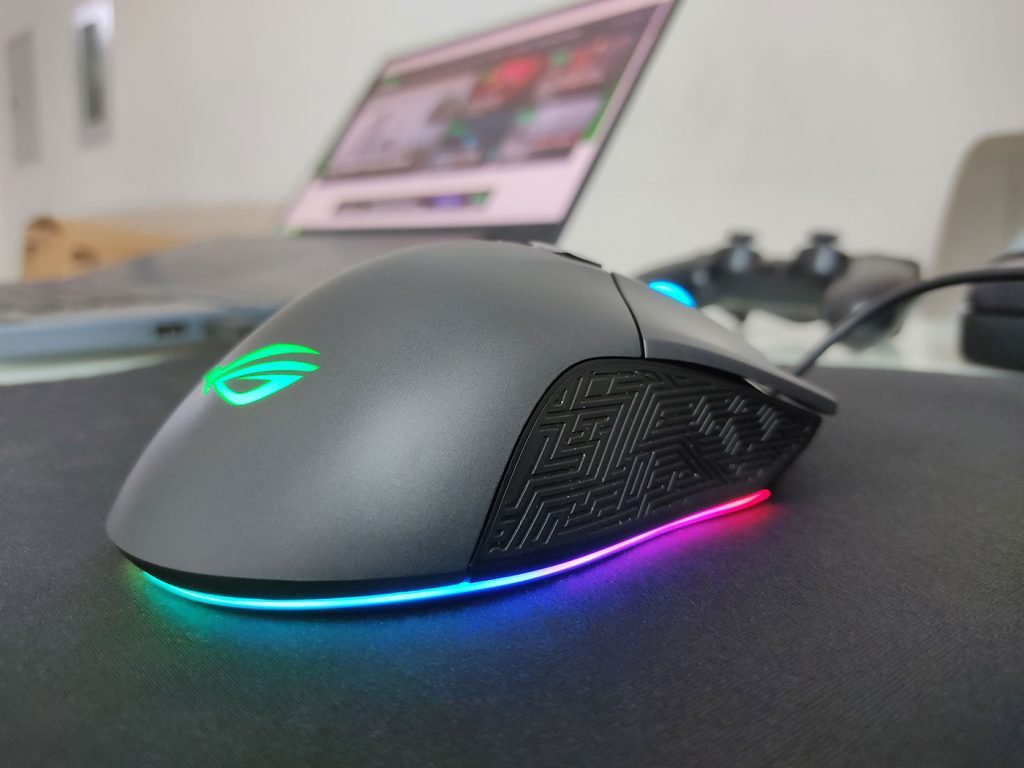 There is no space to rest your arms on the ROG Zephrus Duo 15. An armrest is included to improve comfort and unlike the Zenbook Pro Duo, it's soft and flexible and comes with the ROG inscription on the top. We found the Zephyrus Duo 15 to be more comfortable to use on a desk, as even the included wrist-rest makes it difficult to use in other conditions.
SOFTWARE: ARMOURY CRATE
The Armory Crate software provides information on the hardware performance, helps switching between profiles and control the RGB lighting. You can control the fans with different performance profiles, the laptop offers four energy profiles by default: Silent, Performance, Turbo and Manual. Turbo and Manual profiles are only available when the laptop is powered by the wall.
The display profiles includes default settings such as Landscape, Vivid, RTS, FPS, and eye care. You can also open Armory Crate on the second screen and monitor your performance or adjust settings during the game.
PERFORMANCE
The ROG Zephyrus Duo offers some serious hardware with its 10th-Gen Intel Core i9-10980HK with 8 cores and 16 threads, 32GB of DDR4 3200MHz RAM, Nvidia RTX 2080 Super Max-Q and 2TB NVMe PCIe SSD.
The Zephyrus Duo 15 has different modes of operation depending on what you're doing – Windows, Silent, Performance, Turbo. Turbo offers the best performance and allows Nvidia's Dynamic Boost to get the best performance out of the computer while gaming.
CPU, GPU & RAM
The ROG Zephyrus Duo sports a 10th-Gen Intel Core i9-10980HK with 8 cores and 16 threads, currently the flagship solution in Intel's line of processors.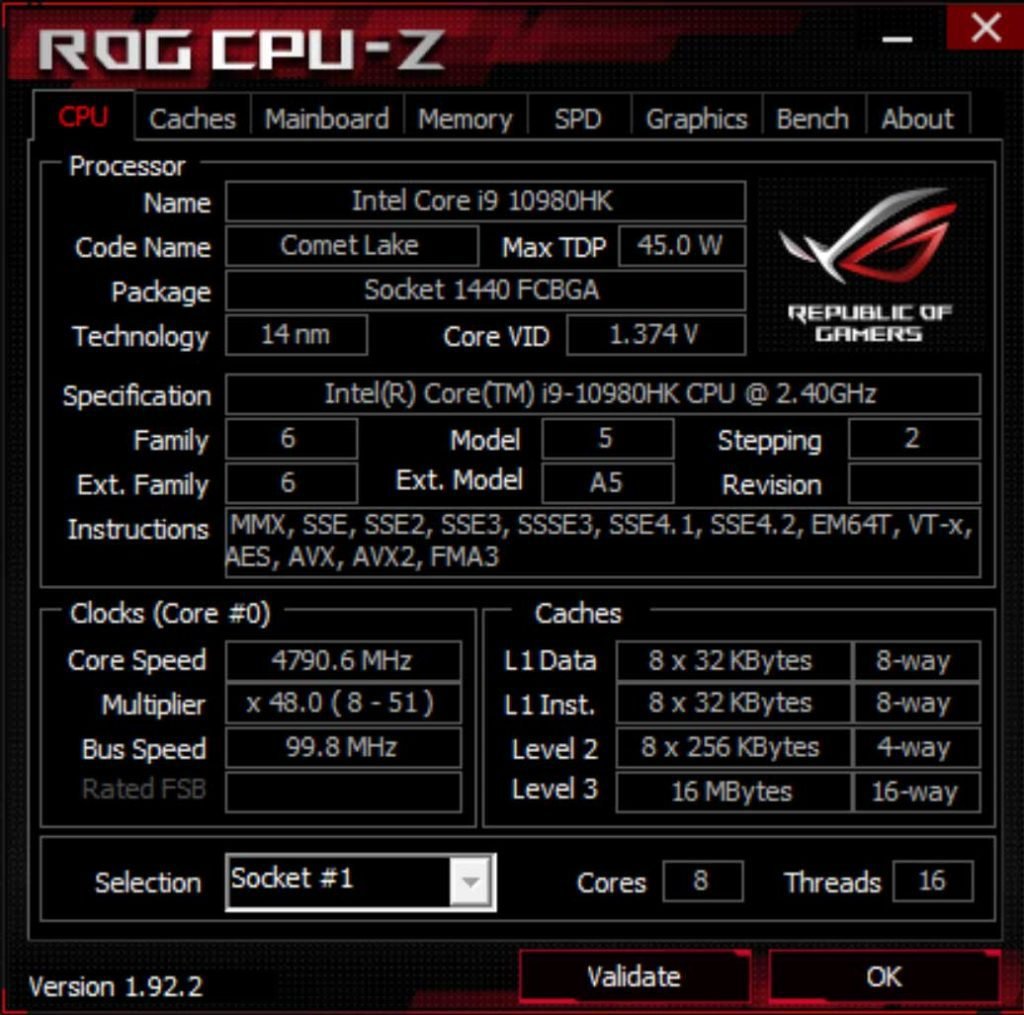 With a TDP of up to 45W, a base clock speed of 2.4GHz and a turbo of up to 4.4GHz in multi-core and 5.3GHz in single core, it is currently the most powerful Intel notebook processor.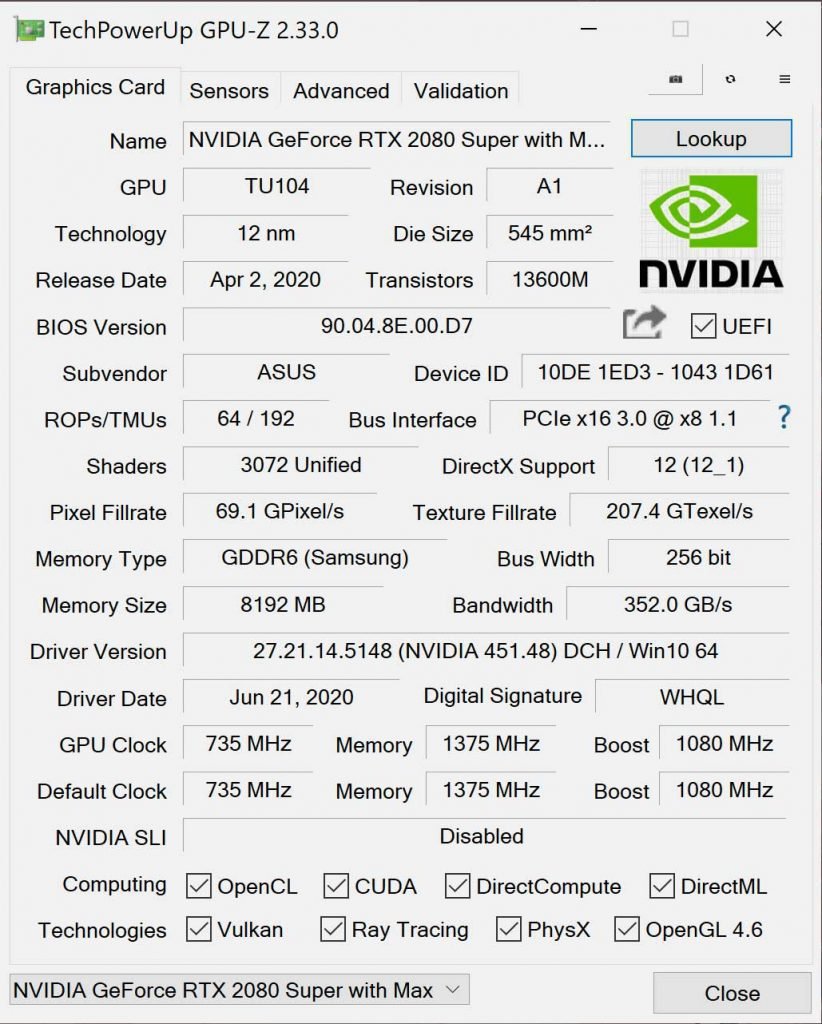 The NVIDIA GeForce RTX 2080 Super Max-Q is based on the latest NVIDIA Turing architecture. Equipped with 8GB GDDR6 memory and a default clock frequency 1330MHz. The "Max-Q" is the energy-efficient version of the desktop version and is specially designed for thin and portable laptops.
In terms of RAM, we have 32GB of DDR4-3200MHz memory on board with the ability to expand up to 48GB DDR4-3200.
Benchmarks
In Cinebench R20 tests, the 10th-Gen Intel Core i9-10980HK scored 510 in single core benchmark and 4,203 in multi-core benchmark, which places it between the AMD Ryzen 1700X and Threadripper 1950X.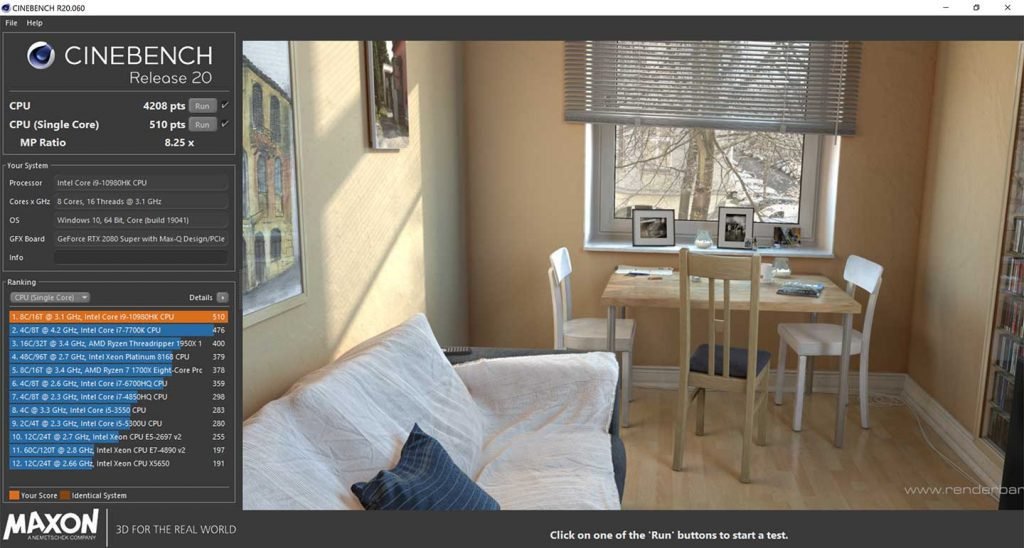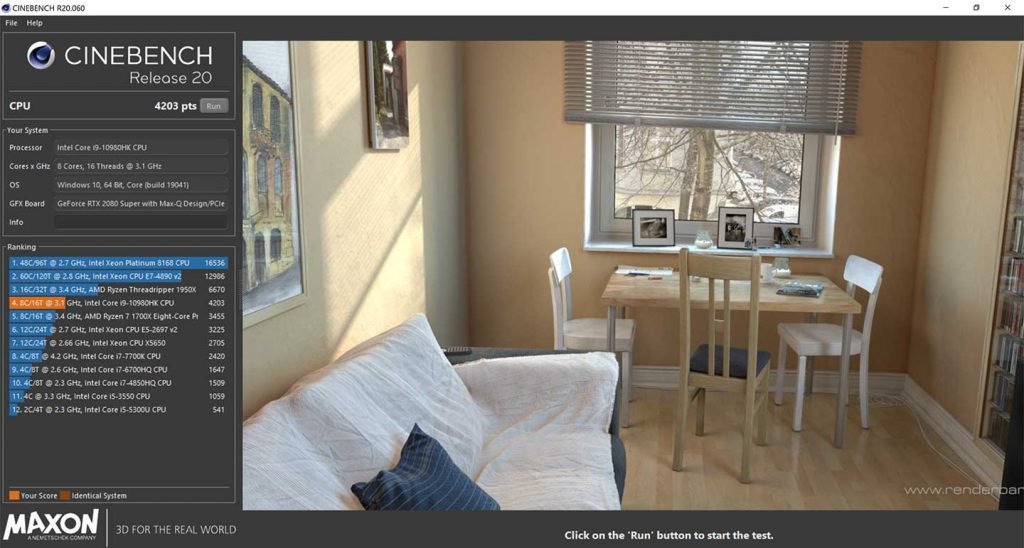 On PCMark10 Benchmark, The Zephyrus ROG 15 scored 5,718.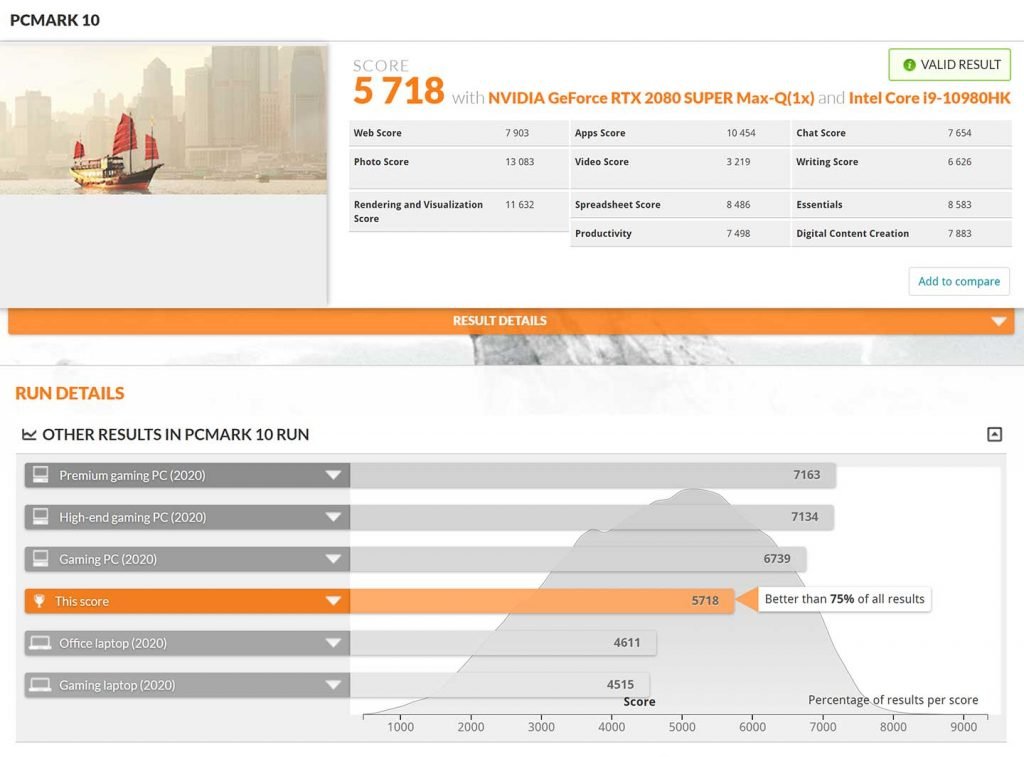 Next up, we have 3DMark benchmarks
3DMark – Time Spy: 8,575
3DMark – Fire Strike: 18,701
3DMark – Sky Diver: 29,620
Gaming
Graphics is powered by Nvidia RTX 2080 Super Max-Q with 8GB of GDDR6 VRAM. It differs from the desktop version by slightly reduced performance for the sake of energy efficiency, less heating and a slightly thinner profile.
In tests with 4K resolution and all settings set to ultra, the performance figures were almost in all cases above 30 fps. While gaming on 1080p (also ultra settings), the performance is much better and the games could run above 60 fps except for specific ones like Red Dead Redemption 2.
| | | |
| --- | --- | --- |
| Shadow of Tomb Raider 4K | 36 fps | |
| Shadow of Tomb Raider 1080p | 95 fps | |
| Battlefield V 4K | 56 fps | |
| Battlefield V 1080p | 108 fps | |
| Far Cry 5 New Dawn 4K | 48 fps | |
| Far Cry 5 New Dawn 1080p | 98 fps | |
| Red Dead Redemption II 4K | 31 fps | |
| Red Dead Redemption II 1080p | 63 fps | |
Gaming Benchmarks
Storage
Storage is handled by a M.2 NVMe SSD manufactured by Samsung with a capacity of 2TB that offers good performance, and can be expanded further with another M.2 drive.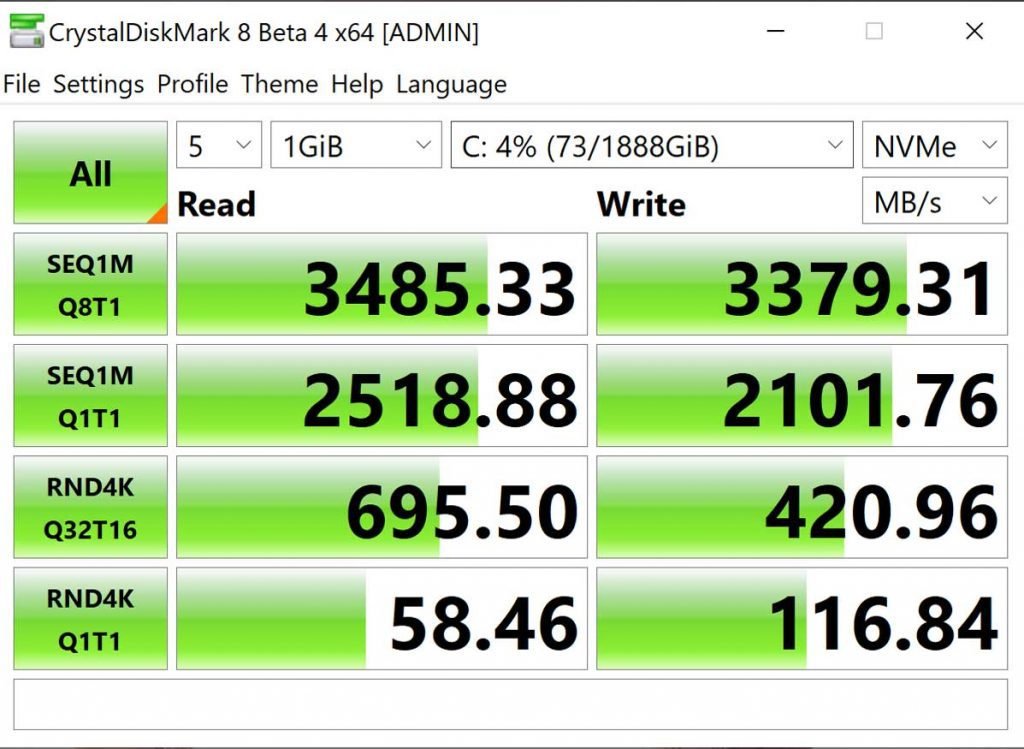 The SSD offers good performance with 3,485MB per second and 3,379MB per second in reading and writing respectively.
Temperature & Noise
The redesigned cooling system is complemented by a new a liquid metal thermal compound on the CPU, instead of the standard thermal paste. and increases the efficiency of heat transfer.
The cooling system on this laptop uses Active Aerodynamic System (AAS) with air intake under the Screenpad Plus display: cold air is taken in from here and hot air is blown out of the grilles on the sides.
With typical day-to-day tasks and using the silent profile, the noise and heat remained at very low levels. But during resource-intensive tasks such as gaming or video editing, the noise increases rapidly and the laptop gets awfully hot. We do recommend using headphones when gaming on this laptop.
UPGRADABILITY
Access to the internal components is simple and only requires loosening the base cover screws. Inside are two M.2 sockets for NVMe SSDs with RAID 0 support. Our review unit laptop came equipped with a total capacity of 2TB.
A 16GB of RAM module is soldered onto the motherboard and is inaccessible. There is an accessible SODIMM slot here, which can support up to 32 GB of RAM.
AUDIO
The ROG Zephyrus Duo 15 has two 4W speakers with Smart AMP technology, an ESS Saber HiFi DAC, support for Hi-Res Audio and enough power to deliver a sound loud enough for easily fill medium-sized rooms without any distortion. The sound quality is better than laptops in general with good bass and treble. 7.1 virtual surround sound is available when using headphones.
Audio can be set using the included ROG Armory Crate software and customized for games, music or movies
BATTERY
The Duo 15 comes with a large 90Wh battery to power its 4K display and powerful internals. The laptop comes with a large 240W charger and compact 65W USB-C travel charger. It is also possible to charge the notebook with a compatible power bank.
Depending on the use, you can get about 3 to 4 hours of battery life. Fortunately, the Zephyrus Duo 15 charges quickly from 0 to 100% in 1 hour 40 minutes using the 240W power brick. And 0 to 100% in 3 hours 35 minutes using the USB-C 65W compact charger.
| | |
| --- | --- |
| Web browsing test (one-third brightness) | 3h 10 minutes |
| Video test (one-third brightness, Wi-Fi on) | 4h 40 minutes |
| Gameplay Test (50% brightness , Wi-Fi off) | 1h 15 minutes |
VERDICT
The Asus ROG Zephyrus Duo 15 GX550 is a 15″ laptop with innovative dual-screen displays and the most powerful hardware implementation in its market segment. Asus seems to be trying to sell a laptop as powerful as a high-end desktop that is also portable.
The Asus ROG Zephyrus Duo is perhaps the most powerful laptop out there today. This is an investment that will last you for many years with very good build quality and a portable size and weight.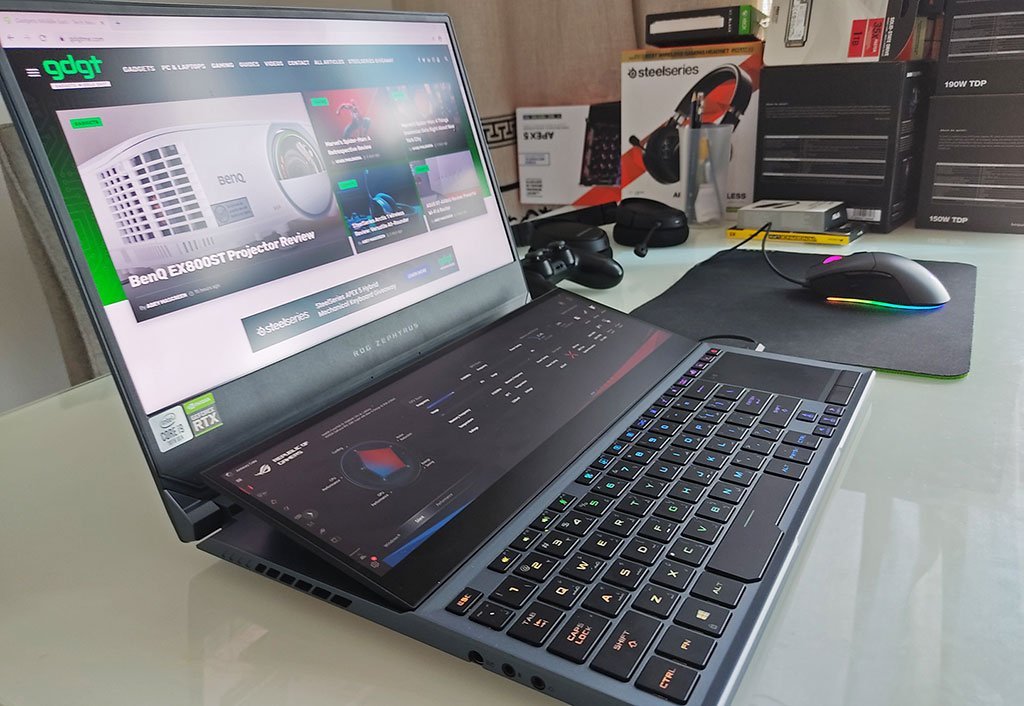 There are drawbacks like the excessive heat, lack of webcam and the limited USB connections. There are only three USB-A ports that you'll soon fill up when you plug in a webcam, keyboard, and mouse.
The integrated microphone also pick up a lot of fan noise. Unfortunately, battery life is also another disadvantage. We found this machine to get by about four hours before plugging in.
Starting at AED 18,000, the ROG Zephyrus Duo 15 is certainly expensive. But that comes with the high-end components like the Core i9-10980HK processor, 2TB of NVMe storage, and the RT 2080 Super Max-Q. The second screen on the other hand will be an excellent boost to productivity. The Zephyrus Duo 15 uses the best elements of Zenbook Duo and builds on it.
If you're satisfied with traditional single screen laptops, there are more affordable options with better keyboards, touchpads, and built-in webcams.
But if you like the idea of ​​a laptop with a second screen for better productivity, and if money is no objection, the Zephyrus Duo 15 is easily the best option we've seen so far. The ROG Zephyrus Duo is a special notebook, without a direct competitor at the moment but with near desktop-level performance and two good quality screens.