The ASUS ProArt PA147CDV is a feature-rich 14-inch portable monitor with a 32:9 aspect ratio and 10-point multitouch support, compatible with Microsoft Pen Protocol 2.0. It shares its design concept with the secondary display (ScreenPad Plus) found on ASUS Zenbook Duo laptops.
Designed to empower creators and enhance creative workflows, the PA147CDV comes equipped with the intuitive ASUS Dial, customizable Control Panel, and support for Adobe creative software shortcuts. Its exceptional color accuracy is ensured with Calman Verification and factory calibration to Delta E < 2, covering 100% of sRGB and Rec. 709 color spaces.
The display's versatility is enhanced by a patented mechanical kickstand that allows smooth adjustment to portrait or landscape orientation. Connectivity options include one standard HDMI and two USB Type-C (DP Alt mode) ports for seamless device connections.
For a comfortable viewing experience, ASUS Eye Care monitors integrate TÜV Rheinland-certified Flicker-free and Low Blue Light technologies.
The main highlight of this monitor is its functionality as a control panel interface for select Adobe apps, including Photoshop, Illustrator, After Effects, Premiere Pro, and Lightroom Classic. ASUS offers the ASUS ProArt Creator Hub, providing productivity features specifically tailored for these Adobe applications. It's important to note that the Creator Hub software is currently compatible with Windows OS only.
Specifications
Display
14-inch 1920x 550
Refresh Rate
60 Hz
Brightness
400 cd/m²
Contrast Ratio
1200:1
Speakers
2x 1W Speakers
Ports
2x USB-C (DP Alt Mode) 1x HDMI (v1.4)
Mechanical
Tilt : Yes (+25° ~ 70°) Pivot : Yes (0° ~ 90° Clockwise)
Dimensions
Phys. Dimension with Stand (W x H x D): 357.23 x 127.66 x 20.71 mm ​
Phys. Dimension with Stand (W x H x D): 357.23 x 127.66 x 20.71 mm
Net Weight with Stand: 0.950 Kg
Certifications
TÜV Flicker-free
TÜV Low Blue Light
Calman Verified
View full specifications here.
Packaging
The ASUS ProArt PA147CDV arrives in a brown cardboard box. Included in the package are: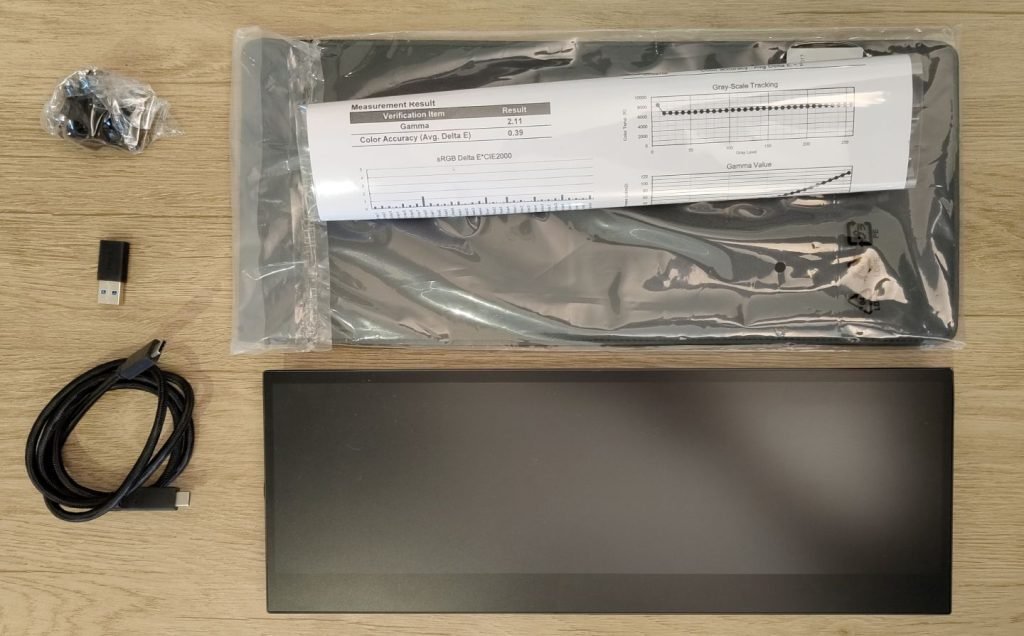 Display
Display sleeve
1x USB-C to USB-C video cable
1x USB-C to USB-A cable (for power)
1x full-sized HDMI cable
1x USB-C to A adapter
Power adapter and plugs
Colour calibration report
Quick start guide and warranty
Ports
The ASUS ProArt PA147CDV offers convenient ports and controls for enhanced usability. On the top of the base, you'll find the power button, an HDMI v1.4 port, and two USB-C (DP Alt Mode) ports.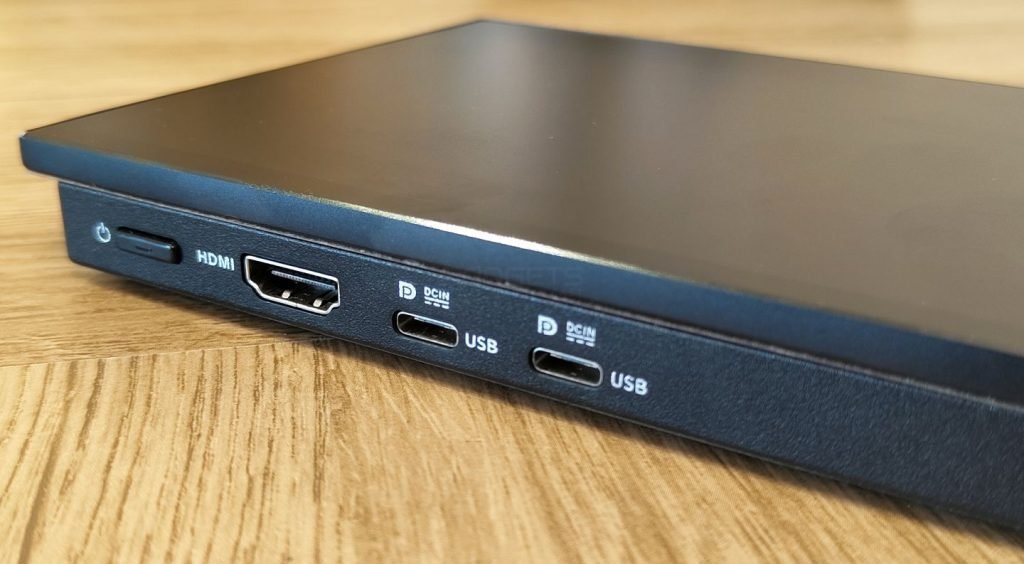 The left side features a button for accessing the OSD menu and a dial, which can be used to adjust both OSD settings and in-app controls. The monitor seamlessly connects to devices through its USB-C port with DP Alt Mode support. With the OSD menu, users can easily access various display settings, including brightness, contrast, and display mode adjustments.
Setup & Design
The ASUS ProArt PA147CDV features a slim 14-inch 1920×550 IPS display with 3-sided bezels and an anti-glare surface coating, delivering an improved viewing experience. Made of lightweight hard plastic, weighing only 0.95 kg, it ensures effortless portability.
The monitor utilizes an award-winning patented mechanical kickstand design, enabling easy screen adjustment to preferred angles. Users can tilt the display between +25° to 70° and pivot from 0° to 90° clockwise, making it ideal for various tasks such as sketching or video editing. Thanks to the IPS panel, the viewing angles are excellent.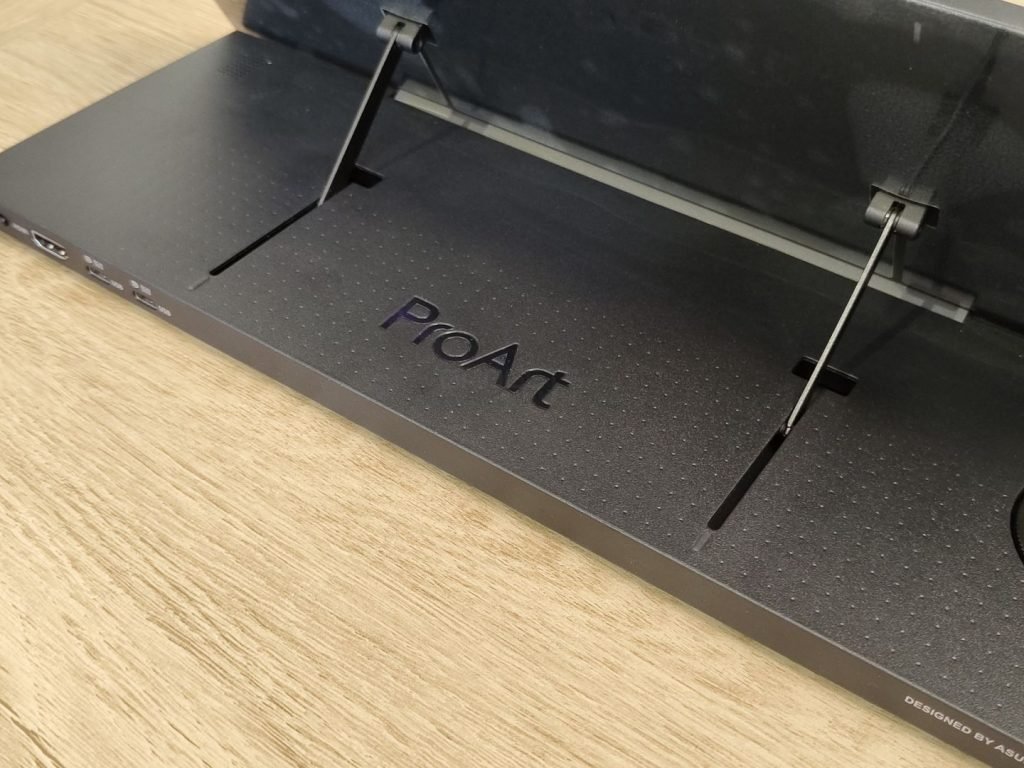 The ASUS Dial works seamlessly with compatible Adobe software like Photoshop, Photoshop Lightroom Classic, Premiere Pro, and After Effects, allowing users to customize shortcuts and perform tasks like zooming and brush size adjustment with a simple turn. The customizable Control Panel offers quick access to essential tools for efficient workflow, and split-screen mode enhances multitasking capabilities.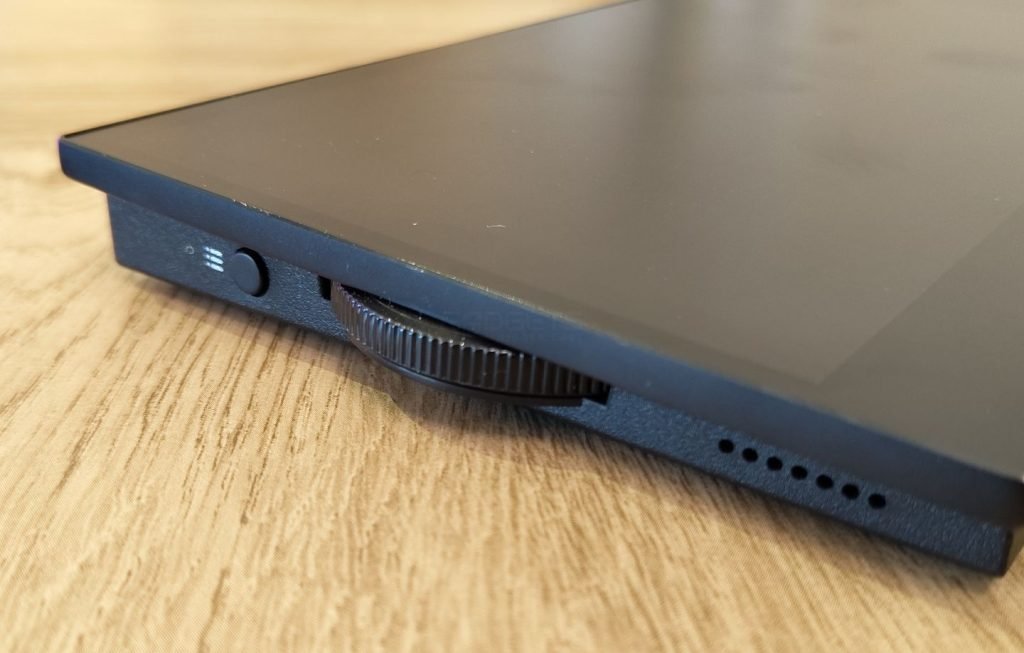 For optimal performance with Adobe control panels, users need to install the ASUS ProArt Creator Hub (available on the Microsoft App Store) and the ASUS Control Panel Toolkit from here.
With MPP 2.0 support, users can utilize a pen or stylus to jot down or sketch ideas whenever inspiration strikes, while the 10-point multitouch functionality of PA147CDV enables quick switching of tools and precise adjustments for enhanced efficiency.
The monitor includes embedded 1-watt speakers for audio output, although they might not be suitable for bass-heavy content and could distort at higher volumes.
Display
The ASUS ProArt Display PA147CDV is an ultra-wide LCD with 10-point touch and pen support. The resolution is 1920 x 550 and the aspect ratio is 32:9. Color support is 100% sRGB, contrast ratio is 1200:1 and maximum brightness is 400 nits. Colors look great out of the box.
While not HDR certified, this monitor is purpose-built for professional use rather than gaming or entertainment. With and a peak brightness of 400 nits, it delivers good performance for indoor usage and even in lit areas.
The anti-glare panel ensures a comfortable viewing experience by minimizing reflections and glare, making it suitable for working near windows or presenting content.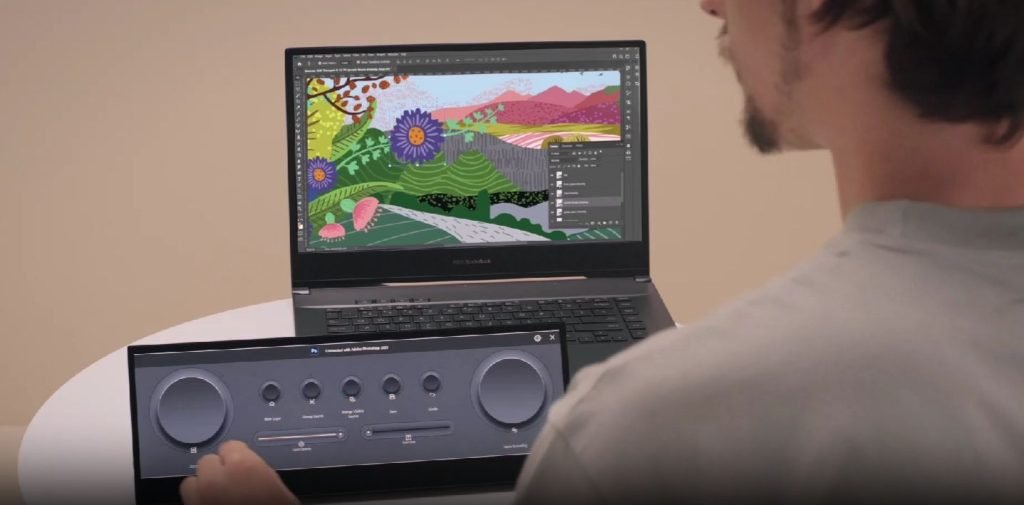 Color professionals rely on color-accurate displays to ensure that their creations render as intended. PA147CDV is pre-calibrated at the factory and Calman Verified to guarantee industry-leading color accuracy. Every ProArt display undergoes meticulous testing to ensure smooth color gradation and to guarantee the very best visuals.
With a swift 5ms response time and an expansive 178-degree horizontal and vertical viewing angle, colors and contrast remain consistent from various positions. Wide 100% sRGB and 100% Rec. 709 color gamut offers more vivid colors, ensuring deeper primary colors like red, green and blue, and richer secondary colors. Visuals are bright, with good colors and contrast, making it well-suited for productivity.
Additionally, the ProArt PA147CDV incorporates proprietary ASUS technologies:
Flicker-Free technology reduces flickering, reducing eyestrain and enhancing comfort during extended usage or gaming sessions.
Ultra-Low Blue Light technology diminishes potentially harmful blue light emissions, offering four different filter settings to control the level of reduction and safeguarding your eyes during prolonged use.
Conclusion
In conclusion, the ASUS ProArt PA147CDV is a portable 14-inch monitor designed to empower creators with its 32:9 aspect ratio, 10-point multitouch controls, and Microsoft Pen Protocol 2.0 support. Calman Verified and factory calibrated it covers 100% of sRGB and Rec. 709 color spaces, ensuring exceptional color accuracy.
The intuitive ASUS Dial, customizable Control Panel, and compatibility with Adobe software enhance productivity for creative professionals. Its slim design, mechanical kickstand, and lightweight construction contribute to effortless portability. While not HDR certified, its color accuracy and anti-glare panel make it an excellent choice for professionals in need of reliable displays. The ASUS ProArt Display PA147CDV monitor works great as an addition to your desktop or laptop setup as a complimentary creative screen.