The ROG Swift OLED PG27AQDM is a 27-inch 1440p OLED gaming monitor, optimized for a smooth 240Hz gaming experience with a 0.03ms response time. The PG27AQDM comes with a highly efficient custom heatsink, plus intelligent voltage optimization for better heat management to reduce the risk of burn-in
The monitor supports both NVIDIA G-SYNC and AMD FreeSync for PC gaming and also supports support for VRR on Xbox Series X and PlayStation 5. With a peak brightness of 1000 nits, 99% DCI-P3 coverage, and 1,500,000:1 contrast ratio, this monitor delivers clear and vibrant visuals with minimal motion blur.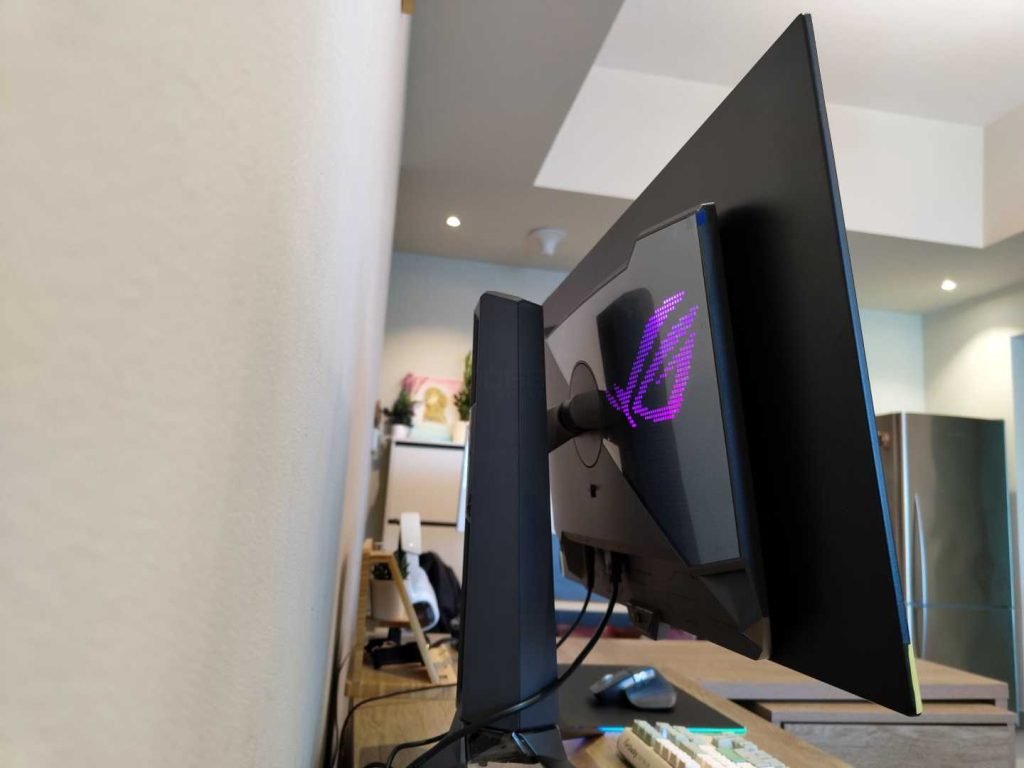 Specifications
Size
26.5 inches
Features
TÜV Flicker-free
TÜV Low Blue Light (Hardware Solution)
VESA AdaptiveSync Display 240Hz
AMD FreeSync Premium
G-SYNC Compatible
Connectivity
1x DisplayPort 1.4 DSC
2x HDMI (v2.0)
1x Earphone jack
2x USB 3.2 Gen 1 Type-A
Resolution
2560×1440
Panel Type
OLED
HDR
HDR10
Native Contrast
1,500,000:1
Max Refresh Rate
240Hz
Response Time
0.03ms(GTG)
Display Colors
1.07 billion colors (10 bit)
Color Gamut
99% DCI-P3
135% sRGB
Built-in Speaker
None
Ergonomics
Tilt: Yes (+20° ~ -5°)
Swivel: Yes (+30° ~ -30°)
Pivot: Yes (+90° ~ -90°) Height Adjustment: 0~110mm
VESA Wall Mounting: 100x100mm
Weight
Net Weight with Stand: 6.9 Kg
Net Weight without Stand: 2.8 Kg
Gross Weight: 9.4 Kg
View full specifications here.
Packaging
The ASUS ROG Swift OLED PG27AQDM comes packaged in a sleek black box with the ROG branding prominently displayed. The front of the box features a large image of the monitor, while the sides and back list the monitor's specifications and features. The packaging is sturdy and complements the aesthetic of the monitor.
Inside the box, the monitor and all included accessories are carefully protected by foam padding. Each component and accessory are placed in designated pockets within the foam, ensuring they are secure during transit. The package includes the monitor itself, along with the following items:
ROG Swift OLED PG27AQDM
Color pre-calibration report
DisplayPort cable
HDMI cable
Power adapter
Power cord
Quick start guide
ROG pouch
ROG sticker
USB 3.2 cable
VESA mount kit
Warranty Card
Design & Connectivity
When it comes to design, the ROG Swift OLED PG27AQDM exudes a sense of high-quality craftsmanship and elegance. Its sleek finish and sturdy build ensure a premium look and feel. The robust stand provides excellent support for the weight of the 27-inch display and allows for smooth movement. It's worth noting that this monitor carries a bit of weight, coming in at 10kg with the stand attached, so you'll need a spacious desk to accommodate it comfortably.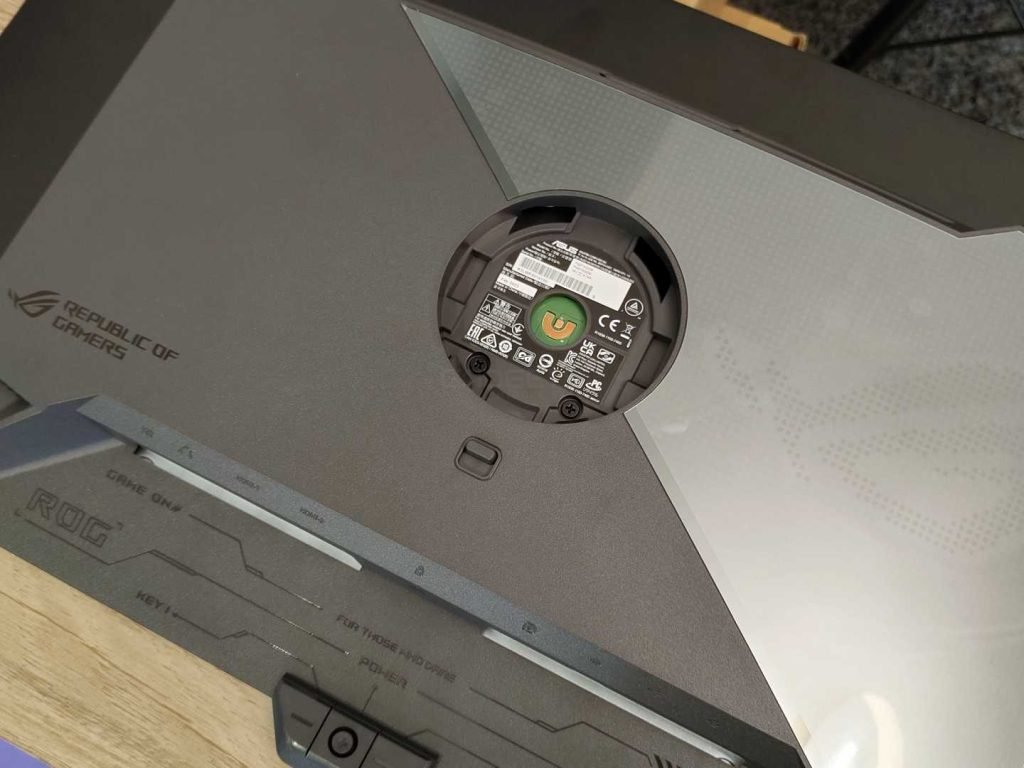 Sporting a all-black color, the ROG Swift OLED PG27AQDM features narrow bezels on all sides, showcasing a super slim OLED panel with a compact box at the back that houses the hardware. All the ports are conveniently located at the rear, and the stand serves as a useful cable management solution. Additionally, the ROG logo on the monitor illuminates and offers various RGB modes, reminiscent of Asus AniMe matrix found on their laptops. These design elements come together to create an overall elegant appearance, accentuated by the modern angular cut of the base.
Once the monitor is securely attached to the base, it grants you the flexibility to tilt it from 5˚ to 20˚, pivot it from +90° to -90°, and swivel it 20˚ in each direction. Furthermore, the height adjustment feature allows you to slide the monitor up to 110mm to find the perfect viewing position for your comfort. If you prefer alternative mounting options, the display is VESA mount compatible. Additionally, a convenient ¼ inch tripod socket on the monitor stand enables you to mount a camera or an additional display, perfect for creating a unique gaming or streaming setup.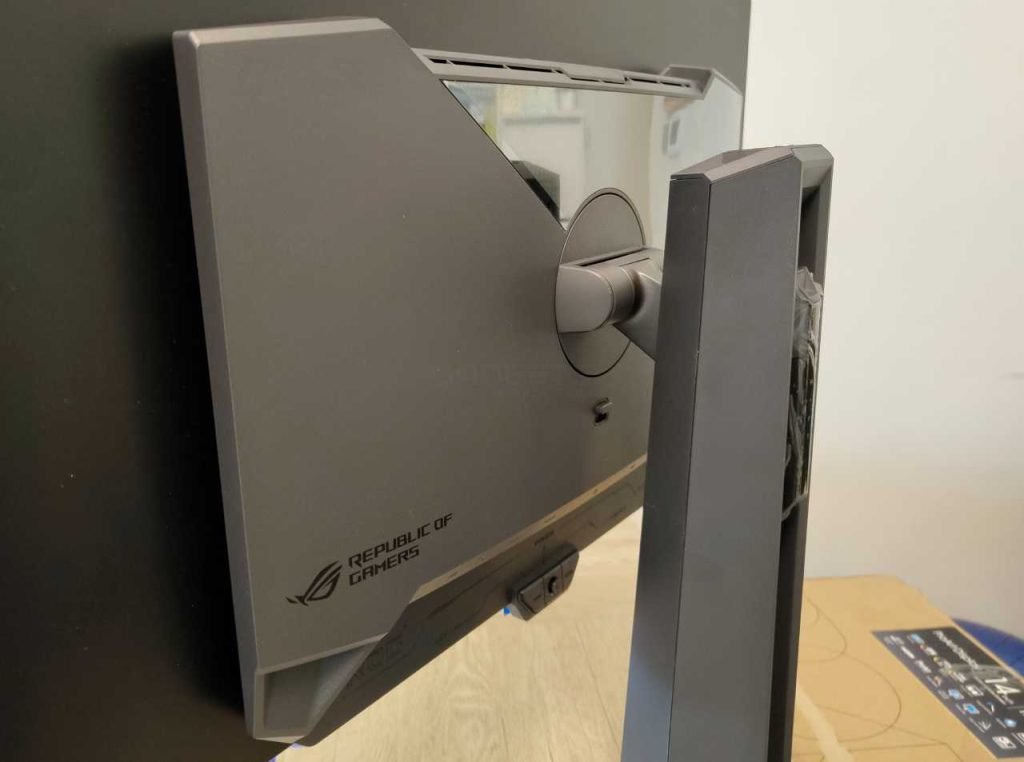 When it comes to connectivity, the ROG Swift OLED PG27AQDM offers a decent array of ports. These include 1x DisplayPort 1.4, 2x HDMI 2.0, and 2x USB 3.2 Gen 1 Type-A ports. There is also a 3.5mm headphone jack for audio output. It's worth mentioning that all of these ports are situated on the rear I/O panel, which can make them slightly challenging to access. Unfortunately, the monitor lacks USB-C or DP out connectivity, which may be a drawback for users who require such features in their setup.
OSD & Features
Navigating the OSD (On-Screen Display) menu of the ROG Swift OLED PG27AQDM is a breeze with the three analog buttons discreetly located at the back of the monitor's base. These buttons are easily accessible, allowing for convenient adjustments. The initial OSD menu provides quick access to essential settings, while a more detailed main menu provides a comprehensive range of customization options.
One standout feature of this monitor is its ability to automatically adjust screen brightness. Equipped with a sensor located on the lower frame, this functionality can be activated via the OSD menu. With Brightness Intelligence, the monitor intelligently detects the ambient light in your environment and dynamically adjusts both brightness and color temperature, providing a comfortable viewing experience over extended periods. Additionally, the ROG Swift OLED PG27AQDM offers various blue light filters, catering to different preferences and promoting eye comfort.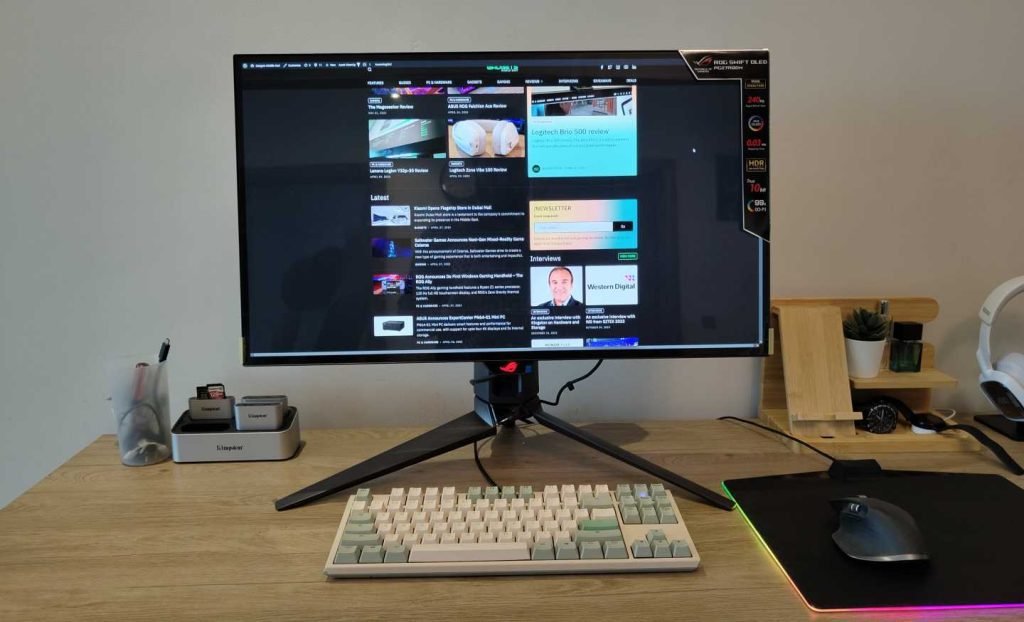 In terms of gaming performance, the ROG Swift OLED PG27AQDM impresses with its support for both AMD FreeSync and NVIDIA G-SYNC technologies. When paired with a compatible graphics card, these adaptive sync technologies synchronize the monitor's refresh rate with the GPU's frame rate, effectively eliminating screen tearing and stuttering for remarkably smooth gameplay. Furthermore, this monitor extends its compatibility beyond PC gaming, offering VRR (Variable Refresh Rate) support for Xbox Series X and Series S consoles, as well as VRR support for PlayStation 5 games that feature an unlocked framerate mode.
Display & Performance
The ROG Swift OLED PG27AQDM boasts an impressive display that sets new standards in gaming. With a remarkable contrast ratio of 1,500,000:1, a peak brightness of 1000 nits, and wide horizontal and vertical viewing angles of 178 degrees, this monitor delivers exceptional visual clarity from virtually any angle. Its lightning-fast reaction time of 0.03ms (GTG) and an impressive 240Hz refresh rate ensure ultra-smooth gameplay with minimal motion blur.
Equipped with HDR10 support, a contrast ratio of 1,500,000:1, and 99% DCI-P3 gamut coverage, the ROG Swift OLED PG27AQDM excels in color reproduction and image quality, making it ideal for gaming, content creation, and editing. The monitor showcases deep blacks, vibrant colors, and a level of brightness that is truly outstanding. In fact, it offers the highest brightness output we've seen in a gaming monitor, reaching 450 cd/m2 and peaking at 1000 cd/m2 in HDR mode.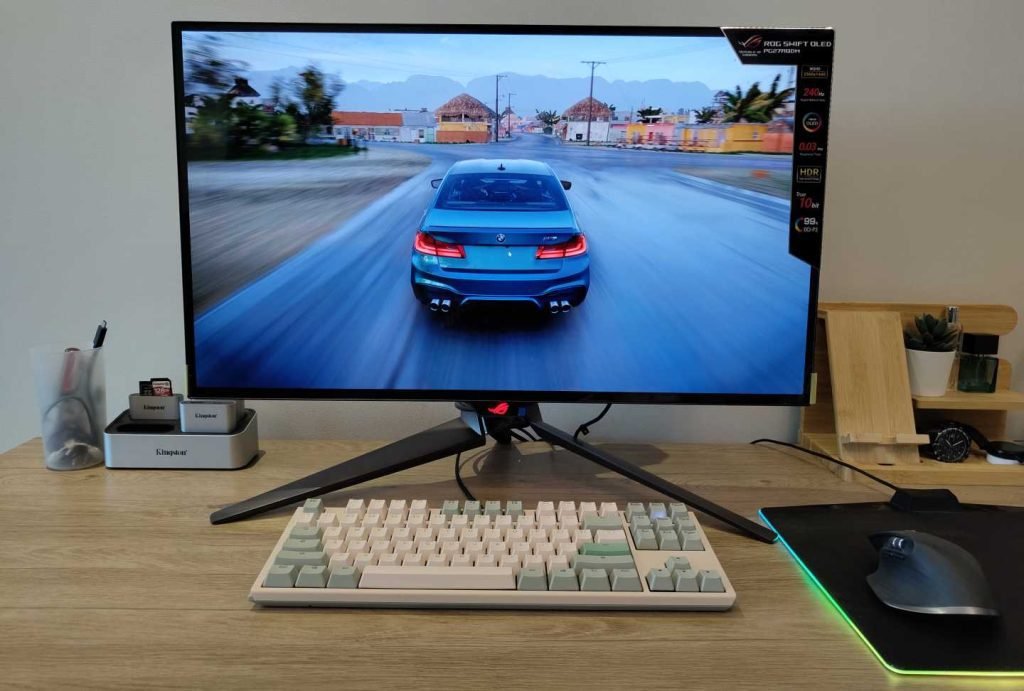 Out of the box, the monitor comes pre-calibrated, ensuring excellent color accuracy and reproducing visuals with exceptional precision. The combination of its 1440 resolution and 240Hz refresh rate makes it perfect for immersive, fast-paced PC gaming, and it also supports VRR on PlayStation 5 and Xbox Series X consoles, enhancing the overall gaming experience.
The ROG Swift OLED PG27AQDM creates a captivating atmosphere thanks to the effects of both HDR and the OLED matte panel. The near-infinite contrast ratios achievable only with OLED technology result in stunning visuals for both games and videos.
In addition to its outstanding display performance, the ROG Swift OLED PG27AQDM includes several proprietary technologies developed by ASUS to enhance user experience and cater to specific needs. These include a custom heatsink and intelligent voltage optimization, reducing the risk of OLED burn-in and ensuring the longevity of the display. The ROG-exclusive Uniform Brightness setting, accessible within the OSD menu, maintains consistent peak brightness for optimal viewing.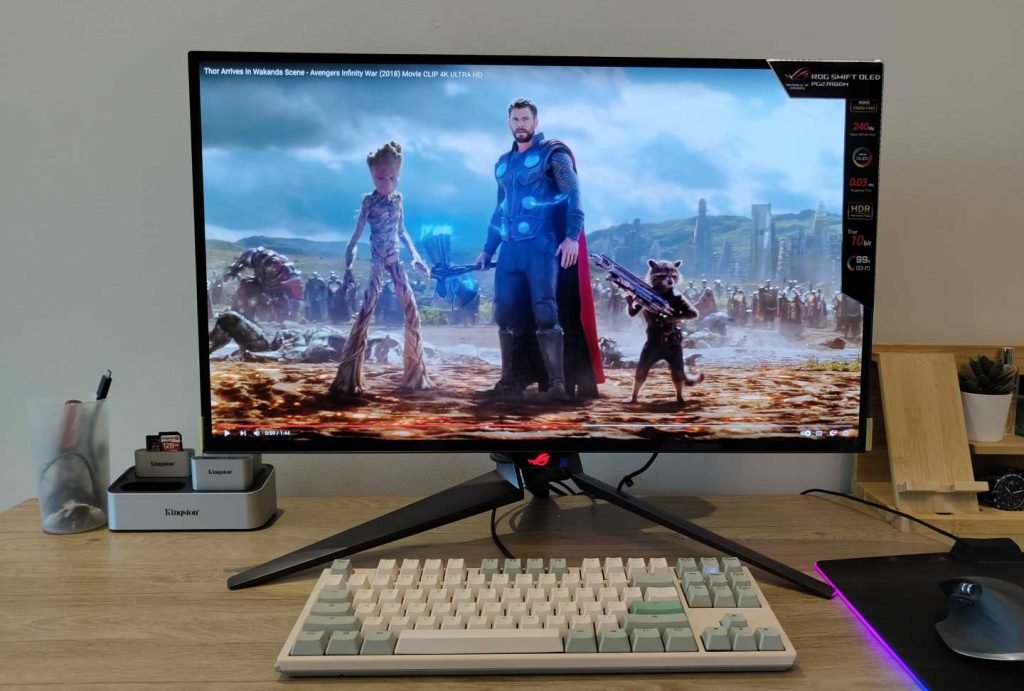 The monitor also features DisplayWidget Center software, enabling users to conveniently change monitor settings and access OLED-related functions through an intuitive interface, without the need to navigate the OSD menu.
The GamePlus hotkey, developed in collaboration with professional gamers, offers in-game enhancements to improve gaming skills. Furthermore, GameVisual technology provides seven pre-set display modes optimized for different content types, easily accessible via a hotkey or the on-screen display settings menu.
To enhance comfort during extended gaming sessions, the ROG Swift OLED PG27AQDM incorporates Flicker-Free technology, which reduces flickering to minimize eye strain. Additionally, Low Blue Light technology offers four different filter settings to control the amount of potentially harmful blue light emitted by the display, promoting a more comfortable viewing experience.
Asus ROG Swift OLED PG27AQDM Review Verdict
The ROG Swift OLED PG27AQDM is undeniably one of the most visually stunning gaming monitors we have seen. With its slim OLED panel, 1440p resolution, and rapid 240Hz response time, it delivers an unrivaled gaming experience. The contrast and saturation levels are truly remarkable, immersing you in vibrant and lifelike visuals.
Equipped with built-in HDMI 2.0 ports, HDR, and Motion Blur Reduction, this monitor ensures that every image in your games is of the highest quality. The inclusion of Eye Care features further enhances the user experience, reducing eye strain and making extended gaming sessions more comfortable.
Beyond its exceptional performance, the ROG Swift OLED PG27AQDM also boasts a futuristic design and thoughtful cable management features, adding a touch of sophistication to your gaming setup.
However, it is important to note that the monitor's steep pricing may be a deterrent for some, and the absence of USB-C connectivity and built-in speakers are minor downsides to consider.