We recently had the opportunity to get our hands on the BenQ DuoBoard CP6501K, a premium 65″ Interactive Display solution designed for hybrid work settings, hands-on collaboration and engaging meetings.
This article is not a review, rather an informative article on the features, specifications and highlights of this interactive display panel. Shoutout to our friends at Purple Rock for testing out the features!
Highlights
Collaborate effectively in hybrid work settings
Seamlessly start meetings and access your apps
Multitask using the Duo Windows or Duo OS modes
Double your workspace with the Duo Boards mode
Easily load files and personal settings with AMS
Specifications
Screen size
65"
Panel type
VA
Resolution
UHD 3840 × 2160 pixels
Aspect ratio
16:9
Brightness (typical)
320 nits
Contrast ratio (typical)
5000:1
Dynamic contrast ratio
30,000:1
Color depth
10-bit
Response time
8 ms
Color gamut
68% NTSC
Operation hours
18 hours / 7 days
Orientation
Landscape and Portrait
Light life (typical)
50,000 hrs
Hardness
7H tempered
Germ-resistant technology
Nano-ionic silver
Touch technology
Capacitive touch
Touch points
20
Touch response time
< 8 ms
CPU
A73 × 2 + A53 × 2
GPU
Mali-G51MP4
Memory | Storage
4GB I 32GB
OS
Android 8.0
HDMI (in | out)
3 × HDMI 2.0
1 × HDMI 2.0
VGA (in | out)
1 | 0
Line in (1)
Mic / PC Audio × 1
3.5 mm Line out
Earphone × 1
SPDIF (in | out)
0 | 1 (optical)
USB-A
4 × 2.0 + 3 × 3.2 Gen1
USB-B (for touch)
2 × 2.0
Slot-in PC (OPS)
1
Ethernet LAN
10 / 100 / 1000 Mbps (Android), 10 / 100 / 1000 Mbps (OPS)
Camera
1
Microphone
6
Speaker
2 × 10 W
Subwoofer
1 × 16 W
Ambient light sensor
Yes
Air sensor
TVOC
Motion sensor
1
NFC
Yes
Read the full specifications here.
Packaging
The gigantic 65″ Interactive Display comes with a mounting stand or can be fixed to a wall. The packaging includes the below:
Cables: 1 × VGA(5m), 1 × HDMI (1.5m), 1 × USB (3m)
1x Wall mount
2x Stylus
1x Remote Control
Power Cord
Design
The DuoBoard helps users collaborate effectively in hybrid work settings for meetings, multitasking, presentations and video calls. With a built-in camera, microphone array, and speakers, the DuoBoard is primarily designed for video conferencing and collaboration. Pair the display with a slot-in PC to launch video calls with a single click. The DuoBoard comes out of the box with TeamViewer Meeting and is compatible with all leading video conferencing software such as Zoom, Google Meet, and Microsoft Teams. Users can bring their own portable devices to start the meeting right away.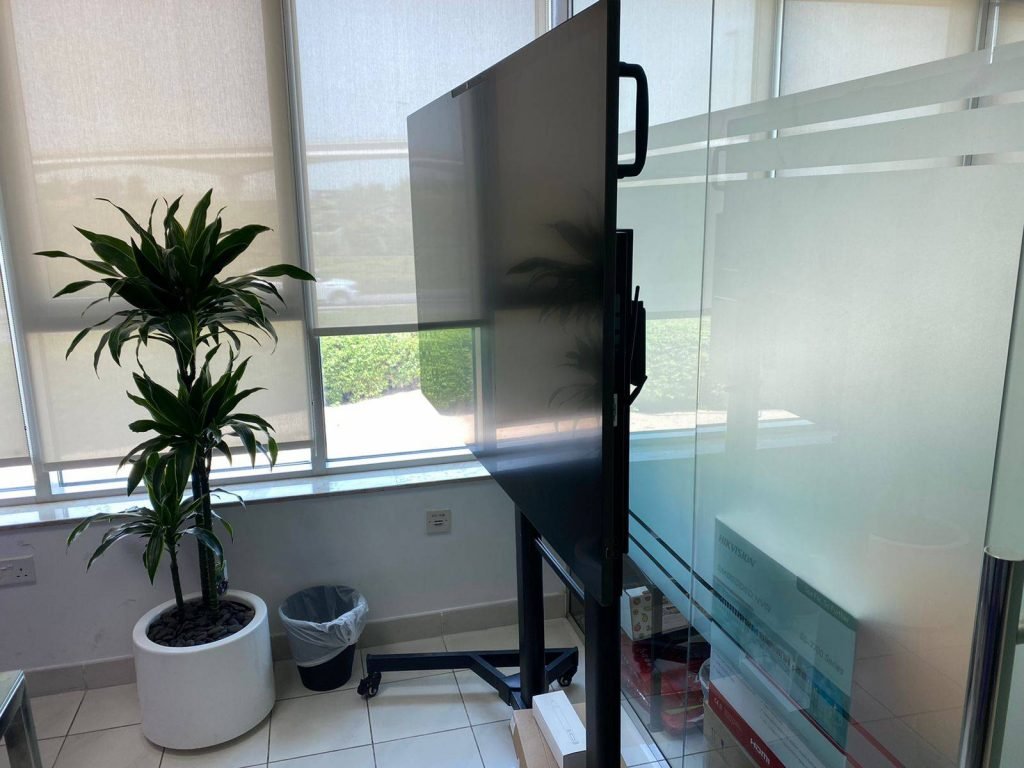 The built-in camera and array mic also allow for direct video conference without troublesome preparations and cable cluster. By supporting various input sources including OPS, HDMI, VGA, USB flash drive and more, DuoBoard offers excellent compatibility.
To extend collaboration, teams can combine two DuoBoards IFP's together to seamlessly double the collaboration space and and develop ideas. Users can use EZwrite to work jointly with their teammates to complete a complicated task. Files saved in individual IFP are also shareable between IFPs.
BenQ new DuoBoard Corporate IFPs' fine-tune handwriting experience is enhanced by incorporating the advanced P-cap (Projected Capacitive) touch technology. The P-cap touch enables accurate, precise touch responses on the screen for realistic handwriting. To facilitate team collaboration, it also supports multi-touch capability. In addition, the high-quality glass layer offers great resistance to light, dust, and water, enhancing overall durability.
Collaboration Features
EZWrite
The BenQ Launcher allows employees to access video input sources or use the EZWrite whiteboard software without having to log into their accounts. The EZWrite 5 whiteboarding software streamlines discussions by letting employees share notes and ideas whether they are in the office, at home, or on a business trip. With BenQ's exclusive AMS service, employees can save materials in the cloud and access them directly from the BenQ IFP, without need for a laptop or smart device. With EZWrite's Floating Tool, users can capture screen shots of anything on screen, regardless of the source, including content from apps, websites, and videos. They can then import this content into EZWrite 5 for further discussion and annotation on a brand new page.
The BenQ DuoBoard CP6501K can also be easily rotated to switch from Landscape to EZWrite Portrait mode. In Portrait mode, users can see more details of the vertical image and annotate on EZWrite vertically. Additionally, BenQ Launcher comes with a task switcher, letting users switch between recent apps and input signal sources with just a simple touch.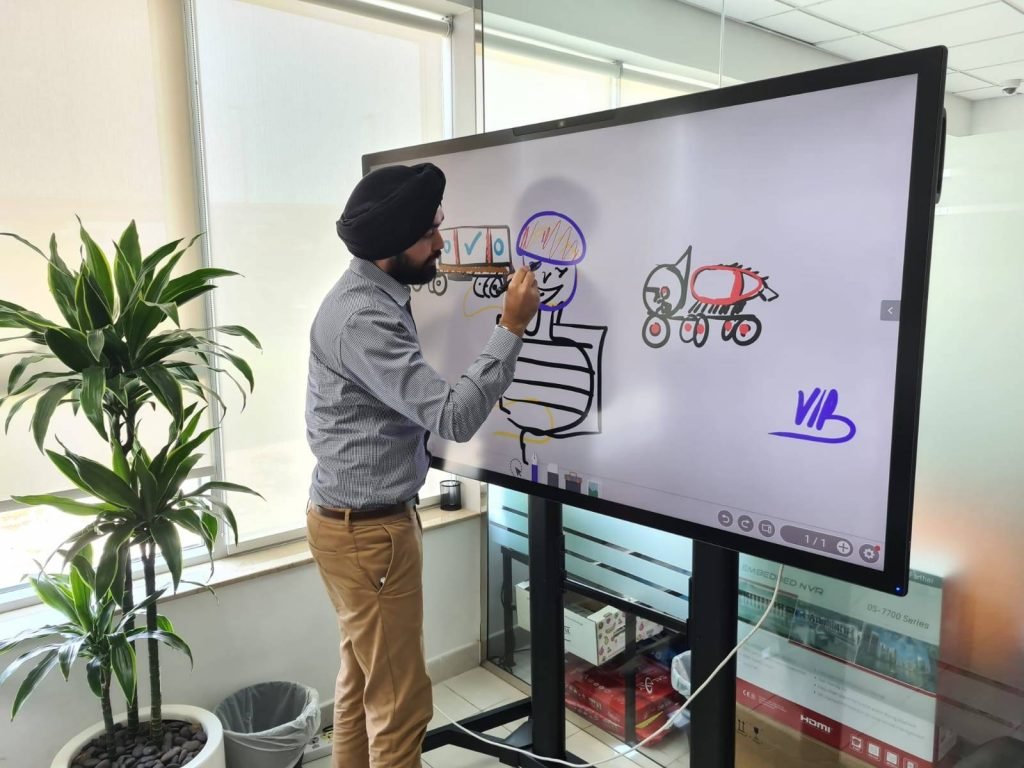 EZWrite 5 comes with dual pens that allow two users to write or draw simultaneously with different colors, making it ideal for multiple presenters.
EZWrite's built-in Floating Tool empowers employees to write on top of any app, video, website, document, or image. Whether using Windows, Mac, Chrome, or Android, users can take notes on top of any on-screen content and save them for later use. Screen capture lets users capture all of the screen or just a part that they select with their fingers.
BenQ Interactive Flat Panel offers an extra level of flexibility for device control through Voice Assistant. Voice Assistant lets users control the flow of meetings by allowing them to start timers or search the internet from anywhere in the room. Users can easily control the IFP via remote control, further ensuring efficient meetings and effortless collaboration.
Duo Windows
This feature allows users to work on two tasks at the same time, on a single IFP, doubling efficiency. Users are now able to open two applications simultaneously and complete multi-tasks quicker. Scenarios include: comparing two documents, writing meeting minutes during a video conference, searching for information while brainstorming, opening an Android app with other input source data, and more.
Duo OS
Duo OS achieves cross-platform compatibility between Android, iOS, macOS, and Windows OS. Insert the OPS (Slot-in PC) into the DuoBoard to run two different operating systems concurrently. This allows for a quick switch between the Android and OPS applications, even in full screen size.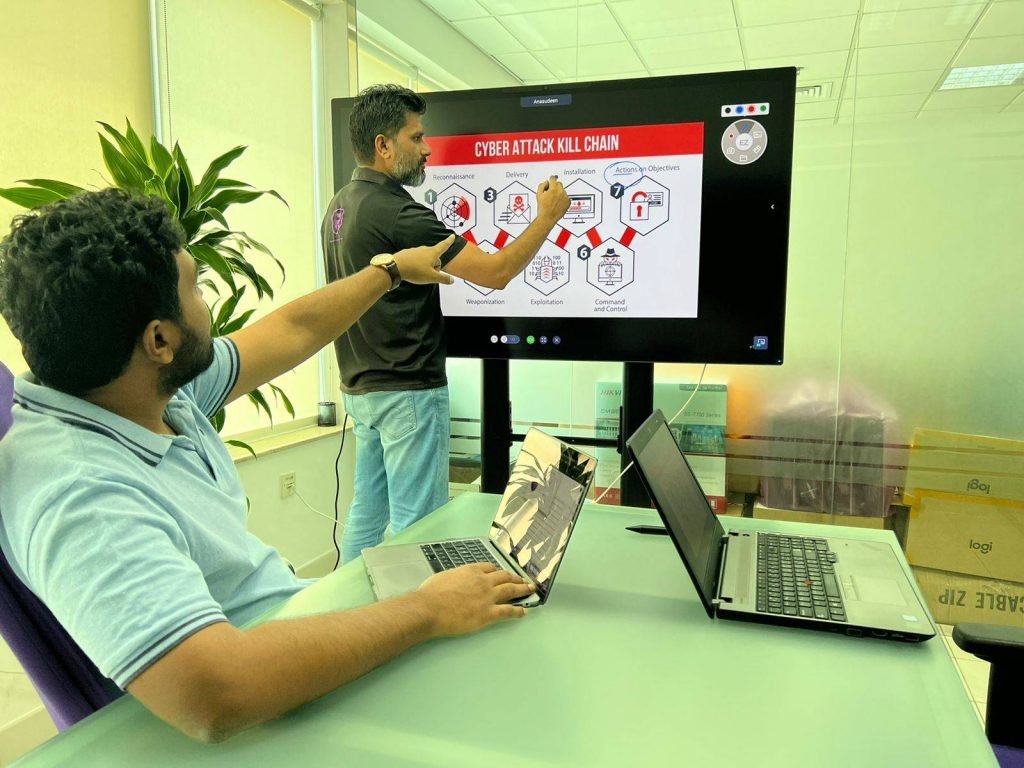 InstaShare Wireless Solution for Seamless Collaboration
Intended to enhance collaboration in business meetings, InstaShare runs two-way mirroring between IFP and mobile devices including smartphones, tablets, and laptops, without the need for video cables interconnecting the devices, no matter it's in-room or remote spaces.
InstaShare also supports two-way touch control on Windows and macOS platforms, which means both IFP and client device can control or interact with what is being mirrored. To boost productivity through meetings, annotation is definitely the key InstaShare provides when IFP runs Two-Way Touch Control.
Accommodating 4 attendee screens at once with synchronized discussions, InstaShare provides the instant and superior interface for both. To manage the meeting, InstaShare has a centrally controlled system which regulates the attendees and mirrored content so that meetings can go on smoothly.
Display Features
Smart Eye-Care Solution
BenQ's Smart Eye-Care Solution uses the Interactive Flat Panel's embedded motion sensor to automatically adjust display settings according to the user's distance from the screen. For a smooth and comfortable viewing experience, BenQ IFPs can automatically activate Flicker-Free and Low Blue Light features as necessary.
Germ-Resistant Screen
The Germ-Resistant Screen is empowered by a multilayer coating of the non-toxic, enduring nano ionic silver agent that kills most germs accumulating on screen surfaces and prevent cross-infection or epidemic in classrooms. The ionic silver's antimicrobial feature remains effective even after thorough cleaning or long periods of use.
Device Features
Air-Quality Sensor
Poor indoor air quality can decrease efficiency and reduce alertness. BenQ Interactive Flat Panels incorporate an air-quality sensor that monitors CO2 levels and reminds users to adopt measures that can keep CO2 concentrations in check.
Device Info and Management
Remotely control your displays with DMS Cloud via Internet.
Apps Management
Install Android apps for a selection of displays through BenQ's cloud server. DMS Cloud is designed to save you the hassles of repetitive manual installation work.
OTA (Over-the-Air) Update
Upgrade the latest BenQ firmware for displays through OTA Update support and keep them running smoothly at all times.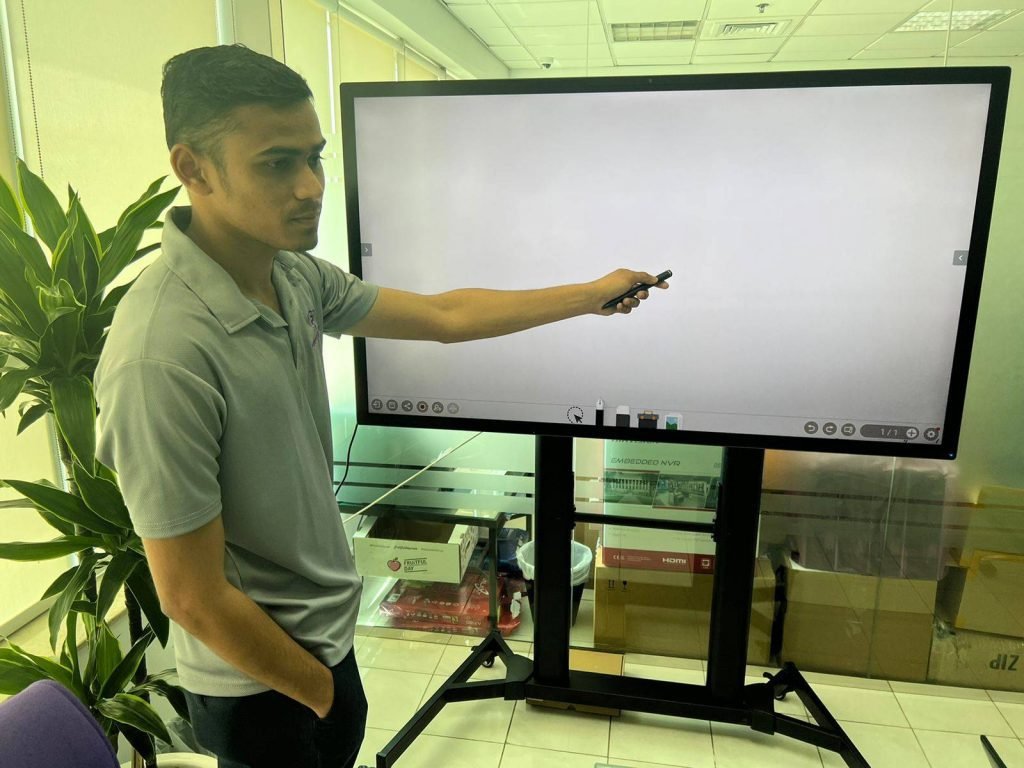 Hassle-free management
Whether local or remote, you can install apps or centrally monitor, manage, and update multiple displays with ease through the BenQ Device Management Solution (DMS).
Easy user management
Add users and edit permissions for all your displays in just one go. BenQ's Identity and Access Management (IAM) system syncs with your AD server for seamless user management.
Data and device protection
Defend all your displays against malware while securing your corporate data. BenQ offers you IoT security through McAfee Mobile Security.
Real-time troubleshooting
Save your IT time and effort by utilizing TeamViewer on your display to conduct real-time remote assessment and troubleshooting.