The BenQ EW3280U is a 32-inch 4K UHD IPS monitor designed for entertainment and comes with 5ms GtG, FreeSync, BenQ's proprietary HDRi technology, intelligent brightness a remote control and more. It's combination of a color-accurate, fast-refresh IPS panel and strong speakers offer a strong entertainment experience.
In terms of audio, it has a 2.1-channel speaker design, a surprisingly good speaker system, bolstered by a subwoofer to provide crisp bass.
Size
32 in
Features
AMD FreeSync Premium
Light Tuner
Black eQualizer
Color Vibrance
Ports
2x HDMI (v2.0)
1x DisplayPort (v1.2)
1x USB-C (PowerDelivery 60W, DP Alt mode, Data)
 1x 3.5mm headphone jack
Resolution
3840×2160
Panel Type
IPS
Backlight Technology
LED backlight
Brightness
400
Native Contrast
1000:1
Max Refresh Rate
60Hz
Response Time
5ms (GtG)
Display Colors
1.07 billion colors
Color Gamut
95% DCI-P3
Built-in Speaker
Stereo speaker 2W*2 + Woofer 5W *1
Ergonomics
Tilt
Panel Dimensions(HxWxD)

523.1 x 726.9 x 204.1
Weight
8.1 kg
DESIGN & CONNECTIVITY
The EW3280U has a minimalistic frame with a matte-black shell and a copper-colored bottom bezel and base. The EW3280Umeasures 523.1 by 726.9 by 204.1 mm (HxWxD) and weighs 8.1 kilograms.
The monitor is bezel-free on three sides, while the bottom bezel is wider to accommodate the grill for the included speaker system and the ambient light sensor to automatically control the brightness.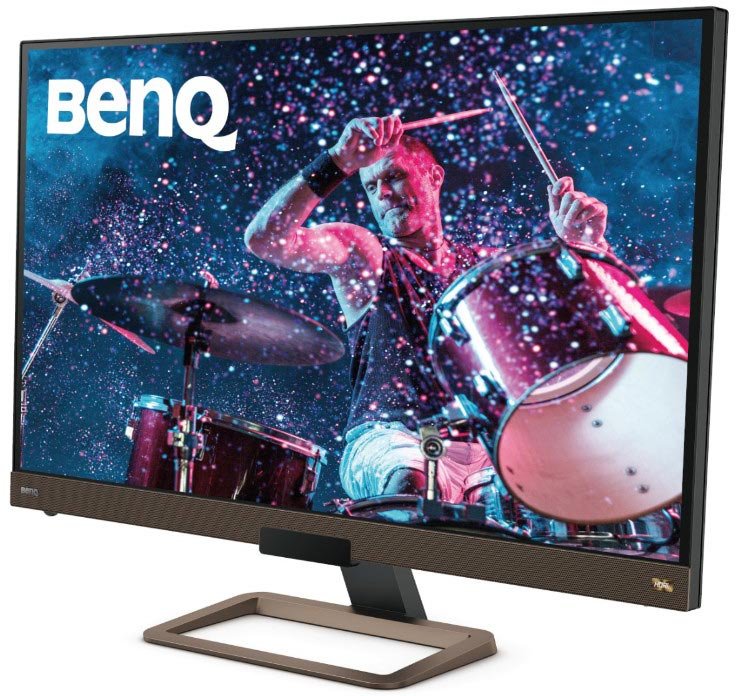 The base is a rectangular ring, which, in addition to supporting the monitor, can serve as an area in which to stash the remote and other small peripherals. The stand provides tilt control, but it lacks swivel, pivot, or height adjustment. There is also a volume wheel in the lower left area of ​​the screen frame.
You will still see panel borders when the device is in use, but it's quite thin so you won't notice them while in use. Build quality on the BenQ EW3280U s excellent and it shows in the refinements of the monitor's aesthetics. Every bit is perfectly molded, so you won't see gaps or warping on all of the monitor's parts. We also did not notice any audible issues on the monitor such as electronic humming or creaking from the mechanisms.
Controlling the BenQ EW3280U functionalities is easy thanks to the very capable remote that allows you to manipulate the monitor's settings from anywhere in your room. There is also a 5-way joystick at the rear for near-field use and a nifty volume wheel which eliminates the need to set the speaker output via your OS.

The I/O on the BenQ EW3280U includes standards such as two HDMI 2.0 ports, one DisplayPort input, a USB-C port, and an audio-out jack. The USB-C port supports data transfer and video input, as well as power delivery of up to 60 watts, which is enough to quickly charge a laptop even when displaying content over the connection.
DISPLAY
The BenQ EW3280U sports a 32-inch IPS panel with a 3840×2160 resolution, 60Hz refresh rate, and 5ms response time. The contrast ratio is listed at a typical 1000:1, while the backlight is rated with a 400cd/m2 peak output. The monitor also offers excellent color coverage of 95% DCI-P3.
The 32-inch size and 4K resolution are perfectly matched, so you won't need to use scaling for text in exchange for the bump in sharpness. Game graphics will look cleaner with straighter edges, thanks to the higher pixel per inch ratio. Some games will already look fantastic even without image improvement technologies such as Anti-Aliasing which is great especially since 4K is quite taxing.
The monitor's typical brightness is 350 nits, but it's able to achieve a peak of 400 nits, earning it DisplayHDR400 certification. It also offers BenQ's dynamic HDRi technology to tune the HDR experience. This has several different presets, with a Cinema HDR, Game HDR and Display HDR option. HRDi brings BenQ's Brightness Intelligence Plus into the mix which utilizes a front-mounted light sensor to adjust the screen accordingly. This feature automates the utilization of the backlight, so it has mixed results depending on your preferences and media.
Finally, there are some BenQ-exclusive features present here too, and that makes a worthwhile addition to the EW3280U. They come in the form of the flicker-free technology, low blue light settings, and the Brightness Intelligence Plus (B.I.+). The latter is geared to automatically adapting and augmenting the on-screen picture, brightness and color warmth, depending on what is being displayed but also based on your real-life surroundings.
HDRI
Essentially, HDRi is the extended range of colors and contrast HDR offers, mixed with some intelligence BenQ has built into the display to adjust the image based on your ambient lighting. According to BenQ, this results in less eye strain and, ultimately, a clearer picture that tones down overexposed areas of the screen and helps you pick out more detail in shadows. While HDR improves the contrast and dynamic range of a scene, HDRi seeks to further enhance HDR images. It has both hardware and software components.
A sensor on the monitor's bottom bezel measures ambient light, letting the EW3280U adjust its screen brightness in response to changing conditions. In addition, HDRi generally brightens dark regions without overexposing bright areas, resulting in a more balanced image. It also automatically tweaks color balance and saturation, depending on the displayed content.
The EW3280U different HDRi modes for things like cinema and games, giving you a fair amount of control over how it looks. The emulated HDR certainly didn't work flawlessly with every bit of content. However, it definitely made a lot of standard definition content much more vivid and engaging to watch. I even found myself leaving it on while working and enjoying the way it adapted to my normal workday.
OSD & FEATURES
You can control the onscreen display (OSD) via a miniature joystick controller on the back of the monitor, mounted near its lower right corner. Its menus are easier to navigate with the joystick than with the button-based control systems found in many monitors. If the joystick isn't convenient enough, you can also browse through the EW3280U's OSD with the included handheld remote. There is also a volume-control wheel on the bottom of the monitor, near the left-hand edge.
The OSD offers seven main-menu choices: Input, Picture, Color, Audio, Eye Care, Custom Key, and System. From Input, you can switch among HDMI, DisplayPort, and USB-C inputs. The Picture menu lets you control brightness, contrast, sharpness, and the like. The Color menu lets you choose among color modes. You can also switch between HDR modes.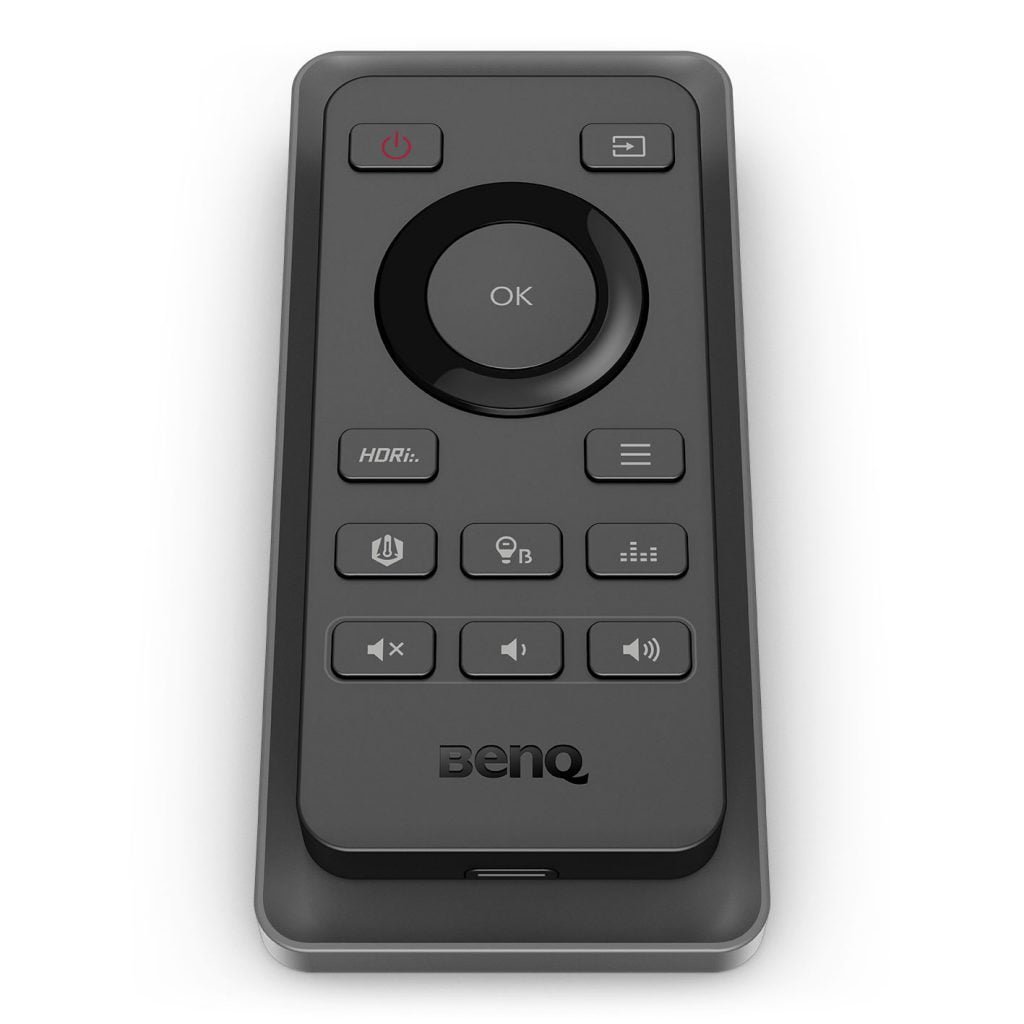 From the Audio menu, you not only can control the volume or mute the sound, but you can also switch through different audio modes. Eye Care offers access to the Low Blue Light setting (again) and several similar tweaks. Custom Key lets you set up two customizable color modes, and last up is the System menu, on which you control FreeSync, USB-C configuration, OSD settings (such as language), and the like.
AUDIO
The EW3280U combines a pair of 2-watt speakers with a 5-watt subwoofer. These are built upon BenQ's treVolo technology that includes five-sound indicators as well as three pre-tuned EQ settings that you can select from. And from a decent bass end to a crisp treble peak, they do a pretty good job of offering an immersive authentic audio experience – considering they are built-in, on-board monitor speakers.
Music actually sounded robust, and game audio was immersive without requiring me to plug my headset on. There are plenty of audio modes to choose from as well, if you need to tweak the sound for gaming, movies, or music. At max volume, the monitor's 2.1 channel speaker in the front, along and 5W subwoofer running along the back, filled a medium-sized room easily. The sound overall wasn't overwhelmingly loud, but maintained its max volume without distortion.
For most consumers, the built-in speaker system should more than suffice for casual listening
PERFORMANCE
The EW3280U employs AMD FreeSync adaptive-sync technology, and it supports refresh rates of up to 60Hz. It should also work with G-Sync as long as you use the DisplayPort slot. The monitor isn't certified so the latter isn't guaranteed, but it can be activated manually via Nvidia's Control Panel. Input lag sits at a little over 5ms at 60Hz, so you won't see any delays or "de-synced" instances during gameplay.
The EW8320U has a large color gamut that is very suitable for video and photo editing and can handle games well. Our experience with the EW3280U has been very positive, as it comes with a very good factory calibration and excellent color coverage reaching up to 96% in DCI-P3. It lacks a bit in brightness, but its HDRi modes are excellent and worked very well. The visual quality of HDR combined with 4K UHD resolution makes the experience more immersive.
The monitor did well in handling gameplay in our benchmark runs with the titles Witcher 3, Shadow of the Tomb Raider, and Far Cry 5, showing a minimum of artifacts. Among Game HDRi, Cinema HDRi, DisplayHDR, and SDR modes, the Cinema HDRi showed the best contrast.
Apart from the limitation of the 60Hz Refresh Rate , this monitor is the best choice for users who are eyeing the potential for the best visual quality both when playing games and watching movies.
VERDICT
The EW3280U is a good entertainment monitor. While boasting gaming-friendly specs, it also comes with all of BenQ's eye protection technologies, including one for helping people with difficulties seeing red and green, a remote for easy adjustments, and a touch of style in its speakers.
The BenQ EW3280U has a great sound system and handles HDR (both DisplayHDR and BenQ's HDRi enhancement). With its ability to handle entertainment, gaming and content creation while providing superior audio, the BenQ EW3280U is a definite all-around entertainment monitor with a focus on gaming.
While its HDRi feature seems to have its pros and cons, there's no doubt that HDR content looked beautiful on this IPS panel with wide color gamut coverage. We also recommend VESA mounting this on a monitor control arm as the EW3280 is a huge display and may be uncomfortable for smaller desks.
Finally, there's the remote. Instead of fiddling with buttons on the rear of the monitor, I could much more quickly switch between modes or adjust the volume.