The Kingston DC500R is a high-performance 6Gbps SATA SSD that use the latest 3D TLC NAND, designed for read-centric server workloads in data centres.
The DC500R features Kingston's strict QoS requirements to ensure predictable random I/O performance, as well as predictable low latencies over a wide range of read and write workloads. They can increase productivity for AI, machine learning, big data analytics, cloud computing, software-defined storage, operational databases (ODB), database applications and data warehousing.
The DC500R comes with hardware-based security and encryption using 256-bit ensuring the integrity and privacy of data. Capacities from 480GB, 960GB, 1.92TB, 3.84TB and 7.68TB. In terms of durability the DC500R offers 1752TBW on the 2TB unit and 2,000,000-hour MTBF.
Kingston DC500R uses the 3D TLC NAND technology and offers a maximum read and write speed of 555 / 525MB / s using SATA 3.0 interface. Other features enterprise SMART tools which allow reliability tracking, usage statistics, life remaining, wear levelling, and temperature monitoring. Naturally, the drive is hot-plug capable as it needs to be in a data centre environment. DC500R also features onboard power-loss protection which ensures data-in-flight is written to the NAND Flash memory in the event of unexpected power loss.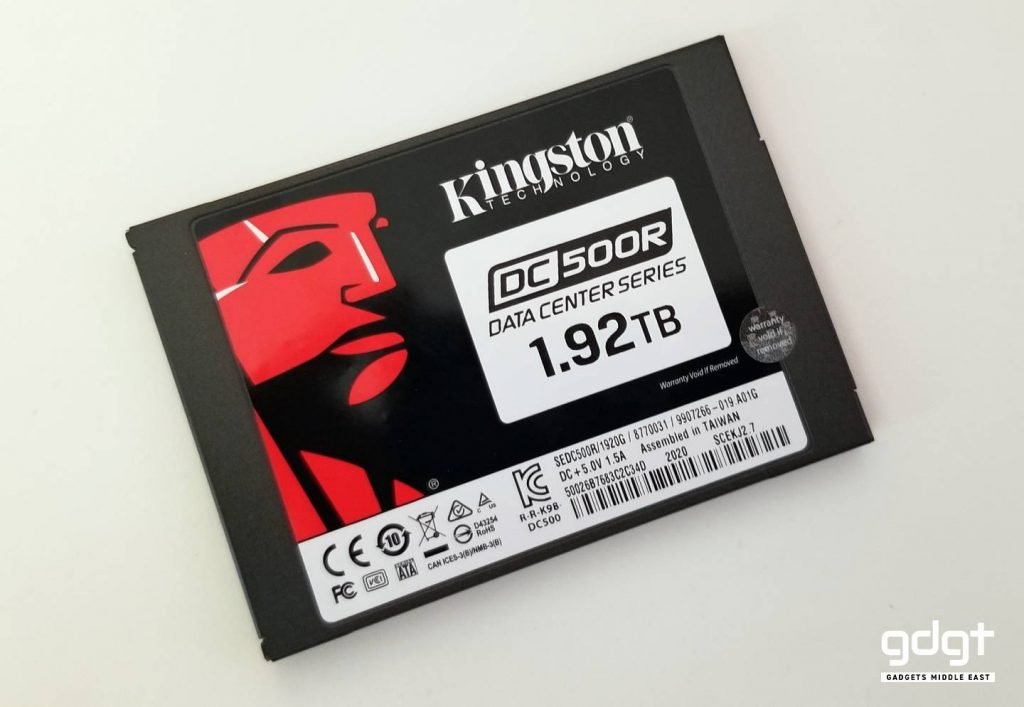 Highlights
Predictable random I/O performance and latencies over a wide range of workloads
Read-centric design for performance in high read-intensive workloads
Configurable overprovisioning
On-board power loss protection (PLP)
Specifications
Model
DC500R
Capacity
480GB
960GB
1.92TB (1.78TB Usable)
3.84TB
7.68TB
Form Factor
2.5″
Dimensions
100.1mm x 69.85mm x 7mm
Operating Temperature
0°C ~ 70°C
Encryption
AES 256-bit Encryption
Controller
SM2259
Interface
SATA Rev. 3.0 (6Gb/s) – with backwards capability to SATA Rev 2.0 (3Gb/s)
Endurance
480GB — 438TBW
960GB — 876TBW
1.92TB — 1752TBW
3.84TB — 3504TBW
7.68TB — 9345TBW
MBTF
2 million hours
Power loss protection
Tantalum capacitors
Enterprise SMART tools
Reliability tracking, usage statistics, life remaining, wear leveling, temperature
Warranty
5 years
Unboxing
The packaging comes in a simple cardboard box with a see-through plastic blister.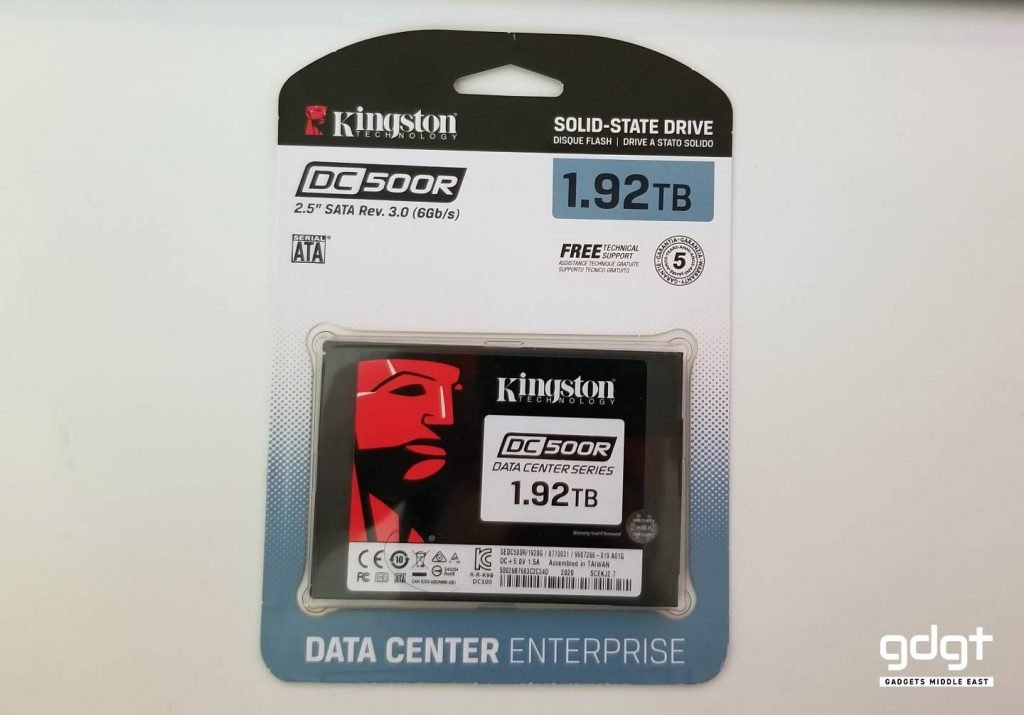 Inside, we have the just the SSD, no manuals or mounting screws. The DC500R is a 2.5-inch standard format SATA 3 SSD with 7 mm thickness and is also compatible with laptops that support SATA SSDs.
The exterior casing is matte black is made of good quality aluminium, measures 100.1mm x 69.9mm x 7mm and weighs 92.34g.
Performance
Our review unit is the 1.92TB version. For the performance tests we have used the following hardware. On paper, performance should be 555 MB/s in sequential reading and 525 MB/s in writing, along with 98,000/24,000 IOPS.
AMD Ryzen 3600
Bequiet! Dark Rock Pro 4
ASUS ROG B550-F Wi-Fi
MSI 5700 XT Gaming X
Corsair Vengeance LPX 16GB (2x8GB)
Cougar GX-F 650W PSU
In CrystalDiskMark, the DC500R comes out with 562 MB/s and 540 MB/s in sequential reading and writing. In ATTO Disk we see rates above 561 MB/s in reading and 532 MB/s in writing. On the AS SSD benchmarks, the DC500R received a read score of 525 MB/s and a write score of 504 MB/s.
When copying files during everyday use, the speeds are in the range of 480-500 MB/s. The overall performance is nearly the same as specified by Kingston.
With regards to temperature, although the DC500R has a maximum operating temperature of 70C, it never exceeded 44C even at maximum performance during our tests.
| | |
| --- | --- |
| CrystalDiskmark Read | 562 MB/s |
| CrystalDiskmark Write | 540 MB/s |
| ATTODisk Read | 561 MB/s |
| ATTODisk Write | 532 MB/s |
| AS SSD Read | 525 MB/s |
| AS SSD Write | 504 MB/s |
Software
The Kingston SSD Manager can be downloaded from Kingston's website, which can help with monitoring temperature, drive health, status, and disk usage and also update firmware as and when they are released. The utility also allows to tune the drive depending on the workload.
Conclusion
The Kingston DC500R is a high-performance 6Gbps SATA SSD designed for service providers running a wide range of customer applications including virtualization, high-speed databases, high-bandwidth media streaming, CRM's and cloud service providers.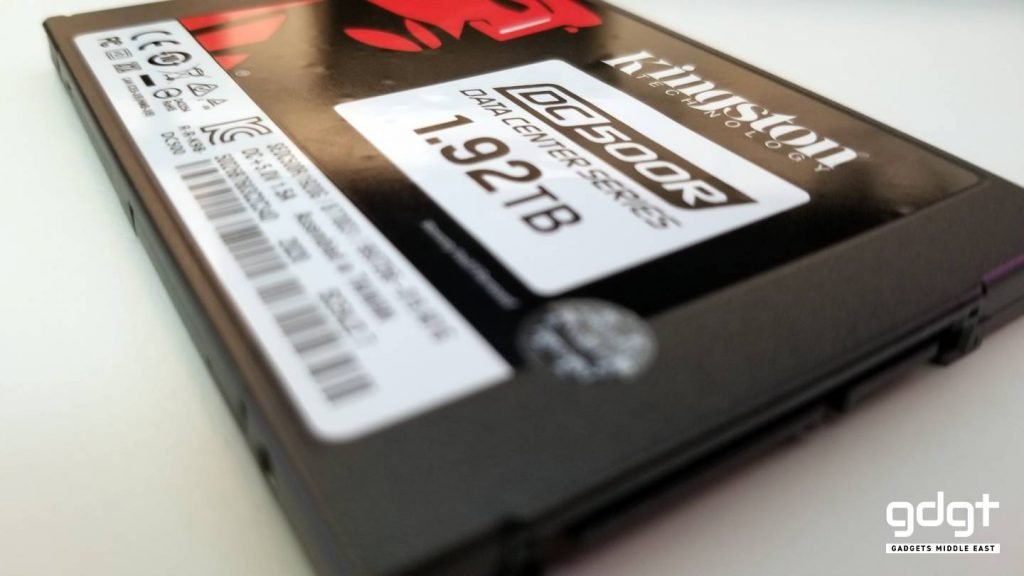 The DC500R comes with proper power protection using the tantalum capacitors built on the PCB and power loss protection features built into the firmware. The drive also supports AES 256-bit encryption and the performance is in line with specifications provided by Kingston.
Overall, this is a reliable and cost-effective storage solution and it delivers consistent performance instead of short bursts which makes it perfect for data centres.