The Logitech Brio 500 webcam is a versatile and user-friendly device that is perfect for business meetings, video conferencing, and personal use. This webcam comes packed with features that enhance the user experience, such as AI-based face image correction, RightSight auto-framing, and noise-reducing mics, making it a must-have for anyone in need of a high-quality webcam.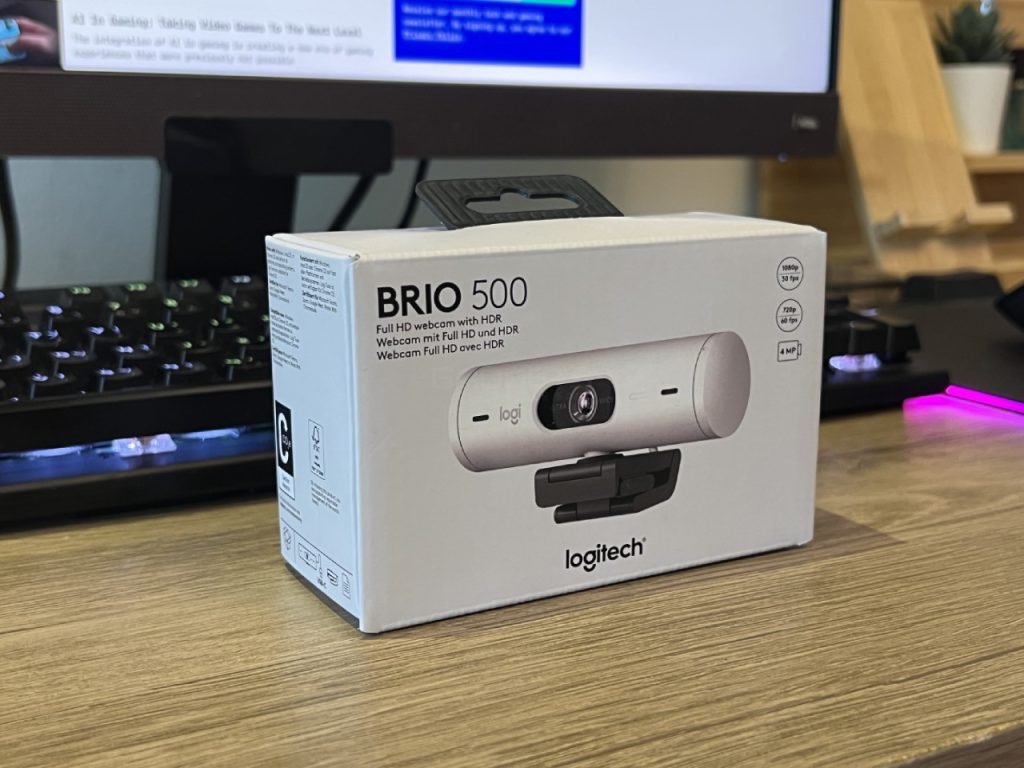 The Logitech Brio 500 delivers crisp video quality thanks to its 1080p resolution and HDR technology, which ensures that users always look their best in any lighting conditions. The webcam designed to deliver professional-quality video conferencing and streaming capabilities.
Specifications
Supported Resolutions
1080p/30fps (1920×1080 pixels)
720p/60fps (1280×720 pixels)
Optics
Glass
Focus Type
Autofocus
Features
Integrated Privacy shutter
Rightlight 4 with HDR
Detachable universal mounting clip
Field of view
90°/78°/65°
Hardware zoom
4x Digital zoom
Built-in microphone
Stereo microphone
Up to 1.22 m range
Connection
USB 3.0 Type C
Dimensions
31.5 x 110 x 31.5 mm (DxWxH)
Weight
121 g incl. mount clip & cable
Packaging
The Logitech Brio 500 comes in a small Logitech-branded white box with photos and specifications on the side. The packaging is made out of recycled materials and houses the below: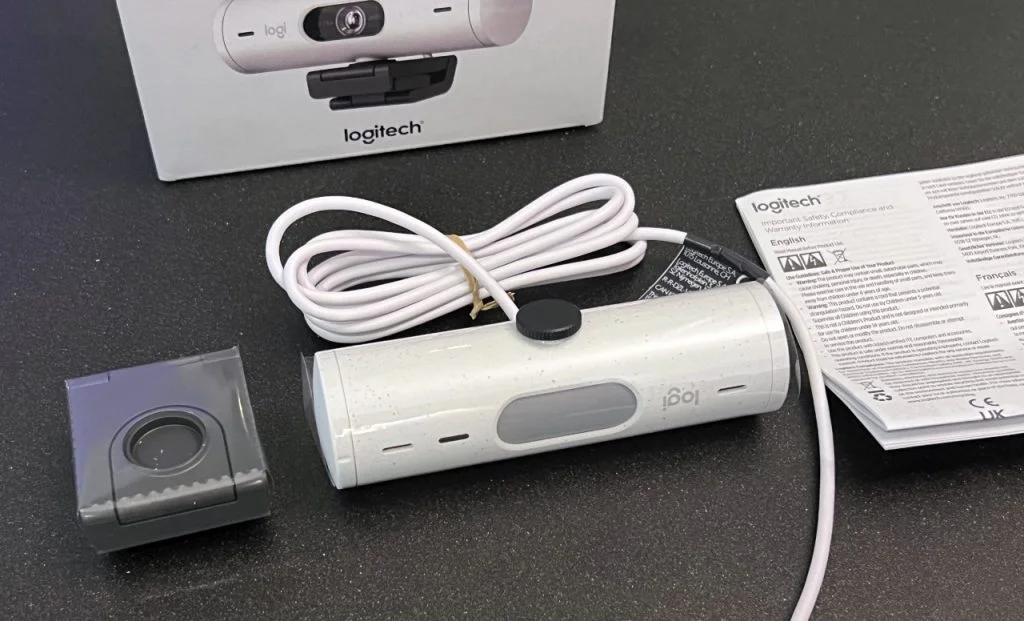 Brio 500 with attached USB-C cable
Mount clip with removable mount adapter
User documentation
Design
The Logitech Brio 500 webcam has a modern, simple design with a plastic body featuring rounded edges, two built-in microphones on the front, and an LED indicator light to signal when the webcam is on. The front also includes a recessed camera housing with a privacy shutter that slides open and closed easily.
The webcam has a 5-foot USB-C cable and a magnetic button at the bottom that clicks into the base of the included mounting clip to attach it to your laptop easily. The webcam attaches to the mount magnetically, allowing it to rotate while on the mount, and the magnet unscrews to reveal a standard tripod mounting point.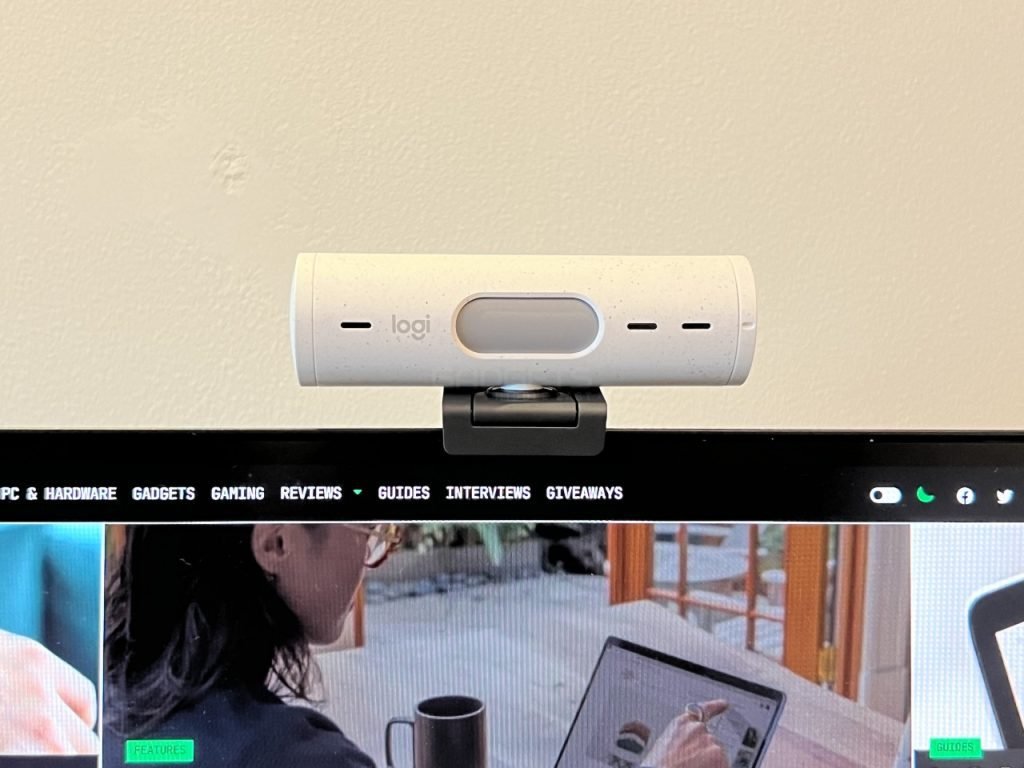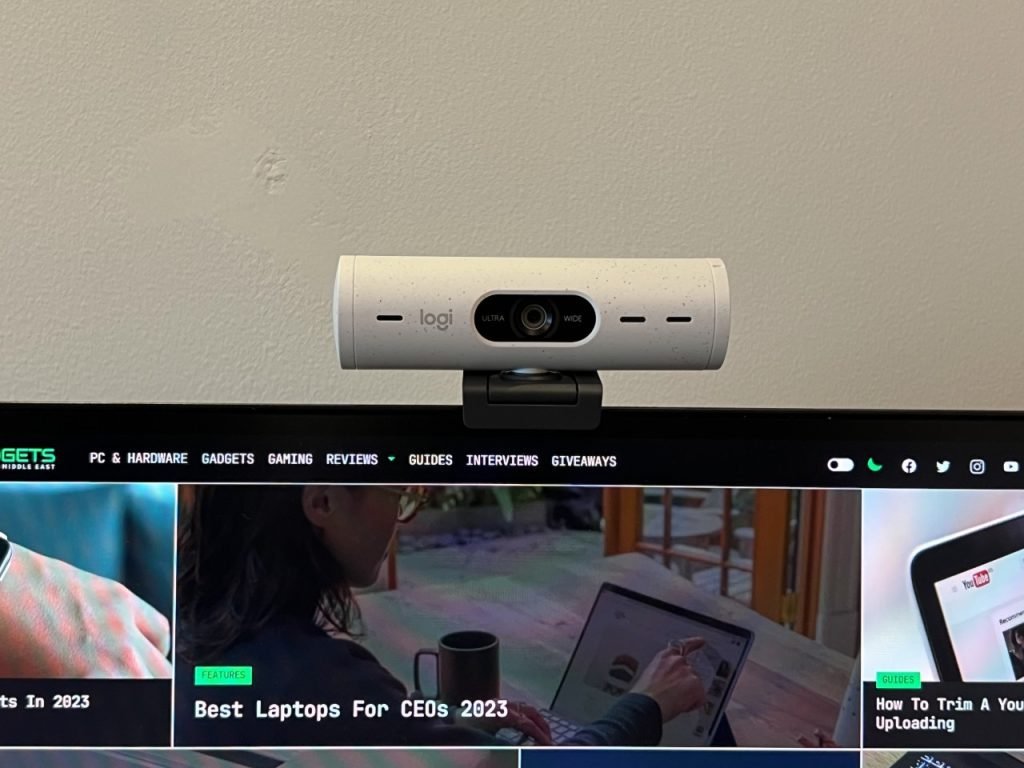 Logitech Brio 500 review
The design is elegant, but the webcam feels slightly flimsy. The chassis of the webcam is cylinder-shaped, available in three colors, and made with post-consumer recycled plastic. It includes a built-in physical privacy shutter that's easy to maneuver by turning a knob on the right side without disturbing the camera's position.
The webcam is not meant to lock in place, and the design allows the camera to swivel left and right in its magnetic dock. The webcam is available in Graphite, Off-White, or Rose and is relatively small, lightweight, and a good-looking addition to your PC setup.
Features & Performance
The Logitech Brio 500 webcam may not look all that impressive on paper, but it performs extremely well in its intended purpose as a remote work webcam. The maximum resolution is 1080p, with a frame rate of 30FPS, but this is plenty for video meetings. The Brio 500's strength lies in its video processing technology, which includes face tracking, auto-white balance, and auto-contrast. These features ensure that the user's face is clear and evenly lit during video calls, even in poor lighting conditions.
The Brio 500 has a wide 90-degree FOV that can be cropped to a smaller FOV of either 65-degree or 78-degree. The webcam also features the Show Mode, which flips the image when the camera is pointed down at the desk to show documents or drawings during meetings. One of the most notable features of the Brio 500 is the experimental "RightSight" tool that automatically pans and zooms the webcam feed to follow the user's face, making video calls feel more personal.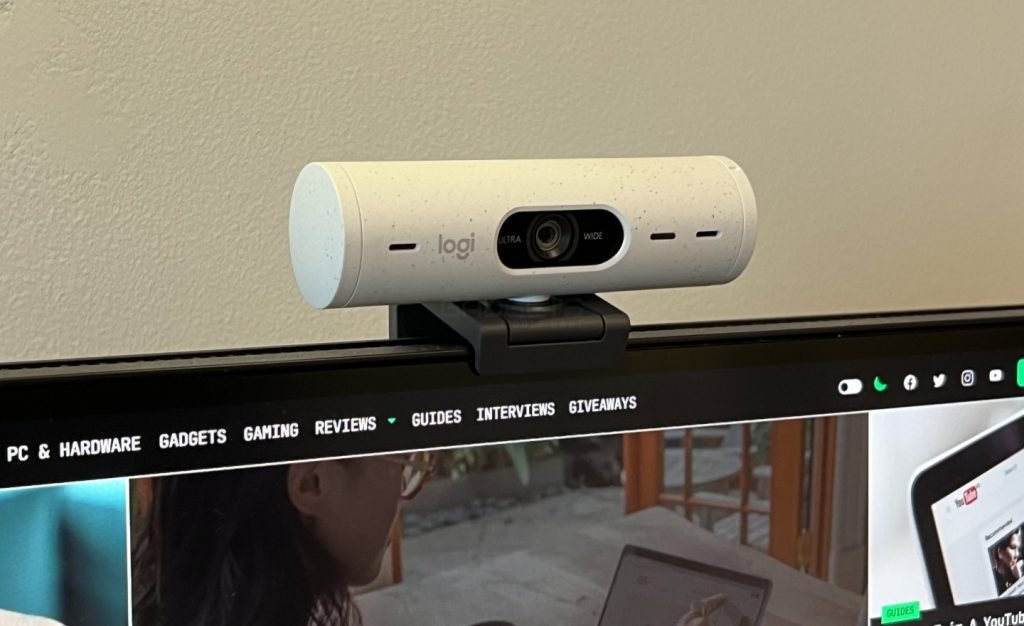 The Brio 500 is certified for use with Microsoft Teams, Zoom, and Google Meet. While video quality may vary depending on the platform, the webcam's clarity is impressive. One of the most noteworthy features of the Brio 500 is its auto light correction, which adjusts lighting automatically regardless of the environment. The auto-framing feature is also well-implemented, ensuring that the user is always in frame, even if they move around.
The webcam mount provides plenty of webcam angles to choose from, and its flexibility in reading the user's environment is sure to please those who use webcams for work. For work presentations, the Show Mode makes it easy to share what the user sees in real-time, allowing them to easily show participants something on their desk.
The Logi Tune app allows the user to zoom in or out, apply a filter to their video, and toggle HDR on and off. Overall, the Logitech Brio 500 webcam is a reliable, flexible, and high-quality webcam that performs exceptionally well in its intended purpose.
In addition to its advanced imaging capabilities, the Logitech Brio 500 also features noise-reducing mics that filter out background sound and enhance your voice, so you're heard clearly and not the noise around you.
Software
The Logitech Brio 500 webcam can be used with Logi Tune, Logitech's webcam software for newer peripherals. This software allows users to update the Brio 500's firmware, turn on features such as "RightSight" and "Show Mode," and change the field of view. Logi Tune also integrates with calendar and video conferencing apps to streamline your schedule.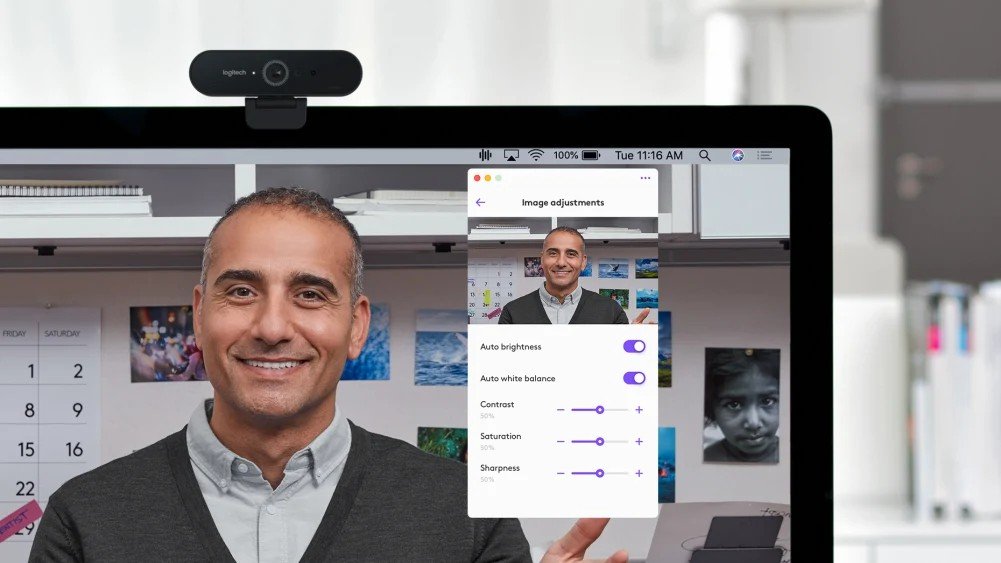 Logi Tune has an image adjustments section with toggles for autofocus, auto-exposure, auto-white balance, and HDR, as well as brightness, contrast, saturation, and sharpness sliders. Manual sliders appear when autofocus, auto-exposure, or auto-white balance are turned off. However, Logi Tune does not provide detailed controls for the Brio 500 or any webcam. While it lacks advanced settings, it provides enough controls for most users.
Logitech Brio 500 Verdict
Overall, the Logitech Brio 500 is a great webcam that offers great image quality, advanced features like auto-framing and show mode, and versatile mounting options. It's a great choice for businesses and individuals who need a high-quality webcam for remote work, virtual meetings, and online learning.
With its compatibility with a wide range of video calling platforms, the Brio 500 is a solid investment that will provide years of use and great performance. In terms of warranty, the Logitech Brio 500 comes with a 1-year limited hardware warranty.