The Prime is a new line up of products from SteelSeries designed for competitive gaming and is engineered for performance. The Prime line of products builds on SteelSeries' 20 years of innovation and pedigree as the original esports brand. The Prime lineup features a new Prime Wireless headset and a trio of gaming mice: the Prime, Prime+ and Prime Wireless.
This is our review of the Prime Wireless mouse, which takes all the features of the standard Prime mouse, but in wireless from with a battery that provides over 100 hours of gameplay on a single charge. The mouse also features fast charging via USB Type-C, SteelSeries says 15 minutes of charge time can provide a gameplay time of 40 hours.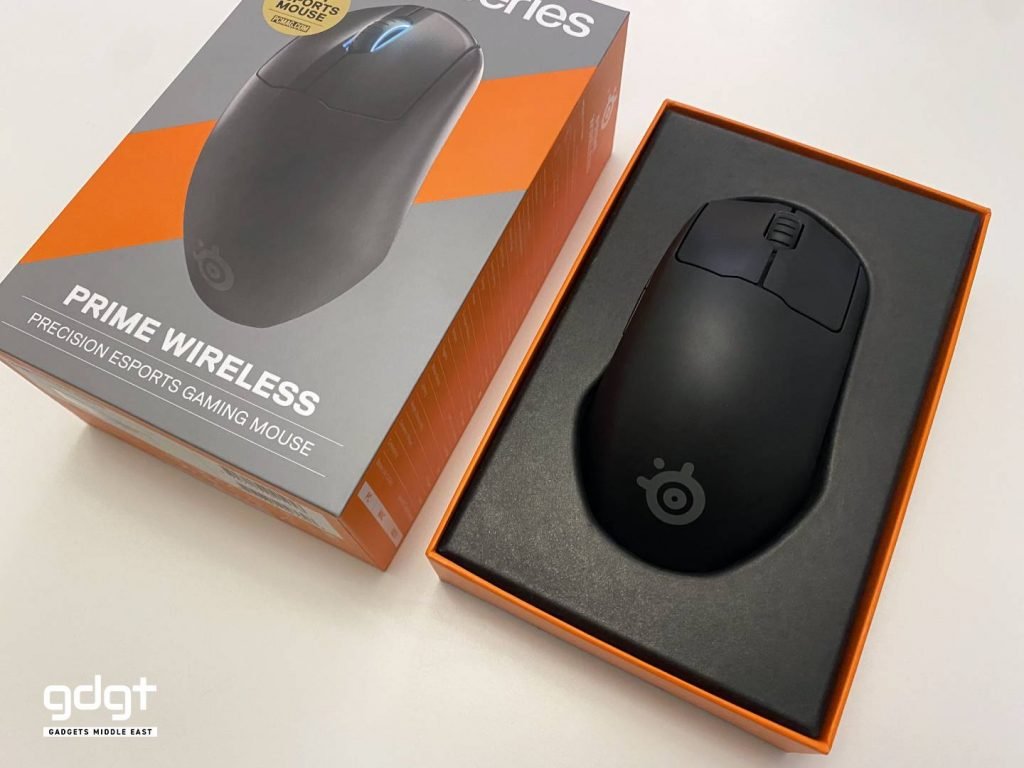 The mouse is lightweight at 80g and features the TrueMove Air sensor with true 1-to-1 tracking and the brand-new Prestige Optical Magnetic Switches. The new Prestige OM Switches utilizes neodymium magnets to deliver consistent mouse clicks and utilizes an infrared light beam to register clicks at extremely high speeds
Wireless connectivity is powered by the new SteelSeries Quantum 2.0 Wireless featuring advanced dual channel optimization to ensure performance that feels just like wired, with no packet loss.
Highlights
Lightning-fast Prestige OM switches deliver over 100M crispy clicks
Esports grade precision tracking with TrueMove Air gaming sensor
Quantum 2.0 Wireless offers lag-free gaming with dual channel optimization
Over 100 hours of high-performance 1000Hz gameplay plus fast-charge
80g lightweight, textured matte design developed with top esports pros
Specifications
| | |
| --- | --- |
| Sensor | SteelSeries TrueMove Air |
| Sensor Model | Optical |
| CPI | 100–18,000 in 100 CPI Increments |
| IPS | 400, on SteelSeries QcK surfaces |
| Max Acceleration (G) | 40G |
| Polling Rate | 1000Hz |
| Buttons | 6 |
| Switch Type | Prestige OM™ mechanical switches Rated for 100 million clicks |
| Illumination | 10-Zone RGB |
| Connectivity | 2.4GHz / Wireless |
| Battery Life | 100 Hours |
| Compatibility | Windows, Mac, Xbox, and Linux. USB port required. |
| Measurements (LXWXH) | 125.3mm x 67.9mmx 42.4 mm |
| Weight | 80g |
| Software | SteelSeries Engine |
Packaging
The packaging comes in a newly designed grey-orange carboard box with photos and specifications on the sides. The box is durable and the mouse is well protected. Inside the box, we find the Prime Wireless mouse, accessories and the product information guide. You have to download the SteelSeries GG software manually.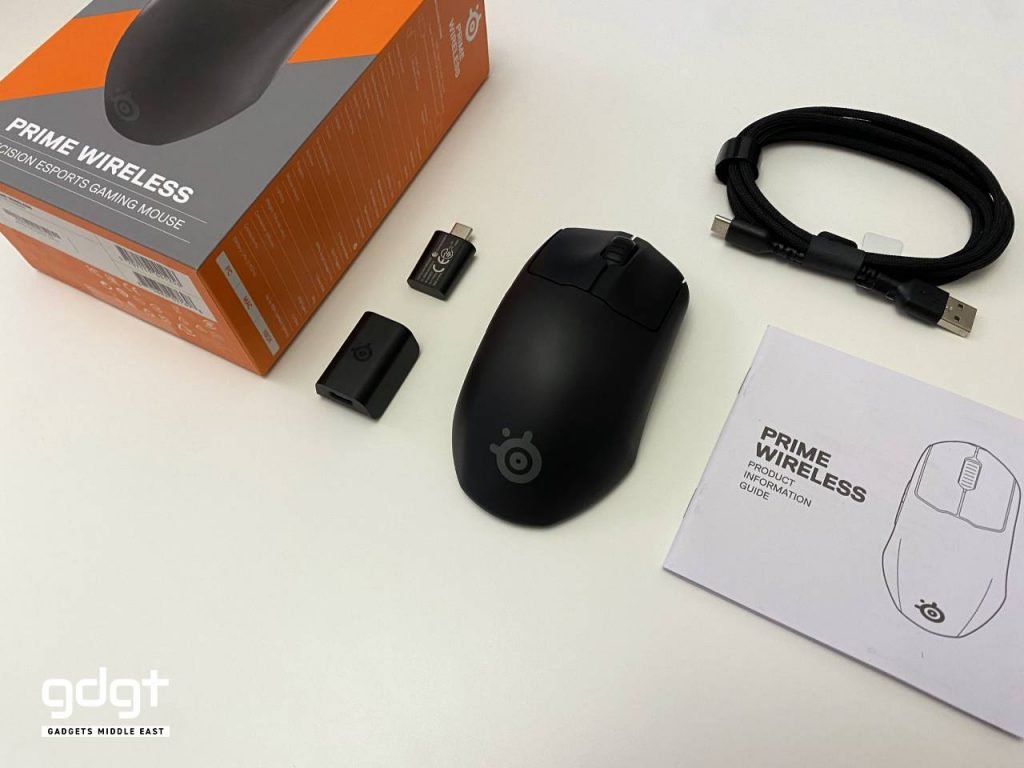 Prime Wireless Gaming Mouse
USB Type-C Dongle
Dongle Extender
USB-C to USB-A Cable
Product Manual
Design
The Prime Wireless comes in a matte-black finish and is made of high-quality ABS plastic. It is wider and taller than the Rival 5 which we reviewed earlier. The mouse is designed for right-handed users and is intended for a claw, palm or fingertip grip.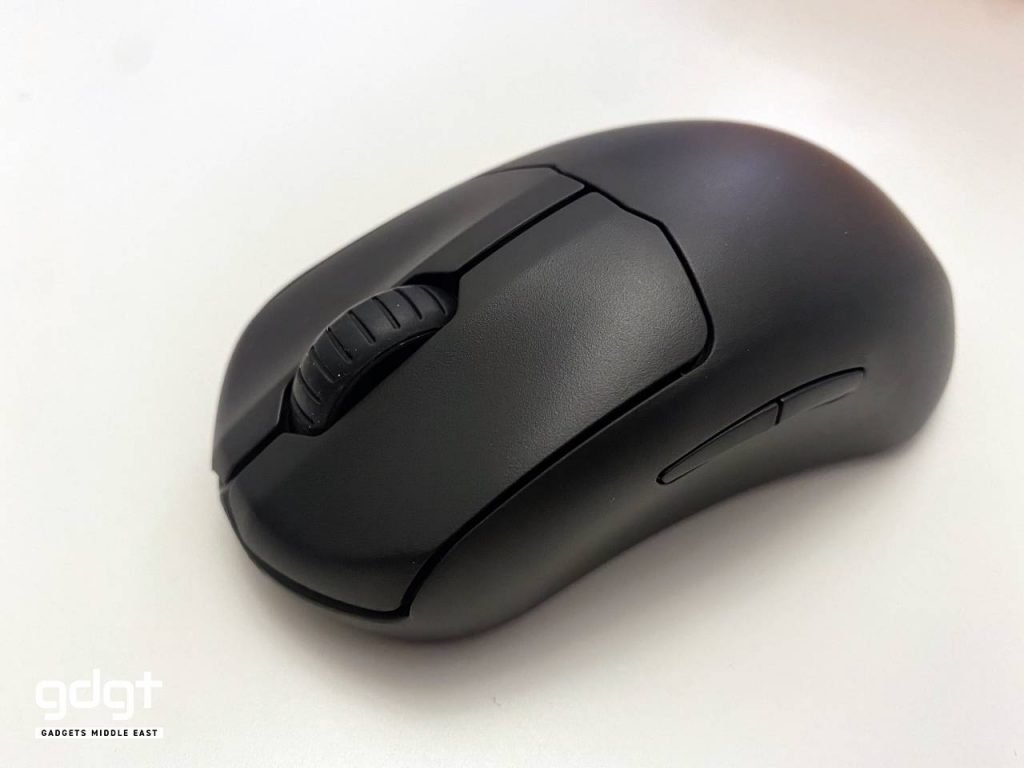 Measuring 125.3mm x 67.9mmx 42.4 mm (LxWxH), the Prime Wireless weighs just under 80g and feels very comfortable. The Prime Wireless communicates via USB-C dongle that can be connected directly to the PC. In case your PC has only USB-A ports you can use the dongle extender that allows you to connect using the USB-C to USB-A cable. There is an USB-C port located on the front side which can be used to recharge the mouse or to use it in wired mode.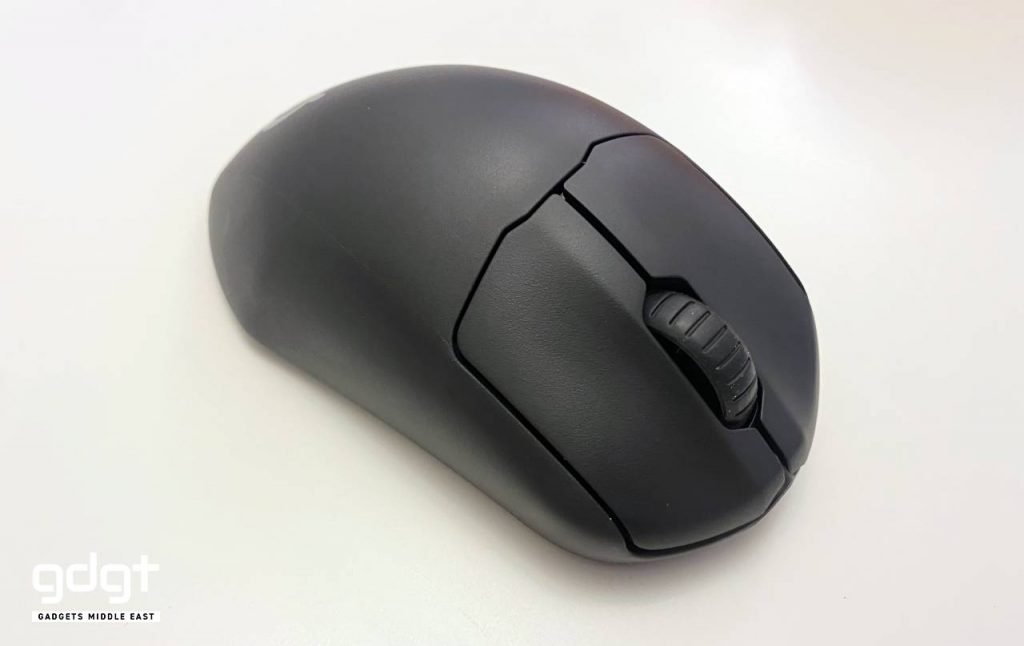 At the top are left and right click buttons uses the new Prestige Optical Magnetic Switches with a lifespan of 100 million clicks, which we found to be very precise and crisp during our test, although a little loud. The rubber mouse wheel is smooth to scroll but has some resistance to clicks. It is the only RGB zone, however the lighting is disabled on movement.
The two remaining buttons are on the left side of mouse. All buttons can be programmed via the SteelSeries Engine software.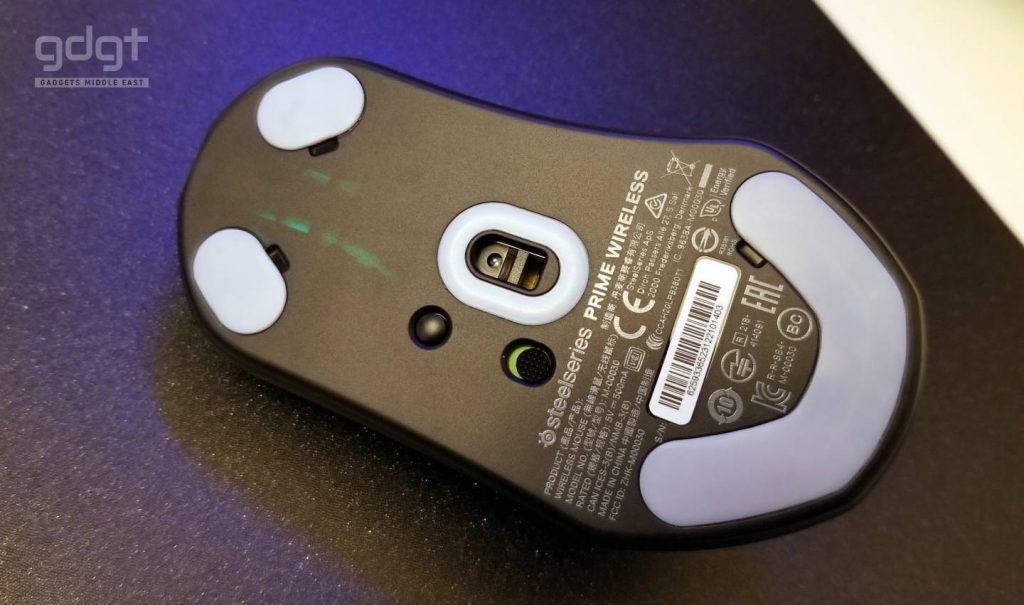 At the base is a DPI button to switch between different profiles, there is also a toggle switch here to turn the mouse on or off on wireless mode. There are two small and one large PTFE at the base to help with smooth, gliding movement.
Overall, the construction is fantastic and the Prime Wireless looks premium and minimalistic, it feels great to use and moves smoothly. The included USB-C to USB-A Cable is braided and of good quality.
Features & Performance
The Prestige Optical Magnetic Switches has a steel torsion spring held in place by a specially-milled neodymium magnet. This magnetic force creates consistency and precision so that every click actuates with the same amount of release force. This switch, in conjunction with an input beam of infrared light, allows each click to register at extremely high speeds.
Under the hood, SteelSeries has developed a new optical sensor called "TrueMove Air" designed to maximize battery life and features true 1-to-1 tracking with 18,000 CPI, 400 IPS, 40G acceleration, 1000 Hz polling, plus tilt tracking to eliminate unwanted tracking during angled drops, tilt slams, and quick flicks. SteelSeries says the TrueMove Air sensor delivers 3X better accuracy than the competition so that every mouse movement, from micro-adjustment to sweeping burst, translates precisely in-game as it was intended to.
Another highlight of the Prime Wireless is that the mouse uses a built-in battery instead of replaceable ones, which keeps mouse lighter and also allows for USB-C fast charging. The USB-C port on the front side can be used to recharge the mouse or to use the mouse in wired mode.
In our everyday test, the mouse performed well and with very good overall impressions. It can be easily adapted to your own preferences and skills with the SteelSeries GG software. In addition, we never noticed any connection or delay issues. The main buttons click very precisely and feel light and crisp. The side buttons, although a little small, are easily accessible and the matte surface offers a very good grip.
The default DPI settings on the mouse can be customized using SteelSeries Engine / GG. It can also be manually switched by holding down the DPI button which can be found on the base of the mouse.
Software
The new range of Prime devices requires installing the new SteelSeries GG software. The software enables the creation of several profiles, adjusting DPI, polling rate, illumination, battery saving settings, acceleration/deceleration and more.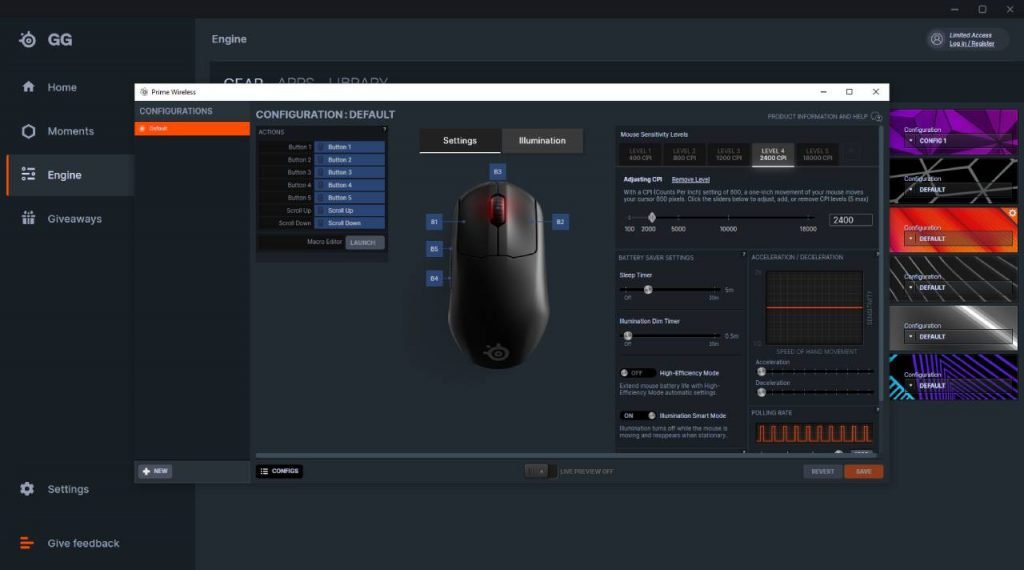 Battery & Charging
According to SteelSeries, a full charge lasts about 35 hours with active RGB lighting on, or for 100 hours without active lighting. SteelSeries also promises 40 hours of gameplay time after a 15-minute recharge.
In our tests, the Prime Wireless lasted about five days without active lighting. In terms of charging time, it charges back fully in under an hour.
Verdict
Without much competition, SteelSeries is in a unique position with the Prime Wireless with its USB-C port, fast charging and solid battery life. Combined with the Prestige Optical Magnetic Switches and the TrueMove Air sensor, this is a high-end wireless gaming mouse that is designed for competitive gaming.
For me, the biggest highlight is the excellent battery time and the ability to use it wired or wirelessly. The built-in battery also helps avoid having to replace them every now and then, with the included cables it can be easily recharged very quickly.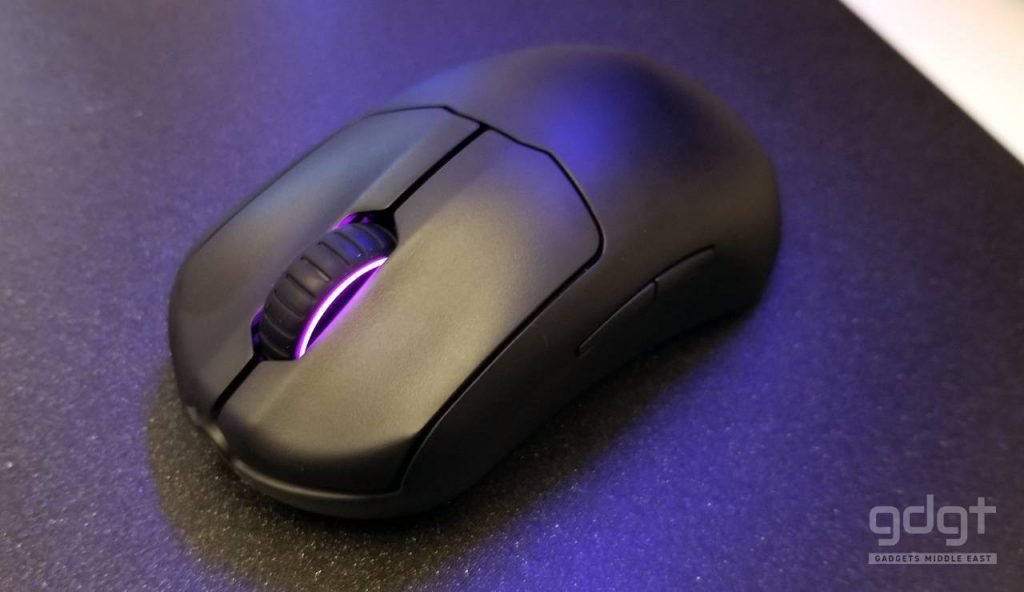 The only two downside here are that the mouse is quite expensive and the DPI button is at the bottom of the mouse. However, the features and specifications of the Prime Wireless make up for it.
If you are looking for a premium wireless gaming mouse for use at home, office or on-the-go, the SteelSeries Prime Wireless is one of the best options out there.