The Vulcan is the first keyboard to feature ROCCAT-developed Titan Switches built for gamers for a swift and precise experience while still being tactile. With a 1.8mm actuation point and a 3.6mm travel distance, the switches feature structural housing to reduce wobble while being pressed. They bring electrical contact to a minimum and allows firmware to recognize input 20% faster. The key caps are also ultra-light – 50% lighter than standard – for rapid response.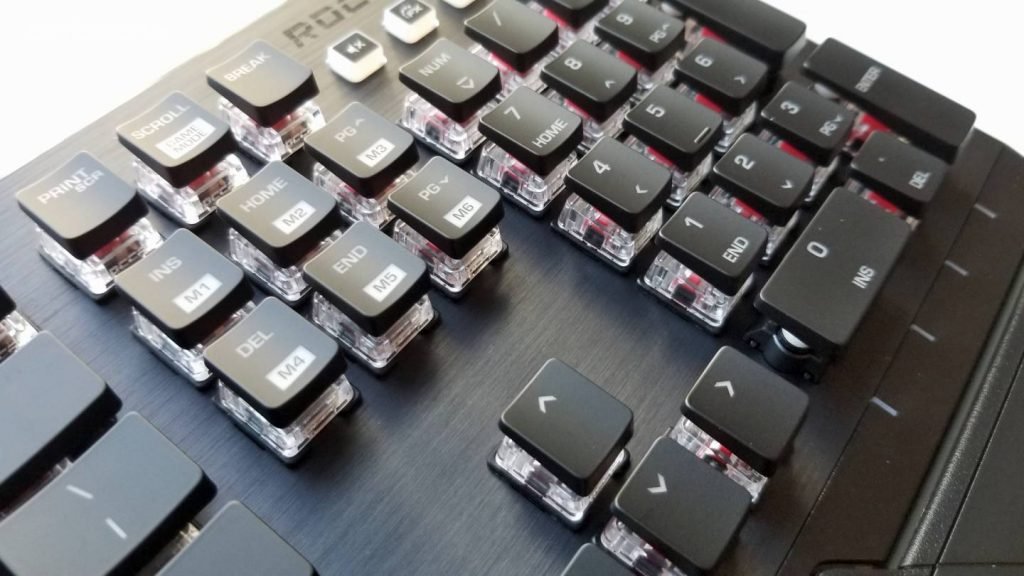 The Vulcan also features the AIMO lighting engine. Each switch features individually customizable LEDs capable of displaying 16.8M colors with different lighting effects. With a transparent switch housing, light shines and spreads impressively from every key. The included magnetic palm rest adds a good level of comfort and support and ideal for gamers who spend lengthy sessions.
Highlights
ROCCAT Titan Switches – tactile and crisp brown mechanical switches
AIMO illumination – RGB backlighting and LED lighting effects
Durable design – robust materials and switches that resist dust build-up
Advanced anti-ghosting – NKRO – full n-key rollover means every key stroke registers
Detachable wrist rest – works via magnetic mechanism, ergonomic & comfortable
The keyboard is equipped with different switch models depending on your choice:
Titan Linear Switches with accent point at 1.4 mm (on 3.6 mm stroke)
Titan Tactile Switches with accent point at 1.8 mm (on 3.6 mm stroke)
Specifications
1.8mm actuation point, tactile (Titan Switch Tactile)
1.4mm actuation point, linear (Titan Switch Linear)
3.6mm switch travel distance
512kb integrated macro & settings memory
All keys remappable
ROCCAT Easy-Shift[+]technology
32-bit ARM Cortex-M0 based processor
1.8m USB cable
1000Hz polling rate
ROCCAT® Swarm software suite
RGB per-key illumination with 16.8m colors
Removable ergonomic palm rest
System requirements: USB 2.0 (or higher), Internet connection (for driver software)
Operating system: Windows 10, Windows 7, Windows 8
Height: 3.20cm
Width: 46.20cm
Length: 23.50cm
Weight: 1150g
Packaging
The packaging comes in a beautiful back box with photos and specifications. The box is durable and the keyboard and accessories are well protected. Inside the box, we find the 121 AIMO keyboard, the magnetically attachable wrist rest and manuals. You have to download the ROCCAT Swarm software manually.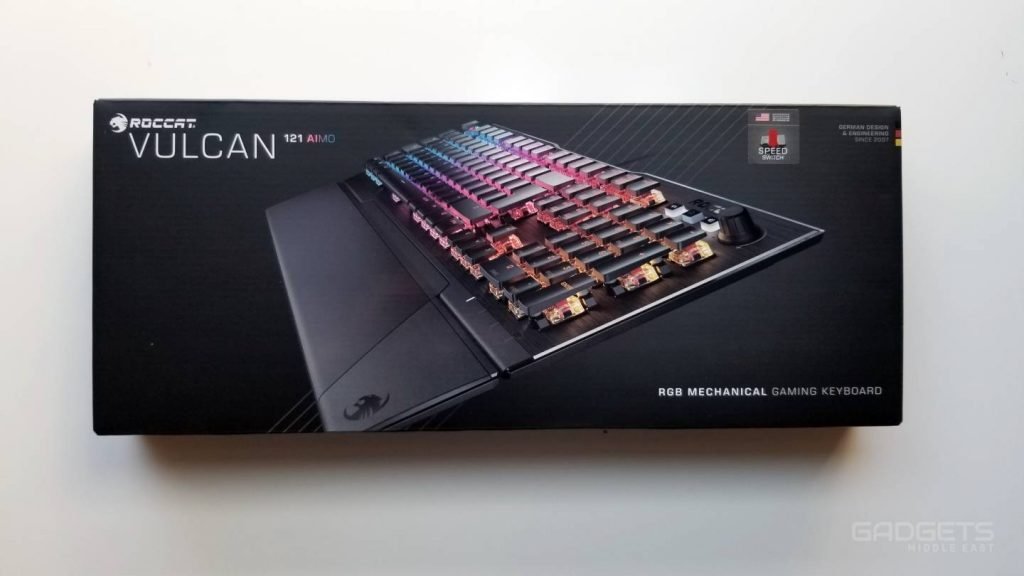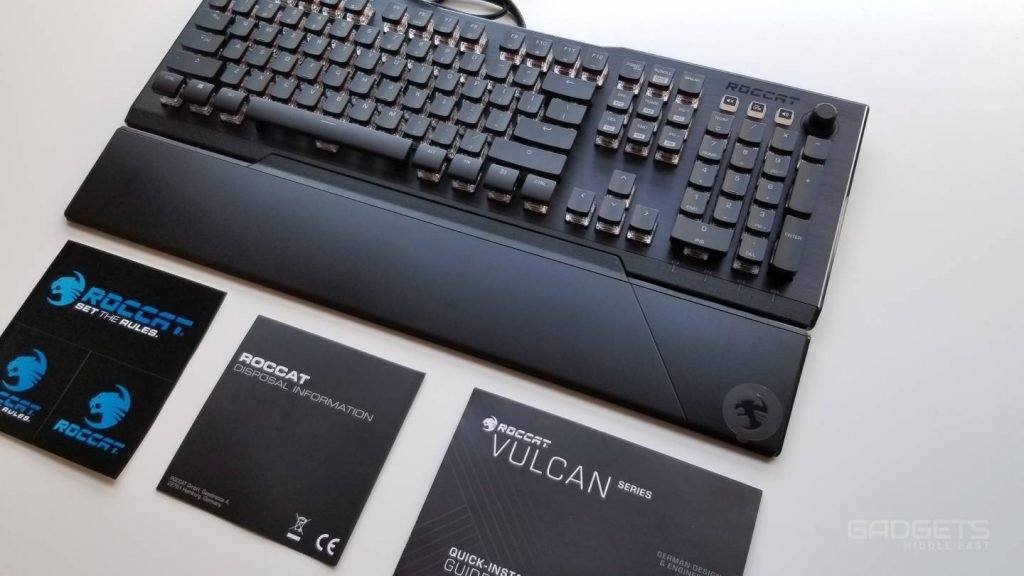 Package Contents:
ROCCAT Vulcan 121 AIMO
Magnetic wrist rest
Quick-installation guide
Design & Features
The 121 AIMO is a wired keyboard, weighs in at 1150g and measures 462mm x 235mm x 32mm. The anodized aluminum plate keeps the keyboard sturdy, while reducing the weight to a minimum. The detachable palm rest and low-profile keyboard design improve ergonomics and protects against wear and tear, making it suitable for long periods of game time.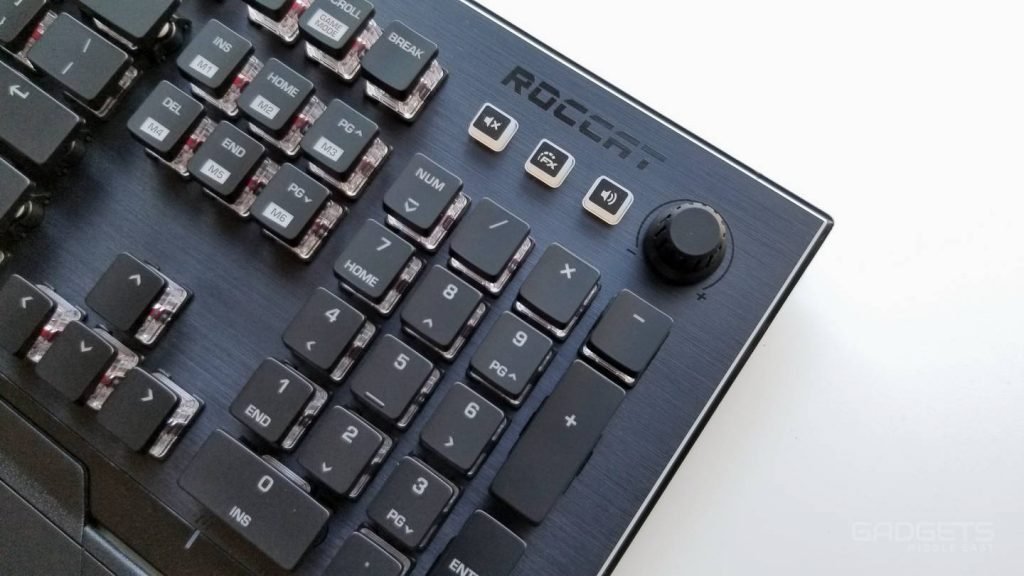 ROCCAT's Vulcan keyboard comes with completely redesigned Titan Switches, engineered to minimize side-to-side wobbling, ensuring that each key press feels sturdy and boost response time by 30% compared to other mechanical keyboards. Its mechanics have also been optimized to produce a cleaner signal which can be read faster, allowing for an increase in speed of up to 30% with an actuation point of 1.4mm and a total travel distance of only 3.6mm.
Key caps are specially designed for easy maintenance. They are identical to traditional caps but feature a shortened height to make cleaning easy, complementing the Titan Switch's dust-resistant housing perfectly.
The housing been engineered for easy maintenance, the key caps have a shortened height, which may take a bit of getting used to. The lighting is programmable with per-key RGB illumination and semi-translucent keycaps.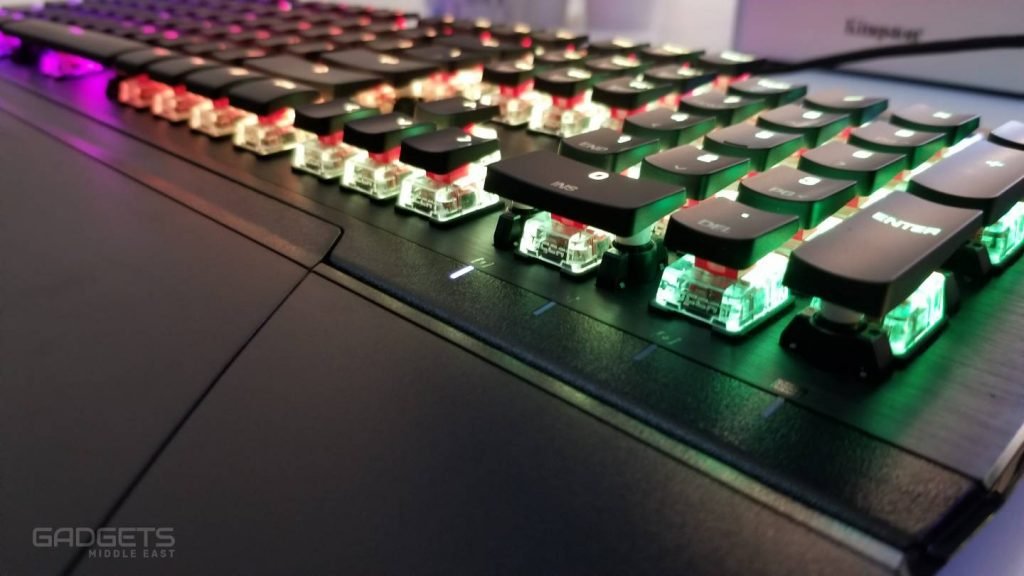 Along with its standard 104-key layout, this gaming keyboard features dedicated media buttons and a programmable volume knob. It also has N-key rollover and full anti-ghosting for swift, uninterrupted typing experience.
In terms of performance, the keystrokes are clearly audible, the buttons are very sturdy and there is ample spacing between the keys. This also makes the keyboard comfortable to work on for a long time. The click sound is quieter than other mechanical keyboards we've used which makes it perfect to use in any environment. When it comes to gaming, you will love these switches.
Software
ROCCAT Swarm is used for customizing the Vulcan 121 AIMO. The software enables the creation of several profiles, five of which can also be saved on the keyboard thanks to the built-in 32-bit ARM Cortex-MO based processor and an internal memory. Users simply need to plug the keyboard in and then download ROCCAT Swarm. The software also allows customizing color of each specific key, or use with a preset theme.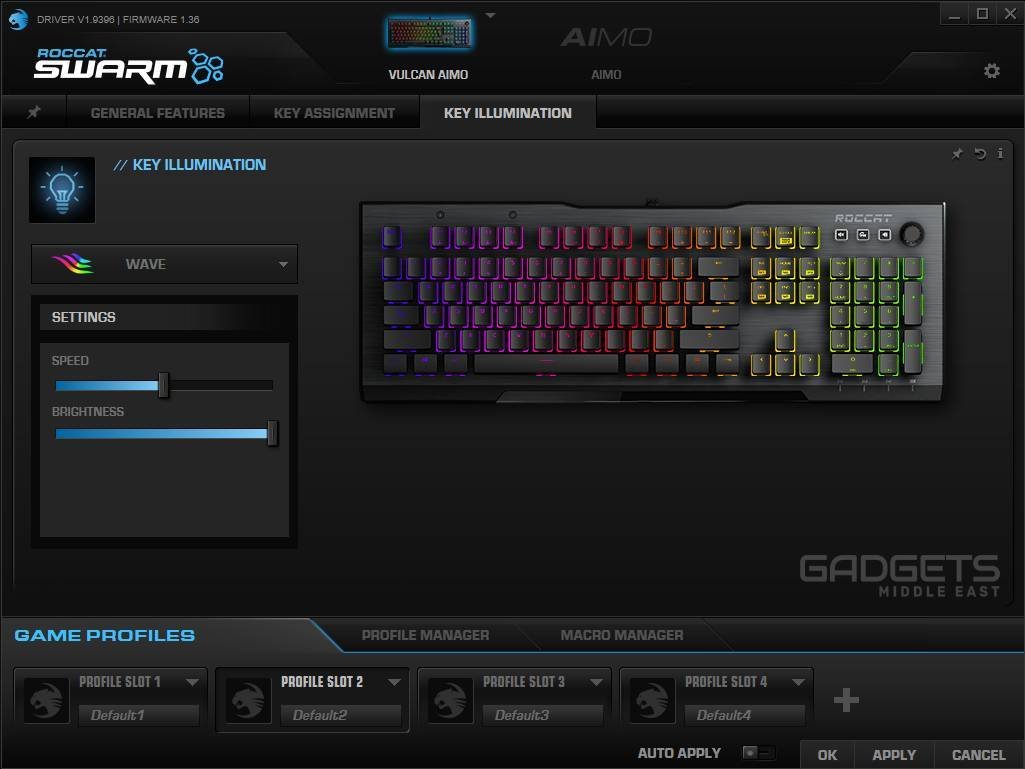 A downside here is when it comes to customizing the sound of the ROCCAT Vulcan 121 AIMO keyboard. The feature is very limited compared to the color and lighting effects as the Swarm app comes with just four sounds to choose from. There are 6 programmable macro keys above the arrow keys that can be assigned specific functions.
Verdict
Thanks to its suite of customization options and Titan Switches, the ROCCAT Vulcan 121 AIMO is a top-of-the-line mechanical keyboard that's great to use and built to last long. It is also much easier to clean than other mechanical keyboards.
At $159.99, the ROCCAT Vulcan 121 AIMO keyboard is expensive, but it's sturdy and well-built and is well worth the price for those who can afford it. It is certainly a steep investment but will likely last much longer than a cheaper one.