The Anker Soundcore Liberty Air 2 Pro is the first-ever true wireless earbuds from Anker with active noise cancellation. The new premium headphones offer great audio quality, active noise cancellation, battery life, dynamic audio, and great call quality at a more affordable price than the more popular models in the market.
Specifications
Color Options:
Onyx Black, Titanium White, Sapphire Blue, and Crystal Pink
Dimensions:
Per earbud:
37.3 x 22.1 x 23 mm (DxWxH)
Weight: About 5.2 g

Charging case:
62 x 59.7 x 23.1 mm (DxWxH)
Weight: About 50.5 g
Connectivity:
Bluetooth compatibility: BT 5.0
Audio Technology:
Active Noise Cancelling PureNote Driver Technology Clear Calls
Driver:
11 mm dynamic
Battery:
Battery capacity:
Per earbud: 55 mAh
Charging case: 500 mAh

Charging:
USB Type-C 15-minute fast charge for 3 hours of playtime Wireless charging by Qi
Packaging
The packaging includes the charging case, earphones, a USB-C charging cable, manuals and replacement earbuds in nine different sizes. There is no power adapter or a protective cover included for the case to prevent it from being scratched.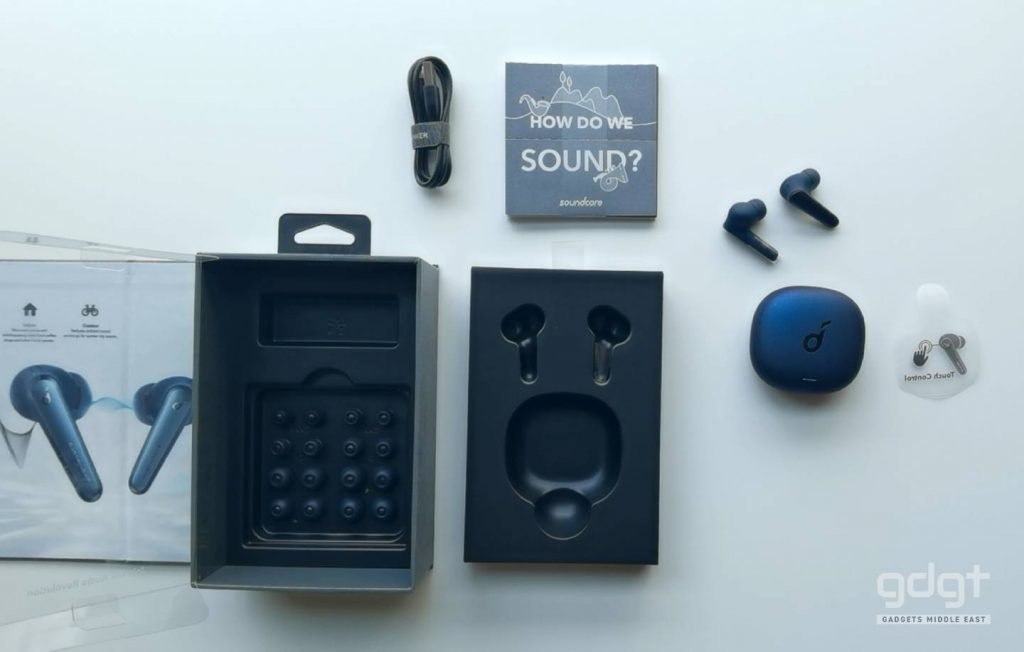 Design & Build
The Anker Soundcore Liberty Air 2 Pro come in four colors – Onyx Black, Titanium White, Sapphire Blue, and Crystal Pink. Our review unit is Sapphire Blue.
The charging case is pebble shaped with smooth rounded corners and a soft-touch finish. The Sapphire Blue color looks sophisticated and premium and comes in a smooth-finish texture. At the top of the is the USB-C charging port (the case also supports wireless charging) and a pairing button.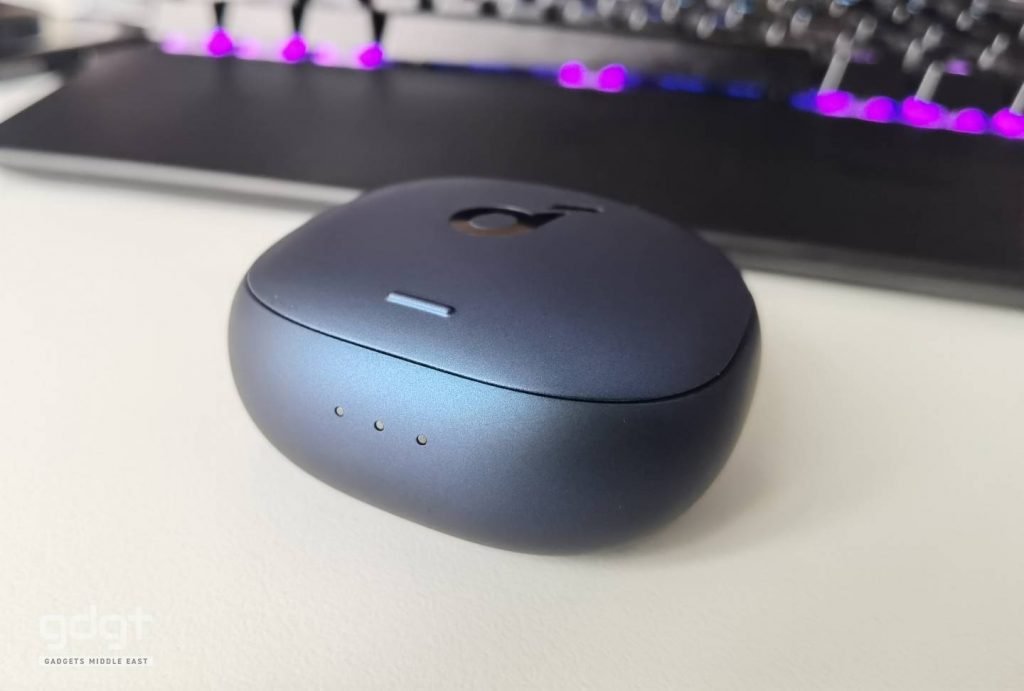 At the base are three LEDs indicators for battery status. The case can be opened by sliding up the top lid. It is also light and compact which makes the Soundcore Liberty Air 2 Pro perfect to carry around.
The earphones are magnetically held inside the charging case. They look well-built and the stems look similar to the Apple Airpods. The earphones are lightweight, compact, easy to wear and comes with a multifunction touch panel for controlling playback, volume and switching ANC modes.
The headphones turn on as soon as the charging case lid is slid off (you don't even need to remove them), but these plug directly into the last device they were used on.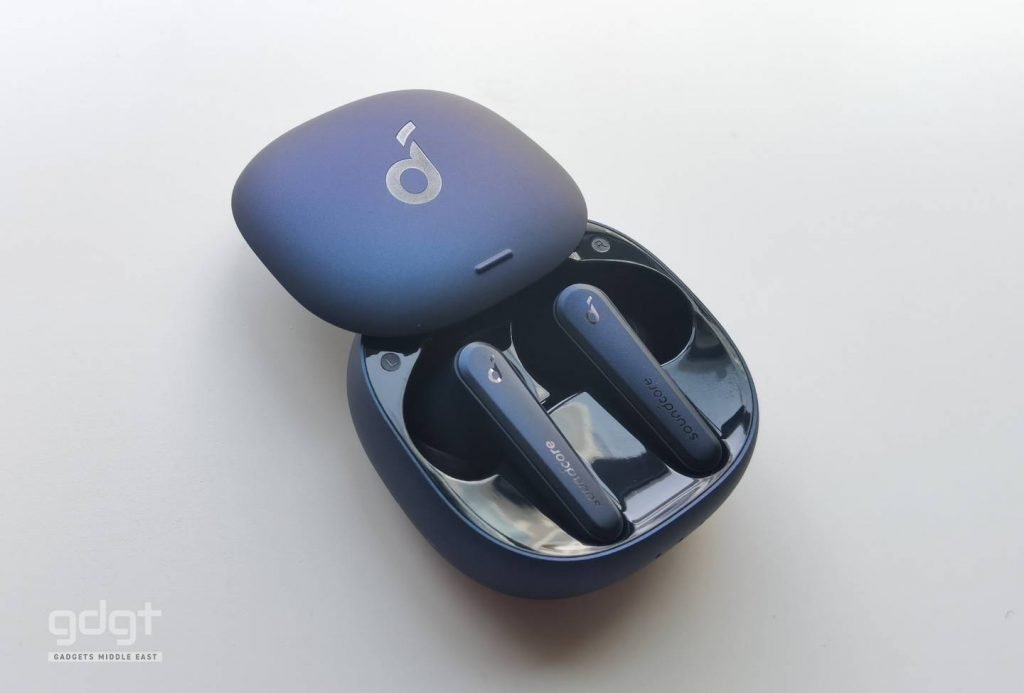 Audio playback automatically stops and resumes when you put the earphones on again. If you need to listen to someone you can just remove one of the headphones to pause the audio. They can also be used independently as hands-free, take one earphone out of the case and it immediately connects and starts working.
With a very compact and light size, Soundcore Liberty Air 2 Pro headphones are very comfortable to use for long periods of time, once you pick the right set of earbuds for your ear.
Software
The Soundcore app works flawlessly on Android or iOS and is used for configuring the touch controls, sound customization and switching between the noise cancellation modes.
One of the highlight features include HearID 2.0. By performing a simple hearing test with the earbuds, the Liberty Air 2 Pro adjusts the sound of the headphones to ensure the best possible listening experience and creates a personalized listening profile. Users can make further adjustments to these profile settings, or choose from one of the preset sound profiles.
In terms of ANC, the Liberty Air 2 Pro offers one of the best active noise cancellation effects similar to Apple, Samsung and other high-end earphones but with an even better level of adjustment and customization.
The noise cancellation setup begins with an isolation test called the Tip Fit Test in which the headphones perform a series of tests to ensure that the proper ear pads have been installed to maximize their performance.
The app makes it easy to switch between different listening modes. On Transparency mode, you can select between Fully Transparent or Vocal mode; one to enhance voices in the immediate vicinity while reducing background noise and the other to enhance all ambient and the other to focus on vocals
Active Noise Cancellation has four different modes – Transport, Outdoor, Indoor and Custom mode, each of which can be further adjusted:
Transport mode:​ when needed to block out low frequency noises from airplanes, trains or city buses.
Outdoor mode: a less powerful ANC setting to block out street noise.
​Indoor mode: which reduces helps block out voices that are commonly found in an office or buildings.
Custom Mode: you can spin a dial to and filter out the most distracting noise, although you need to experiment with this depending on your surroundings.
The app also comes with a complete equalizer with 22 different predefined settings or can be customized with an 8-band equalizer. Apart from offering customization options for the Liberty Air 2 Pro, the Soundcore app also doubles as a music player.
Although the app lets you customize the controls assigned to each individual earphone, they are limited to two-tap and hold gestures by default, you'll have to be selective with what you assign or swap one out for another.
Audio Quality & Features
The sound quality is surprisingly good for the price segment. The Anker Soundcore Liberty Air 2 Pro features 11mm driver and is also enhanced with PureNote technology, a system that utilizes ten hardened nano layers to make up the 11mm driver in each earbud, offering accurate sound and clarity at all frequencies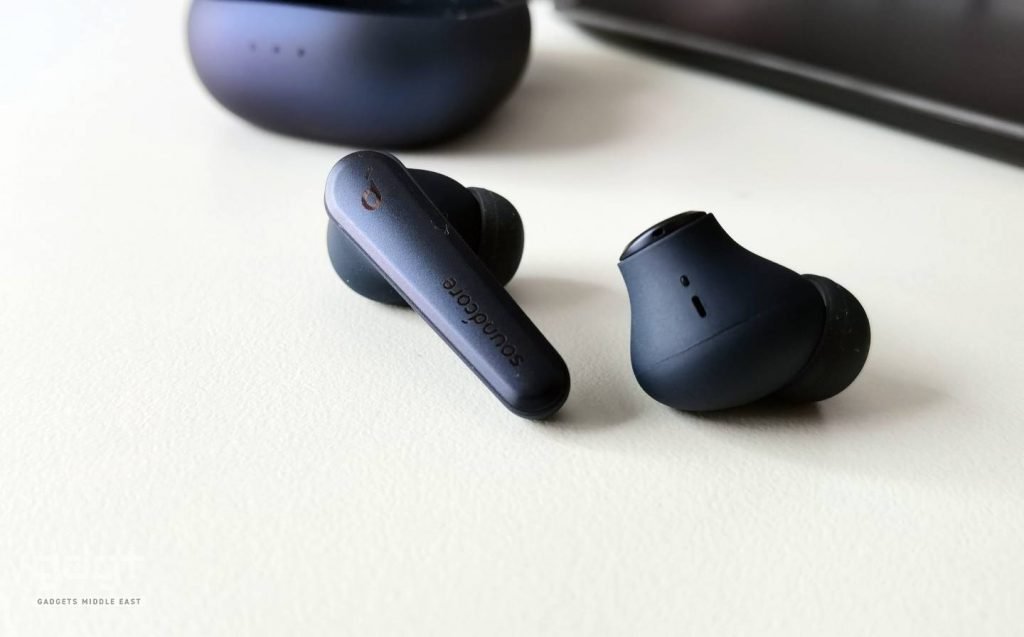 The earphone delivers well-balanced audio quality, both in multimedia playback and during calls. The Liberty Air 2 Pro manages to deliver powerful bass with well-defined mids and highs without overemphasizing the treble, although high-pitched notes were a bit lacking.
In addition to good sound, the earbuds also offer effective noise-cancelling.
Connectivity & Battery life
The Liberty Air 2 Pro uses Bluetooth 5.0 to pair with other devices. The Bluetooth connectivity is stable without any delays between the devices.
The earphones themselves have a 55mAh capacity each and the charging case 500mAh. Depending on usage, the Liberty Air 2 Pro lasts about 6 hours with ANC enabled and 5 and a half hours with it disabled. With the charging case, total battery life can reach about 25h of usage.
The earphones charge back in 30 minutes when placed in the charging case or 50% of their charge in 10-15 minutes. The case itself can be charged back in 2 hours with the included cable or by wireless charging compatible with the Qi standard. You can also use your smartphone or tablet to reverse-charge the charging case while you are on the go.
In addition, the case has a fast charge mode – with just 15 minutes of charging the earphones inside the case connected via USB Type-C, the headphones can charge up to operate for just over 2 hours.
Verdict
Anker delivers a good overall impression with the Soundcore Liberty Air 2 Pro. When it comes to sound quality, the Liberty Air 2 Pro is a great option considering its price.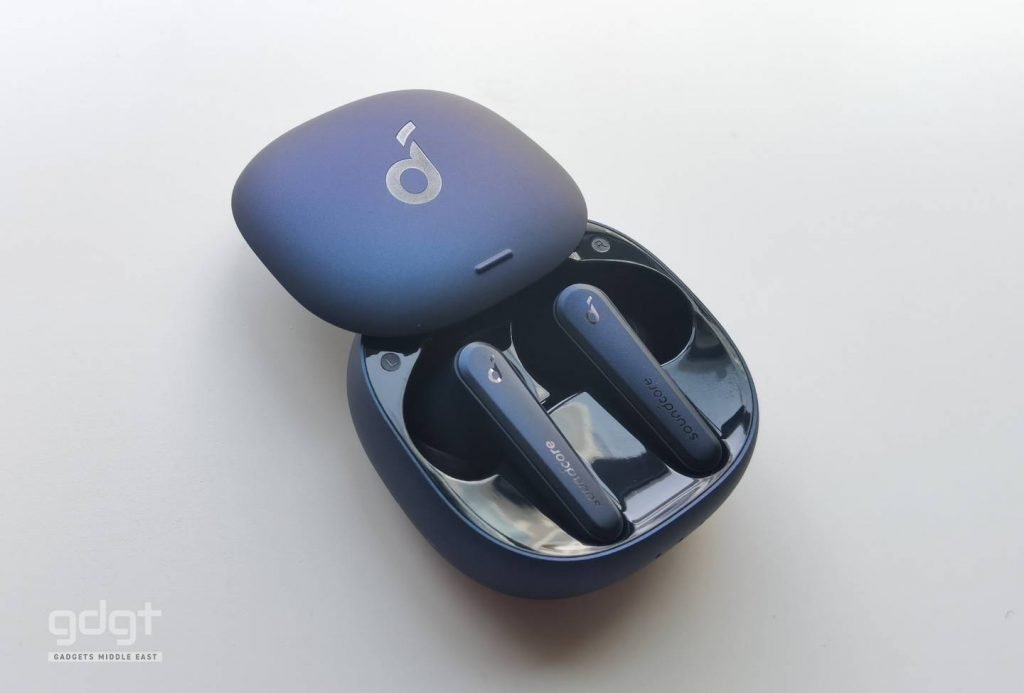 With regards to noise cancellation, it performs very well and it has been very efficient in isolating external noise. Apart from all the different software features, the custom equalizer, Hear ID and the integration with Siri is a big plus.
On the downside, the touch system and the ergonomics of the headset could have been a little better.
With a price of AED 479, Liberty Air 2 Pro is an easy recommendation for those looking for a true wireless earphone with great sound quality, real noise cancellation and a good battery life for a reasonable price.