With its sleek design and exceptional audio clarity, the Logitech Zone Vibe 100 is an excellent choice for anyone who wants to communicate effectively without being tethered to their device. It's the perfect addition to any modern office or home workspace, and it's designed specifically for hybrid work environments where users need to make calls and video conferences for extended periods of time.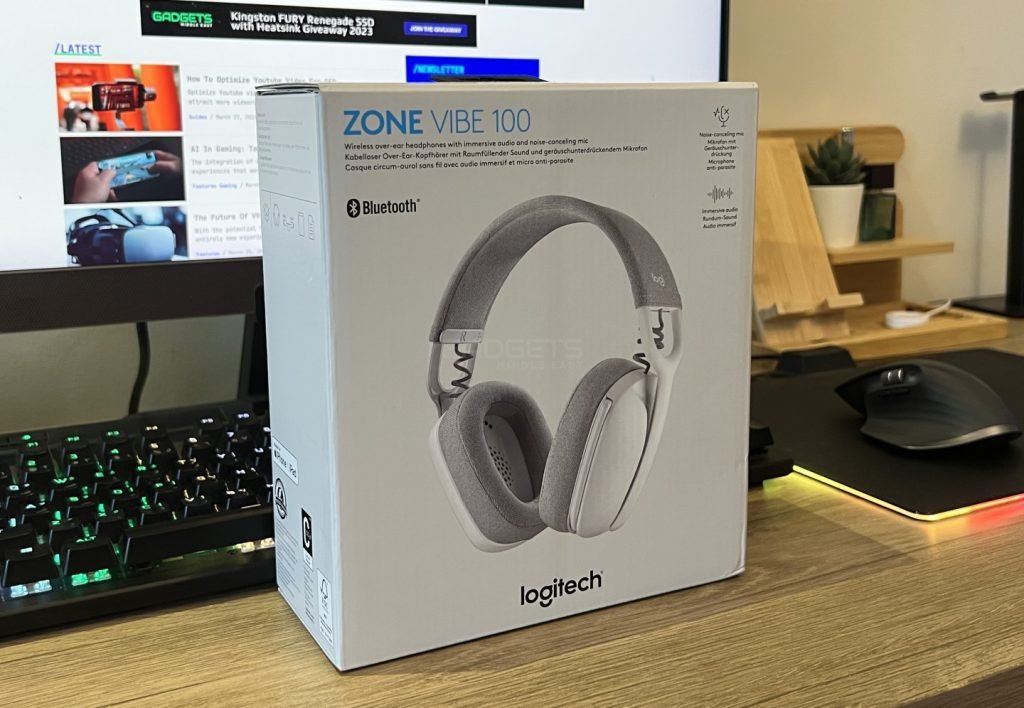 Not only is the Zone Vibe 100 stylish and lightweight, but it also boasts a long-lasting battery and a user-friendly retractable microphone. With Bluetooth connectivity and USB-C charging, this headset is completely wireless, giving you the freedom to move around as you work. On a full charge, the battery can last up to 20 hours, so you won't have to worry about constantly recharging.
Specifications
| | |
| --- | --- |
| Drivers: | 40 mm |
| Frequency Response: | 20Hz – 20kHz |
| Sensitivity: | 118.0±3 dB at 1mW @1 kHz |
| Charging: | USB-C charging cable: 1.5 m |
| Nominal impedance: | <1% @1 mW 20-10 KHz |
| Transmission type: | Bluetooth 5.2 |
| Wireless range: | Up to 30 m |
| Weight: | 185gm |
| Mic: | Dual omni-directional MEMS mics with directional beamforming and DSP Frequency Response: 100 ~ 8 KHz |
View full specifications here.
Packaging
The headset arrives in a sturdy white box with photos and specifications printed on the sides. Upon opening the box, you'll find the headset, accompanying accessories, and a product information guide. The headset and accessories are well secured in place to prevent any damage during transportation. The packaging includes the following items: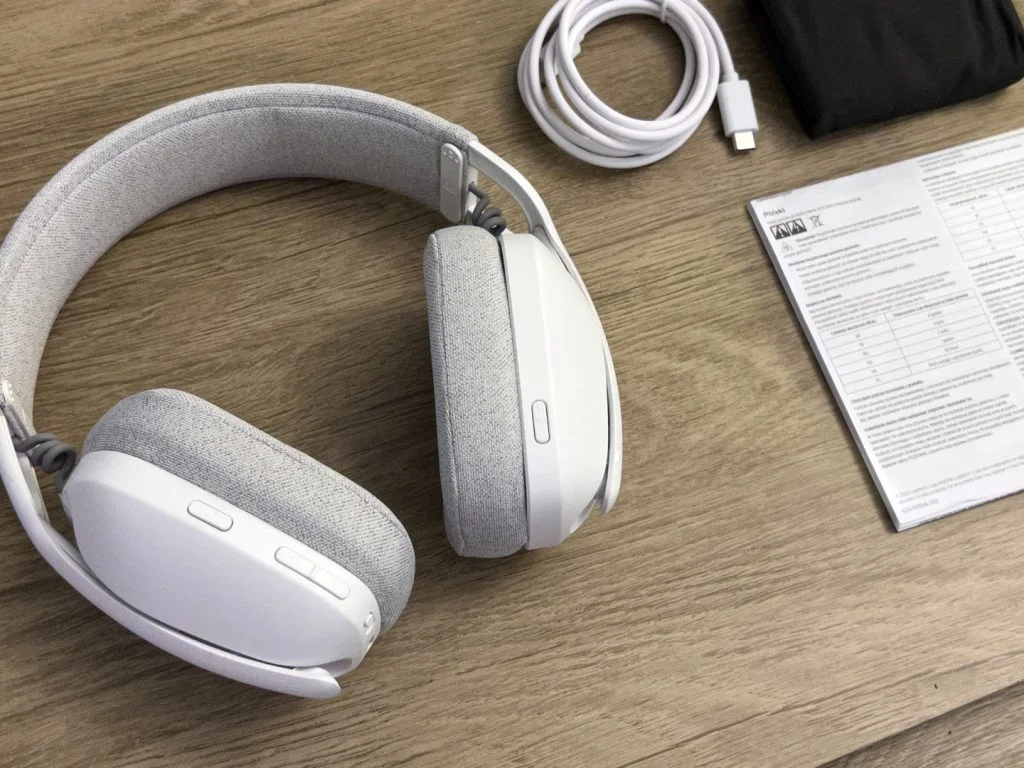 Wireless headset
USB-C charging cable
Travel bag
User documentation
Design & Build
Logitech created the Zone Vibe 100 with remote workers in mind, and this headset is built to provide comfortable, clear audio for hours of use. The manufacturer's claims hold up well in practice, as the headset is indeed easy to use and delivers excellent voice clarity.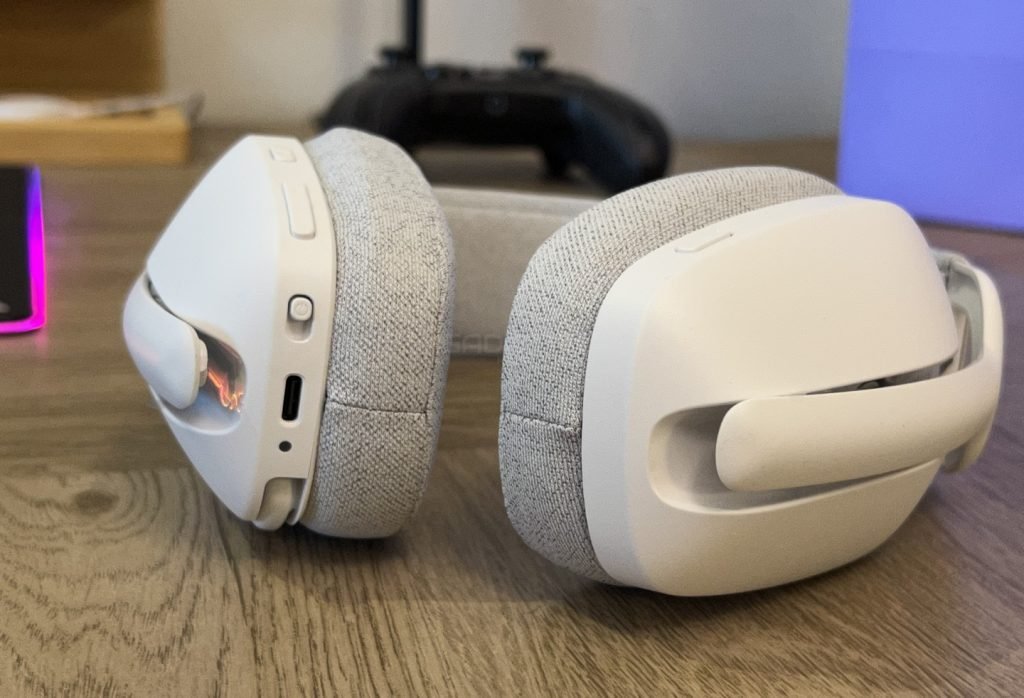 When it comes to design, the Zone Vibe 100 stands out for its use of recycled plastic material and mesh fabric coating. This combination makes the headset both lightweight and comfortable, with a modern rounded finish that's available in Graphite, Rosé, and White.
At just 185 grams, this headset is one of the lightest on the market, making it easy to wear for extended periods without feeling weighed down. The headband is a thin piece of fabric that rests comfortably on your head, while the ear cushions are made of soft knitted fabric over memory foam – some of the most comfortable we've ever tried. This means you can wear the headset for long periods of time without experiencing discomfort.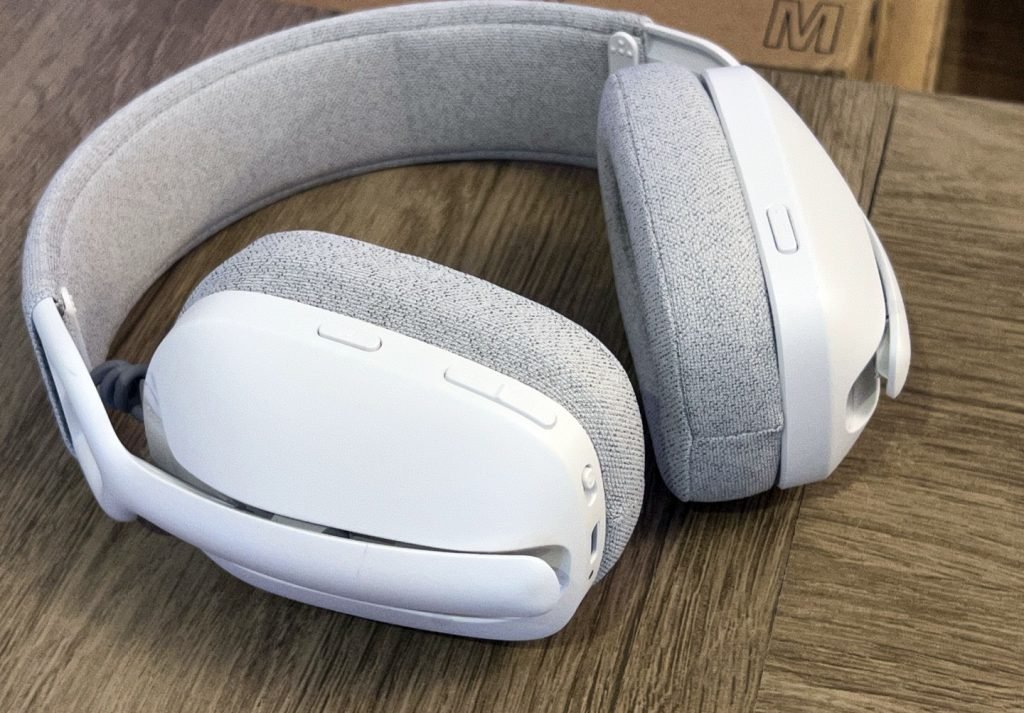 The microphone is discreetly hidden next to the left audio output, with a simple yet effective design. The controls are conveniently placed and include volume, call, play/pause, and power buttons, which also doubles as the Bluetooth on/off switch. The USB-C port for charging is easy to access and use. Overall, the Zone Vibe 100 is a well-designed headset that offers comfort, functionality, and style.
Performance
Logitech has designed the Zone Vibe 100 to deliver high-quality audio with enhanced bass and treble while minimizing distortion. The two 40mm speakers provide an immersive experience for both voice calls and music. Although the audio quality doesn't match up to the likes of Sony and Bose, it's still impressive considering the price point.
The headset is easy to set up and connect to multiple devices simultaneously through Bluetooth connectivity, with a range of up to 6 meters. The headset remembers previously paired devices, making it easy to switch between devices.
It's worth noting that the microphone is equipped with noise cancellation. The microphone provides a satisfactory experience for calls and audio recordings, but there can be some noise and distortion in noisy environments, such as cafes or crowded places.
Overall, Logitech has struck the right balance with the Zone Vibe 100. The lightweight design and comfortable ear cushions make it easy to wear for extended periods. While the audio quality may not be on par with higher-end models, it still delivers warm and clear sound, making it a great choice for both calls and music.
Battery
The battery life of the Logitech Zone Vibe 100 is impressive, providing up to 20 hours of use on a single charge thanks to its lithium battery. During testing, the headset held up well after several hours of use for both listening to music and participating in voice calls during office hours, taking around 3-4 days before requiring a new charge.
When it comes to recharging, the process is relatively quick, taking just over an hour to fully charge the headphones from 0% power. Overall, the battery performance of the Zone Vibe 100 is excellent, providing enough power to last through even the longest workday without interruption.
Software
The Logi Tunes app is available on the App Store, Google Play, and Windows, allowing users to manage their headphones, mute their microphone, monitor battery power, customize equalizer presets, and set the side tone. While not strictly necessary, the app provides a convenient way to take full advantage of the Zone Vibe 100's features.
Logitech Zone Vibe 100 Review Verdict
The Logitech Zone Vibe 100 is a solid choice for a lightweight and comfortable headset for daily use. It offers good sound quality for both voice calls and music, and its microphone delivers satisfactory performance.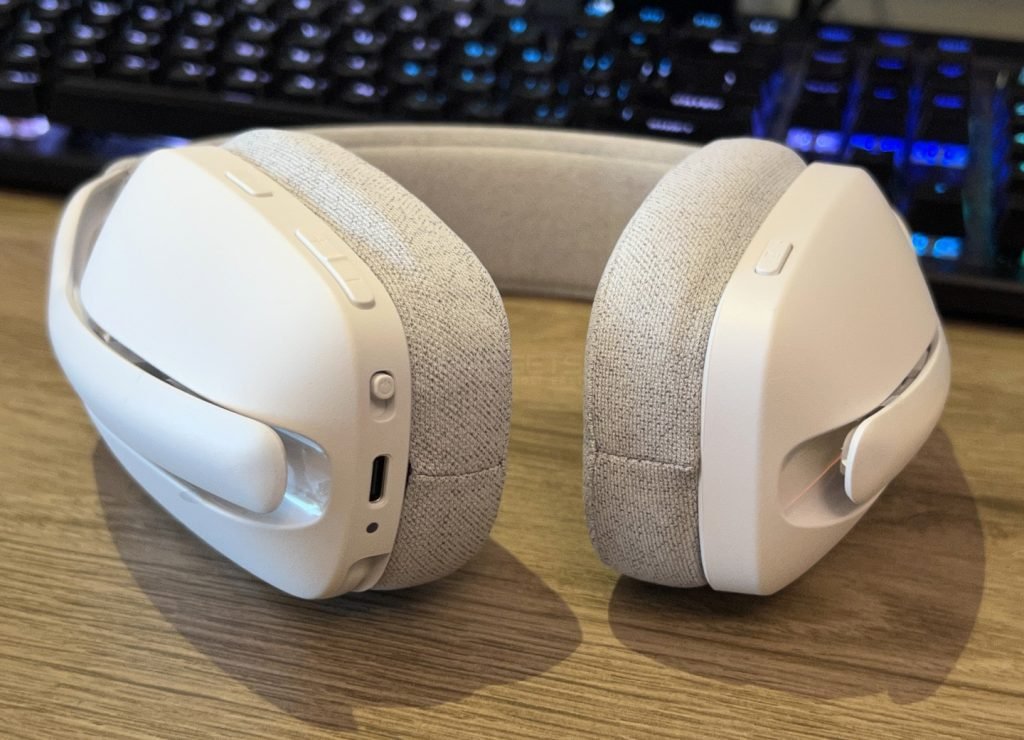 The headset design is modern and stylish, and its battery life is impressive. While its price point may be slightly higher than some other similar headsets, it is still a good value for the quality it provides. If you are in search of the perfect work or work from home wireless headphones with a great microphone, The Logitech Vibe 100 is a great recommendation.