ASUS recently launched the AI Noise Canceling Microphone adapter, which aims to intelligently reduce unwanted background noise and enable clear voice communication at work or while gaming.
AI Noise-Canceling technology enhances headset microphones by eliminating background noise for crystal-clear online voice communication
USB-C and USB 2.0 connectors provide compatibility with mobile phones, PCs, Macs and Nintendo Switch.
Exclusive ASUS Hyper-Grounding technology prevents electromagnetic interference and delivers pure audio, free of EMI noise.
Lightweight and compact design is highly portable and easily storable in a pocket or bag.
The technology uses a chipset-based machine learning to filter out and reduce ambient noise such as wind or traffic noise and is available on the ASUS AI Noise Canceling Mic Adapter and the latest ASUS ROG headsets.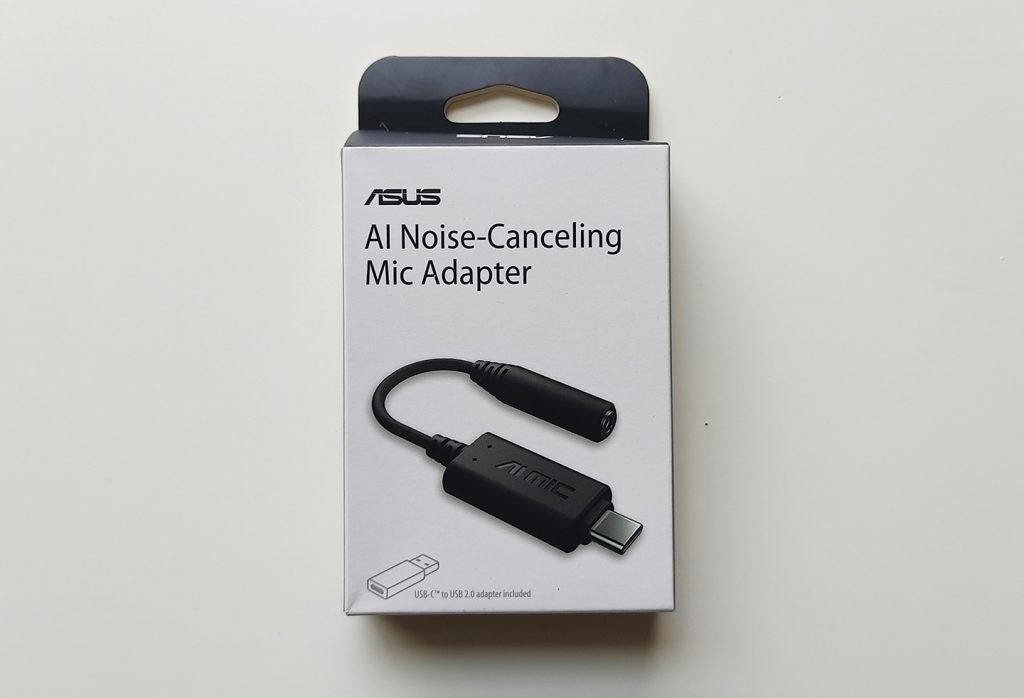 Specifications
Dimensions
1.8 x 0.8 x 13.5 cm
Weight
8 g
Audio
AI Noise Cancellation
Output: 96/88.2/48/44.1 KHz
Input: 48/44.1 KHz
Supported
Platforms
PC
Mac
Mobile
Nintendo Switch
Connector
USB-C
USB 2.0
Packaging
The AI Noise Canceling Microphone adapter comes in a compact box with a photo the device on the front and specifications at the back.
Inside, the package consists of adaptor itself, a USB 2.0 converter and manuals.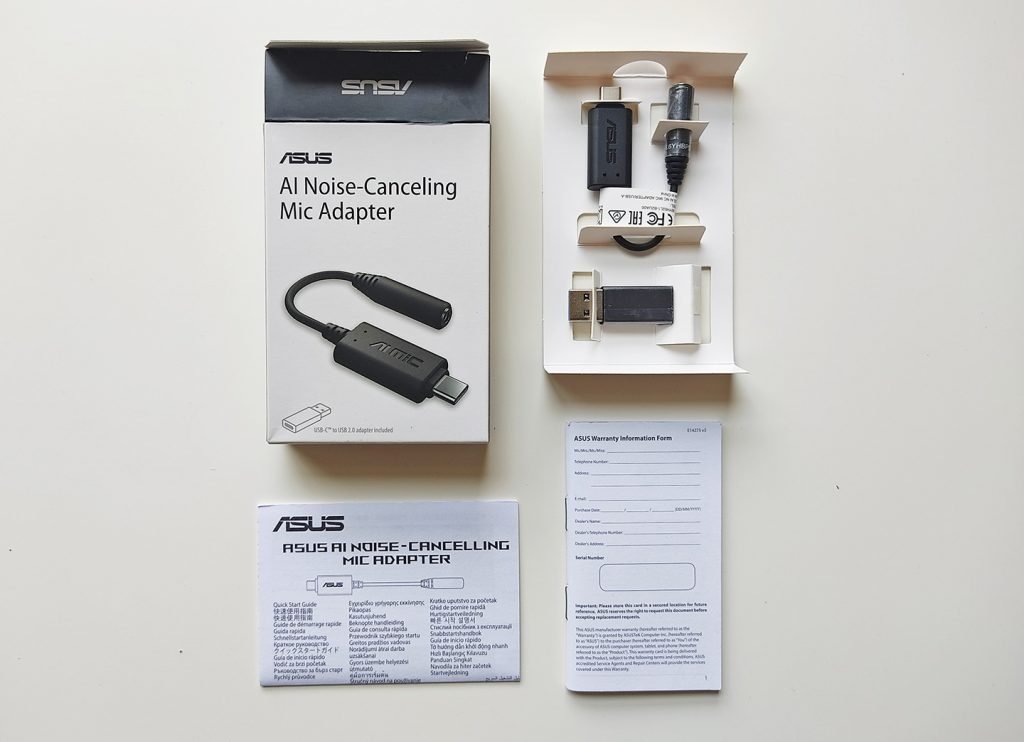 Design & Performance
The ASUS AI Noise-Canceling Mic Adapter is a USB-C to 3.5mm device with integrated hardware for noise cancellation. It can connect to any headset via a 3.5 mm audio and the built-in chipset handles all sound processing, so the adapter does not affect the performance of the mobile, computer, laptop, Apple Mac, Nintendo Switch or any other device to which it is connected.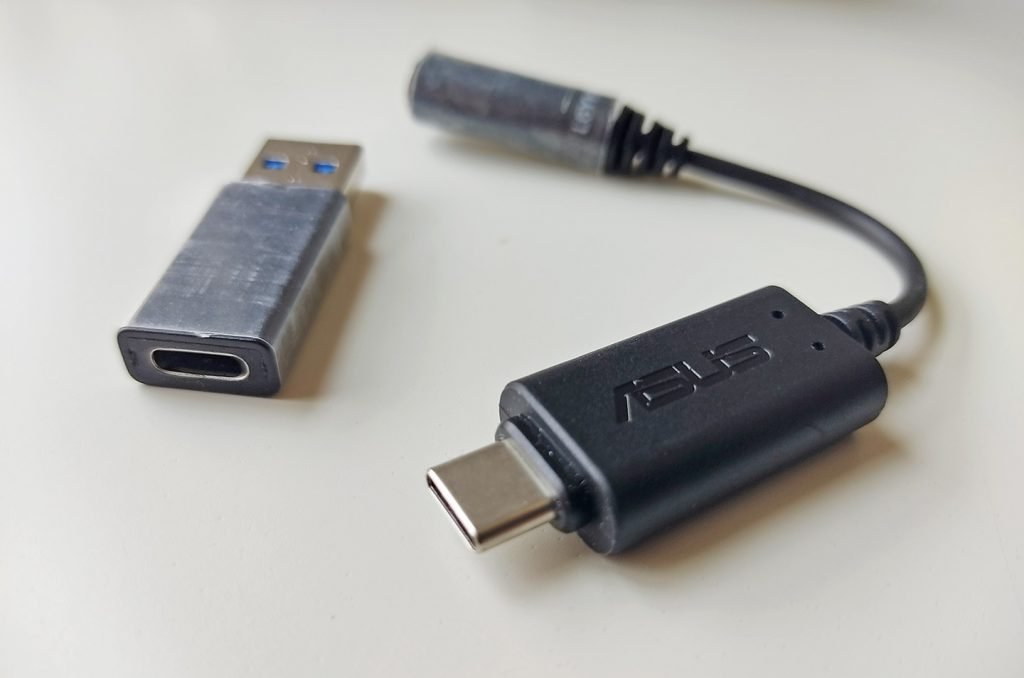 The AI ​​Noise-Canceling Mic Adapter is lightweight and weighs only 8 grams and is just 13cm in length. It comes with the ASUS Hyper-Grounding technology to avoid electromagnetic interference for noise-free sound. In select markets, it also comes with a Type C to Type A USB adapter.
The device simply works by plugging in the USB to your device and the headset to the 3.5mm jack, there are no batteries or power cables. The rest of the work is done by the in-built chipset.
This device is powered directly from the USB port, so there are no batteries or power cables.
This chip is supported by an AI system, somewhat similar to NVIDIA's RTX Voice. The company also uses this technology in ASUS branded headsets ROG Strix Go 2.4, ROG Strix Go 2.4 Electro Punk and ROG Theta 7.1
The processor is programmed with over 50 million types of AI-enhanced profiles that helps reduce background noise while preserving vocal harmonics, so you can enjoy crystal-clear voice communication in any environment.
To understand the difference in the microphone quality, head to the ASUS microsite and play the two audio clip demos here.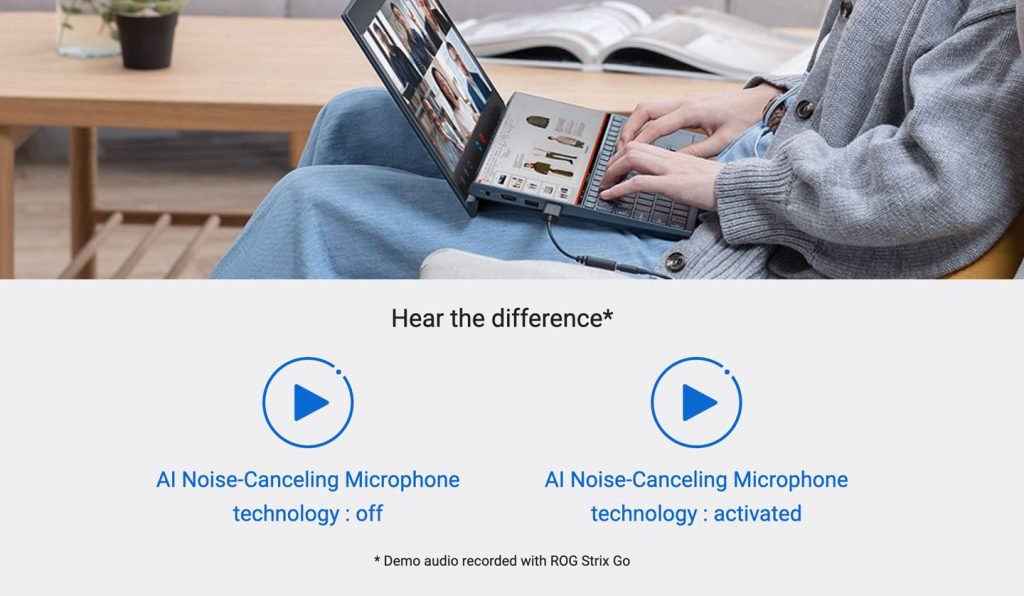 Do note that noise-cancelling applies only to audio input, the person you are talking gets to hear a much more clearer audio. The built-in 24-bit digital-to-analogue converter (DAC) takes care of the audio playback while the in-built chipset helps with noise cancellation.
Conclusion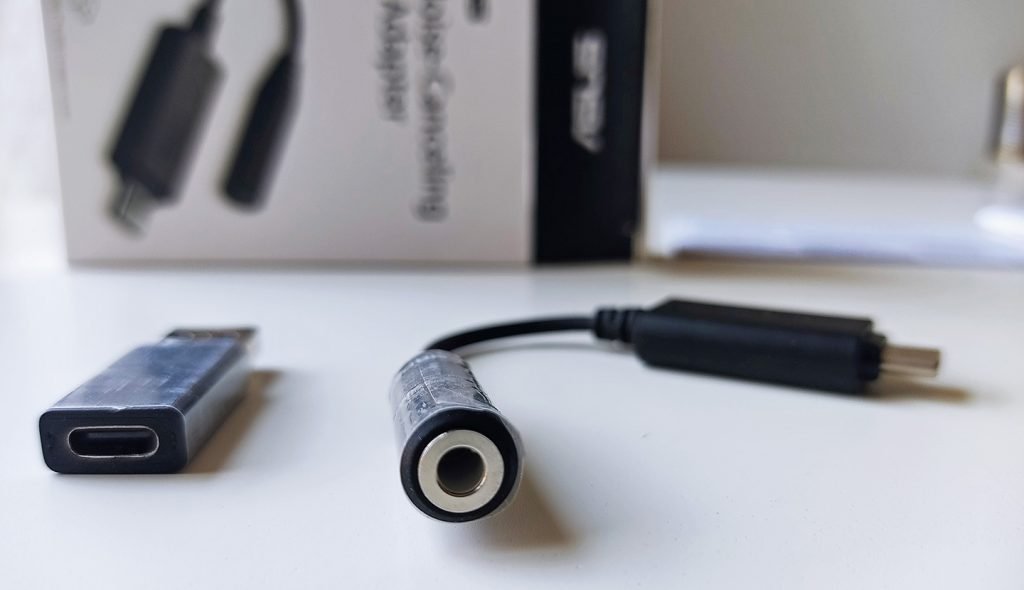 The ASUS AI Noise-Canceling Mic Adapter is more suitable for gamers and streamers, who talk to teammates or spectators. It is useful for audio and video calls, and even podcast recordings as well. The ASUS AI Adapter is a great choice when it comes to flexibility across different devices, without the need for any additional software.