The Arctis 1 Wireless is the budget-friendly wireless model in the Arctis line of headphones from SteelSeries. It uses the same design and audio drivers as the Arctis 1 but comes with a flawless 2.4Ghz wireless technology and support for multiple platforms.
The Arctis 1 Wireless uses a gaming-grade 2.4GHz wireless signal, the same technology used in the high-end Arctis 7 and Arctis Pro Wireless headsets, offering ultra-low late and significantly better performance than Bluetooth.
Specifications
| | |
| --- | --- |
| Connectivity: | Wireless USB-C, Wireless USB-C to USB A adaptor, 3.5 mm jack |
| Drivers: | 40mm Neodymium Drivers |
| Drivers Material: | Neodymium magnets |
| Frequency Response: | 20Hz – 20kHz |
| Impedance: | 32 ohms |
| Wireless Type: | Lossless 2.4 GHz |
| Wireless Range: | 30ft / 9m |
| Wireless Battery Life: | 20 hours |
| Weight: | 255g |
| Microphone Type: | Detachable |
| Microphone Frequency Response: | 100–6500 Hz |
| Sensitivity: | -38 dBV/Pa |
| Pick-up Pattern: | Bidirectional Noise-Canceling |
Packaging
The Arctis 1 Wireless comes in a typical SteelSeries packaging, a mix of white and orange colors. On the front is a photo of the headset along with features and compatibility, while on the sides and back are the detailed specifications of the product along with awards and reviews.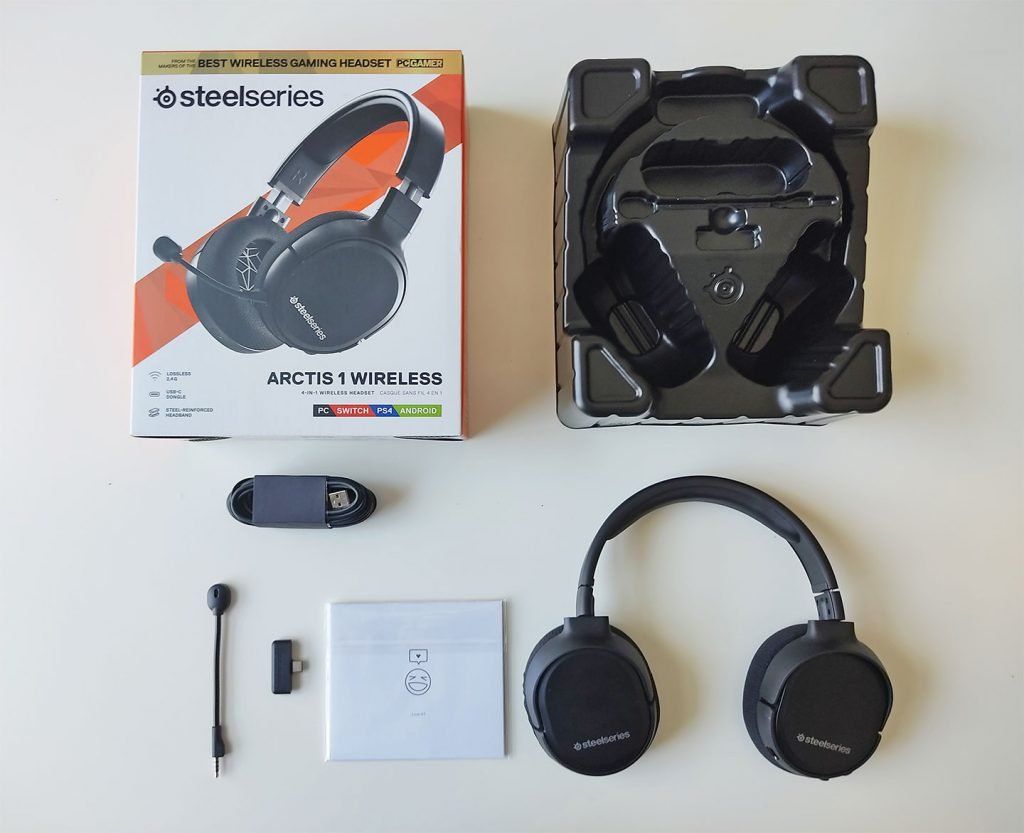 The headsets and accessories are nicely enclosed in a hard plastic packaging so that it does not move during transport. The Arctis 1 Wireless comes with all accessories bundled, props to SteelSeries for that! The packaging includes the below:
The Arctis 1 Wireless headset itself
2.4 GHz USB-C wireless dongle
USB-A to USB-C adapter cable for the wireless
Detachable 3.5 mm ClearCast microphone,
MicroUSB charging cable for the headset,
3.5 mm audio cable, so you can use the SteelSeries Arctis 1 Wireless also as a wired headset
Instruction Guide
Thankfully, the wireless receiver is a USB-C dongle with an USB-A adaptor for older devices, making the headset future-proof.
Design & Build
Like the other Arctis headsets, the Arctis 1 Wireless is fairly light with an understated design and clean lines. It has the SteelSeries logo on either sides of the headset.
The entire headset is completely black coated and made of high-quality matt plastic, the ear cups are padded with Airweave fabric ear cushions and lets air in to your ears. The steel-reinforced headband has a soft synthetic leather padding, ensures better comfort and easily adjusts to fit all head sizes while remaining lightweight and durable.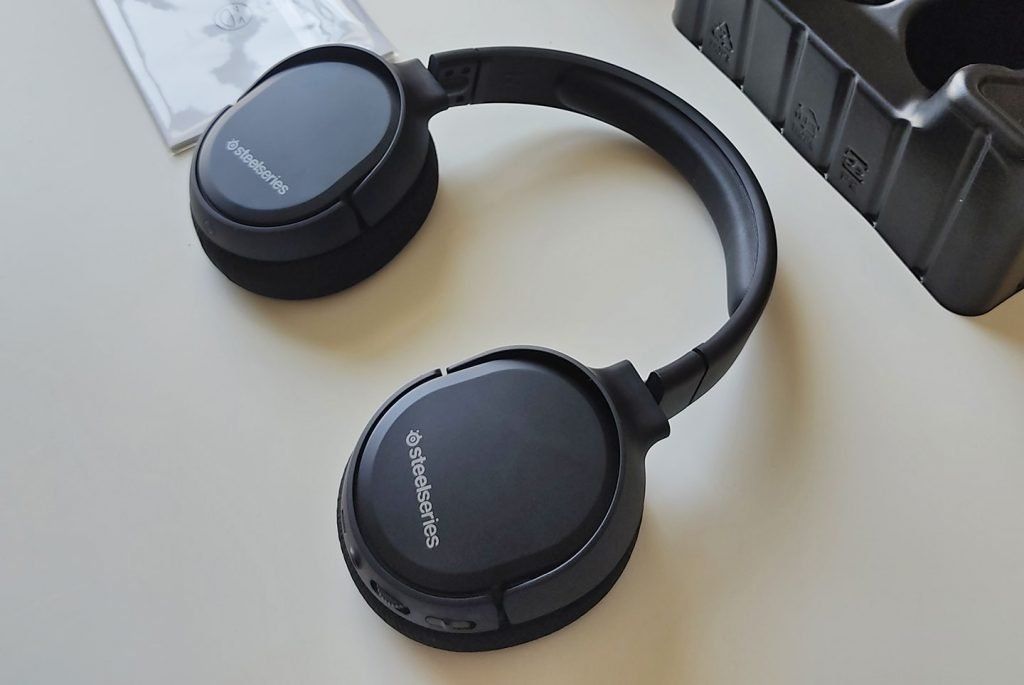 The entire construction is designed to be very flexible, discreet and lightweight, making it adjustable enough to suit different kinds of head shapes. The headset is very comfortable for long periods of use and there is no risk of sweating due to sufficient air passage.
On the left ear cup are two 3.5 mm jack inputs, one for the ClearCast microphone and one for the audio cable, a micro USB charging socket, a volume control and a switch to enable or mute the microphone.
The right earbud has only a power with multimedia functions; single press to play and pause, double to skip to the next music track and three to go back. The power button also allows you answer and end calls with a single press.
The power button needs to be pressed for about five seconds to turn the headset on or off. It takes some time getting used to but works perfectly afterwards. There is also a single LED on the right ear cup, which the battery status of the headset.
Another feature worth mentioning is that the headset can be connected via the microUSB port to charge it and used at the same time. In addition, it is always possible to turn them into a wired headset by plugging in 3.5 mm audio cable.
Software & Features
SteelSeries Engine is one of the easiest software's to use in terms of interface and options. While it may not be the most comprehensive in terms of available options, it does include a lot of basic options, preset audio profiles and an audio equalizer to create custom profiles.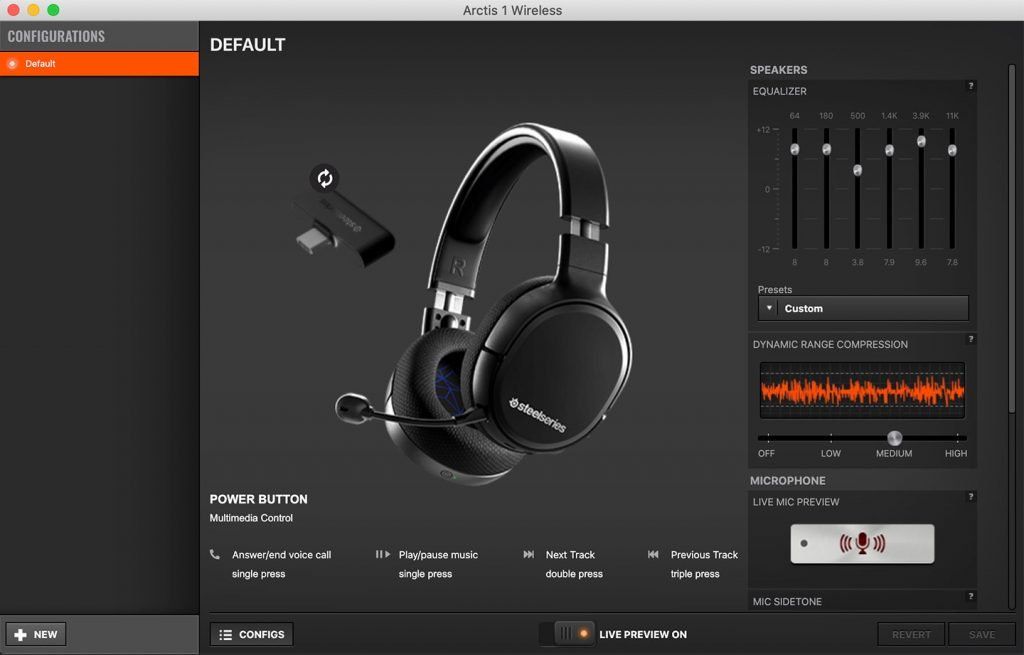 In addition to configuring settings, SteelSeries Engine allows new firmware versions to be installed as soon as they are available.
Wireless Signal
We are really impressed with the signal strength, the lossless 2.4 GHz wireless signal offers delay-free hi-res audio over a range of almost nine meters even with obstacles and external interference. The same is true of the battery life, which lasted approximately 19 hours. It takes about an 1h 20m to charge it back to 100%.
Compatibility
The highlight of the Arctis 1 Wireless is their compatibility with any gaming device as well PC, Mac and newer Android devices such as the Samsung Galaxy Note 10. With the included 2.4GHz USB Type-C wireless dongle and the USB Type-A adapter, the Arctis 1 Wireless is really versatile when it comes to compatibility across multiple platforms.
Simply plug in the USB-C dongle, regardless of whether it is a smartphone, console or PC and use it immediately without the need to install any software.
The headset is compatible with several platforms such as:
PC & Mac (via wireless USB or USB-C)
Playstation 4 (via wireless USB)
Nintendo Switch (via wireless USB or USB-C)
Xbox One (3.5mm jack; only with appropriate controllers)
Android (via wireless USB or USB-C)
The experience with both the Nintendo Switch and Android is simply spectacular. The audio quality and ease of use is very consistent.
One of the downsides is that the wireless USB-C dongle is too wide in size, it sometimes blocks out other available ports on some laptops, especially Macs. It would also have been nice if the headset had a USB-C charging port instead of the micro-USB.
Performance & Audio Quality
Two 40 mm drivers are responsible for the audio conversion, which according to SteelSeries, covers a frequency range from 20Hz to 20kHz. The headphones have an impedance of 32 ohms and a sensitivity of 98 decibels.
The Arctis 1 Wireless is within the standard range of other headsets. The drivers here are the same as that of the renowned Arctis 7. The sound quality is top notch for the price range and the headset is great for gaming, movies and listening to music. The audio profiles can be further tweaked via the SteelSeries Engine.
Although, in contrast to headsets in its price range, the Arctis 1 Wireless does not offer virtual or even real surround sound, only stereo.
Microphone
The removable ClearCast microphone is pretty good overall. The microphone has a narrow frequency response from 100Hz to about 6.5 kHz, is discord-certified and comes with active noise cancellation to filter out ambient noises.
Verdict
The SteelSeries Arctis 1 Wireless is perfect for anyone looking for a inexpensive multi-platform headset. When it comes to battery life, connectivity, sound quality, flawless radio technology and the long battery life, the Arctis 1 Wireless is a clear winner compared to competitors in its price range.
There are a couple of downsides, such as the size of wireless dongle, lack of surround sound support and average microphone quality. However, as a whole package, Arctis 1 Wireless is an impressive all-rounder!