The BenQ EX800ST is a DLP short-throw smart projector, primarily positioned as a classroom projector, but is also suitable for business use and presentations. The EX800ST has a 1024×768 XGA resolution, brightness of up to 3,300 lumens and flexible projection sizes from 70 to 120 inches
It is the the first ever android based education projector to feature cloud integration, smart features, wireless internet, wireless projection and screen-mirroring capabilities via laptop and mobile devices.
The BenQ EX800ST also promises a long lamp life of up to 10,000 in its SmartEco mode and upto 5,000 hours of use at full power.
Specifications
Projection System
DLP Single 0.55″ XGA
Brightness
3,300 Lumens
Contrast Ratio
20,000:1
Display Color
1.07 Billion Colors
Light Source
Lamp 200W
Native Resolution
1280×800 pixels, 16:10
Projection Size
70″~120″
Throw Ratio
0.49
Aspect Ratio
Native 16:10
Lens Control
Manual Focus
Ports
HDMI
VGA
Monitor out (D-sub 15pin,Female)
Audio in(mini jack)
Audio out (mini jack)
RS232 In
LAN Port
USB TypeA-1
USB TypeA-2
USB Type mini B
On Screen Display
Built-in Speaker
2W x1
OS
Android 6.0
ROM/RAM
16GB/2GB
Wireless
Dual Band 802.11ac/b/g/n, 2.4G/5G
Bluetooth
4.0
Product Dimensions (WxHxD)
296x 120x 250 mm
Product Weight
2.6 Kg+/- 200g
Keystone
1D, Vertical ± 30 degrees
Packaging
The packaging comes in a plain brown cardboard box with very little details except for the BenQ logo, product name and some specs.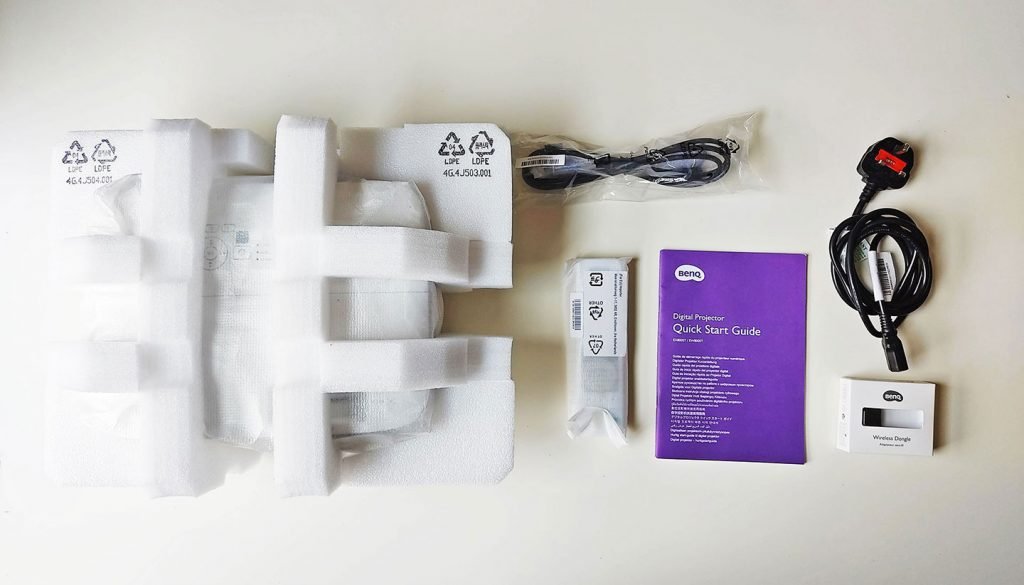 Inside the box we find the EX800ST projector, remote, USB Wireless Dongle, power cables and a quick start guide.
Design & Build
Measuring 296x 120x 250 mm (WxHxD) and weighing just under 2.7kg, the BenQ EX800ST is a compact projector characterized by its large convex lens.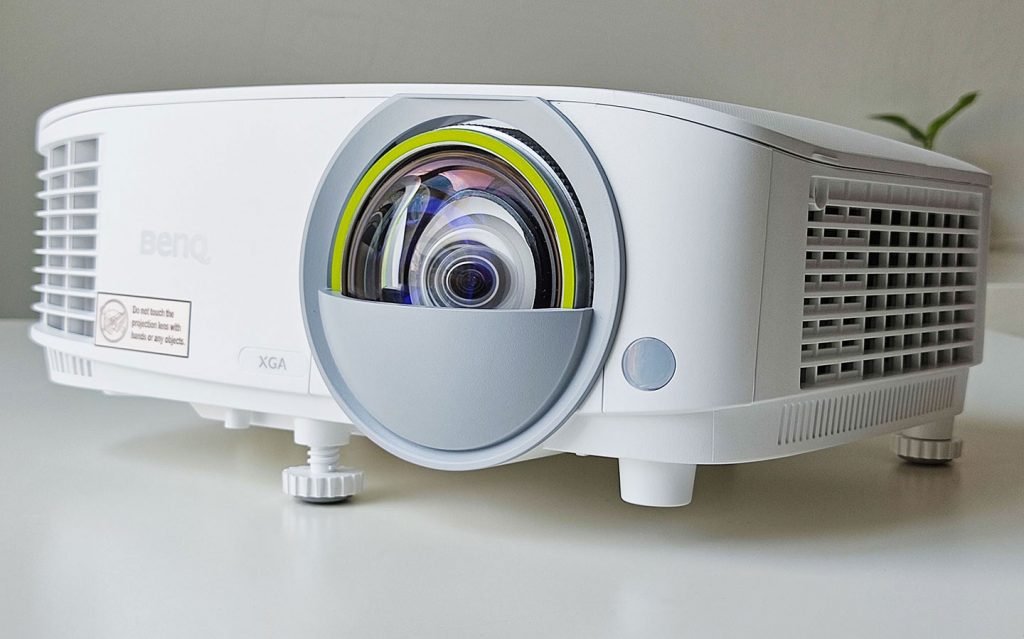 The projector is nicely designed and looks sleek. The body is made of white plastic with a fingerprint-proof texture and has airflow vents on either sides. The top of the projector are the manual focus wheel for the lens, control buttons, and cover for the lamp. All the ports are located at the back.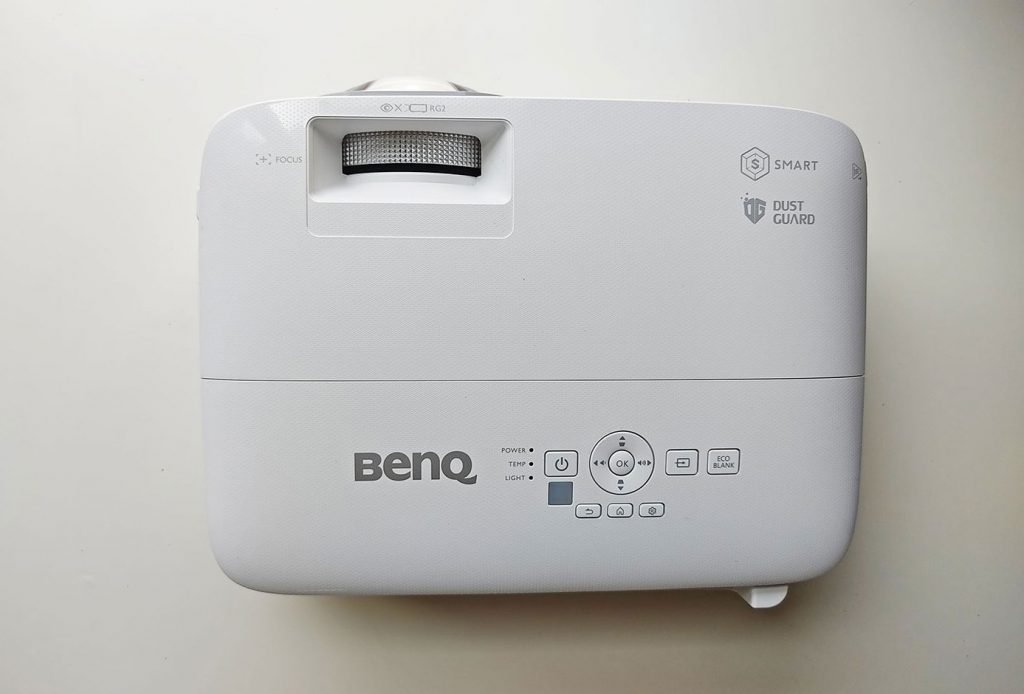 The available ports are 1x HDMI, 1x VGA, 1x Monitor out (D-sub 15pin, Female) ,1x Audio in(mini jack), 1x Audio out (mini jack), 1x RS232 In, 1x LAN Port, 1x USB TypeA-1, 1x USB TypeA-2, 1x USB Type mini B.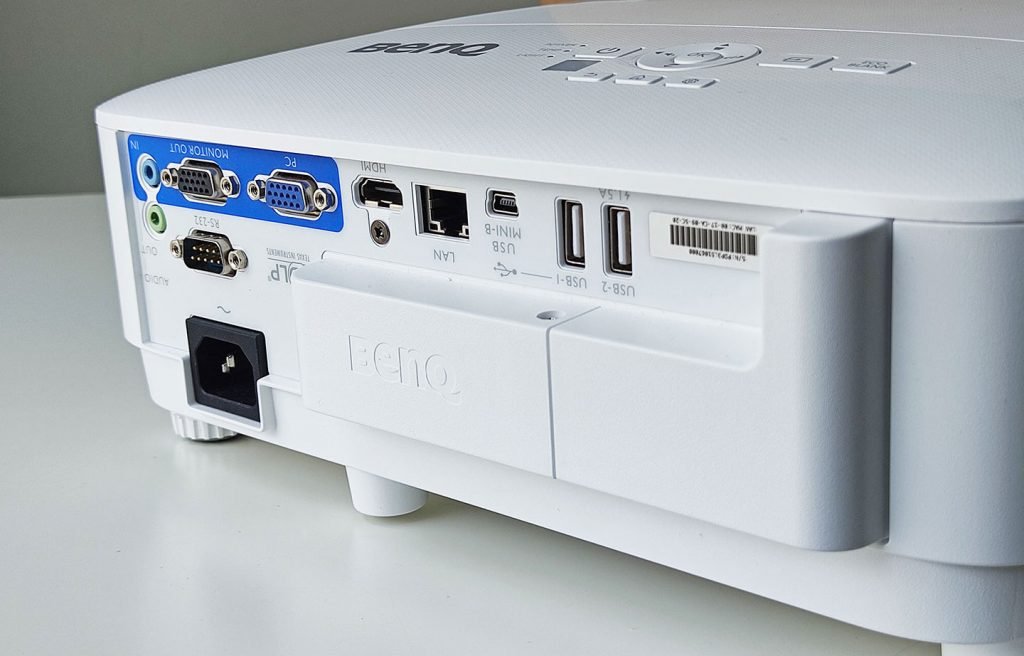 The two USB ports can be used for connecting a pen drive or external HDD, with support for a wide range of file formats including JPEG, PDF, Microsoft Word, Excel, PowerPoint files without the need for a laptop or PC. Alternatively, a keyboard and mouse can also be connected.
In addition to its various ports, The BenQ EX800ST projector supports Wi-Fi and Bluetooth connections via a wireless USB dongle so you can wirelessly connect with your tablet, smartphone or PC to easily project photos, movies or presentations. The dongle is installed by unscrewing a rectangular box at the back which contains a third USB port.
The base has 2 adjustable feet, one the front and one at the rear. The vertical keystone function helps with adjusting image vertically, making it easy to project in different positions. BenQ EX800ST also has a color correction feature to ensure the projected image has the most accurate color possible.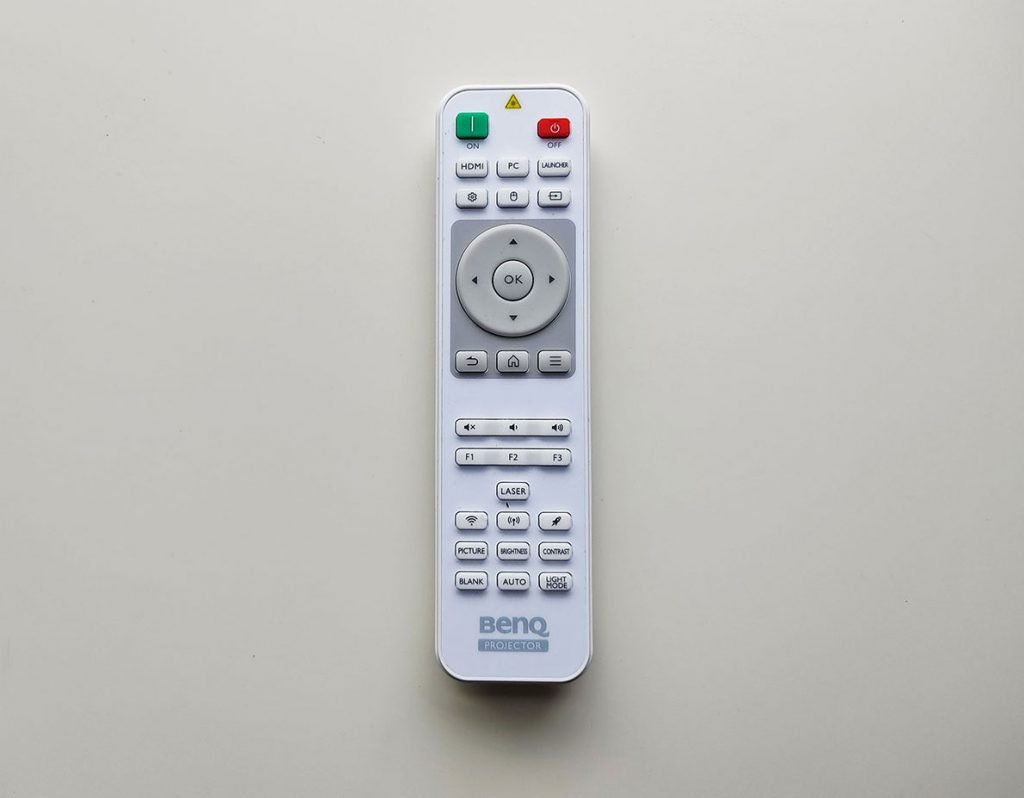 The projector can also be mounted to the ceiling. In this case, all the controls are available on the remote control. The remote is white in color and well designed and lightweight. The buttons are visible enough to use in dark rooms. It is useful for quick access to settings such as picture modes, brightness, contrast, etc. and also to switch between inputs sources.
Features
The main features of the EX800ST include cloud storage, remote control via smart devices, downloadable apps, wireless connectivity, and keyboard/mouse support.
BenQ Account Management System
BenQ Account Management System (AMS) makes it easy for users to access and manage files on Google Drive, Dropbox or OneDrive. It's convenient to share your files from the cloud for on-screen projection.
By either simply scanning an on-screen QR Code or logging in manually, users can access their personal cloud storage and integrate it with their BenQ AMS account.
Wireless Connectivity
The first prominent feature of the BenQ Smart Projector is Wireless Projection, or screen mirroring from Smart Devices upwards to be displayed on the projector screen wirelessly.
This can be done immediately without installing any additional apps. Just connect the device to the same network and follow the on-screen instructions or to use the projector's hotspot function to connect.
You can instantly mirror your smart phone, tablet, or laptop to the projection screen for improved teamwork and meeting productivity while eliminating cable clutter. Wireless Projection supports both iOS and Android devices. You can also cast our computer screen to wirelessly display on the projector via Chrome Browser or use AirPlay for Mac.
DMS Local and MDA systems
These projectors are equipped with BenQ's exclusive DMS Local and MDA systems that centralizes projector control via a local network so that your IT administrators can manage all projectors from one central location. This completely eliminates the need to go from one room to another in order to manage projectors and their problems individually.
BenQ Smart Control App
By downloading the BenQ Smart Control App to their smart device, users can control the projector via their phone or tablet. The BenQ Smart Control app turns your smartphone into a keypad and a trackpad for better navigation around the projector and the built-in business apps.
Hardware & OS
The EX800ST runs on Android 6.0 and is equipped with 2 GB of RAM and 16 GB of internal memory. It supports several business apps; conferencing, screen sharing, and team chats with Blizz, creating documents via WPS Office or internet browsing using the built-in Firefox browser.
The OS is simple and straightforward to navigate, although a bit slow at times. With an internet connect the projector can be linked with Cloud Account, Google Drive, OneDrive, and Dropbox. In addition to opening files on Cloud / USB, you can also edit, save to USB or upload back to the Cloud.
You can also easily update the firmware on the EX800ST over the air whenever a new firmware is available. Users can also download a variety of smart apps through the BenQ Suggest app store.
Image Quality
The BenQ EX800ST has a fixed lens, which means there is no zoom capability. Adjusting the image size requires moving projector closer or further away from the wall or screen.
The EX800ST has a native resolution of 1024×768 at 120Hz, brightness of 3300 lumens and contrast ratio of 20,000:1.
The BenQ EX800ST projects a sharp image and the colors are good and sufficiently bright. When it comes to presentations, text is clear, sharp and readable. There are several preset color modes to choose from (video, infographics, presentation).
The EX800ST offers flexible projection sizes from 70 to 120 inches, suitable for most meeting rooms or crowds. It is possible to project 120″ video from a distance of just 125cm.
Audio
The BenQ EX800ST has a single 2-watt speaker built in, which is be sufficiently loud and clear for medium sized rooms. For larger rooms with larger crowds, we recommend connecting to an external sound system.
Conclusion
The BenQ EX800ST smart projector works great as a classroom and business projector.
It is easy to setup and works straight out of the box. The cloud integration, smart features, wireless projection and screen-mirroring capabilities are some exciting features that make it unique.