Dubai has officially announced a nationwide lockdown till the 5th of April. So that means even the little joys of going for out for a walk have come to a halt.
Don't get me wrong, I love to just Netflix and chill but there was a point that it got too monotonous. So here is how I spent my entire weekend chilling out with the BenQ W2700.
Projectors are a great way to recreate a cinema-like experience, but they have their downsides as well. In order to get the best quality of the projection, the room needs to be dark and the projector needs to be placed at an optimum distance from the screen or wall and placed on a sturdy surface to get the best view and let's not even get into the audio quality. But this is where I found the BenQ W2700 to be different.
With HDR10 and HLG the projector is able to produce the DCI-P3 color gamut which is usually available only in projectors that are expensive.
The BenQ W2700 is a 4K projector with a brightness rating of 2,000 ANSI lumens that can be used in any room around the house and not necessarily in a dark room setting. It has a short-throw lens that can project very large screens from a relatively short distance. It's relatively compact so you can pop it on the coffee table and watch films, then put it away in a cupboard once you are done using it. And the built-in 5W stereo does justice to the audio quality so you don't have to bother connecting it to the hi-fi.
Specifications
| | |
| --- | --- |
| Resolution | 4K |
| HDR formats | HDR10, HLG |
| Zoom | x1.3 |
| Max brightness | 2000 ANSI lumens |
| Speakers | 2 x 5W |
| Inputs | 2 x HDMI 2.0, 3 x USB |
| Weight | 4.2kg |
| Dimensions | 38 x 13 x 26cm |
Design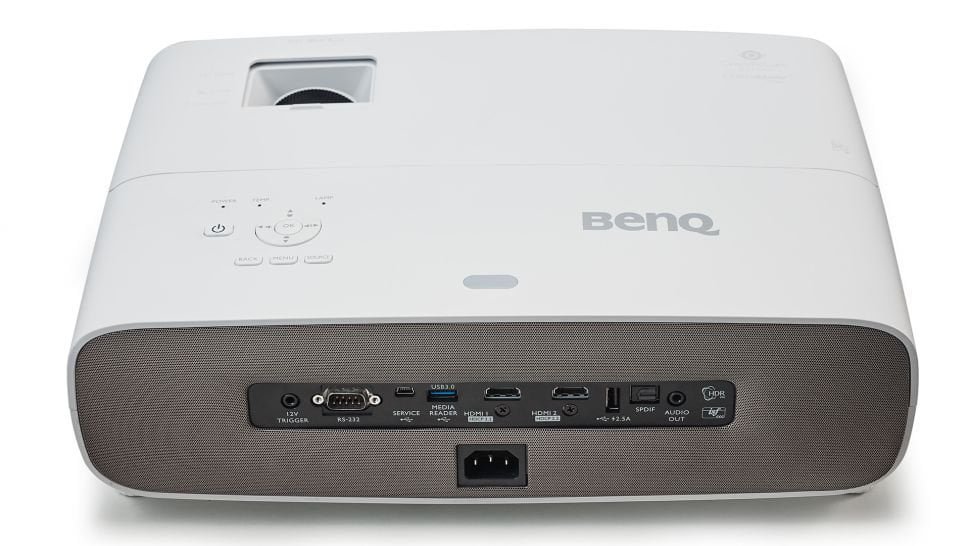 Unlike other box-shaped projectors, the BenQ W2700 has a textured matte white plastic finish, with the front lens partially eyelidded by a metal plate. The rear is surrounded by inputs and outputs with a curvaceous and perforated speaker grille.
While some projectors can be painful when trying to adjust focus because the lens moves every time you touch it, the BenQ W2700's optics barely budge making it much easier to attain a sharp focus across the whole screen.
The 1.3x zoom is standard but the vertical lens shift dial allows you to shift the image from its initial position by up to 10% without having to tilt the projector. This avoids the necessity of physically moving the projector up and down to get the image perfectly lined up to your projector screen.
Another great feature of the BenQ W2700 is the short-throw ratio of 1.13-1.47:1, this means you can project large images from a relatively short distance. I could keep the projector on my coffee table while I watched Transformers on the wall just few meters away.
Image quality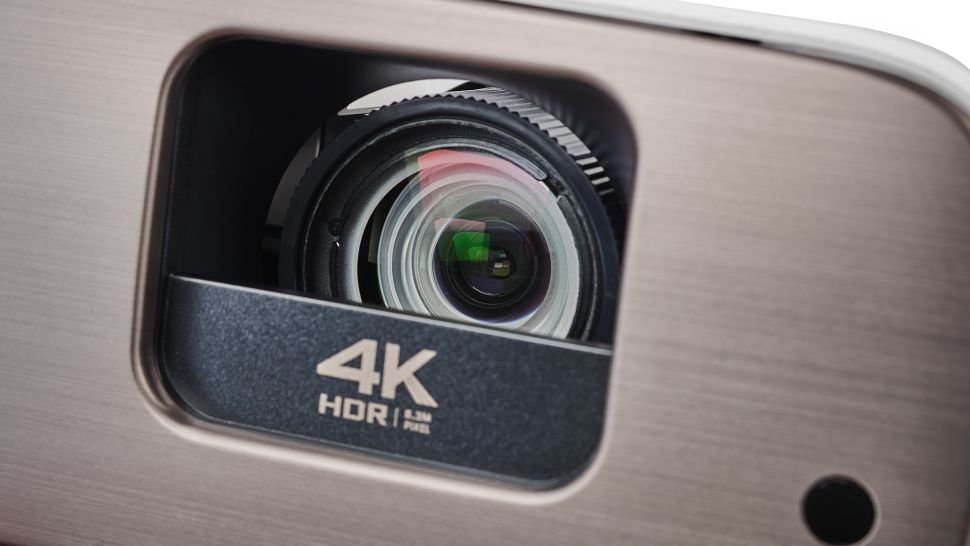 As with most 4K projectors in this price range, the BenQ W2700 can't produce a 4K image natively. Instead, it uses a DLP chip with a 1,920 x 1,080 resolution and shifts those pixels four times per frame to produce an appearance of a 4K image.
The DLP chip combined with the W2700's ten-element lens produces a sharp image at every edge and corner. You wouldn't even be able to notice that it wasn't a proper image.
Now, to be clear, I didn't expect a projector to match my TV's peak brightness and contrast levels, but the inhouse cinema experience was complete with the BenQ W2700.
On switching to standard dynamic range (SDR) content the BenQ W2700 continues to impress me, although my preferred picture mode would be the W2700's Cinema mode, which provides the best combination of brightness and depth of color. Optimus Prime never looked so good bashing up the Decepticons.
For the highest degree of color fidelity, the W2700's D Cinema (dark cinema) mode delivers a slightly richer picture and a deeper black level.
View more details on W2700 on BenQ Website