When it comes to buying tech for our home, such as TVs, it's very easy to go to a local tech store and pick up something that fits the budget and pleases the eye. As home consumers, we can live with some imperfection for our home usage if the budgets are low, or we can splash out the extra cash for the latest and greatest.
However, when it comes to business technology, it's not as easy to just pick up whatever fits. Every meeting or conference room needs to have some form of screen and TVs are not always the best choice due to size limitations, while they drastically increase in price the larger screen you choose.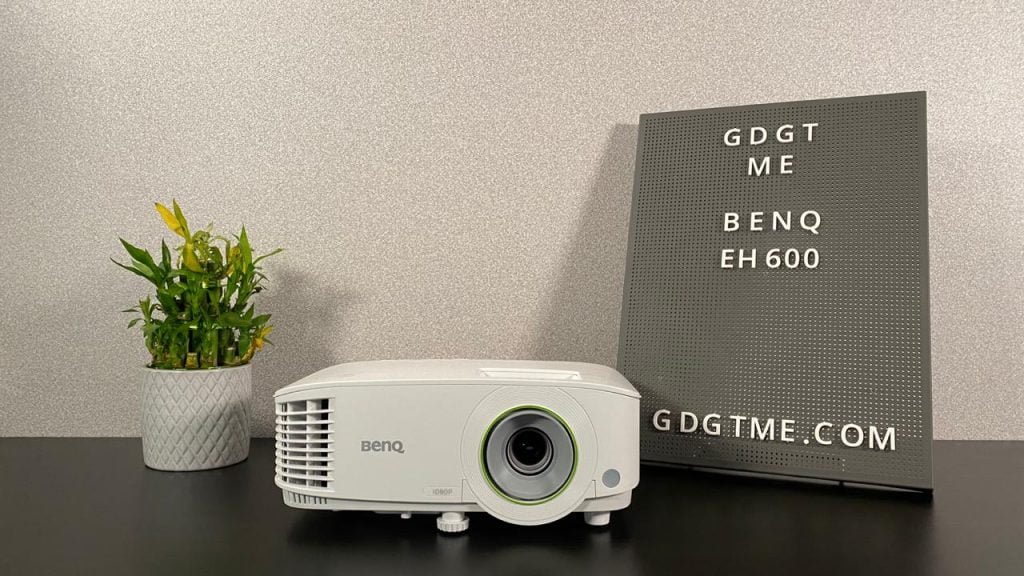 This is where projectors are an amazing choice for business consumers, who need to have means to present their subject to a larger audience. But if we honestly look in the mirror, how many of us are able to go out and buy a projector, being certain that we are making the right choice? The world of projectors and world of televisions are two completely separate entities, only crossing with the resolution of the display.
This is where the BenQ EH600 comes in and makes a bold statement, to provide an option for consumers that is a safe, affordable and reliable option. But how does it hold up? We have spent plenty of time with this projector with a variety of test areas, coming to a concussion that this is a wonderfully portable Smart Projector. Let's take a deeper dive.
The Physical Shape
The EH600 is a small device, that weighs just 2.5 kilograms, making it transportable. As we are now in 2020, businesses have come a long way in the last 10 years, making meetings outside of the office much more common. With the introduction of shared office spaces, portability of equipment has become that much more important.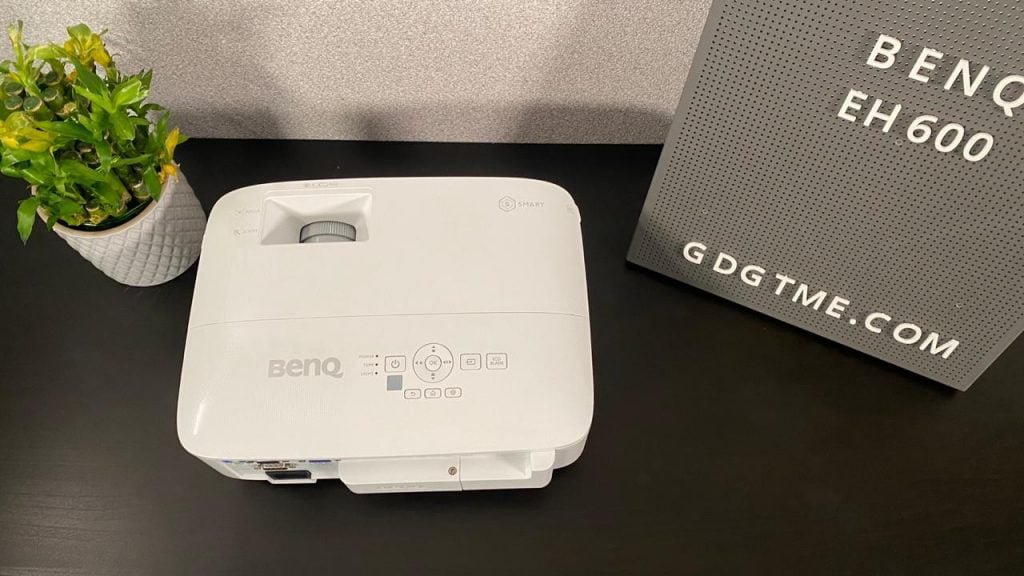 The device has 6 legs, 3 of which are adjustable, allowing it to be placed on a variety of surfaces, adding to its portability factor furthermore. The small form factor compliments the light weight, making it that much more portable, as it fits nicely inside a messenger bag, giving possibility of hosting meetings outside of the office.
With such a device, one of its most important aspects is airflow. This is where then EH600 sets a wonderful example, being venter on both sides, which not only allows it to run for longer and cooler, but also reduces the fan noise, making it very subtle in a meeting.
The Ports
The main ports on the EH600 are the VGA and HDMI inputs, allowing using of either new or old devices to be used. Granted a USB-C port would have been great to see, as it is 2020 after all. Within the next few years, the HDMI port will likely be eliminated from most laptops in favour of USB-C display connectors, creating an additional requirement of a dongle for use with devices such as the EH600 of a dongle in the near future. The presence of a VGA port is great to see, as most institutional facilities that would be purchasing a projector, likely have older PCs which have not yet caught up with the HDMI days, making the EH600 a more mass marketable product.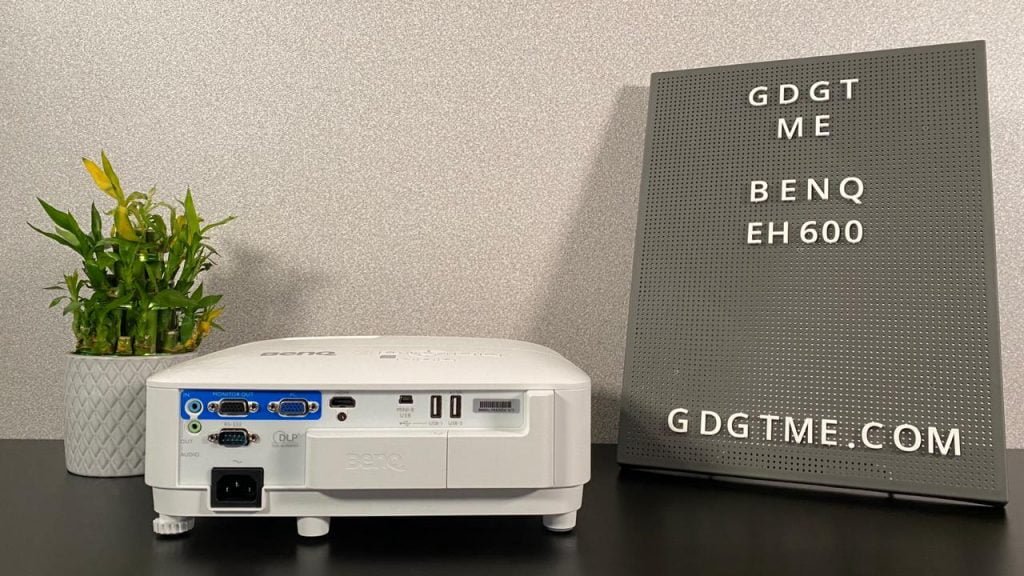 There is also a VGA output for use with an external display, which makes it easier to monitor what the projector is displaying if looking at the actual projection is not possible. A pair of AUX jacks are present, one being an input and the other an output, as the EH600 has a small speaker built-in and also supports the use of external speakers and sound systems.
Modern Projector
Aside from the simple and obvious wired display inputs, the projector also features Bluetooth, USB and wireless projection as other options of connectivity. The system is simple and supports majority of files for a USB to be plugged in directly in order to view files and watch media. Bluetooth support also allows for display mirroring from PCs and Mobile devices, while the Android software built-in also has some pre-installed apps, such as Firefox for internet browsing.
BenQ has also included the Smart Control App Android and iPhone, which is basically a much better version of a standalone remote control. It allows you to go beyond the standard control of brightness, volume and power, onto more advanced controls of the media that is being displayed and controlling it from your smartphone.
The included VGA output also allows the system to be monitored within needing to look at the projection, which creates the possibility for the EH600 to be used within a small theater format, wherein the user can monitor the output behind the scenes. This is a simple, yet useful feature that is included, adding to the variety of uses for this projector.
The Summary – BENQ EH600 Projector Review
As stated previously, shopping for a projector is not simple for the Average Joe, with confusing numbers and settings involved. This is where BenQ not only modernizes the standard projector, while also making it more accessible and usable without the need for and IT technician to be present.
The EH600 is a well-priced product (AED 3,499 at Sharaf DG), which is designed to adapt the needs of the user, rather than being a specialized product. Whether you are a school who needs a projector that has a peak brightness of 3,500 Lumens to be able to project in broad daylight and fully lit classrooms. Or maybe you are an SME which needs to have a projector in the conference room that has various modes of input in order to be utilized in all meetings. Or maybe you are a free-lancer, who needs to have a portable, yet powerful projector for your presentations in various conditions.
Either way, the BenQ EH600 is up to the task, with all of the above scenarios covered. As for the aspect of an investment for a company, if there is anyone who makes long-lasting quality displays, its BenQ, giving the assurance of a long-lasting product, with support for many years to come.