The Honor Pad X9 is an Android 13 tablet that gracefully balances affordability and performance. Equipped with the Qualcomm Snapdragon 685 processor and 4GB of RAM, it confidently handles everyday tasks.
Boasting a generous 128GB of internal storage, an Adreno 610 GPU, and a vibrant 11.5-inch TFT LCD display with a crisp 2000 x 1200 resolution, the Pad X9 ensures an enjoyable media experience. Powered by a robust 7,250 mAh battery, this tablet is tailor-made for immersive media consumption, making it an ideal companion.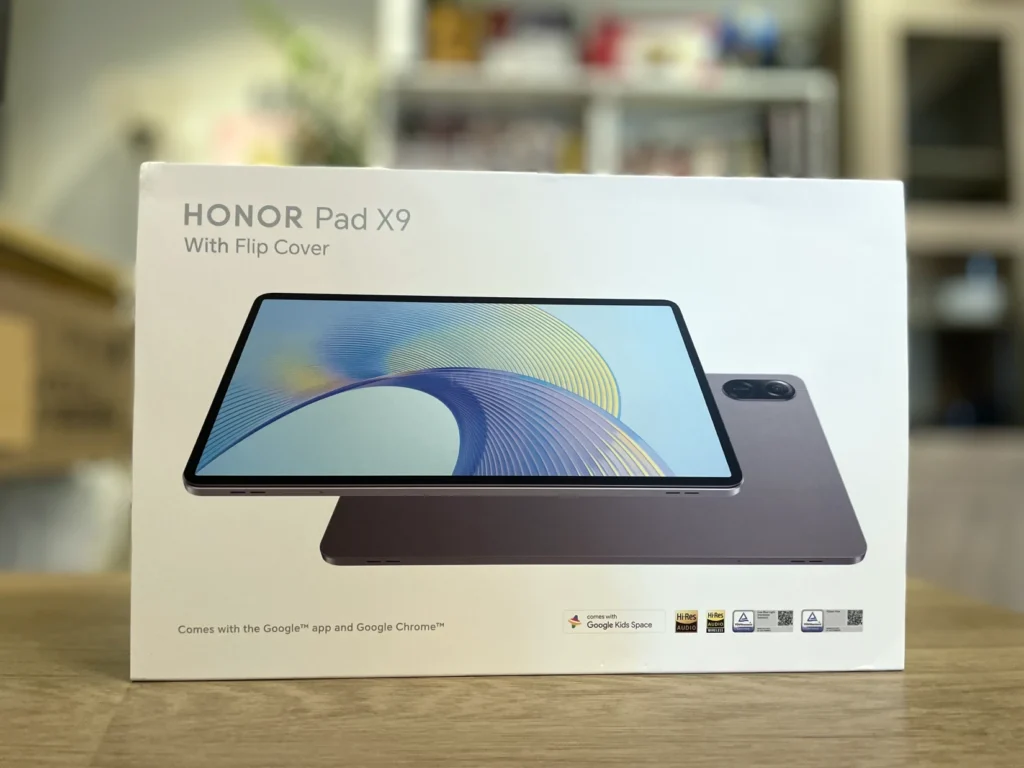 Specifications
Chipset:
Snapdragon 685 4G Mobile Platform
CPU:
Octa-core (4×2.8 GHz Cortex-A73 & 4×1.9 GHz Cortex-A53)
GPU:
Adreno 610
Storage and RAM:
128GB 4GB RAM
Display:
11.5 inches TFT LCD 2000 x 1200
120Hz 1B colours
Camera:
Main Camera
5MP camera (f/2.2)
1080p@30fps video

Front Camera
5MP camera (f/2.2) 1080p@30fps video
Speakers
Stereo speakers (6 speakers) H HONOR Histen
OS:
Android 13 + MagicUI 7.1
Connectivity:
WIFI 5,802.11 a/b/g/n/ac
Bluetooth 5.1
USB Type-C 2.0
Battery:
Li-Po 7250 mAh (non-removable)
22.5W charging
Dimensions:
278.5 x 174.1 x 6.9 mm
Weight:
499 g
View full specifications here.
Packaging
The packaging comes in a white, Honor branded box. The box includes the below: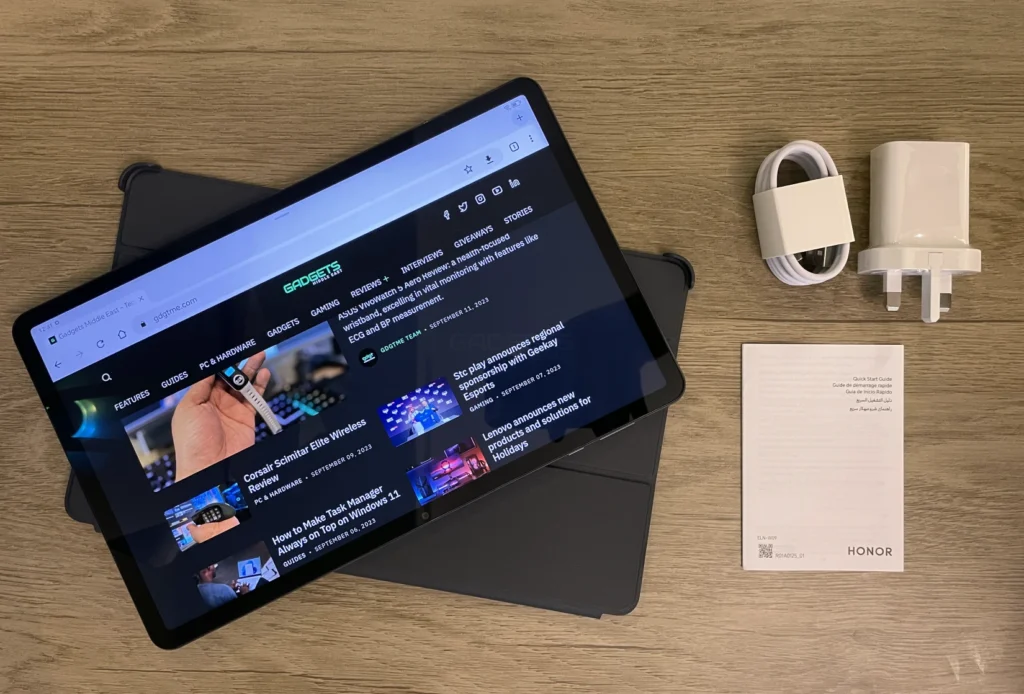 Tablet
Flip Cover
Charger
Type-C Cable
Quick Start Guide
Warranty Card
Design & Build
Taking a closer look at the Honor Pad X9's design, it's evident that Honor has put some thought into making it sleek and appealing. The tablet sports a Space Grey metal frame that not only looks premium but also feels sturdy. With its slim profile, weighing in at just 499 grams and a thickness of 6.9 mm, it's an easy companion for your daily activities.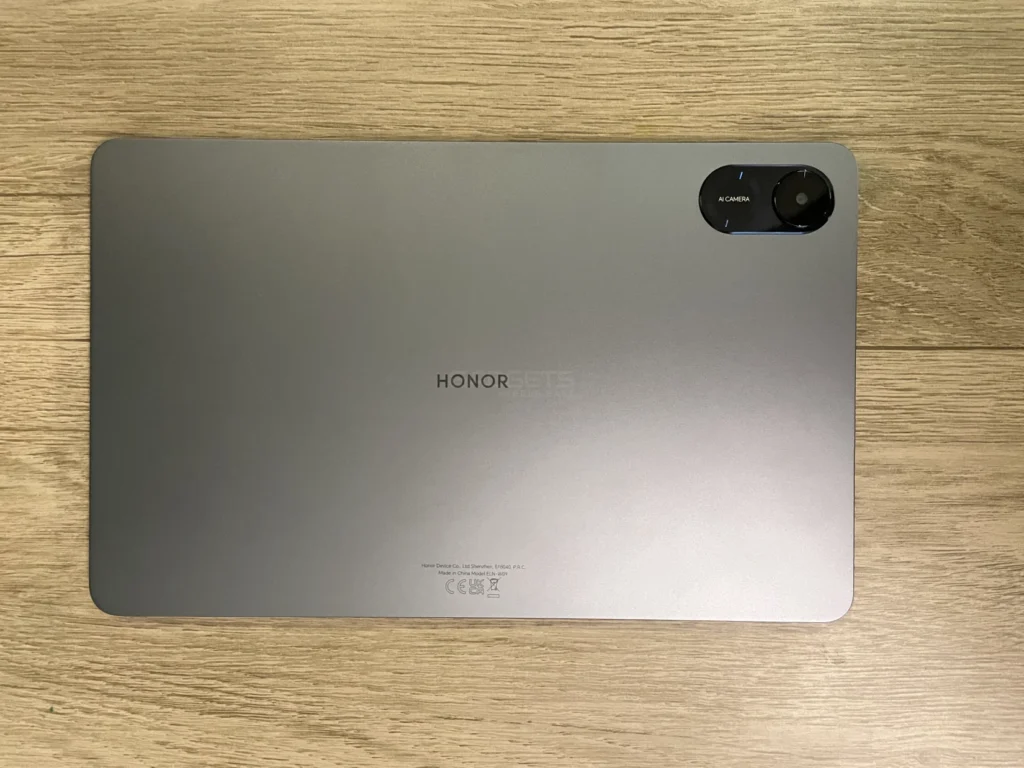 One thing that stands out is the matte finish, giving the tablet a nice, tactile feel. However, it's important to note that the Pad X9 doesn't come with any IP certifications for water or dust resistance, so be mindful of its surroundings.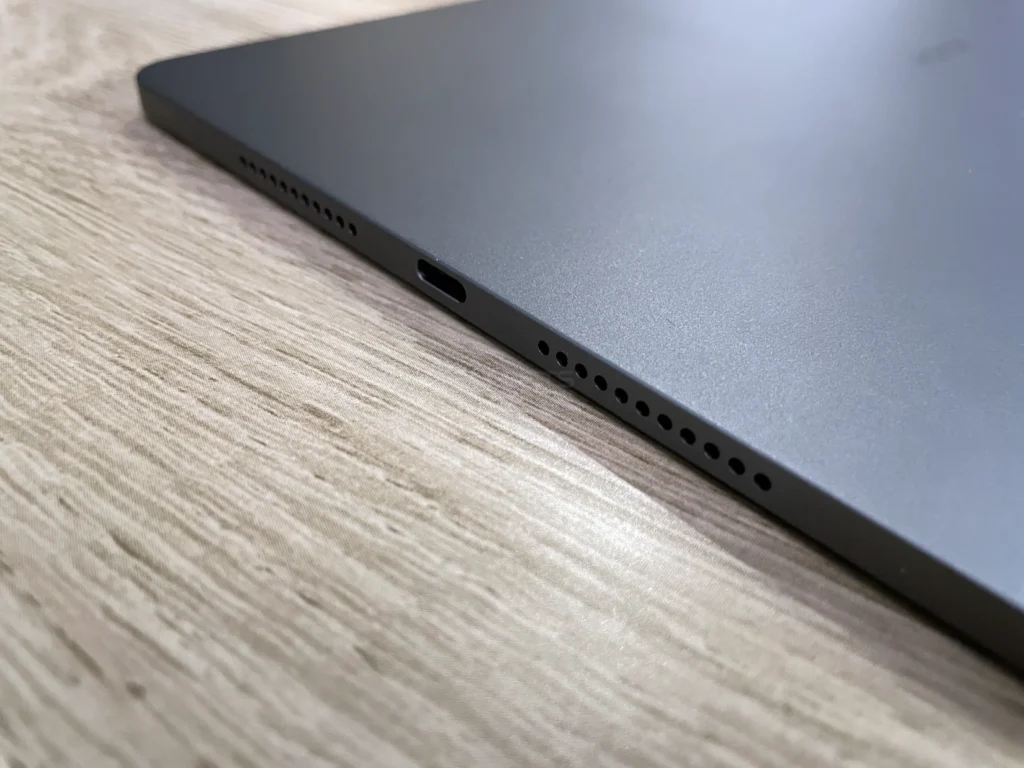 Turning our attention to the device itself, you'll spot a USB Type-C port at the bottom, which is a modern touch. On either side, there are four speaker grills, delivering sound that enhances your media experience. The tablet's practicality is further boosted by the presence of a volume rocker and power button.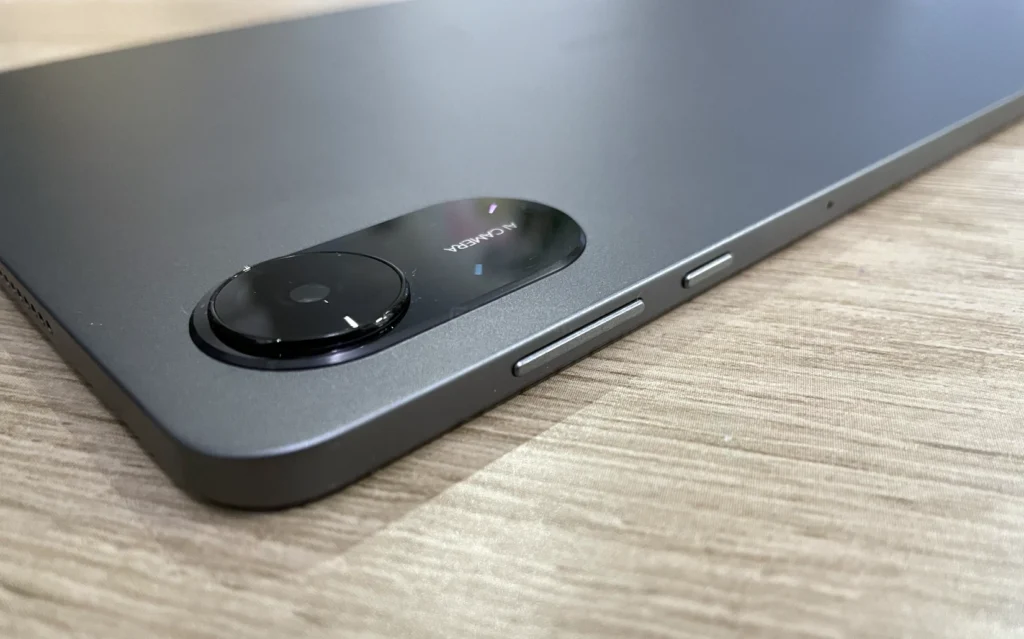 At the front, you've got a 5-megapixel camera for selfies and face unlock, neatly integrated into the top bezel. The tablet supports face scan for biometric security, although it misses out on a fingerprint sensor. On the back, you'll find a 5-megapixel main camera with autofocus.
Display
The Honor Pad X9 sports a 11.5-inch TFT LCD screen with a crisp resolution of 2,000 x 1,200 pixels and an aspect ratio of 5:3. Indoors, this display impresses with sharp and vivid visuals, thanks to a maximum brightness of 400 nits and full sRGB color coverage. However, it's worth noting that outdoor use might be a bit challenging due to the absence of an anti-glare coating.
As for screen protection, there's no official word on Gorilla Glass, but in our testing, it showed resistance to scratches, which is reassuring.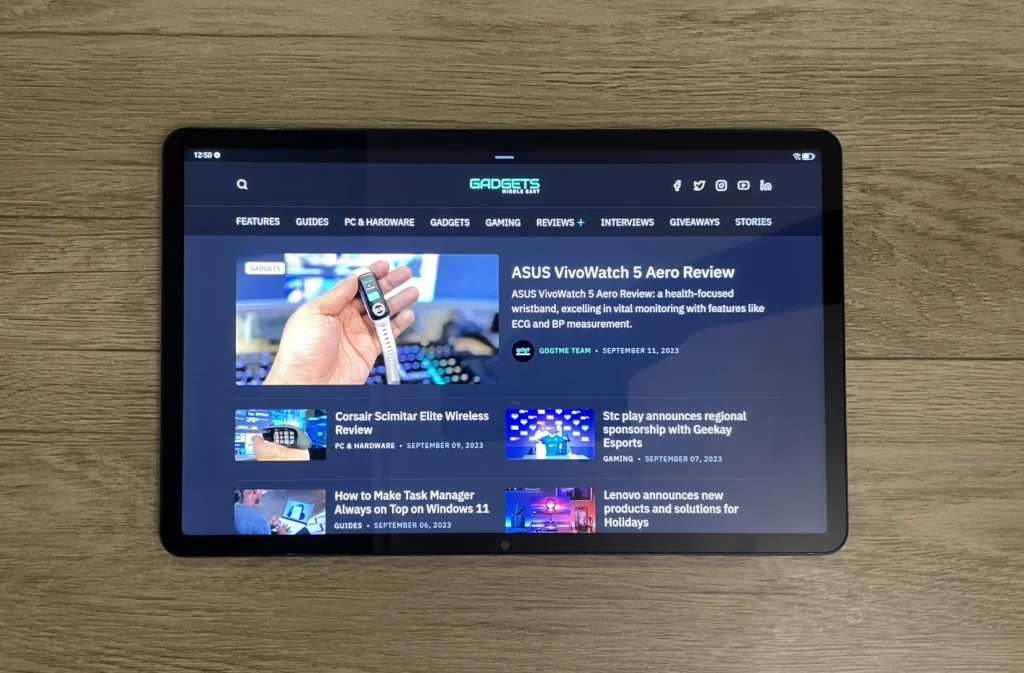 One standout feature is the 2K display coupled with a smooth 120Hz refresh rate and that 5:3 aspect ratio. Whether you're binge-watching TV shows, diving into online courses, or enjoying a good read, this combination ensures a top-notch viewing experience. The high refresh rate adds a noticeable fluidity to your interactions, making everything feel snappy and responsive.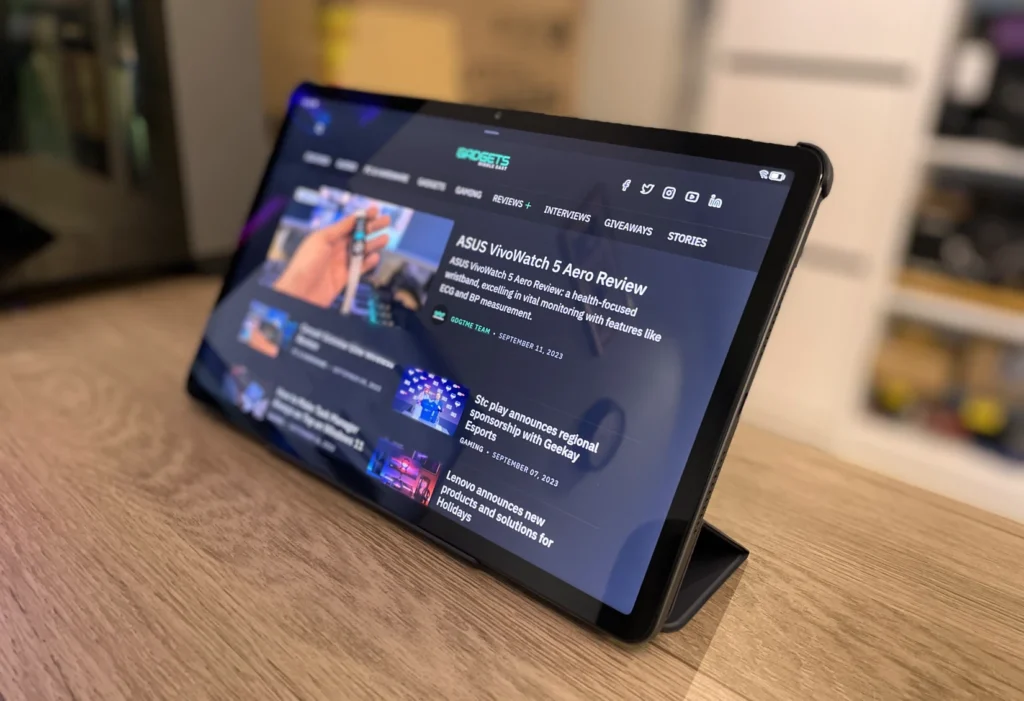 For those conscious about eye health, the Pad X9 has you covered. It comes with multiple eye-protection technologies, including TÜV Rheinland certification, which reduces harmful blue light and minimizes annoying flickers. This can help prevent eye strain, making it more comfortable for extended usage.
Camera
Turning our attention to the camera setup, the Honor Pad X9 keeps it simple yet functional. On the front, there's a 5-megapixel selfie camera with a fixed focus and an f/2.2 aperture. This little snapper does a commendable job when it comes to face unlocking and HD video conferencing. Plus, in favorable lighting, you can capture some decent selfies.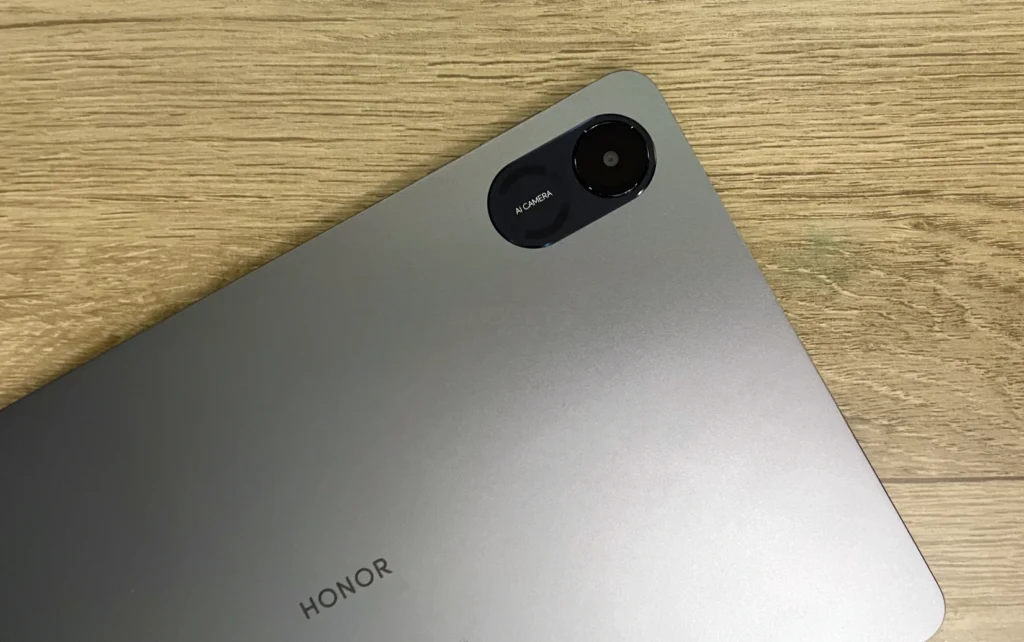 Moving to the rear, you'll find another 5-megapixel camera with an f/2.2 aperture. In well-lit conditions, this camera manages to capture passable photos, although the level of detail may not blow you away. It's perfectly suitable for quick snapshots and basic video recording, supporting 1080p resolution at 30 FPS.
In summary, the Pad X9's cameras won't replace your phone or digital camera, but they get the job done for casual photography and video needs, particularly when the lighting is favorable.
OS
The Honor Pad X9 runs on Android 13 with Magic UI 7.1, which shares similarities with Huawei's EMUI. The user interface delivers a smooth experience, devoid of any noticeable lag or stuttering.
However, it's important to note that while the UI performs well, the Achilles' heel here is that Android apps aren't optimized for tablet use. This can sometimes lead to stretched or distorted displays on the device, which is a common challenge with Android tablets.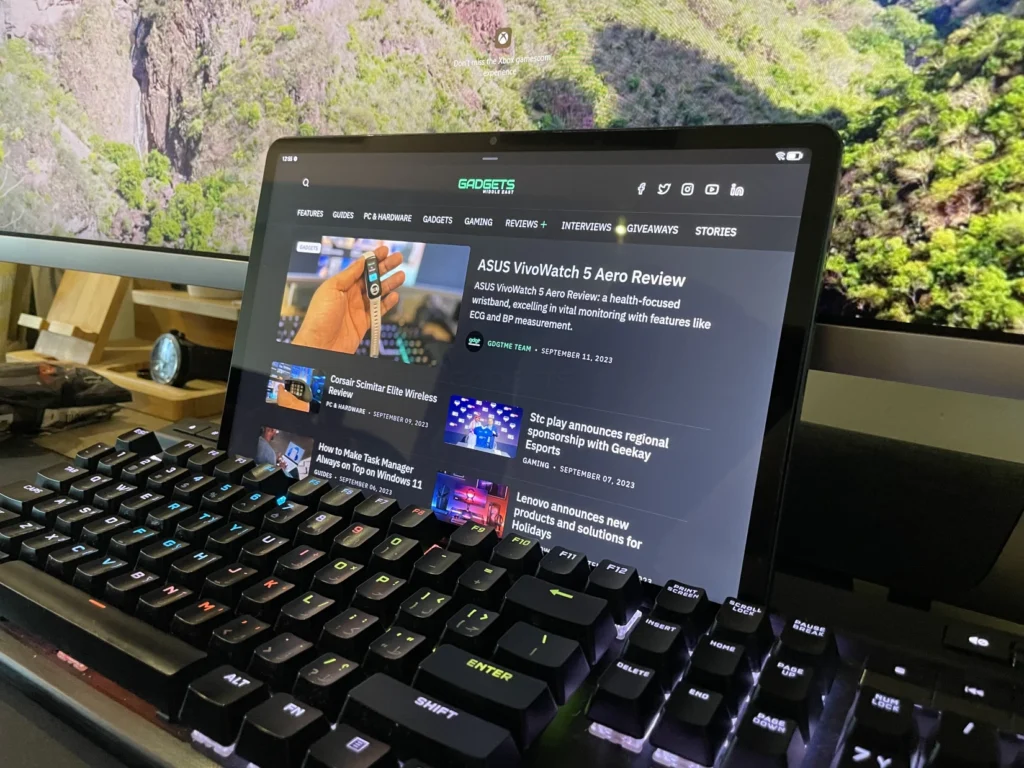 On the bright side, the operating system offers some handy features to enhance your multitasking prowess. The multi-window mode is a standout, allowing you to have up to four windows open simultaneously. If you're the type who likes to juggle multiple tasks at once, this can be a game-changer.
Another noteworthy feature is split-screen mode, which further aids in multitasking by letting you run two apps side by side. Additionally, the Pad X9 introduces a multi-screen collaboration feature that facilitates seamless screen sharing between your phone and tablet. This feature enables the drag-and-drop transfer of images and videos between devices, making it a breeze to synchronize your tasks from your phone to the tablet.
In summary, while the Android app optimization for tablets remains a challenge, the Honor Pad X9's operating system provides some nifty tools to help you make the most of your multitasking needs and connect your devices effortlessly.
Performance
Under the hood, the X9 packs a mid-range configuration with the Qualcomm Snapdragon 685 chipset, 4GB of RAM, and a generous 128GB of internal storage. Coupled with an Adreno 610 GPU and that 11.5-inch IPS LCD display boasting a resolution of 2000 x 1200, it has the essentials covered. Plus, it's powered by a beefy 7,250 mAh battery.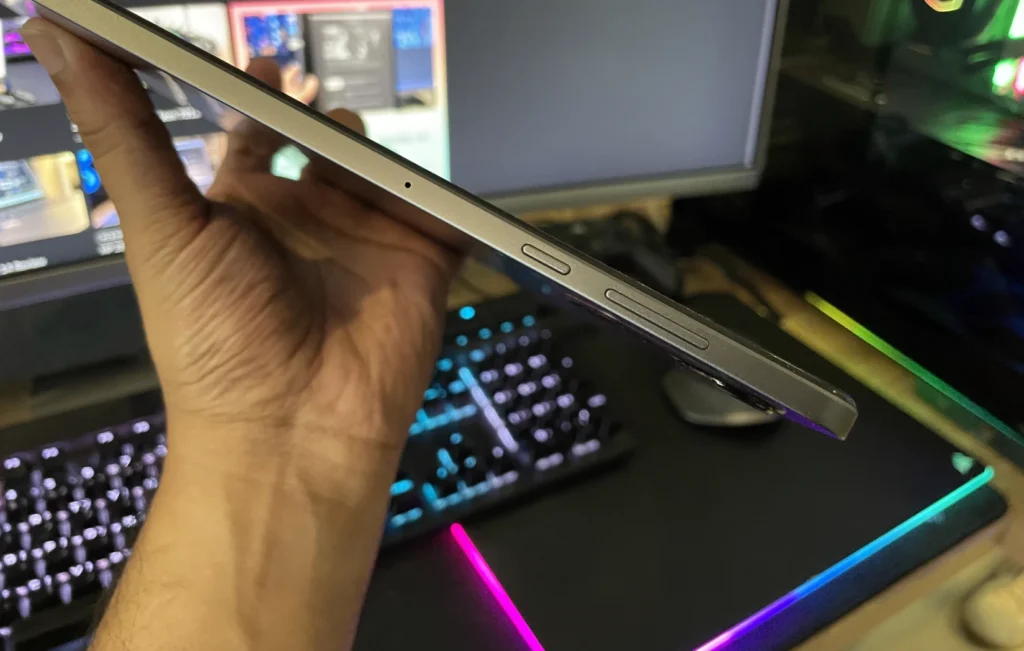 In the real world, the Pad X9 proves itself capable of handling your day-to-day tasks and keeping the entertainment flowing. Its octa-core CPU and Adreno 610 GPU can handle gaming, but you might want to dial down the settings to medium or low for the best gaming performance. The 4GB of RAM ensures smooth app switching and split-screen multitasking, enhancing your overall experience.
In a nutshell, the Honor Pad X9 delivers a reliable performance considering its price range. You can expect smooth sailing for everyday use, and while it won't give you a premium gaming experience, it's still quite capable, especially for less demanding games or streaming via services like Xbox Game Pass.
Audio
There's no headphone jack here, much like some other recent tablets from the big players like Apple and Samsung.
The Pad X9 makes up for it with a robust 6-speaker audio setup. These speakers are strategically placed on either side of the tablet, and they don't disappoint. They deliver clear, loud audio with good quality, making it more than suitable for your everyday audio needs. Whether you're watching videos, listening to music, or catching up on podcasts, the audio won't let you down.
Battery
This tablet packs a respectable 7,250 mAh battery, and according to Honor's claims, it can keep run for up to 14 hours on a single charge.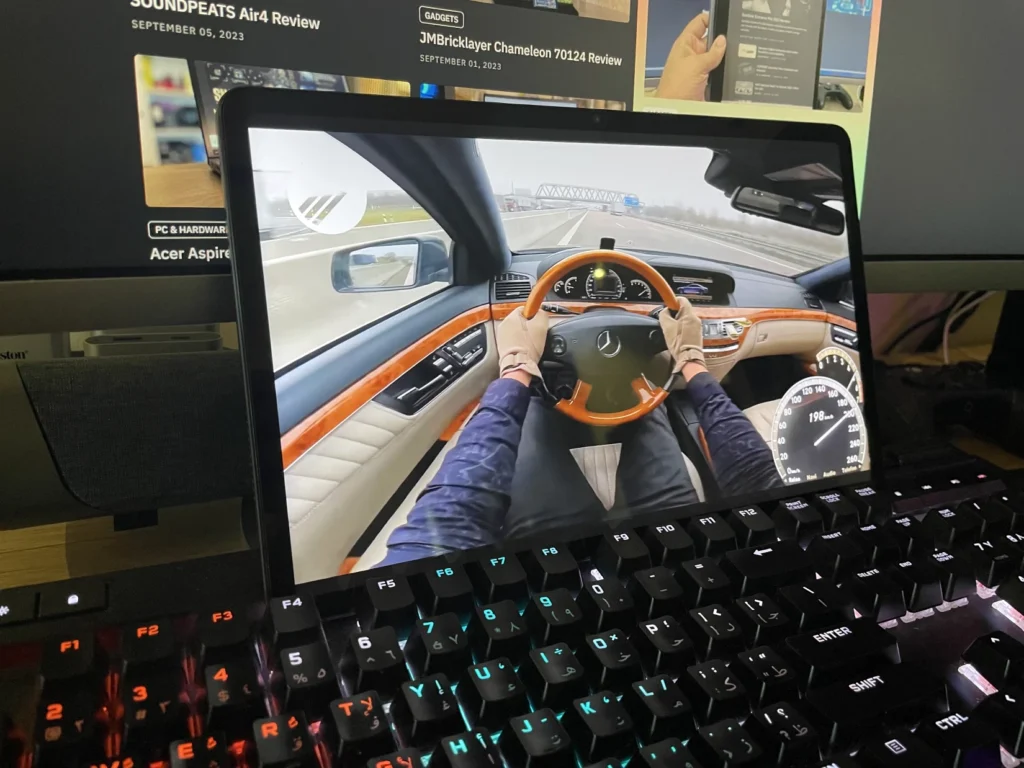 In real-life usage tests, we found that the tablet managed to stick around for approximately 9-10 hours. This included a mix of activities like web browsing, gaming, and video playback. While it may not reach the lofty 14-hour mark, it still provides a solid day's worth of use.
When it's time to charge, the Pad X9 comes with a 10W USB-C power adapter. During our testing, it took roughly four hours to go from 0% to 100%.
Conclusion
The Honor Pad X9 impresses as a well-balanced tablet that caters to everyday needs without breaking the bank. While it may not be a game-changer, it holds its ground admirably in its price range. Design-wise, the sleek and lightweight build, combined with a premium metal frame, gives it a sophisticated edge. The matte finish adds a tactile feel, though remember, it's not built to withstand water or dust.
The display offers sharp visuals indoors, but it struggles a bit under the sun due to the absence of an anti-glare coating. However, the 2K resolution and 120Hz refresh rate contribute to an enjoyable viewing experience. The camera setup is functional for selfies, video conferencing, and quick snaps, but it's not a photography powerhouse. In terms of performance, the Pad X9 handles daily tasks smoothly, but don't expect top-tier gaming performance. It shines in multitasking thanks to its 4GB of RAM.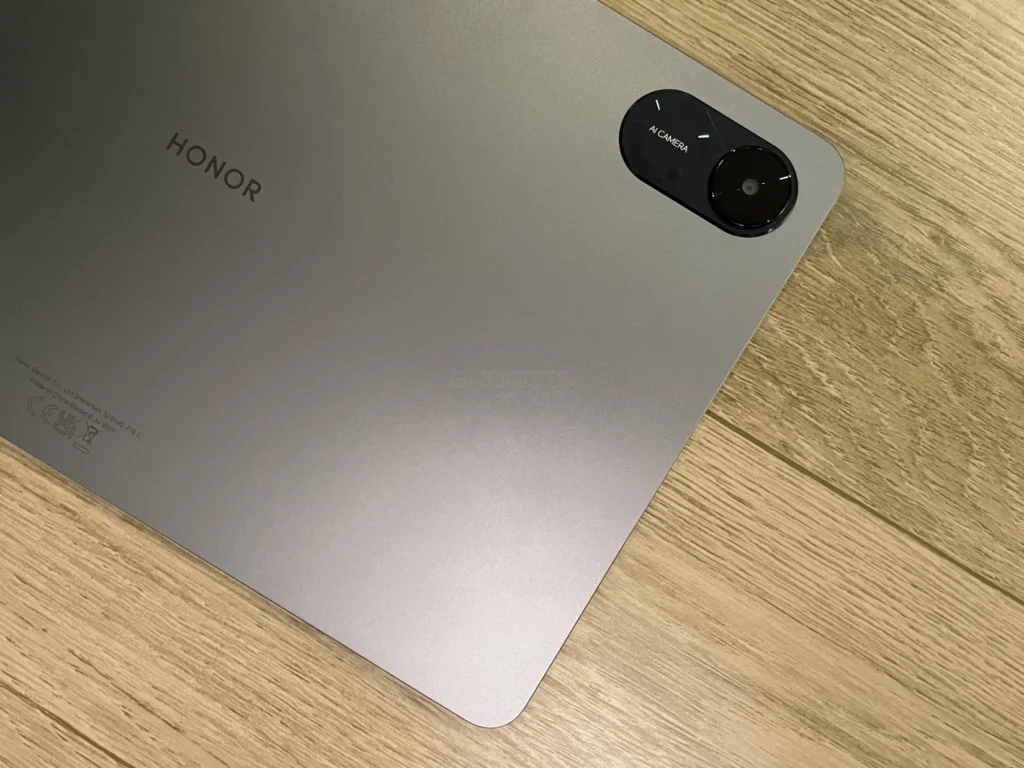 The audio setup provides clear and loud sound for your media needs. Battery life, although not quite reaching the advertised 14 hours, offers a respectable 9-10 hours of real-world usage. Fast charging ensures you get back in action relatively quickly.
In summary, the Honor Pad X9 is a reliable companion for everyday tasks and media consumption. It may not have all the bells and whistles of premium tablets, but it delivers where it matters most for its price point. If you're on a budget and seek a competent tablet for everyday use, the Pad X9 is worth considering.