Mercusys is a new product line from TP-Link and offers routers, range extenders, adapters, and switches that are super easy to set up to provide a reliable network for home, offices, and other environments with networking requirements.
The MR70X is its first WiFi 6 Router — an affordable AX1800 dual-band WiFi 6 router binding powerful WiFi 6 features, 4x advanced high-gain antennas, and the latest WPA3 security system, enabling more simultaneous connections, extended WiFi range, and reliable data transmissions that satisfy the demand for a high-performance wireless experience.
Highlights:
Next-Gen WiFi 6 Speeds – Optimal WiFi 6 speeds reaching up to 1.8 Gbps (1201 Mbps on the 5 GHz band and 574 Mbps on the 2.4 GHz band)
4× More Capacity – OFDMA and MU-MIMO allow simultaneous data transmission to and from several devices, improving overall network efficiency
Broader, Stronger Coverage – 4× multi-directional high-gain antennas with Beamforming boost stable connections throughout your home for strong WiFi signals in every corner
Overall Security Protection – The latest WPA3 provides improved WiFi security
Gigabit Wired Connections – Make full use of your internet access and transfer data at dizzying speeds for peak performance
Eco-Friendly Power Saving – Target Wake Time (TWT) reduces power consumption for your mobile and IoT devices during data transmissions
Less WiFi Interference – Minimizes the interference from neighboring signals to improve transmission efficiency with BSS color
Smart Connect – Intelligently chooses the best available band for each device
Access Point Mode – Extends a wired network and makes it wireless
Packaging
The Mercusys MR70X arrives in a branded cardboard box with router details, setup details and specifications on the sides. The MR70X is well protected by a cardboard frame, accessories are organized into compartments to prevent damage.
Inside the box is the router itself, power adapter, a ethernet cable, the quick installation guide, and a troubleshooting guide.
Design & Build
Mercusys MR70X has a simple design, with four large non-detachable external antennas. The body is made of lightweight plastic and has a size of 208.8 × 171.6 × 41.7 mm in width x depth x height and weights 343 grams.
At the back is the power jack, the WPS/Reset button, the WAN port for connecting to the internet, and three LAN ports work at 1 Gbps. There is no USB port available here.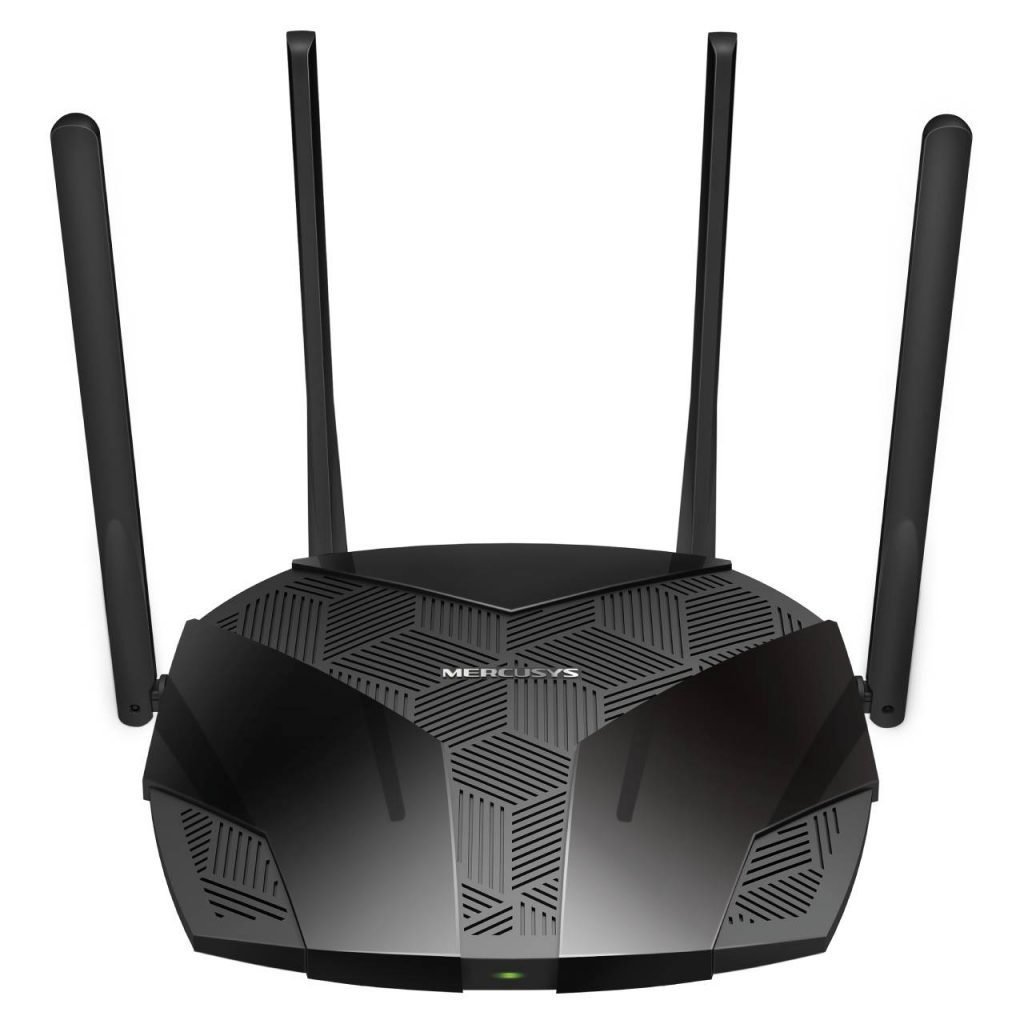 At the front is just one LED to display the power and internet connection status. At the base are four plastic feet, there is no option to wall mount.
Features & Performance
Setting up the router can be done only with a web browser – there's no mobile app similar to the TP-Link routers. The setup wizard is straightforward and takes only a few minutes to get running.
Equipped with next-gen WiFi 6, both 5 GHz and 2.4 GHz are upgraded to the latest generation. Smart Connect combines the 2.4 GHz and 5 GHz bands into a single WiFi SSID and helps devices intelligently choose the best available band that has a stronger signal and faster speed.
With MU-MIMO and OFDMA, MR70X transmits data to and from multiple devices at the same time, reaching up to 4× more capacity, greatly increasing transmission efficiency and the throughput of the whole network.
By combining 1024-QAM and a long OFDM symbol, MR70X delivers total speeds of up to 1800 Mbps – 1201 Mbps on 5 GHz and 574 Mbps on 2.4 GHz.
The MR70X also features the latest security standard, WPA3 and provides improved comprehensive WiFi protection to safeguard private information against brute-force attacks
For the performance test, we connected three devices from three different areas.
The first device was connected closest to the router in straight line, the throughput was able to reach about 840Mbps.
The second device was connected from a distance of 10 meters but without any obstructions. The throughput was able to reach 690Mbps.
The final device was also tested about 10 meters apart with a wall barrier and the throughput was able to reach 450 Mbps.
Conclusion
The Mercusys MR70X covers all the basics at a great price and provides a strong WiFi coverage that will benefit all devices. If you are looking for an decent budget router for connecting multiple devices at the same time, this is a good recommendation.