Archer AX10 is TP-Link's affordable Wi-Fi 6 router offering. If you are currently building a home or office network, you have probably come across the new 802.11ax standard, which is basically the successor to the older 802.11ac interface. The main differences are higher transfer speeds and also greater stability of the entire wireless network.
The TP-Link Archer AX10 router is equipped with the latest Wi-Fi 6 wireless technology and comes with better network stability, speed and security, and can offer download speeds up to 1.5Gbps.
What is Wi-Fi 6?
Wi-Fi 6 or 802.11ax is the new standard for wireless networks. It is roughly 30% faster than the old 801.11ac (Wi-Fi 5) standard and offers improved network performance when multiple devices are connected to the same network.
TP-Link AX10 Feature Highlights
Wi-Fi 6 technology – The Archer AX10 is equipped with the latest Wi-Fi 6 wireless technology, bringing higher speeds, better stability and reduced network congestion.
Next-generation speeds of up to 1.5 Gbps – The Archer AX10 dual-band router achieves higher speeds up to 1.5 Gbps (1,201 Mbps in the 5 GHz band and 300 Mbps in the 2.4 GHz band).
Connect multiple devices – Simultaneous connections and reduced latency with OFDMA and MU-MIMO technology.
Tri-core processor – Instant response to all network activity using a 1.5 GHz tri-core processor.
Wider coverage – 4 Antennas and Beamforming technology helps with a wider coverage.
Full gigabit ports – Take full advantage of broadband speeds up to 1 Gbps.
Easy setup – Tether app helps you complete setup and updates in minutes.
Alexa Compatible – Use voice commands to control your router with with Amazon Alexa.
Guest network – Dedicated Wi-Fi for guests
Reboot schedule – Set the router to reset automatically at certain intervals.
Smart Connect – Allocates devices to be on the most compatible network, 2.4 or 5GHz.
Specifications
Standards
Wi-Fi 6
IEEE 802.11ax/ac/n/a 5 GHz
IEEE 802.11n/b/g 2.4 GHz
WiFi Speeds
AX1500
5 GHz: 1201 Mbps (802.11ax)
2.4 GHz: 300 Mbps (802.11n)
WiFi Range
4× Fixed High-Performance Antennas
Multiple antennas form a signal-boosting array to cover more directions and large areas
WiFi Capacity
Dual-Band
Allocate devices to different bands for optimal performance

OFDMA
Simultaneously communicates with multiple Wi-Fi 6 clients

Airtime Fairness
Improves network efficiency by limiting excessive occupation

4 Streams
Connect your devices to more bandwidth
WiFi Encryption
WEP
WPA
WPA2
WPA/WPA2-Enterprise (802.1x)
Network Security
SPI Firewall
Access Control
IP & MAC Binding
Application Layer Gateway
WAN Types
Dynamic IP
Static IP
PPPoE
PPTP
L2TP
Processor
1.5 GHz Triple-Core CPU
Ethernet Ports
1× Gigabit WAN Port
4× Gigabit LAN Ports
Buttons
WPS/Wi-Fi Button
Power On/Off Button
LED On/Off Button
Reset Button
Power
12 V ⎓ 1 A
Dimensions
10.2 × 5.3 ×1.5 in
Read full specifications here.
Packaging
The TP-Link Archer AX10 arrives in a branded cardboard box with router derails, setup details and specifications on the sides.
The router is well protected by a cardboard frame, accessories are organized into compartments to prevent damage.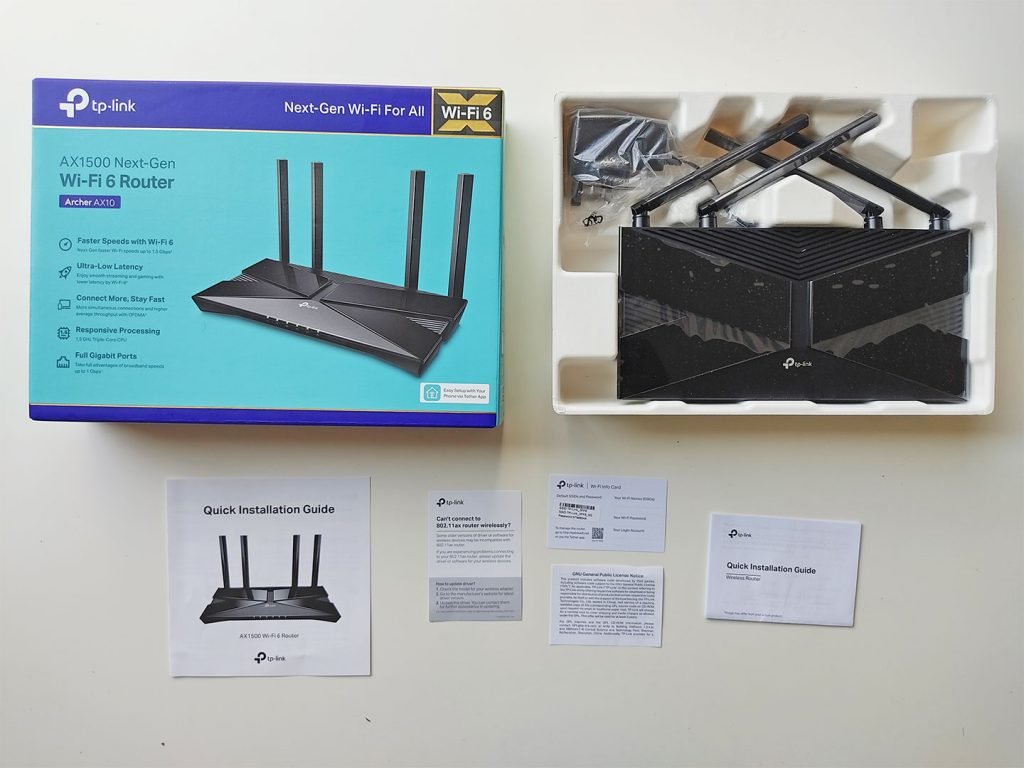 The package includes:
Wi-Fi Router Archer AX10
Power Adapter
RJ45 Ethernet Cable
Quick Installation Guide
Design & Build
The TP Link has a dimension of 260.2 x 135.0 x 38.6 mm and is made of a combination of matt and glossy plastics. The build quality is not the best but considering the price point, this is understandable. The glossy plastic parts tend to scratch easily and quickly collect fingerprints and dust.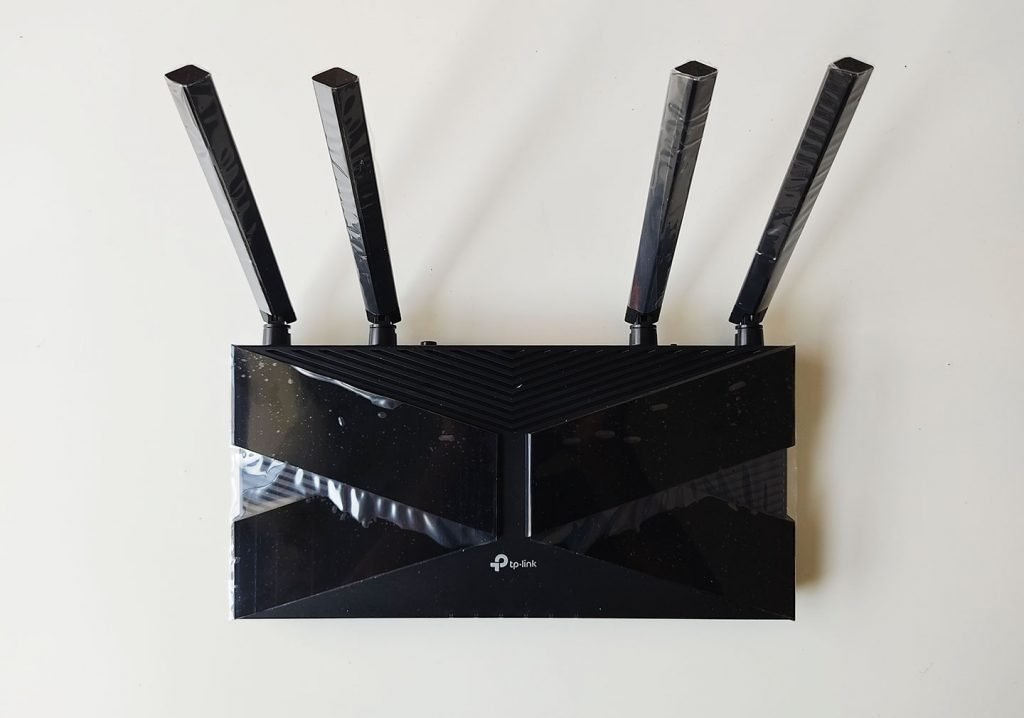 On the front side of the router are 6 LEDs indicating the connection status, 2.4 GHz and 5 GHz network activity, internet access and power, there are no ports or indicators on the sides.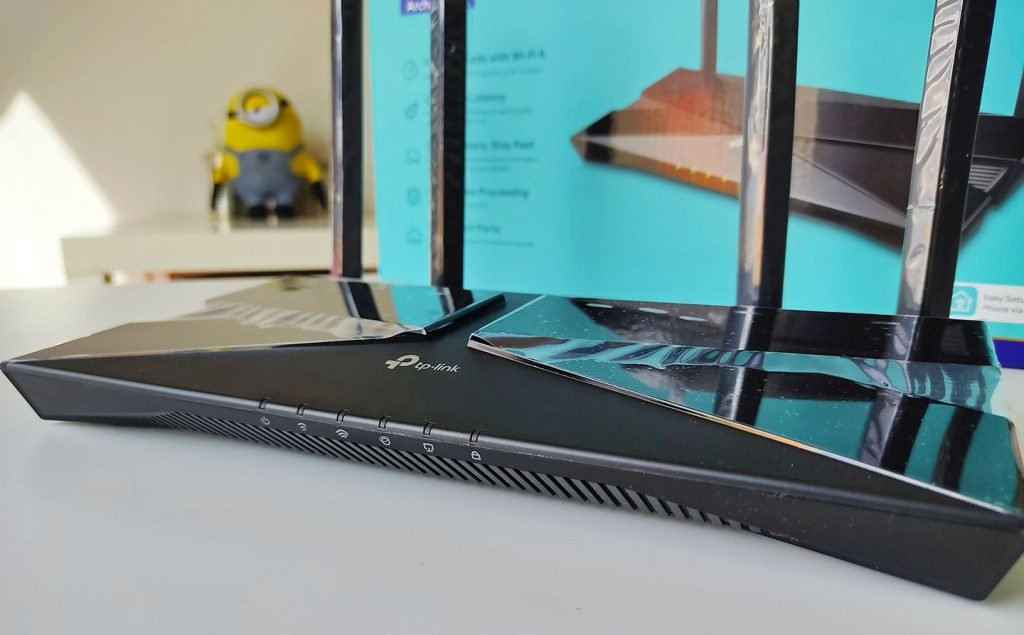 On the back are the 4 fixed folding antennas compatible with beamforming for better signal coverage, reset button, WPS, 4 LAN ports, 1 WAN port (Capped at 1 Gbps), the power button and the power connector. However, there are no USB ports, which means you cannot connect a network printer or an external hard drive for backups.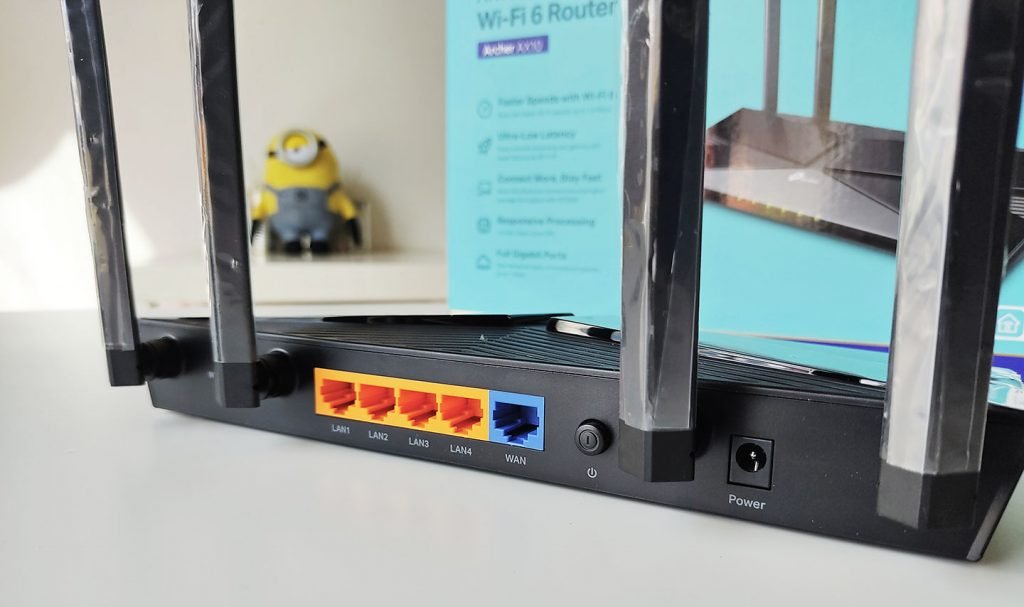 Unfortunately, the antennas are fixed and cannot be replaced with more powerful ones. But in any case, with the TP-LINK Archer AX10 router you won't have any problems covering large house or office space with a wireless signal, or even setting up Internet sharing at restaurant.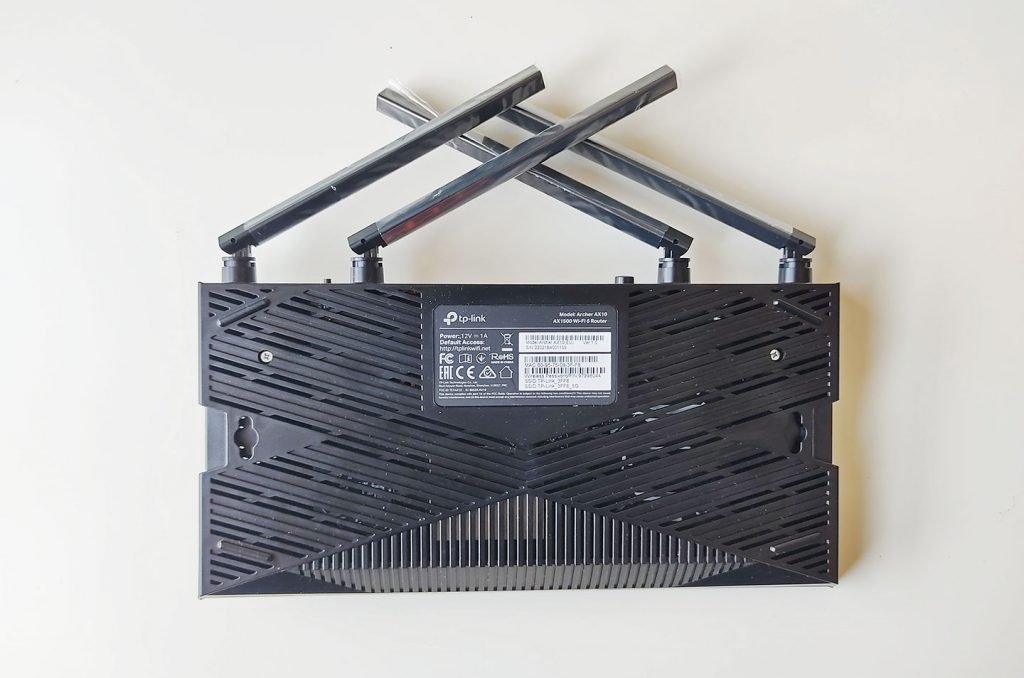 At the bottom it comes with a grille for ventilation. There are also hooks for wall mounting here. There are four small plastic stands on each corner.
Software & Setup
The AX10 comes with a refreshed and modern GUI interface. The dashboard is more transparent, intuitive and easier to navigate.
The settings are divided into basic and advanced, with the most essential options at the top. We really liked the new GUI as it has all the vital information in the basic section which is all the average user really needs.
Once connected by cables or Wi-Fi, the router will prompt you for the initial setup when you start your Internet browser. Alternatively, just enter the internet address tplinkwifi.net in the address bar. The router is also compatible with Alexa. Once setup, it can be controlled via voice commands.
You can also use the Tether app, which works on the local network, for configuration and management. It is available for both smartphones and tablets on iOS and Android. Tether works on the local network. You also have the option to register a TP-Link account ID during installation, which will enable access to cloud services. From there, you can control your entire network remotely.
The router can also be configured as an access point to expand the wireless coverage area.
For more experienced users, there are advanced settings available such as private networks, NAT, Smart Connect, QoS and more.
OFDMA and MU-MIMO technologies are also worth mentioning. Traditional routers that use the older SU-MIMO standard serve only one user at a time, while other users have to wait, which reduces performance and overall capacity.
MU-MIMO technology solves this problem by creating several simultaneous connections serving multiple users at the same time, even when gaming online, watching 4K videos or sending large files.
Interestingly, it turns out that the router does not support the 160Hz channel which was introduced along with Wi-Fi 6, it only supports 80Hz. This means potentially much lower performance in transfer speeds.
The router allows us to configure the two different networks: 2.4 / 5 GHz, which can work separately or as a combined network. With Smart Connect, the router automatically assigns the network depending on what the connecting device supports. It also offers an option to setup a Guest Wi-Fi network, with or without a password.
Performance
The TP-Link AX10 offers Dual-Band Wi-Fi 6, with a total bandwidth of up to 1.5 Gbps (AX1500) when using both bands (2.4 and 5 GHz). Specifically, a 5GHz 802.11ax network capable of reaching 1,201 Mbps and a 2.4GHz 802.11n network capable of up to 300 Mbps. While these are not the most impressive speeds, it makes sense considering this is a budget device.
The WiFi 6 (802.11ax) standard works when the device supports 5GHz networks and 2.4 GHz band for older devices.
On the hardware side, the TPLink AX10 is pretty powerful. It has a 1.5 GHz Triple Core Broadcom BCM6750 processor, equipped with three Cortex A7 cores operating at a clock frequency of up to 1.5 GHz and 256 MB of RAM. Most competitors have dual-core or even single-core chips clocked at less than 1 GHz.
TPLink AX10 also includes 'Beamforming' technology, where it intelligently searches for connected devices and optimizes the signal in their direction, of course, this only applies to devices that have already been connected. To connect new devices, it is sometimes necessary to go a little closer to the router.
As with all wireless connections, the speed fluctuates depending on the range but within our office we exceeded 200 Mbps on our 256MB connection.
Conclusion
With commuting on the decline and an increase in work-from-home, building a strong home internet network has become more important than ever. The TP-Link Archer AX10 arrives in good time, with a great price and modern specifications.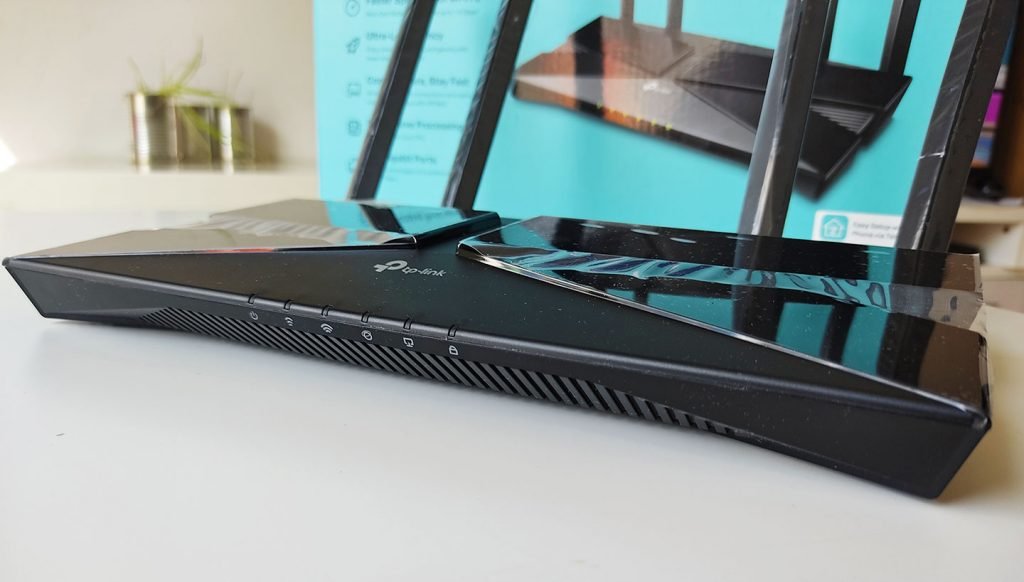 The TP-Link Archer AX10 is a good router for those looking for an affordable and high performance Wi-Fi 6 router that allows you to connect dozens of devices and take advantage of faster connection speeds without having to resort to cable at all.
Considering the AX10 starts at AED 395, it's a really innovative model for its price. The only shortcoming here is a lack of a USB port. If you are looking for a new router that is future proof Wi-Fi 6 then Archer AX10 is a good choice.