We recently reviewed one of TP-Link's recent Wi-Fi 6 router, the Archer AX10. TP-link has now released the Archer AX50, an AX3000 router, which is an upgraded variant of the AX10 with more features and double the speed with a bandwidth of 574 Mbps over 2.4 GHz and 2402 Mbps over 5 GHz, for a combined networking speed of 3000Mbps.
TP-Link AX50 Feature Highlights
Wi-Fi 6 Technology Featuring Intel: The Archer AX50 is equipped with the latest Wi-Fi 6 wireless technology, bringing higher speeds, better stability and reduced network congestion while Intel's dual-core CPU ensures a smooth experience.
Next-Gen 3 Gbps Speeds: The Archer AX10 dual-band router achieves higher speeds up to 3 Gbps (2,402Mbps in the 5 GHz band and 574 Mbps in the 2.4 GHz band).
Connect More Devices: Simultaneous connections and reduced latency with OFDMA and MU-MIMO technology.
Minimize Lag for All Devices and Applications: Experience ultra-smooth entertainment whether you are streaming 4K videos, gaming online, or even video chatting
More Reliable Coverage: 4 Antennas and Beamforming technology helps with a wider coverage up to 2,000 sq. ft. .
Increased Battery Life for Devices: Target Wake Time technology reduces your devices' power consumption to extend battery life.
Easy Setup: Tether app helps you complete setup and updates in minutes.
Backward Compatible: Archer AX50 supports all previous 802.11 standards and all WiFi devices.
Alexa Compatible – Use voice commands to control your router with with Amazon Alexa.
Guest network – Dedicated Wi-Fi for guests
Reboot schedule – Set the router to reset automatically at certain intervals.
Smart Connect – Allocates devices to be on the most compatible network, 2.4 or 5GHz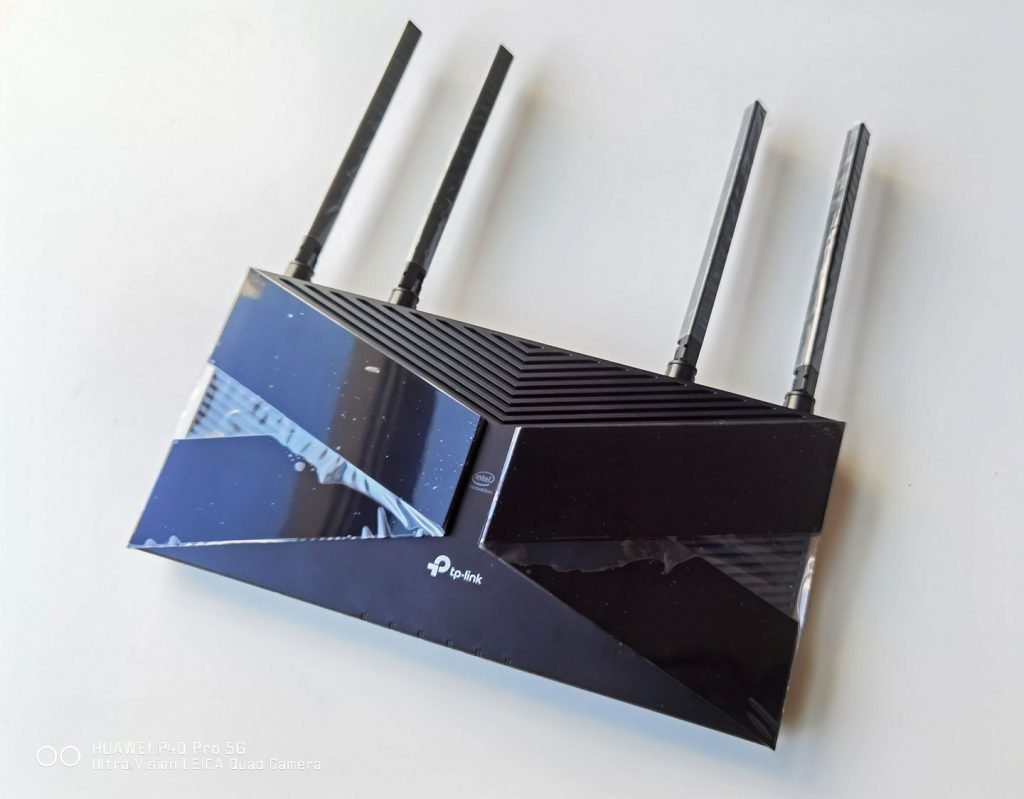 Specifications
Standards
Wi-Fi 6
IEEE 802.11ax/ac/n/a 5 GHz
IEEE 802.11ax/n/b/g 2.4 GHz
WiFi Speeds
AX3000
5 GHz: 2402 Mbps (802.11ax)
2.4 GHz: 574 Mbps (802.11ax)
WiFi Range
4× Fixed High-Performance Antennas
Multiple antennas form a signal-boosting array to cover more directions and large areas
WiFi Capacity
Dual-Band
Allocate devices to different bands for optimal performance

OFDMA
Simultaneously communicates with multiple Wi-Fi 6 clients

Airtime Fairness
Improves network efficiency by limiting excessive occupation

DFS
Access an extra band to reduce congestion

4 Streams
Connect your devices to more bandwidth
WiFi Encryption
WEP
WPA
WPA2
WPA/WPA2-Enterprise (802.1x)
Network Security
SPI Firewall
Access Control
IP & MAC Binding
Application Layer Gateway
WAN Types
Dynamic IP
Static IP
PPPoE
PPTP
L2TP
Processor
Dual-Core CPU
Ethernet Ports
1× Gigabit WAN Port
4× Gigabit LAN Ports
USB Ports
1× USB 3.0 Port

Supported Partition Formats:
NTFS, exFAT, HFS+, FAT32

Supported Functions:
Apple Time Machine
FTP Server
Media Server
Samba Server
Buttons
WPS/Wi-Fi Button
Power On/Off Button
LED On/Off Button
Reset Button
Power
12 V ⎓ 1 A
Dimensions
10.2 × 5.3 × 1.5 in
Read full specifications here.
Packaging
The TP-Link Archer AX50 arrives in a branded cardboard box similar to the AX10 with router details, setup details and specifications on the sides. The AX50 is well protected by a cardboard frame, accessories are organized into compartments to prevent damage.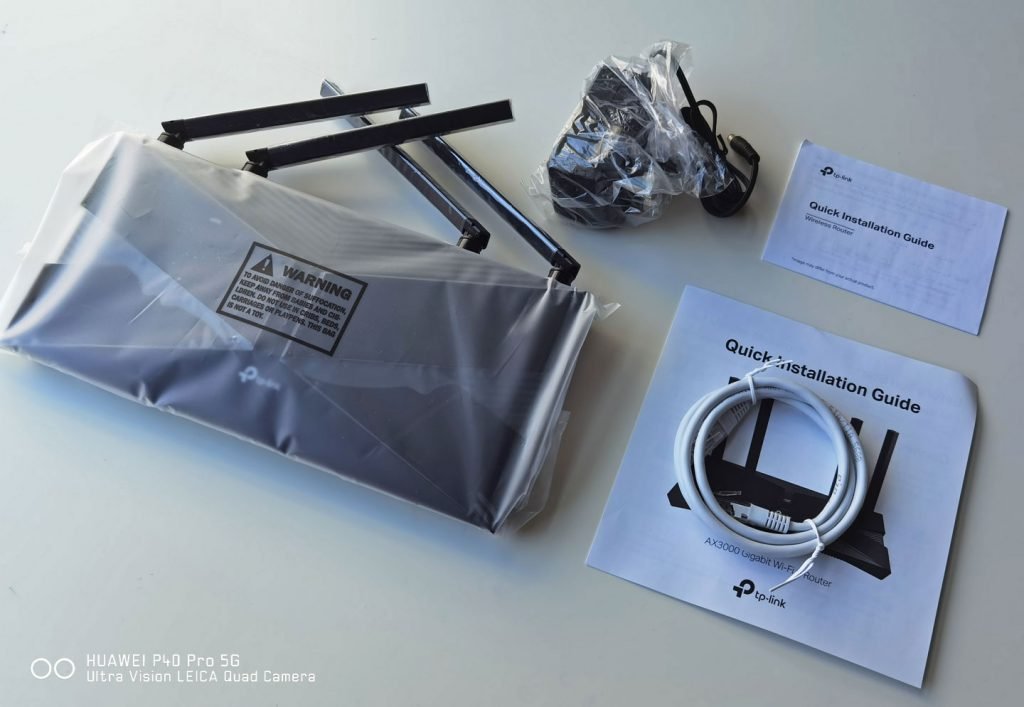 The package includes:
Wi-Fi Router Archer AX50
Power Adapter
RJ45 Ethernet Cable
Quick Installation Guide
Design & Build
On the exterior both routers look identical except for the AX50's Intel logo on top.
The AX50 also has the same dimension as the AX10: 260.2 x 135.0 x 38.6 mm and is made of a combination of matt and glossy plastics. The build quality is not the best but considering the price point, this is understandable. The glossy plastic parts tend to scratch easily and quickly collect fingerprints and dust.
At the front is a discreet row of status LED indicating the connection status, 2.4 GHz and 5 GHz network activity, internet access and power, there are no ports or indicators on the sides.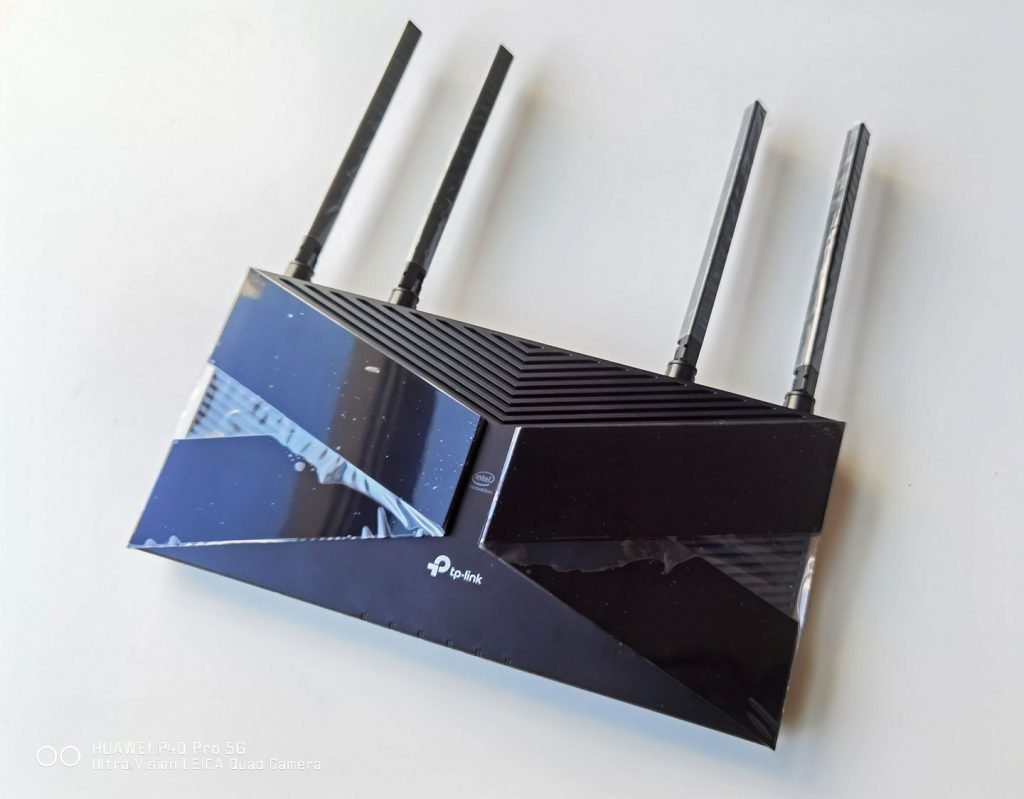 On the back are the 4 fixed folding antennas compatible with beamforming for better signal coverage, reset button, WPS, 4 LAN ports, 1 WAN port (Capped at 1 Gbps), the power button and the power connector.
Compared to the AX10, the AX50 comes with a USB 3.0 port, which means you can connect an external hard drive to use as a media server, local upnp media server or ftp server with remote connection. It can also be used for Time Machine backups on a Mac. However, it cannot be used to share a USB printer.
Unfortunately, the antennas are fixed and cannot be replaced with more powerful ones. But in any case, with the TP-Link Archer AX50 router you won't have any problems covering large house or office space with a wireless signal.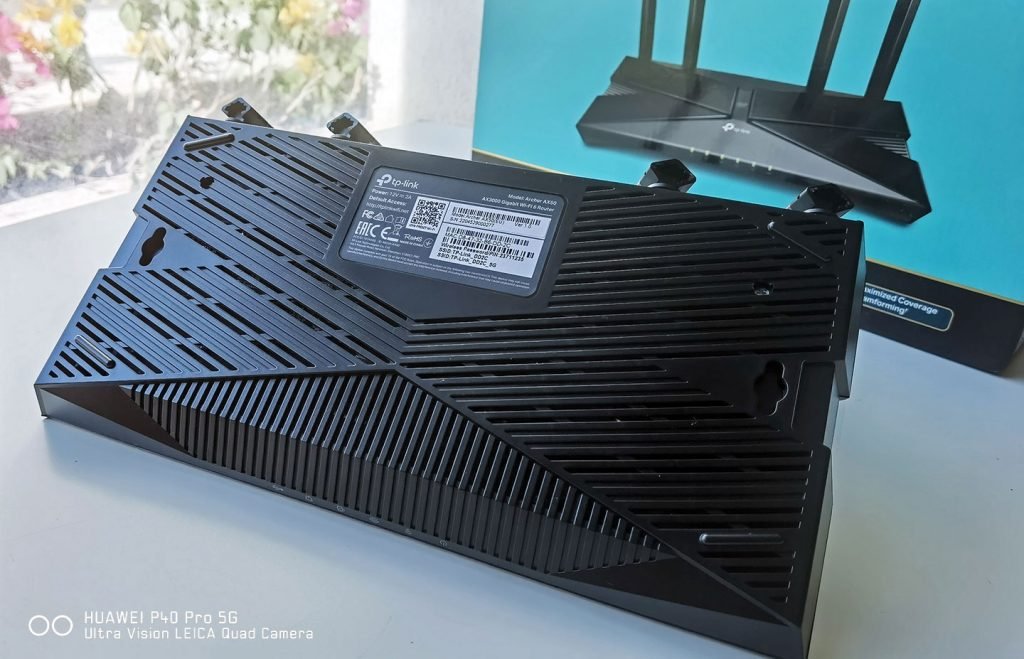 At the bottom it comes with a grille for ventilation. There are also hooks for wall mounting here. There are four small plastic stands on each corner.
Software & Setup
The AX50 comes with the same software as the AX10. The refreshed and modern dashboard is more transparent, intuitive and easier to navigate.
The settings are divided into basic and advanced, with the most essential options at the top. We really liked the new GUI as it has all the vital information in the basic section which is all the average user really needs.
Once connected by cables or Wi-Fi, the router will prompt you for the initial setup when you start your Internet browser. Alternatively, just enter the internet address tplinkwifi.net in the address bar. The router is also compatible with Alexa. Once setup, it can be controlled via voice commands.
You can also use the Tether app, which works on the local network, for configuration and management. It is available for both smartphones and tablets on iOS and Android. Tether works on the local network. You also have the option to register a TP-Link account ID during installation, which will enable access to cloud services. From there, you can control your entire network remotely.
The router can also be configured as an access point to expand the wireless coverage area. For more experienced users, there are advanced settings available such as private networks, NAT, Smart Connect, QoS and more.
OFDMA and MU-MIMO technologies are also worth mentioning. Traditional routers that use the older SU-MIMO standard serve only one user at a time, while other users have to wait, which reduces performance and overall capacity.
MU-MIMO technology solves this problem by creating several simultaneous connections serving multiple users at the same time, even when gaming online, watching 4K videos or sending large files.
The router allows us to configure the two different networks: 2.4 / 5 GHz, which can work separately or as a combined network. With Smart Connect, the router automatically assigns the network depending on what the connecting device supports. It also offers an option to setup a Guest Wi-Fi network, with or without a password.
The Archer AX50 comes with an additional feature – the HomeCare suite which includes Antivirus, advanced QoS and parental controls.
Performance
Archer AX50 come with the exclusive DFS feature which utilizes an an extra band to reduce network congestion and also supports high power FEM to strengthen signal coverage.
The TP-Link AX50 offers dualband Wi-Fi 6, featuring a 160 MHz bandwidth and 1024-QAM, for a total bandwidth of up to 3 Gbps (AX3000) when using both bands (2.4 and 5 GHz). Specifically, a 5GHz 802.11ax network capable of reaching 2,402 Mbps and a 2.4GHz 802.11n network capable of up to 574 Mbps.
The WiFi 6 (802.11ax) standard works when the device supports 5GHz networks and 2.4 GHz band for older devices.
On the hardware side, the TPLink AX50 has a Dual Core Intel processor and 256 MB of RAM.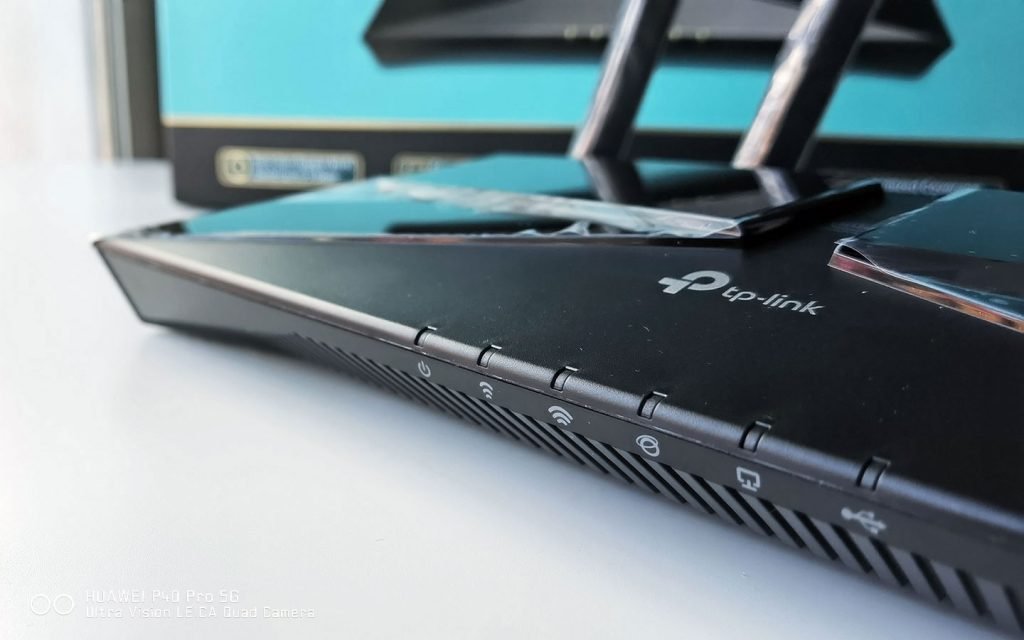 TPLink AX50 also includes 'Beamforming' technology, where it intelligently searches for connected devices and optimizes the signal in their direction, of course, this only applies to devices that have already been connected. To connect new devices, it is sometimes necessary to go a little closer to the router.
On our test system with an Intel AX200 wireless adapter, we managed to get over 800Mbps on the Wi-Fi network.
Conclusion
Unless you have a specific use case or have large number of devices connected to the network, the AX10 is still better a choice as the AX50 router costs twice the price of the Archer AX10.
If the additional features, higher Wi-Fi 6 speeds and the inclusion of a USB port are important to you, then the AX50 is a good choice for the price segment.