With the arrival of the new wireless standard 802.11ax, Asus is one the first manufacturers with an 802.11ax gaming router in the market. The ASUS RT-AX86U is a Wi-Fi 6 based dual-band router offering faster speed, lower latency, support for more connected devices, and wider signal coverage.
The ASUS RT-AX86U is an upgraded version of the classic AC86U, and can transmit data up to 5700 Mbps (861 Mbps 2.4 GHz + 4804 Mbps 5 GHz). The router is also equipped with a 1.8 GHz quad-core processor, along with 1GB DDR3 RAM and 256 MB of flash storage
Highlights
New-generation WiFi 6 – Enjoy ultrafast speeds up to 5700 Mbps with the latest WiFi 6 (802.11ax) and 160MHz channels
Mobile Game Mode – Minimize lag and latency for mobile gaming with just a tap on the ASUS Router app
True 2 Gbps wired and wireless speeds – Aggregated 2 Gbps WAN connections, wired 2.5 Gbps port and WiFi 6
ASUS AiMesh support – Create a flexible, seamless whole-home mesh network with AiMesh-compatible routers
Commercial-grade home network security – Lifetime free ASUS AiProtection Pro, powered by Trend Micro, with WPA3 and advanced Parental Controls to protect your home
WHAT IS WI-FI 6?
Wi-Fi 6 or 802.11ax is the new standard for wireless networks. It is roughly 30% faster than the old 801.11ac (Wi-Fi 5) standard and offers improved network performance when multiple devices are connected to the same network.
An improved MU-MIMO technology along with beamforming allows connecting many more devices at the same time with better stability. With an increase in households wireless devices due to the growth of home automation and IoT, innovations like this are very important to maintain a strong, stable network; especially when speed is important.
Specifications
Standards
Wi-Fi 6
IEEE 802.11a, IEEE 802.11b, IEEE 802.11g, IEEE 802.11n, IEEE 802.11ac, IEEE 802.11ax, IPv4, IPv6
WiFi Speeds
AX5700
802.11a : 6,9,12,18,24,36,48,54 Mbps
802.11b : 1, 2, 5.5, 11 Mbps
802.11g : 6,9,12,18,24,36,48,54 Mbps
802.11n : up to 450 Mbps
802.11n (1024 QAM) : up to 750 Mbps
802.11ac (1024 QAM) : up to 4333 Mbps
802.11ax (2.4GHz) : up to 861 Mbps
802.11ax (5GHz) : up to 4804 Mbps
Antenna
External antenna x 3
Internal PCB antenna x 1
WiFi Technology
OFDMA (Orthogonal Frequency Division Multiple Access)
Beamforming: standard-based and universal
1024-QAM high data rate
20/40/80/160 MHz bandwidth
WiFi Encryption
WPA3-Personal, WPA2-Personal, WPA-Personal, WPA-Enterprise , WPA2-Enterprise , WPS support
Firewall & Access Control
Firewall: SPI intrusion detection, DoS protection
Access control:Parental control, Network service filter, URL filter, Port filter
WAN Types
Automatic IP, Static IP, PPPoE(MPPE supported), PPTP, L2TP
Processor
1.5 GHz Triple-Core CPU
Memory
256 MB Flash
1 GB RAM
Ports
RJ45 for 10/100/1000 BaseT for WAN x 1
RJ45 for 10/100/1000 BaseT for LAN x 4
RJ45 for 2.5G BaseT for WAN/LAN x 1
USB 3.2 Gen 1 x 2
Buttons
WPS Button, Reset Button, Power Switch, LED on/off Button
Power
AC Input : 110V~240V(50~60Hz)
Dimensions
242 x 100 x 325 mm (WxDxH) with antenna
242 x 100 x 164 mm (WxDxH) without antenna
Weight
814.5 g
Read full specifications here.
Packaging & Design
The RT-AX86U comes in black and white packaging with product photos, main features and specifications.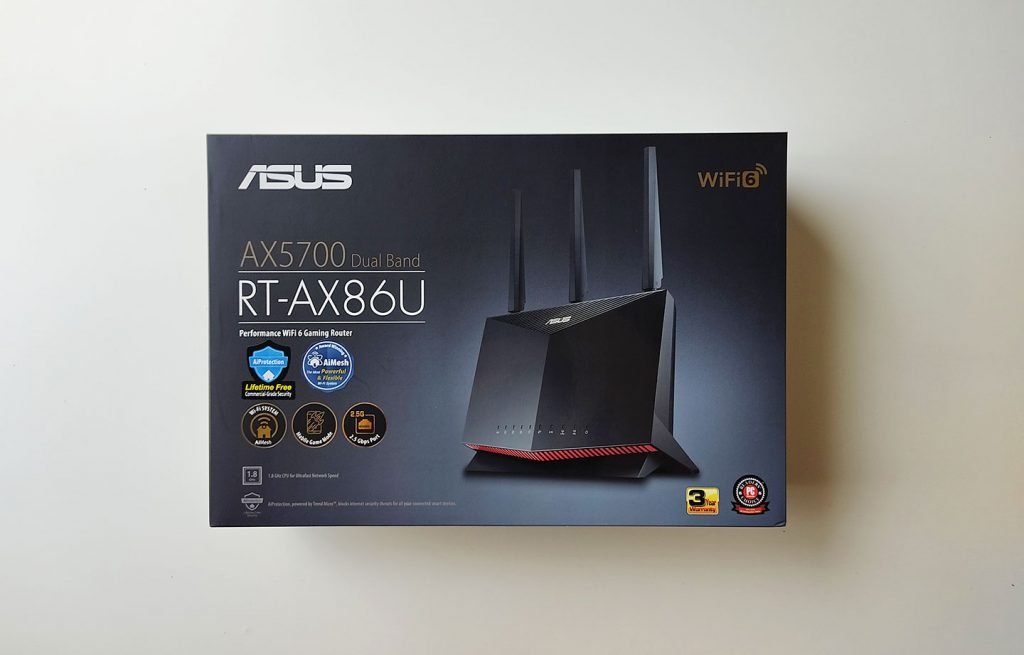 The package includes the router itself, installation manuals, power supply and a network cable. The RT-AX86U is designed to be vertical, with three detachable dual-band antennas at the top.
The router is made of high durability and quality plastic featuring a modern and distinct vertical design. With dimensions of 242 x 100 x 164 mm (without the antennas) and a weight of 815g, the RT-AX86U is lightweight and compact. The ASUS logo in gold finish, combination of LEDs, red highlights at the base and the mix of carbon-fiber like texture makes it look quite futuristic and elegant.
At the front are the LEDs, indicating different operations such as WPS, Internet connectivity, LAN, 2.4 and 5.0 GHz WiFi connectivity power status.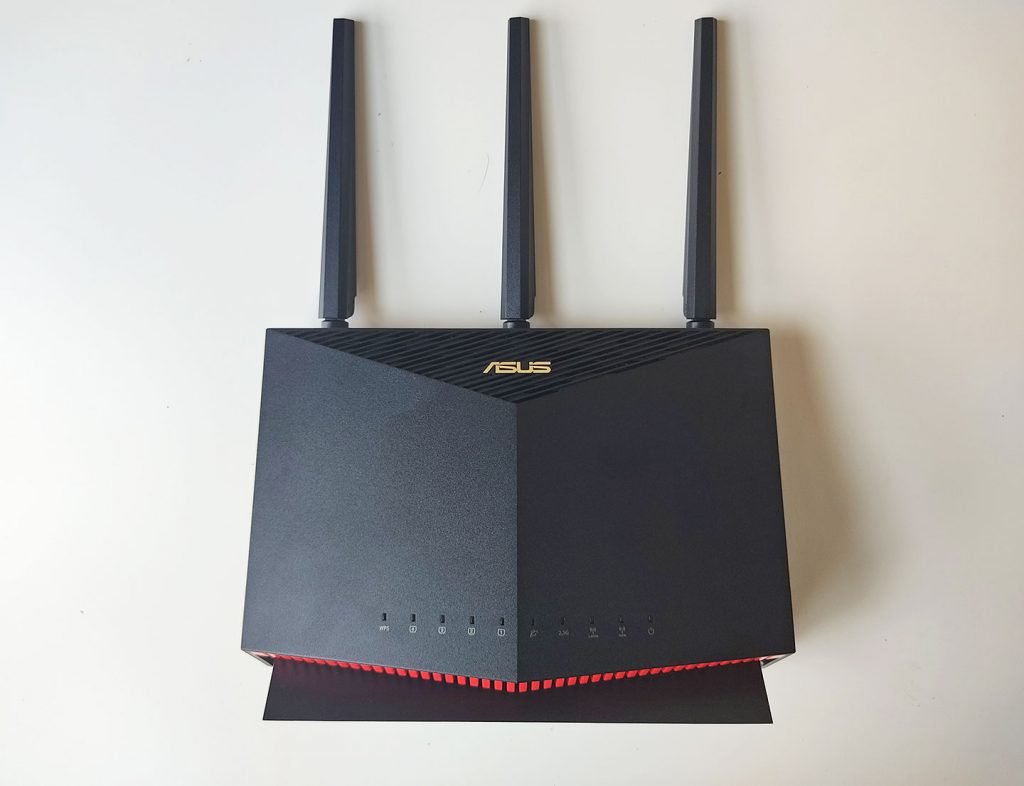 At the back are where all the ports are located. From left to right, there is a power supply connector, power switch, reset button, two USB 3.0 ports, WAN 2.5G port, gigabit WAN port and 4 gigabit LAN channels. A big advantage to note here is the inclusion of two USB 3.0 port for sharing files on the network via a pen drive or an external disk. There is the lack of a 10 Gbps port.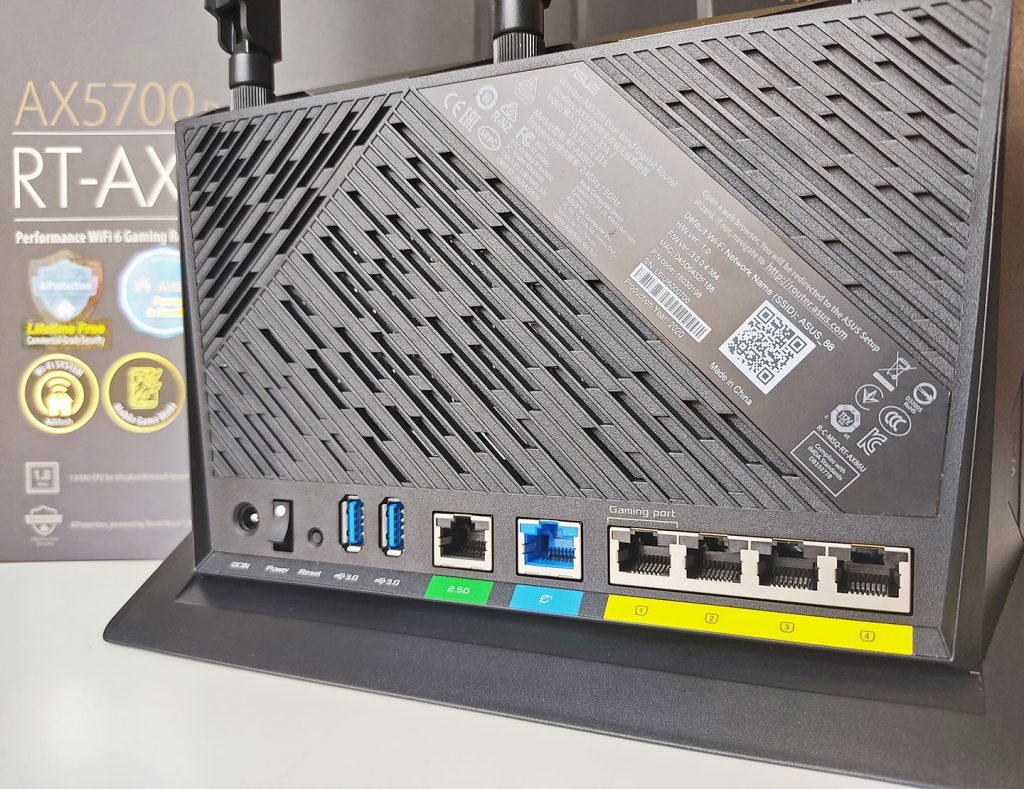 The RT-AX86U supports 2.5 Gbps connections thanks to a 2.5 Gbps port that can be used for LAN or WAN. The RT-AX86U router is also recommended by Nvidia GeForce Now for the 'best Cloud Gaming experience'.
The RT-AX86U has a dedicated gaming port that automatically prioritizes any wired device connected to it. No complex configuration is needed, just connect your gaming PC or console to the special LAN port for a fast, stable connection that's always at the head of the queue.
There are no options to mount the router here, the router rests vertically on a well-built stand and is the optimal position for cooling. However, it would have been a good to have an option for wall mounting, with a detachable foot and the connections on the side.
Software & Setup
Once the router is connected to the network, the initial setup can be configured by visiting router.asus.com
The configuration process is straightforward, starting with the naming the wireless connections, login details to the actual setup of the router and the extensive features it offers.
You can choose to merge the 2.4 GHz and 5.0 GHz frequency band as one SSID and the RT- AX86U will determine when to switch between connections, depending on the signal strength. You can also choose to keep the 2.4 and 5.0 GHz connection separate.
This router has all the technologies that we have seen so far in ASUS routers, such as ASUS AiMesh, ASUS AiProtection Pro to protect the network against threats, extensive configuration options for WAN, LAN and Wi-Fi and guest networks.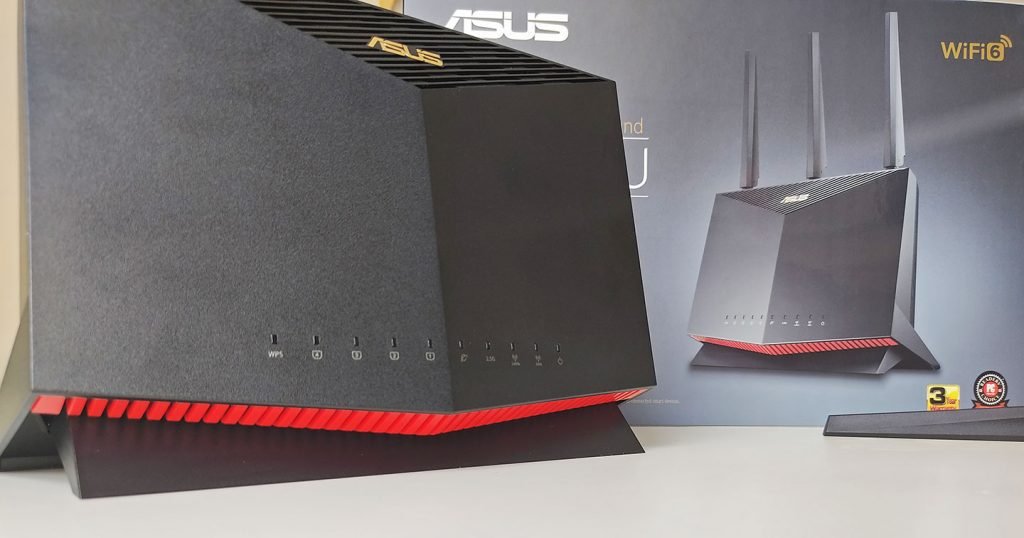 For gamers, this router has advanced adaptive QoS, a specific LAN port that prioritizes connection over other ports and interfaces, and NVIDIA Geforce Now among other gaming-oriented features.
QoS helps with tracking who does what within a network and delivering low-latency WiFi. Quality of Service (QoS) lets you keep your network running smoothly by prioritizing network traffic. You can prioritize applications such as media streaming or web surfing, as well as gaming. You can also measure the current load on the network from the QoS settings.
By setting up AiCloud, you can remotely access the resources from the router network from anywhere at any time.
RT-AX86U also supports commands via Amazon Alexa and IFTTT to integrate the router into your smart home setup.
Features & Performance
The RT-AX86U offers dual-band Wi-Fi 6, with a total bandwidth of up to 5.7 Gbps (AX5700) when using both bands (2.4 and 5 GHz). Specifically, a 5GHz 802.11ax network capable of reaching 4,804 Mbps and a 2.4GHz 802.11n network capable of up to 861 Mbps.
The WiFi 6 (802.11ax) standard works when the device supports 5GHz networks and 2.4 GHz band for older devices.
In terms of computing power, The AX86U features a 1.8 GHz quad-core Broadcom BCM4908 processor, an impressive 1GB DDR3 RAM and 256MB of flash memory.
Files such as documents, photo, video and music can be easily streamed to devices with data transfer speeds of up to 80Mbps on the 5.0 GHz band.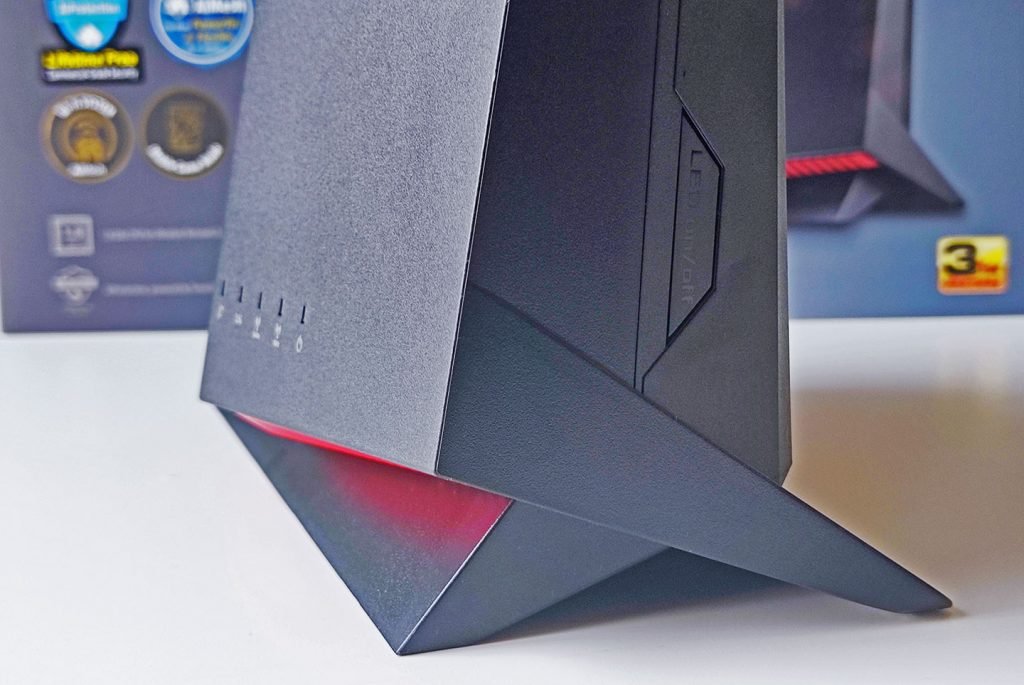 The ASUS RT-AX86U also has advanced parental control functions and allows management and/or restrictions on specific devices on the network.
Wi-Fi 6 Features
This router has all the wireless technologies of Wi-Fi 6, such as MU-MIMO, OFDMA, 1024QAM, beamforming, and also a WPS button to synchronize devices easily and quickly. A very important aspect is that it incorporates ASUS AiMesh technology to create hotspots and expand the wireless coverage area in a mesh network with AiMesh-compatible routers.
AiMesh allows multiple routers to be connected together to form a distributed Wi-Fi system. Multiple hotspots are unified into one to achieve easy coverage of large area. Devices can automatically switch between the strongest Wi-Fi signals.
Another important aspect of the RT-AX86U is that its firmware supports WPA3-Personal, the latest wireless security standard It also supports WPA2-Personal / Enterprise with AES if you have a non-compatible device.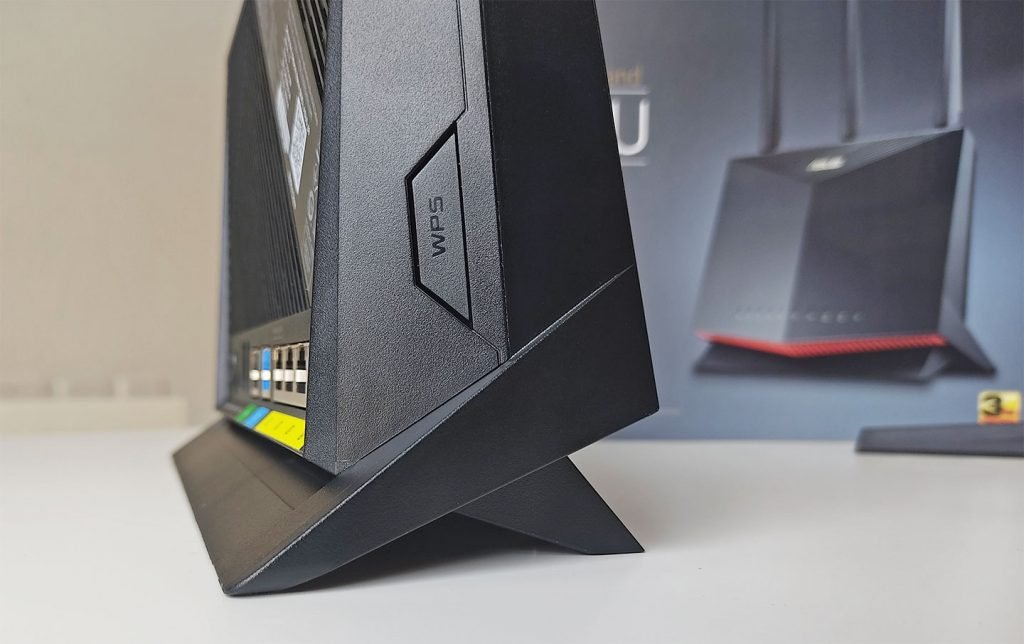 Wired Ports
For a wired network, the router has a Gigabit Ethernet port for the Internet WAN. As for LAN, there are a total of four Gigabit Ethernet ports.
One of the main features of this wireless router is its 2.5G port, therefore, this router supports multi-gigabit speeds, to provide more than double the speed of a conventional Gigabit Ethernet connection. This 2.5G port can be configured for both LAN and WAN.
USB Features
This router has a total of two high-performance USB 3.0 ports for sharing files on the network via a pen drive or an external disk. With this feature, the RT-AX86U can also function as a home media sharing center.
Conclusion
With the arrival of Wi-Fi 6, Asus is definitely ahead of the competition. In fact, the internet speed test at my home can't fully utilize the advantages of this router. Despite that, the RT-AX86U's performance on 802.11ac is superb.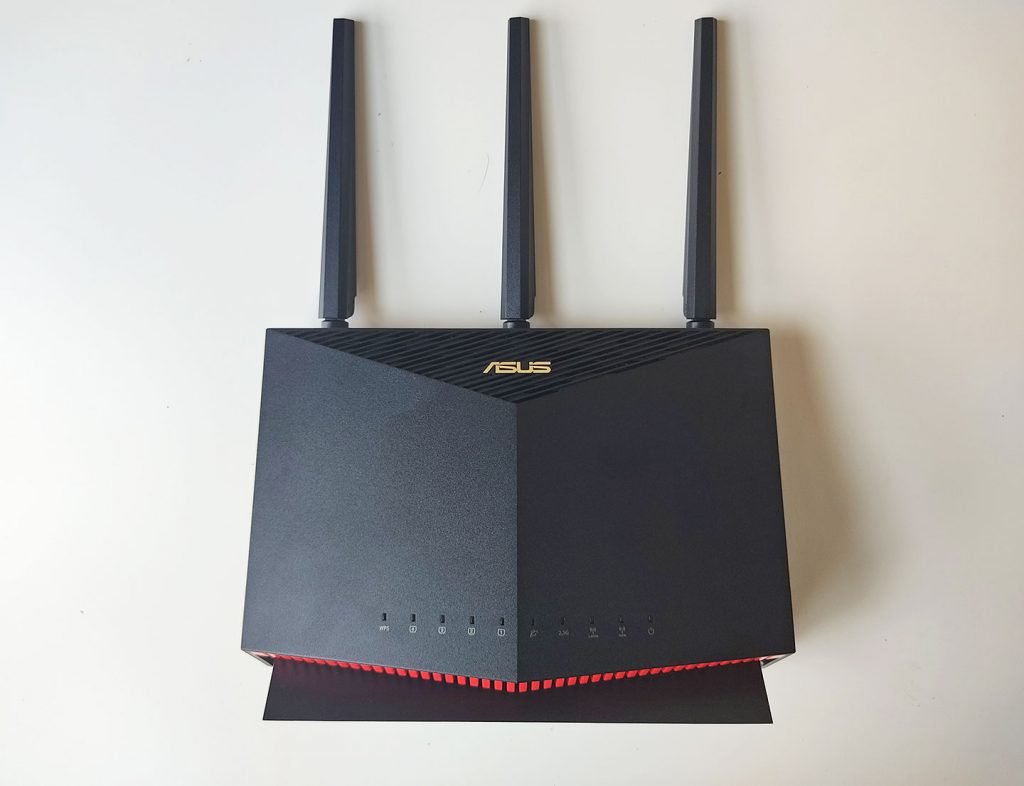 This high-performance Wi-Fi 6 gaming router RT-AX86U is almost perfect in my entire experience. The ASUS RT-AX86U is an excellent choice for users seeking a high-performance router for home or office. It offers stellar performance and is packed with great features and comprehensive software.