The SteelSeries Arctis 7P Wireless headset is one of the first headsets specially made for the Playstation 5 with cross-compatibility across PS4, PC, Mac, Nintendo Switch and Android. The Arctis 7P has the same S1 40mm audio drivers as the original Arctis 7 headset, as well as DTS Headphone: X v2.0 for spatial surround sound.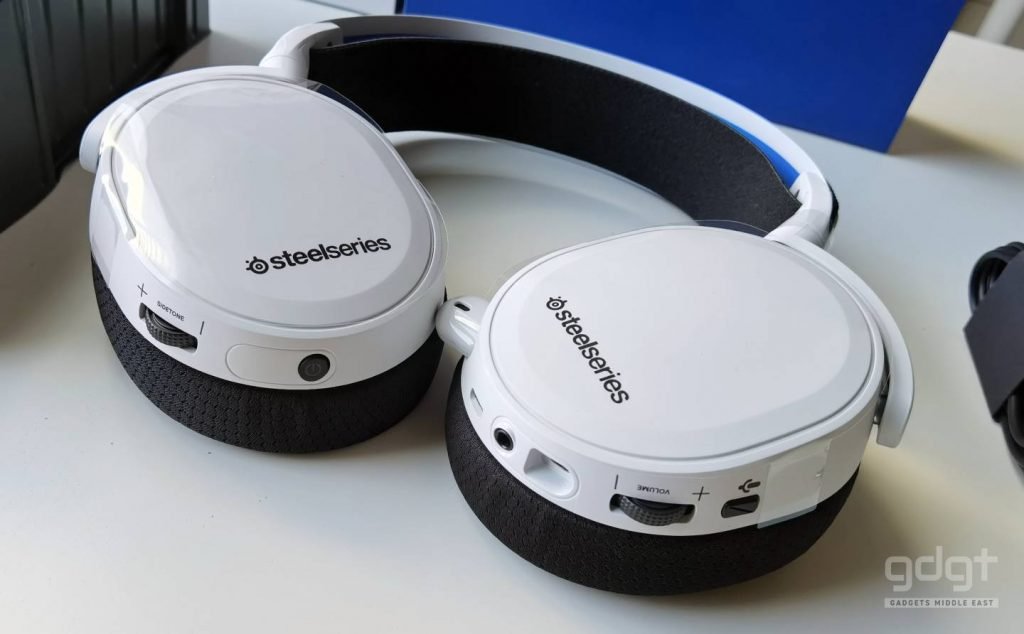 The 7P Wireless headset features an improved 24-hour battery life, USB-C connectivity, lossless 2.4 GHz wireless audio with low latency up to 12 meters and a redesigned look that perfectly matches the futuristic Playstation 5.
Specifications
| | |
| --- | --- |
| Connectivity: | Wireless USB-A, Wireless USB-C |
| Drivers: | 40mm Neodymium Drivers |
| Drivers Material: | Neodymium magnets |
| Frequency Response: | 20Hz – 20kHz |
| Impedance: | 32 Ohm |
| Wireless Type: | 2.4GHz Lossless |
| Wireless Range: | 40ft / 12m |
| Wireless Battery Life: | 24 hours |
| Weight: | 255g |
| Microphone Type: | Detachable |
| Microphone Frequency Response: | 100–6500 Hz |
| Sensitivity: | -38 dBV/Pa |
| Pick-up Pattern: | Bidirectional Noise-Canceling |
Packaging
The Arctis 7P Wireless comes in a SteelSeries branded cardboard packaging, in a mix of white and blue colors to match the Playstation theme. On the front is a photo of the headset along with features and compatibility, while on the sides and back are the detailed specifications of the product.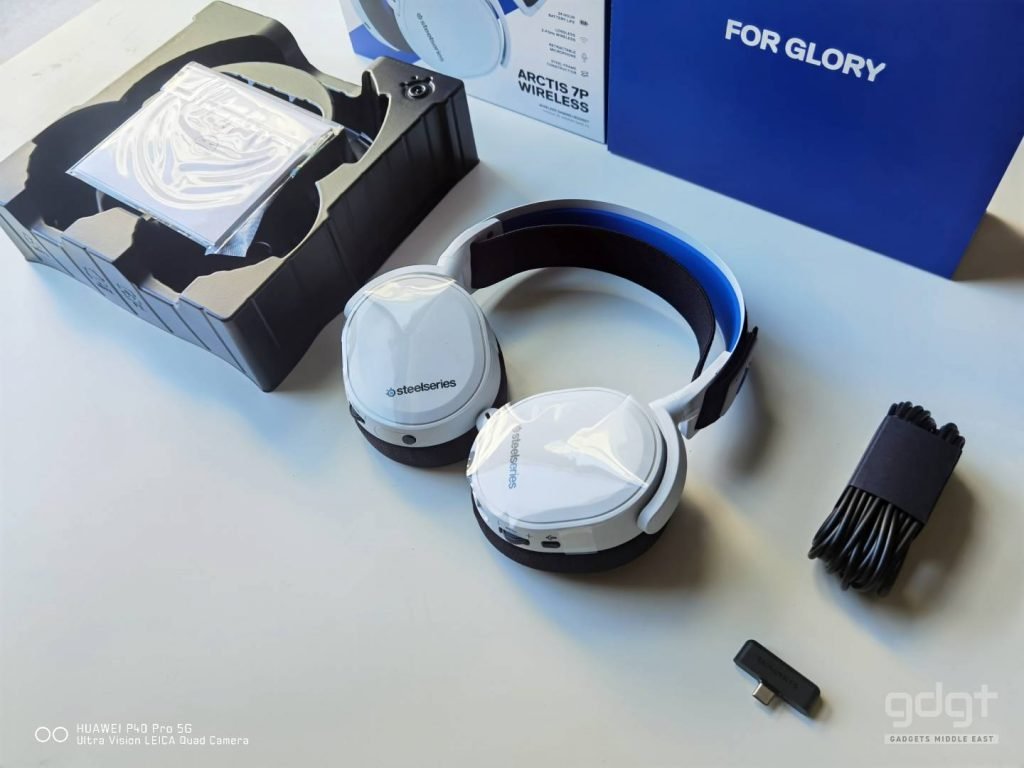 The headsets and accessories are well protected so that it does not move during transport. The Arctis 7P Wireless comes with all accessories bundled, props to SteelSeries for that! The packaging includes the below:
The Arctis 7P Wireless headset itself
2.4 GHz USB-C wireless dongle
USB-C to USB-A adapter
MicroUSB charging cable for the headset
Share Port cable
Setup guide
The wireless receiver is a USB-C dongle with an USB-A adaptor for older devices.
Design & Build
The Arctis 7P Wireless features the signature ski-goggle headband. The headband can be easily adjusted to different head sizes and offers a very comfortable fit even for a long period of use.
The headband is made of lightweight aluminum, which gives the headset a premium feel. The rest of the headset is made of high-quality matte plastic which blends in well with the overall design and feel.
The ear cups are padded with Airweave fabric ear cushions, which are foam inserts are covered in a soft, breathable mesh design that allows for better airflow to and from your ears.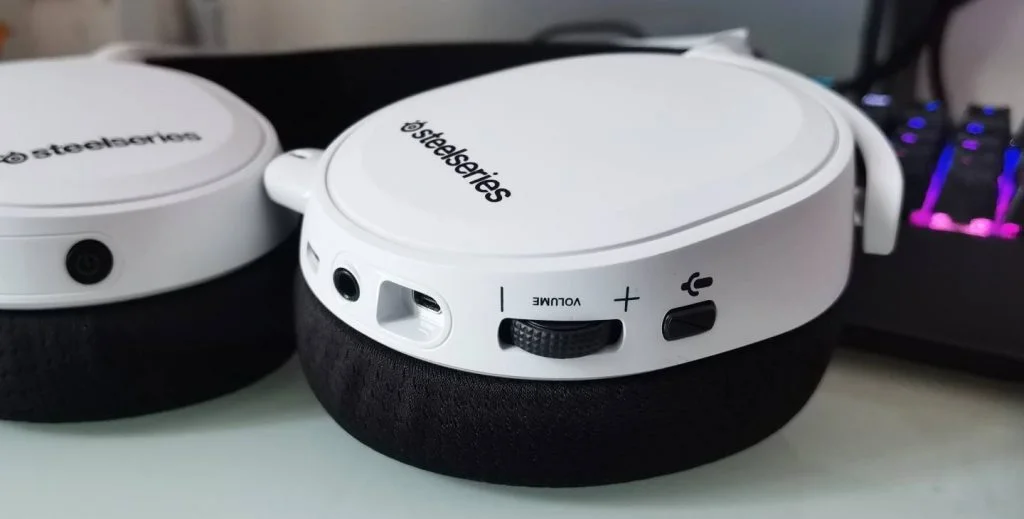 The microphone is located on the left side of the headset and is retractable. The ClearCast microphone is the same as the original Arctis 7 headset, with bi-directional audio that helps filter out unwanted noise.
Also, on the left earcup you have the volume knob and microphone mute buttons, the share port for audio sharing, 3.5mm audio jack for wired mode, USB-C and a micro-USB port for charging. The microphone button pops out when its muted so you can easily tell what state it is in. The microphone boom also has a small LED strip that glows red when muted so you don't have to reach for the button itself.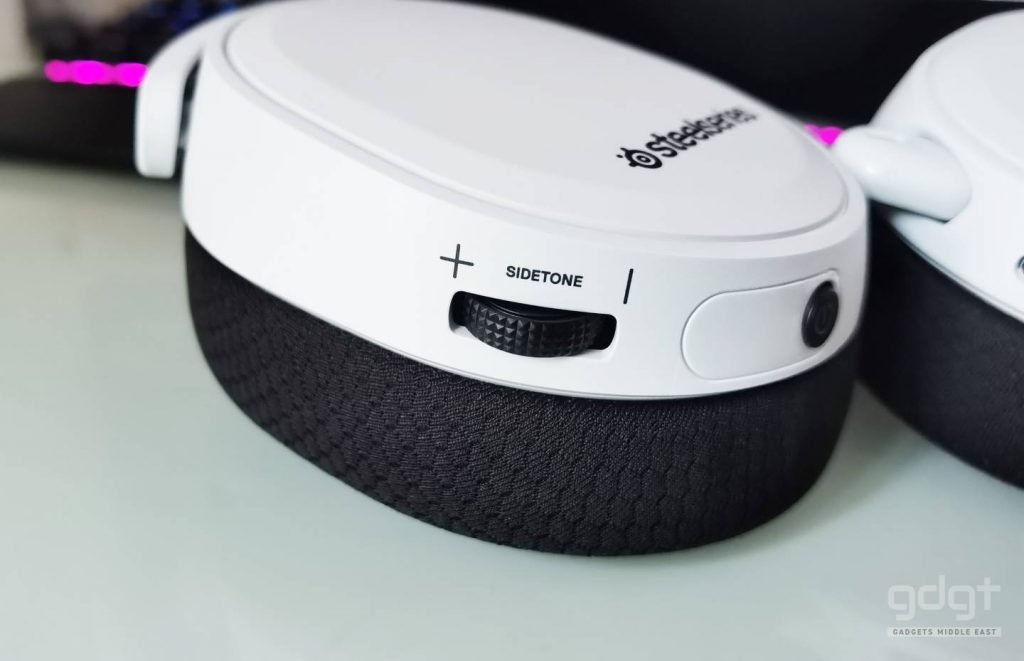 On the right ear cup is the power button that doubles as a battery indicator. There is also a sidetone knob here that allows you to control the amount of mic input that is routed back into your headset, so you can choose how much of your own voice and surroundings you hear.
One small issue here is that the USB-C dongle is very wide and it blocks your USB-A port on the Playstation 5. A workaround is to connect the USB-C to included USB-A adapter and plug it into the PS5.
Performance & Audio Quality
A highlight of the Arctis 7P Wireless is their compatibility with devices such PC, Mac, Nintendo Switch and newer Android devices, although the sound quality isn't as great as when connected to a Playstation console.
With the included 2.4GHz USB Type-C wireless dongle and the USB Type-A adapter, the Arctis 7P Wireless is really versatile when it comes to compatibility across multiple platforms. Simply plug in regardless of whether it is a smartphone, console or PC and use it immediately without the need to install any software.
In terms of audio quality, two high-quality neodymium 40 mm drivers are responsible for the audio conversion, which according to SteelSeries, covers a frequency range from 20Hz to 20kHz. The headphones have an impedance of 32 ohms and a sensitivity of 98 decibels. The drivers are optimized for Sony's PlayStation 5 Tempest 3D Audio.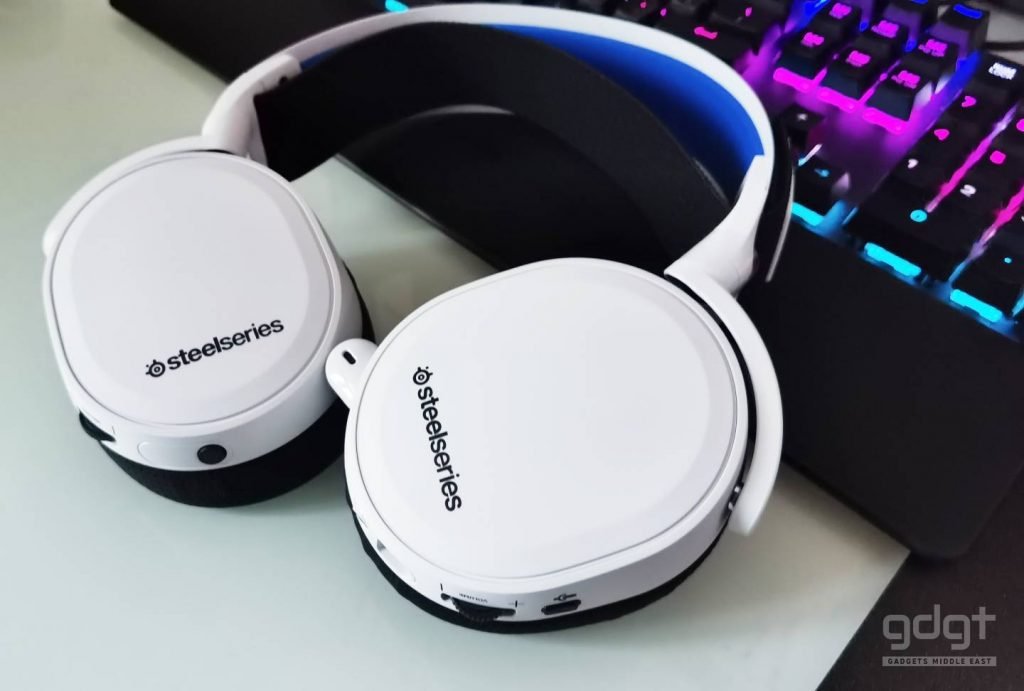 To test the sound capabilities, we played Assassins Creed: Valhalla, DiRT 5 and Ghost of Tsushima. The Arctis 7P performed very well in terms of music, voices and combat sounds and is well-insulated for external noise-cancellation. Music and and in-game sounds, especially combat and engine sounds, are more immersive. Voice dialogues are crisp and loud enough and we were able distinguish sounds coming in from different directions with perfect accuracy. However, if you are looking for a headset that has a deep bass, the 7P is not the right fit.
The removable ClearCast microphone is pretty good overall with clear audio although a bit damp. The microphone has a narrow frequency response from 100Hz to about 6.5 kHz, is discord-certified and comes with active noise cancellation to filter out ambient noises.
We are really impressed with the signal strength; the lossless 2.4 GHz wireless signal offers delay-free hi-res audio over a range of almost 12 meters even with obstacles and external interference. The same is true of the battery life, which lasted approximately 22 hours.
Another feature worth mentioning is that the headset can be connected via the micro-USB port to charge and used it at the same time. In addition, it is always possible to turn them into a wired headset by plugging in a 3.5 mm audio cable.
Software & Features
If you game on the PC, the SteelSeries Engine 3 software allows you to further tune the headset, including EQ controls. SteelSeries Engine is one of the easiest software's to use in terms of interface and options. While it may not be the most comprehensive in terms of available options, it does include a lot of basic options, preset audio profiles and an audio equalizer to create custom profiles.
In addition to configuring settings, SteelSeries Engine allows new firmware versions to be installed as soon as they are available.
Verdict
The SteelSeries Arctis 7P is a fantastic wireless headset made for the Playstation 5 with improved battery life and an updated USB-C dongle.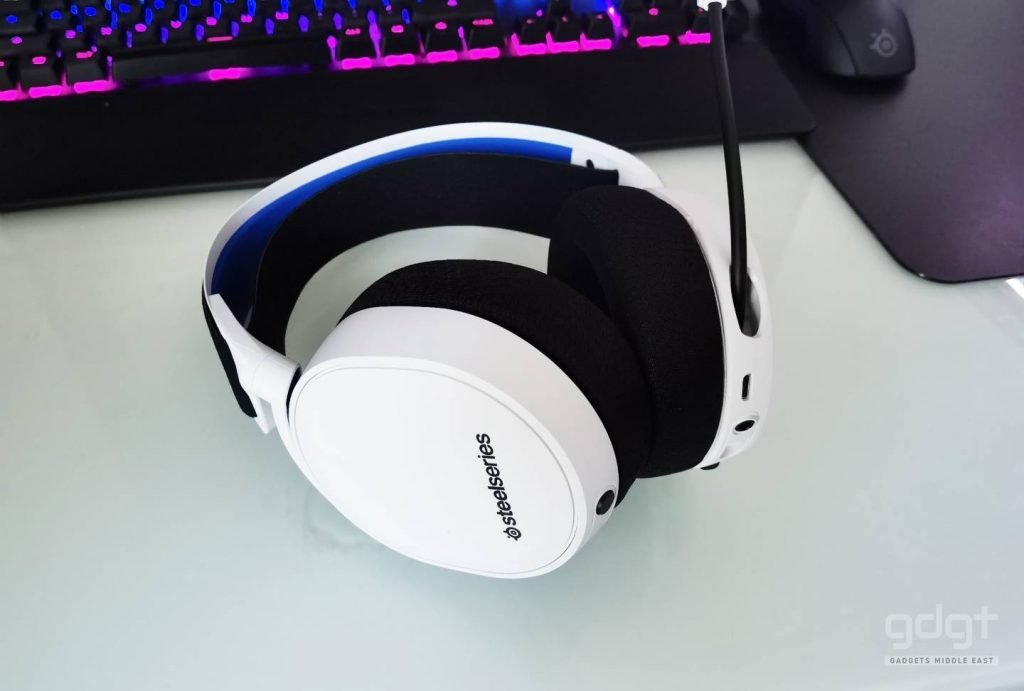 Although it's optimized to work with Playstation's 5 Tempest 3D Audio, it is also compatible with PC, Mac, Android, Nintendo Switch or even a TV that supports audio output over USB, which makes it versatile.
In terms of comfort, the ski-goggle headband design takes a lot of the weight off your head, making the headset feel very light. The Airweave fabric ear cushions also offer a very comfortable fit even for a long period of use.