The TOZO Golden X1 earbuds promise an exceptional audio experience, thanks to their unique combination of a 12mm dynamic driver and a customized Knowles balanced armature driver. With an ultra-wide frequency response range of 12Hz to 44.1kHz, these earbuds reproduce a wide range of sound frequencies with remarkable precision and clarity.
One standout feature of the TOZO Golden X1 is its support for LDAC high-definition audio decoding, ensuring that you can enjoy your favorite music in the highest possible audio quality. Additionally, these earbuds are Hi-Res Audio certified.
In terms of functionality, the earbuds boast an IPX6 waterproof rating, making them suitable for active use and protection against sweat or light rain. This feature ensures that you can enjoy your music during workouts or outdoor activities without worrying about damage caused by moisture.
The inclusion of an on-board LED display on the case is a welcome addition. It provides clear and convenient information about the battery status of both the earbuds and the charging case, allowing you to stay informed and plan your usage accordingly. This eliminates the guesswork and ensures that you never run out of power unexpectedly.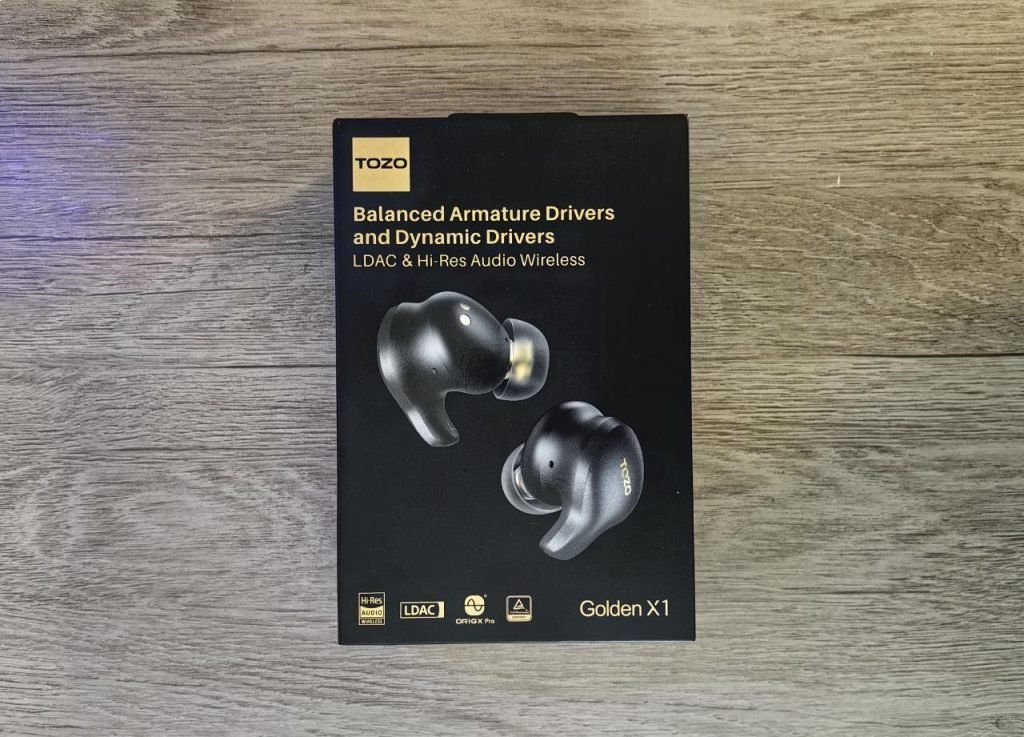 Wireless charging capability adds another layer of convenience to the TOZO Golden X1. With this feature, you can easily charge the earbuds and the charging case by simply placing them on a compatible wireless charging pad. This eliminates the hassle of dealing with cables and allows for a clutter-free charging experience.
Equipped with multiple EQ modes and noise cancellation, these earbuds offer customizable sound profiles that cater to individual preferences. Whether you prefer a bass-heavy sound or a more balanced audio output, the TOZO Golden X1 allows you to fine-tune the sound signature to suit your taste. The noise cancellation feature further enhances the listening experience by blocking out unwanted external noises, allowing you to immerse yourself fully in your music.
Connectivity is seamless with the TOZO Golden X1, thanks to its Bluetooth 5.3 technology. This ensures a stable and reliable connection with your devices, and it even supports simultaneous pairing with up to two devices. Whether you're using a smartphone, tablet, or laptop, you can easily switch between devices without the hassle of disconnecting and reconnecting.
Highlights
Balanced Armature Driver & Hi-Res Audio
Hybrid Dynamic Driver System
LDAC HD Audio-decoding
OrigX Pro Sound
Environment and Noise Cancellation
Wireless Charging & LED Digital Display
16 Preset EQ Modes
Bluetooth 5.3 Technology
Ergonomic Design
Specifications
Dimensions:
Per earbud
Weight: About 5.8 g

Charging case
69.9 x 34.2 x 38.2mm
Weight: About 43 g
Connectivity:
Bluetooth 5.3
Effective Bluetooth range:10m
Audio Technology:
Driver: φ12 mm dynamic driver + Knowles balanced armature driver
Frequency response range: 12Hz – 44.1kHz Audio codec: LDAC / AAC / SBC
Noise Cancellation:
 Noise control modes:
Noise Cancellation
Leisure Mode
Custom Pattern
Reduce Wind Noise
Transparency Mode  

Call Noise Cancellation:
Triple-Microphone with ENC Call Noise Reduction
Battery:
Battery capacity
Per earbud: 55 mAh
Charging case: 500 mAh

Charging
Wired: USB Type-C
Wireless: Qi wireless charging supported
View full specifications here.
Packaging, Design & Build
The TOZO Golden X1 earbuds arrive in an elegant black box that showcases the attention to detail. Opening the package reveals the charging case, earphones, a USB-C charging cable, manuals, and replacement earbuds in three different sizes. However, it's worth noting that a power adapter or a protective cover for the case is not included, which could be a minor inconvenience for some users concerned about protecting the case from scratches.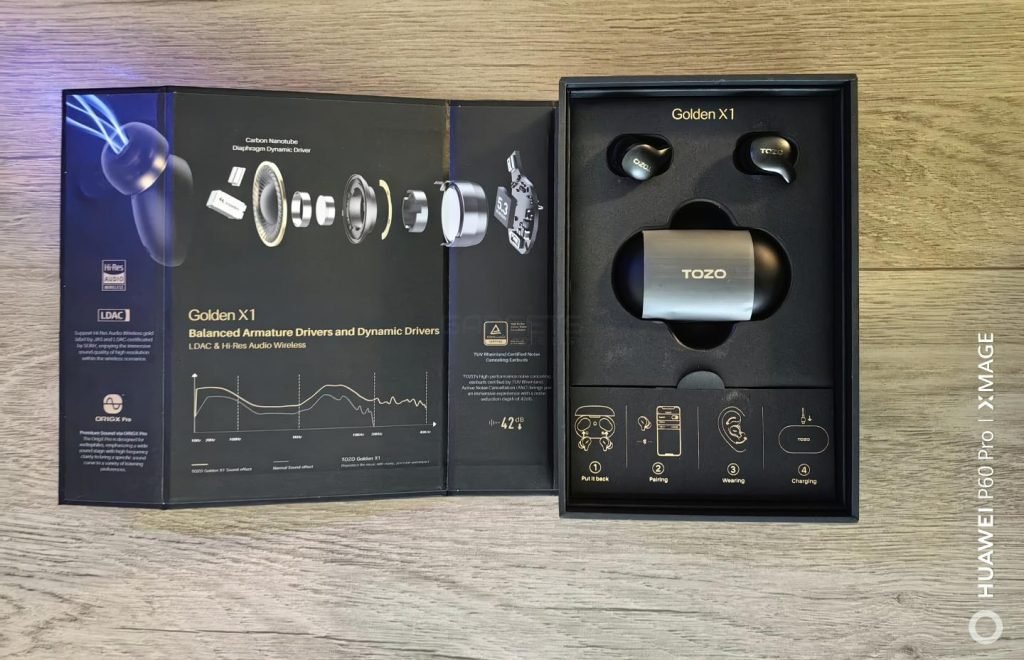 The package contains:
Earbuds
Silicone ear tips (three sizes)
Wireless charging case
USB-C charging cable
Quick start guide (including safety information)
Warranty card
The charging case itself boasts a sleek and minimalistic design, featuring a rectangular shape with curved edges, all finished in an appealing matte black. Conveniently, it offers both a USB-C charging port and wireless charging support. What sets it apart is the innovative on-board LED display, providing clear and instant battery status information. Additionally, the case includes a pairing button for seamless connectivity.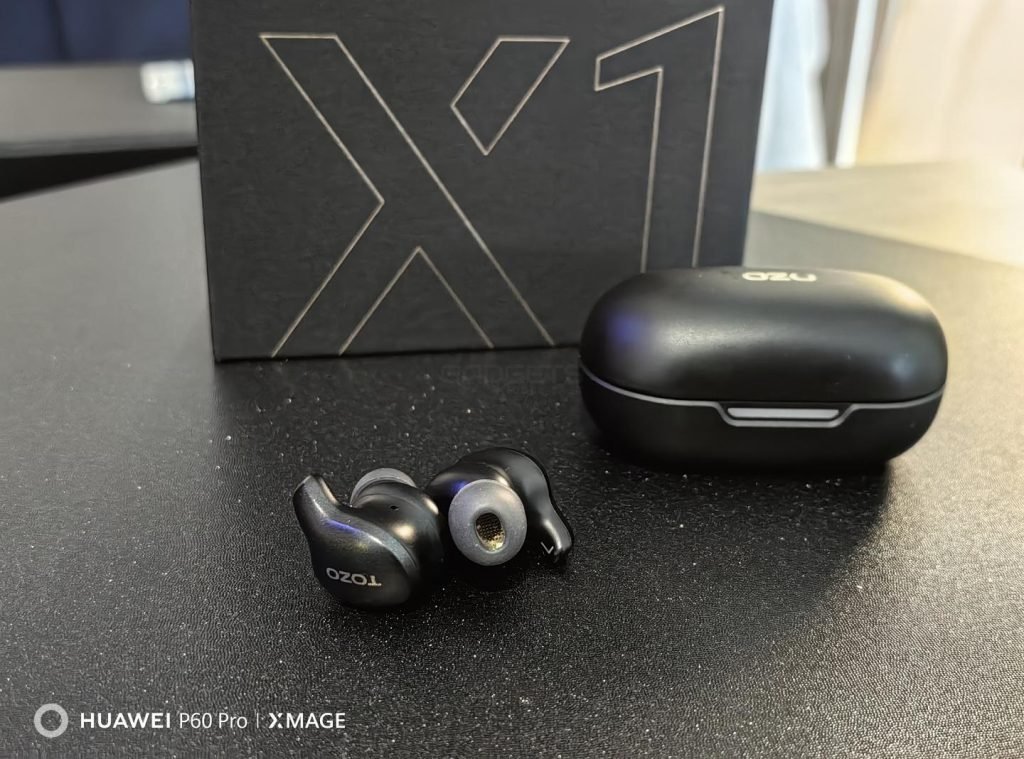 Inside the case, the earphones are securely held in place magnetically. While it's easy to remove the earbuds, it's worth noting that the lid of the case may feel slightly wobbly, which could be improved in terms of overall build quality. The earbuds themselves exhibit a well-designed matte-finish texture. Sporting a compact and lightweight bean-shaped design with a stem, they are not only aesthetically pleasing but also comfortable to wear for extended periods.
The earbuds support gesture controls, allowing users to control playback, volume, calls, and switch between noise cancellation modes using four different gestures: one tap, double tap, triple tap, and long press.
In terms of durability, the TOZO Golden X1 earbuds boast an IPX6 rating for waterproofness, ensuring they can withstand exposure to rain and water splashes without any issues. This makes them suitable for use during workouts or outdoor activities, where protection against moisture is essential.
Performance & Audio Quality
When it comes to performance and audio quality, the TOZO Golden X1 earbuds truly shine. With support for LDAC high-resolution codec and Hi-Res Audio certification, these earbuds are designed to deliver an exceptional listening experience. The combination of a dynamic driver and a customized Knowles balanced armature driver ensures Hi-Fi-level audio reproduction, covering an impressive frequency response range of 12Hz to 44.1kHz.
The audio quality of the TOZO Golden X1 earbuds is well-balanced and versatile, making them suitable for both multimedia playback and call use. The earbuds excel in reproducing clear and well-defined highs, allowing vocals and instruments to shine with crispness and clarity. The balanced mids further enhance the overall sound signature, providing a natural and accurate representation of the music.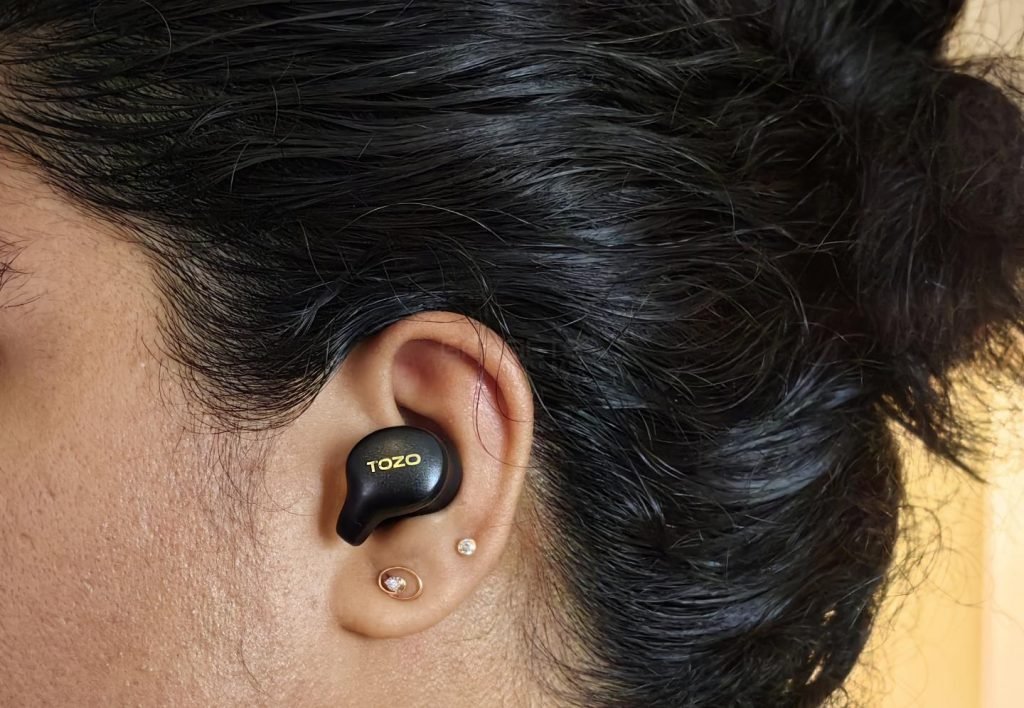 What sets the TOZO Golden X1 apart is its 12mm dynamic driver, which focuses on delivering powerful and impactful bass. This dynamic driver adds depth and richness to the low frequencies, creating a satisfying rumble and ensuring that bass-heavy tracks are enjoyed to the fullest. The hybrid driver system, combining the dynamic driver and the balanced armature driver, strikes a perfect balance between accuracy and impact, resulting in a balanced and engaging sound profile.
To further enhance the listening experience, the Golden X1 earbuds offer 16 preset EQ modes, allowing users to customize the sound to their personal preferences. Whether you prefer a more bass-heavy response or a more balanced output, the earbuds provide the flexibility to fine-tune the audio to suit your taste. Additionally, the earbuds offer six different noise reduction modes, which work effectively in indoor conditions. However, it's worth noting that in busy and noisy environments, the noise cancellation may not be as effective as desired.
Navigating through the various features and controls of the TOZO Golden X1 is a breeze. The pinch and swipe gestures are quickly recognized, and once you get accustomed to them, they work seamlessly. This intuitive control system adds convenience and ensures that you can effortlessly manage playback, volume, calls, and noise cancellation modes.
TOZO Sound app
Designed for both iOS and Android, this companion app provides a range of customization options and convenient features.
The Tozo Sounds app empowers you to fine-tune the sound settings of the Golden X1 earbuds to suit your personal preferences and hearing abilities. With its user-friendly interface, you can easily adjust the audio parameters, such as equalizer settings, to create a customized sound profile that resonates with your musical tastes. Whether you prefer a bass-heavy response, a more balanced sound, or any other audio preference, the app allows you to tailor the audio output to your liking.
Keeping track of the battery life of each earbud is effortless with the Tozo Sounds app. The app provides clear and accurate information on the power status of each individual earbud, ensuring that you are always aware of their remaining battery life. This feature enables you to plan your listening sessions accordingly and avoid unexpected interruptions due to low battery levels.
Additionally, the Tozo Sounds app offers firmware update functionality. By keeping your earbuds up to date with the latest firmware releases from Tozo, you can enjoy the benefits of new features, performance improvements, and bug fixes as they become available. This ensures that your TOZO Golden X1 earbuds stay optimized and provide an enhanced user experience over time.
Connectivity and battery
The TOZO Golden X1 earbuds utilize Bluetooth 5.3 technology for seamless pairing with other devices. Pairing is achieved by performing a long-press of the pairing button located inside the charging case. With Bluetooth 5.3, the connectivity between the earbuds and connected devices is stable, eliminating any noticeable delays. Each earbud is equipped with two Bluetooth antennas, ensuring a robust signal coverage and minimizing the risk of signal dropouts.
When it comes to battery performance, the TOZO Golden X1 earbuds offer a satisfactory experience. The earphones themselves have a 55mAh capacity each, while the charging case boasts a 500mAh capacity. Depending on usage, the earbuds can last approximately 4-5 hours with noise cancellation enabled, and around 6 hours with noise cancellation disabled. However, it's important to note that battery life may vary based on factors such as volume levels and usage patterns. Fortunately, the charging case comes to the rescue, providing an additional 2 to 3 charges, effectively extending the total battery life.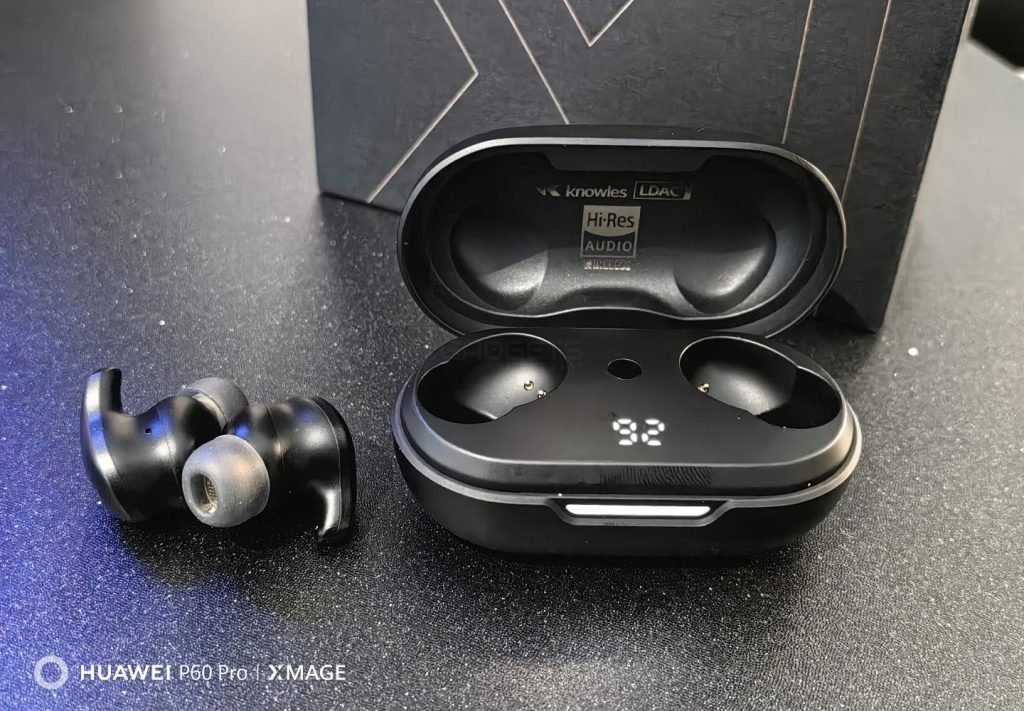 Recharging the earphones is a quick and convenient process. Simply place them back into the charging case, and they will rapidly replenish their battery levels. The charging case itself can be fully charged in approximately 2 hours, allowing you to get back to enjoying your music in no time.
One notable feature of the TOZO Golden X1 is the ability to reverse-charge the charging case using your smartphone or tablet. This means that if you find yourself on the go without access to a power outlet, you can use the battery power of your mobile device to recharge the charging case.
TOZO Golden X1 Review Verdict
The TOZO Golden X1 earbuds prove to be a strong contender in the $150 price range, offering a comprehensive set of features that are sure to satisfy most users. With excellent noise cancellation, exceptional sound quality, and an IPX6 rating for water resistance, these earbuds deliver on their promise of a premium listening experience.
Comfort is key when it comes to wearing earbuds for extended periods, and the TOZO Golden X1 delivers in this aspect. The ergonomic design ensures a snug and secure fit, allowing for comfortable wear throughout the day. The touch controls are responsive and intuitive, providing easy access to playback control and call management without the need to reach for your device.
While the TOZO Golden X1 excels in many areas, there are a few drawbacks to consider. Firstly, the lack of fast-charging support means that you may have to wait longer for the earbuds to fully recharge. Additionally, the hinge of the charging case feels somewhat flimsy.
One notable missing feature is in-ear detection, a feature commonly found in competing models. In-ear detection automatically pauses playback when the earbuds are removed from your ears, allowing for seamless transitions between listening and conversation.
Overall, the TOZO Golden X1 offers an impressive package at its price point, combining excellent noise cancellation, exceptional sound quality, and an IPX6 rating for added durability. While the lack of fast-charging support and the slightly flimsy hinge of the charging case are minor concerns, they do not overshadow the overall performance and value provided by these earbuds.