The Turtle Beach Stealth Pro is a top-of-the-line wireless headset that delivers an exceptional gaming experience. With its impressive features and high-quality components, this headset is designed to enhance your gameplay.
Featuring Nanoclear 50mm Drivers, the Turtle Beach Stealth Pro delivers powerful and immersive sound. The TruSpeak noise-cancelling boom mic and dual built-in microphones ensure crystal-clear communication with your teammates, allowing you to strategize and coordinate effectively.
One of the standout features of the Stealth Pro is its versatile noise cancelling system, which lets you adjust the levels of noise cancellation according to your preferences. This ensures a personalized and immersive gaming environment. Furthermore, the headset offers wireless cross-platform connectivity, making it compatible with Xbox Series X|S, Xbox One, PlayStation, Windows PCs, Mac, Nintendo Switch, and mobile devices. The seamless performance across different platforms has truly impressed users.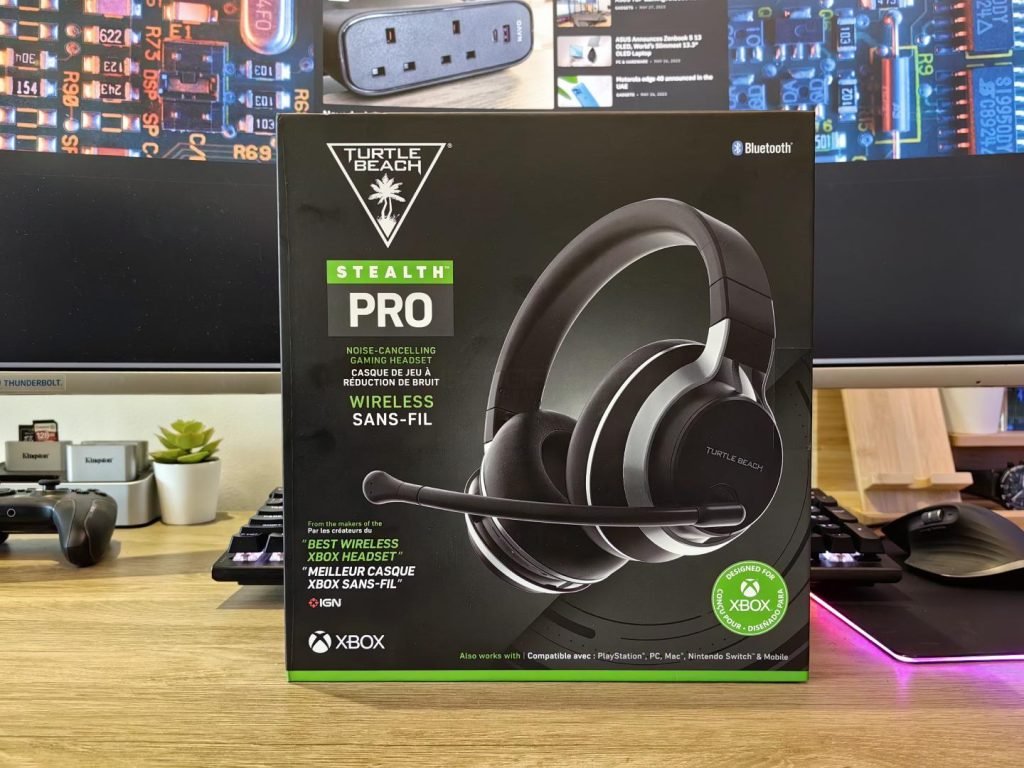 In addition to its gaming capabilities, the Stealth Pro is equipped with Bluetooth 5.1 technology, allowing for dual connectivity. This means you can enjoy your own music, stay connected on Discord, or even take calls while gaming on your console or PC. It's a convenient feature that adds flexibility to your gaming experience.
Comfort is also prioritized with the Turtle Beach Stealth Pro. The breathable memory foam ear cushions provide a comfortable fit, even during extended gaming sessions. The durable, lightweight, steel-reinforced headband and frame ensure longevity, so you can rely on this headset for long-term use.
Highlights:
50mm Nanoclear Drivers
Adjustable Active Noise Cancellation
S.M.A.R.T. Noise-Cancelling Boom & Concealed Microphones
Dual Swappable Battery System
Bluetooth 5.1
Specifications
| | |
| --- | --- |
| Drivers: | 50mm Nanoclear Drivers |
| Drivers Material: | Neodymium magnets |
| Frequency Response: | 100Hz – 8kHz |
| Compatibility: | Wireless Transmitter: Xbox, PlayStation, PC, Mac and Nintendo Switch Bluetooth: iOS, Android, PC & Mac, Nintendo Switch & other Bluetooth Equipped Devices |
| Connectivity: | Dual Connection: Simultaneous 2.4Ghz & Bluetooth Gaming Wireless: 2.4Ghz Lag-Free Wireless Range: Up to 50' / 15m |
| Weight: | 418g |
| Microphone Type: | Removable TruSpeak Noise-Cancelling Mic Dual built-in microphones |
View full specifications here.
Packaging
The packaging comes in a black and green packaging with photos and specifications on the sides. The box is durable and the headset is well protected. Inside the box, we find the headset, accessories and the product information guide.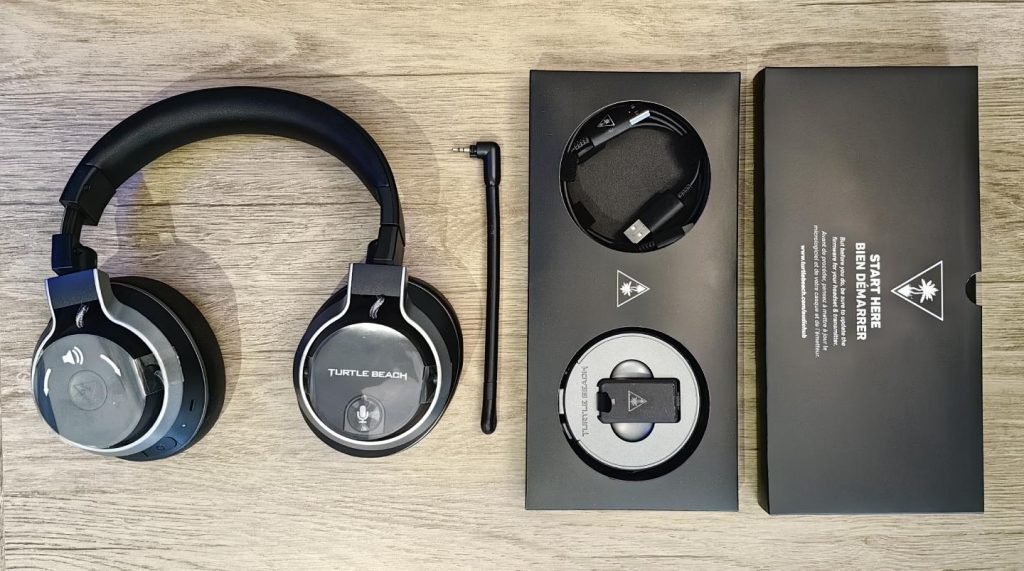 The headsets and accessories are well protected so that it does not move during transport. The packaging includes the below:
Turtle Beach Stealth Pro Wireless Noise-Cancelling Gaming Headset
Microphone
Removable TruSpeak Boom Microphone
2x Rechargeable Battery Packs
Transmitter & Charging Station
3ft USB-C Cable, 6.5ft USB-C Transmitter Cable
Carrying Pouch
Quick Start Guide
Turtle Beach Sticker
Design
The design of the Turtle Beach Stealth Pro headset is sleek and stylish, featuring a matte black color scheme. The standout feature is the steel-reinforced headband, which not only adds durability but also allows for easy adjustment to fit different head sizes. This ensures a comfortable fit, even during long gaming sessions.
The headset's soft-touch finishes and the combination of a steel-reinforced headband and frame give it a high-end yet understated feel. The rest of the headset is made of high-quality matte plastic, seamlessly blending with the overall design. The ear cups are also designed to tilt and rotate 90 degrees, providing flexibility and convenience.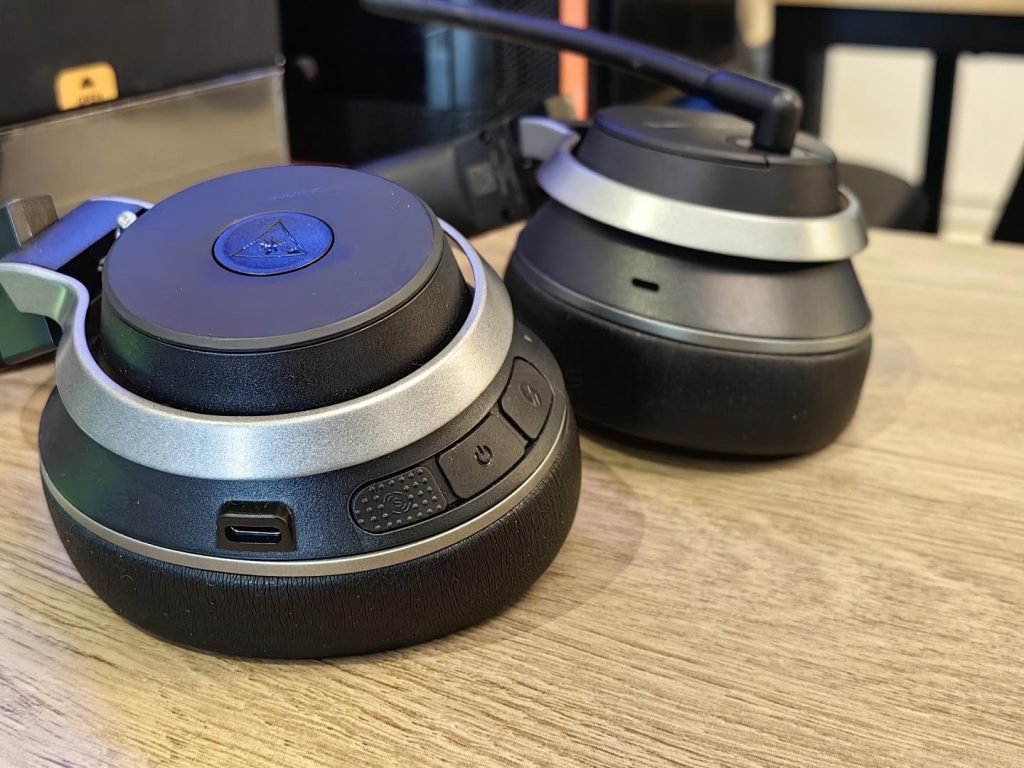 Located on the left earcup, you'll find three buttons. The first button enables the "Superhuman hearing" function, which enhances crucial sounds like footsteps and gunfire for a competitive advantage. The second button is the power button, while the third button controls Bluetooth connectivity. Additionally, there is a USB-C port on the left earcup for charging and firmware updates. The volume wheel and a multi-purpose button for ANC control are located on the exterior of the left earcup.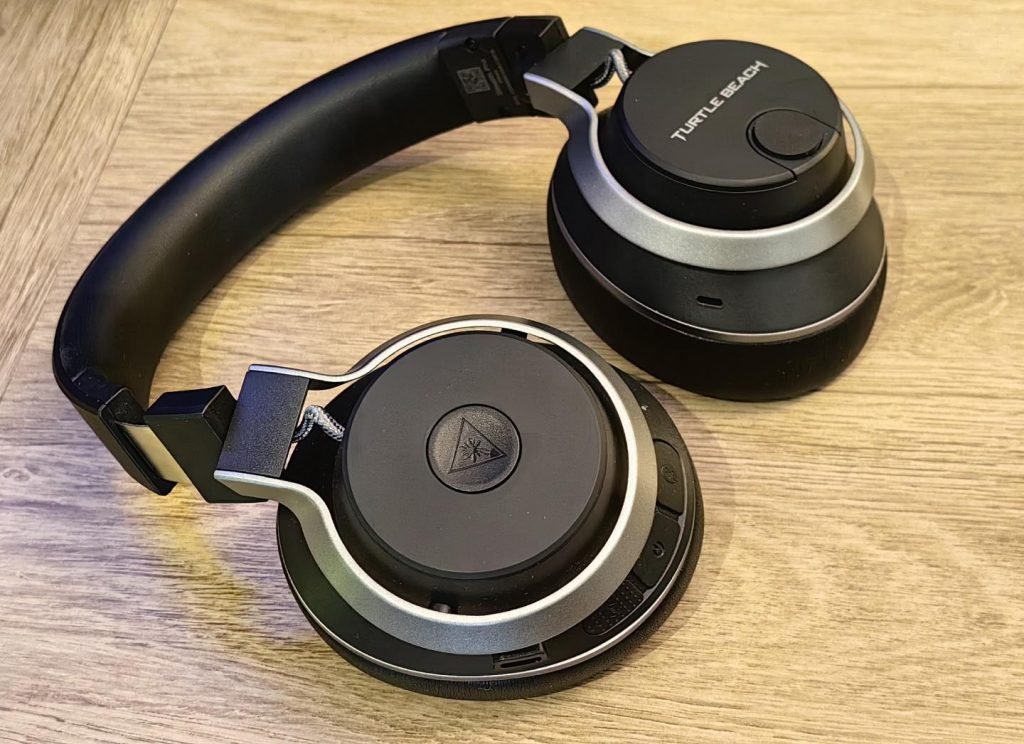 The right earcup features a small latch where the detachable microphone can be securely attached. The memory foam ear cushions wrapped in leatherette fabric offer a comfortable and durable experience while allowing for better airflow to keep your ears cool. The Stealth Pro's build quality is impressive, with a sturdy construction that feels solid without compromising on comfort. For those who wear glasses, the exclusive "ProSpecs" comfort-driven design relieves pressure for a more enjoyable gaming experience.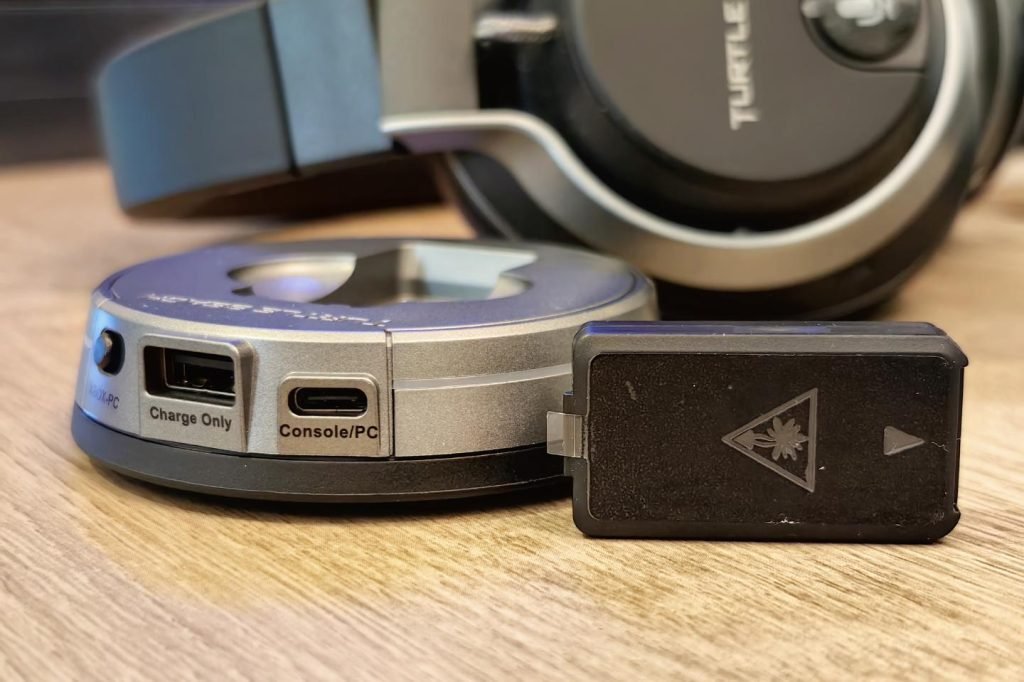 The small disc-shaped transmitter base station provides a lag-free 2.4 GHz wireless connection and serves as a convenient charging station for the headset's battery packs. It even includes an additional built-in USB-A port, allowing you to charge game controllers or other devices while gaming.
In terms of design and functionality, the Turtle Beach Stealth Pro excels, combining comfort, durability, and practical features to enhance your gaming sessions.
Performance
The Turtle Beach Stealth Pro delivers exceptional performance in various aspects, making it an impressive wireless headset for gaming and music enthusiasts alike. Let's dive into its notable features.
Powering the Stealth Pro are swappable battery packs, ensuring continuous power for your gaming sessions. The headset comes with two battery packs, allowing you to charge one while the other is in use. With a single charge, Turtle Beach rates the headset for 12+ hours of usage. By toggling off the active noise cancellation (ANC) feature, you can further extend the battery life. Additionally, a quick 15-minute charge provides three hours of battery life, minimizing downtime.
When it comes to audio, the Stealth Pro features two 50mm Nanoclear drivers that excel in audio conversion. These drivers are designed to eliminate subtle differences between the left and right speakers, resulting in better sound performance.
The audio quality of the headset is excellent, providing a captivating experience for both gaming and music. The headset is optimized for various audio technologies such as Windows Sonic, Sony 3D Audio for PS5, Dolby Atmos, and DTS Headphone: X. This ensures immersive soundscapes and precise positioning accuracy, allowing you to detect the direction of enemy attacks and fully immerse yourself in the game.
The audio drivers deliver robust sound without distortion, and the bass is powerful yet well-controlled. The sound effects are rich and vibrant, enhancing the overall gaming experience. The headset's noise-cancelling capabilities are also impressive, enabling you to focus on in-game sounds by reducing external distractions.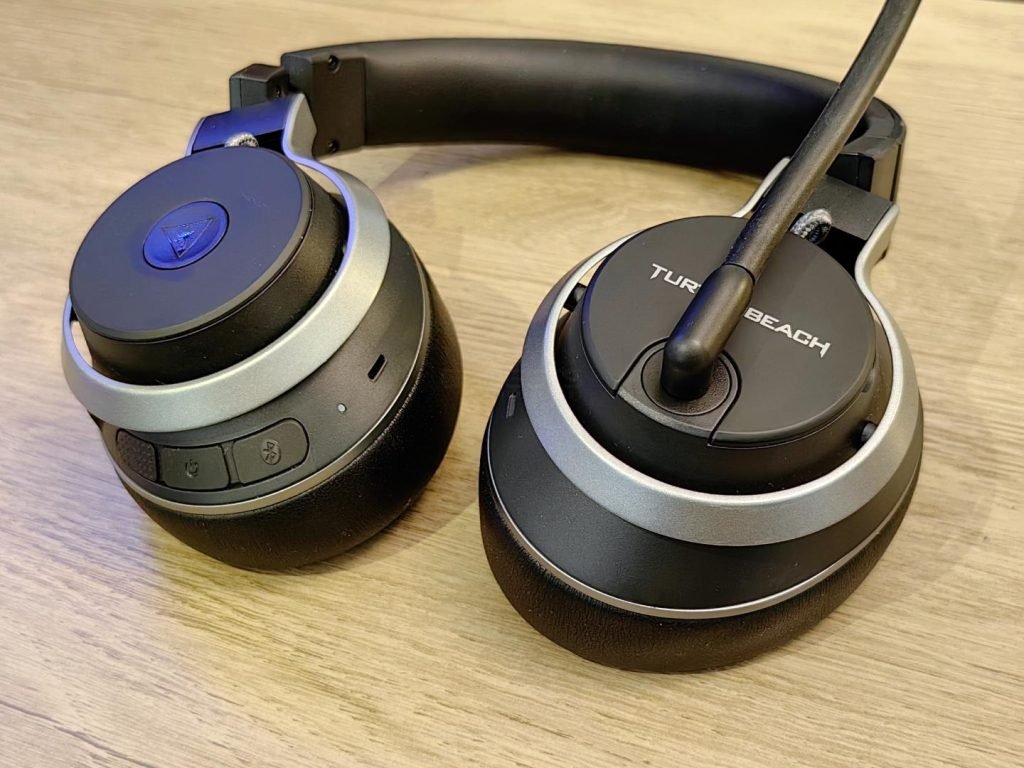 Customizability is a key feature of the Stealth Pro, as it offers customizable sound profiles that allow you to fine-tune the audio to your personal preferences. This ensures a unique and tailored audio experience that suits your gaming style.
The headset also boasts noise reduction levels of up to 25dB, thanks to its four internal noise-cancelling microphones. These microphones help tune out distractions or accentuate ambient sounds for nearly full noise transparency, enhancing your immersion in the game environment.
Moving on to the microphone, the Stealth Pro features a detachable TruSpeak noise-cancelling boom mic. While it does a good job when in use, it may sound slightly tinny and muffled. To provide flexibility, there are also two concealed microphones that deliver clear and concise voice transmission. Additionally, the left earcup has a dedicated button to quickly mute the microphone when needed.
Overall, the Turtle Beach Stealth Pro offers exceptional performance in terms of battery life, audio quality, customization options, and microphone capabilities. It delivers immersive sound, precise positioning, and effective noise reduction, making it a top choice for gaming enthusiasts.
Software
To enhance the customization and control options of the Turtle Beach Stealth Pro, the headset is supported by the Turtle Beach Audio Hub App. The app is available for both iOS and Android devices, allowing you to fine-tune your audio experience. For Windows PCs and Mac users, the Turtle Beach Audio Hub V2 is available.
Using the app, you can adjust the equalizer (EQ) settings with a dynamic 10-band EQ, enabling you to tailor the sound to your preferences. The app also allows you to save up to 10 custom presets, ensuring easy access to your preferred audio settings.
Additionally, you can control the noise cancellation feature through the app, giving you the ability to adjust the level of noise reduction according to your environment. This feature enhances your immersion by minimizing external distractions.
The app also provides the option to program the mappable wheel, allowing you to assign specific functions or controls to this feature. This customization ensures that you have quick and convenient access to the settings or actions you use most frequently.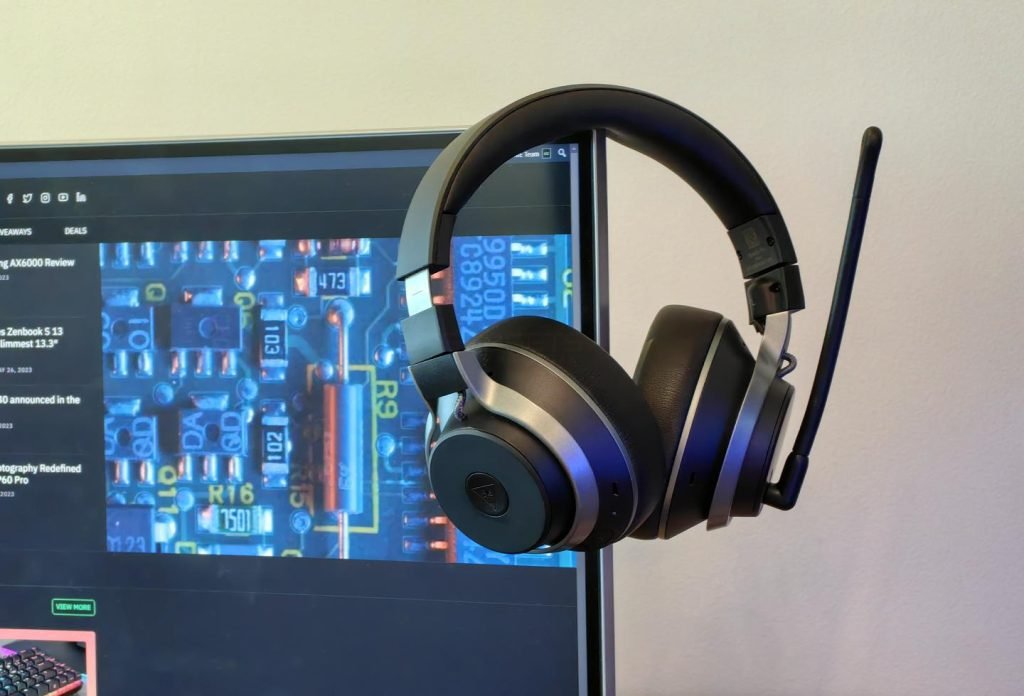 For PC and Mac users, the app allows you to assign hotkeys, enabling you to quickly execute commands or shortcuts with a press of a button.
One of the key advantages of the app is the ability to tune the audio and microphone performance of the Stealth Pro directly from your mobile device. This means you can optimize the audio and microphone settings based on the platform you're connected to, ensuring an optimized experience.
Verdict
In conclusion, the Turtle Beach Stealth Pro is an outstanding wireless headset that excels in its versatility and performance across multiple platforms. Its seamless compatibility with various gaming consoles, PCs, Macs, and mobile devices makes it a highly versatile choice for gamers. The dual battery system ensures uninterrupted gaming sessions, while the lag-free wireless performance allows for a seamless and immersive experience.
The noise-cancelling microphones effectively reduce background distractions, ensuring clear and crisp communication with teammates and friends. The audio quality of the Stealth Pro is exceptional, providing an immersive and engaging experience for gaming, entertainment, and music streaming.
Comfort is also a highlight of the Stealth Pro. The metal-reinforced headband offers durability and easy adjustability to accommodate different head sizes, while the breathable memory foam ear cushions provide a comfortable and snug fit, even during extended gaming sessions.
Overall, the Turtle Beach Stealth Pro delivers on its promise of a high-end wireless headset, combining versatility, immersive audio quality, and comfort. Whether you're a gamer looking for a multiplatform headset or an entertainment enthusiast seeking exceptional audio performance, the Stealth Pro is a fantastic choice that will exceed your expectations.