TP-Link released this bad boy for the latest Wi-Fi generation 6 and made it look like a futuristic drone that can teleport, but I digress.
So far this is the fastest router that I have got my hands on and the capabilities are next to none. There is a reason why the router has 8 antennas… to provide Wi-Fi to the whole of the UAE, kidding, but honestly, the reason is for strong signal in all directions.
If you want to have a LAN party or an Esports competition, the TP-Link Archer AX11000 has got you covered. The router is partly a computer on its own, which is to handle heavy usage and manage multiple connections with ease.
Design:
Initial thoughts are that the router is quite big, but the slight heft to it just echoes quality and a whole lot of power. It feels like a quality piece that TP-Link has put effort into the production.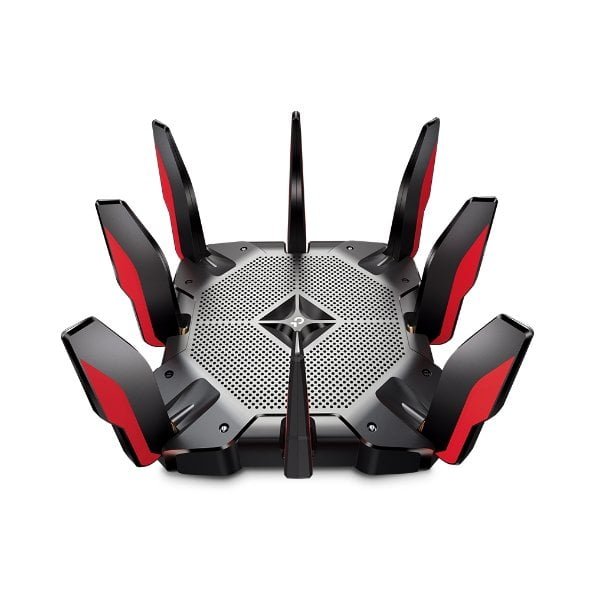 All eight of the antennas are easy to plug in and remove from the slots and from a visual aspect, they make the router look like a military drone. The eight antennas are used for boosted performance in all directions so that Wi-Fi can be distributed equally.
There are three buttons that lay under one of the antenna slots, which configures WPS, switch WiFi on and off and the LED control. It seems most features are placed on the sides of the router due to its massive ventilation system up top.
The red accents to the mostly black design do add a gaming effect to the router, I'm sure TP-Link did this on purpose to make it clear for what the router should be used for.
Features:
Antennas
8
Dimensions
11.3 x 11.3 x 7.2 inches
Model
AX11000
CPU
Quad Core SoC up to 1.8Ghz
Flash memory
512MB
RAM
1GB
Speed
10 Gbps: 4804 Mbps + 4804 Mbps + 1148 Mbps
Frequency
Tri-band (2.4GH + 5GHz + 5GHz Gaming)
Ports
2.5G Ethernet WAN port + 8x Gigabit Ethernet LAN port
USB 3.0 x1 Type A + USB 3.0 Type C
Features
Enable/Disable Wireless Radio, Guest network, Archer Game Suite
Wireless 2.4Ghz Wireless AX up to 1148Mbps (40Mhz)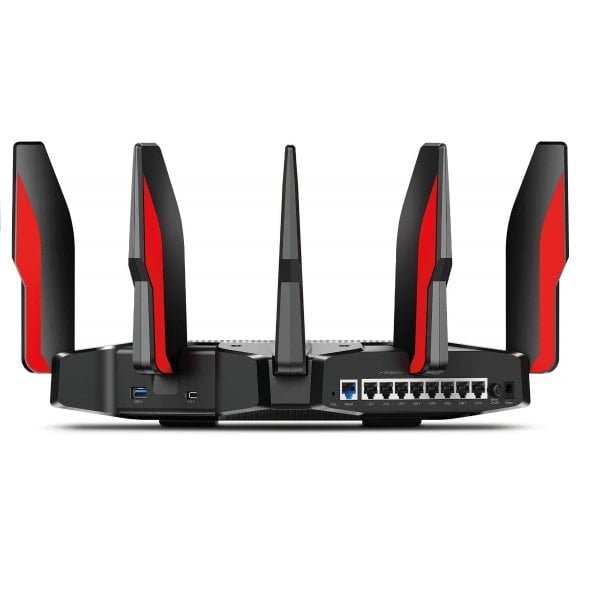 So what are you paying for?
Fortunately, not just a cool-looking router.
With the provided quad-core processor, RAM and flash memory, the TP-Link Archer AX11000 is a mini-computer in itself. The impressive internals is there to maintain performance consistently that could be an issue for normal routers. The CPU is there to make sure any amount of throughput is managed effectively.
The Wi-Fi 6 built into the router is important as new laptops and gaming rigs will be able to utilise the higher speed connection, which makes a big difference in the world of gaming. The wireless data transfer is no joke either, up to 10756 Mbps that is. It should be noted that the router should be connected to the fibre-optic internet to make full use of the router.
The Tri-band works to make sure that multiple connections can be done better than most routers in the market. If your neighbourhood likes gaming the Archer can handle it. Impressively, the DFS technology will detect and shift stagnant users to vacant lanes to maintain performance.
The signal strength like mentioned before is impressive, reaching through walls not even breaking a sweat. The signal strength remains to be strong around the house.
TP-Link also has a mobile app in which can be used to set up the Archer from your mobile phone. The app is quite useful for setting up Wi-Fi networks and checking connected devices In real-time. For more strenuous tasks I would suggest handling them through the web interface. It must be noted that only one user can be logged in at a time, I would assume for security and strict control.