TP-Link unveiled its fastest Smart WiFi 6 mesh system, the Deco X90. Armed with the latest technology — such as Wi-Fi 6, AI-Driven Mesh, and premium hardware — the tri-band mesh system provides superb wireless performance and the ultimate online experience. It will be available in April 2021 in the market at AED 2399.
Deco X90 Key Features:
AX6600 Tri-Band Wi-Fi: Boosts overall speeds up to an incredible 6,600 Mbps
AI-Driven Mesh: Intelligently learns the network environment to provide ideal WiFi unique to your home
Smart Antennas: Establish a stronger backhaul to boost coverage and improve wireless connections
Connect More Devices: Connect up to 200 devices without dragging down performance
Boosted Seamless Coverage: Achieve seamless whole home coverage with a clearer and stronger whole home Wi-Fi signal generated by Wi-Fi 6
TP-Link HomeShield Pro: Provides versatile network customization and enhanced security protection
Setup Made Easier Than Ever: The Deco app walks you through setup step-by-step
Lightning-Fast Speeds, Wired and Wireless
The cutting-edge mesh system features tri-band support with quad-stream radios for all three Wi-Fi bands. It also supports 1024-QAM and 160 MHz, boosting the overall wireless speeds up to an incredible 6,600 Mbps. Equipped with both a 2.5 Gbps port and a gigabit port, Deco X90 delivers ultra-fast internet access for wired devices.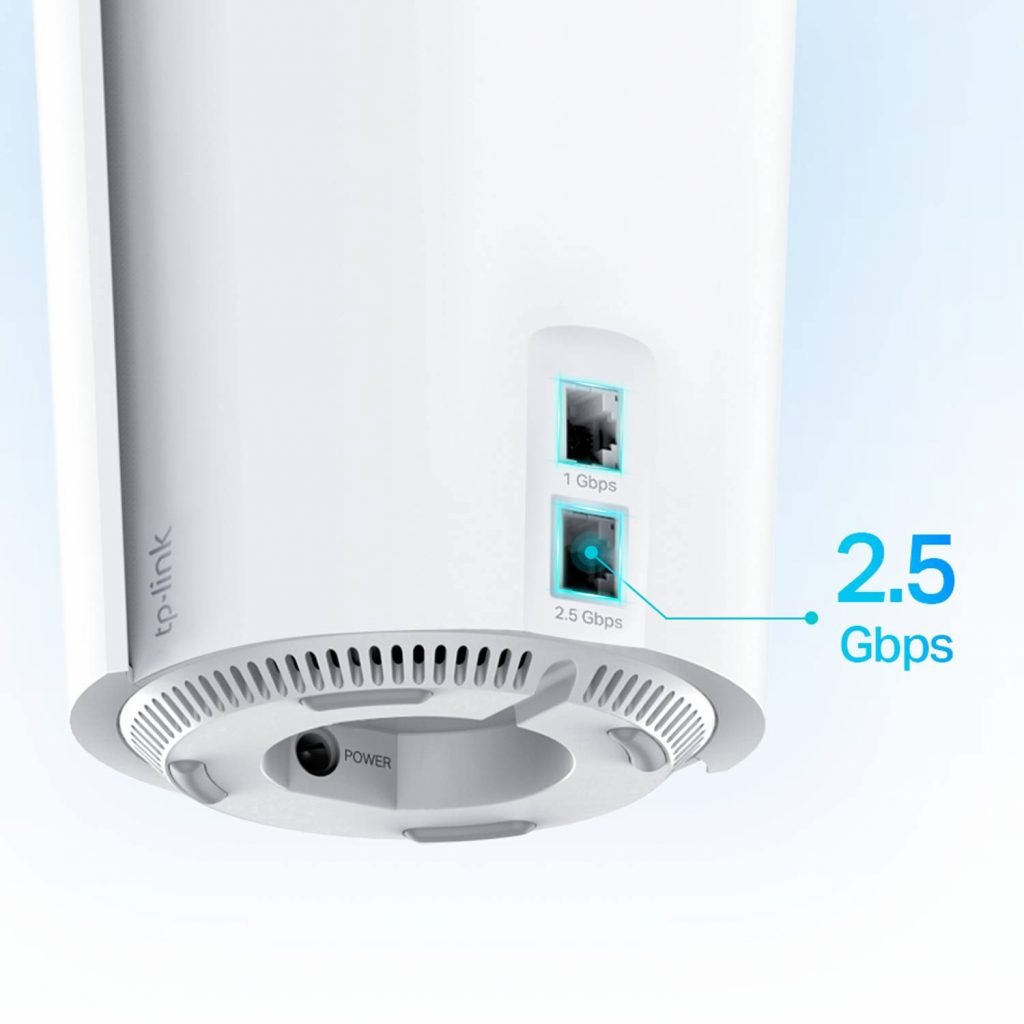 Highly Efficient Network
With Wi-Fi 6's revolutionary combination of OFDMA and MU-MIMO technology, Deco X90 builds a more efficient network that quadruples the average throughput for connected devices in dense environments. This improves network capacity, cuts down on latency, and ensures a responsive network.
Deco X90 is tested to connect up to 200 devices without dragging down performance. Taking a giant leap forward in wireless connectivity, Wi-Fi 6 Deco's bring stable, lag-free Wi-Fi connections to tomorrow's hyper-connected homes. Families can now enjoy immersive live streaming, improved gaming speeds, and instantaneous video loading on different devices—all at the same time.
Signals are enhanced by BSS Coloring and Beamforming to make them clearer and stronger. This allows Deco X90 units to work together to deliver broader whole home WiFi coverage that eliminates weak signal areas. Say goodbye to searching around for a stable connection.
AI-Driven Mesh Technology, Customized WiFi
AI-Driven Mesh technology gives Deco X90 self-learning capability. The smart mesh system intelligently learns the network environment, client quality, and user behavior and constantly improves itself through experience. Featuring advanced computing power, Deco X90 utilizes sophisticated algorithms to account for the various factors that affect your WiFi.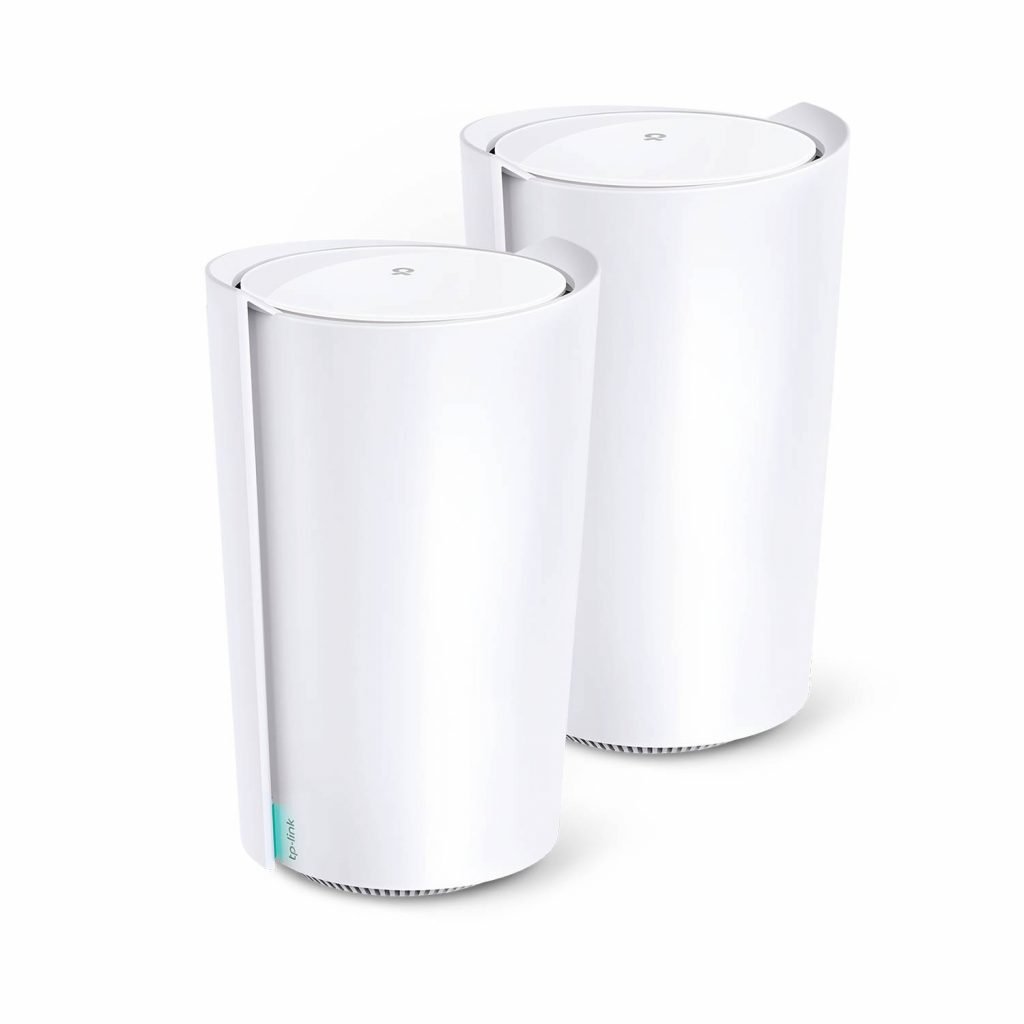 For example, Deco X90 adjusts the channel settings and transmission power levels of neighboring APs on the same network to provide robust wireless coverage while minimizing wireless interference. This ensures your unique home and network environment receive ideal WiFi coverage. Walk through your home and enjoy seamless streaming at fastest possible speeds with the Deco AI-Driven Mesh system.
High-Gain Coverage and Smart Antennas
Deco X90 is equipped with six internal high-gain antennas and two smart array antennas. The high-gain antennas create strong, clear, dependable WiFi throughout your home. The two smart array antennas use intelligent algorithms to auto-detect the location of other Deco units to establish a stronger backhaul between them via signal concentration. This boosts coverage and improves wireless connections.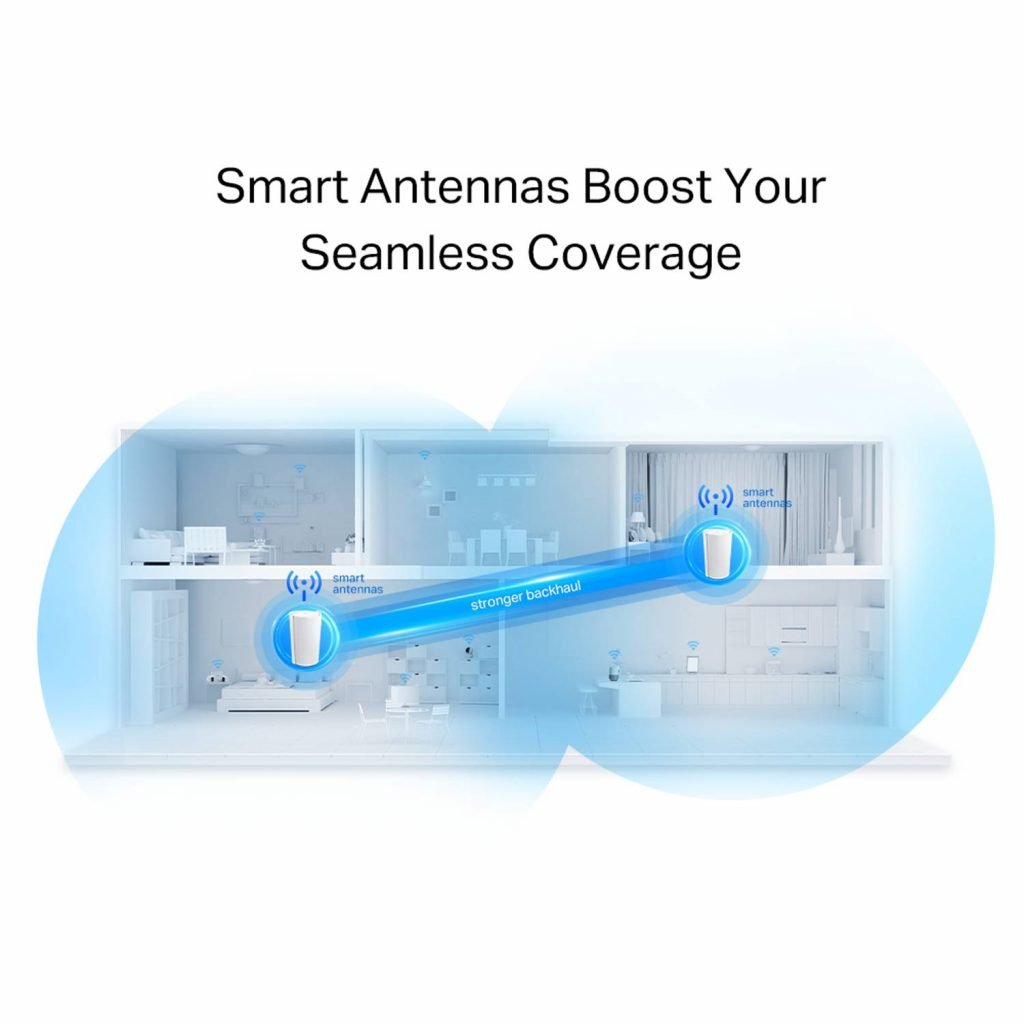 Security for Home Wi-Fi
Thanks to advanced WP3 encryption and TP-Link HomeShield powered by Avira, Deco X90 is one of the most secure mesh Wi-Fi systems on the market, ensuring safe home networks for families. TP-Link HomeShield future-proofs home network security by paying extra attention to your smart home devices.
In response to increasing numbers of IoT attacks, TP-Link HomeShield delivers real-time security monitoring and antivirus for your IoT devices. It also customizes your home network with enhanced security using a kit of features. Whether protecting your sensitive data or limiting access for kids and guests, HomeShield provides the tools you need to fully manage your network.
The Deco app takes care of configuration so you can get your network up and running in minutes. Working with Alexa, Deco X90 functions as the heart of smart homes, providing a more intelligent lifestyle.