The Acer Predator Helios Neo 16 is a high-performance laptop designed for WQXGA (2560 x 1600) gaming and demanding tasks. Its Intel 13th Gen Raptor-Lake i7-13700HX processor ensures enhanced efficiency compared to Alder Lake, while the hybrid architecture delivers improved power efficiency and faster performance.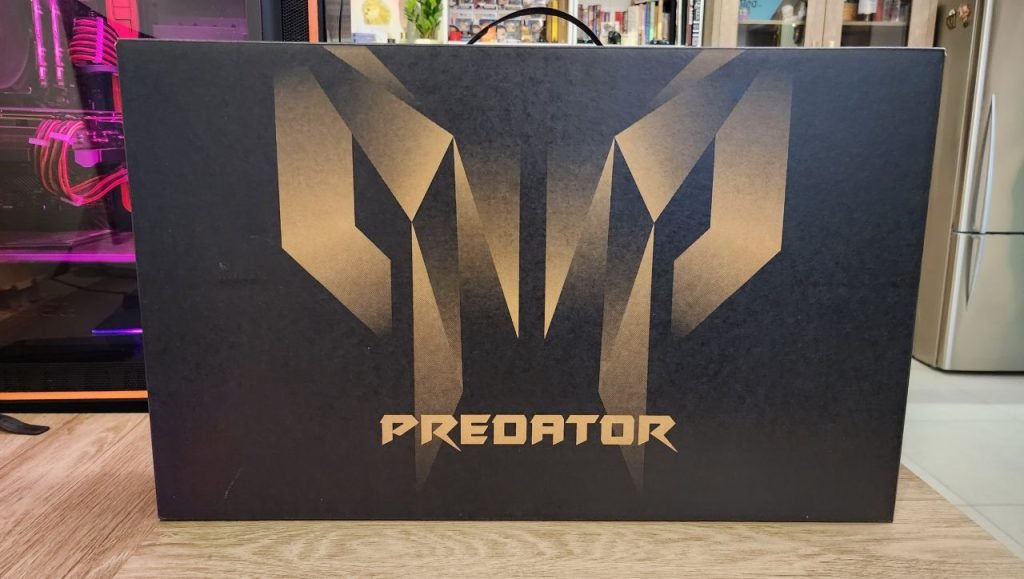 Our reviewed variant of the Acer Predator Helios Neo 16 boasts top-tier specifications, featuring a 2560×1600 165Hz IPS panel, Intel Core i7-13700HX Processor, Nvidia RTX 4060 with 8GB GDDR6 VRAM (TDP: 140 watts), 16GB DDR5 4800MHz RAM, and a 512GB PCIe NVMe SSD. Additionally, it includes convenient features like a 4-Zone RGB Gaming Keyboard, a 720p webcam, and a 90 Whr battery.
CPU
13th Gen Intel Core i7 i7-13700HX Processor
RAM
16GB 4800 MHz DDR5 2 Slots
GPU
NVIDIA GeForce RTX 4060 Laptop GPU
8GB GDDR6 Up to 2250MHz Boost Clock
140W Maximum Graphics Power with Dynamic Boost
Storage
512 GB NVMe PCIe SSD
Display
16″ LCD WQXGA 2560 x 1600 LED Backlit 16:10 Ratio 165 Hz Refresh Rate
Ports
1x HDMI 2.1 (8K @ 60Hz / 4K @ 120Hz)
1x USB 3.2 Gen 1 Type-A Ports
2x USB 3.2 Gen 2 Type-A Ports
2x USB 3.2 Gen 2 Type-C Ports (DP, Thunderbolt 4, PD 65W)
1x MicroSD slot
1x RJ45
1x Mic-in/Headphone-out Combo Jack
Connectivity
Gigabit Ethernet
Wi-Fi 6 AX 1650i
Bluetooth v5.1
Camera
HD type (30fps@720p)
Audio
Stereo Speaker
Battery
4-Cell 90 Wh Battery 330W adapter
Dimensions
360 x 280 x 28.1 mm Approx. 2.79 kg
View full specifications here.
Packaging
The Predator Helios Neo 16 comes securely packaged in a Predator-branded cardboard box, with an additional box inside to protect the laptop and accessories during transit. Inside this box, you'll find the following accessories included with the laptop: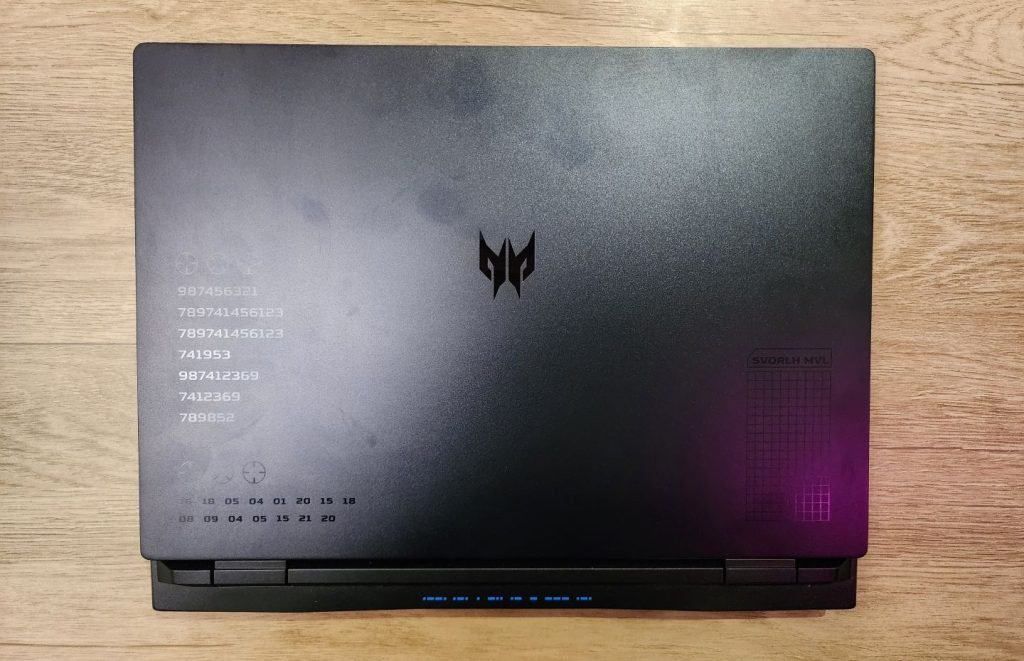 The Helios Neo 16 laptop
Power brick
Power cable
User guides and warranty
Design & Ports
The Acer Predator Helios Neo 16 features a matte black textured design with subtle blue undertones, showcasing the iconic Predator logo on the lid. Constructed with durable hard plastic, the laptop has a sleek appearance but are be susceptible to smudges that aren't easy to clean.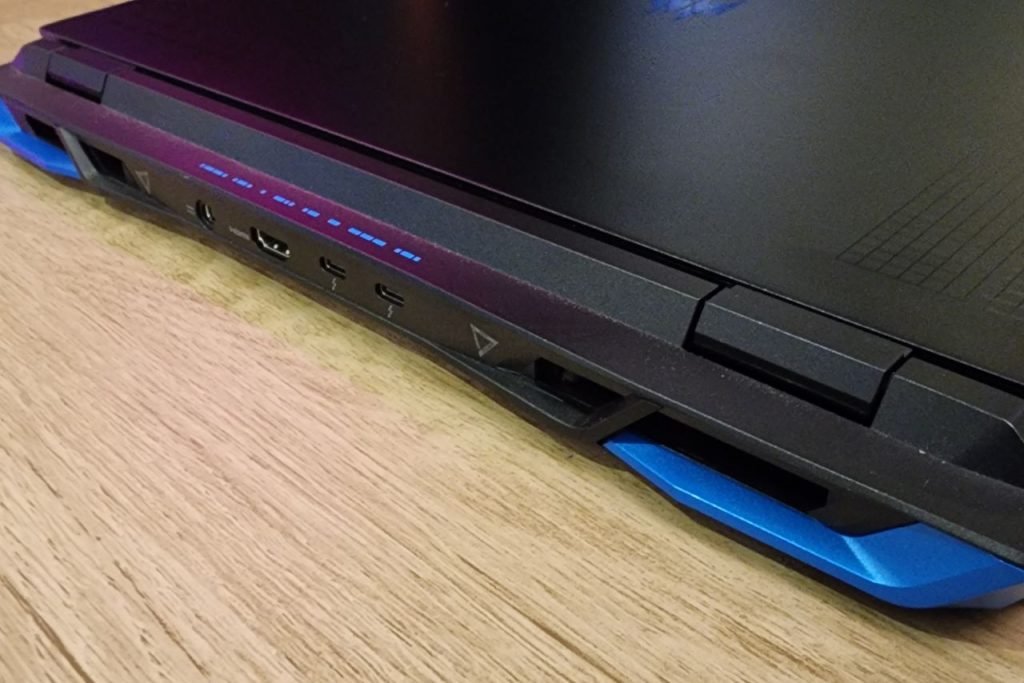 The robust hinges keep the lid securely in place and allow effortless single-handed opening. The 16″ matte display boasts thin bezels, housing a 720p webcam and microphones for convenient video conferencing.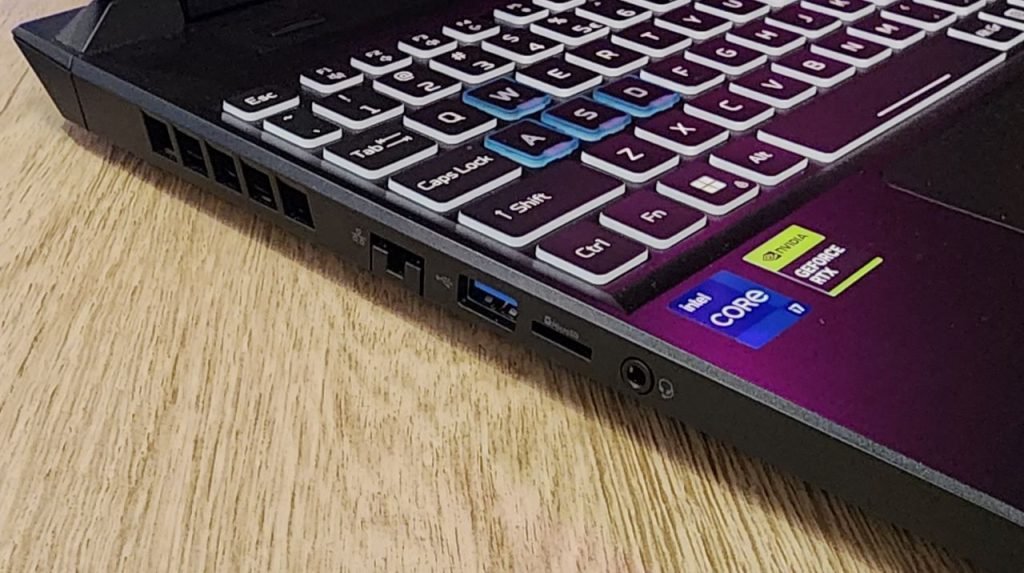 For connectivity, the laptop offers a selection of ports on both sides, with additional ports located at the rear. On the left side, you'll find an RJ45 port, a USB 3.2 Gen 1 Type-A port, a MicroSD port, and a headphone jack. On the right side, two USB 3.2 Gen 2 Type-A ports are available. At the rear, the power port is accompanied by an HDMI 2.1 port capable of 8K @ 60Hz or 4K @ 120Hz output. Additionally, two USB 3.2 Gen 2 Type-C ports with support for DP, Thunderbolt 4, and PD 65W are present here.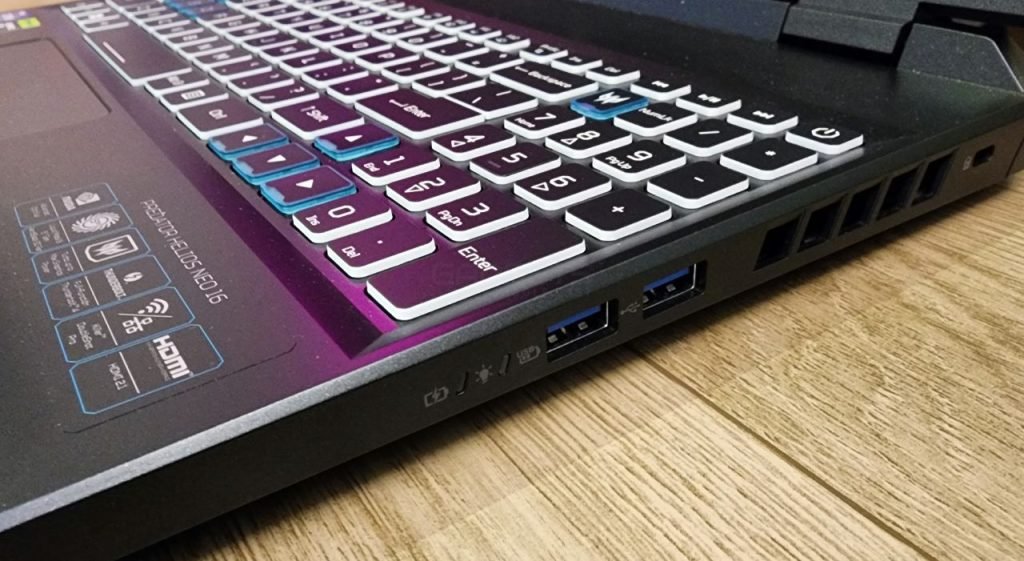 To ensure efficient cooling, the rear body features two large openings, while the base is equipped with wide ventilation grills.
Measuring 360 x 280 x 28.1 mm and weighing 2.79kg, the Helios Neo 16 possesses a somewhat larger and heavier form factor. Nevertheless, its portability makes it easy to carry in a laptop bag or backpack.
In terms of wireless connectivity, the Predator Helios Neo 16 incorporates Wi-Fi 6 AX technology, complemented by Bluetooth 5.1, ensuring seamless connectivity for wireless devices.
Display
The Acer Predator Helios Neo 16 boasts a stunning 16″ WQXGA (2560 x 1600) screen featuring an IPS panel with LED Backlight technology and support for G-Sync. Its 16:10 display ratio offers users more vertical space, enhancing the overall productivity experience. With an impressive 165 Hz refresh rate and approximately 100% sRGB color coverage, this display delivers a smooth and vibrant visual experience.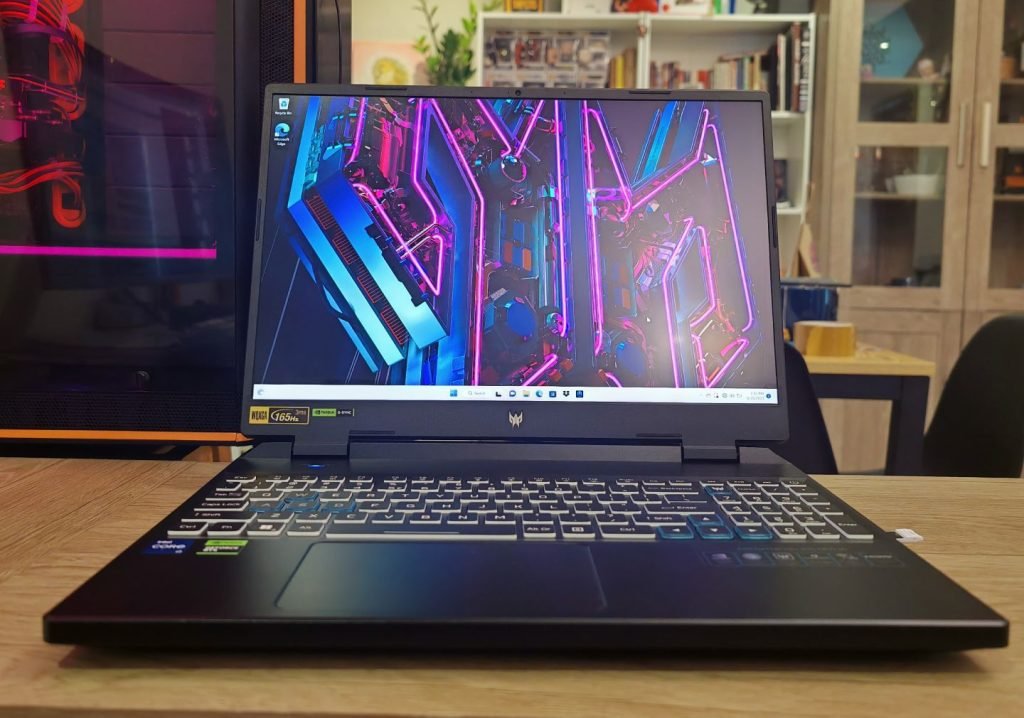 Notably, the Predator Helios Neo 16's screen excels not only in gaming but also in creative work, thanks to its accurate color reproduction. The maximum brightness of 500 nits ensures excellent visibility in both indoor and outdoor environments, while the glare-free viewing angles provide optimal comfort to the user.
The top bezel of the laptop houses a 720p webcam with 30 FPS recording capability, along with inbuilt microphones, offering a convenient solution for video conferencing and content creation. Though the
Keyboard & Trackpad
The Acer Predator Helios Neo 16 features a 4-Zone RGB Gaming Keyboard, allowing users to customize the lighting using the PredatorSense utility app or keyboard shortcuts. The keyboard layout adheres to the standard design, with special highlighting for the WASD and arrow keys. Dedicated shortcut buttons and a numpad are also included for added convenience. The area above the keyboard houses the laptop's stereo speakers.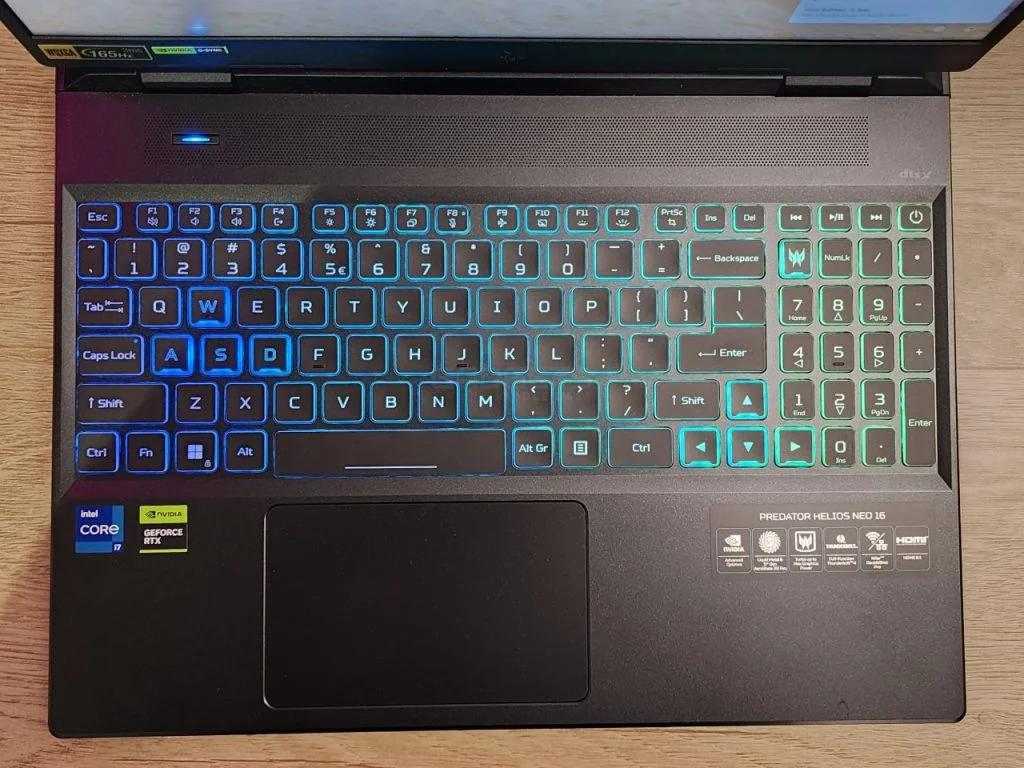 The typing experience is delightful, thanks to the soft and responsive keys that provide tactile feedback and respectable key travel. Additionally, the top row of function keys can be used for extra shortcuts when combined with the Fn keys.
Beneath the keyboard and to the left is a generously sized touchpad, offering precise and comfortable navigation. In conclusion, the keyboard and touchpad of the Acer Predator Helios Neo 16 provide an enjoyable and user-friendly experience.
Performance & Benchmarks
The Acer Predator Helios Neo 16 truly excels in terms of performance. Our tested model features a robust 13th Gen Intel Core i7-13700HX processor, boasting an impressive 16 cores and 23 threads, capable of reaching a maximum clock frequency of 5.00GHz. Paired with an NVIDIA GeForce RTX 4060 graphics card equipped with 8GB GDDR6 VRAM and 16GB DDR4 4800MHz RAM, this laptop delivers exceptional performance across various tasks.
The Helios Neo 16 is equipped with a 512GB M.2 NVMe PCIe SSD, ensuring swift storage access. This powerful hardware combination allows the Neo 16 to effortlessly handle demanding tasks, including gaming, video editing, and other high-performance applications. In our benchmarks, the Predator Helios Neo 16 consistently delivers impressive results, making it a true powerhouse laptop.
CPU
The hybrid architecture of Raptor Lake chips allows for a faster and better performance while improving power efficiency, making them suitable for gaming and demanding workloads. The Core i7-13700H processor in the Predator Helios Neo 16 model offers impressive performance, especially in multithreaded workloads, thanks to the 16 cores and 24 threads. The high clock speed and large cache also contribute to a smoother and faster experience.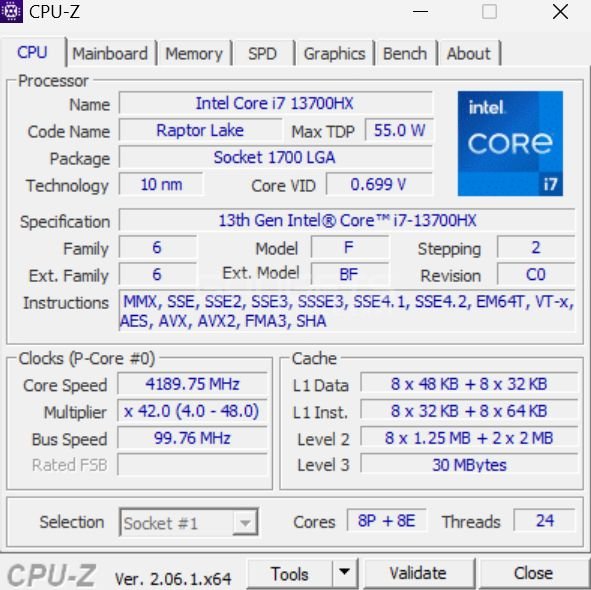 The Core i7-13700H comes with 8 performance cores and 8 efficient cores for a total of 16 cores, 32 threads and 30 MB of cache. The P-cores are clocked at 2.1 GHz base and 5.0 GHz boost, while the E-cores get a 1.5GHz base and 3.7 GHz boost clock with a default TDP of 45W. These new chips also support memory types up to DDR5 4800.
GPU
The Acer Predator Helios Neo 16 boasts a dedicated NVIDIA RTX 4060 GPU, designed for laptops and featuring improved raytracing and tensor cores with a TDP of up to 140W. Manufactured on a 5 nm process, the RTX 4060 offers 8GB of GDDR6 graphics memory with a 128-bit memory bus. It is based on the AD107 core and boasts 3072 CUDA cores, 24 RT cores, and 96 Tensor cores.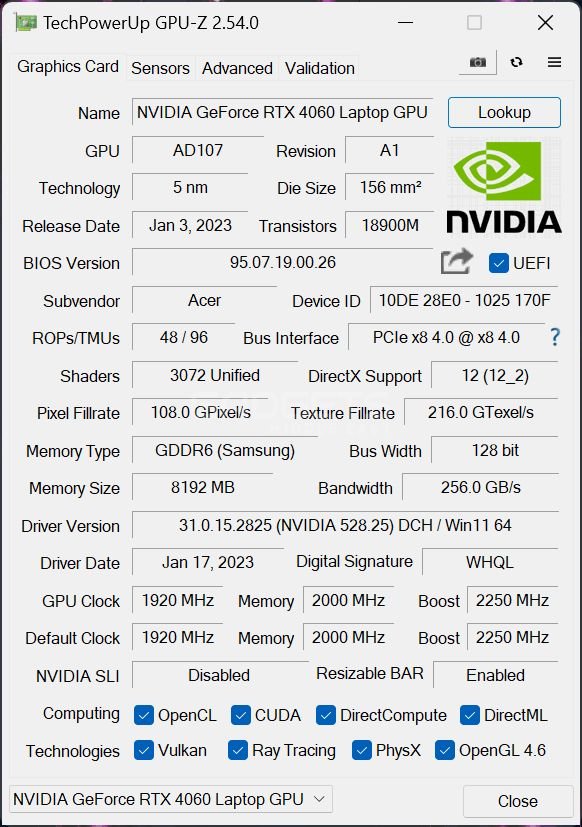 The latest NVIDIA RTX 4060 GPUs for laptops no longer have a separate Max-Q variant that was designed for energy efficiency in thin and portable laptops to extend battery life. Instead, OEMs can choose to incorporate Max-Q technologies such as Dynamic Boost and Whisper mode to optimize performance and power consumption. However, the performance of the same 4060 GPU can vary on different laptops based on their thermal design.
RAM
The Predator Helios Neo 16 is equipped with 16 GB of 4800MHz DDR4 RAM in dual channel in the SO-DIMM slots.
STORAGE
Our review model was equipped with a 512GB M.2 NVMe SSD, although this may vary depending on the region. The SSD provides solid performance, with read speeds of up to 6,954MB per second and write speeds of up to 4,902MB/s.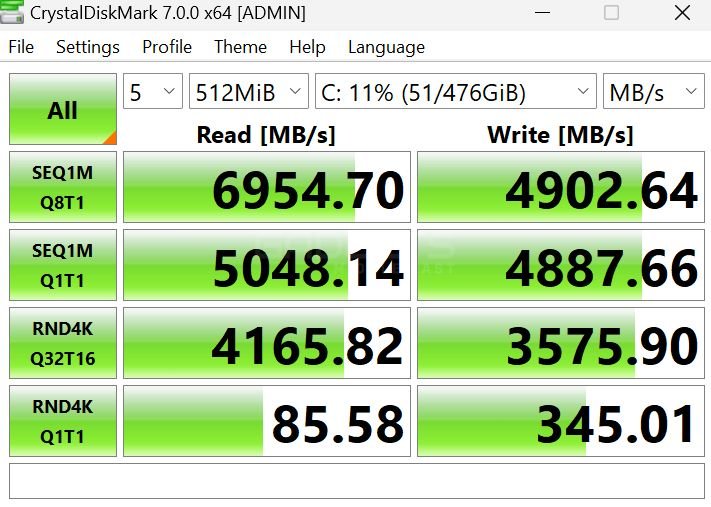 BENCHMARKS
In Cinebench R20 tests, the Intel Core i7-13620H scored 700 in single core benchmark and 6,334 in multi-core benchmark. In PCMark 10 Benchmark, the Helios Neo 16 scored 7,905. These scores are very impressive and one of the best CPU scores we've benchmarked.
| | |
| --- | --- |
| Cinebench R20 single core | 655 |
| Cinebench R20 multi core | 5,949 |
| PCMark 10 Benchmark | 6,941 |
| 3DMark Time Spy | 10,705 |
| 3DMark Fire Strike | 23,125 |
| 3DMark Night Raid | 59,571 |
GAMING
The combination of the Nvidia GeForce RTX 4060 and Intel Core i7-13700HX offers an exceptional gaming experience at WQXGA resolution with high to maximum quality settings in most games. With this setup, most modern games can be run easily at above 60fps on high settings with no stuttering or lag.
| | |
| --- | --- |
| Shadow of the Tomb Raider | 105+ |
| Assassin's Creed: Valhalla | 125+ |
| Hogwarts Legacy | 65+ |
| Forza Horizon 5 | 100+ |
Temperature & Noise
The Acer Predator Helios Neo 16 incorporates state-of-the-art cooling technology, featuring a custom-engineered all-metal AeroBlade fan system that optimizes performance to its fullest potential. With advancements like 'Liquid Metal Thermal Grease' applied to the CPU and a new 5th Gen AeroBlade 3D Fan design connected to 5 heatpipes, the cooling capabilities surpass previous models.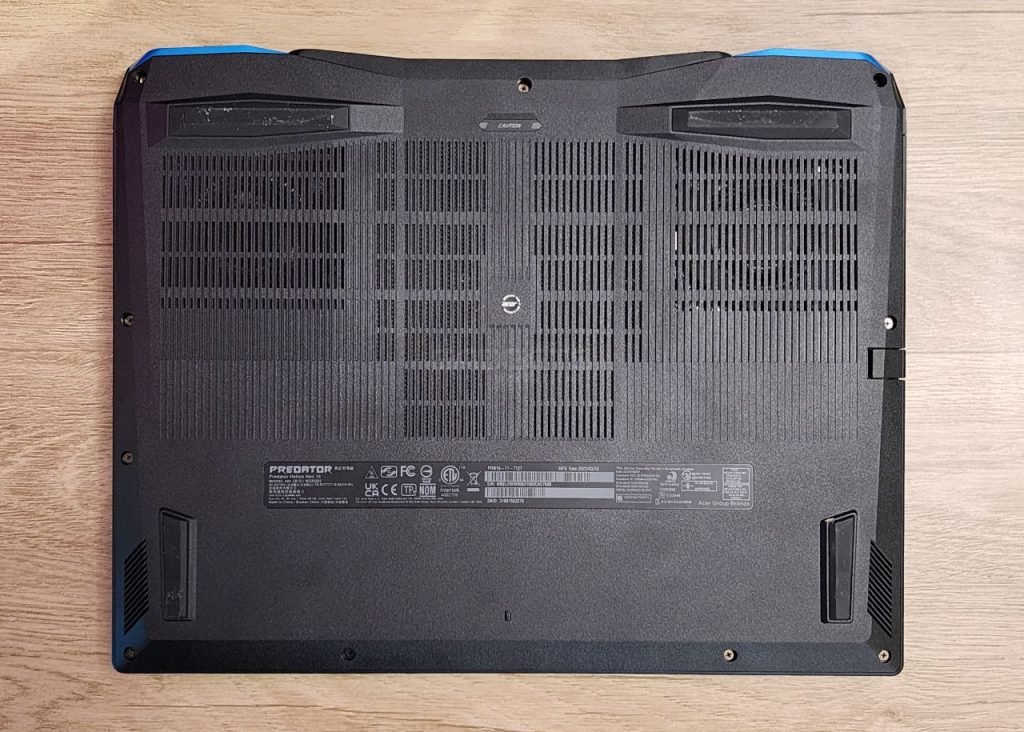 This advanced cooling system ensures significantly lower temperatures even during prolonged usage, contributing to an efficient heat dissipation through the back of the laptop. As a result, the laptop remains relatively cool to touch. During idle periods, the fan noise is nearly silent. However, under heavy load, the fan noise becomes noticeable and very audible.
Overall, the Acer Predator Helios Neo 16's innovative cooling technology effectively maintains lower temperatures, creating a comfortable user experience while accommodating high-performance tasks.
Upgradeability
The Acer Predator Helios Neo 16 offers some degree of upgradeability for users seeking to enhance their laptop's performance. The memory capacity is initially limited to 16GB of dual-channel DDR5-4800 SDRAM, with two 8GB sticks installed. However, users have the option to upgrade the memory in the future by replacing the existing modules with higher capacity ones.
Regarding storage, the laptop provides a single storage slot, which comes with either a 512GB or 1TB PCIe NVMe SSD. While there is no additional slot for expanding storage, users can consider upgrading to a larger SSD capacity if needed.
Battery & Audio
The Acer Predator Helios Neo 16 features a reasonably good battery life thanks to its large 90Whr battery. When fully charged, the laptop can last approximately six to seven hours, depending on usage and screen brightness settings. However, during intensive gaming sessions, the battery life is notably reduced to around an hour and 30 minutes.
In terms of audio, the laptop houses a stereo audio system that delivers average sound quality. For an enhanced audio experience, it is advisable to use a headset, as is often the case with most gaming laptops.
Software
The PredatorSense utility app serves as a comprehensive control center for managing performance and display settings. Within the app, users have access to a wide array of options, including the ability to customize user profiles, switch between display color modes, and personalize preferences.
Moreover, the app empowers users to take charge of various aspects of the system, such as keyboard lighting and fan speed. With its intuitive interface and powerful features, PredatorSense proves to be an invaluable tool, enabling users to optimize their laptop's performance and tailor it to their specific needs.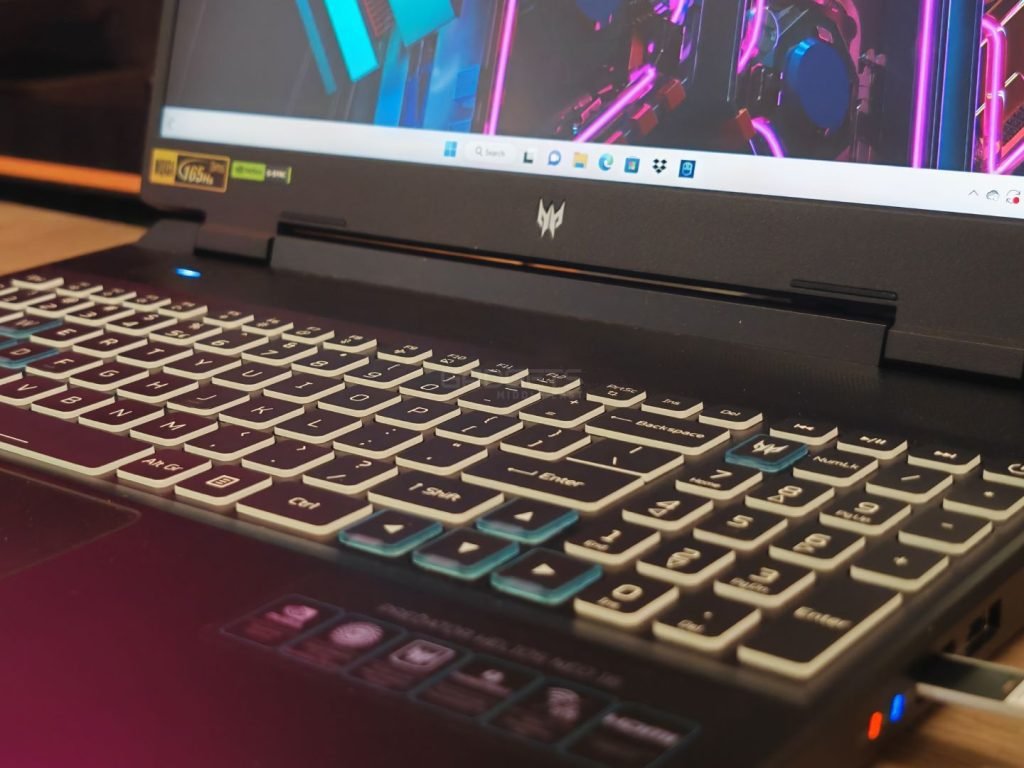 Helios Neo 16 Review Verdict
The Acer Predator Helios Neo 16 is a compelling gaming laptop with an Intel Core i7-13700HX and Nvidia RTX 4060, delivering excellent performance at an enticing price. While the build quality and the webcam's mediocrity are minor downsides, the bright and color-accurate 165Hz 1600p display with G-Sync stands out, along with a good array of ports and up to 7 hours of battery life. The fans can be noisy in Turbo mode, but with software adjustments, a balance between performance and noise can be achieved.
In conclusion, the Acer Predator Helios Neo 16 is a compelling choice for gamers and power users seeking a high-performance laptop without breaking the bank.