Last week AMD launched their "Where Gaming Begins" event to showcase AMD's new Ryzen Desktop Processors. A new "Zen" core architecture, four new Ryzen 5000 processors and a sneak peek at the new Radeon "Big Navi" RX 6000 series was announced. It was hosted by AMD's CEO Lisa Su.
Zen 3 Core Architecture
AMD's new Zen 3 core architecture improves much more than what the usual evolution of performance would have entailed. Zen 3 improves the instruction per clock (or IPC) rate by an impressive 19% while also claiming to have achieved it with almost no additional socket power offering the same TDP as before. AMD claims it is 2.8x more efficient than the Core i9-10900K.
The L3 cache (which is a memory bank built into the processor) sees some improvements as well. AMD replaces the previously split 2x16mb L3 cache and instead allows all 32 MB of cache to be directly accessible per core (as shown in the above picture), which accelerates core and cache communication for gaming and reduces effective memory latency. This will definitely improve the performance of latency-sensitive applications like games, but we are yet to see the scale at which it improves.
The AMD Ryzen 5000 series
Made with the aforementioned Zen 3 core architecture, the Ryzen 5000 series offers four new CPUs following the same naming format as the Ryzen 3000 series. They offer 20-50% more performance in gaming compared to the last generation and more importantly achieves better benchmarks (or similar in some) than Intel's Core i9-10900K with the Ryxen 9 5900X, but more on that later. They will be available for purchase on the 5th of november and are priced, well… as you would expect.
| | | | | |
| --- | --- | --- | --- | --- |
| Model | Ryzen 5 5600X | Ryzen 7 5800X | Ryzen 9 5900X | Ryzen 9 5950X |
| Cores | 6 | 8 | 12 | 16 |
| Threads | 12 | 16 | 24 | 32 |
| TDP (Watts) | 65W | 105W | 105W | 105W |
| Base Freq. (GHz) | 3.7 | 3.8 | 3.7 | 3.4 |
| Boost Freq. (GHz) | 4.6 | 4.7 | 4.8 | 4.9 |
| Total Cache | 35MB | 36MB | 70MB | 72MB |
| Cooler | Wraith Stealth | N/A | N/A | N/A |
| Price (USD) | $299 | $449 | $549 | $799 |
The flagship Ryzen 9 5950X is Ryzen's "rabbit out of the hat" CPU, with 16 Cores and 32 Threads, upto 4.9Ghz boost, 72MB of L2+L3 Cache and 105W TDP. It currently doesn't have a direct competitor and it also broke the CineBench R20 single-threaded benchmark record with a score of 640, living up to its slogan, "The best for gamers meets the best for creators".
So, how does it stack up?
AMD has already beaten Intel in being the better choice for productivity because of its higher core count, but with AMD recently achieving a market share of more than 25% in all PC's running steam (which is basically every gaming PC) and major improvements in their new Ryzen 5000 series. AMD looks like it's going to start beating Intel in terms of gaming as well.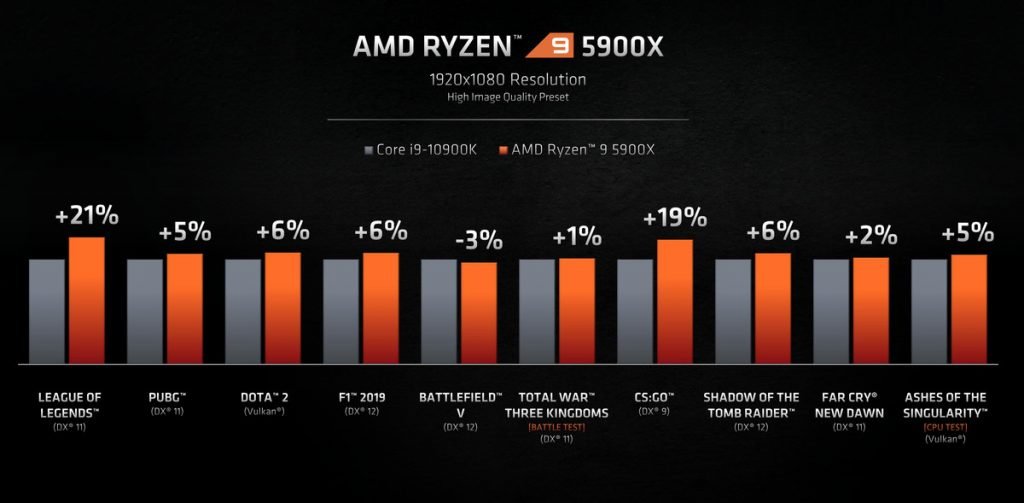 AMD still hasn't been able to achieve the upto 5.0 Ghz boost that Intel currently can, but regardless AMD has still blown away its competition both in terms of gaming and rather unsurprisingly productivity. Like I mentioned before. The Ryzen 9 5900X was able to beat it's intel counterpart the Core i9-10900K by upto 20% in gaming benchmarks, even on games that are famously known to work well with intel CPU's like CSGO.
AMD also claims to have beaten Intel in single-core performance with 90 points in CineBench (a free program used to test core performance). This is important beacuse most games rely heavily on single-core performance, which is why Intel usually beat AMD in the past even though AMD had a higher core count.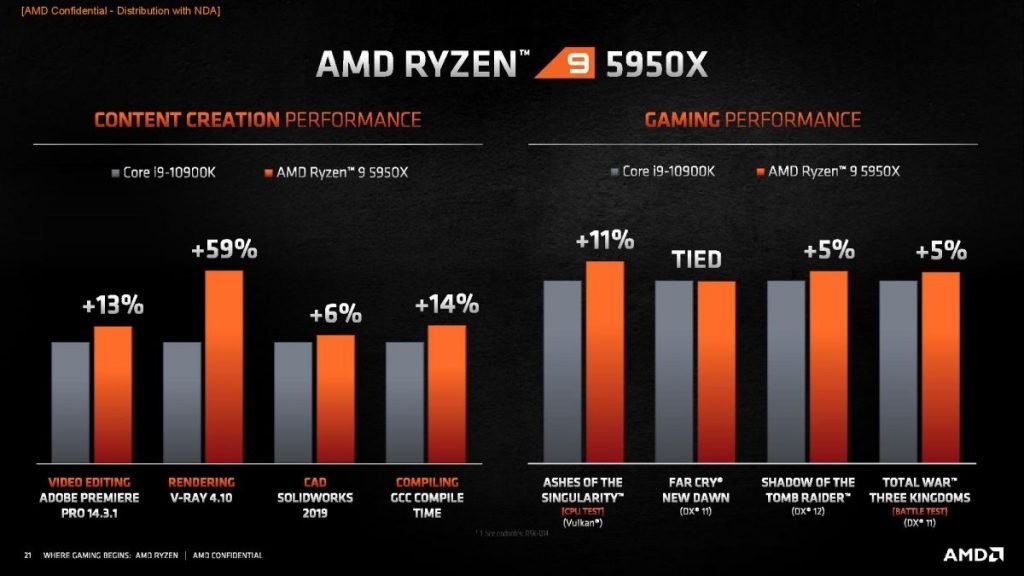 AMD also showed us that their flagship Ryzen 9 5950X actually beat Intel's Core i9-10900K in CAD for the first time while also showing 59% better performance in V-Ray rendering. But this might be a little unfair since Intel doesn't really have a counterpart to the Ryzen 9 5950X.
The AMD "Big Navi" Radeon RX 6000 series
AMD offered a sneak preview of the upcoming Radeon RX 6000 series given the name "Big Navi" by fans. They did show some footage of Borderlands 3 pairing the new Radeon GPU with Zen 3 architecture, but understandably didn't show any real-time parameters. But we did get some benchmarks, we know that the new GPU can run Borderlands 3, COD: Modern Warfare and Gears of War 5 at 61, 88 and 73 frames-per-second respectively, all in the highest setting in 4K. The showcase event for the Radeon RX 6000 series will be available on the 28th of October.