Following the recent launch of the new Lenovo Legion lineup this spring that focused on customer-inspired innovations such as a better keyboard and thermals, Lenovo has worked on expanding even further by launching a new lineup of PC's and laptops equipped with the latest AMD Ryzen processors.
Available starting this summer, Lenovo has added AMD Ryzen mobile and desktop processors to five new Lenovo products:
17-inch Lenovo Legion 5 laptop (alongside its 15-inch size that's already available with AMD Ryzen 4000 H-Series Mobile Processors)
Lenovo Legion 5P laptop
Lenovo IdeaPad Gaming 3 laptop for entry-level gaming
Lenovo Legion Tower 5
IdeaCentre Gaming 5 desktops.
The new generation AMD Ryzen 4000 H-Series Mobile Processors can improve your thin and light Lenovo Legion laptop's performance by raising clock speeds—making games, content creation and productivity applications all run much faster.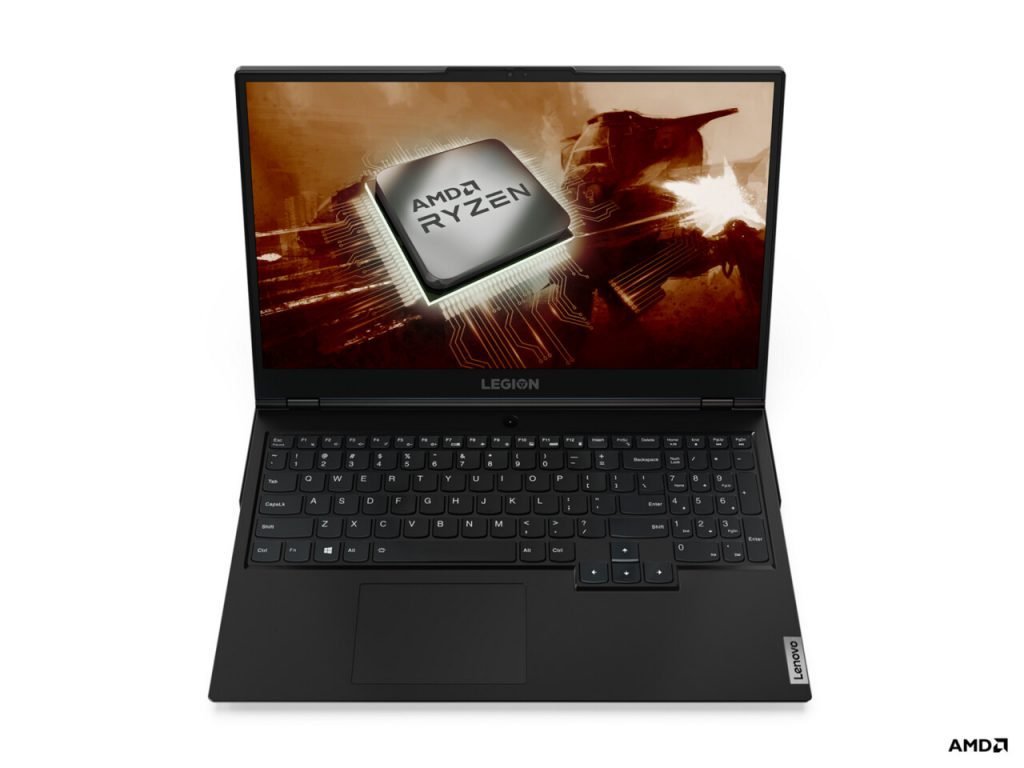 Built using the AMD Zen 2 core architecture with 7nm process technology, Lenovo Legion offers customers the latest Ryzen Mobile Processors that deliver balanced performance with better responsiveness than its predecessor. The Ryzen 4000 Series Mobile Processors also offer twice the power efficiency compared to the previous generation.
These additions strengthen the diversity of Lenovo's PC gaming portfolio, offering players more processor and graphics options needed to experience the latest games at the highest settings.
Lenovo Legion 5
Offering more choices for gamers in a clean, minimalist design, the Lenovo Legion 5 laptop comes in two sizes and is equipped with up to AMD Ryzen 7 4800 H-Series Mobile Processors paired with up to NVIDIA GeForce RTX 2060 GPUs.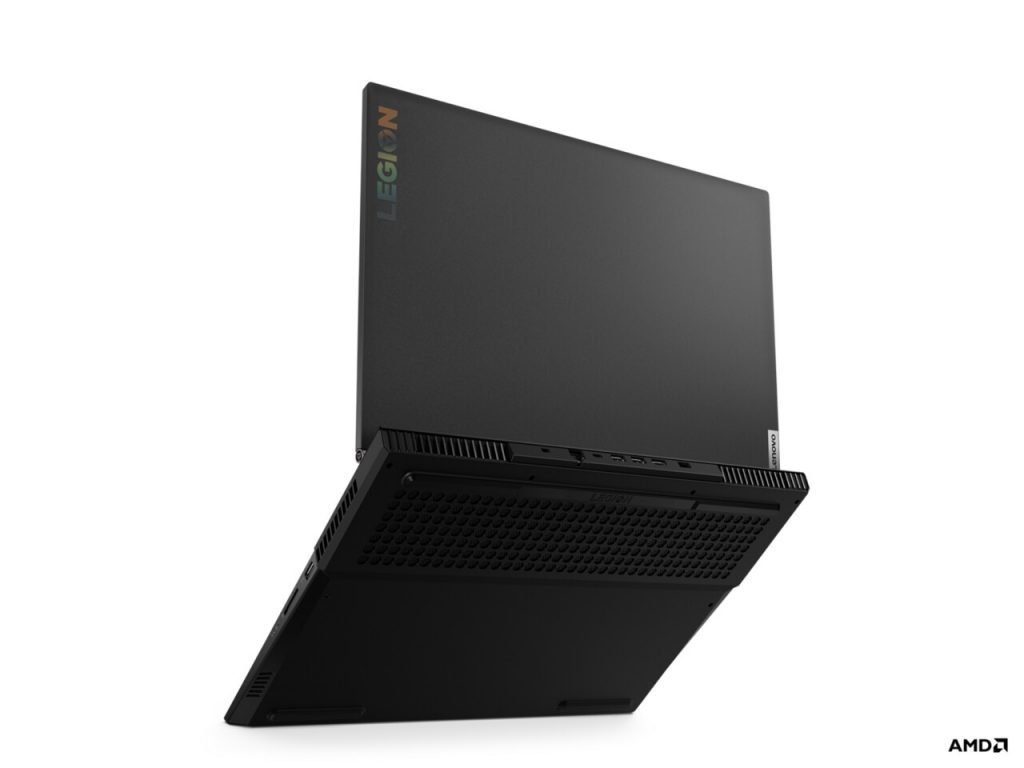 With up to 144Hz smooth refresh rate, the 15.6-inch and 17.3-inch Full HD (1920 x 1080) wide-viewing angle displays are enabled with Dolby Vision for spectacular picture quality. You can experience the Harman Kardon Speaker System with acoustics chamber and immersive Dolby Atmos audio, providing a new level of exciting sound.
The Lenovo Legion 5 delivers up to 16GB DDR4 3200 MHz memory, 1 TB PCIe SSD of storage, and it's optimally cooled via advanced Lenovo Legion Coldfront 2.0 thermals and available in sleek Phantom Black hue.
A white backlit keyboard offers 100 percent anti-ghosting and soft-landing switches—resulting in hair-trigger accuracy and a more tactile gaming experience. The 17-inch model provides up to 7.5 hours of battery life and Rapid Charge Pro.
Lenovo Legion 5P 
The Lenovo Legion 5P laptop offers up to AMD Ryzen 7 4800 H-Series Mobile Processors and up to NVIDIA GeForce RTX 2060 GPUs. At up to 300 nits of brightness, the 15.6-inch Full HD wide-viewing angle display has lightning-fast 144Hz refresh rate for under a 5ms response time to reduce screen tearing, plus optional Dolby Vision support.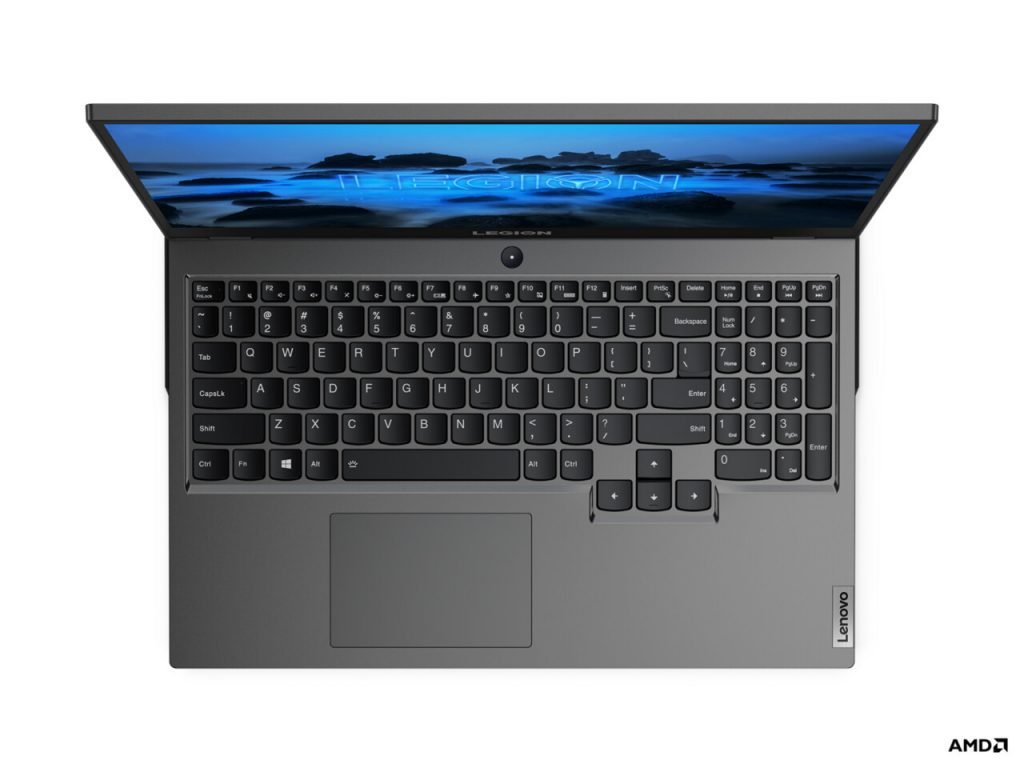 The Lenovo Legion 5P comes in Iron Grey and features white-lit "Y" logo. Crucial to keeping heat away from players' fingertips and minimizing noise is the enhanced thermal performance of Lenovo Legion Coldfront 2.0, featuring copper heat sinks and a quad channel ventilation system to circulate cool air to key system components. It also uses an integrated thermal module for greater thermal efficiency. Enjoy maximum performance via Dual Burn support, which pushes the CPU and GPU together for improved framerates, as well as Lenovo Q-Control 3.0 for when you want to manually switch between performance modes.
With up to 32GB DDR4 3200 MHz memory and up to 1 TB PCIe SSD of storage, its Harman Kardon speakers are optimized with Dolby Atmos for sound that flows around you. Dedicated media keys and number pad make video editing and setting macros a snap, while its smarter, Lenovo Legion TrueStrike keyboard provides 100 percent anti-ghosting and is available with optional 4-zone RGB system backlighting.
Effortlessly portable at under an inch thin and weighing 2.5 kg (5.1 lbs), gamers on-the-go will get up to 7.5 hours of battery life with Rapid Charge Pro and can use the slim power adapter to charge from zero to up to 50 percent battery life in 30 minutes.
IdeaPad Gaming 3
With improved thermals, the new 15.6-inch IdeaPad Gaming 3 laptop has up to AMD Ryzen 7 4800 H-Series Mobile Processors and up to crystal-clear Full HD wide-viewing angle display with slim bezel design. For more bang for your buck, choose optional 120Hz refresh rate designed for tear-free gaming and up to NVIDIA GeForce GTX 1650 Ti GPU for an elevated graphics experience built on the NVIDIA Turing architecture.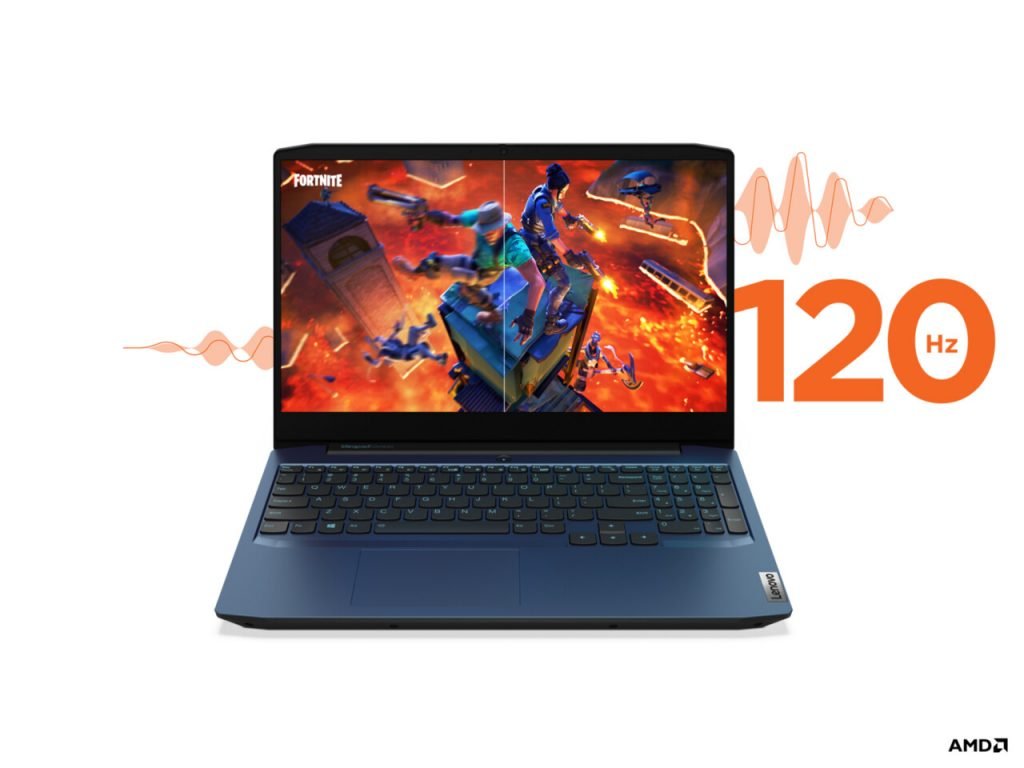 Enjoy clearer sound from dual speakers powered by Dolby Audio and ample storage with up to 1TB PCIe SSD and memory up to 32GB DDR4 3200 MHz.
Equipped with Intelligent Cooling via Lenovo Q-Control 3.0 for performance mode switching and up to 7 hours of battery life with Rapid Charge, the stylish IdeaPad Gaming 3 features a blue backlit gaming keyboard with 1.5mm key travel and is available in two eye-catching colors, iridescent Chameleon Blue or reflective Onyx Black. With Lenovo Vantage for Gaming, you can control and calibrate your hardware plus game and apps settings in one place.
Lenovo Legion Tower 5
Featuring up to the latest overclockable performance of up to the AMD Ryzen 9 3950X desktop processor with 16 cores, the new Lenovo Legion Tower 5 is ideal for intense gaming marathons. Paired with up to NVIDIA GeForce RTX 2070 SUPER GPU, this powerful gaming tower is optimally built for overclocked system performance at an accessible price point.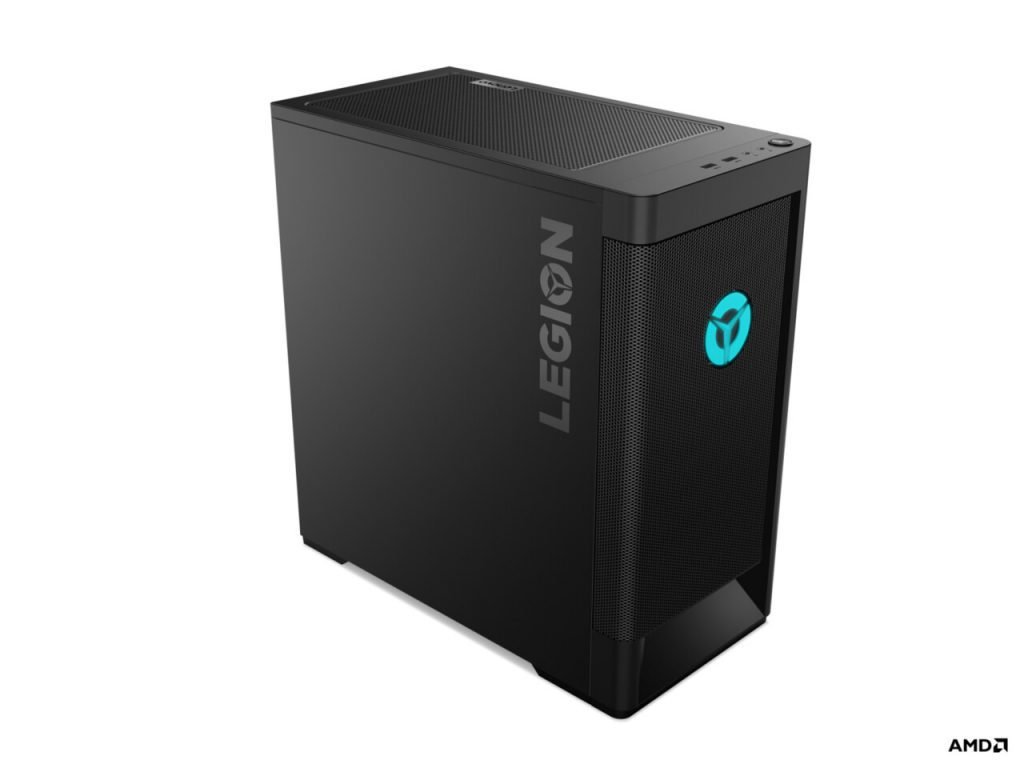 Multitasking, streaming, and content creating are made easier with super-fast Wi-Fi 6 connectivity and a storage capacity of up to 2x 1TB PCIe SSD plus 2x 2TB 3.5 HDD and up to 128GB DDR4 3200 MHz of memory.
Push beyond the bounds of smaller rig configurations while keeping things cool and whisper quiet during cinematic gaming experiences with improved fin thermals, 150w CPU cooler and larger fans that circulate air throughout its airy 26-liter interior.
Lenovo Q-Control lets you cycle through three modes of fan speeds to suit your game performance or content creation needs, while the optional 200W liquid cooling system quiets your machine even more, with optimally cooled components to further optimize on frame rates.
Accentuated with cool blue LED lighting and its chassis in a Raven Black hue, gamers can choose to showcase their personality and high-power internals with transparent side panels.
IdeaCentre Gaming 5
Sleeker than before and sporting cool blue ambient lighting, the new IdeaCentre Gaming 5 is available in an iridescent Chameleon Blue and offers up to AMD Ryzen 7 3700X desktop processors paired with up to NVIDIA GeForce RTX 2060 GPU, 32GB DDR4 memory and several storage options.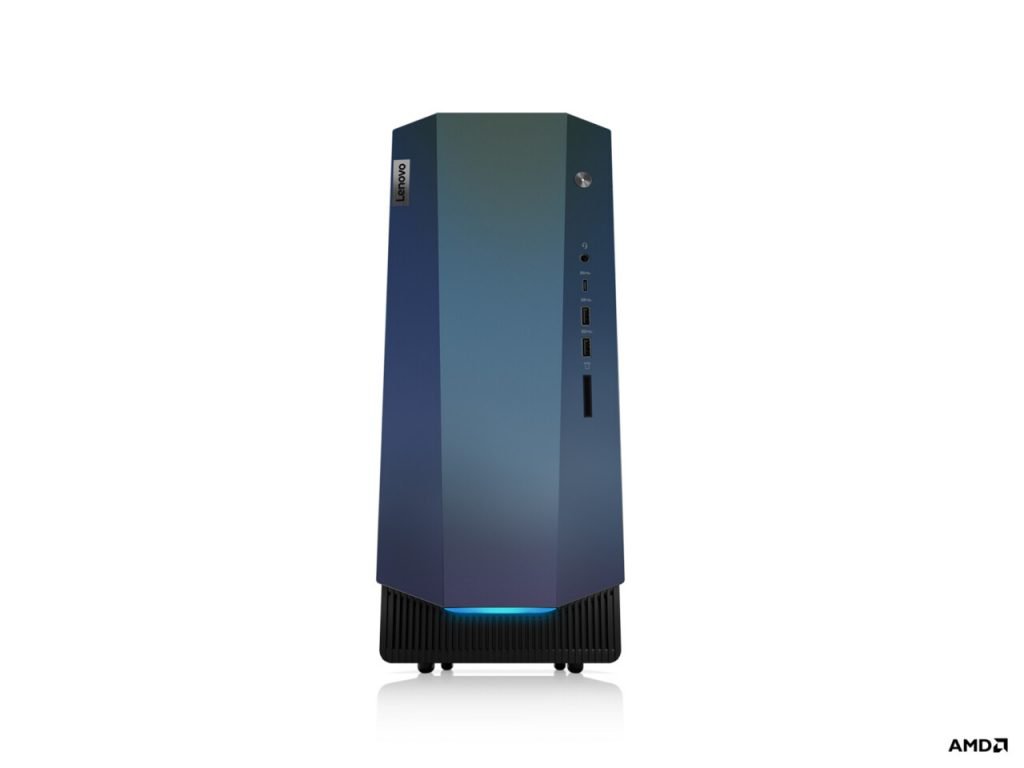 This tower stands tall amongst the competition with improved thermals that can both cool the system and hush fan noise under heavy gaming loads so you can better hear the rich, powerful sound quality supported by Dolby Audio.