ASUS Middle East today announced the TUF Gaming power supply series, consisting of 750W, 650W, 550W and 450W models. Joining the ever-expanding TUF Gaming ecosystem, these PSUs are designed for gaming rigs that prioritize durability. The series packs military-grade components together with a robust cooling system to create a dependable power platform. Additional features like sleeved cables and a six-year warranty propel the TUF Gaming series ahead of the competition.
Highlights
Capacitors and chokes pass demanding tests to achieve military-grade certification.
A 135 mm Axial-tech fan features a smaller fan hub that facilitates longer blades and a barrier ring that increases downward air pressure.
Dual-ball fan bearings last up to twice as long as sleeve-bearing designs.
Every TUF Gaming series PSU is backed with a six-year warranty.
Durability
To ensure class-leading durability, TUF Gaming PSUs start with a power platform that includes robust capacitors and chokes certified to pass military-grade specifications. The tighter production tolerances and extended temperature margins of these components allow the PSUs to provide reliable power even when deployed in challenging environments. As an added layer of protection, the PCB is also covered with a conformal coating to guard against short-circuits caused by dust, debris and moisture.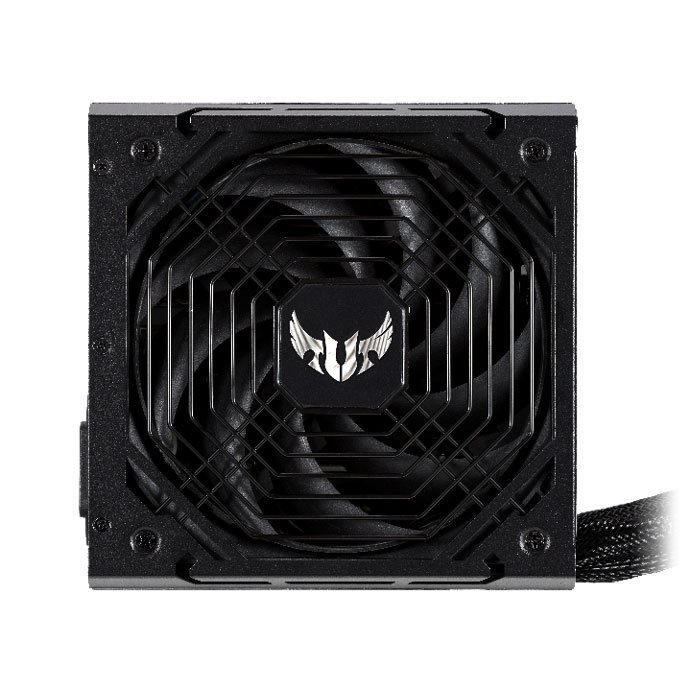 Users familiar with electronics know that keeping components cool is essential to overall product longevity, so dual ball bearings were used in the fan to provide up to double the lifespan compared to a sleeve-bearing design.
Engineering
TUF Gaming PSU components operate beneath an Axial-tech fan that was originally developed for top-end ROG graphics cards. The design features a smaller fan hub that facilitates longer blades and a barrier ring that increases downward air pressure. TUF Gaming series PSUs scale that design to 135 mm to keeps things cool at low RPMs while producing less noise.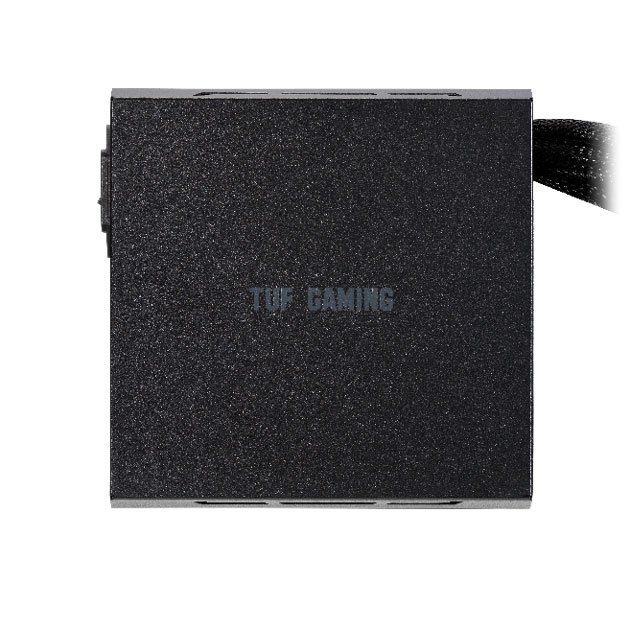 The PSUs also include 0dB technology, which uses an onboard controller to bring the fan to a standstill when thermal design power (TDP) is below 30%, letting users enjoy light gaming in relative silence. Above 30% TDP, the fan automatically starts up again.
The high-quality components used in TUF Gaming power supplies ensure efficient and reliable operation worthy of an 80 PLUS Bronze certification. The efficiency also leads to low temperatures within the PSU, facilitating an even quieter acoustic profile for the 135 mm Axial-tech fan.
Experience
Many competing PSUs in the category do not come with long warranty terms, but TUF Gaming's durable design allows ASUS to offer a six-year warranty on all models. In addition, TUF Gaming PSUs come with black cable sleeving for a clean, tactical look right out of the box.