The ASUS ROG Azoth is a high-end gaming keyboard designed for customization, portability, and enthusiast gamers. It features an OLED display with intuitive controls, versatile tri-mode connectivity with SpeedNova wireless technology, three adjustable tilt positions, and MacOS support.
The keyboard has a compact form factor of 75%, with a gasket mount, three-layer dampening foam, and metal top cover. It is highly customizable with hot-swappable ROG NX mechanical switches, ROG keyboard stabilizers, and PBT doubleshot keycaps.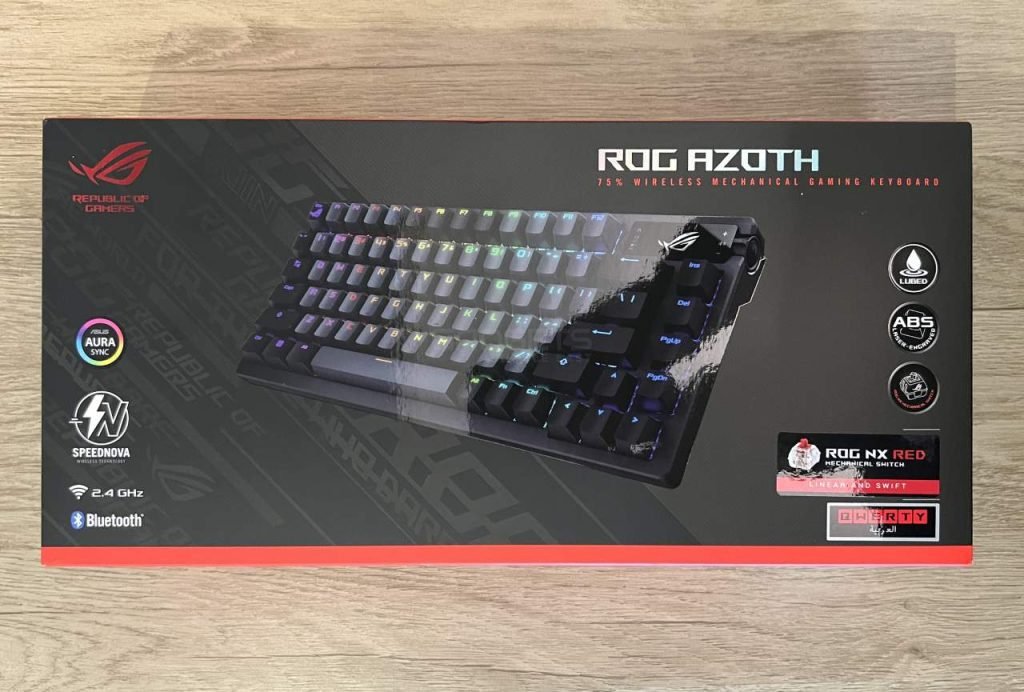 The keyboard has a braided, removable USB-C cable, an aluminum frame, per-key RGB illumination, six on-board profile storage, and the ability to reprogram keys via the Armoury Crate software.
The competition-grade mechanical keyboard features a compact tenkeyless form-factor – it comes without a numpad that is otherwise completely the same as a standard one. So, it will be a bit more difficult to log in in Windows or enter numbers, but you will save a lot of space on your desk.
Highlights
Per-key RGB lighting
Swappable switches
2in OLED screen
Three-layer dampening
Aluminium frame
Specifications
| | |
| --- | --- |
| Material | Aluminum Top Frame Plastic Base |
| USB Polling Rate | 1,000Hz |
| Keyboard Rollover | N Key Rollover |
| Key Switches | ROG NX mechanical switches |
| Lighting | Per Key RGB Illumination |
| Connectivity | USB 2.0 Bluetooth 5.1 RF 2.4GHz |
| Number Onboard profiles | Upto six profiles |
| Weight | 1.1kg |
| Dimensions | 326 x 136 x 40 mm (L*W*H) |
| Switch Actuation | 1.8 mm |
| Total Travel | 4.0 mm |
Packaging
The packaging comes in an ASUS ROG branded black packaging with photos and specifications on the sides. The box is durable and the keyboard and accessories are well protected. You have to download the Armoury Crate software manually.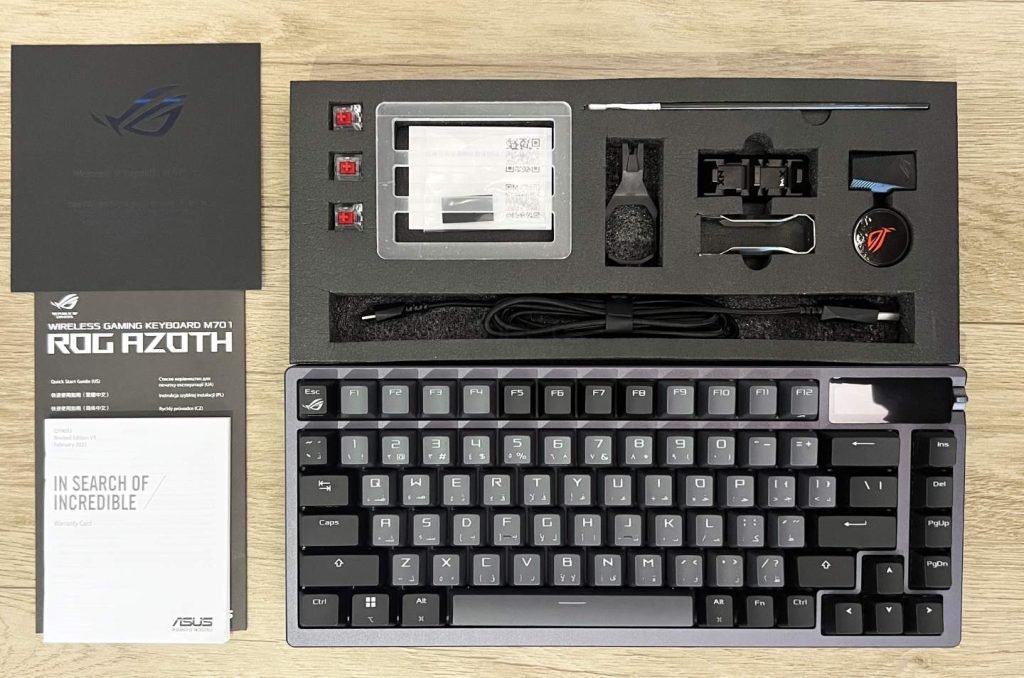 The packaging includes the below:
1 x ROG Azoth
1 x ROG switch opener
1 x ROG keycap puller
1 x ROG switch puller
1 x Lube station
1 x Lube brush
1 x Lube
3 x ROG NX Switch
8 x Stabilizer mat
1 x USB dongle
1 x USB extender
1 x USB cable
1 x ROG sticker
1 x quick start guide
1 x warranty booklet
Design & Features
The ASUS ROG Azoth comes in a single Gunmetal color with ROG NX Mechanical Switches in three options: linear NX Red, tactile NX Brown, or clicky NX Blue. Included within the packaging is a set of additional accessories for customization and maintenance including a complete set of tools for DIY features. The kit includes a switch opener, keycap puller, switch puller, lube station, brush, and bottle of Krytox GPL-205-GD0 lubricant. Unfortunately, there is also no wrist rest included.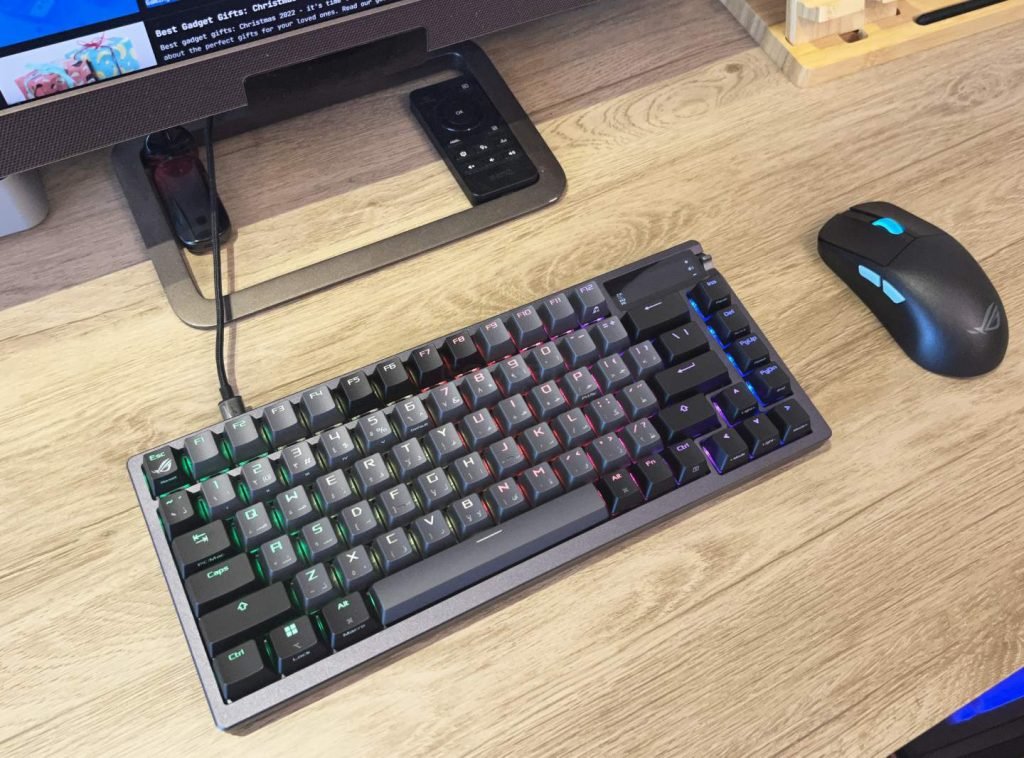 The ASUS ROG Azoth is a wireless keyboard but comes with a detachable 2m braided cable that allows it to be used in wired mode and also to recharge. In terms of dimensions, the keyboard measures 326 x 136 x 40 mm (L*W*H) and is quite hefty but portable at 1.1kg.
In terms of construction, the top plate of the keyboard is made of brushed aluminum but the bottom housing is made of plastic. It features a silicone gasket mount design for a smooth typing experience with three layers of dampening foams. The keyboard has a 3.5 mm-thick silicone pad to absorb noise, PORON foam to absorb case ping and hollowness and finally, a silicone foam-lined base case completely eliminates echoes and ensures a flat surface for the PORON foam.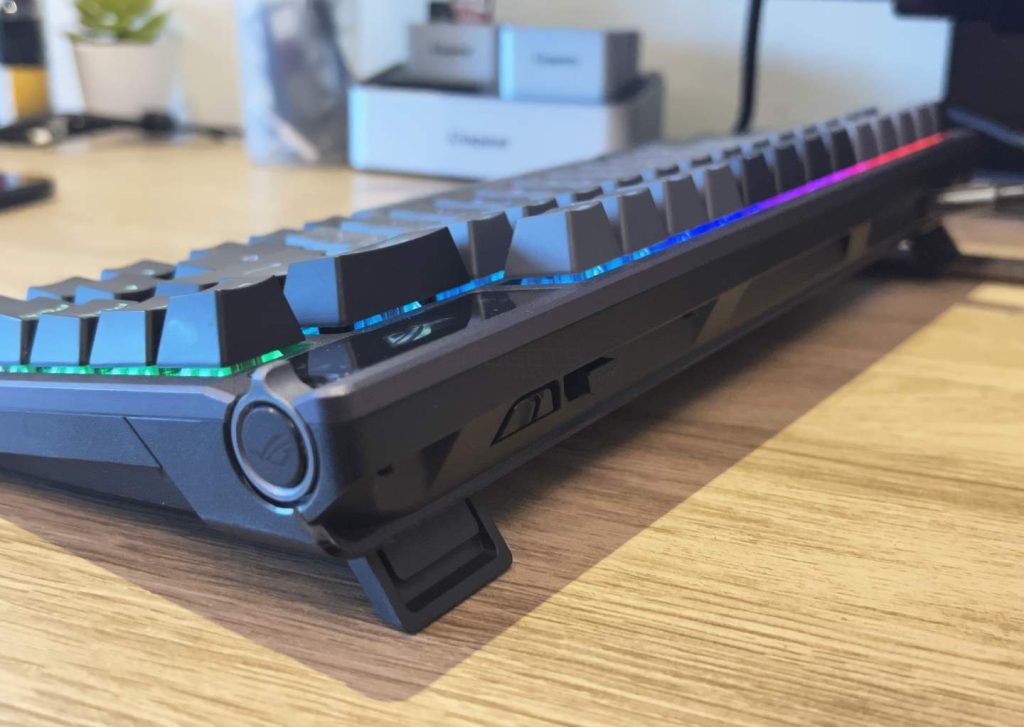 The base has two pairs of keyboard feet of different heights provide up to three tilt positions. At the rear is a toggle switch to automatically to switch between wired, Bluetooth, and wireless modes. Also located here is the storage slot for the wireless USB dongle and a USB-C port for the detachable cable.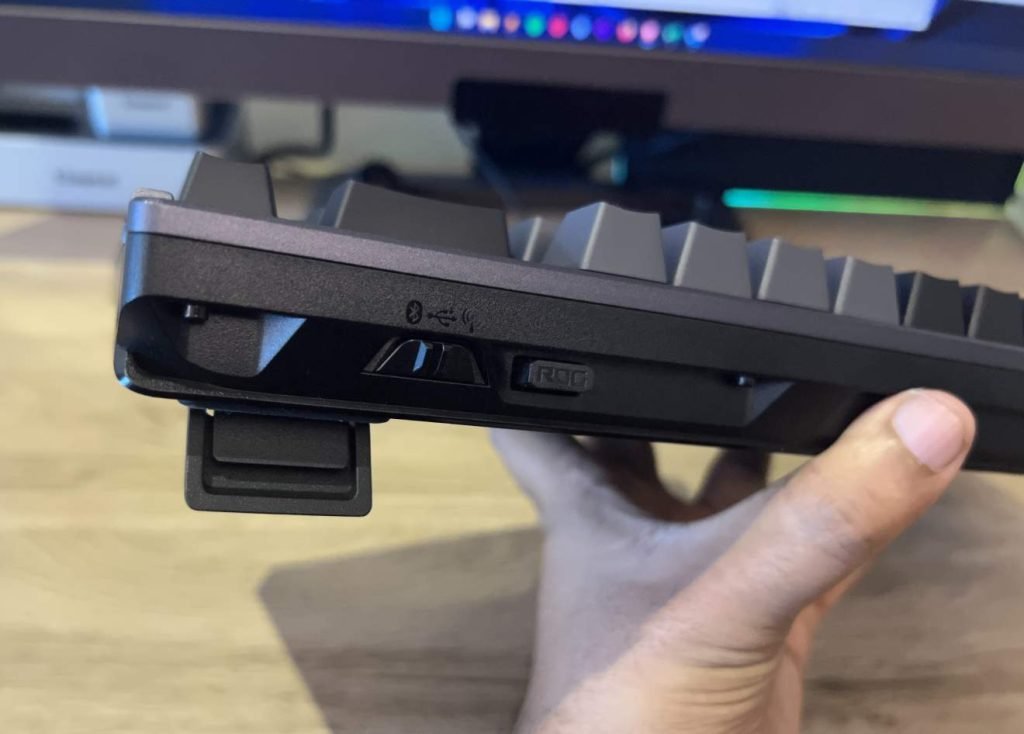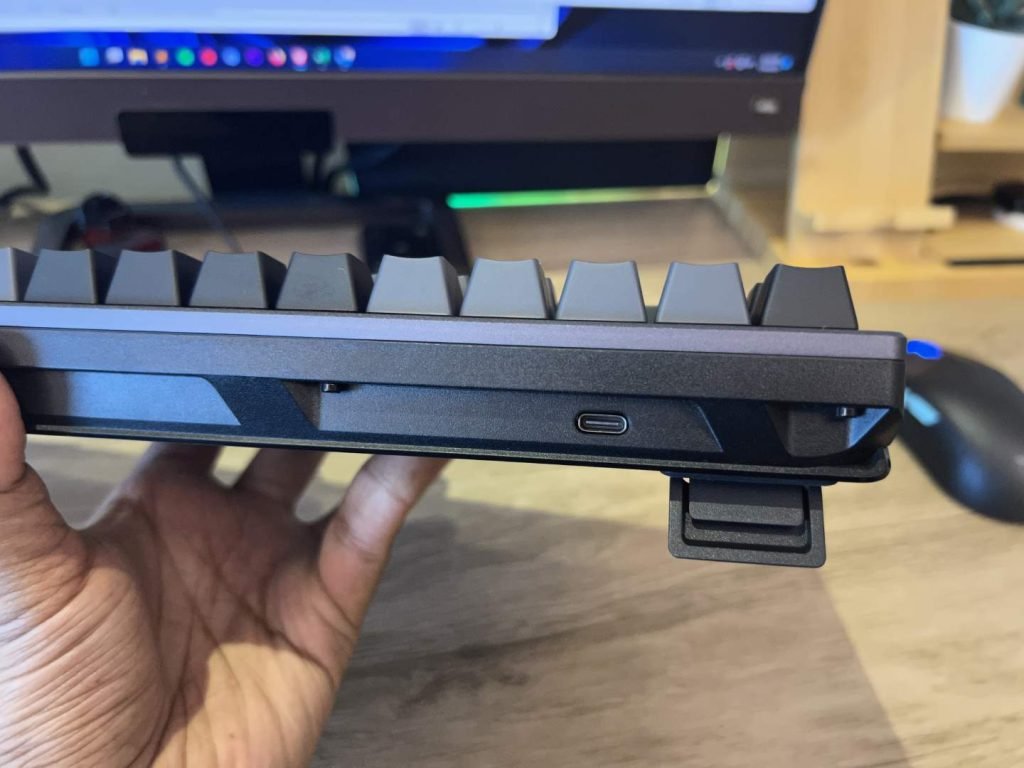 Along with its tenkeyless 81-key layout, the keyboard features an OLED display and the three-way knob can be used to adjust settings such as media, brightness, lighting effects, or even fan control. The 2-inch OLED panel can prove to be actually quite functional and can be set to show custom animations through Armoury Crate. display media information, system information, or even notifications.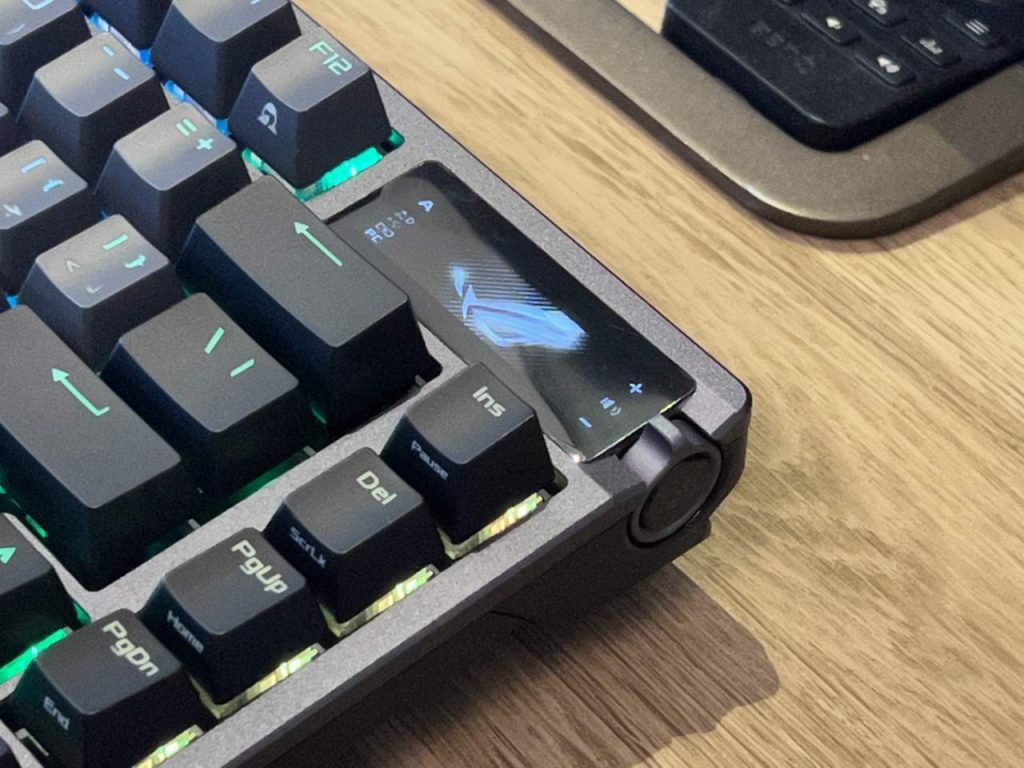 The ROG SpeedNova wireless technology provides up to 2,000+ hours of low-latency gameplay with OLED & RGB off. In addition to its wired and wireless modes, the ASUS ROG Azoth can also connect to multiple devices via Bluetooth, allowing for up to three simultaneous connections. Furthermore, the keyboard can be charged and used simultaneously in wired USB mode.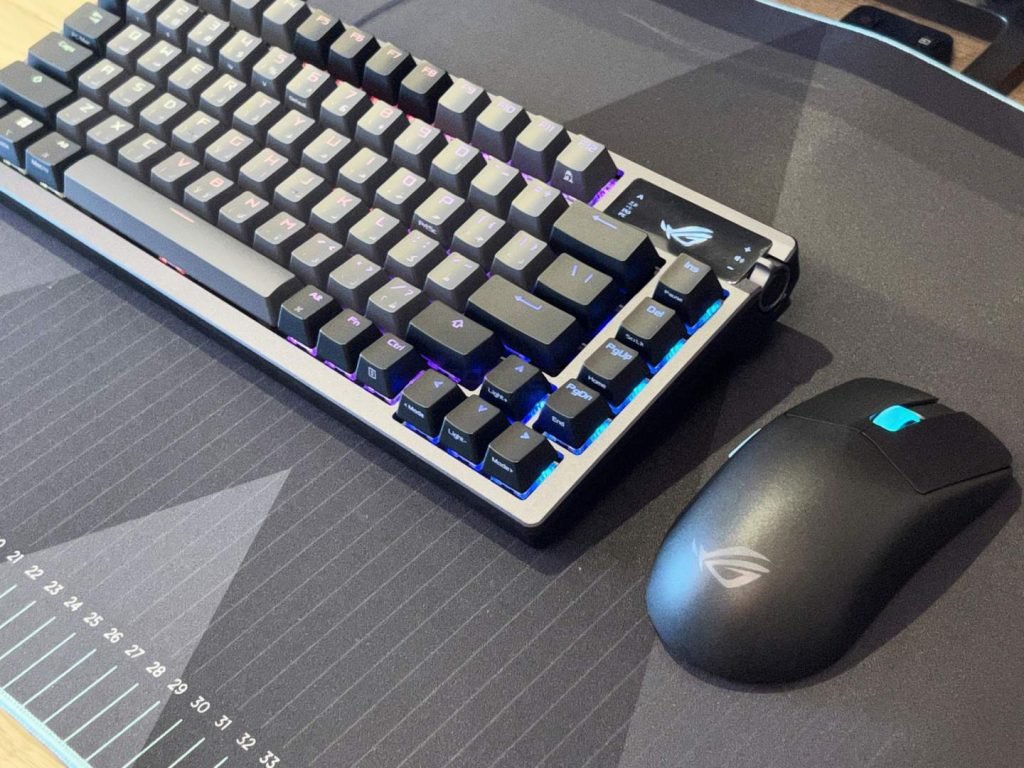 The ASUS ROG Azoth features swappable ROG NX Mechanical Switches, which offer a fast response time with a short actuation distance of 1.8mm, ideal for competitive gaming and a total travel distance of 4mm. ASUS claims that these key switches can withstand up to 70 million keystrokes. The keyboard also has N-key rollover and anti-ghosting for a smooth and uninterrupted typing experience. It supports both three and five-pin key switches, allowing for flexibility in choosing key switches that suit your typing preferences.
The ASUS ROG Azoth comes with PBT double-shot keycaps that offer a premium feel and long-lasting durability. The keys are RGB illuminated and can be customized through the Armoury Crate software or by cycling through lighting profiles using FN and the arrow keys.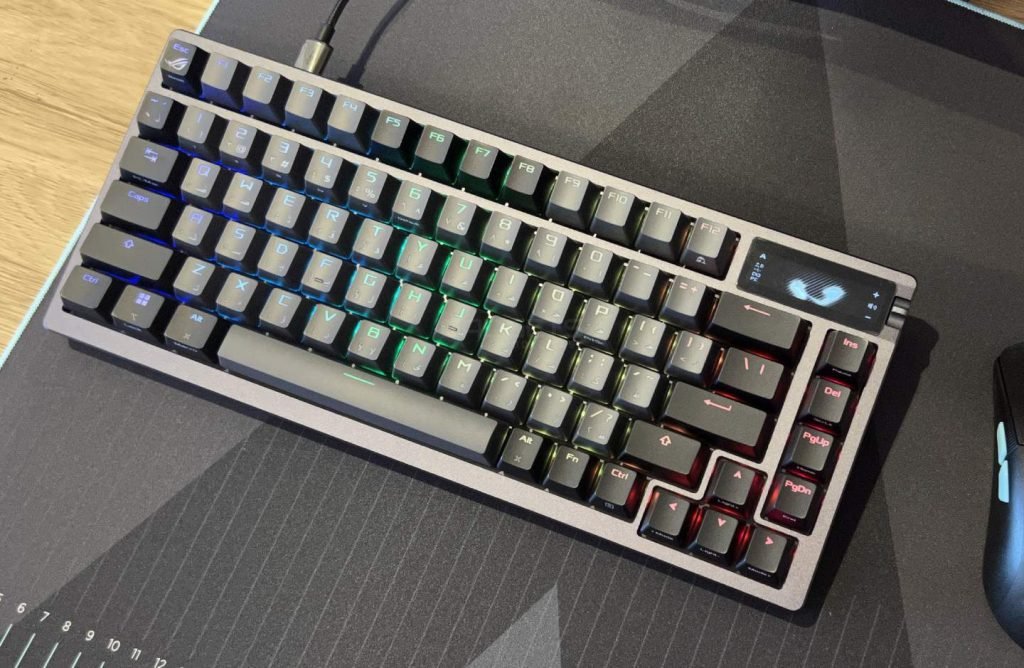 When it comes to performance, the keystrokes on the ASUS ROG Azoth are quiet and have a dampened click sound to them. The buttons are sturdy and well-built, but the spacing between the keys is closer than some other mechanical keyboards, which may take some time to adjust to. The click sound is quieter than some of other mechanical keyboards we've tested. When it comes to gaming, the switches and slightly curved keys perform well and allow for accurate key presses. Additionally, the keyboard features onboard storage that can store up to six profiles with custom macros and effects.
Software
Adjusting the RGB lighting, recording macros, polling rate, profile settings and upgrading the firmware can be done via the Armoury software which can be downloaded from ASUS ROG website. You can also sync all your AURA Synch supported peripherals using the same software.
ASUS ROG Azoth Gaming Keyboard Review Verdict
Designed for eSports and competitive gaming, the ASUS ROG Azoth is a highly customizable gaming keyboard that brings custom keyboard features to a mainstream pre-built keyboard.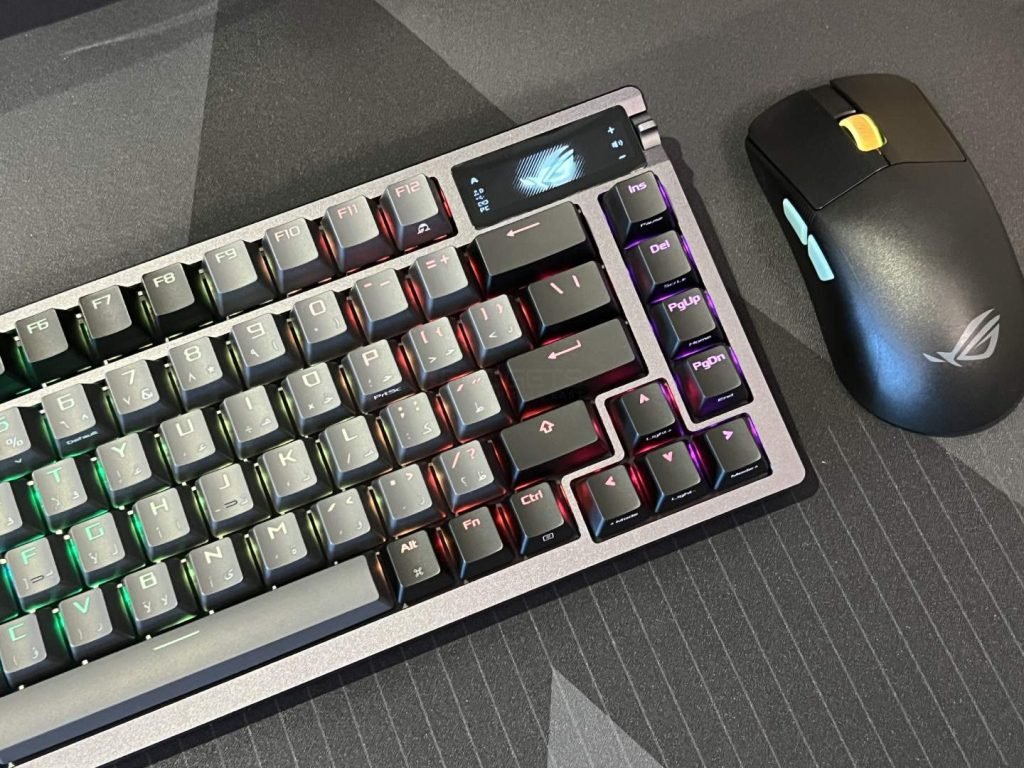 It features a sleek design suitable for any desktop setup, comes packed with features and supports multiple connectivity options. The PBT double-shot keycaps are durable and the ROG NX Mechanical Switches are rated for 70 million keystrokes. The detachable USB-C cable is convenient for easy removal and placement. The keyboard is perfect for gaming, but can also be used for everyday work.
Some of the draw backs are getting used to the close spacing between the keys, the lack of a wrist-rest, and the expensive pricing. With that said this is a top-of-the-line mechanical keyboard that's great for enthusiast gamers and is built to last long.