The ASUS ROG Falchion Ace is a high-end wired mechanical keyboard that delivers excellent performance in an ultra-compact form factor. With a detachable braided USB-C cable for wired connectivity, the keyboard is equipped with ROG MX switches, per-key RGB illumination, up to six on-board profile storage, and the ability to reprogram keys via Armoury Crate software.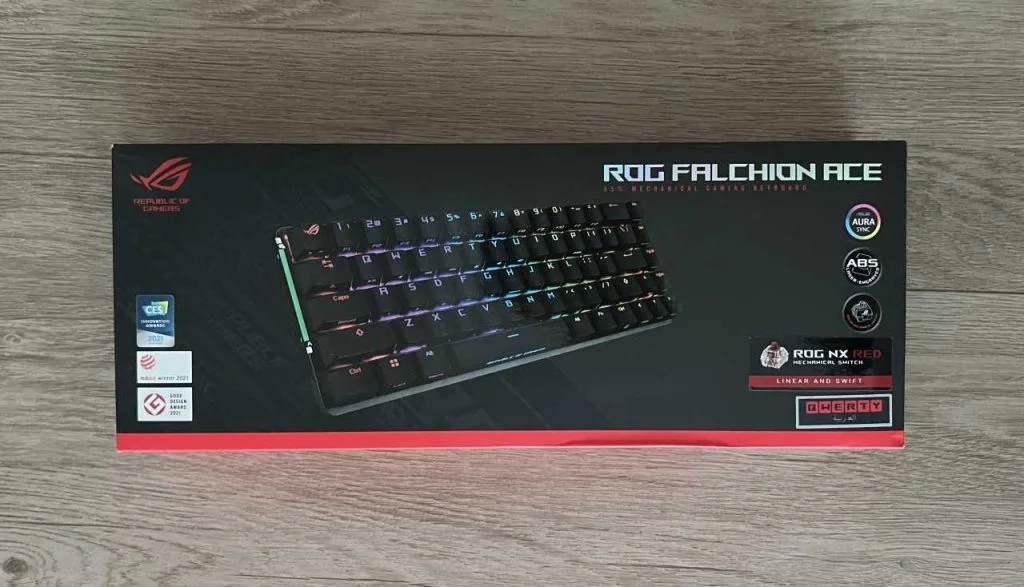 Featuring a 60% form factor compared to a standard keyboard, the ROG Falchion Ace also comes with an interactive touch panel, ROG stabilizers, built-in sound-dampening foams, dual USB-C ports, three adjustable tilt positions, and a metal front plate.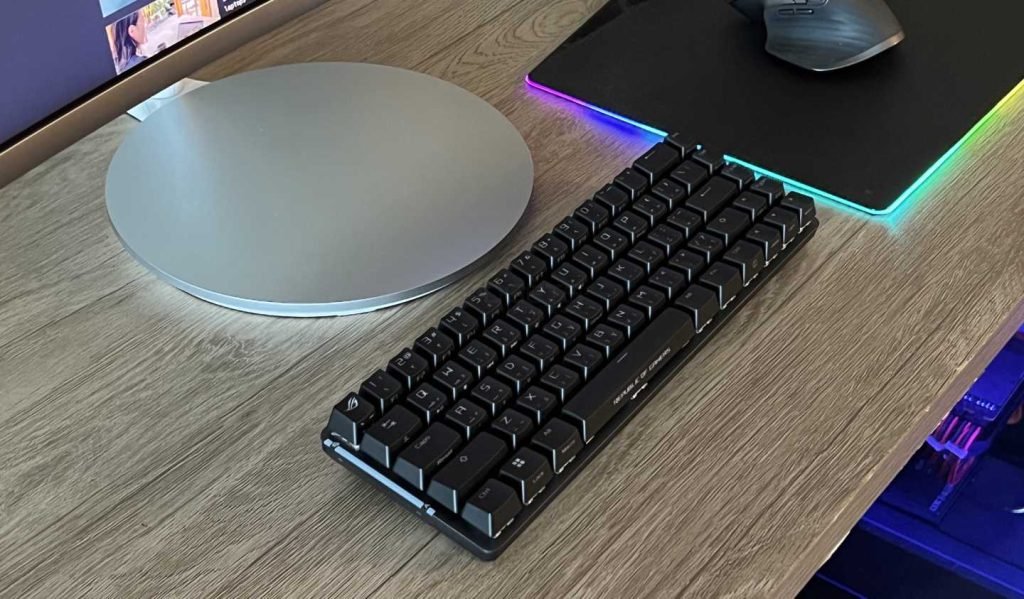 Highlights
ROG MX switches
ROG stabilizers
PBT doubleshot keycaps
Interactive touch panel
Per-key RGB lighting
Specifications
Material
Aluminum Top Frame Plastic Base
USB Polling Rate
1,000Hz
Anti-Ghosting
100% Anti-Ghosting
Key Switches
ROG NX mechanical switches
Lighting
Per Key RGB Illumination
Connectivity
USB 2.0 (Type-C to Type-A)
Number Onboard profiles
Upto six profiles
Weight
ABS: Approx. 593g
PBT: Approx. 599g
Dimensions
305.79 x 101 x 37.5mm (L*W*H)
Packaging
The packaging comes in an ASUS ROG branded black packaging with photos and specifications on the sides. The box is durable and the keyboard and accessories are well protected. You have to download the Armoury Crate software manually.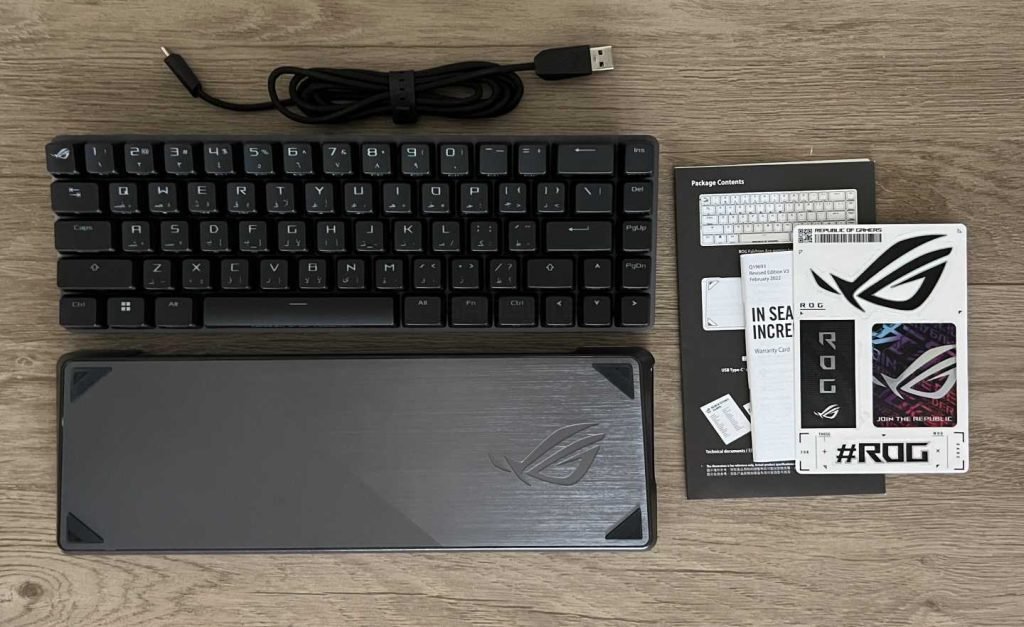 The packaging includes the below:
1 x ROG Falchion Ace gaming keyboard
1 x Detachable Braided Cable
1 x Quick Start Guide
1 x ROG Sticker
1 x Warranty Booklet
Design
The ASUS ROG Falchion Ace features a sleek, stylish design and is available in two color options: Black or White. Additionally, users can choose from three ROG NX Mechanical switches: linear NX Red, tactile NX Brown, or clicky NX Blue.
As a wired keyboard, the ROG Falchion Ace comes with a detachable braided cable for easy connectivity. It measures 326 x 136 x 40 mm (LWH) and weighs roughly 600g, making it both sturdy and portable. The package also includes a polycarbonate keyboard cover case that can be used for dust protection or as a carry case. However, we should note that there is no wrist rest included.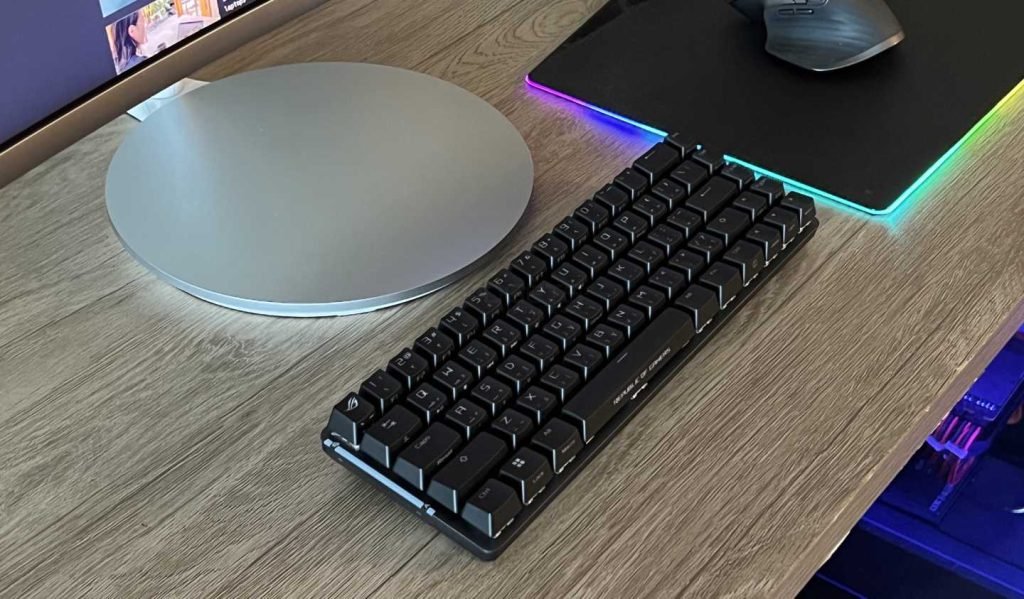 The keyboard boasts a sturdy construction, with a metal front plate and plastic bottom housing. The ROG stabilizers ensure a smooth typing experience, while built-in sound-dampening foams reduce noise levels. The base has two pairs of keyboard feet of different heights, which provide up to three tilt positions. The keyboard also features dual USB-C ports on either side of the rear edges, enabling users to connect up to two PCs simultaneously and quickly toggle between them.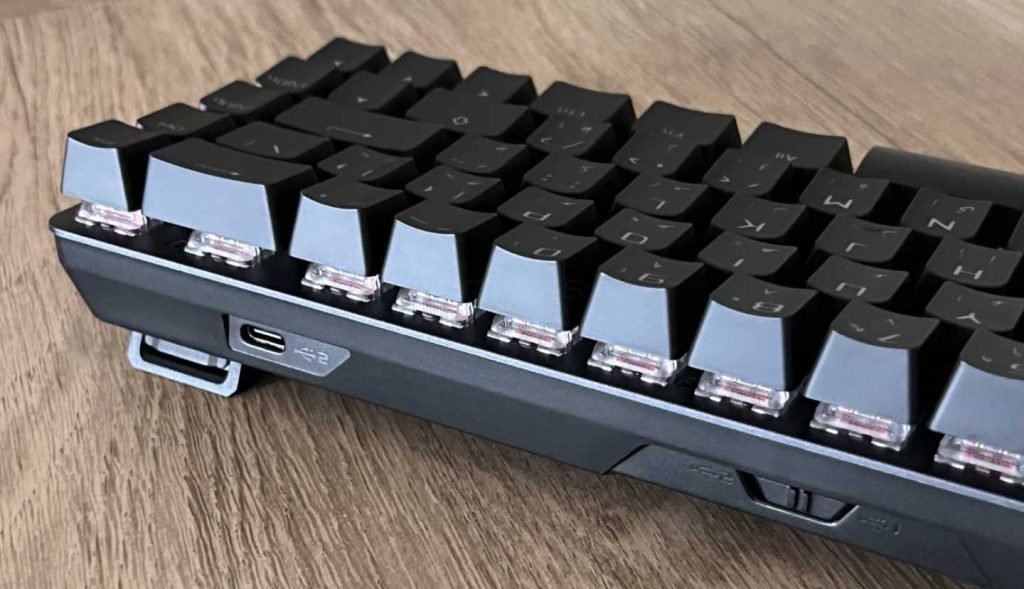 In addition to its 68-key layout, the ASUS ROG Falchion Ace also features an interactive touch panel with LED indicators that allows users to adjust volume, create shortcuts for switching apps, or copying and pasting. The panel recognizes not only presses but also swipe gestures and can be programmed for use as a macro key for more intuitive controls for gaming via the Armoury Crate Software.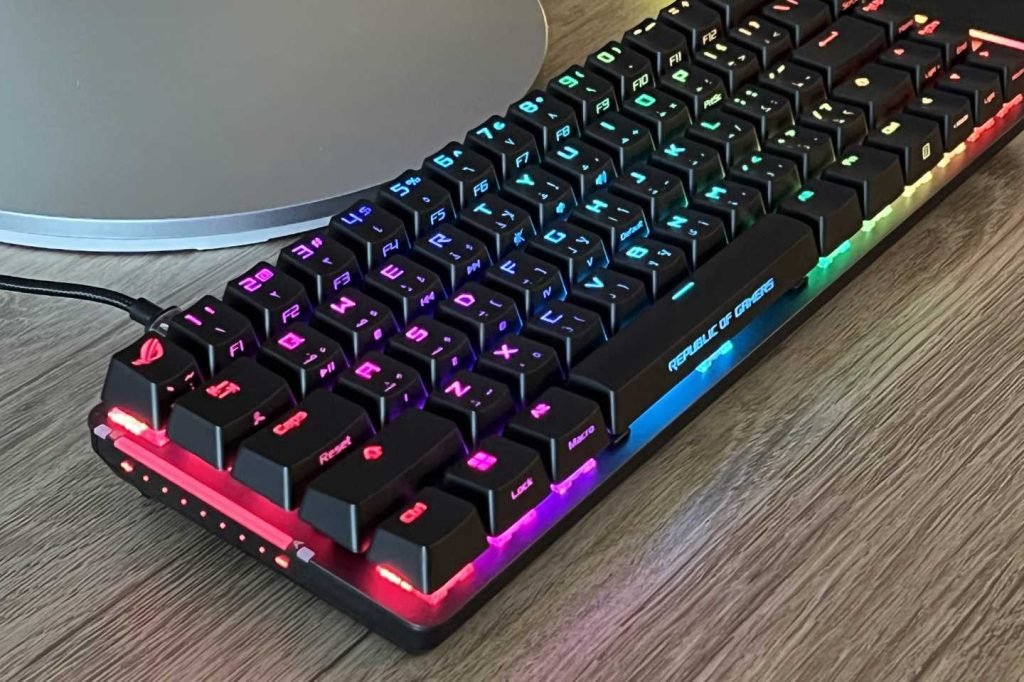 Finally, the ASUS ROG Falchion Ace features a full set of arrow keys, along with an additional four keys for system functions such as Insert, Delete, Page Up and Page down. Overall, this keyboard's design is both stylish and functional, with features that make it ideal for gaming and productivity alike.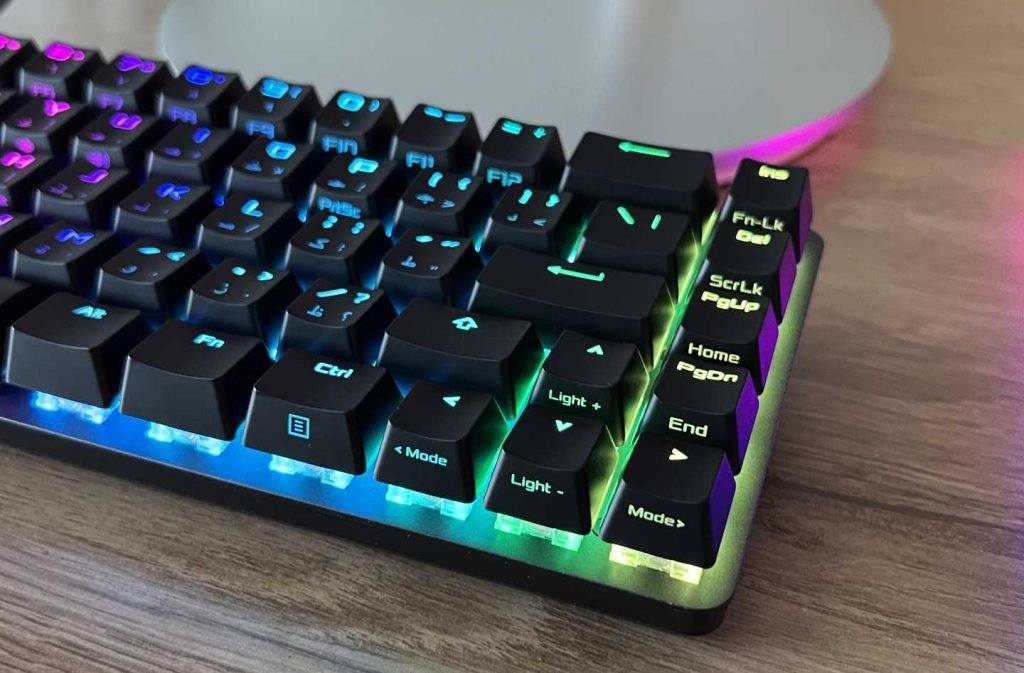 Performance
The ASUS ROG Falchion Ace delivers a satisfying and responsive typing experience, with the ROG NX Mechanical switches providing a quick and accurate response with each key press. The N-key rollover and anti-ghosting features work seamlessly, allowing us to execute multiple commands simultaneously without any lag or missed keystrokes.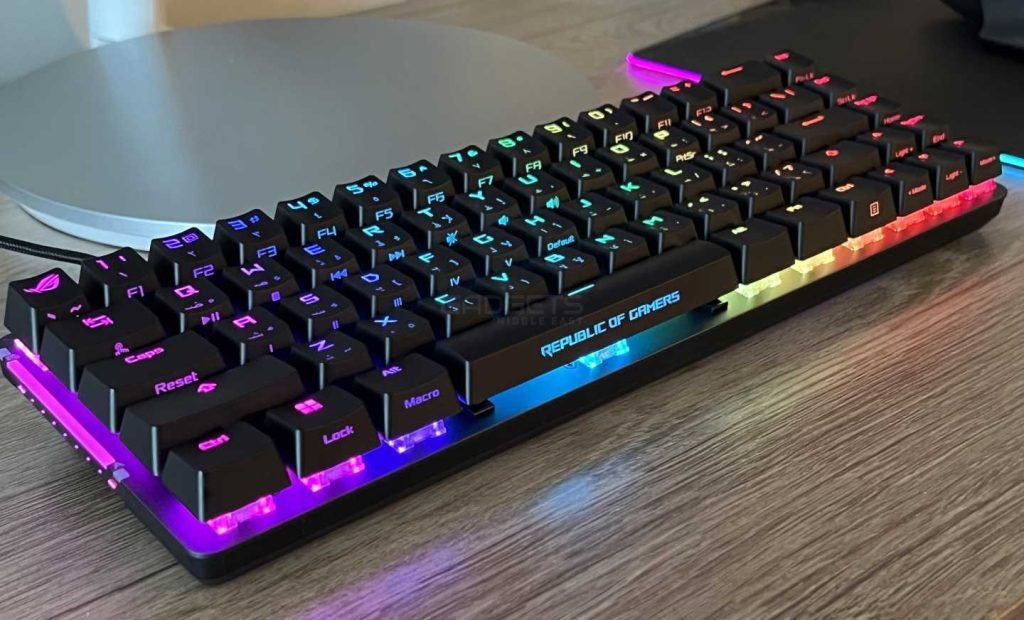 The PBT double-shot keycaps added an extra layer of durability and premium feel to the keyboard. The per-key RGB illumination adds a nice touch to the keyboard and the customization options through the Armoury Crate software were easy to use and comprehensive. The interactive touch bar is innovative and swipe gestures works reliably for adjusting volume, page zoom, or any other macro that are assigned to it. Additionally, the keyboard features onboard storage that can store up to six profiles with custom macros and effects.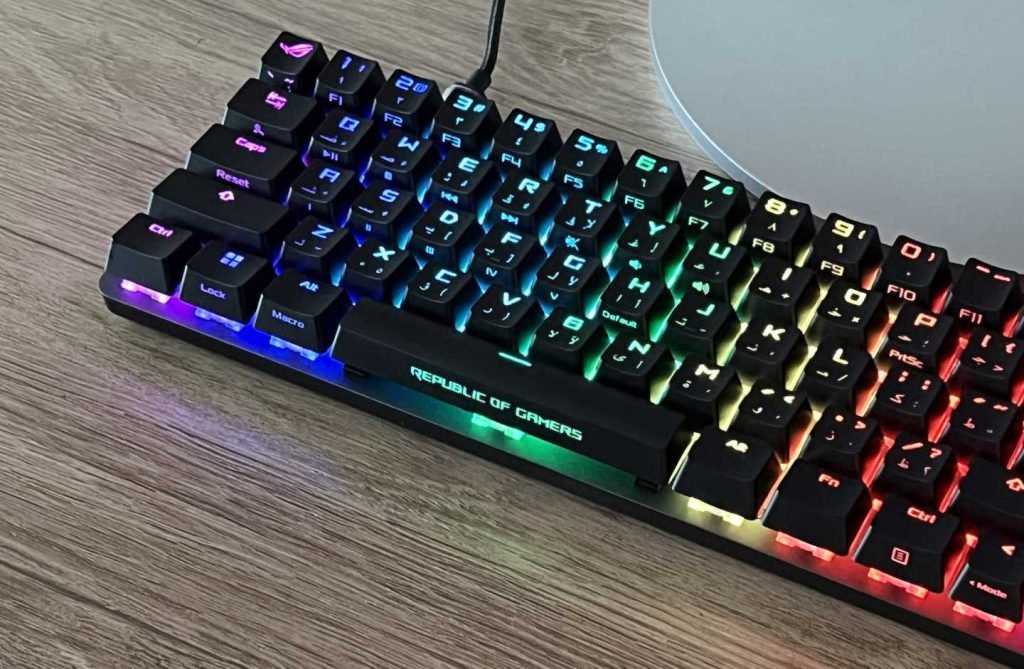 Overall, we found that the ASUS ROG Falchion Ace performs well in gaming and general typing tasks, providing a consistent and responsive experience. The keyboard's customization options and innovative touch panel make it a versatile and practical option for any user.
Software
Adjusting the touchpad, RGB lighting, recording macros, polling rate, profile settings and upgrading the firmware can be done via the Armoury software which can be downloaded from ASUS ROG website. You can also sync all your AURA Synch supported peripherals using the same software.
ASUS ROG Falchion Ace Keyboard Review Verdict
The ASUS ROG Falchion Ace is that it's an excellent option for gamers looking for a high-performance, compact keyboard. The ROG switches and PBT double-shot keycaps offer both durability and customization options, while the interactive touch panel adds a unique and convenient element to the keyboard.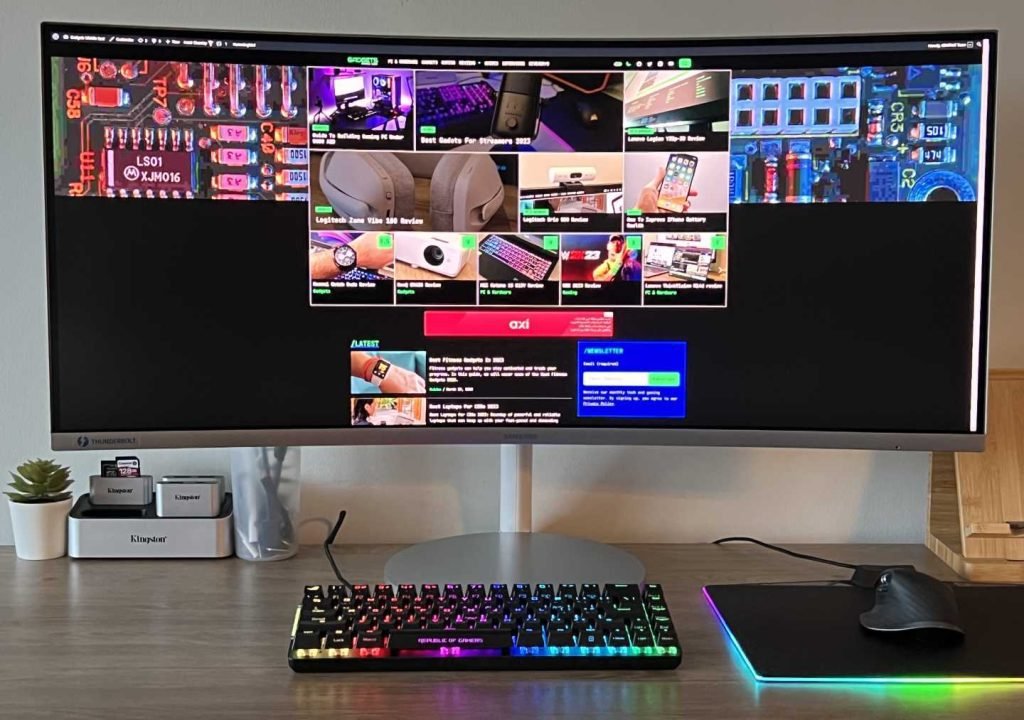 While the close spacing between the keys and the lack of a wrist-rest may take some getting used to, the keyboard's overall performance and build quality make up for these minor drawbacks. The dual USB-C ports also make it easy to switch between devices, which is a great feature for users who work and game on multiple devices.
The ASUS ROG Falchion Ace is a top-of-the-line mechanical keyboard that's perfect for gamers and enthusiasts who want a durable and customizable keyboard that's built to last. While it may be on the pricier side, the performance and features of the keyboard make it well worth the investment for those who are serious about their gaming experience.