The ROG Strix Z790-E Gaming Wi-Fi II is a feature-packed Z790 chipset motherboard from ASUS. Designed for Intel's 14th & 13th Gen Processors, as well as 12th Gen, Pentium Gold, and Celeron Processors, this board doesn't just stop at being visually striking with its vibrant multi-layered I/O shroud.
Under the hood, the stacks of VRM cooling ensure your system remains cool under pressure, while the enhanced DDR5 performance and ample PCIe 5.0 slots promise a seamless and rapid computing experience. The DIY-friendly Q-Design feature set makes building and upgrading effortless.
When it comes to performance optimization, ASUS AI Overclocking helps tune your system. This advanced feature profiles your CPU and cooling setup, predicting the optimal configuration and pushing your system to its absolute limits. You can either trust its predictions automatically or use them as a launchpad for your own experimentation.
Embracing the PCIe 5.0 standard fully, the Strix Z790-E II ensures future-proofing. The x16 expansion slot is Gen 5-ready and fortified with a SafeSlot retention bracket, capable of effortlessly handling the latest graphics cards without a hitch.
Specifications
CPU
Intel Socket LGA1700 for Intel Core 14th & 13th Gen Processors, Intel Core 12th Gen, Pentium Gold and Celeron Processors
Supports Intel Turbo Boost Technology 2.0 and Intel Turbo Boost Max Technology 3.0
Chipset
Intel Z790 Chipset
Memory
4 x DIMM slots, max. 192GB DDR5
8000+(OC)/7800+(OC)/7600(OC)/7400(OC)/7200(OC)/7000(OC)/6800(OC)/6600(OC)/6400(OC)/6200(OC)/6000(OC)/5800(OC)/5600/5400/5200/5000/4800 Non-ECC, Un-buffered Memory
Dual Channel Memory Architecture
Supports Intel Extreme Memory Profile (XMP) memory module
Supports DIMM Flex
OptiMem II
ASUS Enhanced Memory Profile II (AEMP II)
Graphics
1 x DisplayPort
1 x HDMI port
Expansion Slots
Intel Core Processors (14th & 13th & 12th Gen)
1 x PCIe 5.0 x16 slot (support x16 mode)
Intel Z790 Chipset 2 x PCIe 4.0 x16 slots (support x4 mode)
Storage
Supports 5 x M.2 slots and 4 x SATA 6Gb/s ports  
Intel CoreTM Processors (14th & 13th & 12th Gen)
M.2_1 slot (Key M), type 2242/2260/2280/22110 (supports PCIe 5.0 x4 mode)
M.2_2 slot (Key M), type 2242/2260/2280 (supports PCIe 4.0 x4 mode)  

Intel Z790 Chipset
M.2_3 slot (Key M), type 2280 (supports PCIe 4.0 x4 mode)
M.2_4 slot (Key M), type 2280 (supports PCIe 4.0 x4 mode)
M.2_5 slot (Key M), type 2242/2260/2280 (supports PCIe 4.0 x4 & SATA modes)
4 x SATA 6Gb/s ports
Ethernet
1 x Intel 2.5Gb Ethernet
ASUS LANGuard
Wireless Connectivity
Intel Wi-Fi 7
2×2 Wi-Fi 7 (802.11be)
Supports 2.4/5/6GHz frequency band
Support Wi-Fi 7 160MHz bandwidth, up to 2.4Gbps transfer rate.
Bluetooth v5.4
USB
Rear USB (Total 12 ports)
1 x USB 20Gbps port (1 x USB Type-C)
11 x USB 10Gbps ports (10 x Type-A + 1 x USB Type-C)
Front USB (Total 11 ports)
1 x USB 20Gbps connector (supports USB Type-C with up to 30W PD Fast-charge )
2 x USB 5GGps headers support 4 additional USB 5Gbps ports
3 x USB 2.0 headers support 6 additional USB 2.0 ports
Audio
ROG SupremeFX 7.1 Surround Sound High Definition Audio CODEC ALC4080  
– Impedance sense for front and rear headphone outputs
– Supports: Jack-detection, Multi-streaming, Front Panel MIC Jack-retasking
– High quality 120 dB SNR stereo playback output and 110 dB SNR recording input
– Supports up to 32-Bit/384 kHz playback on front panel

Audio Features
– SupremeFX Shielding Technology
– Savitech SV3H712 AMP
– Gold-plated audio jacks 
– Rear optical S/PDIF out port
– Premium audio capacitors
– Audio cover
Back Panel I/O Ports
1 x USB 20Gbps port (1 x USB Type-C)
11 x USB 10Gbps ports (10 x Type-A + 1 x USB Type-C)
1 x DisplayPort
1 x HDMI port
1 x Wi-Fi Module
1 x Intel 2.5Gb Ethernet port
5 x Gold-plated audio jacks
1 x Optical S/PDIF out port
1 x BIOS FlashBack button
1 x Clear CMOS button
Fan and Cooling related
1 x 4-pin CPU Fan header
1 x 4-pin CPU OPT Fan header
1 x 4-pin AIO Pump header
5 x 4-pin Chassis Fan headers  

Power related
1 x 24-pin Main Power connector
2 x 8-pin +12V Power connectors  

Storage related
5 x M.2 slots (Key M)
4 x SATA 6Gb/s ports  

USB
1 x USB 20Gbps connector (supports USB Type-C with up to 30W PD Fast-charge)
2 x USB 5Gbps headers support 4 additional USB 5G ports
3 x USB 2.0 headers support 6 additional USB 2.0 ports  

Miscellaneous
3 x Addressable Gen 2 headers
1 x Alternation PCIe Mode Switch
1 x AURA RGB header
1 x CPU over voltage jumper
1 x Front panel audio header (F_AUDIO)
1 x Start button 1 x 20-3 pin System Panel header with Chassis intrude function
1 x Thermal Sensor header 1 x Thunderbolt (USB4) header
Special Features
Extreme OC Kit
– Start button  

Extreme Engine Digi+
– 5K Black Metallic Capacitors  

ASUS Q-Design
– M.2 Q-Latch
– PCIe Slot Q-Release
– Q-Antenna
– Q-Code
– Q-DIMM
– Q-LED (CPU [red], DRAM [yellow], VGA [white], Boot Device [yellow green])
– Q-Slot  

ASUS Thermal Solution
– M.2 heatsink backplate
– M.2 heatsink
– VRM heatsink design  

ASUS EZ DIY
– BIOS FlashBack button – BIOS FlashBack LED
– Clear CMOS button
– CPU Socket lever protector
– ProCool II
– Pre-mounted I/O shield
– SafeSlot
– SafeDIMM  

AURA Sync
– AURA RGB header
– Addressable Gen 2 RGB headers  

Front Panel USB 20Gbps with PD Fast Charge Support
– Support: up to 30W fast charging and USB Wattage Watcher
– Output: 5V/9V max. 3A, 12V max 2.5A
– Compatible with PD3.0
Bios
256 Mb Flash ROM, UEFI AMI BIOS
Form Factor
ATX Form Factor
12 inch x 9.6 inch (30.5 cm x 24.4 cm)
View full specifications here.
Packaging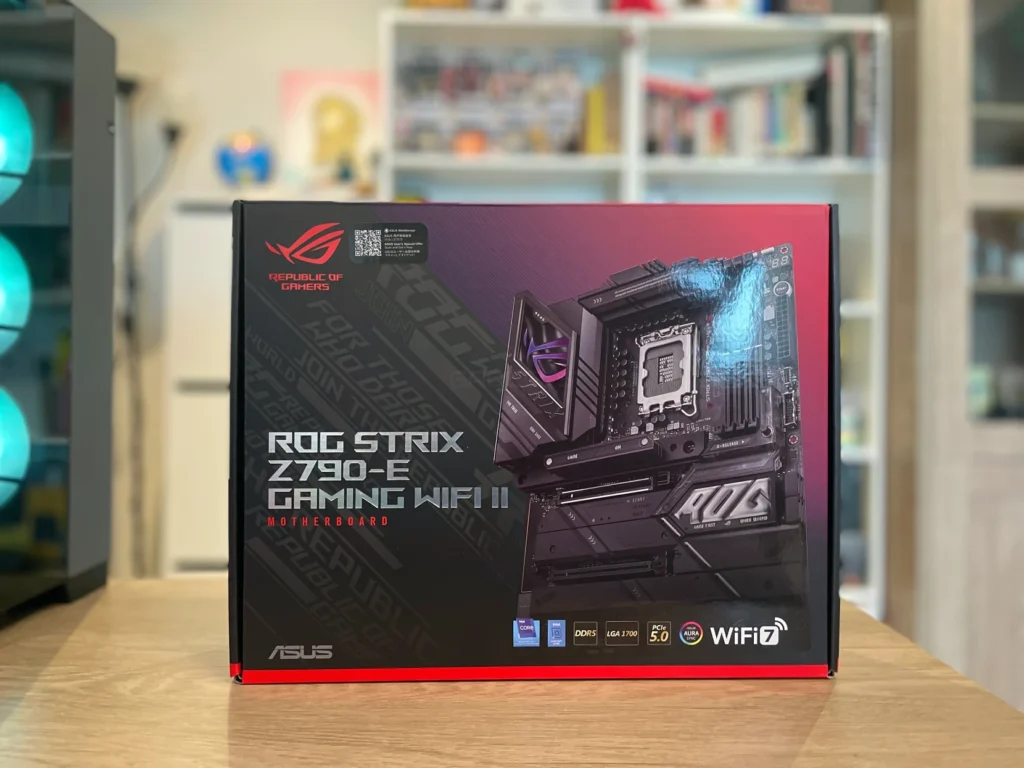 The packaging for the ASUS ROG Strix Z790-E Gaming Wi-Fi II is in keeping with its place in the Republic of Gamers range. The motherboard and accessories are safely protected in compartments. The packaging includes:
ASUS ROG Strix Z790-E Gaming Wi-Fi II motherboard
2 x SATA 6Gb/s cables
1 x Thermal pad for M.2
1 x ASUS Wi-Fi Q-Antenna
1 x Cable ties package
1 x M.2 backplate Q-Latch package
1 x M.2 Q-Latch package
1 x ROG key chain
1 x ROG Strix stickers
2 x M.2 Rubber Packages
1 x M.2 backplate Rubber Package
1 x Quick start guide
Design & Features
The ASUS ROG Strix Z790-E Gaming Wi-Fi II stands out with its compelling design elements. The motherboard incorporates diagonal slats, brushed aluminum accents, and vibrant RGB lighting. Notably, this generation features translucent diffusers along the I/O shroud and Q-Release array, creating a subtle contrast with nearby metallic heatsinks.
Beneath the striking exterior lies a multi-layered printed circuit board designed to efficiently dissipate heat around the voltage regulators. This design not only enhances overall system stability but also provides additional overclocking headroom for the CPU.
The motherboard's VRM is a highlight, featuring 18+1+2 power stages, each capable of handling up to 110 amps. High-end chokes and durable capacitors are meticulously engineered to withstand extreme temperatures, ensuring performance that exceeds industry standards.
The ProCool II connectors are designed with precision, ensuring a flush contact with PSU power lines. A metal sheath enhances heat dissipation and lowers electrical impedance, contributing to a more efficient power delivery system.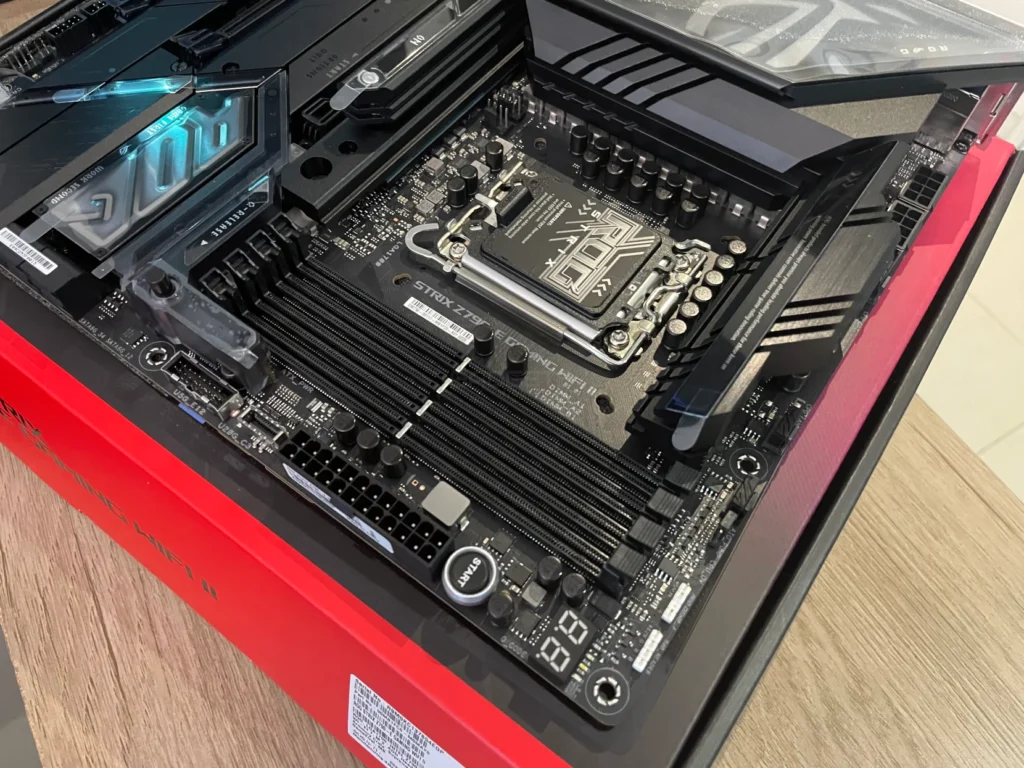 For the M.2 slots One of them can reaching astonishing 16 GB/s read and write speeds, thanks to its PCIe 5.0 interface. Even the rest deliver impressive 8 GB/s transfers.
An innovative Q-Latch simplifies the installation and removal of an SSD from an M.2 slot. This mechanism securely locks the drive in place, eliminating the need for traditional screws. Furthermore, substantial heatsinks cover every M.2 slot, efficiently dissipating the heat generated by next-gen drives. The M.2 heatsink incorporates a direct-contact U-shaped heat pipe for optimal temperature management and boasts a larger surface area for enhanced cooling. An integrated backplate ensures that high-performance drives maintain peak performance even when airflow is restricted.
The power solution is effectively managed with two robust heatsinks featuring strategic airflow channels, crucial for efficiently dissipating heat when powering high-performance Intel 14th Gen processors. The motherboard provides dedicated PWM/DC fan headers for easy CPU cooler and self-contained water-cooling setup connections. Additionally, it includes five chassis fan headers, each supporting auto-detection of PWM or DC fans.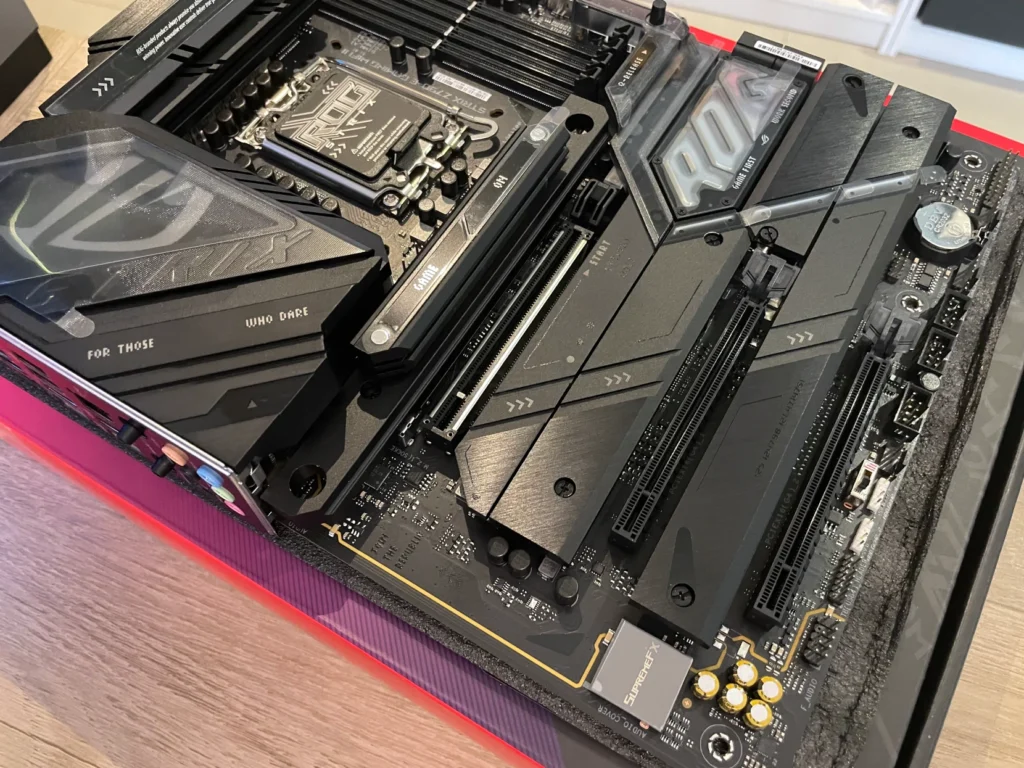 ASUS Aura technology allows full lighting control and offers a range of presets for both onboard RGB LEDs and third-party accessories. Users can effortlessly synchronize lighting effects across compatible ROG graphics cards, monitors, keyboards, and mice, achieving a unified and stylish setup.
With Q-Antenna, attaching a WiFi antenna becomes hassle-free. The innovative design simplifies the process, allowing the antenna to snap into place swiftly, ensuring consistent performance.
The on-board Q-LED troubleshooting lights serve as valuable indicators during PC assembly and troubleshooting. They confirm the normal functioning of key components such as the CPU, RAM, graphics card, and storage devices. The Q-LED feature aids in identifying and addressing power delivery issues affecting the motherboard, even before attempting to boot a newly built PC.
A physical button conveniently unlocks the security latch of the first PCIe slot, simplifying the process of detaching a PCIe card from the motherboard when upgrading to a new GPU or other compatible device.
The Clear CMOS button offers a quick means of resetting BIOS settings to their factory defaults, and it can also be used to reboot the PC in case of incorrect BIOS settings.
The BIOS FlashBack feature provides a safe and straightforward method for updating the BIOS. Users can simply place the (UEFI) BIOS file onto a FAT32-formatted USB stick, plug it into the USB BIOS FlashBack port, and press the button. Updates can be performed without the need for memory or a CPU to be installed.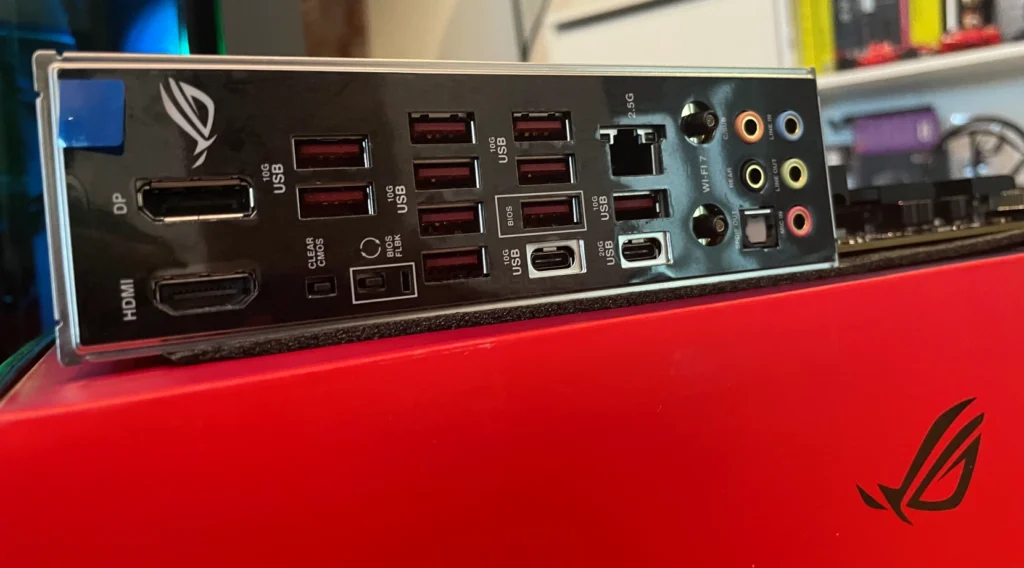 Lastly, the on-board LED panel displays 2-digit diagnostic codes, serving as a valuable reference for troubleshooting common boot problems and hardware issues.
ROG has a history of pushing the boundaries when it comes to memory performance, and DDR5 is no exception. Thanks to refined signal routing, the Strix Z790-E II has managed to take enthusiast-grade memory kits well beyond the 8 GT/s threshold. This newfound capability gives enthusiasts a playground of options in the UEFI for fine-tuning their memory.
One of the standout features is DIMM Flex, a game-changer for memory overclocking. It's equipped with specialized circuitry that can either boost performance or address stability concerns, contingent on temperature readings. When things are running cool, it harnesses the extra headroom to crank up speed and efficiency. However, as temperatures rise, it intelligently adjusts memory behavior downward to ensure rock-solid stability.
ASUS Enhanced Memory Profile II (AEMP II) is another exclusive firmware feature. It empowers users to attain peak memory performance and compatibility by optimizing clock speeds, even when they're dealing with PMIC-restricted memory modules that lack an XMP or EXPO profile. Through a flexible training method, AEMP II streamlines the process of fine-tuning memory settings beyond the baseline configuration while keeping your system rock-solid. This applies whether you're maximizing the potential of an entry-level module or preparing a high-speed kit for peak performance.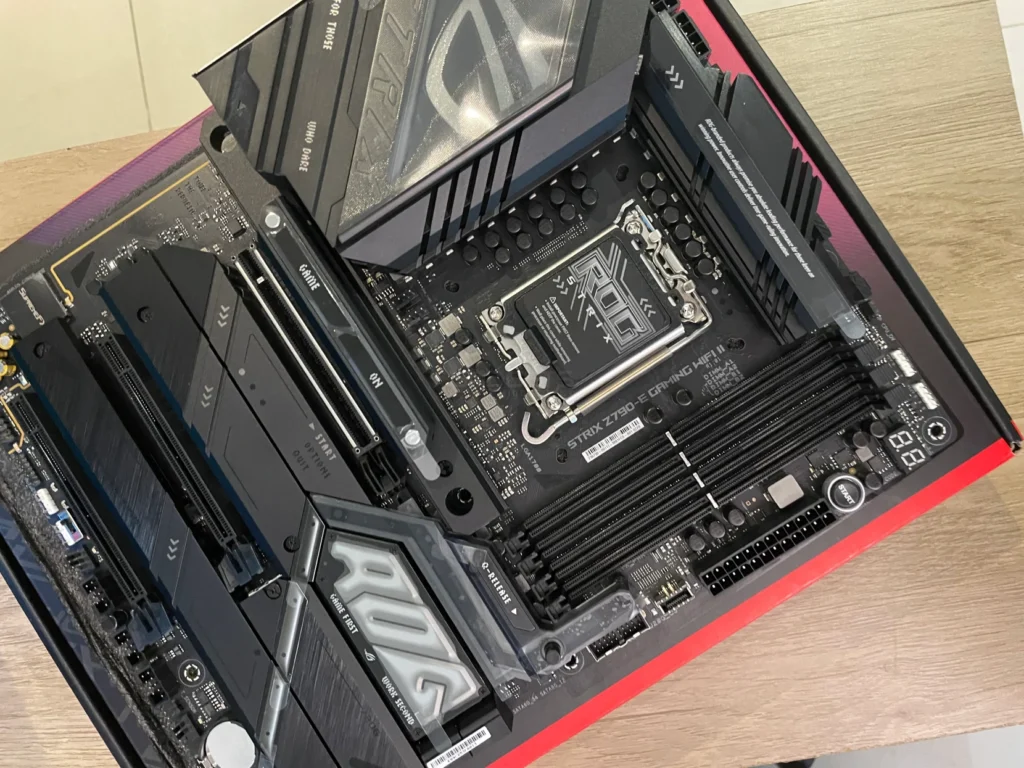 And the good news is that AEMP II is now even more adaptable. With the latest firmware update, it allows users to optimize the performance of a four-DIMM DDR5 RAM configuration, even when mixing different brands and dies. Expanding your build's memory capacity by adding extra DIMMs has never been simpler. With AEMP II, you can achieve optimized memory performance, even if all four memory modules aren't identical, as long as they have the same capacity. This flexibility paves the way for more memory possibilities without compromising performance.
Performance
Test bench
ASUS ROG Strix Z790-E Gaming WiFi II
Intel Core i9-14900K
FURY Renegade DDR5 6400 32GB
Nvidia RTX 4070
Kingston Fury Renegade SSD 2TB
Windows 11
In our short hands-on testing, the test setup scored the below
AIDA single-core: 880
Cinebench R20 multi-core: 15488
Geekbench single-core: 3220
Geekbench multi-core: 21480
Blender 1080p: 2.09
Blender 4K: 8.50
Audio & Connectivity
The Strix Z790-E II takes connectivity to the next level, introducing Multi-Link Operation (MLO) for WiFi 7. This advanced technology surpasses the capabilities of WiFi 6E, delivering faster speeds, enhanced reliability, and improved data transfer efficiency. Expect low-latency gaming, swift file transfers, and high-resolution video streaming as the standard.
For those who demand lightning-fast wired connections, the motherboard comes equipped with Intel 2.5 Gbps Ethernet. This ensures seamless and low-latency online experiences, making it a perfect choice for gamers and enthusiasts alike.
When it comes to data transfer, the Strix Z790-E II doesn't disappoint. It boasts two USB 20Gbps Type-C connectors for blazing-fast data transfers, peaking at 20Gbps. One resides on the rear I/O, while the other can be attached to the chassis front panel. What's more, it features Power Delivery (PD) 3.0 technology, allowing for rapid device charging of up to 30W.
Audio enthusiasts will find a haven in the ROG SupremeFX technology implemented in the Strix Z790-E II. This unique amalgamation of hardware and software technologies takes audio to a superior level. The motherboard incorporates the ALC4080 codec, enabling high-resolution playback at up to 32-bit/384 kHz across all audio channels. The front-panel output is skillfully amplified by the integrated Savitech amplifier, providing the ability to drive high-fidelity acoustics to an extensive range of speakers and headsets.
An circuit separation mechanism reduces electromagnetic interference originating from the motherboard and connected devices, ensuring cleaner audio output. Unlike conventional high definition audio (HDA) interfaces, the ALC4080 codec employs a USB interface to deliver studio-level sound, reaching audio resolutions of up to 32-bit/384 kHz. A protective metal cover shields against electromagnetic interference, preserving the integrity of audio signals and guaranteeing exceptional sound quality.
The integrated Hi-Fi Savitech amplifier is a critical component in the signal path, boasting -90dB THD+N and an impressive signal-to-noise ratio of 110dB. This ensures pristine audio output to gaming headsets and high-quality headphones, offering a warmer, more natural sound with clarity and fidelity.
Software
AI COOLING II: Achieve the perfect balance between thermal management and acoustics with a single click. ASUS's proprietary algorithm minimizes unnecessary noise by conducting a swift stress test and then monitors CPU temperatures to dynamically adjust fan speeds for optimal performance.
TWO-WAY AI NOISE CANCELATION: Harness the power of a massive deep-learning database to eliminate over 5 million types of background noise from incoming and outgoing audio. This feature ensures crystal-clear communication during games or calls.
GAME FIRST: GameFirst has seamlessly integrated into Armoury Crate, enhancing the overall user experience. It optimizes network performance by dynamically allocating bandwidth based on intelligent algorithms tailored for different application scenarios. The latest update includes dedicated support for NVIDIA GeForce NOW, guaranteeing minimal latency during intense game streaming and cloud gaming sessions.
UEFI BIOS: The ROG UEFI BIOS offers a comprehensive suite for configuring, tweaking, and fine-tuning your system. It provides intelligently simplified options for newcomers to PC DIY, while seasoned veterans can explore more advanced features.
AI Suite 3: The AI Suite 3 dashboard offers intuitive controls to enhance CPU performance while maintaining system stability.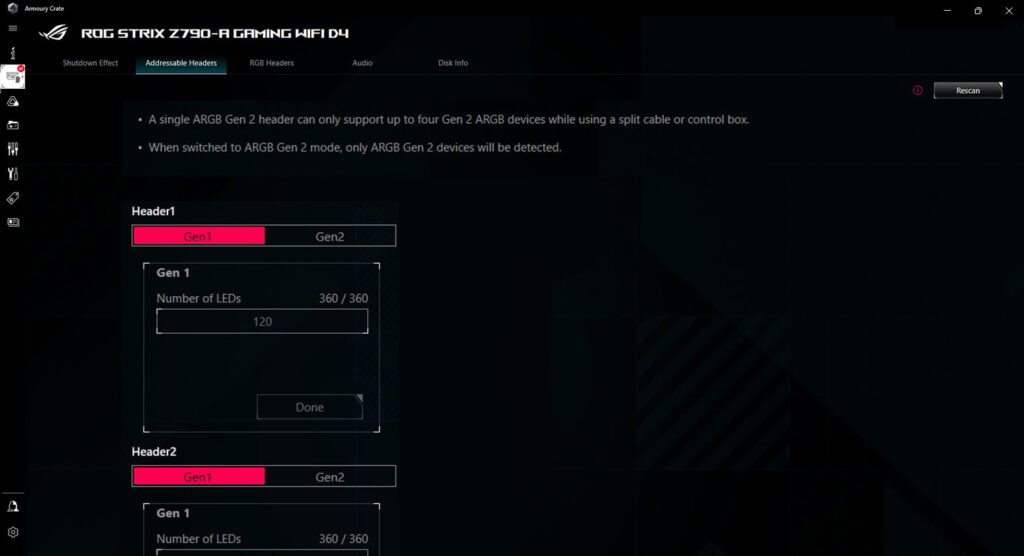 Armoury Crate: Armoury Crate is a software utility that streamlines the customization of your system's look and feel. This intuitive interface lets you customize RGB lighting and effects for compatible devices, synchronizing them with Aura Sync for a unified lighting scheme. Additionally, Armoury Crate's Fan Xpert4 tool provides comprehensive control over fans, water pumps, and all-in-one (AIO) coolers.
Sonic Studio: Sonic Studio supports HRTF-based virtual surround for headsets, creating an immersive audio landscape that immerses you deeper into the action. The intuitive interface of Sonic Studio offers a range of EQ options and one-click presets, allowing you to tailor acoustics to suit your personal preferences or your headset's characteristics.
DTS Sound Unbound: Pre-loaded with the DTS Sound Unbound app, the ROG Strix Z790-E II delivers rich audio. By harnessing Microsoft spatial sound technology, DTS Sound Unbound creates an immersive 3D soundscape, allowing you to pinpoint the location and direction of every gunshot, footstep, or other sound in your virtual environment.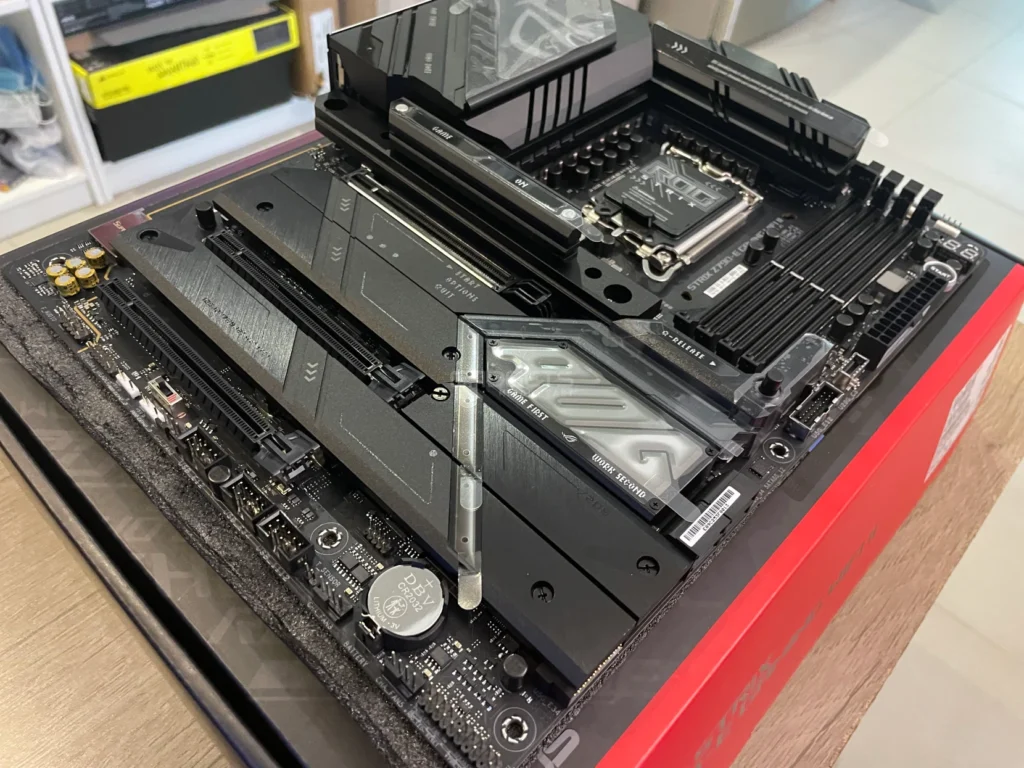 Conclusion
The ASUS ROG Strix Z790-E Gaming WiFi II motherboard is built to work with the Intel 14th Gen CPUs, and is a great choice for enthusiasts and gamers. The motherboard offers a compelling combination of features, including support for 8000 MHz DDR5 memory, multiple M.2 slots for high-speed storage, and Intel WiFi 7 connectivity.
Notably, the Strix Z790-E Gaming WiFi II boasts a generous number of USB ports, ensuring versatile connectivity options. It also provides ample fan headers and robust power delivery, making it a suitable match for demanding Intel processors. Additionally, ASUS has enhanced the RGB and ARGB lighting options for those who appreciate customizing their system's aesthetics.
In summary, the ASUS ROG Strix Z790-E Gaming WiFi II excels in connectivity, power delivery, and aesthetics, making it a solid choice for users seeking a high-performing motherboard for Intel's 14th Gen CPUs.