The Dark Base Pro 900 Rev.2 is a full tower PC case designed to be quiet and comfortable to use in high-end PC builds. The new version includes an orange finish around the case frame, wireless (mobile) charger on the front of the case, flexibility to remove almost each and every part of the case, the ability to mount the motherboard upside down and a large tempered glass.
Highlights
Motherboard tray and HDD slots with enhanced possibilities for individual requirements
Three Silent Wings 3 PWM fans
Stepless dual-rail fan controller is switchable between Silence and Performance modes
Ready for radiators up to 420mm
PSU shroud and HDD slot covers provide a neat interior
Side panel made of tempered glass
Eye-catching RGB LED illumination
Three years manufacturer's warranty
German product conception, design and quality control
Specifications
Motherboards
E-ATX / XL-ATX / ATX / M-ATX / Mini-ITX
Front I/O
2x USB 3.2 Gen. 1
1x USB 3.2 Gen. 2 Type C
Headphone/Mic jack Qi charger
Expansion
8x Expansion slots 2x 5.25" Bays
Fans
Front: 4x 120mm or 3x 140mm
Top: 4x 120mm or 3x 140mm
Rear: 1x 140mm Bottom: 2x 120mm or 2x 140mm PSU Shroud: 1x 120mm Dual rail stepless fan controller (8x 4-pin) / PWM hub
Filters
Front
Bottom
Side panel
Radiators
Front: 120 / 140 / 240 / 280 / 360 / 420mm
Top: 120 / 140 / 180 / 240 / 280 / 360 / 420mm Rear: 120 / 140mm
Clearance
GPU: up to 472mm
CPU Cooler: up to 185mm
Weight
14.39 kg
Dimensions
577 x 243 x 586mm (L x W x H)
Materials
ABS, Aluminum, Steel
RGB
1x Internal Expandable RGB controller
Packaging
Be Quiet! Dark Base Pro 900 Rev.2 arrives in a very large, black cardboard box with a mix of black and orange colors. On the sides are the specifications and details of the case. The packaging is quite heavy at about 20 kg.
Inside, the chassis is well protected by foam, plastic and cloth to store the case when not in use. The packaging includes:
Be Quiet! Dark Base Pro 900 Rev.2
Mounts for liquid cooling
Screws, 3x 3.5" bays, HD & HDD slot clovers, anti-vibration rubbers and Velcro straps
Two RGB LED strips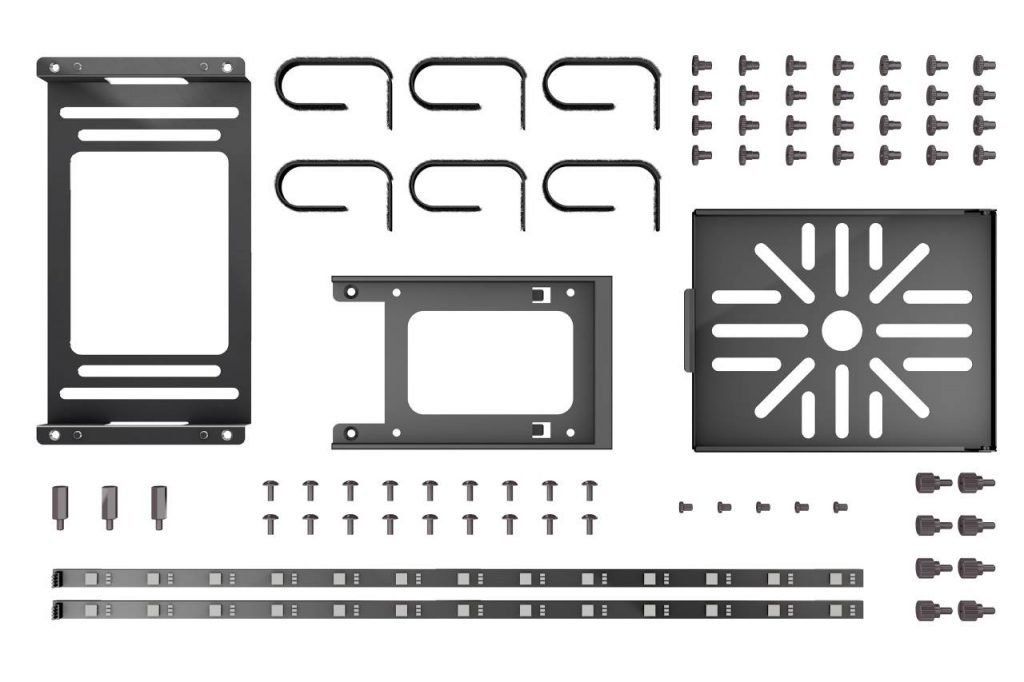 The Be Quiet! Dark Base Pro 900 Rev.2 is available in 3 colors, the case itself is available only in black but the side strips can be customized in orange, all black or silver.
The two sets of LED Strips can be directly connected to the controller on the back of the case, which can then be connected to the motherboard if it has a RGB +12V 4-Pin header. Lighting can then be controlled through the motherboard's software.
Exterior Design
The Be Quiet! Dark Base Pro 900 Rev.2 incorporates much of the design of the original Dark Base series. It looks aggressive and minimal at the same time; the build quality is fantastic with most of the materials made of high-quality aluminum and as a result there is no wobble. This case also comes included with 3 Silent Wings 140mm fans, 2x front and 1x rear. In terms of dimensions, this is a full tower case with a height from of 586mm. The width of the Case is 243mm and the length is 577mm.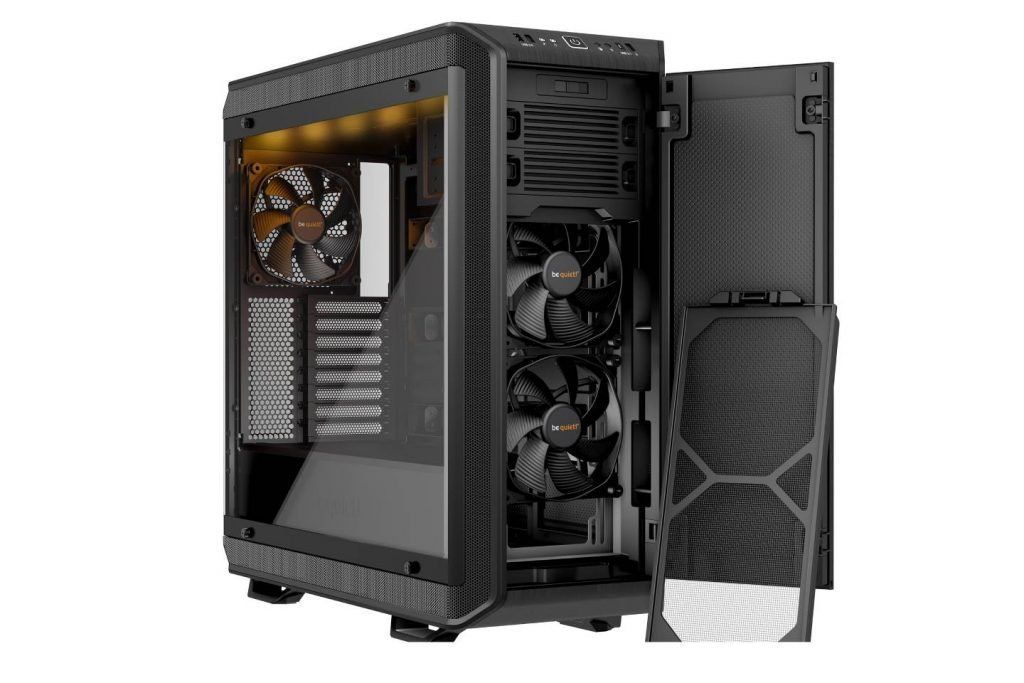 The front is covered by a plastic and aluminum panel with a push to close/open mechanism. It is covered with sound-absorbing material. Inside is a removable dust filter to protect the two 140mm Silent Wings 3 fans that comes included. It is possible to mount additional 120 or 140mm fans here but it is a complex process involving removing the entire top panel and PSU shroud.
Above the fans are two covers for the 5.25 "bay and a switch to adjust the fan speed. The dust filter that protects the lower part of the chassis can also be removed from the front side.
The front panel includes 2x USB 3.0 ports, headphone and mic jack, power button, RGB switch, HDD LED, USB3.1 Gen.2 Type-C, USB3.1 Gen.2 Type-A. Above this area is the Wireless Qi charging area; just place a compatible smartphone to recharge it quickly.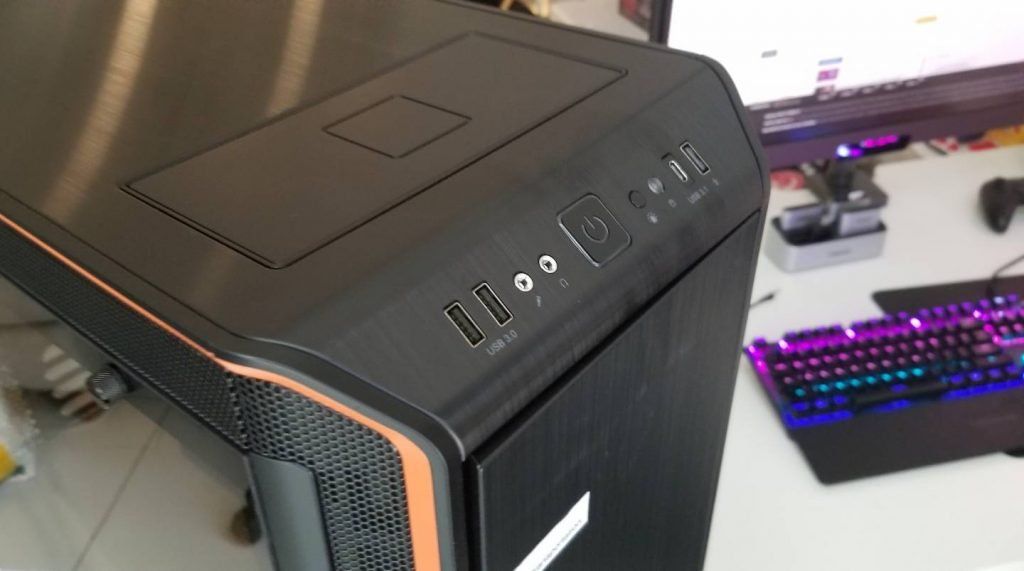 The top panel also comes with sound-absorbing foam and ventilation grills on the sides. This area can be removed and can house upto four 120mm or three 140mm fans. It can also support 360/420mm radiators.
At the back is the cut out for the I/O shield, 120 or 140mm fans (pre-installed), eight PCI slot covers holes and a cutout for the PSU with a switch.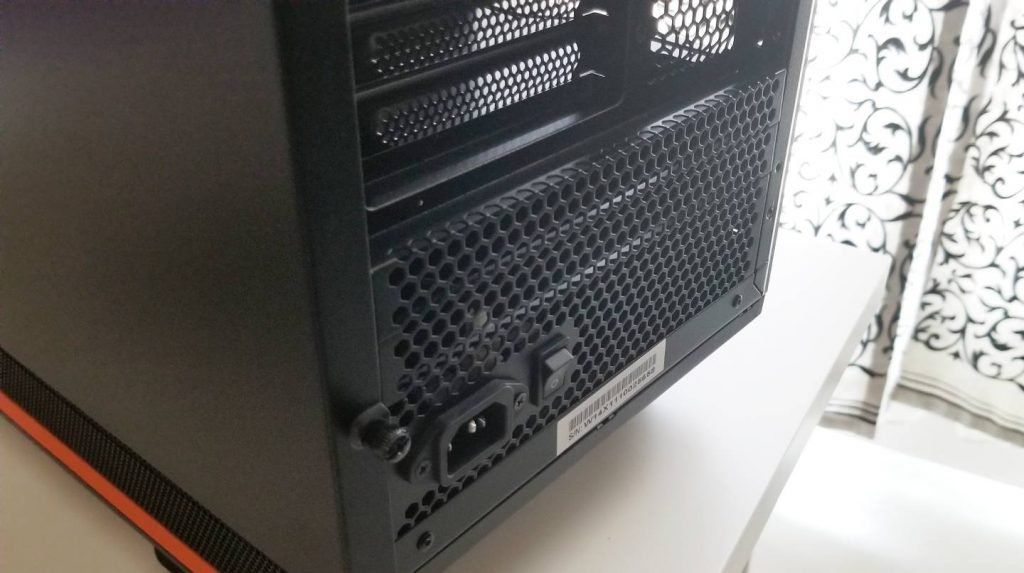 At the base, there are four leg supports are made of hard plastic and comes with a non-slip rubberized base for absorbing vibrations.
On the left is a 4mm thick tempered glass with a slight tint and is fixed to the frame by means of 4 thumb screws. The right side has a removable plastic cover which is also covered with sound absorbing foam for sound insulation.
Interior Design
On the right side of the case, there is a dual rail stepless fan controller that can accommodate up to 8 +12V 4-Pin PWM fans. The eight PWM fan connectors are divided over two rails, and each is switchable between Silence and Performance Mode. This makes it possible to create two cooling zones that can be controlled by the front panel switch. If you want all fans to run at the same speed, you can switch both channels to the same mode.
The controller can also connect +12V 4-Pin RGB Strip to motherboard. Next to the fan controller is an additional SSD slot.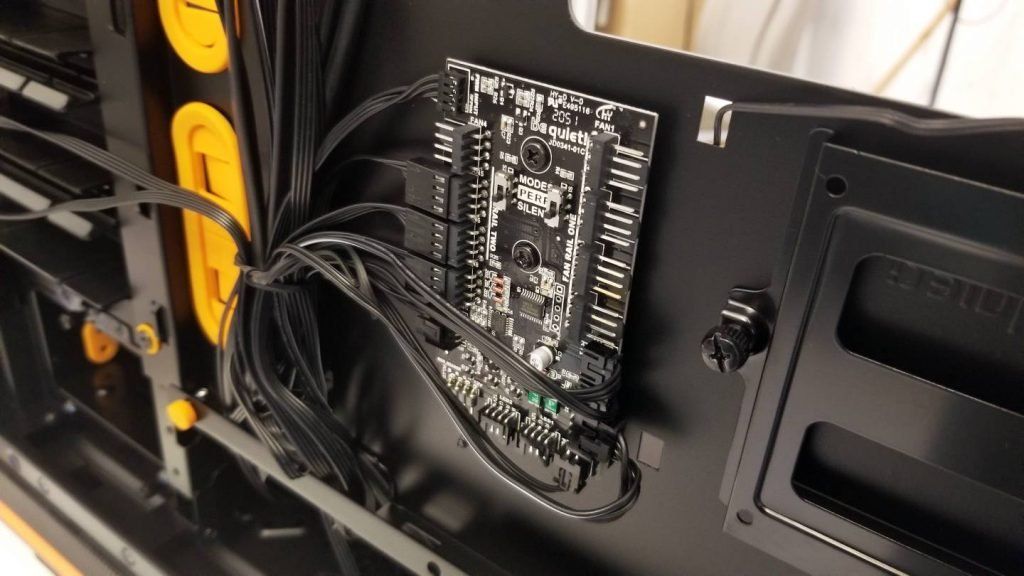 On the left, is a large motherboard plate with support for up to E-ATX and XL-ATX format, and can also support installation and maintenance of large aftermarket heatsinks. There are also three sockets with robber grommets for cable management.
Next to this is the HDD bays with comes with anti-vibration rubber to reduce noise from the HDD spinning. It can be closed with slot covers if not in use or left open for better cable management and to hide any unused HDD slots and keep the inner workings neat and tidy. The case supports up to 5 HDDs, 10 SSDs and 2 optical drives out of the box.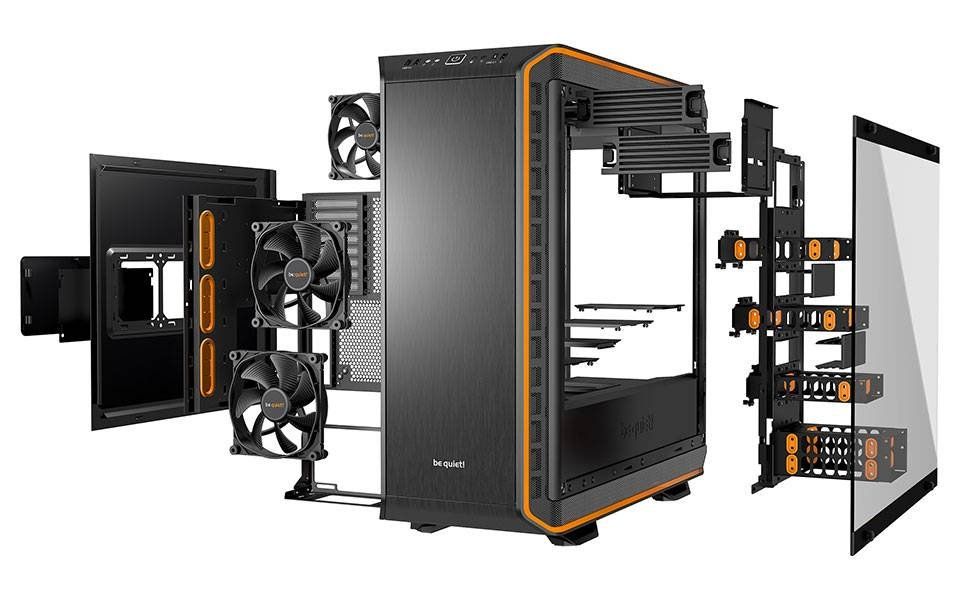 Below the motherboard mount is a removable PSU shroud which can house an SSD or a 120mm fan on top. Inside, this area houses the PSU, additional HDD bays for two 2.5 or 3.5 "drives and space to install two 120/140mm fans. Unfortunately, in order to install the power supply unit, the PSU shroud needs to be completely removed and it is a very complex process given the limited space.
The PSU mounting is different compared to other full tower cases. The PSU needs to be attached to a mount first which then needs to be screwed on to the case itself. The PSU power cable then needs to be plugged in to an extension that connects to the case switch.
Cooling
The Be Quiet! Dark Base Pro 900 Rev.2 offers improved cooling compared to its predecessor. Most of the interior, front, top and rear panel features a mesh design for improved airflow. The case is equipped as standard with three Silent Wings 3 140mm fans, two of which are positioned at the front for intake and one at the rear for outflow. These fans are designed to achieve low noise levels with a maximum speed of 1600 RPM
The case can carry up to seven additional fans, up to four radiators and has noise-reducing vents all around the case that provide ultra-effective full circuit airflow. The front area supports a total of 3x 140 mm or 4x 120 mm fans, the top area supports a total of 3x 140 mm or 4x 120 mm fans and the base supports 2x 120 or 2x 140mm fans. The PSU supports 1x 120mm and at the rear there is room for 1x 120 or 140 mm fan.
In terms of support for liquid cooling systems, the case supports up to 420mm radiators in the top area, 120- or 140-mm radiators in the rear area and up to 420mm radiators in the front.
The Dark Base Pro 900 Rev.2 is more efficient than the first version of the case but a bit noisier because of the faster fans. The temperatures on the CPU and GPU are excellent in all cases. For the test, we removed all the HDD cages for better airflow.
Hardware & Testing
Motherboard: ASUS B550-F WiFi
CPU: AMD Ryzen 5 3600
Cooler: Shadow Rock 3
Memory: Silicon Power XPower Turbine RGB 32GB DDR4 RAM @ 3200Mhz
Graphics Card: MSI 5700 XT Gaming X
Storage: 1TB WD_BLACK SN750
Power Supply: Cougar GX-F 650W
The Silent Wings 3 fans on the Dark Base Pro 900 v2 have been upgraded (from 1000 to 1600 rpm), and the noise is noticeable on high performance. This can be adjusted using the fan controller on the front of the case.
Acoustics (50% speed)
Thermals
| | |
| --- | --- |
| Idle CPU | 42 C |
| On Load CPU | 65 C |
| Idle GPU | 47 C |
| On Load GPU | 75 C |
Conclusion
The DARK BASE PRO 900 Rev.2 is a high-quality, modular full tower case that allows you to disassemble every part of it. It also allows mounting the motherboard in different positions and supports up to E-ATX / XL-ATX in size.
However, this is not a case fit for first time PC builders or beginners as disassembling and assembling this case to your liking takes a lot of time and patience. It took us took us quite a while to learn how to disassemble, assemble, and route the cabling. The PSU mounting is also different from other cases and can be difficult at times to remove the PSU shroud.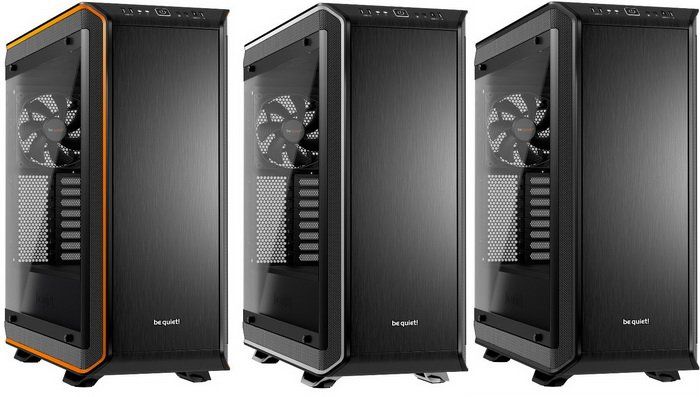 With that said, the DARK BASE PRO 900 Rev.2 comes with many innovative features such as the dual rail stepless fan controller, sound insulation foams, multiple dust filters, wireless charging bay, support for liquid cooling or up to 10 fans, radiators up to 420mm, support for GPU's up to 472mm in length, RGB lighting and the multitude of accessories included with the case.