Be Quiet's 4th generation heatsink, The Dark Rock Pro 4, improves on design and mounting and is able to dissipate a total of 250 W TDP making it a perfect solution for higher-end processors and overclocked systems.
The Dark Rock 4 Pro is a large, dual tower cooler. It has two aluminum heat sinks connected to the base through 7 heatpipes. The cooler also comes with dual SilentWings fans, one 120mm and the other 135mm. Both are controlled by PWM to run as quiet as possible. There is also space for a third fan, if required, and needs to be purchased separately.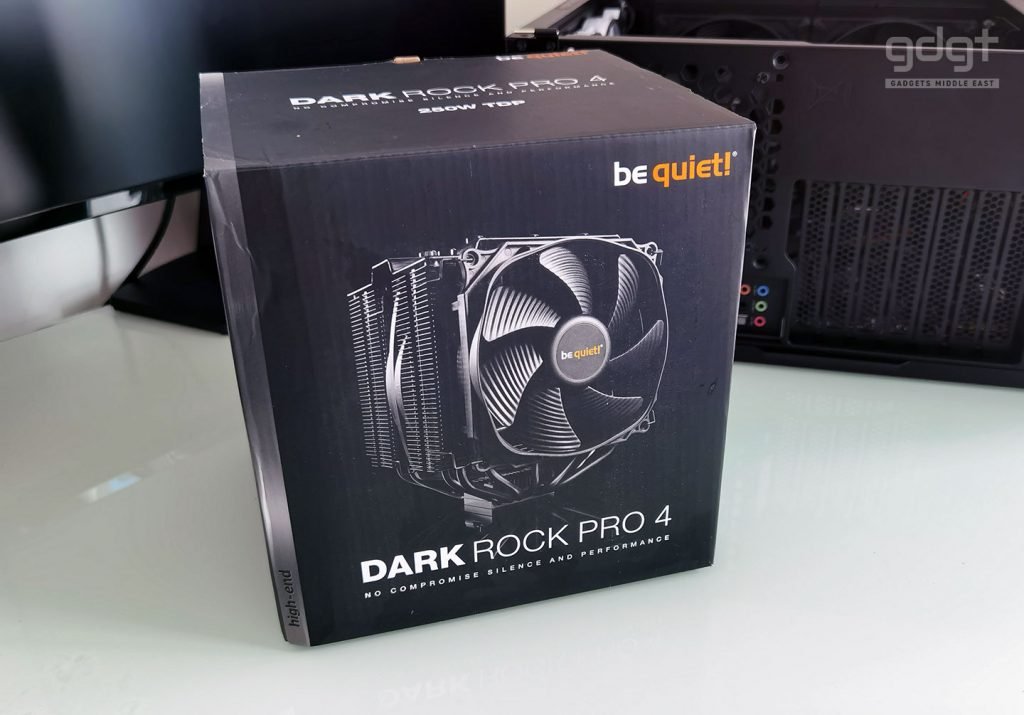 Dark Rock Pro 4 is made mostly of black painted aluminum and has an industrial, high-end design that looks stunning inside cases with a glass side panel.
Feature highlights:
Able to dissipate a total of 250 W TDP
Two virtually inaudible SilentWings PWM fans (120mm and 135mm)
Support for a third 120mm fan (not included)
Seven high-performance copper heat pipes.
Brushed aluminum top cover with a diamond cut finish
Extremely quiet at maximum fan speed
3-year manufacturer's warranty
Specifications
Dimensions
145.7 x 136 x 162.8 mm (L x W x H)
Number of fins
90
Fin material
Aluminum
Base material
Copper
Total weight
1.13 kg
TDP
250W
Socket compatibility AMD
AM2(+) / AM3(+) / AM4 / FM1 / FM2(+)
Socket compatibility Intel
1200 / 1150 / 1151 / 1155 / 1156 / 1366 / 2011(-3) Square ILM / 2066
Fan model
1x Silent Wings 3 120mm PWM
1x Silent Wings 135mm PWM
Surface treatment
Ceramic coating
A big thank you to Be Quiet! for sending us The Dark Rock Pro 4 for review.
Packaging
The Dark Rock Pro 4 comes in a matte-black cardboard packaging. The front of the box includes an image of the cooler with specifications and details on the sides.
Inside, the cooler and accessories are enclosed in plastic and are protected by foam to prevent damage during transport.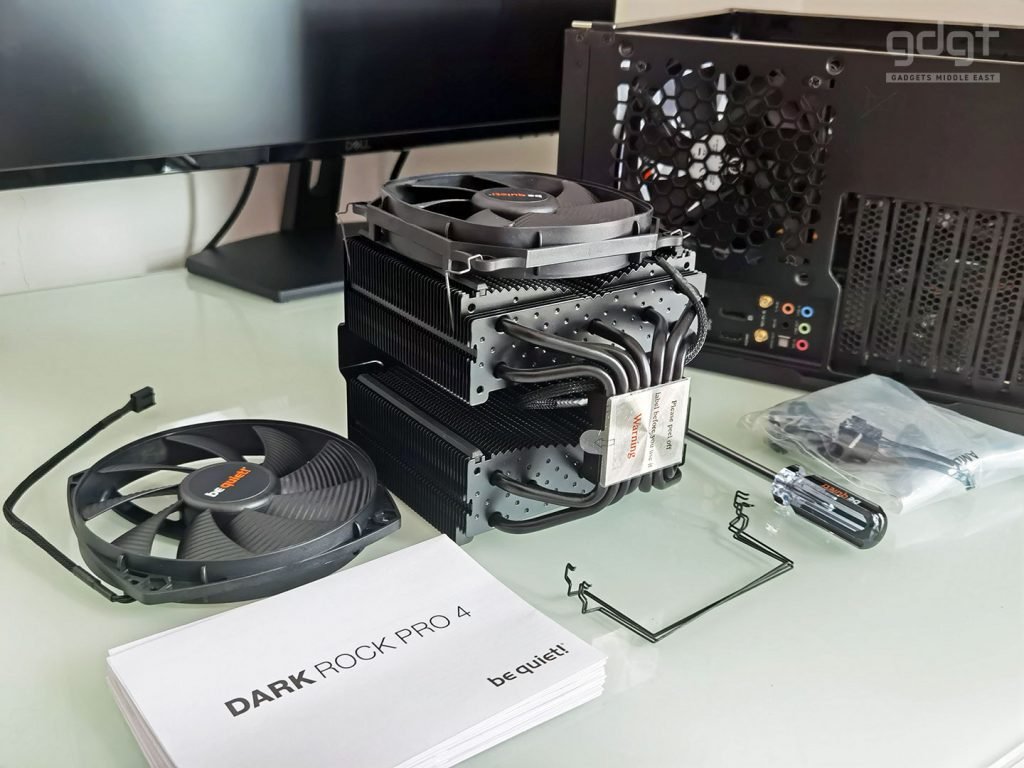 In addition to the heatsink, the package includes a Phillips screwdriver, user manuals in several languages, mounting brackets for both Intel and AMD CPUs, metal clips to mount the fans, a Y splitter cable for the two fans and thermal paste. The thermal paste is sufficient for more than one application and there are also additional metal clips includes should you wish to add another fan to the cooler.
The packaging includes:
Be Quiet! Dark Rock Pro 4
1x 120mm SilentWing fan
1x 135mm SilentWing fan
6x metal clips for fans
Mounting brackets for Intel and AMD
Y splitter cable to connect fans
Screwdriver
Thermal paste
Installation guides in different languages
Design
The Dark Rock Pro 4 has double tower layout with two aluminum heat sinks and a total of 90 aluminum fins. Except for the base of the heatsink, the cooler is completely black – the fins, heat pipes, mounting kits, everything is painted black and has a premium finish. The quality of materials is outstanding and the black coating should also offer a slightly higher cooling performance.
However, the Dark Rock 4 Pro is quite large and requires a lot of space. With dimensions of 123.7 x 136 x 162.8 mm (L x W x H) and a weight of 1.13 kg, it works best with full tower cases. However, it can still squeeze inside modern mid-tower cases but be sure to check your PC case dimensions.
At the top is the heatsink cover made of brushed aluminum with a diamond cut finish. When mounted, it looks very elegant inside cases with glass side panels.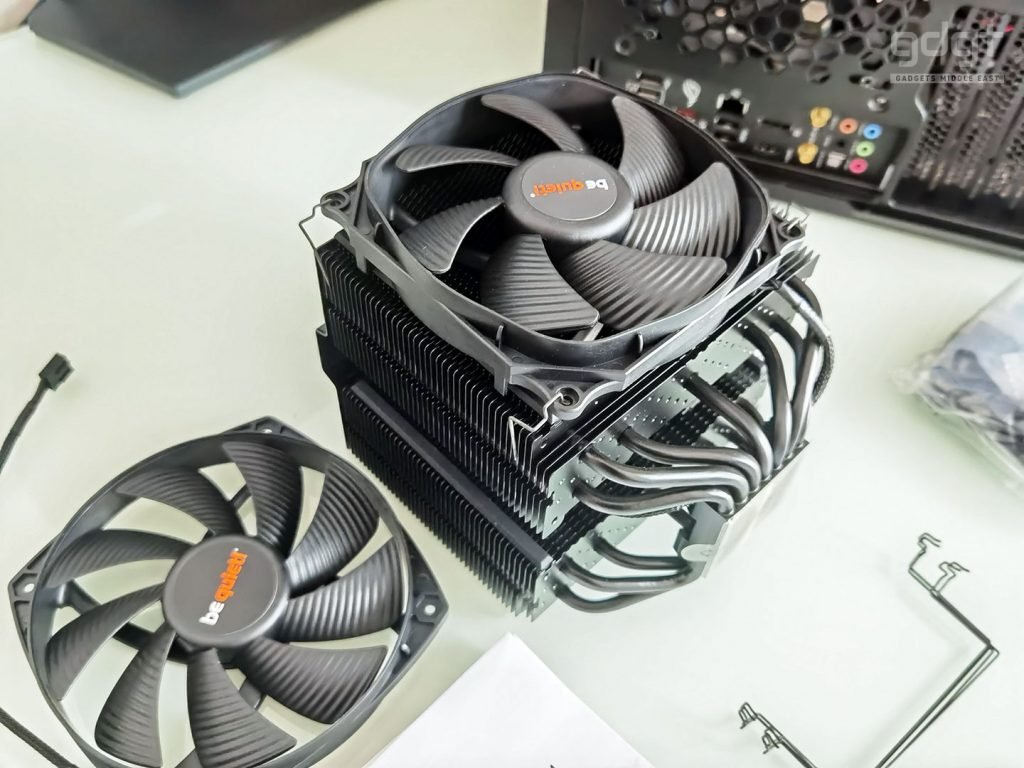 The fins are made of aluminum and has a ceramic coating to conduct heat better. They also have small dots on their surfaces increase the air circulation.
The Dark Rock Pro 4 is designed to work with two SilentWings 3 fans, with the front being intake (120mm) and middle as exhaust (135mm). It is also possible to add another 120mm fan at the back for maximum efficiency.
The base plate is made of copper and connects seven aluminum pipes which are designed symmetrically and connects to each of the two aluminum radiators on the heatsink.
Installation
In terms of compatibility, the Dark Rock Pro 4 is compatible with Intel: LGA 1200, 1150, 1151, 1155, 1156, 1366 2011 v3 and 2066
And in the case of AMD: AM2, AM2 +, AM3, AM3 +, AM4, FM1, FM2 and FM2+
Installing the Dark Pro 4 is straightforward and uses a combination of backplate, two mounting brackets and a crossbar to secure it firmly.
But if this is your first cooler installation, we recommend that the cooler be installed on the motherboard before mounting it to the case. You can also refer to the below video for step by step instructions.
For this review we are going to install the cooler in an AM4 system.
While it is monstrously large, the cooler has a cutout to accommodate RAMs of almost all sizes, although they may get hidden from view. It is recommended to install the RAM first before moving on to install the cooler as it may be difficult to install them later.
The first step will be to place the rear backplate that comes with the motherboard. Then place the plastic supports on the mounting plate. Two screws need to be inserted into each of the mounting brackets which are then installed into the backplate. You need to make sure the screws are inserted in the slot for AM4 when installing the brackets.
Then apply the included thermal paste on the CPU.
The last step is to mount the cooler. Do not forget to remove the plastic from the base plate before attaching it to the CPU socket. To do so, the central fan must be removed and then reinstalled. There are holes hidden behind the two central caps on the top of the cooler which can be removed by rotating to insert the screwdriver. Place the cooler onto the CPU while making sure it sits correctly. Once the crossbar is correctly placed at the base between the brackets, the screws needs to be tightened.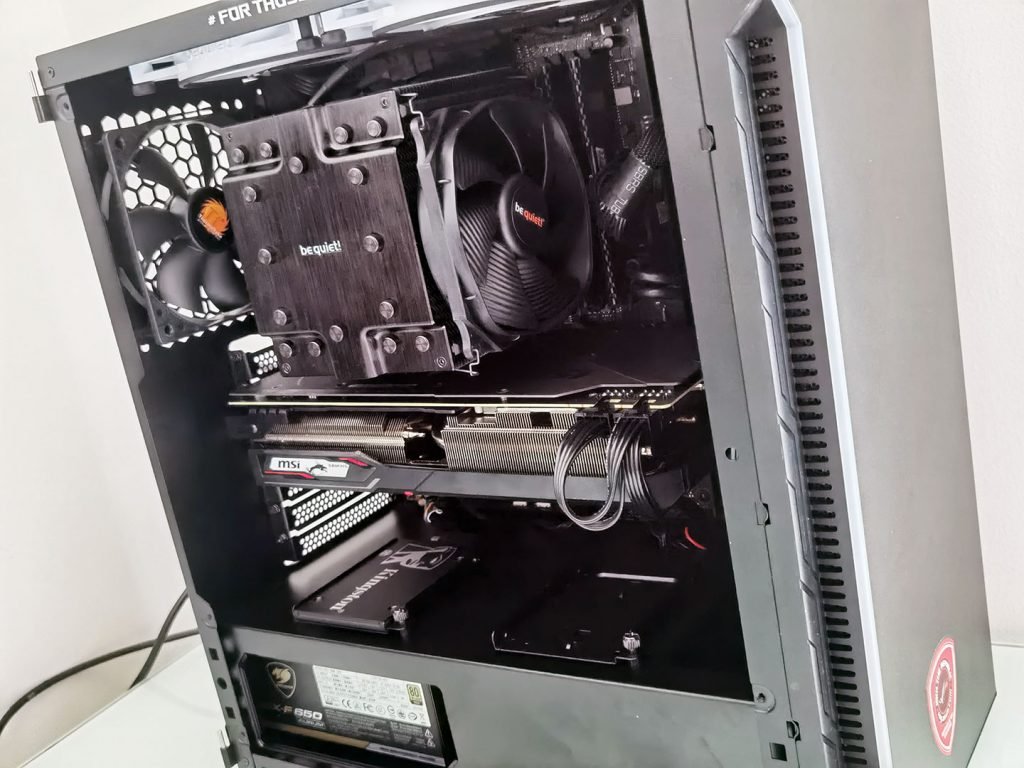 Don't forget to slide back the fan and attach them using the metal clips, connect cables to the Y splitter, and you're done.
Performance
We tested the Dark Rock Pro 4 under a room temperature of 21 °C throughout the test.
Test Bench:
Motherboard: ASUS B550-F WiFi
CPU: AMD Ryzen 5 3800X
Memory: Corsair Vengeance 32GB DDR4 RAM @ 3000Mhz
Graphics Card: MSI 5700 XT Gaming X
Storage: 1TB WD_BLACK SN750
Case: Thermaltake H200 Case
Power Supply: Cougar GX-F 650W
OS: Microsoft Windows 10 Home 64-bit
For this review, we've installed this cooler on an AMD Ryzen 5 3800X processor with a TDP of 105W. The Dark Rock Pro 4 runs extremely quiet, the fan noise is barely heard even when it runs at maximum speed, despite the double fans.
With automatic control, the fans benefit from their low minimum speed. They are practically whisper-quiet
Monitored by the HWiNFO x64, the idle CPU temperature was always between 38-45 °C. On load and during gaming, the temperature rises to 55-68 °C and the fans start to run faster in order to stabilize the temperature as soon as possible, although, still completely quiet.
After an hour of testing with Prime95, the average temperature measured was 66 °C.
The cooling performance on the new Dark Rock models is excellent and is able to achieve it effortlessly without any audible noise and it runs 10-15 degrees cooler than AMD's stock Wraith Prism cooler.
Verdict
The Dark Rock Pro 4 is a premium, high-end cooler with excellent performance to match. The polished black finish, the symmetry and the brushed metal cover makes it look striking. Mounting is also easier with nothing extra required apart from the included accessories and supports most current sockets.
In terms of performance, it runs extremely quiet while keeping the CPU up to 10-15 degrees cooler than a stock cooler.
The Dark Rock Pro 4 is built for cases where a quiet operation is more important than an extreme cooling solution. This is also a great option if you don't want to get into the hassle of liquid cooling systems as it provides nearly the same performance.
One of the downsides is RAM compatibility, even though the Dark Rock Pro 4 leaves a lot of space for memory under its front fan, you won't see much of it. You also need a spacious mid-tower case or a full tower as this is quite a large cooler and some experience with mounting coolers as this can be challenging for first-timers.